This Instant Pot Summer Meal Prep roundup will show you how to use the pressure cooker to create an endless supply of light, fresh, healthy meals throughout the summer. From must-have grains, legumes, and proteins to one-pot ideas, these meals are perfect for warmer weather months.
---
GET OUR FREE SUMMER MEAL PREP IDEAS eBOOK
---
Tips For Summer Meal Prep With Instant Pot
As the temperatures rise, the Instant Pot becomes an invaluable tool for efficient and time-saving meal prep during the summer season.
With its versatility and convenience, you can cook a variety of ingredients, some simultaneously using the pot-in-pot method, to create flavorful and ready-to-use components for quick and refreshing summer meals.
We have a full roundup of summer-friendly recipes for the Instant Pot, so this article focuses on individual foods and ingredients you can meal prep to use up in summer dishes. Lets's go!
Make Versatile Protein Foods
Utilize the Instant Pot to cook protein-rich foods that can be used in various dishes throughout the week. Prepare a batch of shredded chicken, pulled pork, taco meat, meatballs and easy chicken breasts. These proteins can be added to salads, tacos, wraps, or sandwiches for quick and satisfying meals.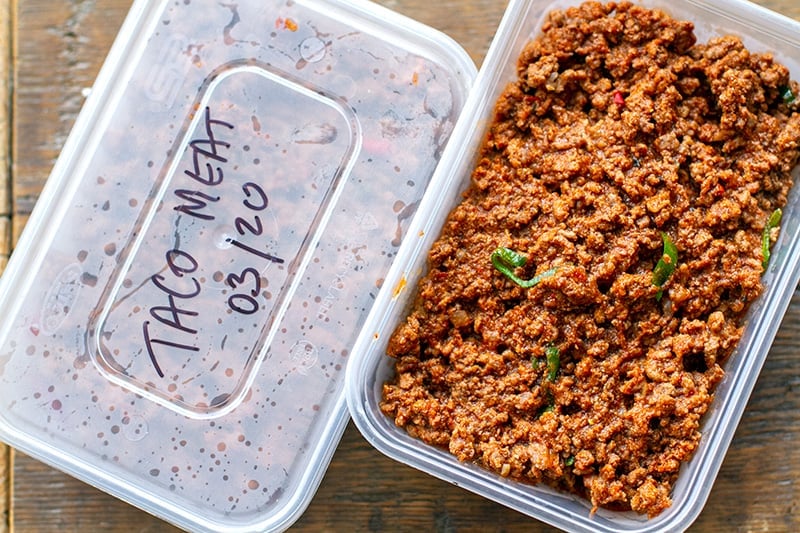 Pre-Cooked Grains and Legumes
Prepare a large batch of quinoa, brown rice, or lentils in your Instant Pot and store them in the fridge for use throughout the week. These pre-cooked grains and legumes can be quickly transformed into nourishing grain bowls, salads, or side dishes by adding your favorite vegetables, proteins, and dressings.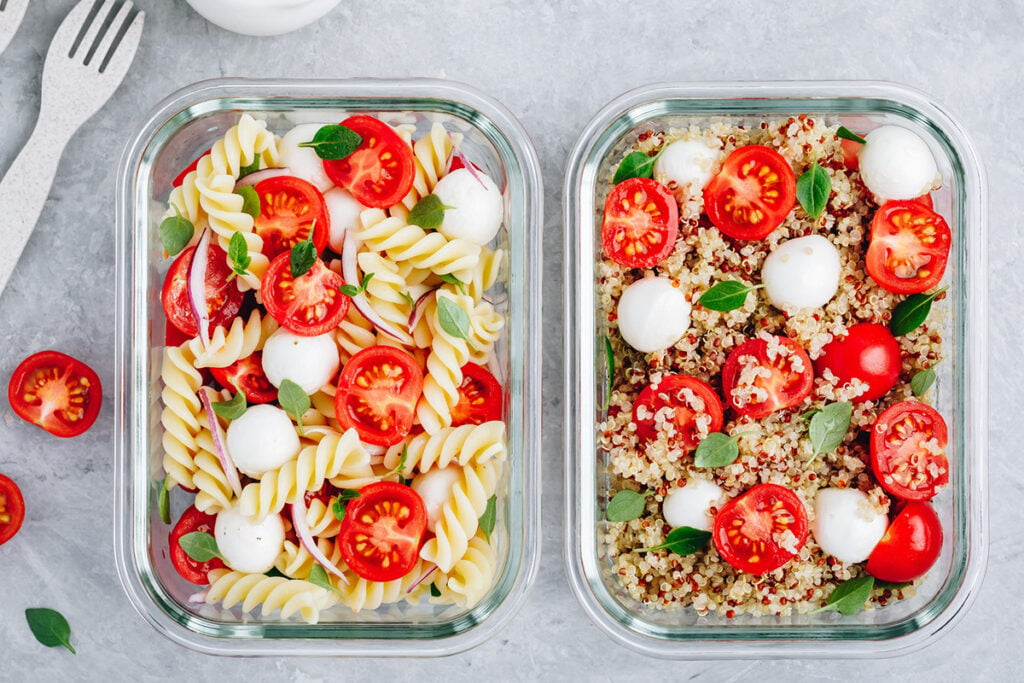 Make-Ahead Soups and Stews
While hot soups might not be the first choice during summer, you can still prepare hearty soups or stews that can be chilled and enjoyed as refreshing cold options. Whip up a chilled tomato soup, braised green beans, Instant Pot minestrone, borscht or another vibrant vegetable soup using fresh seasonal produce. These make-ahead soups are fabulous cold and can be portioned and stored for easy grab-and-go lunches or light dinners.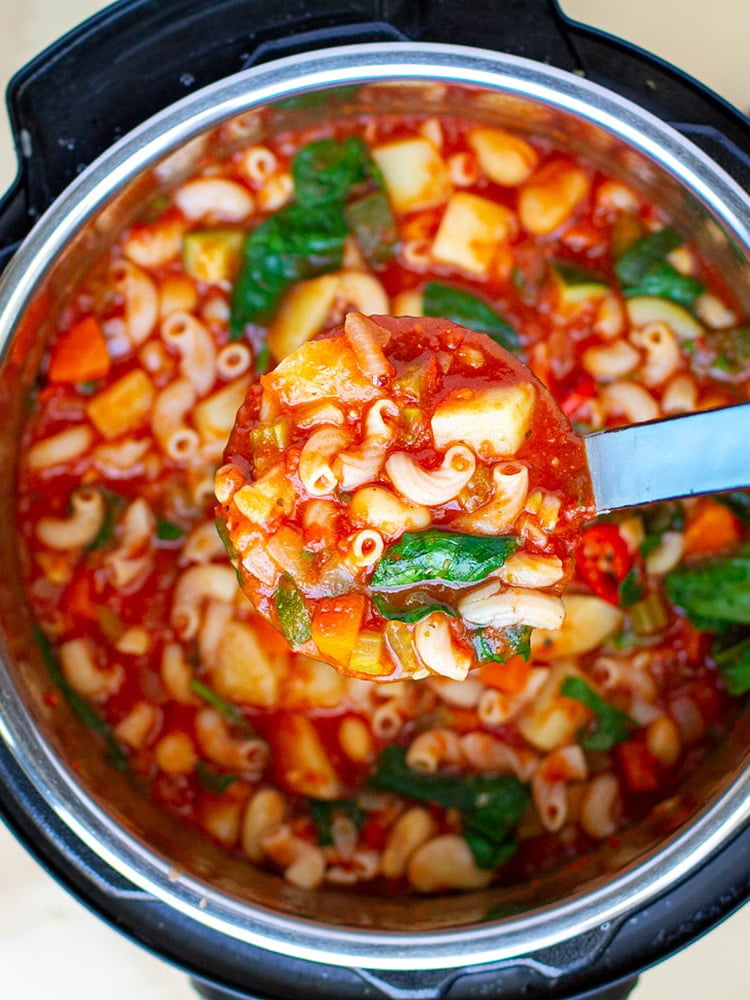 Pot-in-Pot Method
The Instant Pot's pot-in-pot method allows you to cook multiple ingredients at the same time, saving you time and effort. You have to make sure the foods have similar cooking times. Sometimes, you may have to cut the meat smaller and leave the vegetables whole for them to cook simultaneously.
For example, you can cook quinoa on the bottom, place the trivet on top and add a heatproof container with cubed sweet potato and green beans. Or you can cook rice on the bottom and place the trivet with thinly sliced chicken on top and cook those for as long as you need to cook the rice.
---
Instant Pot Summer Meal Ideas & Recipes
Now, let's explore some delicious things you can cook in the Instant Pot as part of summer meal prep.
Cook a batch of shredded chicken in the Instant Pot and divide it into meal-sized portions and refrigerate. During the week, use them in salads, wraps, or alongside grilled corn on the cob.
In addition, you can make a batch of rice or brown rice and mix some of the shredded chicken with salsa sauce or BBQ sauce to serve with rice and salad or vegetables.
Quinoa & Sweet Potato Meal Prep
Cook quinoa and sweet potato in the Instant Pot and prepare a variety of summer-inspired ingredients like cherry tomatoes, cucumber, feta cheese, avocado, and herbs in containers. Assemble quinoa and sweet potato salad in containers or mason jars and top with a zesty vinaigrette or sesame dressing.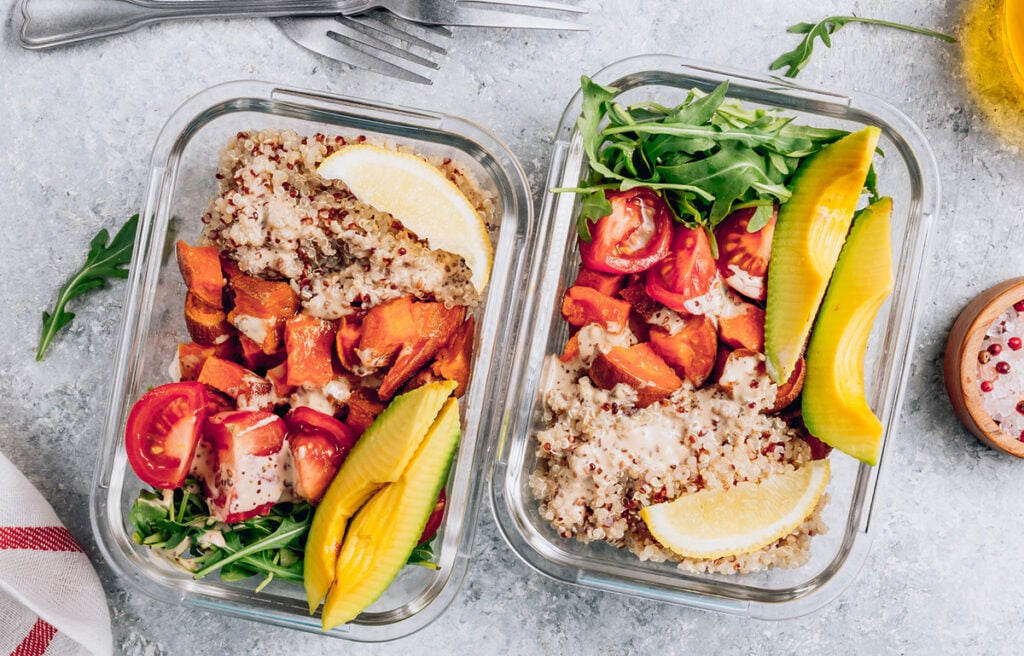 Prepare a large batch of vegetable, bean, and tomato stew in the Instant Pot and store it in individual containers in the refrigerator. This stew is great to be enjoyed as a light lunch or dinner throughout the week.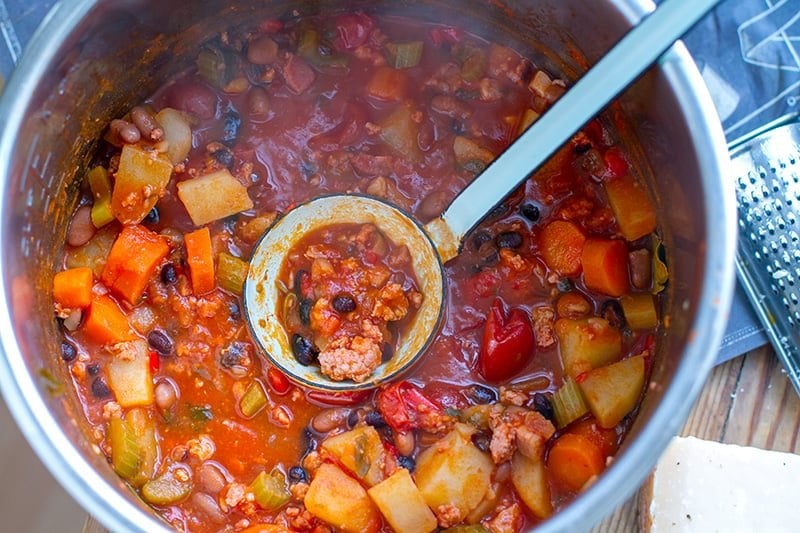 Cook a batch of seasoned ground beef or pulled pork in the Instant Pot. Prepare a variety of toppings such as diced tomatoes, corn, black beans (these can also be cooked in the pressure cooker), shredded lettuce, and sliced avocado.
Portion out the protein and toppings into separate containers. Throughout the week, assemble quick and flavorful taco salad bowls by combining the ingredients and adding your favorite dressing or salsa.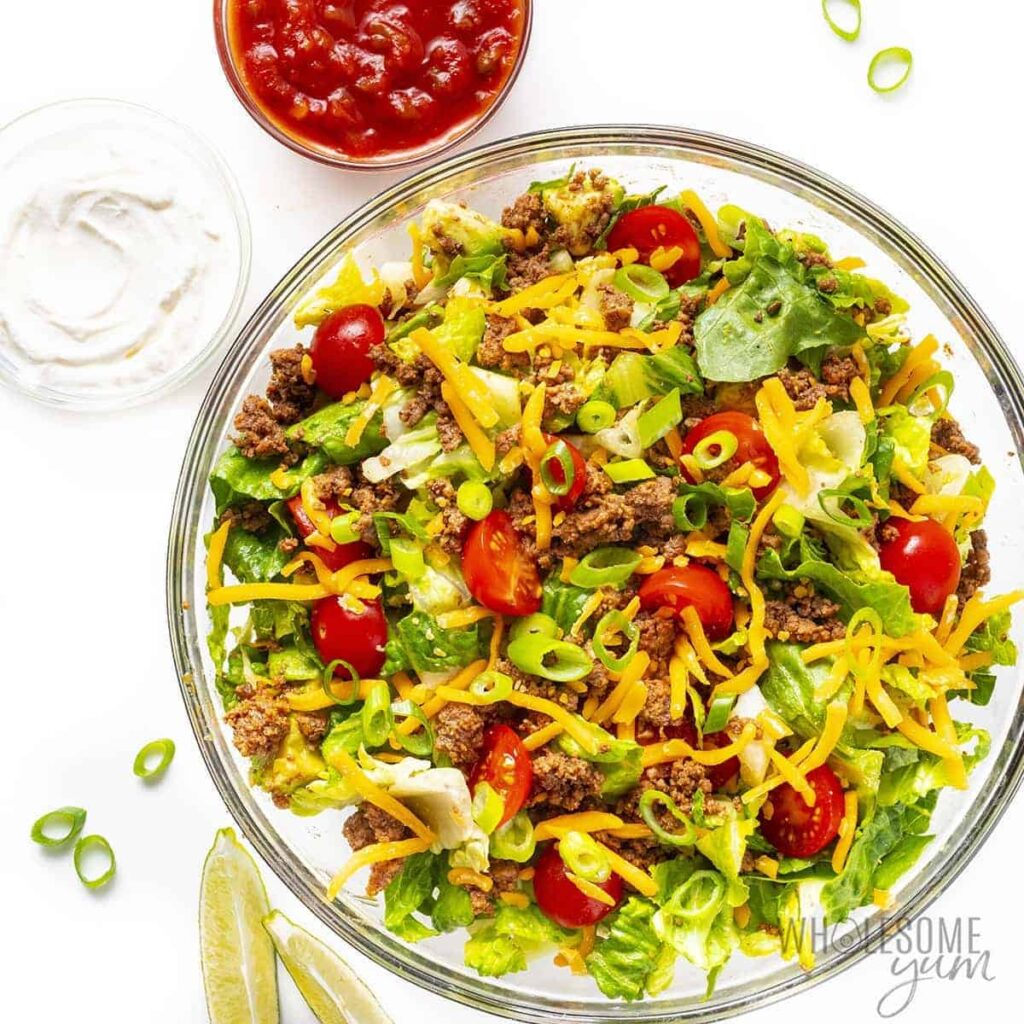 Buddha Bowls
Cook a batch of quinoa, couscous, or brown rice in the Instant Pot. Meanwhile, roast a combination of vegetables like bell peppers, zucchini, and eggplant in the oven or using the Instant Pot's sauté function. Pan-fry a batch of mushrooms.
Prepare a batch of chickpeas or grilled chicken for added protein, can also be done in the Instant Pot.
Portion the grains, roasted vegetables, and protein into containers. When ready to enjoy, top with fresh herbs, feta cheese, and a drizzle of lemon-tahini dressing or green goddess dressing.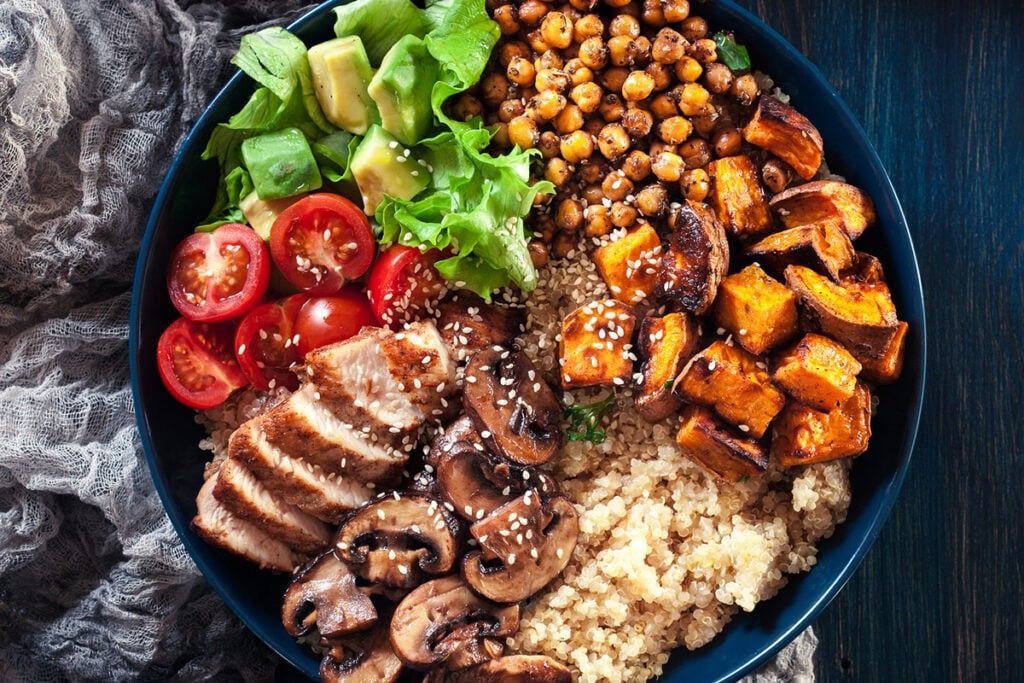 Chicken Caesar Salad Meal Prep
Cooked a batch of our savory chicken in the Instant Pot and then make a batch of boiled eggs (hard or jammy, as you like). You can also prepare your croutons or use some store-bought ones. Pan-fry bacon or use the Saute setting on the Instant Pot to make a batch and store it in the container on top of some kitchen roll.
Make a batch of Caesar dressing or use store-bought one. Store chicken and eggs for up to 4 days in the refrigerator.
Assemble Caesar salad with chopped cos or gem lettuce tossed with the dressing, topped with croutons, sliced chicken, bacon and halved boiled egg. Add extra shaved Parmesan on top.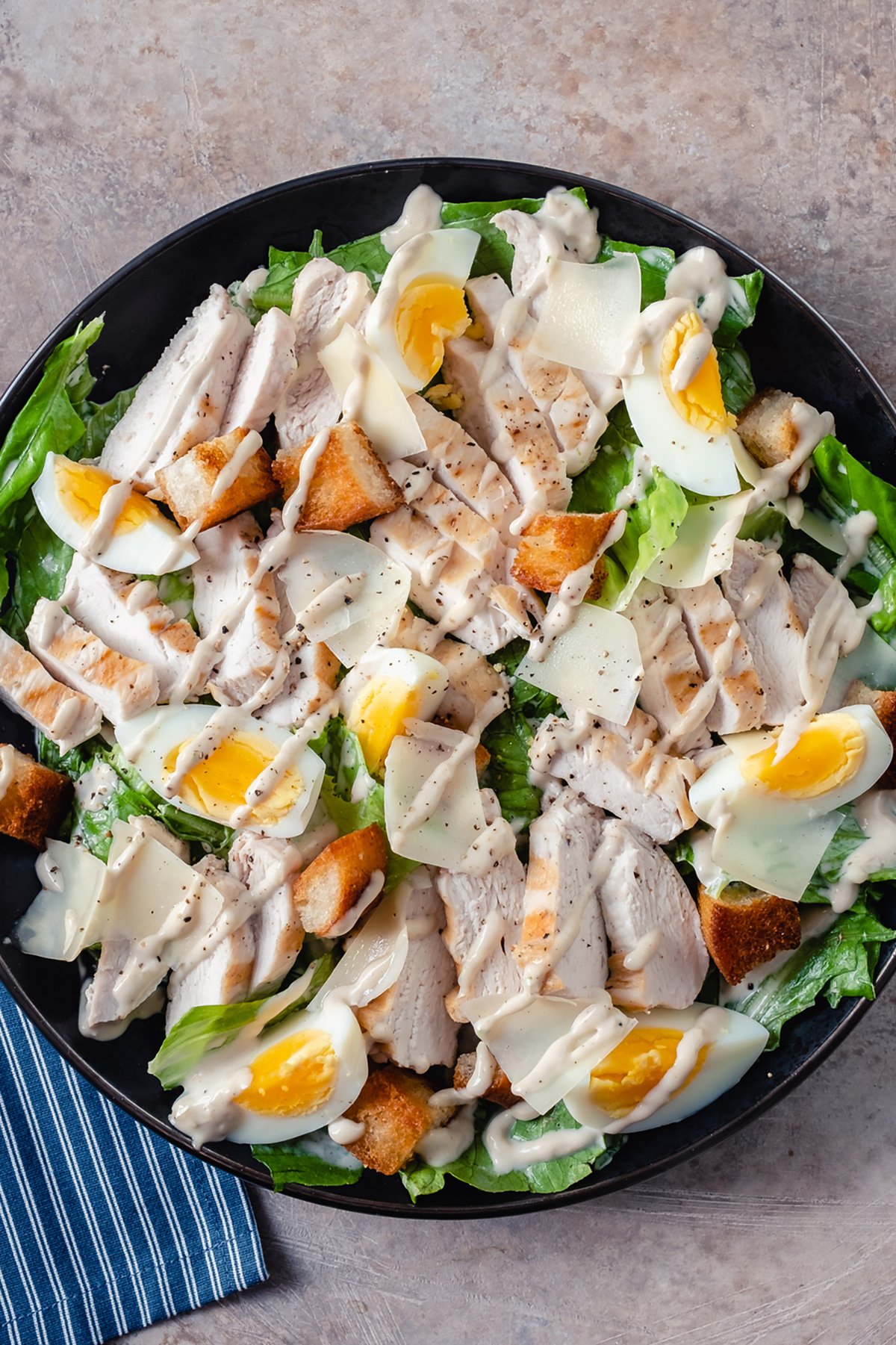 Make a batch of Korean ground beef and a batch of white or brown rice. Prepare pickled carrots and other sliced vegetables you would like to use. Portion the ingredients into individual meals and store for 2-3 days. You can also make the beef only and cook the rice fresh or use 2-minute rice packets instead.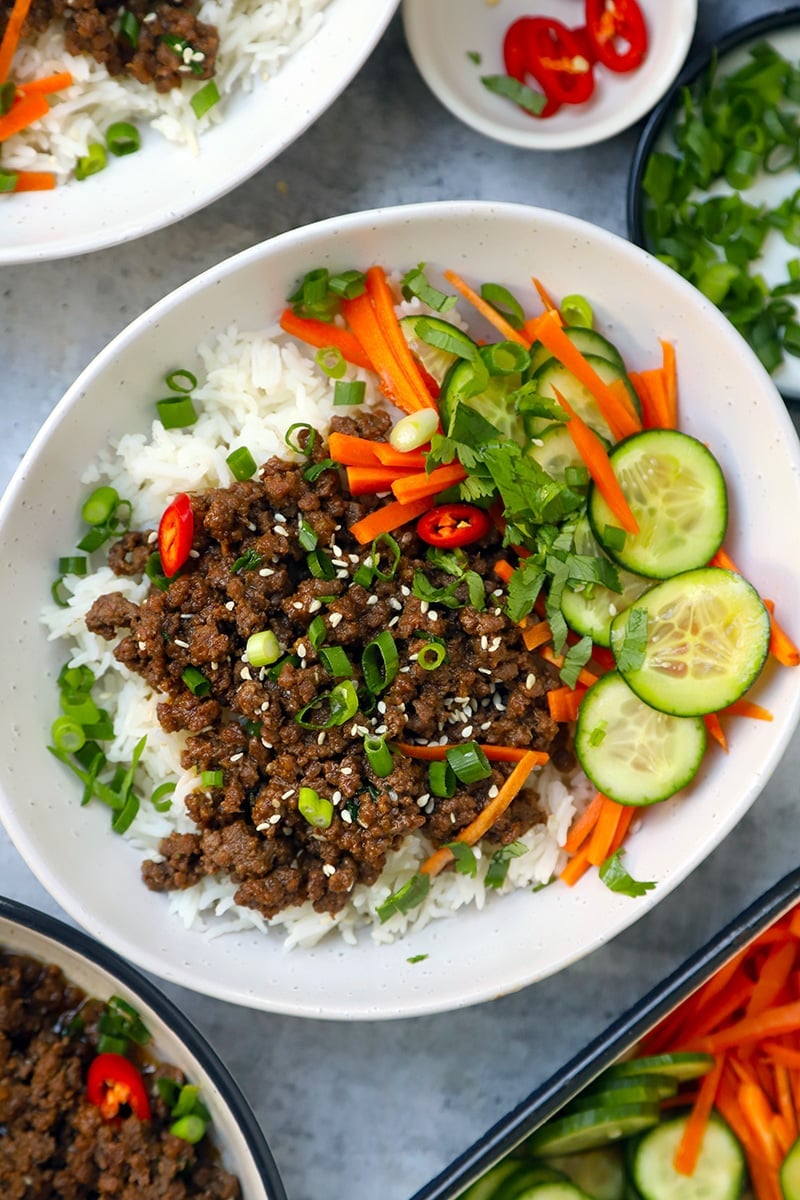 Cook soba noodles in the Instant Pot. Separately you can pan-fry some firm tofu on Saute setting or make a batch of boiled eggs.
Prepare a sesame dressing by combining soy sauce, sesame oil, rice vinegar, honey, and garlic. Toss the cooked noodles with the dressing, along with fresh vegetables like julienned carrots, sliced cucumbers, and chopped scallions.
Portion the salad into containers and refrigerate. Enjoy it cold as a refreshing and flavorful summer noodle salad. Top with tofu or egg for extra protein.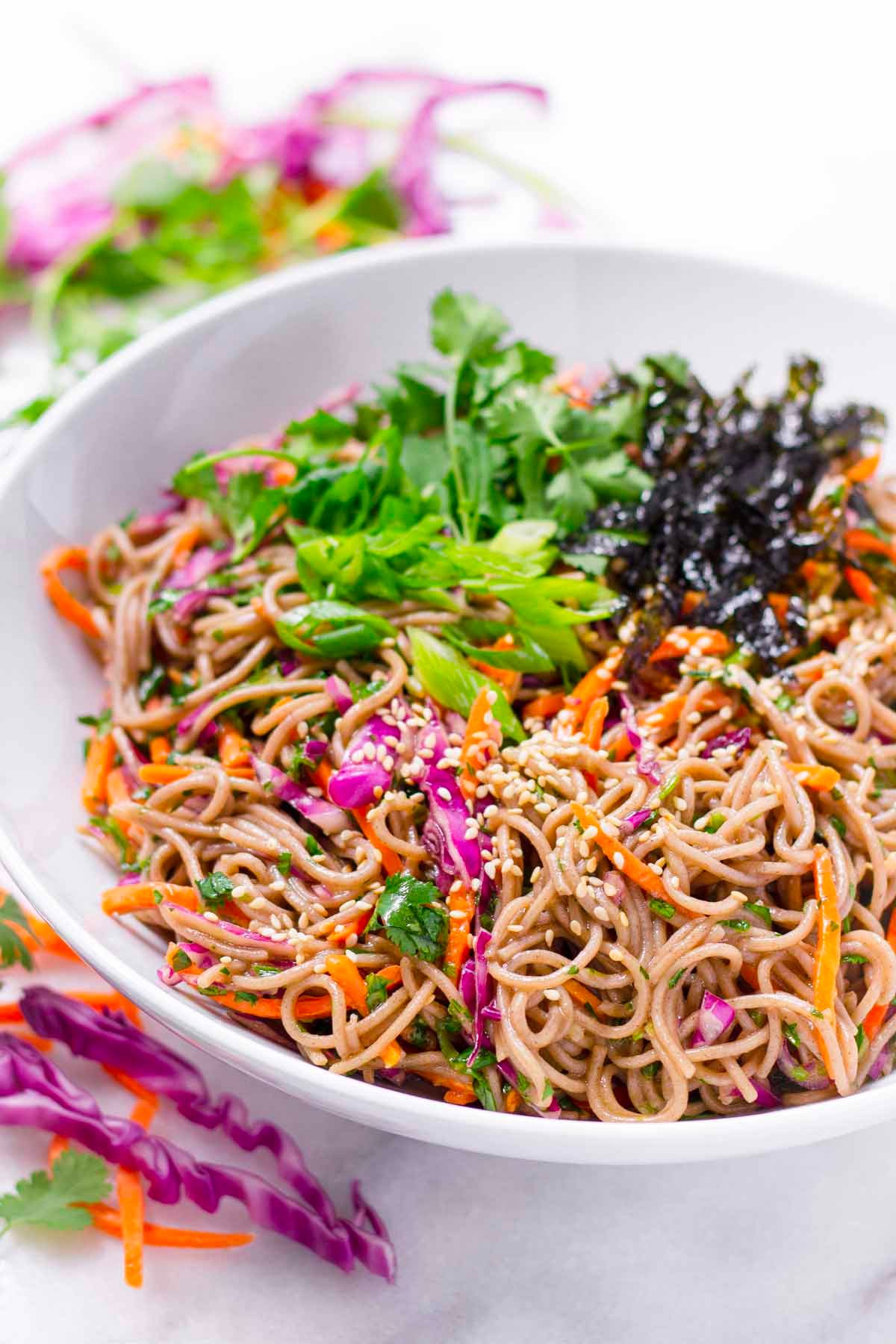 Cook a batch of Southwest Rice or Mexican rice with beans and corn, using this recipe: Instant Pot Southwest Rice. Serve with guacamole and chopped vegetables – which can be made ahead of time – or use in summer burritos or with barbecue grilled chicken or shrimp.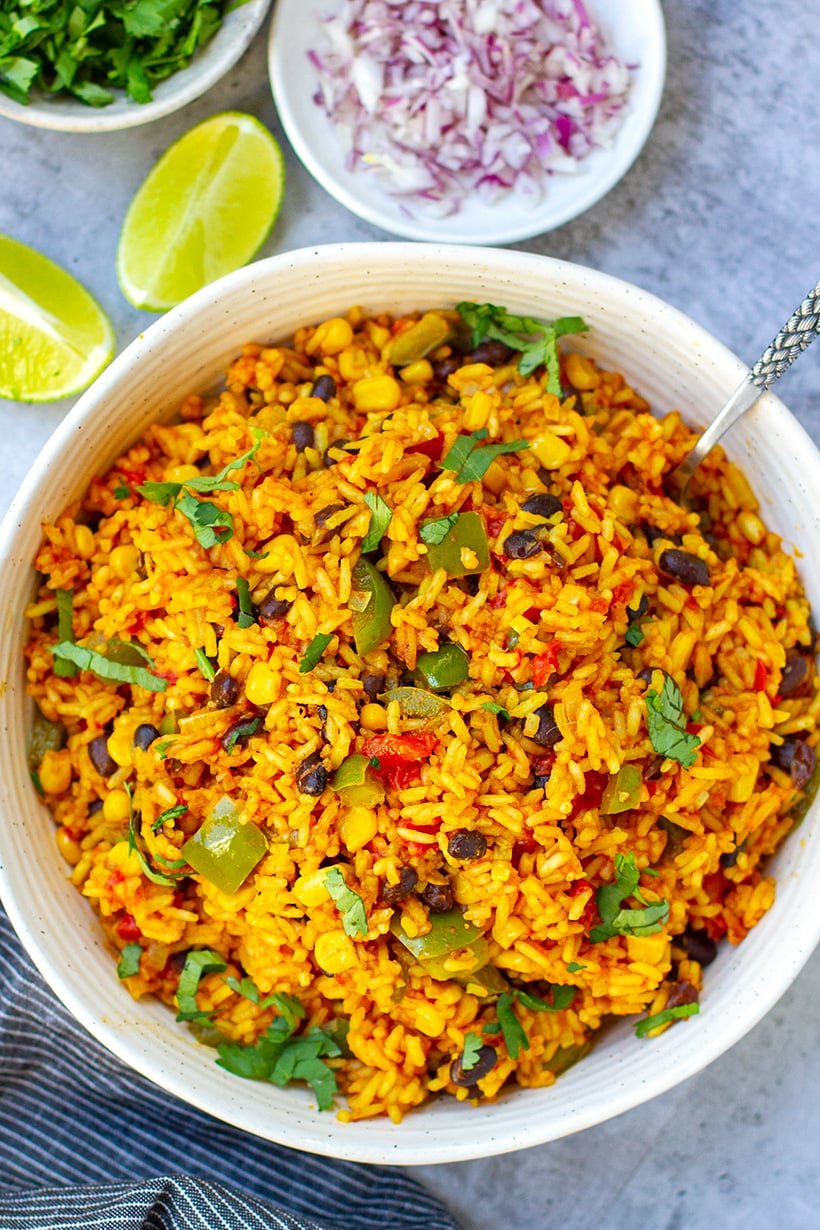 Get inspired by the below dish from A Cedar Spoon. Cook up batches of chickpeas, cannellini beans, or a variety of your favorite beans using the Instant Pot. Prepare diced cucumbers, cherry tomatoes, red onions, Kalamata olives, and crumbled feta cheese. Toss the beans with vegetables and a lemon-herb dressing and refrigerate. You can also store all ingredients separately until the assembly on the day. This refreshing bean salad can be enjoyed as a side dish or a light main course for summer lunches.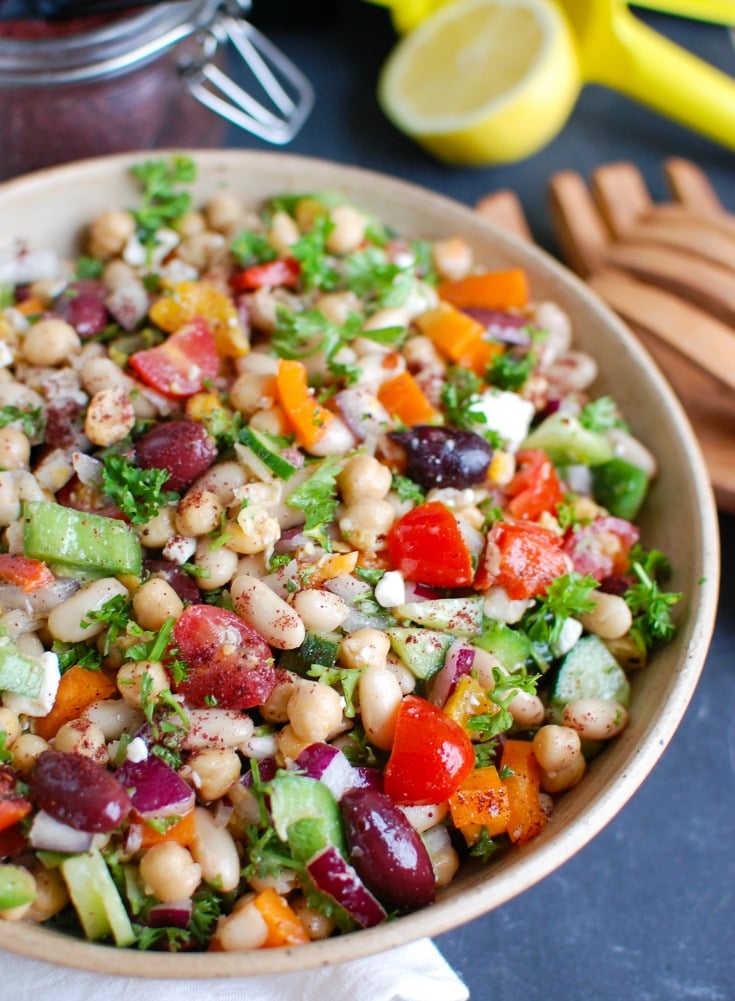 ---
More Summer Dishes
Greek Chicken & Lemon Rice – Instant Pot Greek-inspired chicken breasts cooked in Instant Pot, Instant Pot lemon rice, steamed green beans, cherry tomatoes, olives, feta, and tzatziki.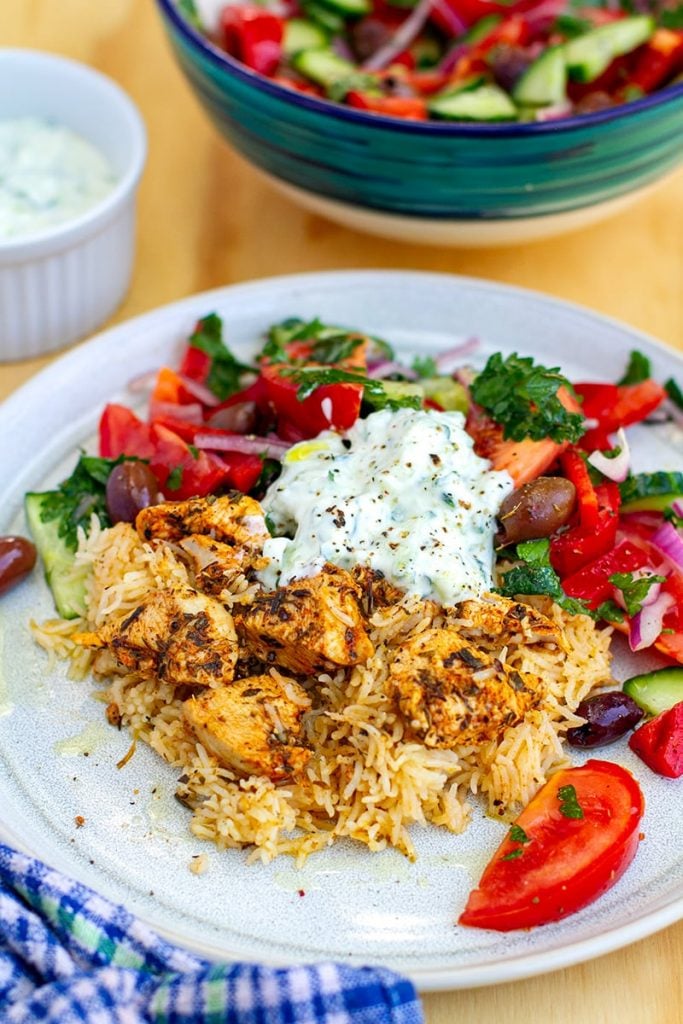 Summer Burrito Wraps – Instant Pot Mexican rice, Instant Pot ground taco meat, avocado, salsa, lettuce, cheese, and sour cream wrapped in a soft tortilla.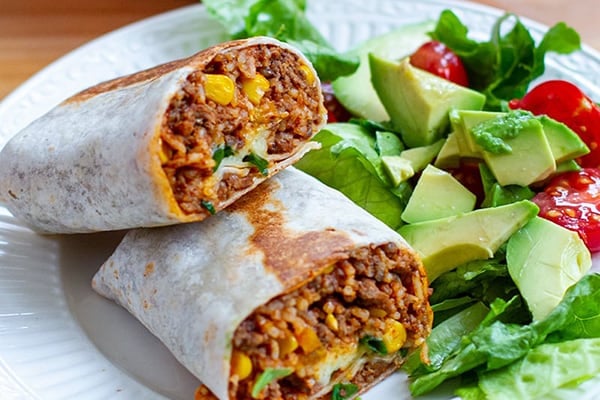 Baby Potato Salad – Instant Pot cooked baby potatoes and boiled eggs, mayo mustard dressing, pickles, and scallions.
Pulled Pork Sliders – batch of Instant Pot pulled pork, bbq sauce, fresh coleslaw, and soft buns.
Meatball Sandwich – Batch of Instant Pot tomato meatballs, mozzarella or provolone cheese, soft buns, pickled peppers or pepperoncini, and arugula.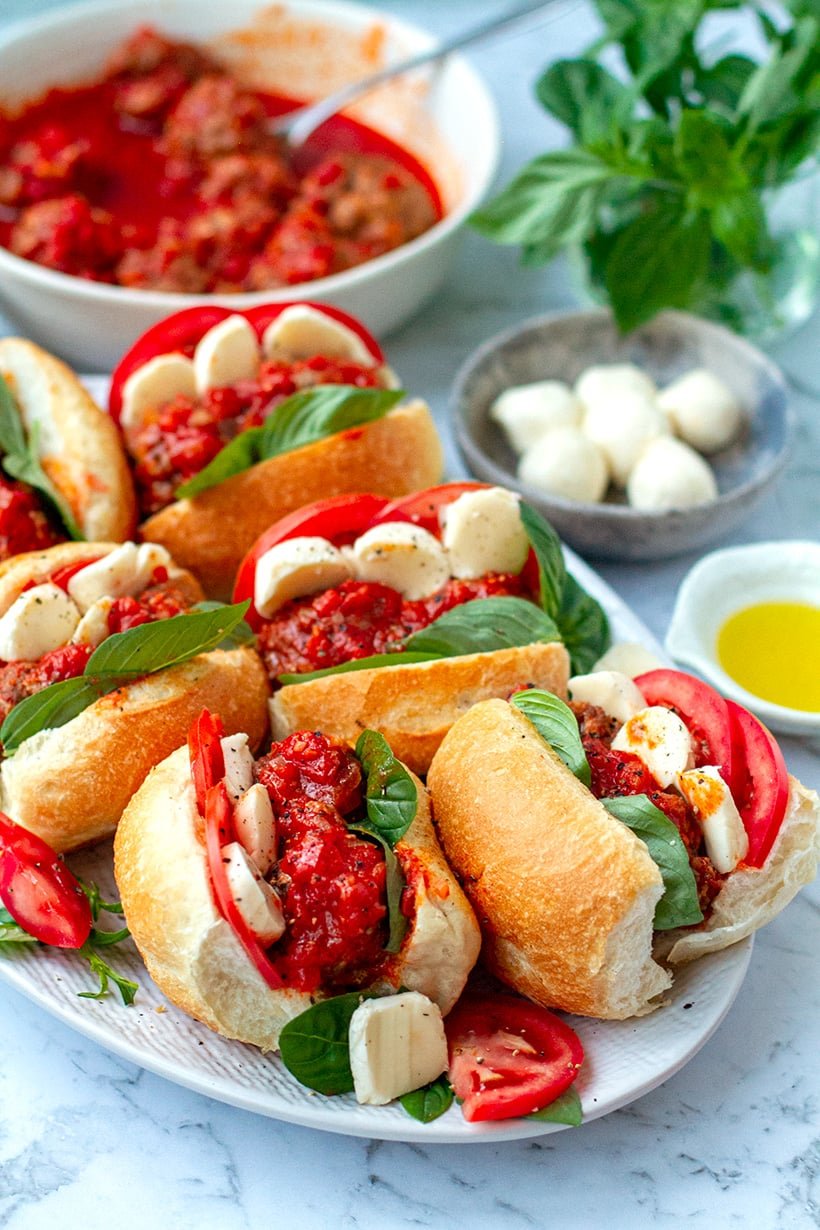 ---
GET OUR FREE SUMMER MEAL PREP IDEAS eBOOK
---