These clever Instant Pot meal prep ideas will help you turn weekend batch cooking into an effortless task. We cover all the dishes you need for prepping protein, veggies and healthy carbs for the week ahead. Turn them into easy meals for those busy weeknights!
---
The Instant Pot was practically invented for easy meal prep. It's fast, simple and easy enough to clean. Plus, it's incredibly versatile. There's hardly anything you can't cook in it. Most meal prep staples come together really simple under pressure, and these clever Instant Pot meal prep ideas will prove it.
With these Instant Pot meal prep ideas, we'll be focusing on the components of your fridge and freezer that will make pairing up dishes made fresh throughout the week, combining foods for simple lunches and getting breakfast going quickly in the morning motivating and exciting.
From meat to grains to building nutritionally complete meals, we've got your batch cooking inspiration covered with these Instant Pot meal prep recipes.
---
GET OUR FREE SUMMER MEAL PREP IDEAS eBOOK
---
WATCH OUR TOP 10 VIDEO RECIPES HERE
---
Instant Pot Meal Prep: Protein
There are so many ways to use shredded chicken from the Instant Pot, we've even created a roundup for them! This is one of the most versatile and delicious protein choices you can work with throughout the week. It works as well for a salad topping as it does in a soup. Plus, it's easy to customize with sauces or spice blends. Recipe from Tidbits.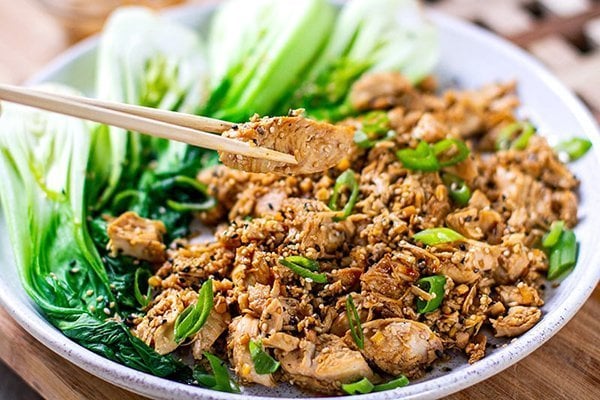 Made from fresh or frozen, this delicious Instant Pot soy-ginger chicken hibachi recipe is a great Japanese-inspired dish that you can serve with rice, cauliflower rice, quinoa, noodles or green vegetables. The chicken is stir-fried in a soy ginger and sesame based sauce and a dollop of butter.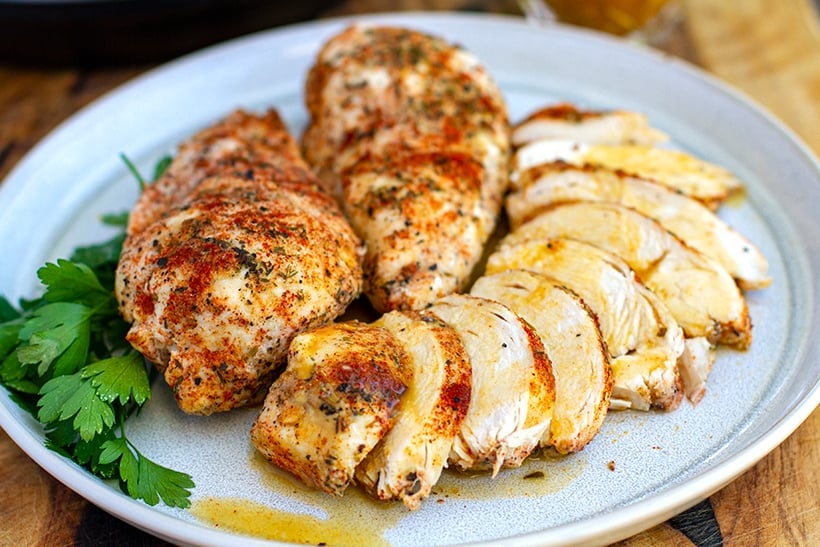 Succulent, well-seasoned pre-cooked chicken breasts is a great option for make-ahead protein as they can be sliced and used in sandwiches or wraps, salads, as a post-workout fuel, added to soup for extra sustenance or turned into something a little more exciting with a simple sauce or condiment. Our step-by-step recipe will show you how to make perfect Instant Pot chicken breasts every time!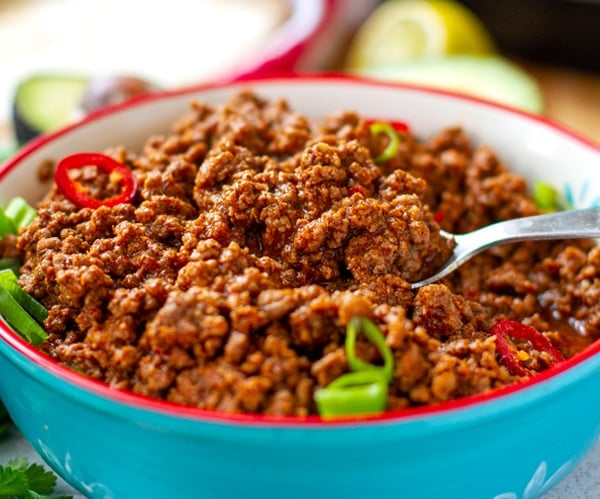 Ground beef is one of the most affordable protein choices, making it a clear winner on the weekly grocery list. This taco meat comes together with little time and effort can be used in a variety of ways from tacos (of course), burritos, salads, rice bowls and more. We also have a great post with more ideas for using up leftover taco meat here.
A good chuck roast goes a long way in the Instant Pot. With key ingredients to deepen the flavor and keep the meat juicy while is cooks to tender perfection, this healthy recipe is perfect for adding to tacos or serving alongside your choice of roasted veggies and potatoes.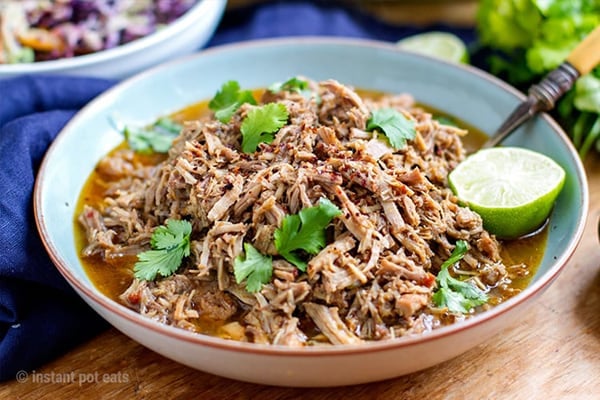 It's all about the shredded meats for meal prep! They're inexpensive, easy to make and cook with the Instant Pot in a fraction of the normal time for beautiful results. This pulled pork resembles slow-cooked Barbacoa-style, great for cooking in big batches and having with mix and match Mexican-inspired dinners throughout the week. Check out our BBQ Firecracker Pulled Pork recipe here and 15 creative ways to use up leftover pulled pork here.
A good bone broth is a batch cooking must for many. Using scrap bones and veggie trimmings, you'll have a hearty, warming, collagen-rich broth in record time. This is fabulous for tossing some protein and veggies into throughout the week for an easy soup or even sipping between meals to stay full and boost the immune system.
Meatballs are very easy to eat and even easy to freeze so naturally, they're a great choice for meal prep. Pair with your favorite pasta or pasta substitutes, or have these on some meatball subs loaded with your favorite cheese and sauteed veggies.
Hard-boiled eggs are so easy to make in the Instant Pot, and even easier to peel when you want to eat them. From a salad garnish to on-the-go breakfast to making a quick egg salad for lunch sandwiches, the hard-boiled egg truly fits in at every meal. Make a batch on Sunday and make your week awesome.
Veggie protein in the Instant Pot? Yes, please. These bean burgers are made from scratch, and the beans themselves are cooked in the Instant Pot to reduce cooking time. These are super affordable, easy to freeze and the recipe includes two different ways to enjoy these nutritious patties.
---
Instant Pot Meal Prep: Vegetable dishes
Beets turn out great in the Instant Pot, and with minimal prep. You can toss them in with the skins on, as the steaming process will make it super easy to peel right off once they cool down. These are great for adding some variety to dinner sides and making sure you're getting nutrient-dense veggies on the table.
Who doesn't love a good potato? These velvety baby potatoes are cooked with butter and dill for a zingy taste, but you can use any type of herb you'd like or simply flavor them later. Either way, these will be a welcome addition to the weekly dinner rotation.
Winter squash comes together quickly in the Instant Pot. Spaghetti squash is great to prep for a faux pasta night. Pair it with a simple bolognese sauce or top with the meatballs in the section above. It will keep well in the fridge for 3-4 days in an airtight container.
For another veggie side, try making a big batch of butter mashed cauliflower. You can add additional toppings to it throughout the week like bacon bits, sour cream, and chives to give it new life. This will go well with any shredded meat or roast-type meal, plus some green veggies. Recipe from Diethood.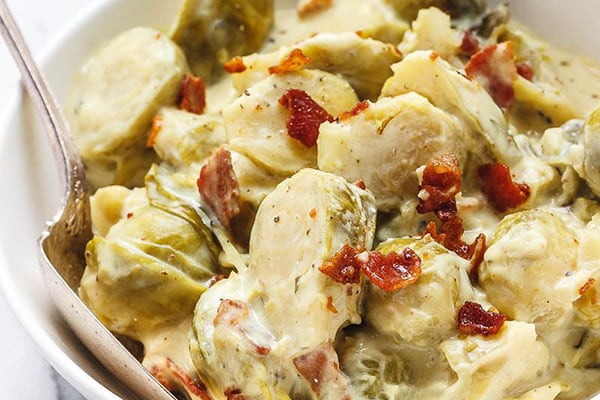 These creamy brussels sprouts cook in just TWO minutes so you hardly have to think about anything besides eating them. In a rich mix of vegetable broth, butter, and cream cheese, even the kids won't think twice about devouring a serving. With the sauce, these green veggies will keep a lot better in the fridge for easy leftovers. Recipe from Eat Well 101.
Now, back to the healthy stuff! A simple cabbage side goes with nearly every meal. Simply reheat this steamed cabbage on the stove-top or give it a quick roast in the oven to broil up the edges and serve alongside your favorite protein and starch for a mix and match midweek meal. Recipe from A Mom's Impression.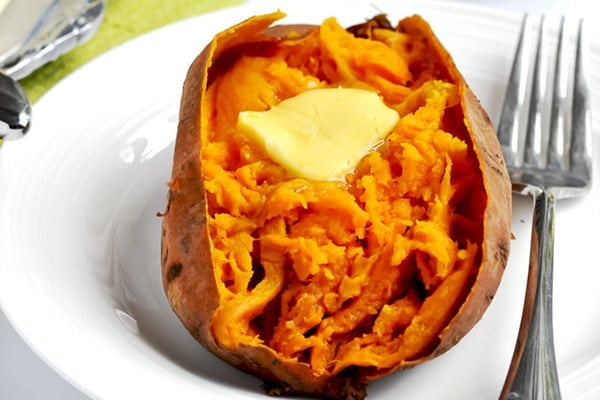 Baked sweets can be used for both savory and sweet purposes. They'll pair beautifully with a simple green veggie and any protein of choice, or you can have one for dessert with a bit of cinnamon and nut butter. Recipe from A Pinch of Healthy.
---
Instant Pot Meal Prep: Grains, Starches & Beans
For another versatile starch, you really can't go wrong with white rice. It pairs with most cuisine types from Indian and Thai to Mexican and Mediterranean. You could make a batch of plain white rice or try our yellow rice with peas and corn which is highly customizable as well. We like it as a hot side dish or turned into a cold salad with tuna, cooked chicken or veggies, and tofu.
If you like to keep it strictly grain-free or you're looking for a more protein-rich starch, quinoa is the answer. Technically a seed, this little pseudo-grain can do (almost) everything rice can do so consider similar pairings. It also goes well on cold salads with fresh greens, fruit, and protein for filling and nourishing lunches. Recipe from Happiness is Homemade.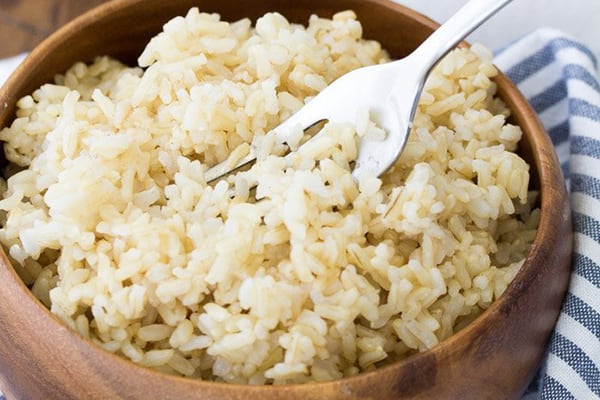 Brown rice can be used in the same way you'd use white rice or quinoa throughout the week. Just choose your preference. Either way, you can't go wrong with a big batch of cooked grains. No doubt, you'll use it up and be glad you prepped it. Recipe from Kristine's Kitchen.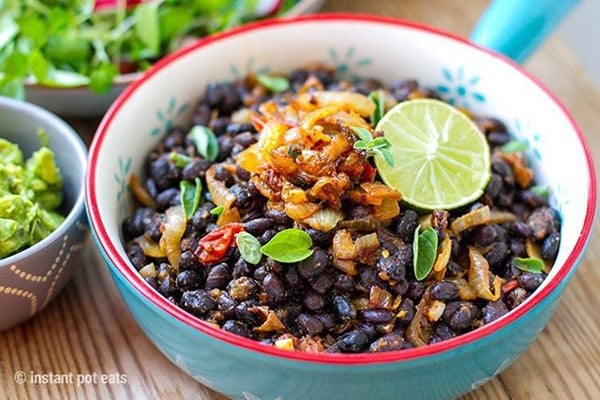 Spiced black beans are great for adding to salads, tacos, burritos and any other Mexican dishes you'd like to serve throughout the week. With easy prep and delicious results, this protein-rich side is fabulous for mixing and matching.
Chickpeas are a healthy little addition to the batch cooking menu with protein, fiber and healthy carbs to boot. They're great roasted and can be used for a crunchy snack, blended into soups, in curries with or without meat and in cold lunch salads. They can do it all – truly! Recipe from Sweet Peas & Saffron.
Use cooked chickpeas to make this gorgeous vegetarian dish with roasted red peppers, yoghurt and salsa verde.
---