We've collected some of the best healthy Instant Pot recipes to help jump-start your journey towards a healthier you. They are deliciously light, yet fulfilling to keep you satisfied and full of energy.
---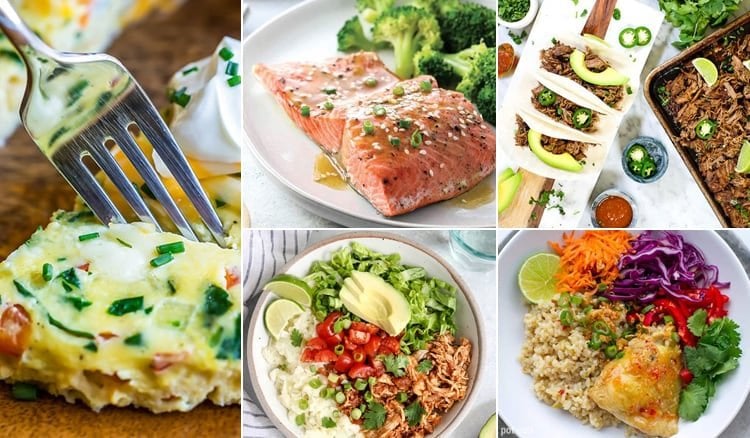 Decided to get healthier this year? Great! To go along with your new exercise regime you need a delicious and healthy diet to keep you nourished and energized. Sticking with healthy eating isn't always easy but the Instant Pot can certainly help you with some essentials required to succeed.
From retaining more nutrients in the food to being an absolute MUST when it comes to batch cooking and meal prep, the pressure cooker is your best friend on any diet. Whether you're doing Whole30, gluten-free, vegan or just trying to boost your nutrition, this is a gadget that keeps on giving. Today, we are sharing our favourite, top-rated healthy Instant Pot recipes to get you inspired and motivated.
1. Soy-Ginger Salmon With Broccoli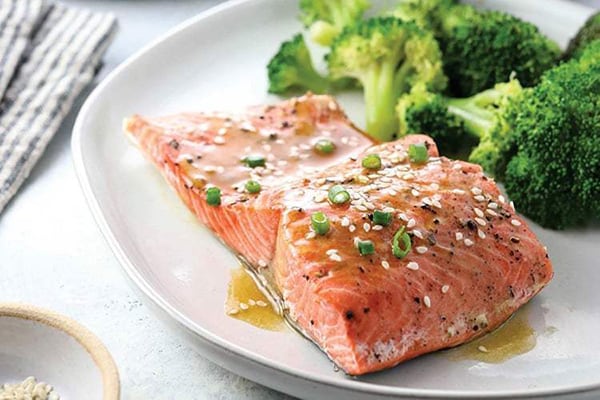 Salmon is an excellent source of protein and omega-3 fatty acids, and it comes to perfection in just minutes in the Instant Pot. This quick and easy Instant Pot salmon is so delicious with an addictive soy-ginger dressing. Recipe on Instant Pot Eats.
2. Healthy Corn Sweet Potato & Chipotle Soup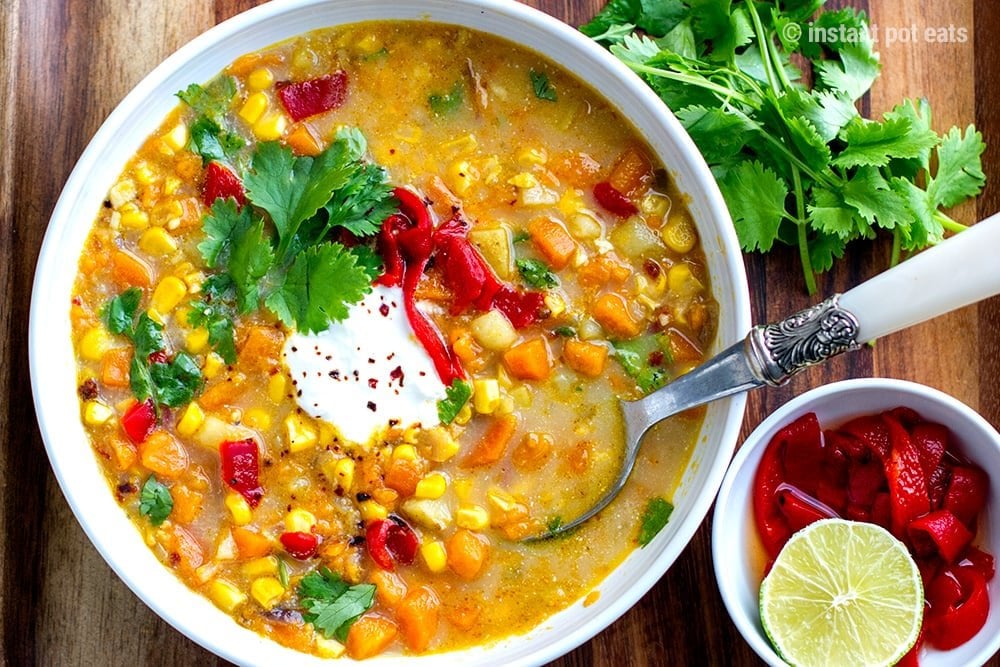 Fresh or frozen doesn't matter with Instant Pot, just throw the corn in. This Mexican-inspired Instant Pot corn soup is made with healthy ingredients, flavourful spices, lime and a little chipotle for a smoky, chili kick. It's gluten-free and vegetarian-friendly and can be made completely plant-based by using coconut yoghurt when serving. Recipe on our blog here.
3. Potato Salad With Tangy Vinaigrette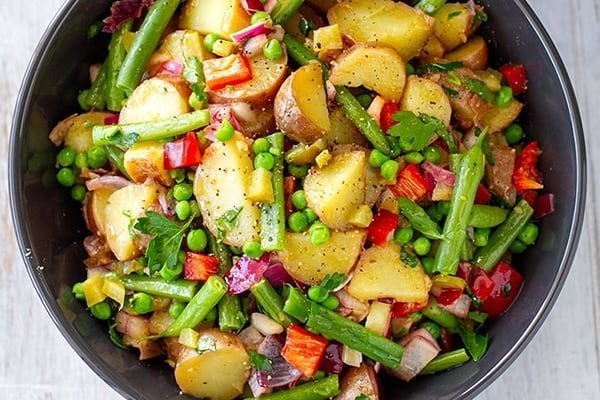 This Instant Pot potato salad is a great example of using the pressure cooker for spring and summer dishes. It's a fantastic salad to bring to a barbecue party, picnic in the park or to enjoy as a nutritious, balanced meal at home. Mixed with lovely green beans, peas, pickles, and zesty shallot vinaigrette, it's vegan, gluten-free and Whole30 friendly. Get the recipe on our blog.
4. Mexican Quinoa With Cilantro & Lime Dressing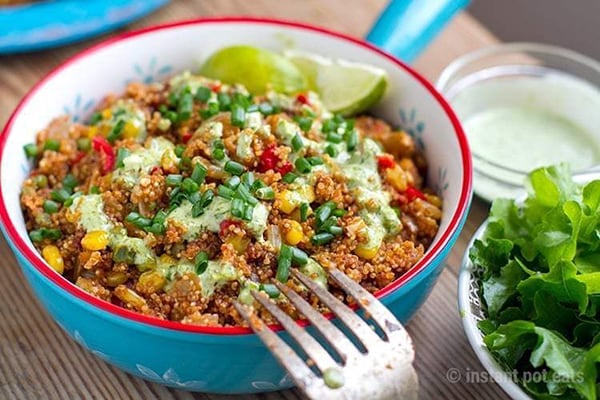 Perfect for meat-free Mondays! The quinoa is perfectly (and quickly) cooked together with gorgeous veggies and Mexican inspired spices, so it absorbs all those beautiful warm and earthy flavors while still in the pot. As a contrasting and much complimenting addition, the cilantro and lime sauce is drizzled over the top when you serve this dish. Get the recipe on our blog here.
5. Healthy Frittata Breakfast Casserole
This Instant Pot frittata breakfast casserole is crazy delicious and loaded with healthy veggies. It's a tasty breakfast that is easy to make and an excellent make-ahead option for those busy mornings. Recipe from Peas and Crayons.
6. Instant Pot Sweet Potato Tortilla Soup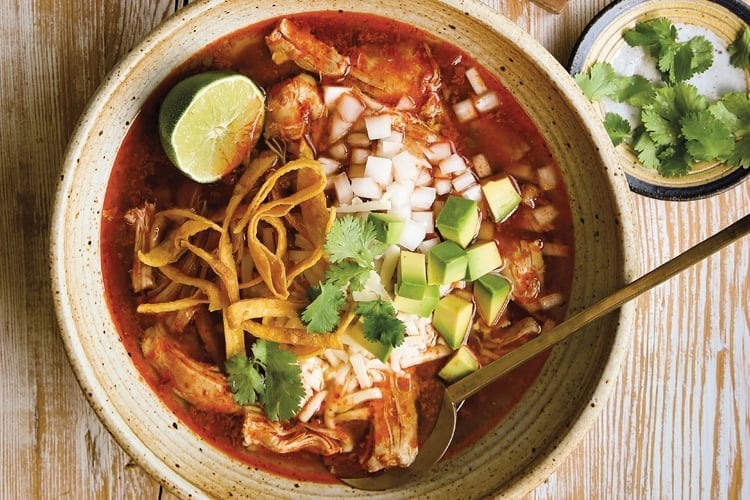 When it comes to hearty one-pot meals, warm tortilla soup is always a winning choice. In this recipe, it's made with sweet potatoes, black beans, and a blend of gorgeous warm spices. It easily converts to a vegetarian or vegan-friendly dish. Get this recipe on our blog here.
7. Whole30 Instant Pot Seafood Gumbo
This Whole30 Instant Pot seafood gumbo is bursting with flavor and delicious ingredients like sea bass filets, bell peppers, and shrimp. It's the perfect one-pot meal to add to your rotation. Creamy, nutritious and so comforting! Recipe from The Movement Menu.
8. Healthy Sloppy Joes (Gluten-Free, Paleo)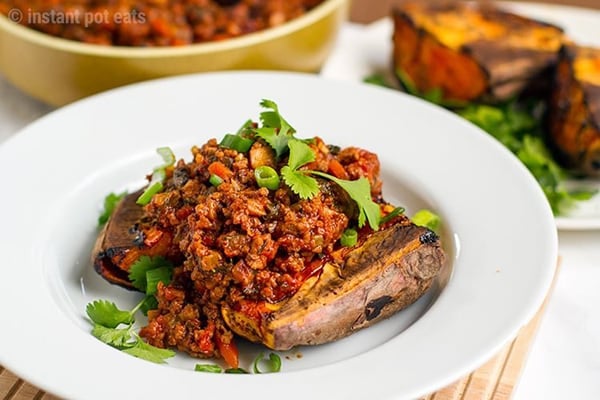 Who doesn't love a generous serving of sloppy joes over a soft bread roll? Here is a healthier version full of veggies and served over baked vitamin-packed sweet potatoes. Get the recipe on our blog here.
9.Paleo Instant Pot Butter Chicken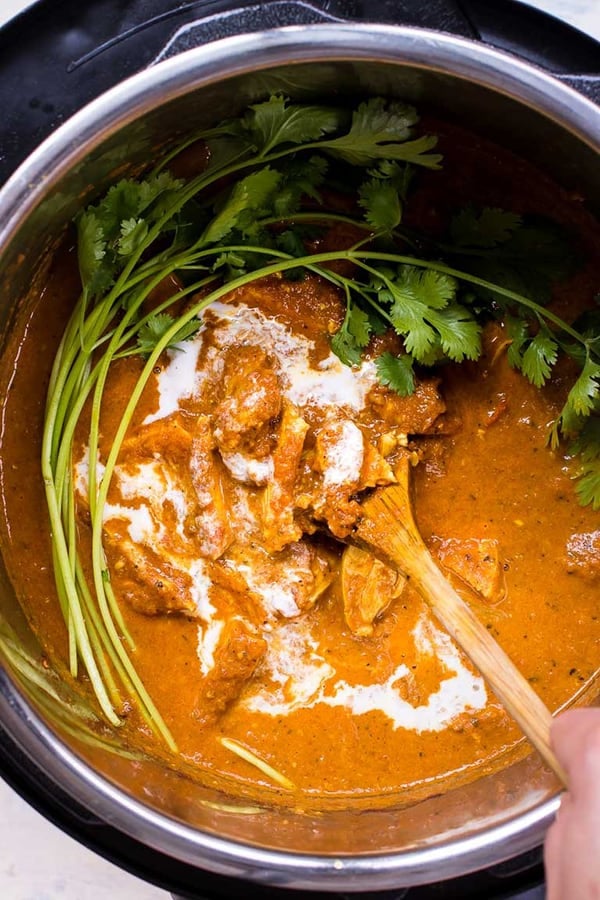 This Keto and Whole30 Instant Pot butter chicken recipe is easy and takes 10 minutes cook time. It uses gluten-free, dairy-free coconut milk cream to make its delicious sauce. Recipe from I Heart Umami.
10. Turkish Split Pea Stew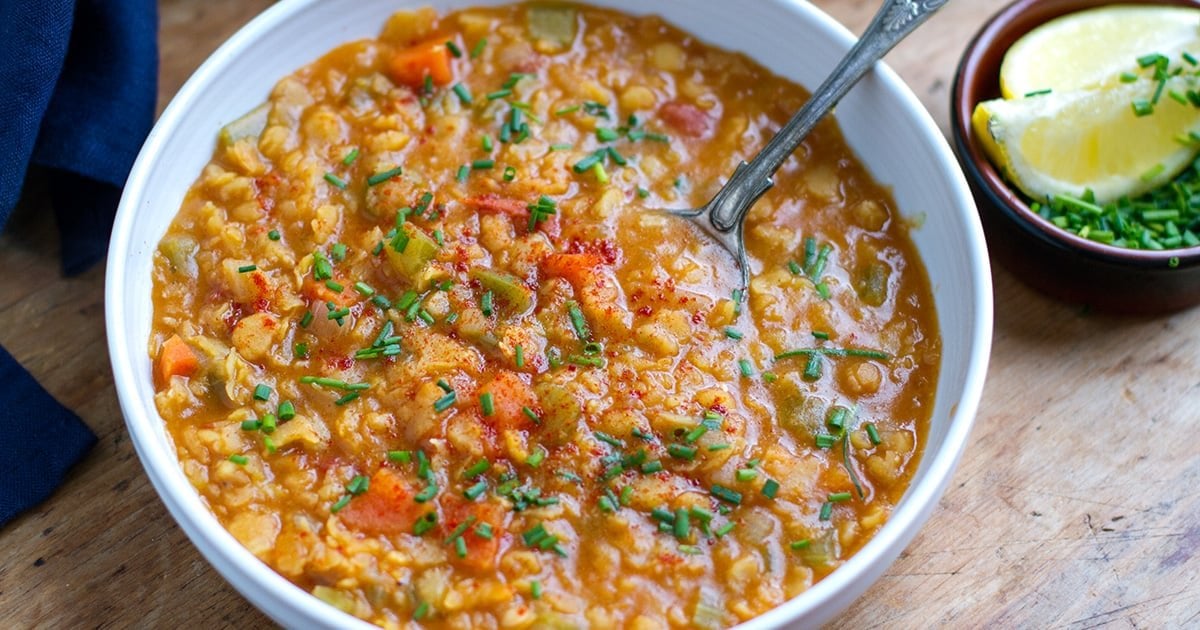 This gorgeous split pea stew is adapted from a classic Turkish lentil soup. It's simple, rich and nutritious stew is full of warm, aromatic spices and flavors that will get you asking for seconds. Made with yellow split peas, this vegan and gluten-free friendly stew is ridiculously easy and quick. Recipe from Instant Pot Eats.
11. Chicken Burrito Bowls (Low-Carb & Whole30)
These Chicken Burrito Bowls come together in just about 30 minutes, for a fast and easy weeknight dinner. Cauliflower rice is served for a low-carb alternative that is also easy to prepare in the Instant Pot. Then top it off what some avocados and lime. Recipe from Detoxinista.
12. Veggie Burrito Bowls With Avocado Crema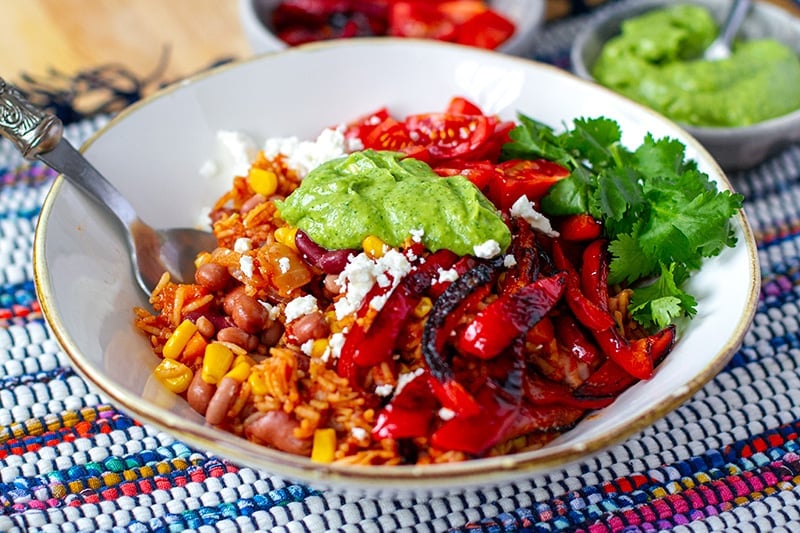 Using pantry staples like rice, beans and sweet corn, this vegetarian Instant Pot burrito bowl is filled with nutritious ingredients and classic Tex-Mex flavors. Paired with grilled sweet red peppers, fresh tomatoes and delicious cilantro avocado crema, this dish is a total crowd-pleaser and will be a hit with the whole family. It's gluten-free and vegan-friendly. Recipe by Instant Pot Eats.
13. Thai-Style Brown Rice & Chicken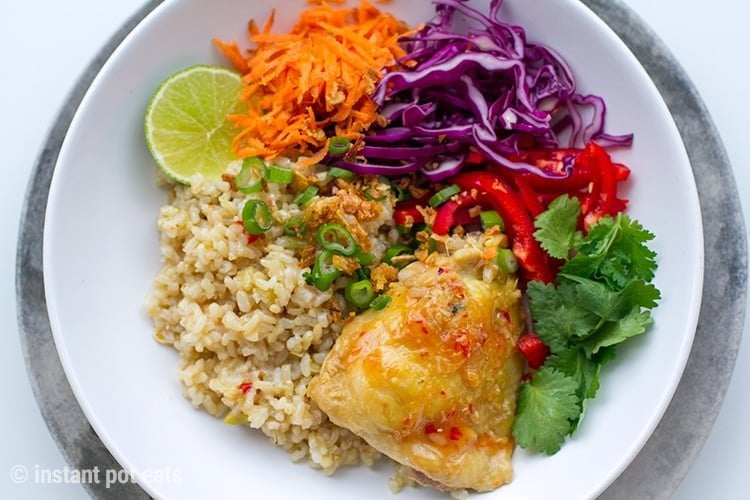 When it comes to weeknight cooking, you can't beat Instant Pot one-pot dishes. They're hands-off and fuss-free, leaving you with minimal clean up at the end. Cooking everything together allows the brown rice to absorb not only the broth liquid during the cooking process but also all the flavors of this Thai-inspired dish. Recipe on our blog here.
14. Instant Pot Carnitas (Paleo, Whole30 + Keto)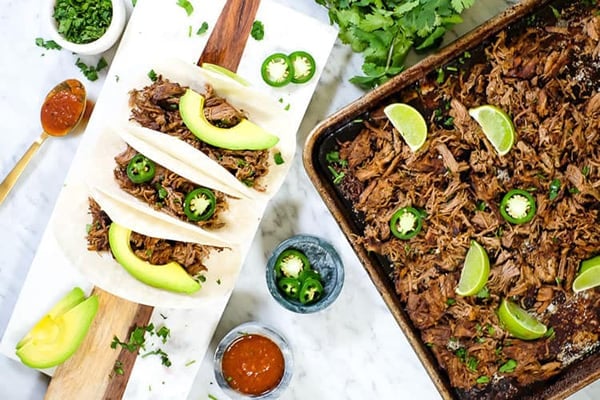 Trying to eat Paleo, Whole30 or gluten-free? We have two tips that will totally be a game-changer for cooking carnitas with your Instant Pot. You'll get that fork-tender, fall apart texture you've been wanting. Recipe from Real Simple Good.
15. Delicious Healthy Borscht (Beet Soup)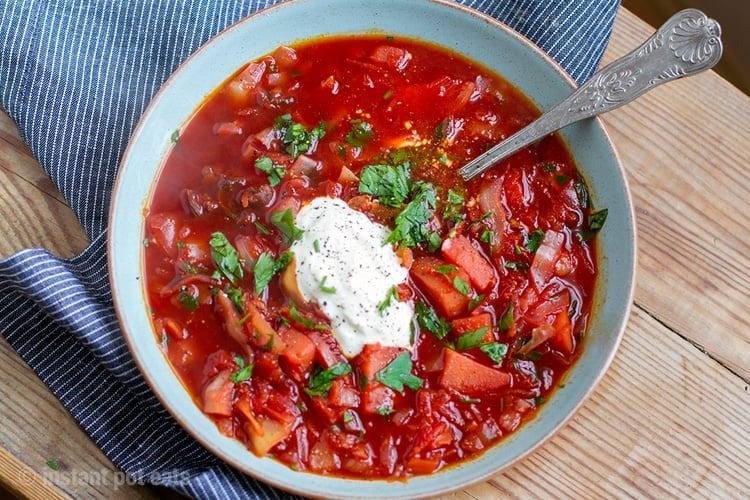 Beets naturally have a beautiful vibrant red color which enhances the look of this soup. Instant Pot Borscht is a hearty beet soup that is quick and easy when made with the pressure cooker. It's delicious, full of nutrients. vegan-friendly, and gluten-free. Get the recipe on the blog here.
16. Easy Instant Pot Spinach Dal With Rice
This Indian lentils soup, Spinach Dal, is creamy and cooked with flavorful spices such as cumin, turmeric, and garlic. Perfect to serve over hot fluffy rice for a wholesome comfort meal that the entire family can enjoy. Recipe from Ministry of Curry.
17. Instant Pot Rice Pudding (Chai Spiced )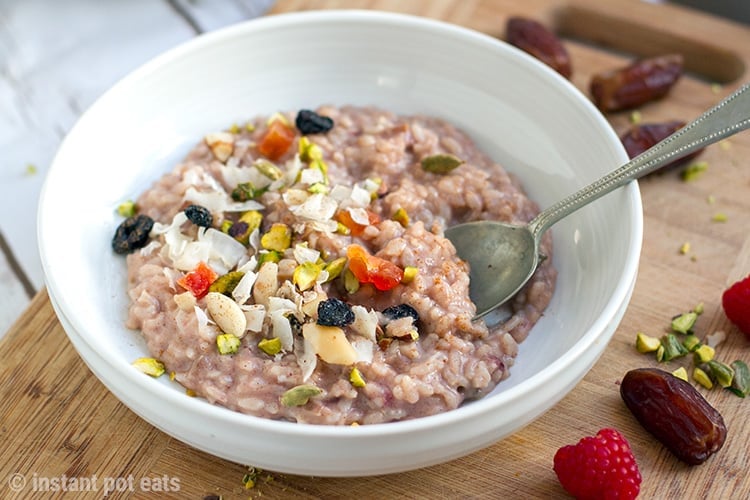 This Instant Pot rice pudding is made with warm aromatic chai spices, such as cardamom, cinnamon, ginger, and clove. Dates are added to sweeten things up for this Indian-inspired breakfast or dessert. It's vegan, dairy-free and gluten-free. Recipe on our blog here.
18. Instant Pot Beef and Broccoli
This Instant Pot beef and broccoli taste better than take-out. Even though ordering out is convenient you pay for it in other ways. Start this year out right by making this healthier version of a classic Asian dish. Recipe from Whole Kitchen Sink.
19. NUTRITIOUS CHICKEN NOODLE SOUP
Quick and easy Instant Pot chicken noodle soup that can be on the table in 30 minutes? Yes, please! We love nutritious and healthy meals the whole family can enjoy and that don't take much effort and this chicken soup is one of those recipes. Get the recipe on the blog here.
20. Shredded Beef (Paleo, Whole30, Gluten-Free)
What we love about shredded beef is that it's one of those recipes that you can make once and use up multiple times in different dishes. It is so versatile and perfect for meal prep and batch cooking. It's paleo, gluten-free, and with a Whole30 option. Keep it simple or add a BBQ twist to it. Recipe on our blog here.
21. INSTANT POT GARLIC-GINGER TOFU & BOK CHOY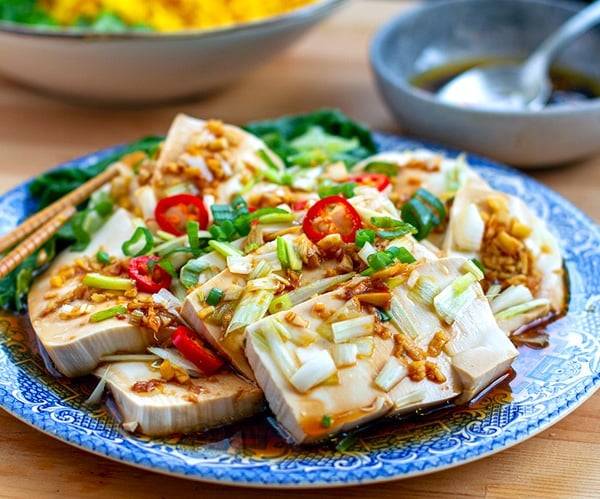 Tofu and bok choy steamed together with savoury sesame soy sauce, fresh ginger and garlic is a simple Japanese-inspired dish that is very healthy and delicious. Pressure cooker steam locks in all the nutrients and the whole recipe is made in 20 minutes. Recipe from Instant Pot Eats.
22. Shrimp With Tomato & Garlic (From Frozen)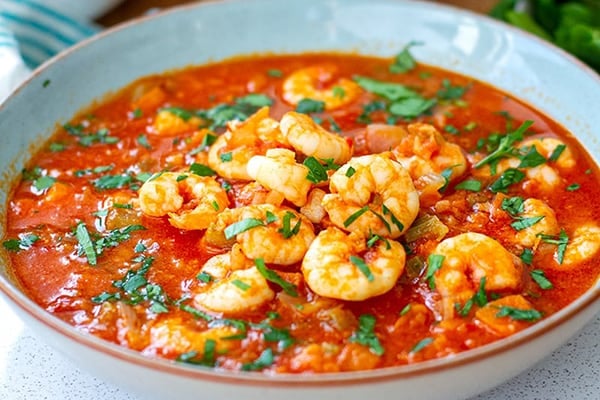 This healthy and delicious Instant Pot shrimp dish is super easy to make and can be served over pasta, rice, quinoa, cauliflower rice or zucchini noodles (for a low-carb version) or enjoyed with some crusty bread to mop up that yummy sauce. Made with frozen shrimp, tomatoes, garlic and chili, this recipe is Italian-inspired and only takes 15 minutes. It's gluten-free, paleo, low-carb, Whole30-friendly. Recipe from Instant Pot Eats.
Start today with your new Instant Pot for a healthier tomorrow with your family. These nutritious recipes can inspire you to stay motivated. While your Instant Pot will make life simple, easy and efficient so you to keep up the drive, determination and focus to accomplish your healthy diet goals.
---