Have you noticed people talking about an Instant Pot diet lately? While some people cook spaghetti and cheesecake in their pressure cooker, others use it as a tool to lose weight and to eat healthier with meals like shredded chicken and rice or nutrient-dense veggie soup. Today, we're discussing some of the ways the Instant Pot can help you lose weight and stay on track with eating healthy.
---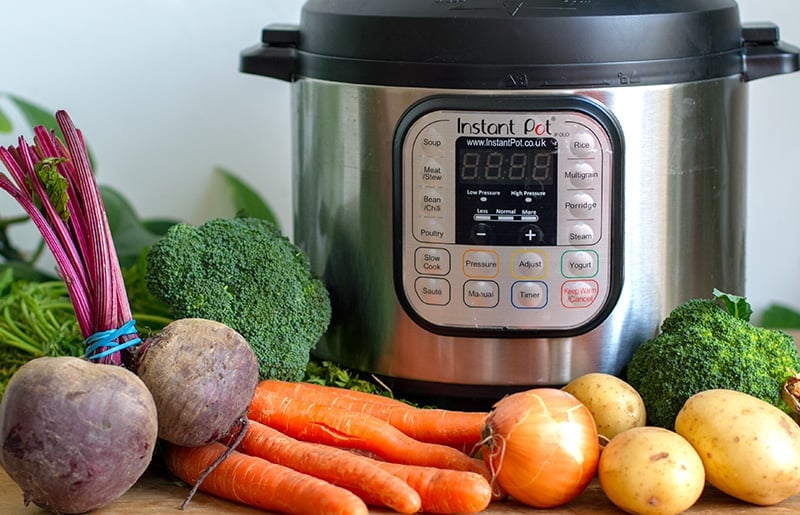 First of all, we must start by saying that the Instant Pot doesn't always equal instant loss! If you look around, you'll see testimonials from Instant Pot users who've lost massive amounts of weight.
What's their secret? It's certainly not the rich comfort food like Instant Pot mac & cheese or cakes. It's about utilising this incredible tool to motivate you to purchase real food, cook real food, and eat real food – simple as that.
Why does the Instant Pot diet approach work?
When people think about weight loss, there are two misleading words that come to mind: difficult and inconvenient. With the Instant Pot, cooking from scratch, experimenting with healthy recipes, and eating nourishing food becomes a little easier and a little more convenient. With one-pot meals, the ability to cook enough for leftovers and freezing, and smaller time investment, eating healthy feels far more approachable for the average person – even someone who has no experience cooking.
In essence, it works because it's easy.
What if you made dinner in your Instant Pot every night?
A simple resolution like this one could be the key to shedding the pounds you've been trying to lose for years. Think about what your dinner looks like right now on a day-to-day basis. Chinese food? TV dinners? Picking and grabbing at candy and crisps until you completely forget you were supposed to eat a proper dinner? Pizza?
There are two huge benefits to making an Instant Pot dinner every night.
ONE-POT MEALS
First, you can easily pull together a one-pot meal. This means dumping, setting, and forgetting until the glorious-sounding beeps of your pot ring from the kitchen, beckoning you to mealtime. You don't need to dirty more than a dish or two to prep your food, and you won't need to set aside precious free time to slave over a hot stove.
It's sounding like a pretty sweet deal, right? You could try our Instant Pot Moroccan Lamb Stew one night. It's Whole30, too!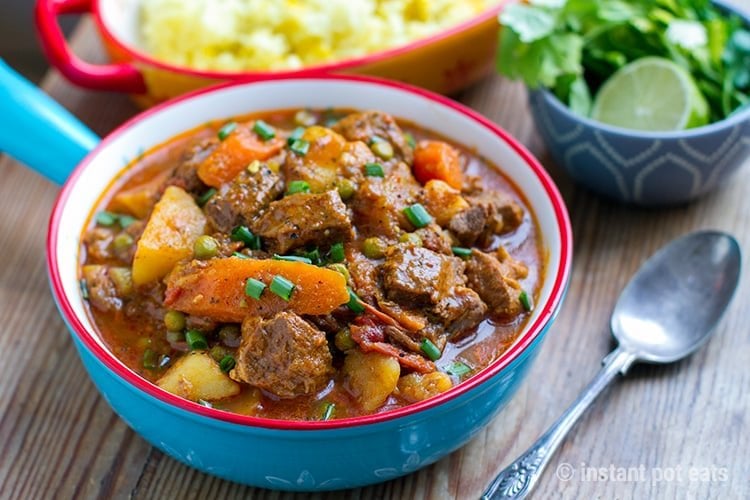 INSTANT POT LEFTOVERS
Second – and even more important for your long-term sustainable habit-building prospects – is that you can make a big enough dinner to have leftovers for the next day.
Lunch is a huge hurdle for many people, especially folks who work in offices. If you don't prepare ahead of time, you're going to cave for some less-than-stellar choices when the noonday hanger rolls around. With one simple goal in mind – daily dinners in your Instant Pot – you are effectively killing two birds with one stone. Plus, saving that extra portion for the next day will deter you from reaching for seconds, even if it's quite tempting. See? It's only getting easier if you ask us.
Check out these 18 Healthy Instant Pot Recipes for your next dinner.
Meal prep WITH INSTANT POT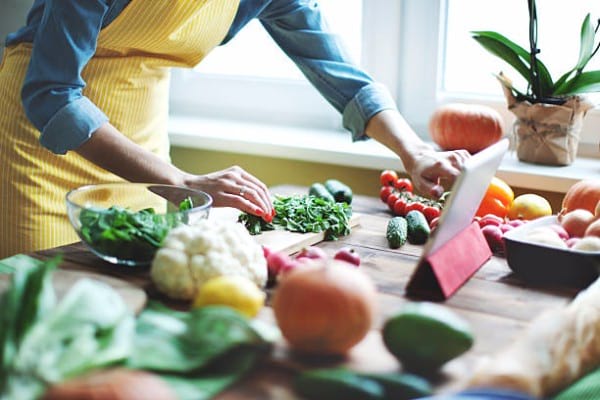 It doesn't matter what your approach to diet and weight loss is – paleo, keto, vegan, just counting good ol' calories – meal prep works. It works because you create your own convenience, eliminate temptation, and ensure that there's always a healthy choice to make at your disposal. When the choice is already made for us, we're less likely to consider other (unhealthy) options.
Whether that means cooking a little extra dinner every night or a full-day session using your Instant Pot and whatever other tools you choose, there's no doubt it makes cooking big batches easier. Meal prep with the Instant Pot can make both of the following strategies much simpler for you. Here are our favourite Instant Pot meal prep ideas.
Or, get inspired by these single-serve soups for the freezer from Meal Plan Addict
Buffet style meal prep
One popular and effective method of meal prepping for weight loss is making a variety of foods and storing them separately for easy mixing and matching down the road. This is one I love for making sure I can build balanced meals throughout the week.
I like to make 2-3 portions of protein (ex: chicken, beef, and beans), some rice or lentils for bulk, and a few types of veggie dishes – both starchy and green. The best part? You can combine new foods, so you don't get bored and stray from the plan you carefully developed. I can make all of these things in my Instant Pot in a day, popping in one recipe after another with very basic cooking techniques that are easily found in the manual.
For example, this Instant Pot shredded beef is a super versatile meal prep food as you can use it in a variety of ways throughout the week. Or, you could make a batch of boiled eggs, shredded chicken, or some tasty black beans for a vegan protein option. You could also prep a bunch of sweet potatoes, quinoa, brown rice and so on.
Create a meal plan
For others, it's more helpful to create a meal plan and batch cook that way. Choose a few dishes you like that will fill out the rest of the week and get to work!
One of the most helpful tips for this is to make recipes that constitute a full meal – veggies, protein, and some healthy fats are a must. This combo will keep you satiated and well-nourished so you'll feel satisfied after eating. I like to make a soup or a stew, a rice or pasta dish, and something with a lot of zest or spice like curry. Choose an array of flavours and textures to keep things interesting.
For example, this harrisa shredded chicken and chickpeas from Skinny Taste can both be prepared ahead of time in your Instant Pot. You can then serve the leftover chicken over cauliflower rice. You might also like to try our Thai style brown rice and chicken or this Moroccan chickpea stew for a meatless option.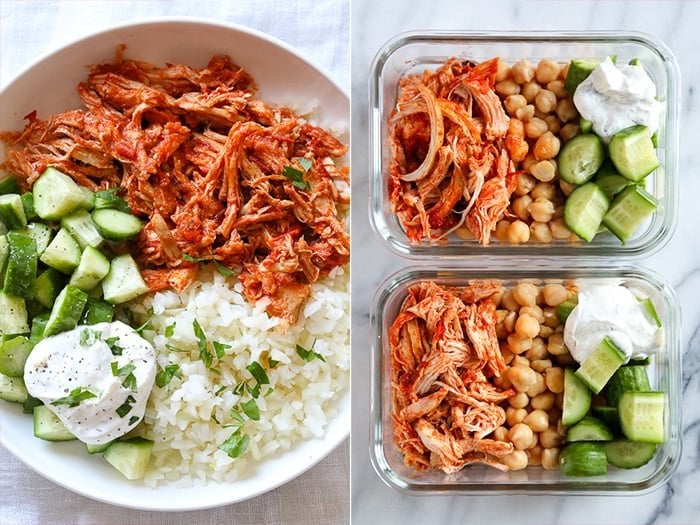 With the Instant Pot, the convenience is already right there. All that's missing is a little initiative (and probably a trip to the grocery store) on your end. Voila! You are the meal prep master. Now go hashtag it with a #mealprepmonday and start pinning your favourite go-to batch cooking recipes!
It's a time saver!
We all know the Instant Pot cooks meals really quickly. On one hand, you could go on the slow cooker diet, but it simply doesn't have the same charm and ease. Not only does the Instant Pot cook fast, but it sort of speeds everything else up.
Most people get home from a long day of work and aren't exactly excited by the idea of cooking let alone thinking. There are plenty of healthy meals you can make in the IP that involve very few ingredients, little more than tossing ingredients into the pot and having dinner done for you.
Here's the thing about losing weight: it requires consistency.
Here's the thing about life: it's not that consistent.
You may aim to be cooking dinner by 5 pm, but some days, you're going to get a late start. Some days, you're just not going to feel like it. Some days, other things are going to be happening and you're hardly going to have time for much more than pressing a button. These are the times when you're going to be vulnerable to reaching for unhealthy foods – likely while very hungry.
The Instant Pot not only saves time, but helps you to make the most of your time (like squeezing in a yoga sesh, taking a bath, or meditating instead of cooking).
Focus on getting more – not less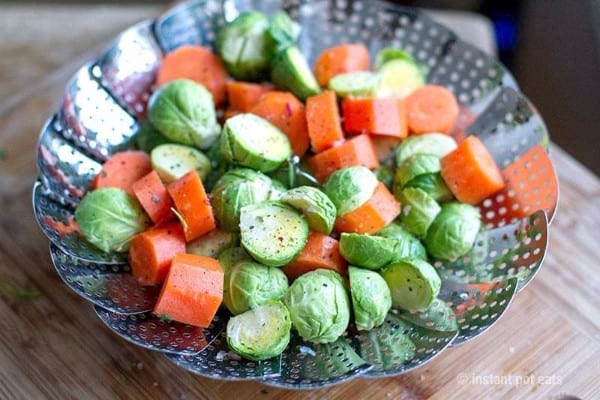 Any "diet" is synonymous with elimination to most people. I'd like to invite you to think about it in a different way; think of what you can add. The reason an Instant Pot weight loss plan is successful is that this fun and the exciting gadget has an uncanny way of inspiring users to try cooking foods they normally wouldn't.
You might be thinking, "Well, I don't really make many cheesecakes at home and want to try that," which is totally fine (in moderation). On the other hand, you might be excited about cooking up a big batch of chickpeas in less than 30 minutes to add protein and fibre to your meals throughout the week. Check out our Guide to Cooking Grains & Legumes in the Instant Pot here.
On the same note, the Instant Pot really does make an eating plan that excludes a lot of different foods easier. Cutting carbs, reducing or eliminating meat, or kicking sugar means you have to be in control. Once you learn to use the pot and all of its wonderfully intuitive functions, you'll be able to focus on the ingredients you can use… and make them taste out-of-this-world.
How can I do the Instant Pot diet?
The Instant Pot diet is truly what you make of it, so picking your style of cooking is on you. Here are some pointers to get you started:
Make one meal a day in your Instant Pot. Not just any meal! Choose whole foods. Aim to add as many colours as possible, and make sure you balance out your macronutrients. Build your meal with a protein, some healthy fat, and veggies. Add grains or starch if you like and season. Choose your liquid. This is all it takes to get started.
Develop a pressure cooker meal plan. You can make find many recipes and meal plans online or create your own. If you stick to your plan, you remain consistent. Consistent habits = consistent weight loss. Check out our Instant Pot recipes for different diet types.
Pencil in meal prep day. We follow through when we prioritise our plans. When it comes to meal prep, there's no denying it's a lot of work – even with an Instant Pot. Carve out time to make it happen and go in with your ingredients ready and recipes handy. With the Instant Pot, you'll realise just how quickly this session goes by – especially if you're used to prepping without it.
Give something up. It's not necessary, but think about what sneaky habits in your eating patterns the Instant Pot can replace. Takeout? Pizza? Fast food? What's your biggest food vice, and how can you use this tool to your benefit in kicking the habit for good? Being inventive, creative, and dedicated can make all the difference in your weight loss journey.
Healthy recipes to get you started
Where to begin? Well, you're in the right place! On Instant Pot Eats, we try to always share healthy, wholesome recipes focused on real food. Many of our recipes are gluten-free, and we aim to share a healthy blend of both vegan and paleo eats for a variety of people. Here are some ideas if you want to take on the Instant Pot diet plan.
Breakfast:
Main dishes:
Has the Instant Pot helped you change your eating habits, your relationship with food, or helped you to lose weight? We'd love to hear your story! Let us know in the comments below.
---