As the popularity of the Instant Pot grows around the world, we're starting to see a lot more cookbooks in the market dedicated to pressure cooking. We've decided to take a few of them for a spin in our kitchen, so we can share honest reviews about our favourite Instant Pot cookbooks. Today, we are featuring Kathy Hester's book titled The Ultimate Vegan Cookbook For Your Instant Pot.
---

The book: The Ultimate Vegan Cookbook for Your Instant Pot by Kathy Hester
The focus: Vegan food that will make you say, "Is this really vegan?". Fast food for people who want to eat healthy. The perfect book for anyone with an Instant Pot at any skill level.
Featured recipe from the book: Vegan Holiday Orange Spice Cake
About the author
Kathy Hester of Healthy Slow Cooking is passionate about making healthy eating easy and delicious. Her recipes are vegan – but don't let that scare you off. They are full of flavor and the meat-eaters in your family will love them too.
Her recipes have been featured in The Washington Post, The Oregonian and Yoga Journal Online, just to name a few. She is also the author of the bestselling cookbook, The Vegan Slow Cooker. Her latest book, The Ultimate Vegan Cookbook for Your Instant Pot, will make you fall in love with your Instant Pot too!
About the book
Kathy went above and beyond in this cookbook, really sifting through the basics of the Instant Pot. Even if you've never so much as taken the lid off your pot yet, this book can be a fantastic resource for beginners and primed pressure cookers alike. If you've spent any amount of time on Kathy's blog – or even just read the name – you know she's a big fan of slow cooking. Nobody is knocking on the slow cooker here, but we can't deny just how fast and easy the Instant Pot makes cooking in comparison. If you're accustomed to slow cooker recipes, the transition to pressure cooking is actually quite simple, and this book proves just that.
When it comes to delicate veggies, finding out just how to best preserve their taste, texture, and nutrients can be a struggle. Kathy explains, "I do think that pressure cooking is kinder to vegetables, and it's easier for them to retain a perfect texture. There are ways to layer vegetables in different dishes or wrap in foil so that you can cook two different kinds of veggies to perfection at the same time." This is what makes this vegan cookbook such a hit with us.
Kathy goes on to explain the basics of the Instant Pot so you can learn your way around it, discussing the most important dos and don'ts, how to clean your Instant Pot, and delves into the uses of each button. She also does a great job at expanding upon different dietary restrictions for folks who want to cook with less oil, less salt, or eat gluten-free.
What we love about this cookbook
The table of contents is neatly organised into categories we really care about! She begins the book with five starter recipes to get you acquainted with your pot and leads into budget-friendly meals, fun ways to eat more whole grains, one-pot meals to satisfy without any additional fuss, layered meals, beans and lentils, and of course… dessert.
The book also compiles some great recipes that don't require the Instant Pot. When it comes to eating a diet with any restrictions at all, flavour is important! Keeping things fresh can be hard to do, but Kathy provides some templates for flavour-boosting spice blends that you'll want to stock the pantry with.
In each section, she provides an introduction for standard cooking times and common questions, making these recipes truly foolproof. Learning the ropes of cooking different types of beans, grains, and vegetables is no small feat, but she doesn't leave any question unanswered. Consider this the ultimate guide to cooking plant foods in your Instant Pot.
Who is this book for?
Literally everyone. This book is a great way to learn how to make veggies and make them taste good. It's fantastic for vegans and vegetarians, but it's also a good addition to the kitchen of any conscious cook who wants to cut back on their animal product consumption or simply create more nutrient-dense meals. Vegans will love the simplicity and the options to make expensive and often unhealthy supermarket choices like meatless sausage from scratch.
She packs in staple recipes we could see ourselves coming back to over and over again to stock the fridge and snack smart. This cookbook is truly a dream for the non-vegans who want to avoid dairy. Some highlights include pressure cooker almond milk, cauliflower sour cream, ricotta, queso, and non-dairy yoghurt.
The savoury section is packed full of plant protein and meals ranging from humble to downright gourmet. She does not skimp on comfort food options like cornbread and hearty soups to pair it with. Don't even get me started on the sweets section! This is perhaps my favourite part of the book.
Fortunately, we have a recipe to share with you today for a delectable dessert just in time for the holiday season. Get a preview of what's to come in this book with Kathy's stunning Holiday Orange Spice Cake.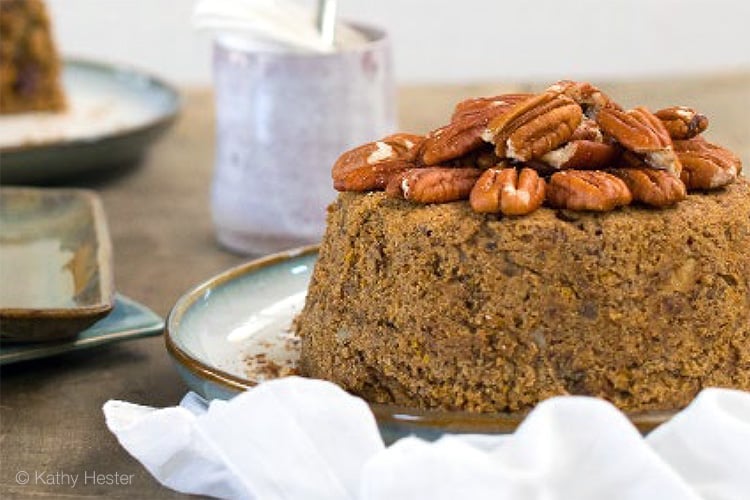 If you want more where that came from, this is the ultimate guide to making plant-based pressure cooking easy and exciting for you. You can purchase the book here.
---