Artichoke is a wonderful and beautiful vegetable, and it's super tasty, especially when in season. In this post, we will teach you a simple method to prepare Instant Pot artichokes using a pressure cooker.
---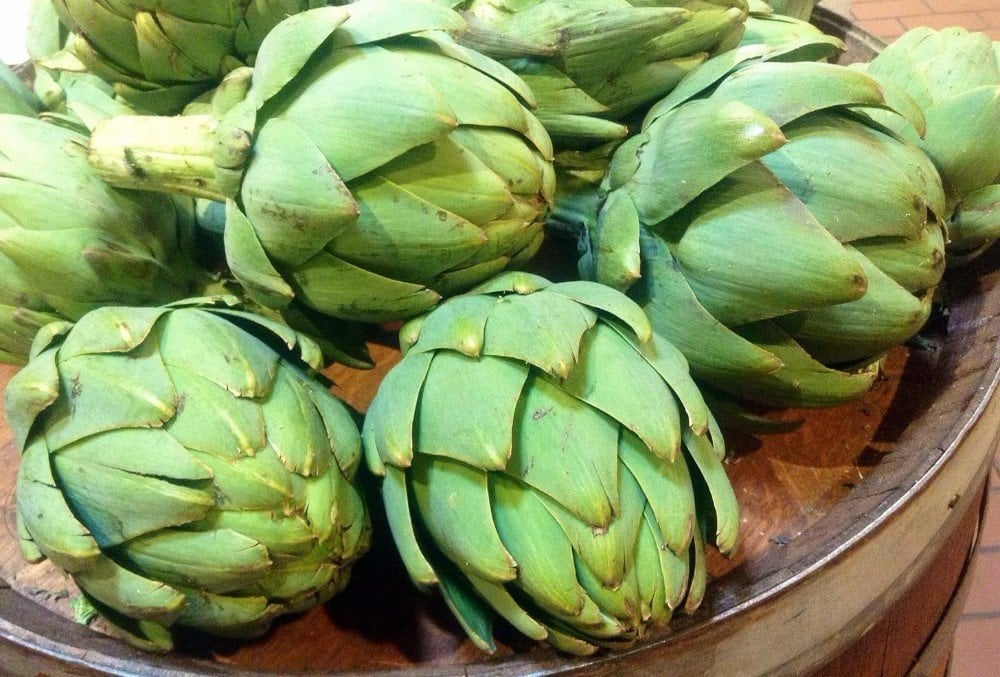 Artichokes are undoubtedly one of nature's marvels. They're a stunning vegetable in terms of looks, making them perfect for an impressive side dish to serve up for guests.
Not only that, but they're naturally quite delicious – especially dipped in some melted butter or ghee with a fresh squeeze of lemon. Finally, they boast some wonderful health benefits like most plant foods, so you can feel great about eating them.
This vegetable grows in abundance during the spring and summer, so you can often find fresh artichokes for less money during this time. One of the most off-putting things about this gorgeous vegetable is how to cook it. While you can just about steam, sauté, and roast anything else, the artichoke needs a little extra attention in terms of preparation and even how to eat it. I remember the first time I made it, I took off a chunk of the fuzzy part inside – not tasty!
You can opt for the stovetop, but like with most foods, the Instant Pot makes it ultra-easy to cook artichokes fast and without fail. You can also check out our Instant Pot Vegetables 101 post, as well as how to cook Instant Pot beets, and other ways you can use the Instant Pot trivet.
WHY MAKE ARTICHOKES IN Instant Pot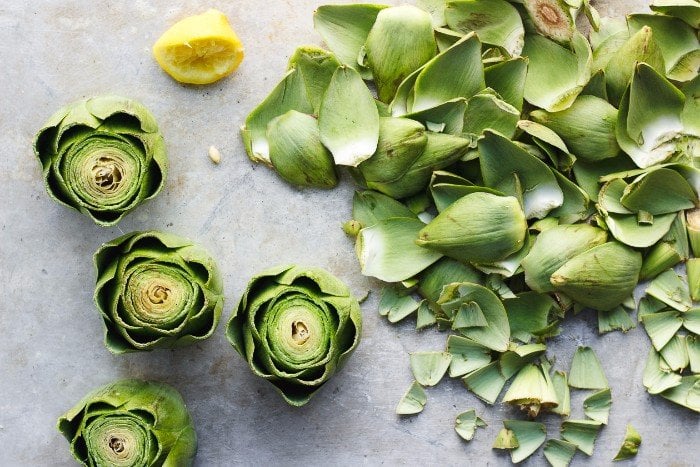 Even if you've never made or eaten an artichoke before, or you're strictly familiar with the canned 'chokes, you can make this Instant Pot recipe tonight, if you want to. You can't go wrong with this method which is both simple and effective. The stovetop method takes nearly 40 minutes of tending to the veggie and waiting for this flowering bud to turn into something edible. Imagine biting into the raw artichoke! Anything but perfectly cooked simply won't do.
The Basics On Artichokes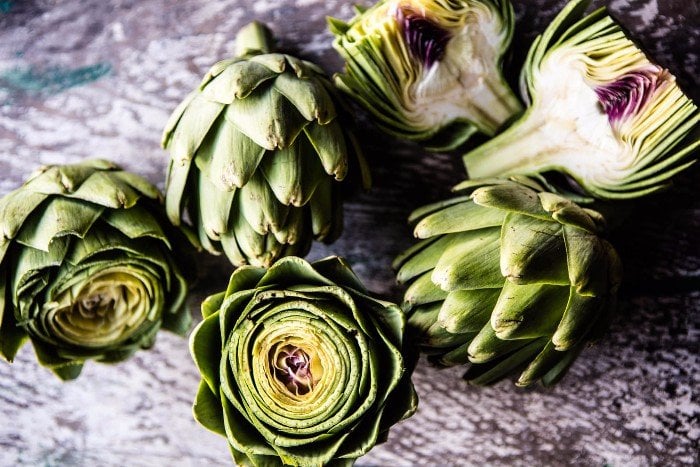 Let's cover some ground with a few tips that will make cooking Instant Pot artichokes easier.
First, it's good to take into account how ripe your artichoke is. You can generally tell by giving it a quick squeeze. While a good artichoke will generally be rather firm and fibrous, if it feels a bit soft in your hands, you can rely on a shorter cooking time like in the instructions below. Because overcooking artichokes is less of a problem – they'll just have a bit more melt-in-your-mouth potential – a tougher shell might call for adding a few extra minutes.
Since this veggie is seasonal during the warmer months, you could always step things up a notch. Fire up the grill while the pressure is on, and when the artichokes cool down, cut them in half and spread with some butter or oil. Then, toss them face down on the grill for a little extra smoke, those wildly impressive grill lines, and an injection of flavour.
Print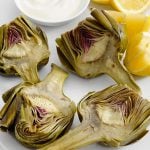 Instant Pot Artichokes Recipe
Author:

Prep Time:

10 minutes

Cook Time:

15 minutes

Total Time:

25 minutes

Yield:

4

1

x

Category:

Side

Method:

Instant Pot

Cuisine:

French
---
Description
Super simple way to prepare Instant Pot artichokes in aromatic lemon and garlic water. Serve with your favorite dip or melted butter and lemon juice.
---
4–5 fresh artichokes (whole or halved, see notes below)

1 cup water

1 lemon, sliced into wedges

For melted lemon butter sauce:
4 tablespoons butter

1 tsp lemon zest

1/2 tsp salt

2 tablespoons lemon juice

1 teaspoon peppercorns or freshly ground pepper

1 bay leaf (optional)

2–3 garlic cloves
---
Instructions
1. Chop off the tops of the artichokes and cut them in halves (like in the photo above).
2. Place your trivet or a steaming basket into the Instant Pot, and then place the trimmed artichokes inside.
3. Pour a cup of water into the pot. Add sliced lemons, peppercorns, bay leaf and garlic cloves for lovely aroma and infused flavour. Simply wedge them in between the artichokes.
4. Set for 10 minutes on HIGH pressure. You can do a quick-release or let off the pressure naturally for a slightly softer result. If cooking just the hearts without the leaves, set the Instant Pot to 5 minutes on HIGH pressure.
5. To make lemon butter, simply heat all ingredients in a small pot and simmer on gentle heat for a minute. Remove and serve in a bowl. This can be made ahead of time and reheated when needed.
---
How To Eat Artichokes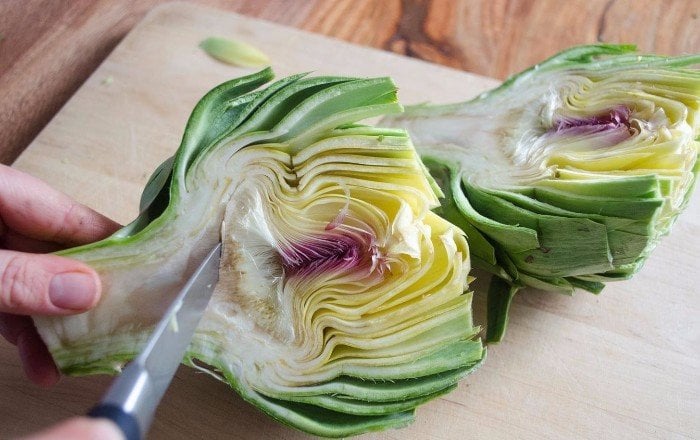 Okay, it might seem silly to have to explain to you how to eat something, but as someone who has become hopelessly confused mid-artichoke, this is worth covering! You do NOT want to bite into the fluffy bits or start gnawing on a spiky end of the leaf that jabs the inside of your mouth. In short, it can get weird. Avoid the awkwardness!
It's not hard – simply pull off the outer leaves and petals, and dip the bottom into your preferred sauce or our melted lemon butter (see the recipe above). Eat the bottom portion of the petal – it will be soft, tender, and fleshy, and discard the rest. At some point, this will become intuitive, as the tops of the petals are tough and their corners are sharp. Ouch!
There will be a fluffy layer at the base (approximately located where the knife is cutting out in the photo above) that you also want to discard, but stop right there! Below the fluff is the artichoke heart – the luscious part of the veggie that you find in cans, pizzas, and salads all over the place. This is arguably the most delicious bit. Save it for last.
Dress it up: dips & sauces for artichokes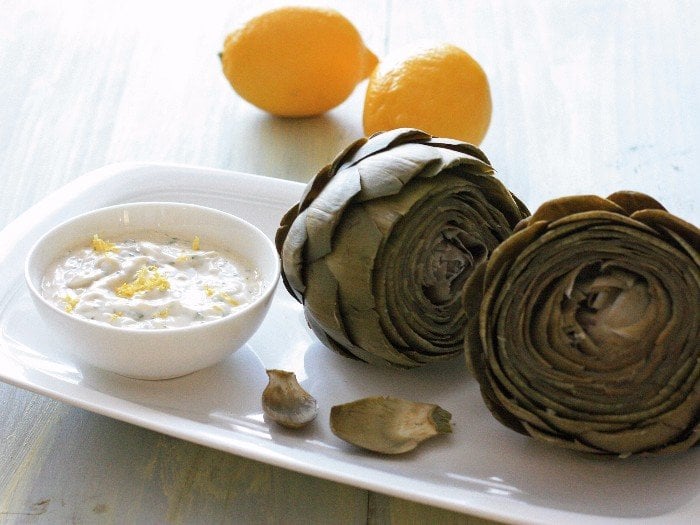 Artichokes are lovely on their own, but they truly need something rich to soak up for that truly magic appetiser dish or snack. You can pull apart the veggie when it comes out and sprinkle with some of your favourite cheese, or simply pour a bit of olive oil and salt on top. You could simply melt a few pats of butter if you want to keep it simple, but here are some inventive ideas – some of which you can make in the Instant Pot!
Let us know if you've made artichokes in the Instant Pot! It beats the stove-top any day. Share this with your friends who need some summertime recipe inspiration.