When it comes to pantry staples, you can't go past good, humble beans! They're a great source of protein and fiber, versatile in recipes and inexpensive. Black, white and green – we've collected our favorite Instant Pot bean recipes, as well as other legumes like chickpeas and lentils, to satisfy that legume craving.
---
Beans are part of most cultures around the world for they are inexpensive, simple to prepare, and healthy. Can you imagine not having beans and rice as a staple dish in your diet living in the South? Or not having refried beans to go with your burrito? Or not having it for breakfast with your eggs and bacon in England?
WHY WE LOVE TO COOK WITH BEANS
Beans are pod-borne seeds of leguminous plants and provide many health benefits as they are a great source of fiber and plant-based protein, which is great for vegetarians.
They contain decent amounts of zinc, copper, manganese, selenium, and vitamins B1, B6, E, and K; and, may help reduce the risk of heart disease by lowering LDL, cholesterol, blood pressure, and inflammation. Last but not least, beans are low in calories making them an ideal dietary choice for significant weight loss.
Beans and other legumes are great for buying in bulk. Perfect to have in the pantry for emergencies due to their long shelf life. Make sure they are in an airtight container in a cool dry place.
There are many ways to cook beans that usually involve soaking overnight in room-temp water or for an hour in hot water as the first step. This actually helps reduce the starches that can upset your stomach. But this step can be sped up by using an electric pressure cooker. Canned beans and lentils on the other hand are already cooked and make things even more convenient in the kitchen.
How many types of beans & LEGUMES are there?
A lot! There are about 400 types of beans and legumes that are known to be edible. Here is a list of just a few types of more common beans:
Great Northern beans
Cannellini beans
Fava beans
Red beans
Lima beans
Mung beans
Kidney beans
Navy beans
Pinto beans
Black beans
Chickpeas (garbanzo)
Lentils
Peas
Soybeans
Black-eyed peas
---
---
INSTANT POT WHITE BEANS WITH ROSEMARY & GARLIC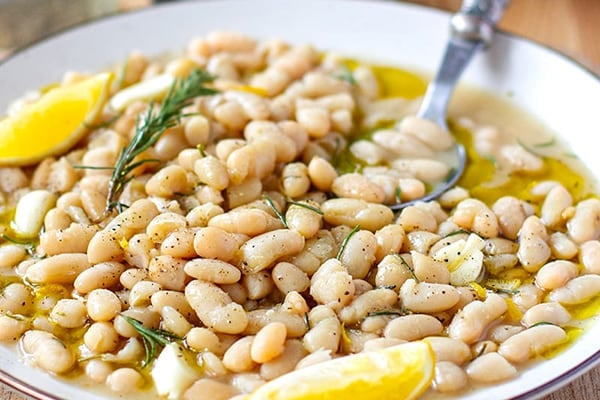 Hearty, flavorful, and nutritious, these Instant Pot white beans with rosemary, garlic and olive oil are the perfect example of healthy Mediterranean cuisine. Learn how to make this delicious dish inspired by Italian and Greek recipes and enjoy it as a main or side dish for dinner, lunch or breakfast. Gluten-free, vegan-friendly. Recipe from Instant Pot Eats.
INSTANT POT® REFRIED BEANS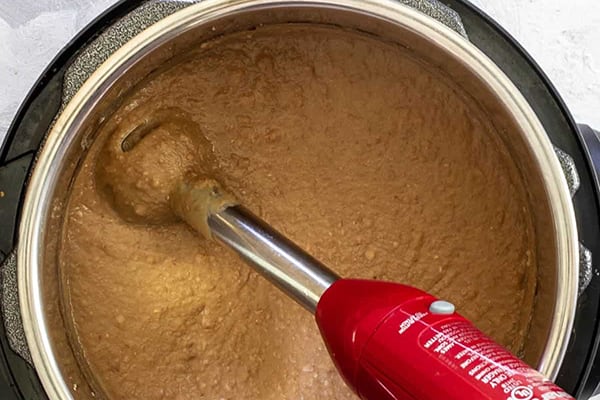 These vegan Instant Pot refried beans transform dry pinto beans into flavor-packed refried beans seasoned with jalapeños, onions, and spices. Recipe from Champagne Tastes.
MEXICAN BEAN SALAD (INSTANT POT, VEGAN, GLUTEN-FREE)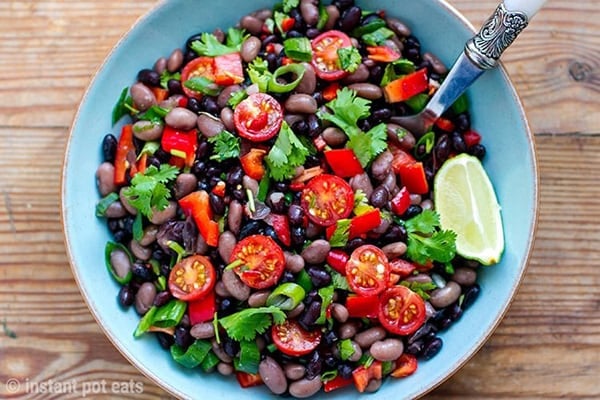 While you wouldn't turn to the Instant Pot to make a salad, you can use it for batch cooking the base ingredients required to make a satiating, healthy salad meal, like today's Mexican Bean Salad. It's a vegan, gluten-free, low-calorie, and high-fiber recipe. Recipe from Instant Pot Eats.
Charro Beans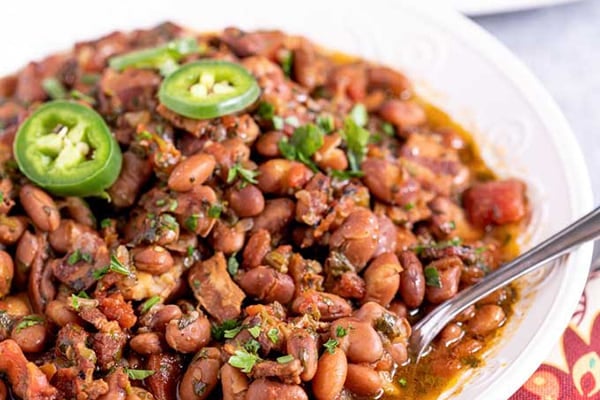 Charro Beans or Frijoles Charros are flavorful Mexican pinto beans cooked in broth with bacon, chiles, and spices. Similar to Cowboy Beans, this delicious side dish is made quickly in the Instant Pot. Recipe from Lemon Blossoms.
INSTANT POT BAKED BEANS (VEGAN & GLUTEN-FREE)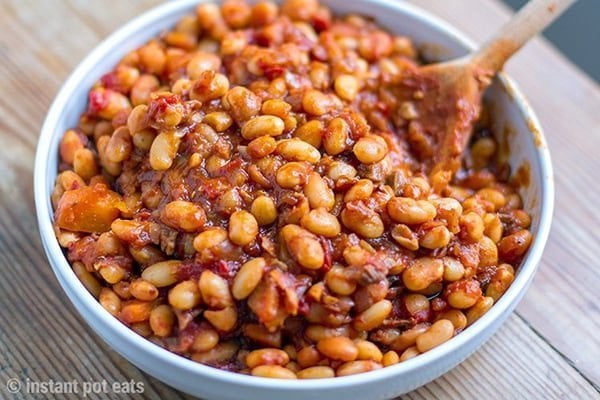 These incredible Instant Pot baked beans will make your mouth water. Made with a secret ingredient or two, they are vegan and gluten-free, and perfect for meal prepping on the weekend. Full of beneficial fibre, protein and nutrients, beans are the staple in many cuisines and are perfect for health-conscious eaters. Recipe from Instant Pot Eats.
Instant Pot Cowboy Beans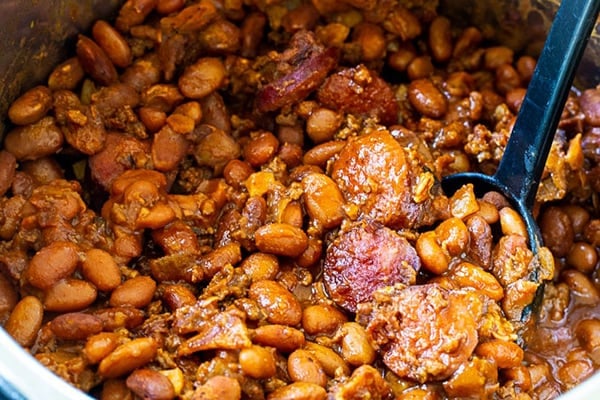 Instant Pot Cowboy Beans are wonderfully thick, tangy, and smoky with 3 kinds of meat. This hearty side dish makes a great addition to a picnic, bbq, or cookout. Full of bacon, ground beef, and sliced kielbasa sausage, there is so much meaty flavor in every bite. A little liquid smoke is added for some smoky flavor. Recipe from Spicy Southern Kitchen.
INSTANT POT BLACK BEANS WITH SPICED FRIED ONIONS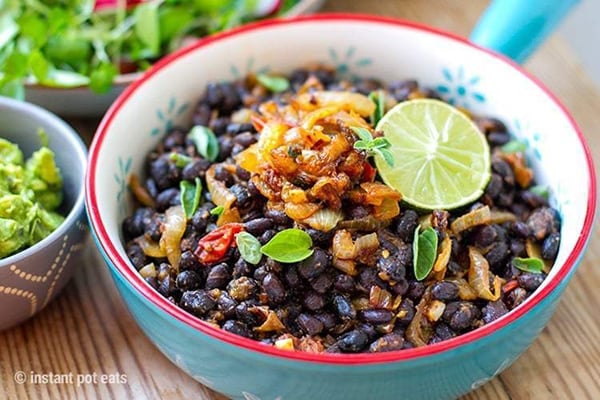 The magical combination of sticky, fried onions, cherry tomatoes, garlic, and warm spices takes plain ol' beans to the next level. These beautifully spiced with caramelized onions beans are vegan and gluten-free and would make a fantastic filling for tacos, a protein-rich main with rice, or as a side dish. Recipe from Instant Pot Eats.
INSTANT POT WHITE NAVY BEANS (NO SOAK)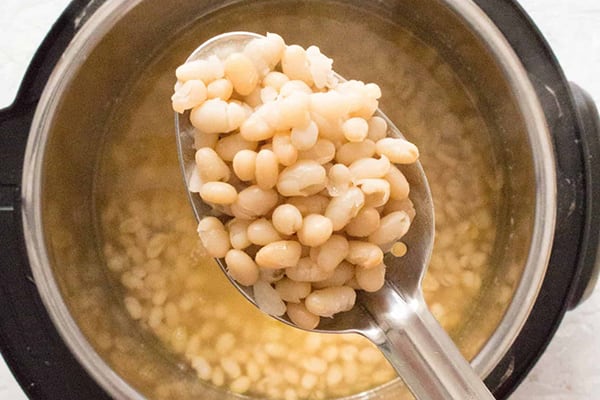 Here's how to use your Instant Pot to make white navy beans – a simple and quick method for cooking dried navy beans in a pressure cooker in around an hour! No soaking required. White Navy Beans are also called pea beans, they are small, oval-shaped, and quicker to cook. As they get creamy when cooked, they're perfect for mashing, pureeing in dips, and thickening soups, stews, and more. Recipe from Carmy.
INSTANT POT PORK STEW WITH BEANS & TOMATOES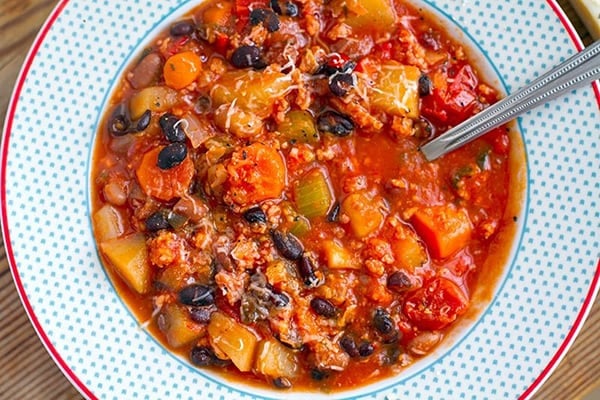 This hearty, Italian Instant Pot pork stew with beans and tomatoes is made with ground pork meat, juicy tomatoes, and legumes of your choice, this dish is nutritious and affordable. You can modify this into a vegetarian dish by replacing the meat with diced mushrooms instead. Recipe from Instant Pot Eats.
INSTANT POT RED BEANS AND RICE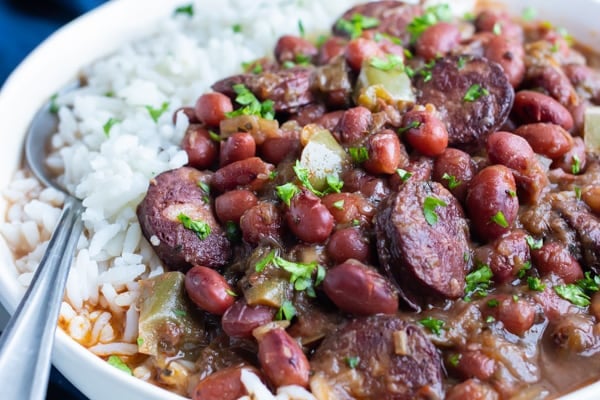 Soft and tender beans get cooked up with spicy andouille sausage and TONS of Cajun flavor in this Instant Pot Red Beans and Rice recipe. Thanks to the pressure cooker you can have this authentic Louisiana recipe ready to enjoy in less than an hour AND without having to soak any beans. This easy beans and rice recipe can be meal prepped ahead of time, served up for busy weeknight dinners. Recipe from Evolving Table.
HEALTHY INSTANT POT ZUPPA TOSCANA
A traditional Italian soup recipe normally made with cannellini beans, carrots, celery, kale, zucchini, and bacon, and finished off with crusty Italian bread, that is often stirred into the soup and left overnight to thicken up. You can use a variety of vegetables in this soup but we're going with the classic celery, carrots, potatoes, and adding roughly chopped kale for extra nutrients and lovely green color. Recipe from Instant Pot Eats.
Instant Pot Greek Style Butter Beans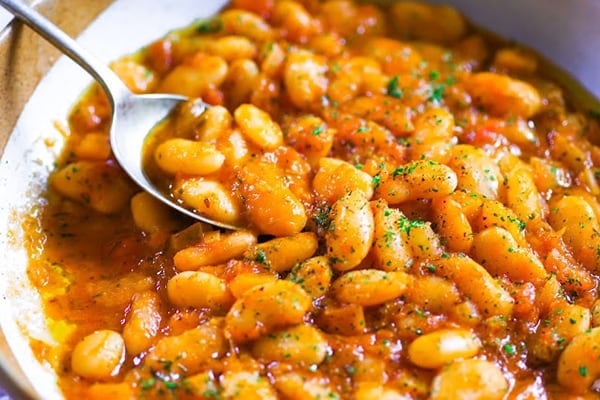 Inspired by the Greek dish, Gigantes Plaki, or Greek baked beans. This recipe features butter beans in an incredible white wine, tomato and herb sauce. Typically this recipe of Greek baked beans would take hours from when the beans are soaked to boiling to baking in the oven, but not with the pressure cooker. Serve these beans with a chunk of crusty bread, couscous, bulgur wheat, a side salad, or as part of a meze platter! Recipe from Euphoricvegan.
INSTANT POT BRUNSWICK STEW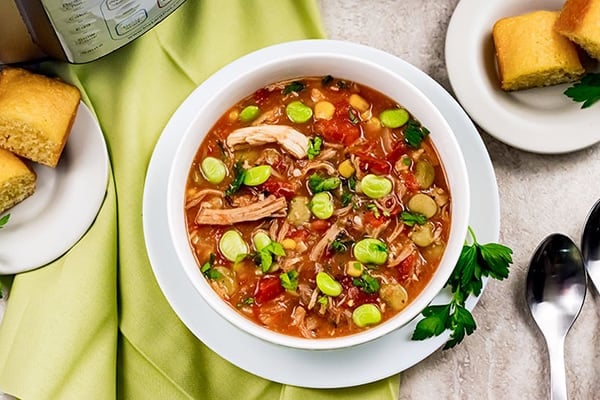 This stew is made with leftover pork or chicken or both for that old-fashioned, comforting Southern dinner. With the addition of corn, lime beans, and tomatoes, this pressure cooker stew is nutritious, tasty and super tasty for the whole family. Serve with cornbread, or biscuits, dinner rolls, rice or potatoes. This recipe is gluten-free friendly. Recipe from Instant Pot Eats.
15-Bean Soup Recipe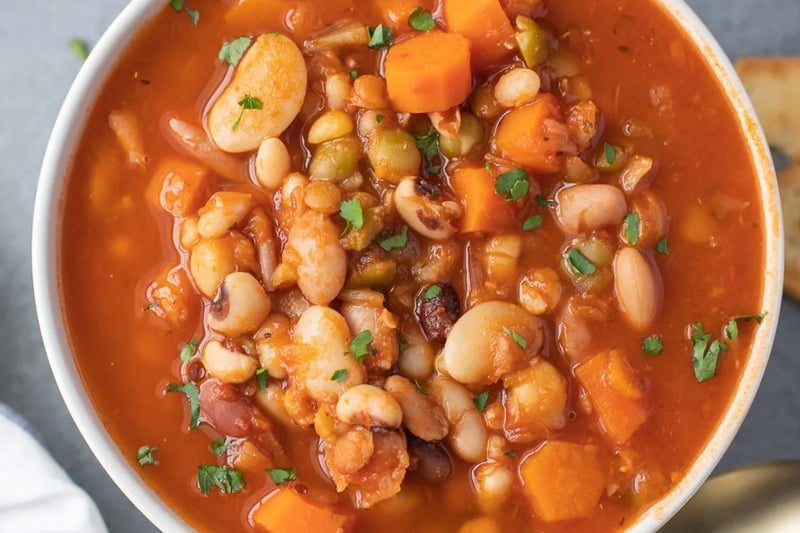 A meatless one-pot meal that cooks dried beans right in your Instant Pot with the soup. It's perfect for a chilly evening, it freezes great, and it's even more delicious reheated. Serve it with some multigrain French bread or whole wheat crackers. Recipe from The Clean Eating Couple.
TURKEY CHILI WITH SWEET KABOCHA SQUASH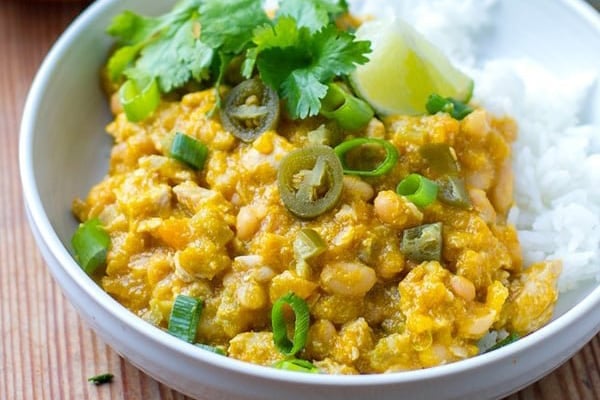 Departing from the classic beef and tomato chili, this dish is made with white poultry meat such as ground turkey, cannellini, or other white beans and sweet kabocha squash pumpkin or another winter squash of choice. The kabocha pumpkin softens and integrates into the broth during cooking, and paired with warm spices and a little green chili it develops into the most delicious, sweetened sauce. Recipe from Instant Pot Eats.
Instant Pot Cuban Mojo Black Beans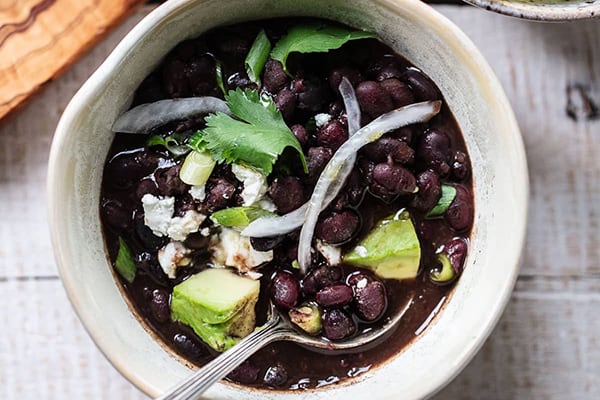 Incredibly tasty Cuban-style black beans seasoned from the inside-out in your electric pressure cooker. The seasoning is based on lots of garlic and fresh citrus-like lime and orange juice. Serve these black beans with cooked brown rice, quinoa, or other whole grain, topped with one or all of the garnishes, it tastes hearty and delicious! Recipe from Family Style Food.
INSTANT POT MINESTRONE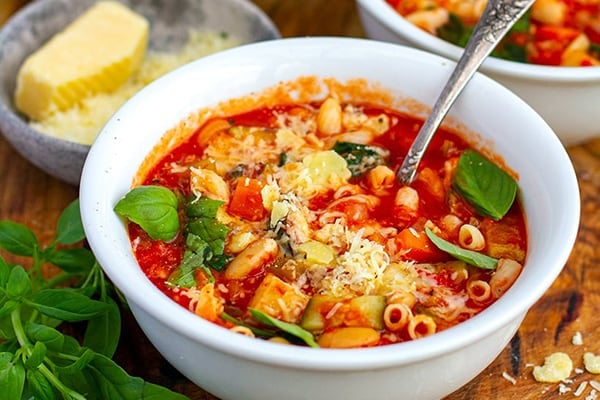 Minestrone is a popular thick and hearty Italian vegetable and tomato soup with the addition of pasta or rice and often beans. Traditionally, minestrone is made to use up leftover vegetables, so feel free to use whatever you have on hand or what's in season. This Instant Pot minestrone adaptation is for early fall when zucchini and spinach are plentiful but you could also add snap green beans, cabbage, pumpkin, or peas. Recipe from Instant Pot Eats.
VEGAN WHITE BEAN AND KALE SOUP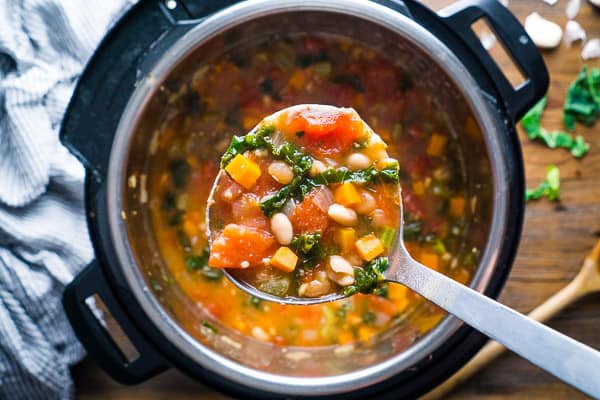 This soup from start to finish is 30 minutes in real-time. Kale soup with beans and veggies makes eating healthy on a budget anything but boring. This white bean soup recipe only requires an actual pressure cook setting of 2 minutes on high pressure. Sounds like it's not enough time, but it's a pressure cooker. Any more than 2 minutes under pressure and canned beans fall apart and vegetables become mushy. Recipe from The Kitchen Girl.
INSTANT POT BLACK-EYED PEAS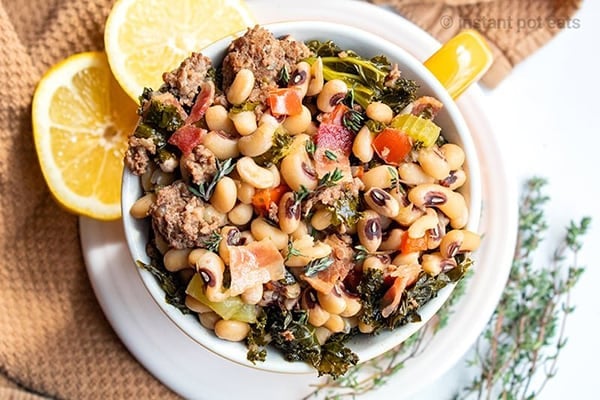 Despite their name, black-eyed peas are actually a variety of bean. Also known as cowpeas, they taste similar to regular white beans but have a cute little dark brown 'eye', which is where the name comes from. It's great for your gut health (they are probiotics and help to feed that good bacteria), have anti-inflammatory properties, and are full of protein, fiber, vitamins, and minerals. Recipe from Instant Pot Eats.
HEARTY Mushroom & Bean Chili
This is a hearty and nutritious Instant Pot vegetarian chili with vegetables, lots of mushrooms and mixed beans. Beautifully spiced and with the addition of chipotle, this gluten-free and vegan-friendly pressure cooker chili is great for the family or a group dinner (or game night). Recipe from Instant Pot Eats.
INSTANT POT BRAISED GREEN BEANS (TURKISH-STYLE)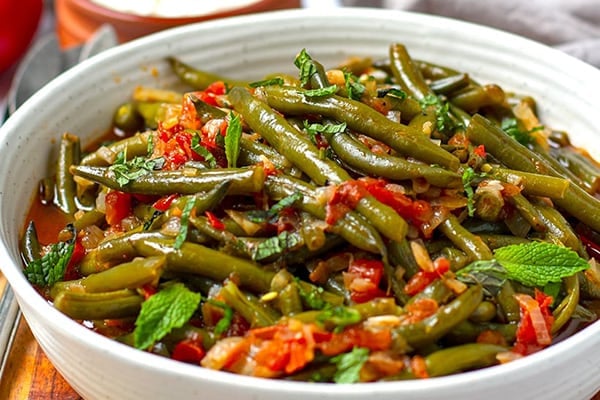 Turkish cuisine has lots of fabulous vegetarian dishes on the menu. Dips, falafels, salads, grilled vegetables to mention a few, and this spectacular dish of slowly braised green beans stew called Fasulye. Traditionally, they are slow-cooked in plenty of olive oil – usually with onions, tomatoes, and a few other ingredients – until they are very tender. A little lemon juice or creamy yogurt is served to add a little tang. Recipe from Instant Pot Eats.
INSTANT POT GREEN BEANS WITH BUTTER & PEPPER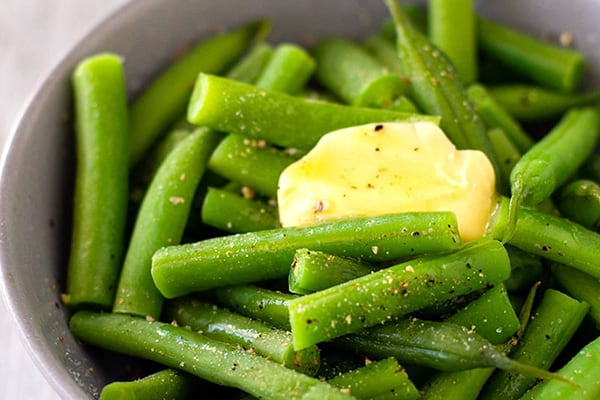 Try these simple Instant Pot green beans with melted butter, sea salt, and cracked pepper for a perfect hit of nutrients and fibre. It's a tasty vegetable side dish that requires minimum effort and hardly any cooking. Recipe from Instant Pot Eats.
INSTANT POT GREEN BEAN CASSEROLE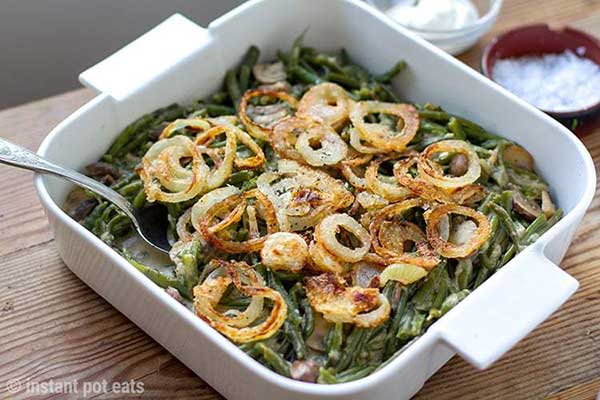 Make this delicious side dish from scratch with whole ingredients. It tastes so much better, in our opinion, and is super easy. We even made our own crispy fried onions with gluten-free flour (not in the Instant Pot!) and the whole dish came together in under 30 minutes from start to finish. Recipe from Instant Pot Eats.
INSTANT POT CHICKPEAS WITH SALSA VERDE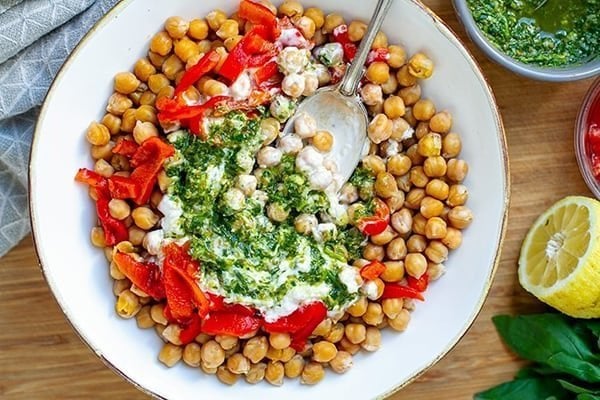 Whether you're looking for a protein-rich, vegan-friendly main dish or you want to dish up a nutritious side dish, this Mediterranian Instant Pot chickpea recipe is a must-try. We used the Instant Pot to cook dried chickpeas, which are full of fiber, nutrients, and plant-based protein, and then dress it up with gorgeous, creamy tahini yogurt (dairy-free works well here!), roasted pickled peppers, and sensational salsa verde. Recipe from Instant Pot Eats.
INSTANT POT CHILI WITH PUMPKIN & CHICKPEAS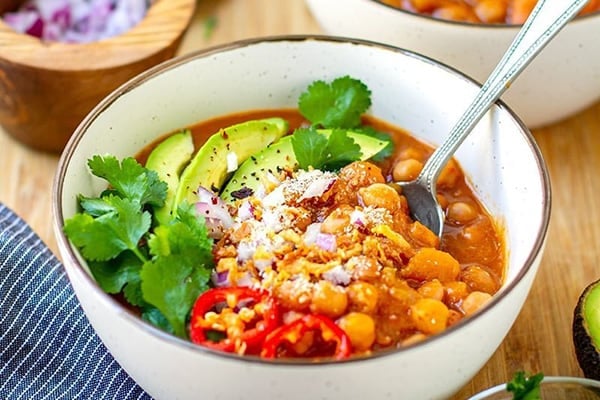 Made with butternut squash pumpkin and garbanzo beans (or chickpeas), this Instant Pot chili is comforting and hearty. Served with diced avocado and cilantro, this is a must-go gluten-free, vegetarian, and vegan chili for your pressure cooker. Recipe from Instant Pot Eats.
INSTANT POT CHICKPEAS IN SPICY TOMATO SAUCE & BROWN RICE (CHANA MASALA)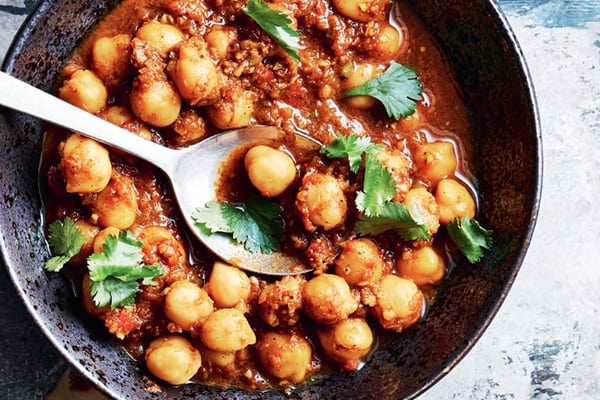 This Instant Pot chickpea recipe is Indian chana masala and rice in one go. Yes, you cook both at the same time, making it a super-efficient and easy meal to make. You must use brown rice for this dish since white rice would cook too quickly. You can serve this dish with naan, or even buttered rolls. Recipe from Instant Pot Eats.
MOROCCAN-STYLE INSTANT POT CHICKPEA STEW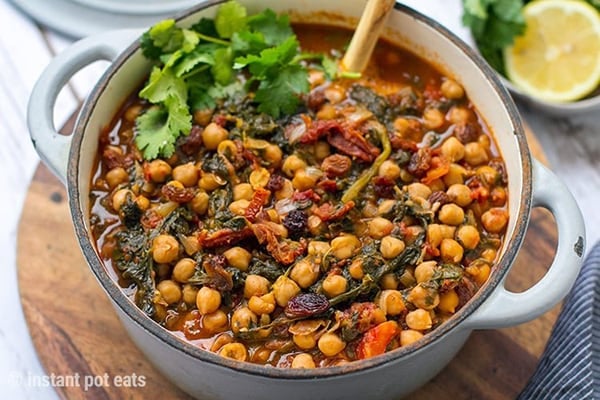 This vegan and gluten-free friendly Instant Pot chickpea stew is a delicious main meal full of Moroccan-influenced spices and flavors. There are a few lovely seasonings and ingredients that give this stew so much flavor: warm spices such as cumin, paprika, and coriander seeds, onions and garlic, sun-dried tomatoes and raisins, or sultanas for sweetness. Serve it over rice, couscous, or with some crusty bread. Recipe from Instant Pot Eats.
VEGAN BEAN BURGERS TWO WAYS (WITH INSTANT POT)
These delicious, protein-rich vegan burgers are made with the help of the Instant Pot pressure cooker. We show you how to cook the navy and pinto beans and make the burger patties; plus, two ways to cook them and to serve them. This recipe comes with a gluten-free option. Recipe from Instant Pot Eats.
ITALIAN-STYLE LAMB SHANKS WITH WHITE BEANS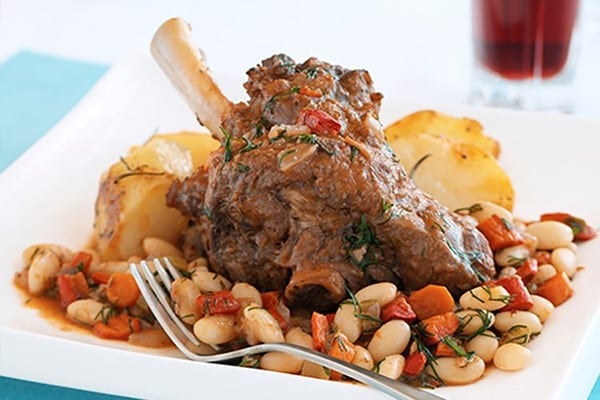 Bring a little Tuscany into your kitchen with these succulent Instant Pot lamb shanks served over soft white beans and tomatoes. Recipe from one of our favorite pressure cooker cookbooks! It is a grain-free, dairy-free, and one-pot-friendly dish that will delight the whole family. Recipe from Instant Pot Eats.
VEGETARIAN BURRITO BOWL WITH AVOCADO CREMA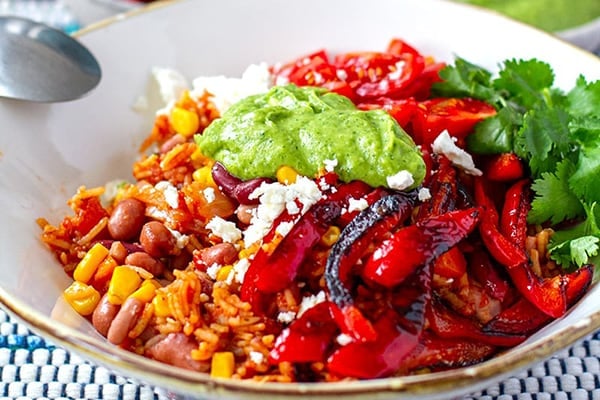 Using pantry staples like rice, beans, and sweet corn, this vegetarian Instant Pot burrito bowl is filled with nutritious ingredients and classic Tex-Mex flavors. Paired with grilled sweet red peppers, fresh tomatoes and delicious cilantro avocado crema, this dish is a total crowd-pleaser and will be a hit with the whole family. It's gluten-free and vegan-friendly. Recipe from Instant Pot Eats.
INSTANT POT BLACK BEAN DIP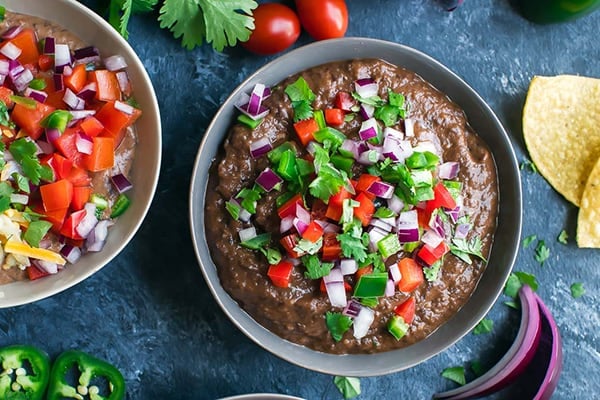 Instant Pot Black Bean Dip is a total breeze to throw together! No cans are needed! Simply grab a bag of dried beans and get ready for a party-perfect vegetarian dip that's easy, make-ahead, and delicious. Recipe from Peas Ans Crayons.
Creamy Pinto Bean Dip With Caramelized Onions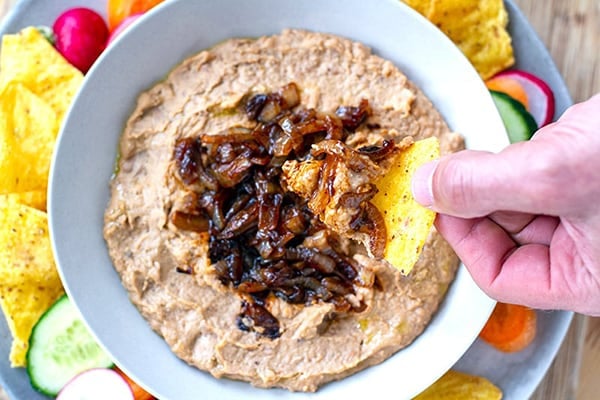 This creamy pinto bean dip made with cream cheese and caramelized onions is delicious and healthy, perfect as an appetizer, finger food, or a snack. Serve with your favorite corn chips, crackers, vegetable sticks, or as a side dish with tacos, burritos, or Mexican rice. Recipe from Instant Pot Eats.
Instant Pot Lentil Stew (Veggie-Loaded)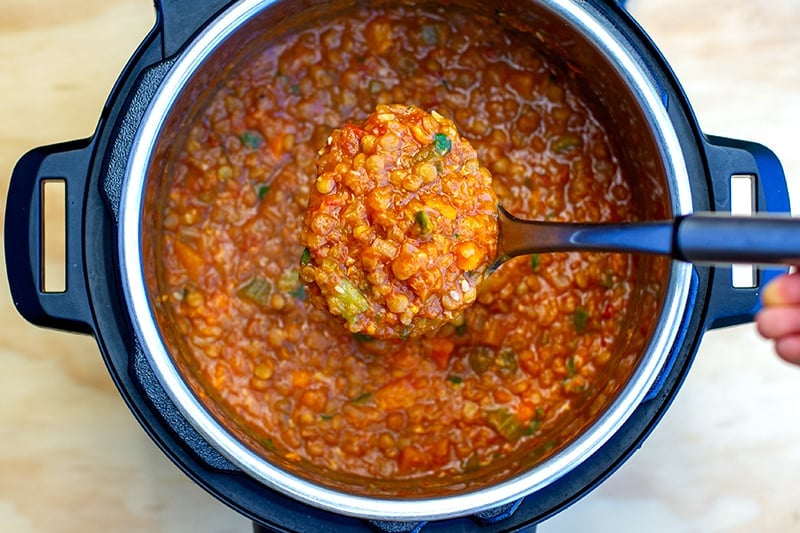 This is a beginner-friendly recipe showing you how to make super easy Instant Pot lentil stew. With detailed instructions, step-by-step photos and cooking tips, this vegetable-loaded stew is both flavorful and nutritious. Recipe from Instant Pot Eats
Check these out:
INSTANT POT 101: HOW TO COOK LEGUMES
23 INSTANT POT GARBANZO BEANS RECIPES FOR A HEALTHY MEAL
15+ INSTANT POT LENTIL RECIPES THAT ARE TASTY & NUTRITIOUS
MOUTHWATERING INSTANT POT CHILI RECIPES WITH A TWIST
---
SAVE These Instant Pot Bean & Legume Recipes TO PINTEREST