Keep your dinner menu interesting with these Instant Pot rice dishes from around the world. You can take it from a side dish to a one-pot meal to a sweet treat. Rice is a staple for so many cultures and it should be one in your kitchen too!
---
In today's roundup, we're going on a trip around the world with these exciting Instant Pot rice recipes. Whether it's a key ingredient or a loyal side dish, these full-flavored dishes will get your excited about the humble Basmati or nutritious Brown.
Rice is a staple for so many cultures, with more than 40,000 varieties of this grain around the world. It's a starchy companion to any curry, stew, meat, or vegetable. When it comes to recipes, we have a range from biryani in India, paella in Spain, plov in Azerbaijan, qabili palaw in Afghanistan, and pilafi in Greece.
It's an amazing grain that can feed a crowd since it is extremely inexpensive. This lends to why for centuries it has been the backbone of cuisine in several cultures. You can take it from a side dish to a one-pot meal to a sweet treat. It goes the distance when you are budget conscious and holds its value in an emergency.
---
HOW TO COOK RICE IN AN INSTANT POT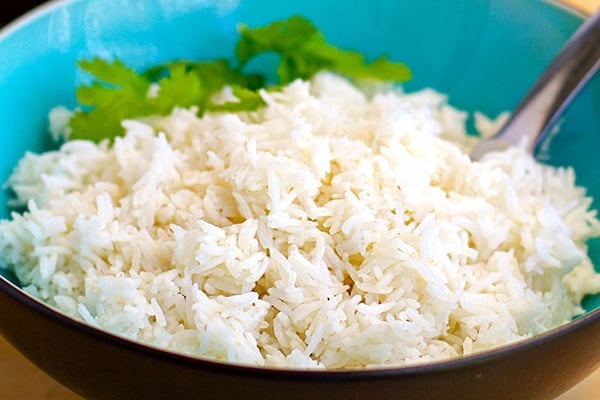 Let's start with the basics with this beginner-friendly recipe on how to cook rice in the Instant Pot pressure cooker. With detailed instructions, step-by-step photos, and cooking tips, you will have perfectly cooked rice every time. Recipe from Instant Pot Eats.
SPANISH RICE WITH CHORIZO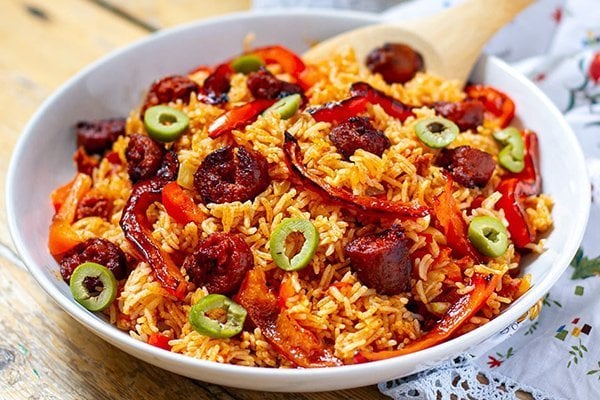 Made with chorizo sausage and sautéed peppers and tomatoes that give this family-friendly meal a lot of fun flavors. It's gluten-free and super easy to make, making it a midweek dinner favorite. Recipe from Instant Pot Eats.
Instant Pot Spanish Rice (Vegetarian)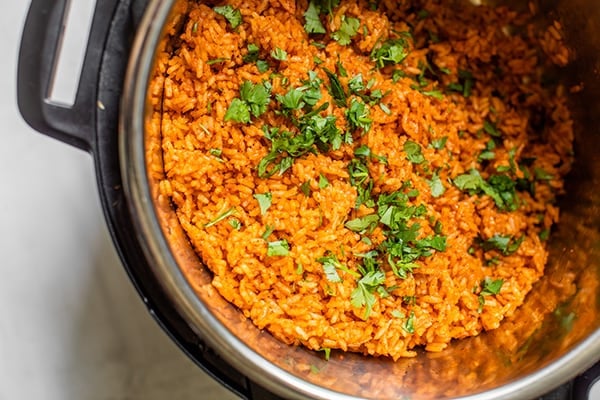 This Instant Pot Spanish Rice is incredibly flavorful and ready in just 25 minutes! It's made using broth, tomato sauce, and spices and is the perfect side dish for any meal. Recipe from The Almond Eater.
INSTANT POT MEXICAN BEEF RICE CASSEROLE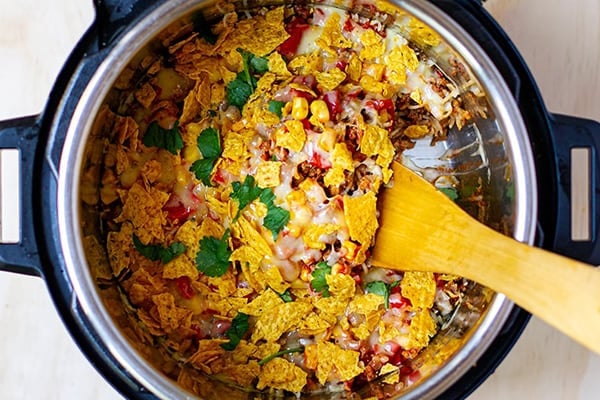 Inspired by Tex Mex cheesy nachos, this Instant Pot beef and rice casserole is hearty, delicious, and satiating – perfect for the whole family! Made with ground beef, rice, tomatoes, and a few pantry staples, it's a quick and easy pressure cooker recipe you can whip up mid-week in under 30 minutes. It's gluten-free friendly and can also be made with chicken, pork, or vegetarian-friendly beans or lentils. Recipe from Instant Pot Eats.
INSTANT POT BURRITOS WITH RICE & BEEF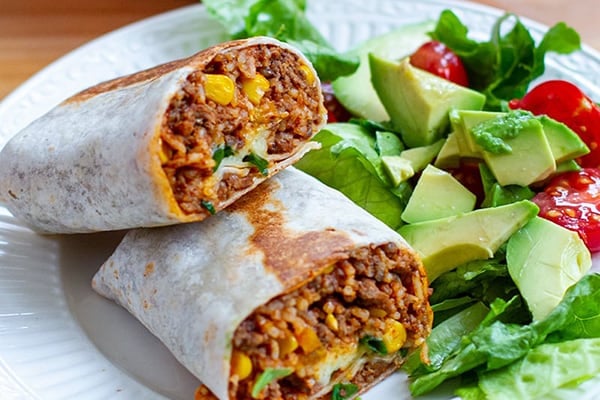 These fabulous Tex Mex Instant Pot burritos feature tasty, spiced rice, beef and corn filling, grated cheese, and fresh cilantro wrapped in a soft tortilla. Grill for a crispy finish, serve right away, or make-ahead for later as they store and freeze well. Recipe from Instant Pot Eats.
GREEK CHICKEN SOUVLAKI RICE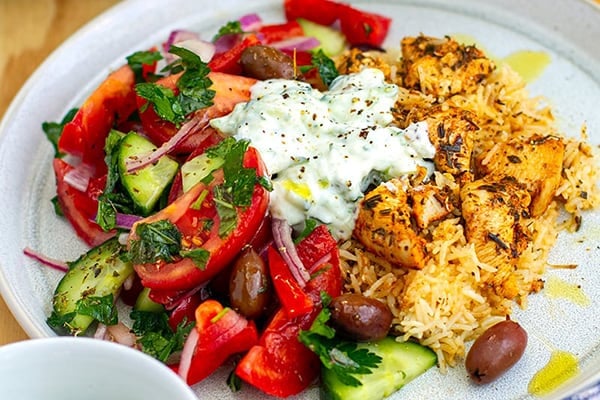 Whether you've been to Greece or to a Greek restaurant, you might have come across a dish called Souvlaki. Greek souvlaki is essentially well-seasoned, often marinated meat grilled on skewers, similarly to kabobs, and served as a souvlaki pita wrap or on a platter with a side of cooling tzatziki sauce, rice or potatoes, and salad. As a pita wrap, it's popular street food in Greece but it can also be found on many restaurant menus. Recipe from Instant Pot Eats.
ITALIAN OSSO BUCO & RICE
Osso buco is a fabulous Italian dish of slowly braised cross-cut veal shanks with vegetables, wine, and tomatoes. It's traditionally served with rissoto and topped with gremolata (finely chopped parsley and lemon zest). The best part about this dish is that you only need one pot. Less cleaning up AND cooking the rice directly in the broth gives it an incredible flavor. It's like we're combining the osso buco and risotto in one dish. Recipe from Instant Pot Eats.
Instant Pot Chicken Fricassee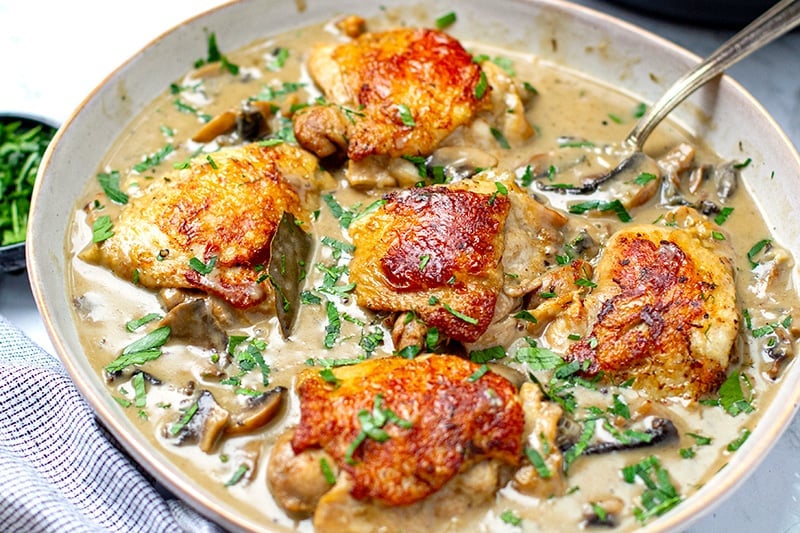 A traditional French stew made with browned chicken pieces braised in a delicious, creamy white mushroom sauce. The sauce is heavenly and the dish is rustic comfort food at its best.
Recipe from Instant Pot Eats
.
PILAF WITH GROUND LAMB, ALMONDS & FIGS
This Persian-style Instant Pot rice pilaf is made with ground lamb, dried figs, almonds, and a beautiful blend of warm spices. If you're not familiar with pilaf, it's a dish in which rice is cooked in a seasoned broth, and depending on cuisine, you can often find a variety of vegetables, meat, or seafood mixed in. Recipe from Instant Pot Eats.
INDIAN CHICKEN CURRY & RICE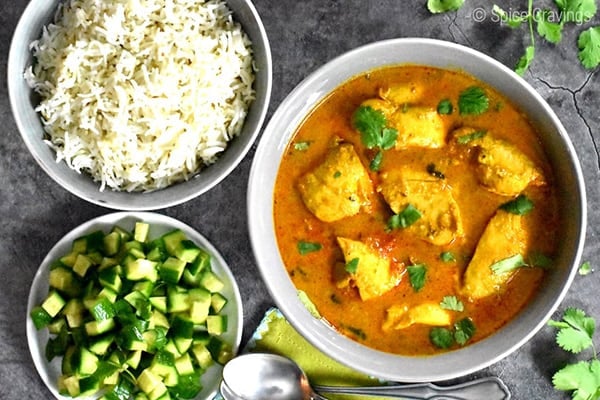 This delicious and aromatic Instant Pot chicken curry recipe is made with Indian tomato and onion-based sauce and thickened with creamy yogurt. Not only will you make a hearty curry in a hurry (so to speak) but you can also do the rice in the same pot and this guest recipe from Aneesha of Spice Cravings. Get the recipe from Instant Pot Eats.
INSTANT POT SPINACH RICE (INDIAN PALAK PULAO)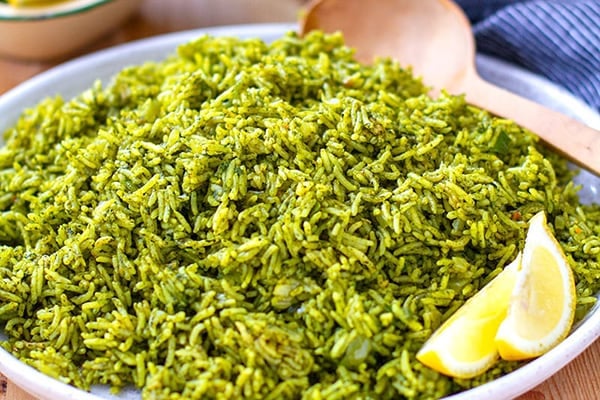 This Instant Pot Spinach Rice (also known in Indian cuisine as Palak Pulao) is a nutritious and healthy dish that can be served as a side dish with your favorite curry or a main dish with some vegetables or salad on the side. This rice recipe is super simple and is gluten-free, vegetarian and can be made vegan-friendly. Recipe from Instant Pot Eats.
Instant Pot Mujadara Lentils and Rice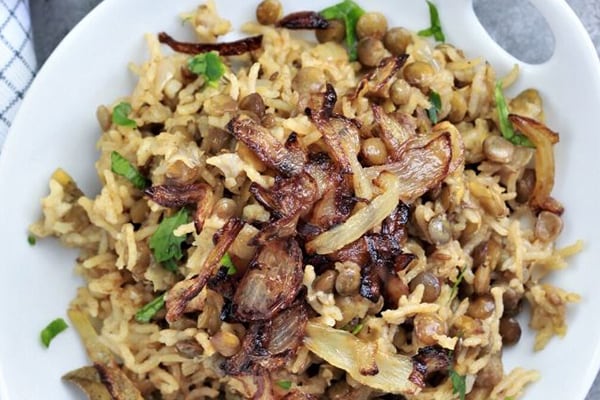 This Instant Pot mujadara recipe is a delicious combination of lentils, rice and caramelized onions. This fragrant vegetarian recipe comes together quickly in your pressure cooker, making it perfect for any night of the week. Best part, the lentils, and rice are cooked to perfection, no mushy rice nor lentils. Recipe from The Belly Rules The Mind.
INSTANT POT DIRTY RICE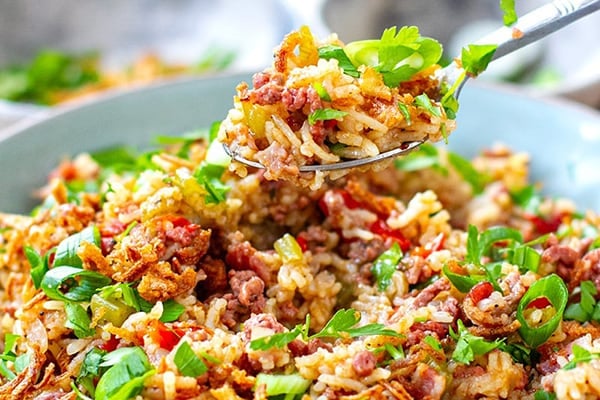 It's a popular Creole dish in America's south and more specifically in the regions of Louisiana. White rice is cooked together with ground beef, pork or chicken, often some liver, as well as bell peppers, celery, onions, and spices. These additions change rice's color from white to grey or brownish, hence the name 'dirty rice'. Of course, there is nothing dirty about it and it's a very delicious and comforting dish. Recipe from Instant Pot Eats. Recipe from Instant Pot Eats.
ASIAN BROWN RICE SALAD WITH PEANUT DRESSING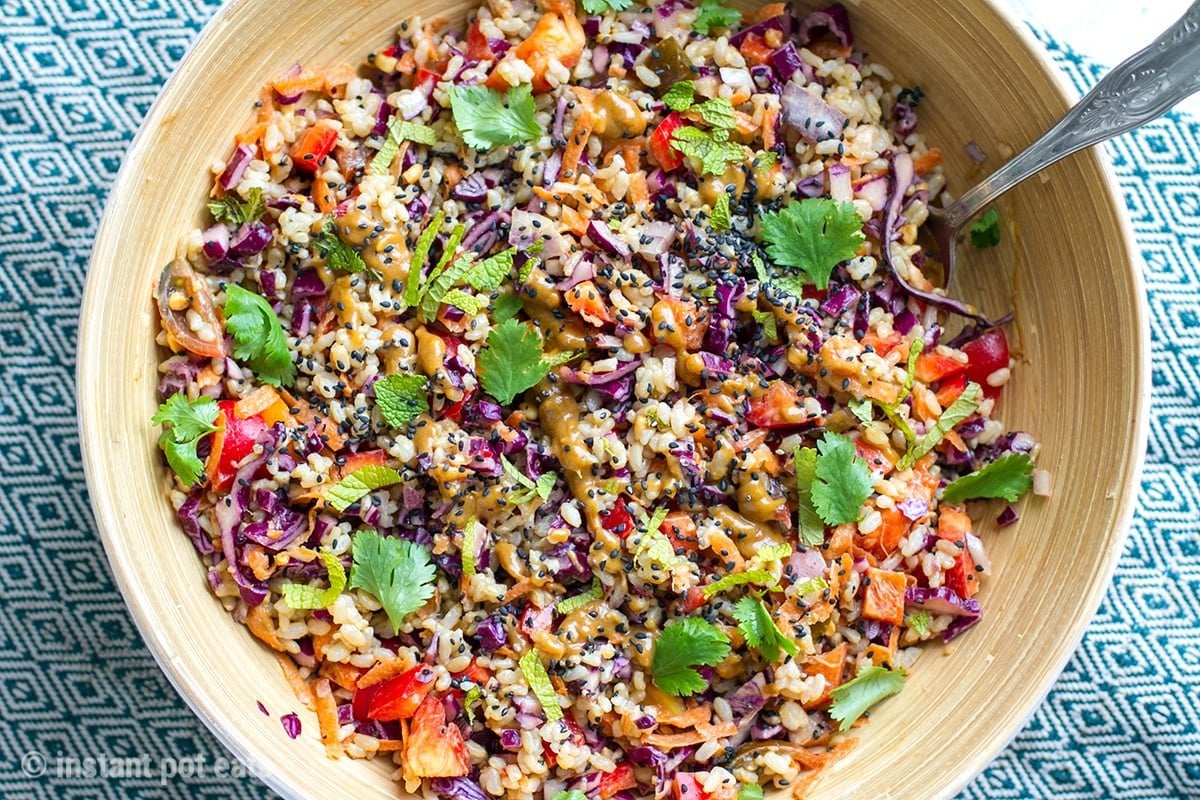 Learn how to cook delicious and aromatic Asian-inspired Instant Pot brown rice, which serves as the perfect base in our healthy, vegan-friendly salad with a scrummy peanut butter dressing. Recipe from Instant Pot Eats.
CHICKEN BROCCOLI & RICE CASSEROLE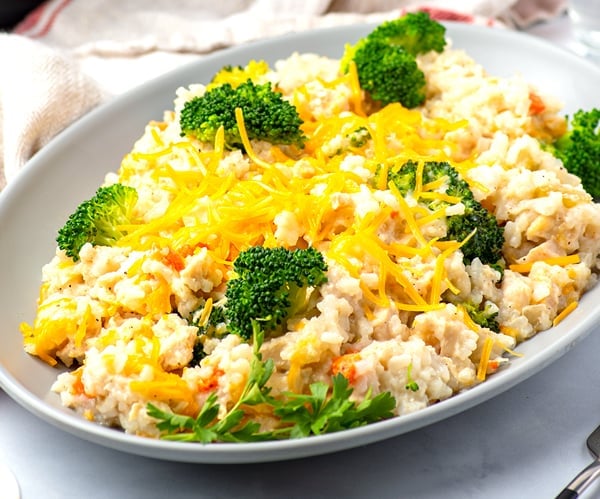 Classic dish loved by many North American families, this chicken rice and broccoli casserole is nourishing and hearty. Recipe from Instant Pot Eats.
Instant Pot Fried Rice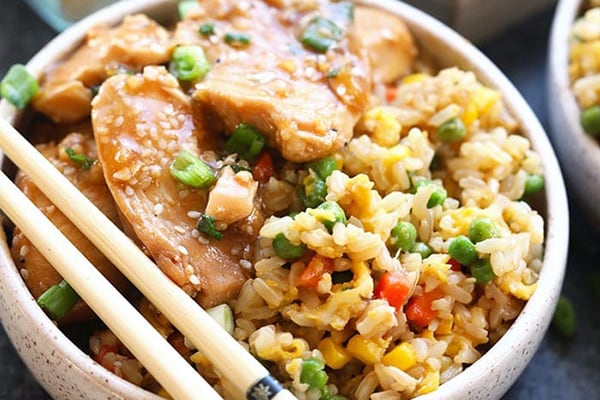 The perfect combination of veggies, brown rice, eggs, and soy sauce makes for the savory fried rice flavor you love without all those added fillers. It is quick, easy, and made completely in the pressure cooker! Bonus, it's made with brown rice and actually healthy! Recipe from Fit Foodie Finds.
Instant Pot Thai Basil Fried Rice (Vegan)
Vegan Thai Basil Fried Rice with onion, peppers, and cashews This fried rice pairs well with any curry or is great on its own too! Recipe from Cook With Manali.
SIMPLE ITALIAN INSTANT POT RISOTTO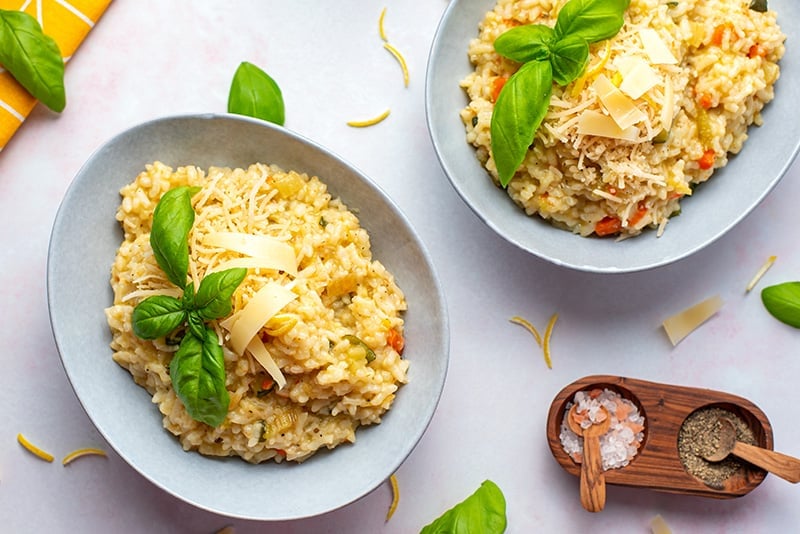 Learn how to make Italian Instant Pot vegetable risotto with lemon & Parmesan for a quick, easy and nutritious dinner. With step-by-step photos, this beginner-friendly recipe is great to master if you've never tried making a pressure cooker risotto before. Recipe by Instant Pot Eats.
THAI-STYLE INSTANT POT CHICKEN & BROWN RICE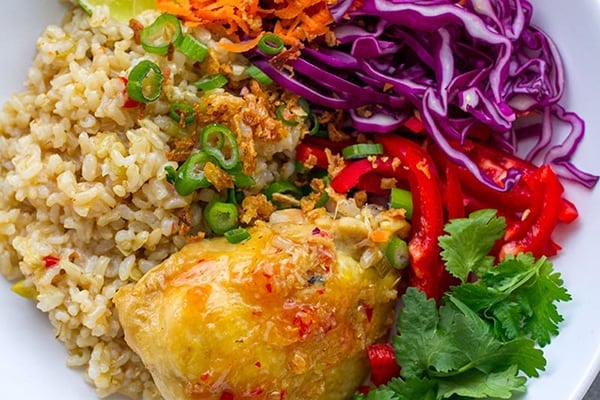 Thai-inspired Instant Pot chicken and brown rice is a quick, easy, and delicious one-pot wonder. Made with sweet chili sauce, aromatic herbs, and vegetables, this 30-minute dinner is healthy and gluten-free. Recipe from Instant Pot Eats.
INSTANT POT SUSHI RICE HOW-TO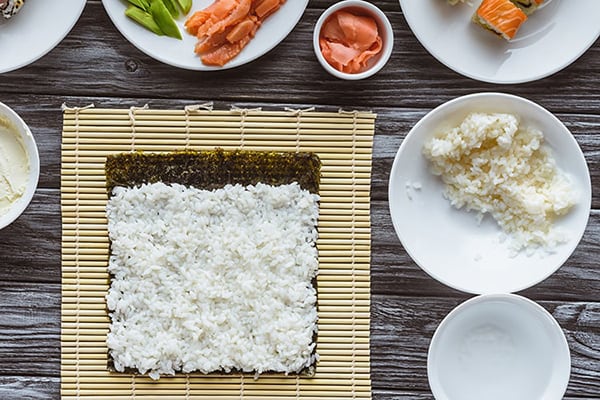 Sushi rice is perhaps the most necessary component in a good sushi roll. Not only does it provide bulk and something to soak up the delicious soy sauce you'll be using, but it keeps things held together. Even the most amateur sushi chef can make a tasty roll at home if they cook their sushi rice right. Recipe from Instant Pot Eats.
INSTANT POT RICE JAMBALAYA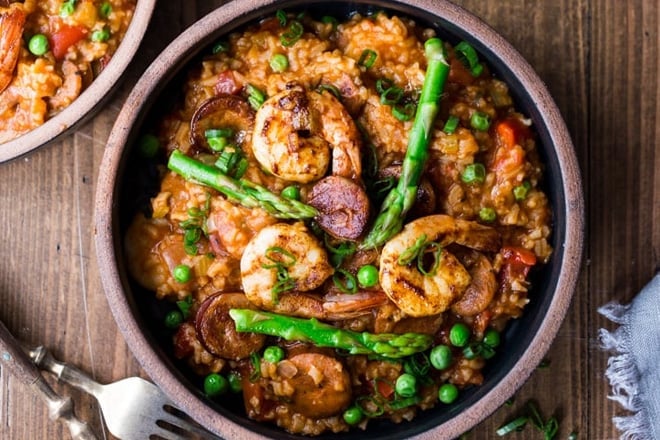 This delicious Creole-inspired Instant Pot Jambalaya recipe is full of flavor depth and complexity- yet lightened up with chicken sausage and seasonal healthy veggies. This can be made in an Instant Pot or on the stove iop – a delicious weeknight dinner! Recipe from Feasting At Home.
INSTANT POT JAPANESE CURRY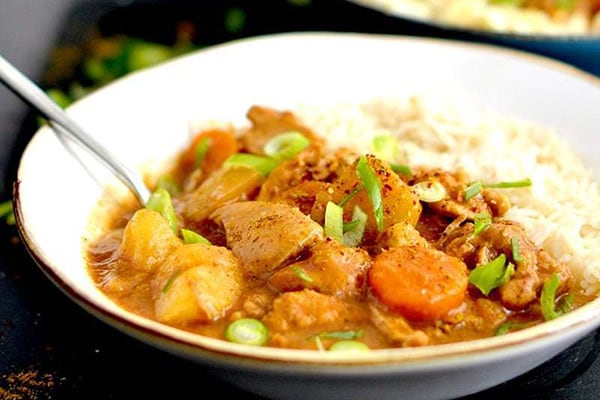 This simple homemade recipe is made from scratch and is super delicious. Using chicken, carrots, and potatoes but you can make a vegetarian/vegan version as well. It is traditionally made with a variety of meats and vegetables but the key is its thick, gravy-like curry sauce. The flavor is a crossover of Japanese, Indian and Western cuisines. Recipe from Instant Pot Eats.
INSTANT POT CHICKEN RICE CONGEE
With 6 simple ingredients & 5 mins prep time, this Chinese chicken congee is a tasty and frugal one-pot-meal to make in your Instant Pot. No need to tend the pot & constantly stir the congee. Don't have to worry about messy cleanup or burnt pot bottom! Recipe by Pressure Cook Recipes.
Instant Pot Matcha Mochi Recipe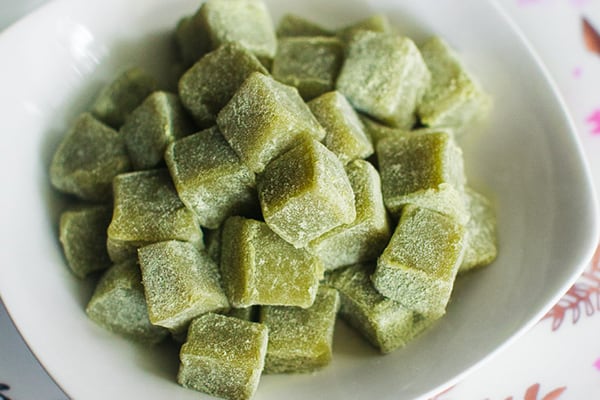 A super simple method to make mochi in the Instant Pot. You end up with perfectly soft and satisfyingly chewy homemade mochi. You can have these just on their own as a snack or use them as a topping for ice cream and shaved ice. Recipe from Food Is A Four Letter Word
Check out these recipes:
23 GORGEOUS WILD RICE RECIPES TO TRY
10 DELICIOUS INSTANT POT BIRYANI RECIPES
INSTANT POT RICE PUDDING (+10 DELICIOUS VARIATIONS)
15+ AMAZING INSTANT POT RICE DISHES
PERFECT INSTANT POT RISOTTO RECIPES
---
---
SAVE These Instant Pot Rice Recipes TO PINTEREST