We love cooking rice in the pressure cooker and wanted to share with you our favourite Instant Pot biryani recipes. These Indian-inspired one-pot meal wonders will both nourish and satiate you and your family.
---
WHAT IS BIRYANI?
Biryani is a staple in Indian cuisine, comprised of heavily seasoned rice and meat, fish, or vegetables. Sometimes, it is referred to as spicy rice. It's served up as a hearty and healthy main dish, packing in flavor, protein, and nutrients. Occasionally, egg or yogurt is added to give it a little extra substance.
It's naturally gluten-free, made with white or brown rice, and you can often find dairy-free variations or use coconut milk /dairy-free yogurt if the recipe calls for it.
Traditionally, the meat and rice are cooked separately. With the Instant Pot, we know skipping a few steps (almost) never hurts. That's why we love that it gives us the ability to make everything at once, providing a wonderfully satisfying one-pot meal in a jiffy.
There are so many unique varieties you can make depending on your cravings and the ingredients you have available. Here are a few of our favorite Instant Pot biryani recipes – with and without meat!
Oh, and the best type of rice to use for biryani? It's basmati rice!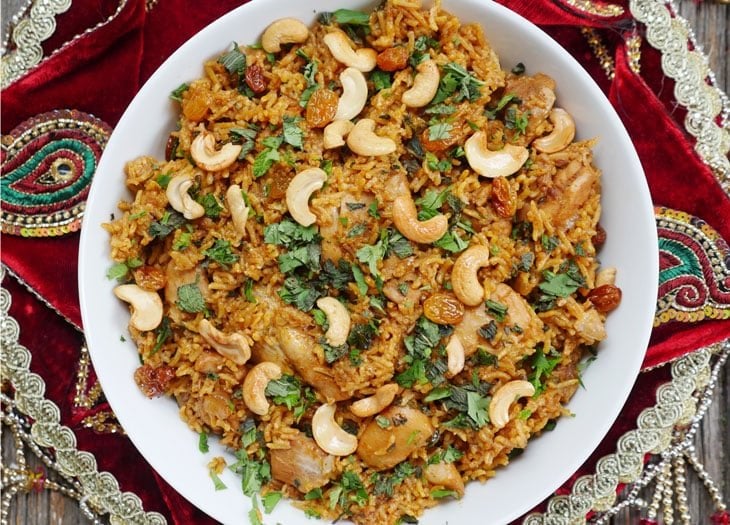 Weeknight cooking or weekend entertaining, this chicken biryani comes in the clutch. Chicken is perhaps the most popular meat to use in biryani, so you know we had to start off with a classic. This dinner is done in under an hour so you won't have to wait very long before devouring it. With warm spices infusing the rice and cashews and raisins strewn throughout, you'll love every mouthwatering bite. Recipe from My Heart Beets.
This dish is incredibly rich made with both yogurt and milk with lamb as the protein. You'll get tender results every time that won't taste too game-y at all. Fun additions of flavor and texture include juicy dried apricot, white poppy seeds, garam masala, and chili for a kick. Top it off with raisins, cashews, and fresh mint. This is an aromatic masterpiece full of crunchy and chewy goodies. Serve with raita for the best results. Recipe from Paint The Kitchen Red.
Looking to keep it meat-free, dairy-free, and gluten-free? Well then, this vegan butternut squash biryani is for you. Butternut squash and cauliflower make up the bulk of this dish making it nutrient-dense and full of fiber. Fresh dill, mint, and coriander bring in the fresh flavor you love with all the warming, aromatic spices that give biryani its distinct flavor profile. Recipe from Holy Cow Vegan.
Bell pepper, tomato, and potato are the stars of this vegan dish. Toss in a bag of frozen mixed veggies and you've got an all-star plate packed with color, vitamins, and minerals. This quick and easy meal is perfect for a busy night, and chances are, you have most of the ingredients handy. Just make sure you have a good biryani paste and you're good to go. Recipe from Instant Pottin' With Poonam.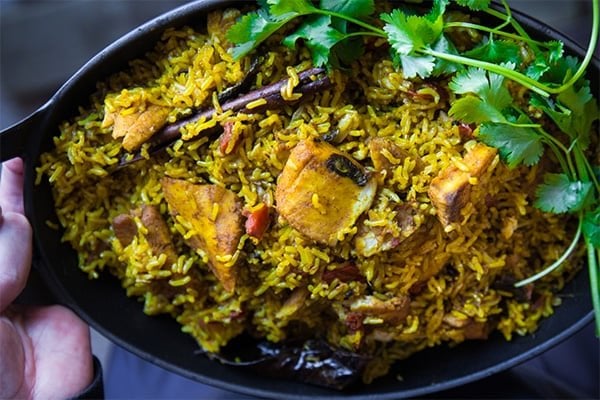 For a lighter yet protein-packed variation of the classic Indian dish, opt for this fish biryani. Any white fish will do, so it's pretty budget-friendly if you choose whatever is on sale. Brown basmati rice simmered in coconut milk will be delicious blended with a long list of spices that are so worth blending together. Top with fresh cilantro and mint for a bit of extra aromatic power. Recipe from What To Cook Today.
Got prawns? This dish is the perfect way to use them. Whole peppercorns, bay leaf, and cinnamon stick infuse the basmati rice with the most delicious flavor. It's cooked with coconut milk and this recipe also uses yogurt for a creamy and delicious blend. Shrimp tossed throughout makes this a light, healthy choice without sacrificing flavor. Recipe from Simmer to Slimmer.
Quinoa is a favourite grain to make in the Instant Pot. It's a complete plant protein making it a filling choice for plant-based eaters. Essentially, this is a pretty traditionally spiced biryani with quinoa instead of basmati rice. Pulao – what this technically is – is very similar to biryani, with a similar structure. It's a little less strong on the spice end, so this will be more pleasing to picky eaters and kids. Recipe from Cooking Carnival.
If you want chicken biryani with the quinoa, this recipe outlines each step for you. With heavy and warming biryani spice, this quinoa really does the trick at adding a bit of extra protein and "meat" to the dish, alongside tender, perfectly cooked chicken. This biryani is done in just 14 minutes since quinoa cooks a little bit faster than rice. Recipe from Indfused.
Mutton is an underrated meat choice. If you're not familiar, mutton is what mature sheep meat is called. This one infuses flavor by using bone-in meat that really complements a rice dish because it has the capability to soak all that goodness up. This recipe is a fantastic potluck dish to mix things up and impress your friends and family with. Recipe from Simple Indian Recipes.
We always try to include something for everyone in these recipe roundups, so naturally, we had to share a low-carb recipe. This keto-friendly version of biryani is missing the fluffy basmati rice, but not to worry – cauliflower steps up to the plate to do its job. With a veggie base, you can still use all those biryani spices to hit the flavor notes just right. Recipe from That's Low Carb.
Making Biryani takes a lot of patience and experience to make a perfect biryani. It has many variables: the Moisture, amount of Salt and Spices, perfectly Cooked Rice & Chicken. The Instant Pot is a controlled way of getting the right result EVERY SINGLE TIME. Recipe from Yellow Thyme.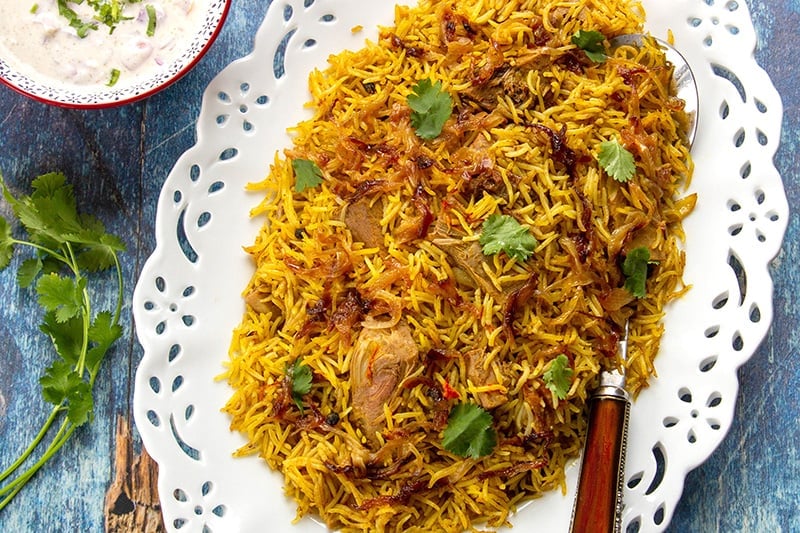 Kathal Biryani is a tasty Indian, vegetarian rice recipe that is perfect for a weeknight dinner. You can use mushrooms, paneer, asparagus, or artichoke hearts instead of jackfruit in this recipe. It's gluten-free and vegan-friendly. This recipe is from the Authentic Indian Cooking With Your Instant Pot by Vasanti Bhadkamar-Balan. Get the recipe here.
Have you had biryani? Whether you're used to eating it or it's brand new to you, it's bound to open up a whole new world of flavor. Traditionally, it's associated with longer cooking time, but we hope you enjoy these quick and easy methods.
---