We've got twenty delicious Instant Pot potato recipes for every taste, meal, and craving. From the basics and sides to your favorite soups, stews and bakes, we've got a dish for you to try!
---
Take a look in the dark, dry corners of your kitchen and you likely have a few spuds lying around. From the paleo eater to the plant-based eater, potatoes are a staple in nearly every home. They are an economical, easy-to-get, easy-to-store starch that provides great versatility, energy, and taste. Recipe
Potatoes are comforting with many hearty options. From our favorite fried foods like fries and hash browns to creamy, cheesy, bacon-y soups, potatoes are often thought of as an indulgent option. Today, we'll be featuring both healthy and more decadent, comforting recipes for your pressure cooker. No matter your preference, your craving, or your dietary restrictions, we've got many awesome Instant Pot potato recipes for you in this roundup!
---
Simple Instant Pot Potato Recipes
These are your basic, go-to side Instant Pot recipes with potato. The potato is the main star in these dishes, and they're ones you're familiar with. These will come in handy for weeknight cooking, meal prep, entertaining, and just enjoying potatoes for what they are in all of their delicious glory. Whether you like crispy spuds, a good mash, or simple baked potatoes, you'll want to bookmark these.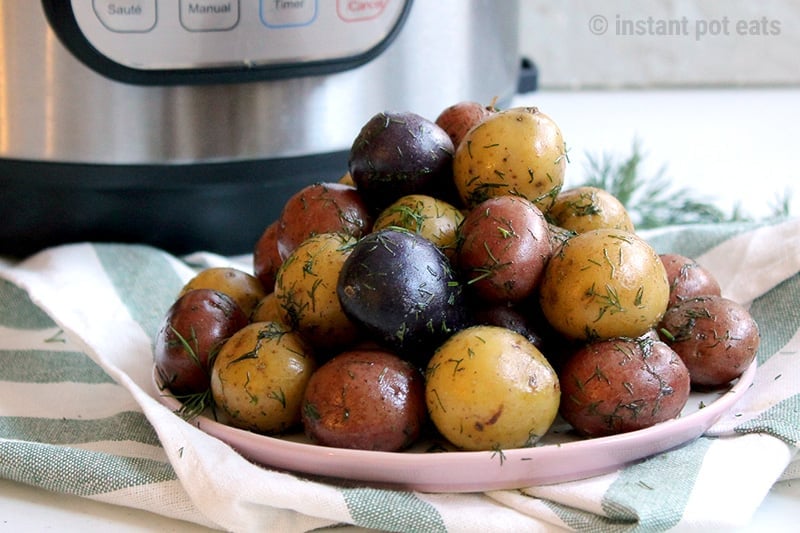 These Instant Pot baby potatoes with dill & butter will compliment any main course on the table. It's a delicious crowd-pleasing side dish that works with any dietary restriction.
Crispy potatoes are arguably the best food in the world. I don't mean to be over-enthusiastic, but c'mon… just looking at these is craving-worthy! This recipe is technically a 2-step affair, but it's so worth it. The Instant Pot cooks the potatoes through perfectly in just a few minutes, and all that's left is a quick brown. No more burnt or under-cooked potatoes. These are fantastic for breakfast or a simple starchy lunch side. Recipe from Nom Nom Paleo.
Who doesn't crave a baked potato sometimes? It's the simplest thing ever, yet it's so satisfying. With so many options for toppings whether you're a salt and butter kinda guy or a fully loaded kinda gal, you can always get creative and make a fantastic meal with baked spuds. You can cook up to 3 lbs. of potatoes in your Instant Pot in just 12-20 minutes! Recipe from Self Proclaimed Foodie.
Mashed potatoes deserve a spot in your weekly meal lineup. They're hearty and comforting, perfect for soaking up sauces and serving with roast meats. You need a go-to mashed potato recipe for the Instant Pot, and this one is it. It's healthy and lightened up without sacrificing any crucial ingredients or the flavor you love. Recipe from Skinnytaste.
If brown butter sounds like a good idea – and truly, when doesn't it? – this recipe is for you. Another basic cooking method with huge flavor results, these butter and herb-tossed 'taters are a cracker of a side dish that you'll have trouble keeping on the table for long. Recipe from Eat Well 101.
---
Instant Pot Potato Soups, Stews & Curries
Let's begin with some lighter fare. This veggie-packed soup is perfect during any season. With garlic and onion flavor from fresh chopped leeks and vitamin-rich kale, you can feel good about chowing down on this. It freezes beautifully and it's perfect for meal prep, finished off with cheddar and parsley for a flavor punch. This is a good dish for sneaking veggies into the kids' diets too!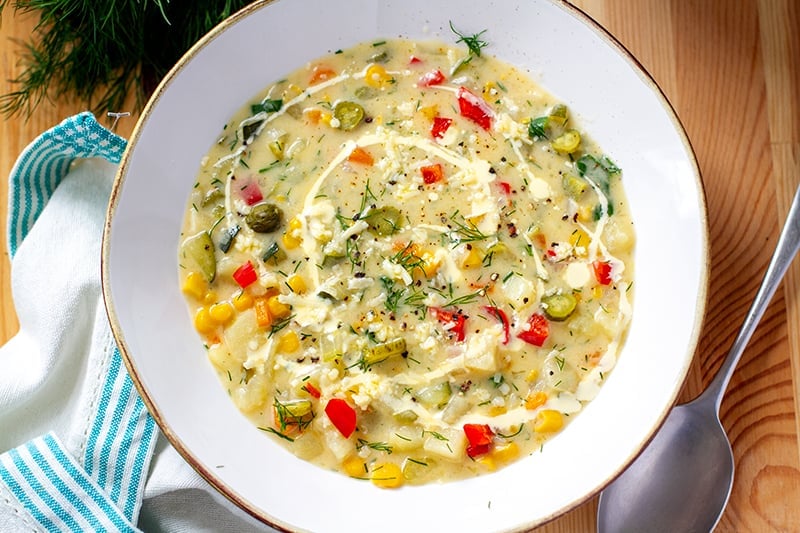 This chunky, creamy Instant Pot chowder is loaded with vegetables, including potatoes and sweet corn, and is thickened with cheese, cream and gluten-free starch slurry made with tapioca flour. We got inspired by a dill pickle soup and added a twist of finely diced gherkins and fresh dill right at the end. They add freshness and little bursts of flavor taking this classic soup to the next level.
Loaded potato soup is a classic restaurant recipe. By no means is it what most would consider healthy, but it's certainly fun. Some nights call for abandoning reason and indulging in what makes sense – potatoes, cheese, and bacon all cooked together for a brilliant, crowd-pleasing 20-minute meal. Recipe from Belle of the Kitchen.
If you're looking for a complete one-pot meal with protein, veggies, starch, and flavor, this is it. This rustic meal comes together with a blend of chicken thighs and chicken breast while the leeks, veggies, and butter infuse the potatoes. The potatoes add a little thickness to the broth here, and you've got a rich, jam-packed super star stew! Recipe from Instant Pot Eats.
You know we had to include a classic beef stew recipe. All of the best beef stews have a few staple ingredients, one of which is the potato! Chunks of potato, beef, carrot, and celery make every bite nutritious, filling, and rich with the best texture. You can get great results in your Instant Pot in record time instead of watching over the stove for an entire day. Recipe from Savory Tooth.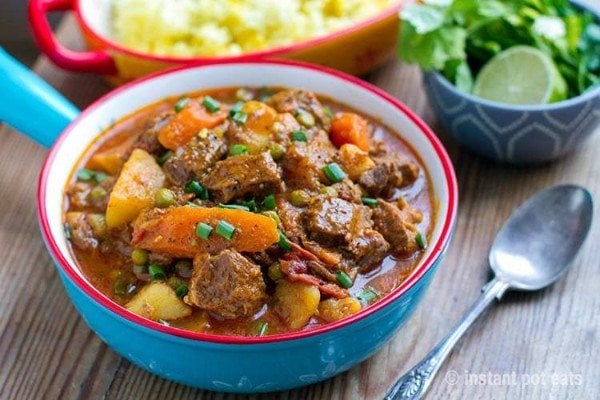 With distinct Moroccan flavor, tender juicy lamb, veggies, a rich sauce to soak in, and hearty potatoes, you just can't go wrong with this stew. Warm-up and stay full with this aromatic tagine. It's healthy, too, with both the dairy-free and gluten-free seal of approval. Recipe from Instant Pot Eats.
Aloo matar is basically just potato and pea curry in a fragrant tomato sauce. It's humble, very budget-friendly, and often easy enough to put together without having to make a run for the grocery store. This plant-based dish has never been easier than it is in the Instant Pot. Forget takeaway and make this nourishing dish at home. Recipe from My Heart Beets.
Meat and potatoes are always a good idea. It's even better in a hearty and delicious broth, tossed with fresh greens, and spiced to perfection. The best part? The ease of making this awesome soup in your Instant Pot. Recipe from Eat Well 101.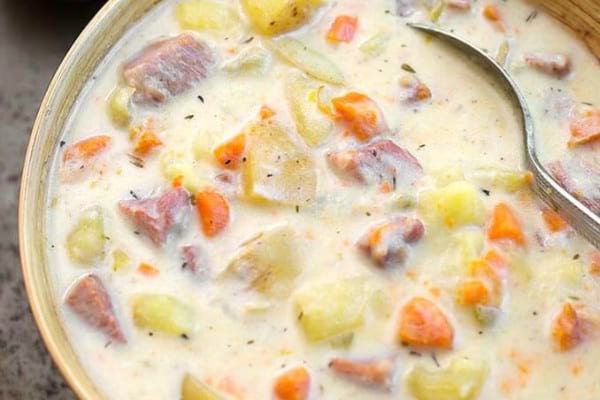 Everyone knows that the combination of ham and potatoes is undeniably good. It's best in a soup where potatoes can be their creamy selves, and ham can be its smoky self, and everyone gets along just fine. Better than fine, really. This soup is a tasty winter warmer the whole family will enjoy. Recipe from Simply Happy Foodie.
This Indian-inspired butter chicken dish has all the flavor you love mixed with big chunks of potato for an awesome curry feeling in this spicy, satisfying at-home craving-buster of a recipe. Recipe from Mel's Kitchen Cafe.
---
More Instant Pot Potato Sides & Mains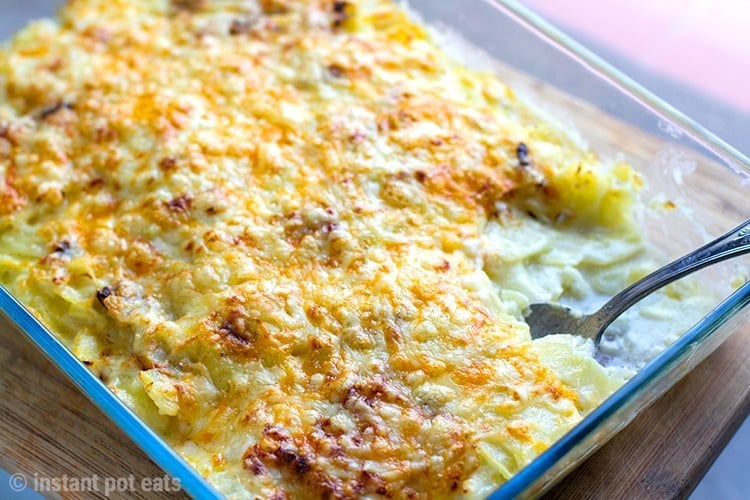 Scalloped potatoes are a beloved recipe for holiday tables in particular, but they're good all the time. They're a rich and creamy side for any protein and greens combo. They're often made from a boxed mix, but this homemade version with leeks couldn't be easier with the help of your Instant Pot.

This Instant Pot potato salad is a great example of using the pressure cooker for spring and summer dishes. It's a fantastic salad to bring to a barbecue party, picnic in the park or to enjoy as a nutritious, balanced meal at home. Mixed with lovely green beans, peas, pickles, and zesty shallot vinaigrette, it's vegan, gluten-free and Whole30 friendly.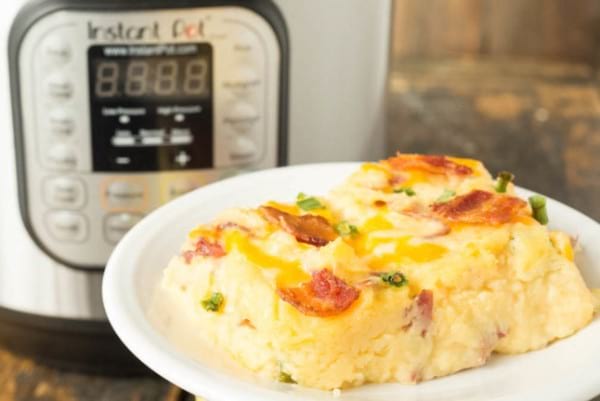 This twice baked potato casserole is a great side dish any night of the week. This is also a really nice freezer meal to have handy. Potatoes, bacon, cheese, and sour cream pair beautifully in this slice that'll help balance out any meal and fill the family up. This is sure to be a winner. Recipe from Cooking With Janica.
These Irish mashed potatoes are a staple dish. They're mixed with leeks, garlic, cabbage, and lots of butter for a unique taste – perfect for St. Patrick's Day! You can always sub out the cabbage in this dish for another favorite or in-season green you enjoy. Recipe from Hey Let's Make Stuff.
You can't beat this combination. If you're looking for a way to make it all come together at once in your Instant Pot, this is the only tutorial you need. You can really work to adapt this to any meatloaf recipe you like the best, too, so you can mix and match different types of meat and flavor profiles. No matter, this is a great into to cooking with different layers! Recipe from I Wash, You Dry.
Finally, if you want some starchy action in your breakfast meal, this is the hash for you. Fatty, juicy, and flavourful Spanish chorizo plus hearty potato hash is the best way to wake up on the right side of the bed! Prep this the night before and get it started by pressing the button as soon as you wake up for a low-effort hot plate before you shuttle off to work. Recipe from Recipe This.
That's all for today! You should have no trouble using up your potatoes now with all of this delicious inspiration. Enjoy and make sure you share this article if you loved it!
---