We are continuing our Instant Pot Meal Plan series with the eighth edition! This week's Instant Pot menu is Whole30 and Paleo-friendly. It features 5 dinner meals, 2 lunch dishes, and 1 breakfast. We've got a variety of nutritious, balanced meals with different protein options and plenty of veggies. Downloadable PDF with shopping list included.
---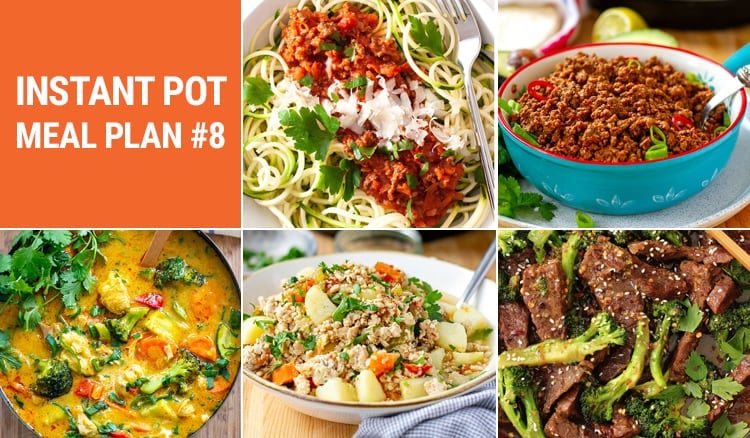 You can find other Meal Plans here and our Vegetarian Meal Plan #3.
ABOUT THIS WHOLE30 INSTANT POT MEAL PLAN
This gluten-free, Whole30 and paleo-friendly Instant Pot meal plan feature 5 dinner meals, 2 lunch-friendly dishes, and 1 breakfast, all made in your pressure cooker. You can do them all, pick and choose or use the recipes but swap out some of the ingredients such as meat or vegetables.
WHAT IS WHOLE30?
The Whole30 is a dietary approach that emphasizes whole, nutrient-dense foods and eliminates sugar, alcohol, grains, legumes, soy, and dairy. It's similar to paleo but is a little bit more restrictive as it doesn't allow natural sweeteners like honey or maple syrup. Many people do a 30-day Whole30 challenge and then reintroduce excluded foods gradually.
"You can think of the Whole30 like pushing the reset button with your health, habits, and relationship with food," says one of the program's creators, Melissa Urban. "For 30 days, you'll eliminate the foods that scientific literature and our clinical experience have shown to be commonly problematic in one of four areas — cravings and habits, blood sugar regulation and hormones, digestion, and immune system, and inflammation."
Many Whole30 adherers report improvements in energy, sleep, mood, focus, digestion, pain, and athletic performance. Some experience decreased incidences of conditions like eczema, migraines, asthma, and allergies.
Having a meal plan and Whole30 friendly foods in the kitchen can help you stay on track with the diet and your Instant Pot can certainly be put to use, especially in the colder months. Below is our Whole30 Instant Pot Meal Plan and you can also find all our Whole30-friendly recipes here.
If you're following a Paleo or gluten-free diet, this meal plan will be very suitable.
You can download this meal plan with the shopping list here.
Happy Meal Planning!
PS. If you make one of our recipes, take a picture and share it on Instagram. Use the hashtag #instantpoteats! We want to see what you are making in your kitchen. And don't forget to follow us on Instagram!
INSTANT POT MEAL PLAN #8
We'll kick off with five wholesome dinner meals you can make in your Instant Pot. We selected a variety of dishes, including a vegetarian option.
---
Our Instant Pot Bolognese sauce is perfect for a cozy Italian meal that is Whole30 and Paleo-friendly. Swap pasta for zucchini noodles or cauliflower rice. Leftover Bolognese is also great for lunch with a side of grilled zucchini or roasted sweet potatoes. Get the recipe here.
Shopping list: 2 tbsp olive oil, 1 onion, 1 carrot, 2 celery ribs, 3 oz / 90 g bacon, 2.5 lb / 1.1-1.2kg ground beef, 4 cloves garlic, 1/4 tsp nutmeg powder (optional), 1 tsp dried thyme or basil, 2 bay leaves, 1/2 cup dry white wine (you could use red too), 1 cup chicken or beef stock, 2 tbsp tomato paste, 14oz/ 400 g (1 can or jar) of tomato sauce or puree, also known as passata (we love this brand), and 2 tbsp tapioca or arrowroot flour. Plus, 1 large zucchini per person for the zucchini noodles. Garnish with fresh parsley or basil and grated parmesan cheese.
Prep tips/make-ahead: For a bolder, more in-depth flavor, the sauce recipe calls for a little sugar and soy sauce. Omit the sugar and replace soy sauce with coconut aminos or fish sauce. You can use a vegetable spiralizer or carrot peeler to make zucchini noodles and briefly toss them in a hot pan with a little olive oil to heat up.
Serving suggestions: Garnish with fresh parsley or basil and grated parmesan cheese.
---
This is a versatile Thai curry recipe that you can make with chicken, turkey, or beef. Serve over cauliflower rice or steamed greens for a delicious Whole30 dinner. Get the recipe here.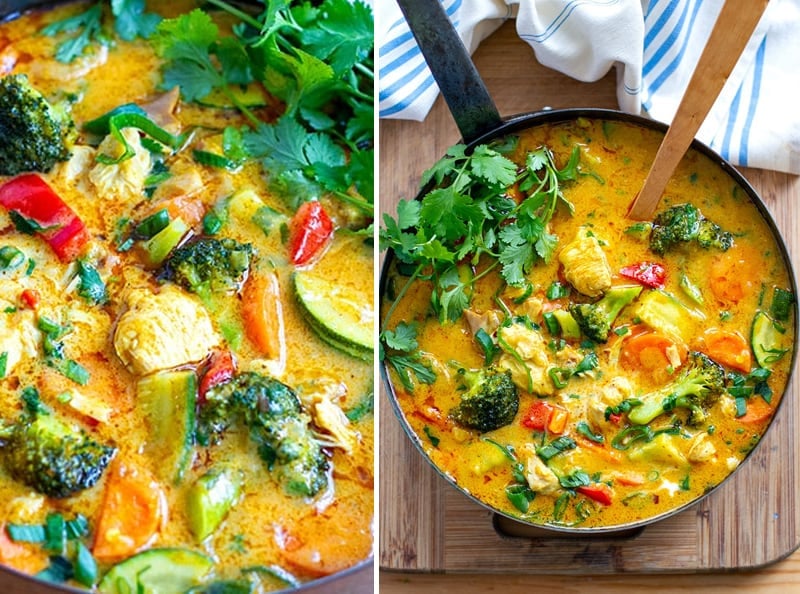 Shopping list: 1-2 tbsp olive oil, 1 onion, 4-5 slices of ginger, 2 garlic cloves, 1.4 lb / 650 g diced chicken meat (breast and thighs), 1/3 cup red curry paste (less or more depending on the spice level), 1 tbsp fish sauce, 1 cup thickened coconut milk, 1/4 cup coconut cream, 2/3 cup chicken stock (or water with 1/2 cube chicken stock), 1 lime, 1 carrot, 1 zucchini, broccoli, 1 red pepper, 2 tbsp tapioca flour or arrowroot flour, and cilantro. Garnish with scallions/spring onions (optional). Plus, 1 cup cauliflower rice per person.
Prep tips/make-ahead: Adapt the curry recipe to Whole30 by omitting the 2 tsp of sugar mentioned in the recipe. Coconut cream or milk is sweet enough and the curry will be as delicious, however, if you want to add more natural sweetness, throwing in a cup of diced Kabocha squash or another sweet winter squash will do the trick.
Serving: Traditionally, curry is served over rice but during Whole30 you can make a batch of cauliflower rice instead. There are many pre-chopped cauliflower brands on the market, both in the freezer and fresh produce sections, and all you have to do is heat it in a microwave or a pan. You can also make broccoli rice.
For a super easy, 5-ingredient chicken curry, try our recipe here.
---
Succulent pulled pork is so easy to make in the Instant Pot and this recipe will show you how to make a Whole30-friendly BBQ sauce for that perfect, tangy, sweet, smoky finish. Serve with coleslaw and guacamole or sliced avocado on the side. Get the recipe here.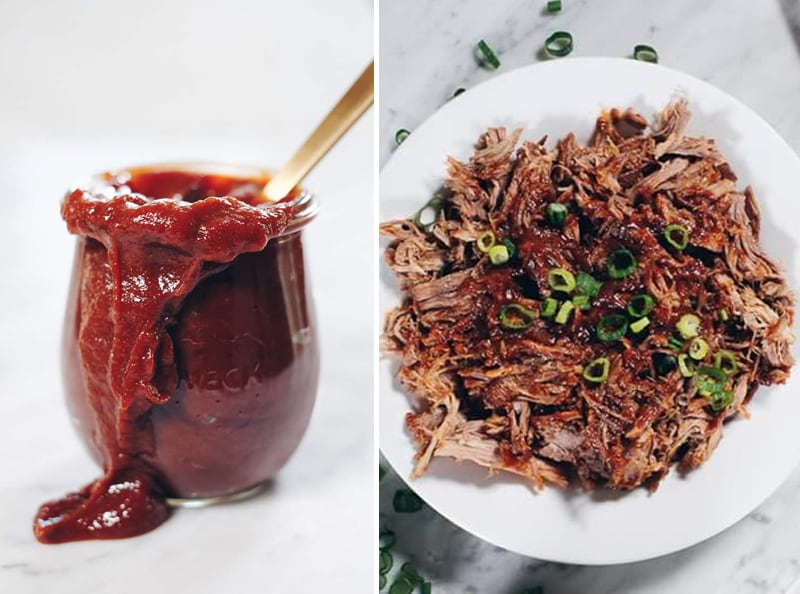 Shopping list: 4 lb organic bone-in pork shoulder, 1 tbsp garlic powder, 1 tbsp onion powder, 1 tbsp chili powder, 1 tbsp smoked paprika, 2 cups chicken stock (or bone broth), 1/4 cup tomato paste, 4-6 dates, soaked for 10-15 minutes in warm water to soften then drained, 2 tsp garlic powder, 2 tsp chili powder, and 1/2 cup coconut aminos. For coleslaw: 1/2 head of cabbage, 1 carrot, 1 red onion, 1/3 cup Whole30 mayonnaise, and 1 tsp mustard.
Prep tips/make-ahead: If you don't have any coconut aminos on hand, you can make your own using this DIY coconut aminos substitute recipe. For the coleslaw, simply shred 1/4 head of white or red cabbage, 1 large carrot, and 1/4 to 1/2 of red or white onion and dress with 1/3 to 1/2 cup of Whole30-friendly mayonnaise, 1 tablespoon lemon juice, 1 teaspoon mustard, and salt, and pepper to taste.
Recommended sides: It's great between two smashed plantains used as a bun (see this recipe). You could even put the pulled pork into a soup or casserole.
---
In the mood for some Chinese food? This Instant Pot beef and broccoli dish is just the ticket! It's much healthier than the beef and broccoli you would normally get in your takeout and only takes 30 minutes to put this on the dinner table. Get the recipe here.
Shopping list: 1.5 pound flank steak, 2–3 crowns broccoli, 3/4 cup beef broth, 1/2 cup coconut aminos, 2 tbsp avocado oil or olive oil, 2 tbsp sesame oil, 1 tbsp minced garlic, 1 tbsp arrowroot flour, 1/2 tbsp grated ginger, 1/2 tbsp onion powder, 1/4 tsp red pepper flakes, sesame seeds to garnish, and chopped green onions for garnish. Optional: Bag of cauliflower rice to serve with.
Prep tips/make-ahead: If you use a chuck roast, make sure to trim any extra fat prior to cooking. Those cuts of beef typically are a bit fattier, but they're also cheaper so it's a good budget option. Optional way to cook broccoli: Once done the beef is done, do a quick release, remove the lid, place it in broccoli. Close the lid again, set to 0:00 on manual, and set to "sealing" to steam broccoli. This will cook the broccoli more thoroughly as opposed to lightly steaming it for more fork-tender broccoli.
Recommended sides: This Whole30 instant pot beef and broccoli is great served with cauliflower rice, broccoli rice, or just on it's own!
---
You will love the simplicity of this rustic Instant Pot ground turkey and potato stew. It's hearty and full of flavor, yet at the same time healthy and light; and, uses affordable staples. Kids will love it, too. Get the recipe here.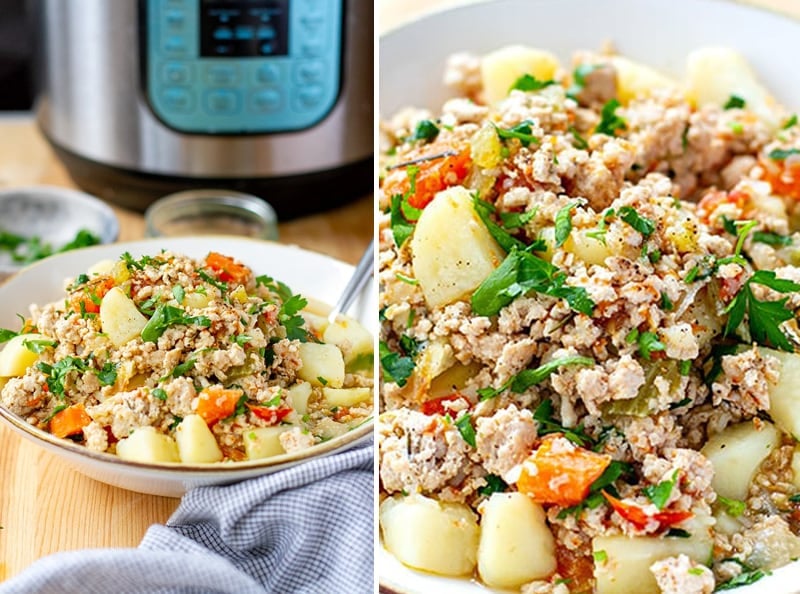 Shopping list: 2 tbsp olive oil, 1 onion, 1 carrot, 1 celery rib, 1.1 lb / 500 g ground turkey, 2 garlic cloves, 1.1 lb / 500 g white potatoes, 1 tsp rosemary needles (2 sprigs or dried), 1 tomato, and 1 cup chicken stock.
Prep tips/make-ahead: White potatoes can be swapped with sweet potatoes.
Recommended sides: Garnish with fresh parsley on top. You can serve a side of cooked greens or a salad with this dish.
---
Taco meat can be made with ground beef, pork, or chicken and is super versatile. Served alongside cauliflower rice or roasted sweet potatoes, with shredded coleslaw or fresh salsa and guacamole on top, taco meat bowls are fantastic for Whole30 lunch or dinner. Try our recipe for taco meat here. and these taco bowls from The Healthy Consultant here.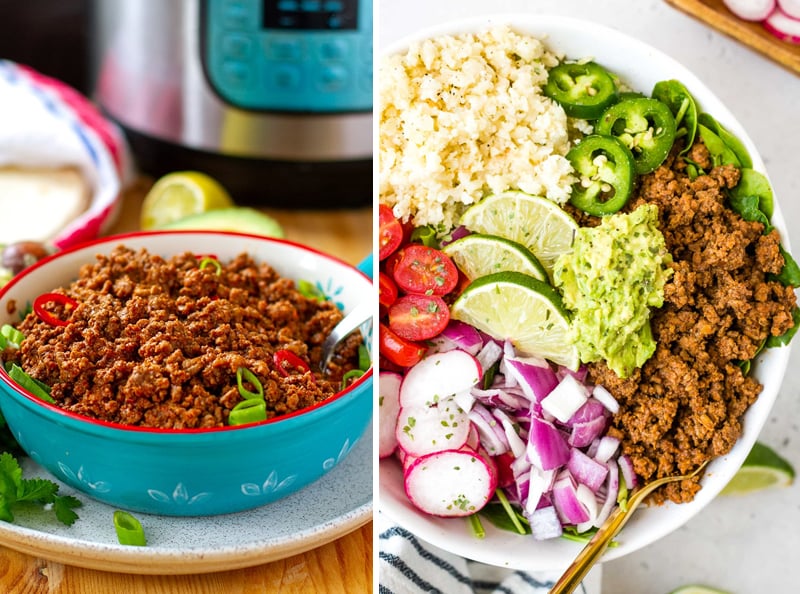 Shopping list: 2 tbsp olive oil, 1 onion, 1/2 serrano or jalapeno chili, 1.8 lb / 800 g ground beef, 5 cloves garlic, 1 tsp ground coriander seed, 2 tsp ground cumin, 2 tsp paprika, 1 tsp dried oregano, and 1 cup chopped tinned tomatoes.
Prep tips/make-ahead: If using more ground beef, make sure to add more water and more crushed tomatoes; you can also add a little more of each spice.
Serving suggestions: Taco meat can be used in so many ways besides tacos. You can use it as a filling in burritos, enchiladas, quesadillas; as a topping on salads, naked burrito bowls, nachos, in sandwiches, sliders, wraps, burgers, in rice casseroles, pasta, dips, or lasagna.
This buffalo chicken ranch meal prep is Whole30 and loaded with flavor, protein, healthy fats, and fiber. With cauliflower rice and homemade ranch dressing, this will become one of your favorite lunch meal prep recipes. Get the recipe here.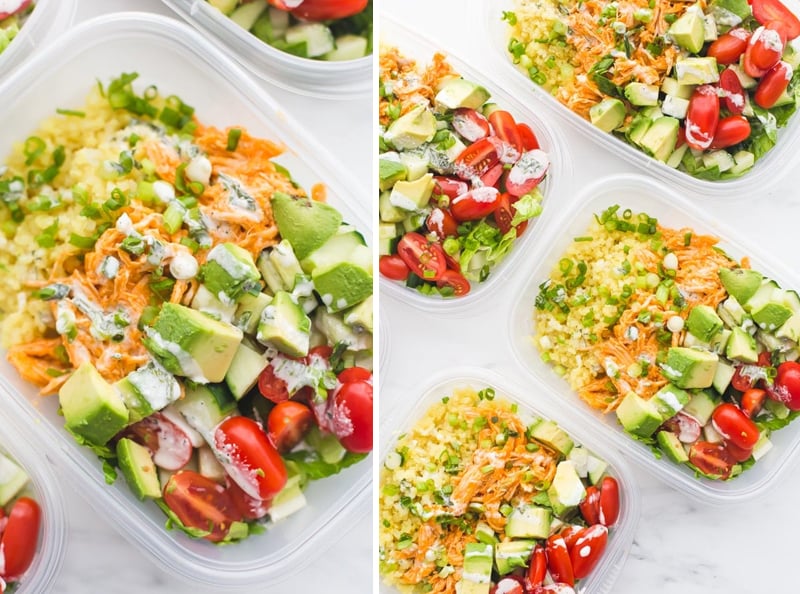 Shopping list: 2 medium boneless skinless chicken breasts, ¼ cup Frank's Red Hot Sauce, 2 tbsp ghee, 1 tbsp Whole30 mayonnaise, 2 bags frozen cauliflower rice (12-ounce ea.), pinch turmeric if desired, 1 head romaine lettuce, 1 cucumber, 1 cup grape tomatoes, 1 bunch green onions, 2 avocados peeled, Whole30 ranch dressing for drizzling, and celery sticks for garnish.
Prep tips/make-ahead: Use frozen pre-riced cauliflower to make this meal prep idea even easier. Dice the avocado right before you eat it, otherwise, you'll end up with a browned mess.
Recommended sides: Add in whatever veggies you like! Ideas include mini peppers, whole snacking cucumbers, raw zucchini sticks, or baby carrots.
---
Potatoes, eggs, bacon, bell pepper, and other things many people love in a breakfast casserole or a frittata. This Instant Pot version is easily customizable with other favorite veggies and offers hands-off cooking in the mornings. All the fillings can be made ahead of time. Get the recipe here.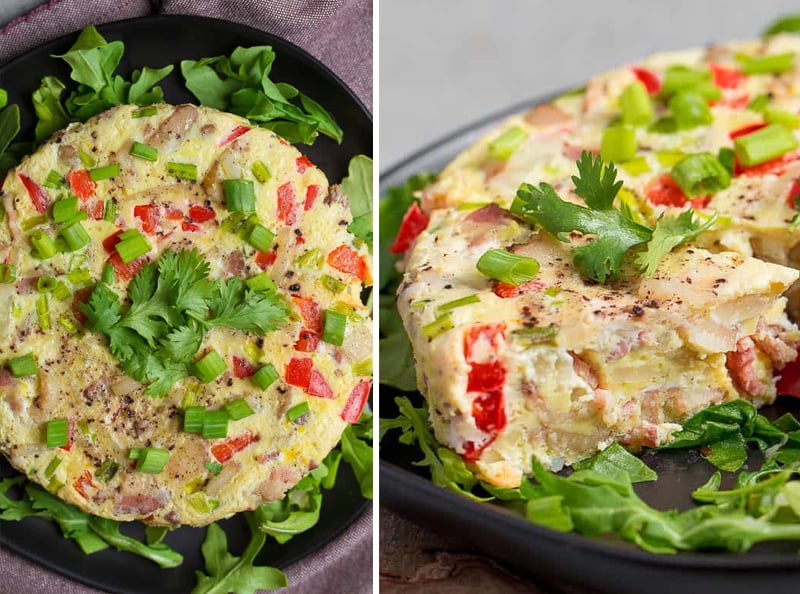 Shopping list: 6 slices bacon, 1.5 cups shredded potatoes or frozen hash browns,6 eggs, 3 tbsp full-fat coconut milk, 2 tbsp nutritional yeast* optional for cheesy flavor, 1/2 red bell pepper, 2 tbsp green onion, and 2 tbsp fresh cilantro optional for garnish.
Prep tips/make-ahead: You will need the trivet insert and a bowl that can fit inside your Instant Pot such as a Pyrex glass bowl, but even a metal bowl will work. Nutritional yeast has a cheesy flavor and can be found in most grocery stores.
Serving suggestions: Serve hot and garnish with cilantro (if using). You can store this in the fridge for up to 5 days, or freeze it for several weeks.
Download this MEAL PLAN & COMPLETE THE SHOPPING LIST here.
---
---
SAVE INSTANT POT Meal Plan #8 TO PINTEREST