We are continuing our new Instant Pot Meal Plan series with a second edition! This week's menu features 5 dinner meals, 2 lunch dishes and 1 breakfast, all made in your Instant Pot pressure cooker. We've curated a plan that is nutritionally balanced and features a variety of foods, cuisines and some vegetarian options. Downloadable PDF with shopping list included.
---
We got a lot of great feedback on our first Instant Pot Meal Plan, so we are very excited to share this new edition. We want our meal plans to give your ideas and inspiration for your daily meals. We choose recipes based on a variety of protein (chicken, beef, pork, fish or legumes), carbohydrates (rice, pasta, quinoa, potatoes) and vegetables.
WHY FOLLOW A MEAL PLAN?
How often have you found yourself wondering what to cook for dinner or feeling unmotivated to try anything new? It's very common, especially after a busy day. Having a meal plan takes a lot of the guesswork out and means that you can stock up on all the food and ingredients you need ahead of time.
Our Instant Pot meal plans provide you with 5 dinner meals to choose from – you can cook all of them or pick a few you like – plus a couple of lunch-friendly recipes and either a breakfast or dessert you can also make in the pressure cooker.
This week, it's a regular meal plan suitable for omnivores. We have a vegetarian version coming up next. If you have any specific dietary or lifestyle requests, leave us a comment below!
You can download this meal plan with the shopping list here.
Happy Meal Planning!
PS. If you make one of our recipes, take a picture and share it on Instagram. Use the hashtag #instantpoteats! We want to see what you are making in your kitchen. And don't forget to follow us on Instagram!
INSTANT POT MEAL PLAN #2
We'll kick off with five delicious dinner meals you can make in your Instant Pot. We selected a variety of dishes, including a couple of vegetarian options.
Orzo is a type of pasta that looks like long grains of rice. In this dish, it is flavored with lemon and Parmesan with fresh spinach wilted in for a healthy, balanced and easy dish. You can serve it as a main or as a side dish with extra protein on the side. This lemony, cheesy orzo takes 20-25 minutes from start to finish and is vegetarian-friendly.
Shopping list: 1 medium onion, 1 lemon, 1.5 cup orzo, 2.5 cups vegetable stock, 1 cup grated Parmesan cheese (90 g/3 oz), 2 cups (2 handfuls) of chopped baby spinach, fresh parsley (garnish).
Prep tips/make-ahead: This pasta dish is best prepared fresh, which isn't too much effort as it's very quick to make.
Recommended sides: A nice salad or another vegetable dish is all you need as a side dish, however, it's a great stand-alone dish. You can also serve smaller portions as sides to a protein main.
Taco Tuesday, Friday Burritos or Sunday Enchiladas? This taco meat recipe is super versatile and you can make a batch of it to use up right away or to freeze for later in the week. Use it in tacos, burritos, enchiladas, over rice with beans, and grated cheese.
Shopping list: 1 medium onion, 1/2 serrano or jalapeno chili, 1.8 lb / 800 g ground beef, 5 cloves garlic, 1 teaspoon ground coriander seed, 2 teaspoons ground cumin, 2 teaspoons paprika, 1 teaspoon dried oregano, 1 cup chopped tinned tomatoes.
Prep tips/make-ahead: Taco meat will keep for 3-4 days in the refrigerator and up to 3 months in the freezer. Make sure to cool down the meat first before storing it in an airtight container or heavy-duty freezer bags. Make sure to label the containers if storing in the freezer. To use frozen taco meat, defrost it overnight in the fridge or in a microwave.
Recommended sides: You can add avocado, cilantro, rice, lime, shredded cheese, refried beans, lettuce, tomatoes, salsa, and sour cream to fill your tortillas. Taco meat can also be used in burritos, enchiladas, quesadillas; as a topping on salads, naked burrito bowls, nachos; sandwiches, sliders, wraps, and burgers; in rice casseroles or pasta, dips, lasagna, and much more.
This is a very easy, beginner-friendly recipe for perfectly cooked, succulent chicken breasts and flavorful gravy all prepared in one pot. Great for dinner with your favorite side!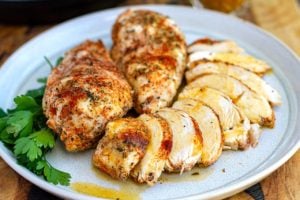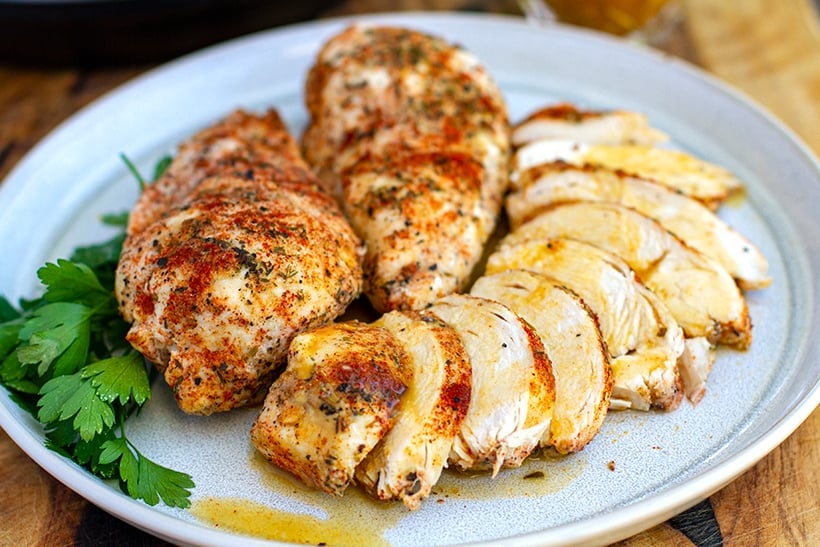 Shopping list: 3 chicken breasts (skinless/boneless, about 0.5 lb / 270 g each), 1 teaspoon sweet or mild paprika powder, 1 teaspoon garlic powder, 1 teaspoon onion powder, 1 cup low-sodium chicken stock, 2 bay leaves, 3 garlic cloves, 1 tablespoon all-purpose flour, 1 tablespoon lemon juice
Prep tips/make-ahead: You can store the chicken for up to 3 days in the refrigerator or freeze it for up 3 months. If storing or freezing, keep the gravy in a separate container, then defrost/reheat and use once serving.
Recommended sides: Mashed potatoes or simple white rice, quinoa, roast vegetables, couscous, boiled potatoes.
This vegetarian-friendly soup is very hearty and nutritious with loads of veggies. It's great as a main dish with a dollop of sour cream and some lovely bread on the side. You can add a can of beans or lentils or some shredded chicken or beef if you want to increase the protein in this meal.
Shopping list: 1 medium white onion, 2 large white potatoes (about 1lb / 450 g), 1 large carrot (about 4.5 oz/ 125 g), 2 or 3 beets (7–8 oz / 200–250 g), 1/4 medium white cabbage (12 oz / 350 g), 4 medium cloves of garlic, 10–15 g / 1 oz dried porcini mushrooms, 3 tablespoons apple cider vinegar, 1.5 tablespoons tomato paste, 1 cube beef stock, 1 cube vegetable stock, 1/2 teaspoon pepper, fresh parsley (garnish) and sour cream/yogurt to serve.
Prep tips/make-ahead: Careful when handling beets as they can stain surfaces red. We suggest using kitchen gloves when grating the beets or do it near the sink so you can quickly rinse your hands after handling the stain-prone beetroot. Regular mushrooms or dried shiitake mushrooms can be used instead of dried porcini mushrooms. This beet soup keeps well in the refrigerator – 3-4 days – and it's delicious cold or hot.
Recommended sides: Sour cream, bread or dinner rolls, herb & garlic sourdough croutons. For extra protein, you can stir in a can of pre-cooked beans or lentils or some shredded cooked chicken or beef.
Ultra tender pork tenderloin with a balsamic glaze looks and tastes a little fancy but it's actually very easy to make. This is a recipe from Le Creme de La Crumb and you can serve this pork dish alongside some lovely mashed potatoes or roasted vegetables, over pasta or rice. If you don't eat pork, you can swap it out for chicken.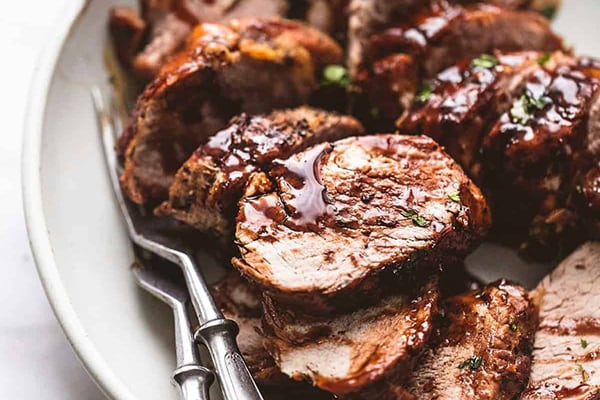 Shopping list: 1-2 pork tenderloins, 1 teaspoon garlic powder, 2 teaspoons dried Italian herb blend, 4 tablespoons soy sauce, 1 cup brown sugar, ½ cup balsamic vinegar, 2 tablespoons corn starch.
Prep tips/make-ahead: One large or two small-medium pork tenderloins (1 – 1 1/2 pounds each) work perfectly. You can also do one small-medium tenderloin but will have extra balsamic glaze leftover – you can keep it in a jar in the fridge for up to 2 weeks and reheat in the microwave or on the stove.
Recommended sides: Roasted or mashed sweet potatoes, wide egg noodles, spaghetti, fettuccini, or any pasta you have on hand. It also goes great over white or brown rice. Simple buttery green beans, asparagus, or steamed broccoli is great on the side.
Chicken wings are great for lunchboxes, both kids and grownups. These maple mustard chicken wings are super flavorful and moist so you don't really need any dipping sauce. Just add some complex carbohydrates, veggies and fruit for a balanced lunchbox.
Shopping list: 2 lb / 1 kg chicken wings (50/50 wings and drummettes), 1 teaspoon onion powder, 1 teaspoon garlic powder, 1 lemon, 2 teaspoons mustard, maple syrup, 2 teaspoons Dijon mustard, and 1/2 teaspoon mustard.
Prep tips/make-ahead: You can make these in the Instant Pot ahead of time then pop into the oven or toss the pre-cooked chicken wings in the glaze and grill on a hot barbecue for 4-5 minutes on each side or until golden brown to the desired effect. The meat will already be cooked through so it's about getting the color and sticky caramelization from the heat.
Serving suggestions: Cut up veggies sticks, cherry tomatoes, crackers or bread rolls, cooked pasta, quinoa or rice, potato salad, grapes, berries or a banana. Basically, whatever else you like in your lunchbox besides protein, which is sorted!
This is a great nutritious salad you can make ahead of time and divide between lunchboxes to enjoy for a couple of days. As with most salads, it's best to store the dressing separately to keep it fresh and crunchy.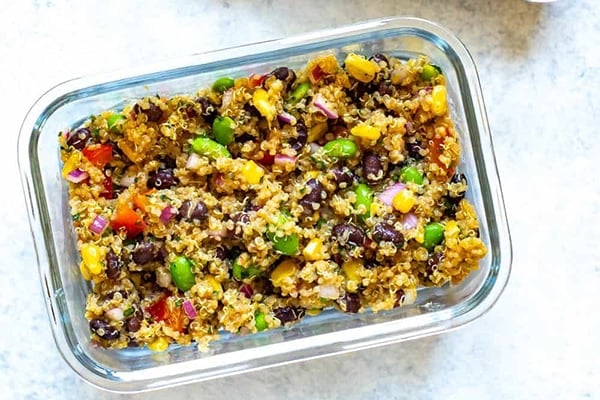 Shopping list: 1 cup quinoa, 1 can black beans, rinsed and drained, 1 red pepper, 1 red onion, 1 cup edamame, 1 cup corn, 1/4 cup lemon juice, 1 tbsp dijon mustard, 1 tbsp chili powder, and fresh cilantro.
Prep tips/make-ahead: This salad tastes great served warm or cold, so it's perfect year-round! Divide into single servings or family-sized servings and place them into airtight containers, meal prep containers, or freezer bags. If stored in an airtight container, it can be left in the refrigerator for up to 5 days or you can freeze the leftovers for up to 6 months.
Recommended sides: Great as is but you can never go wrong with a dollop of guacamole or sour cream on top!
Oatmeal or porridge makes for a great and satiating breakfast and you can make it directly in your Instant Pot, which is great if you don't want to be standing over the stove to watch it. Try our banana cinnamon oatmeal or this blueberry oatmeal here.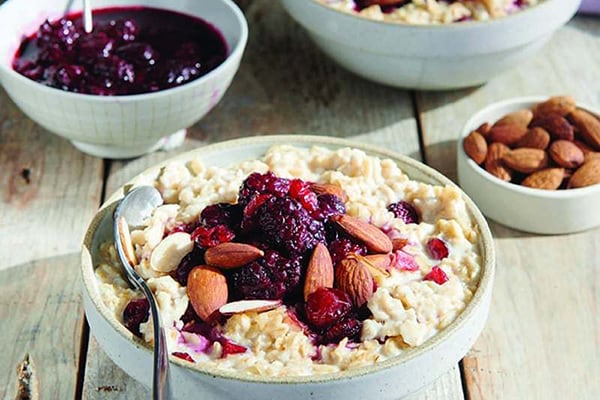 Shopping list: 1⁄2 cup steel-cut oats, 2 teaspoons sugar or honey, 1⁄2 cup whole milk or low-fat or dairy-free, 1⁄4 teaspoon vanilla extract, 1⁄4 cup dried cranberries, and 1⁄4 cup toasted chopped almonds.
Prep tips/make-ahead: Oatmeal is a great recipe for doubling since the leftovers keep well for a couple of days in the refrigerator. Double all the ingredients and increase the salt to 1⁄4 teaspoon. Cook time remains the same. To make this dairy-free use a neutral vegetable oil or coconut oil to toast the oats, and replace the whole milk with plant-based milk or more water.
Recommended sides: You can serve porridge with any toppings you like: berries, honey, nuts, shredded coconut, peanut butter, diced apple, seeds, and so on.
Download this MEAL PLAN & COMPLETE THE SHOPPING LIST here.
---
---
SAVE This Instant Pot Meal Plan #2 TO PINTEREST