We are starting a new series on our website! Every other Friday, we will be sharing a new Instant Pot Meal Plan featuring complete dinners or main meal dishes made in your beloved pressure cooker. We realize that you might not be using the Instant Pot on a daily basis, so we'll be focusing on 5 dinners, a couple of lunches, plus a dessert or a breakfast dish to include in your weekly menu. You can pick and choose! Downloadable PDF with shopping list included.
---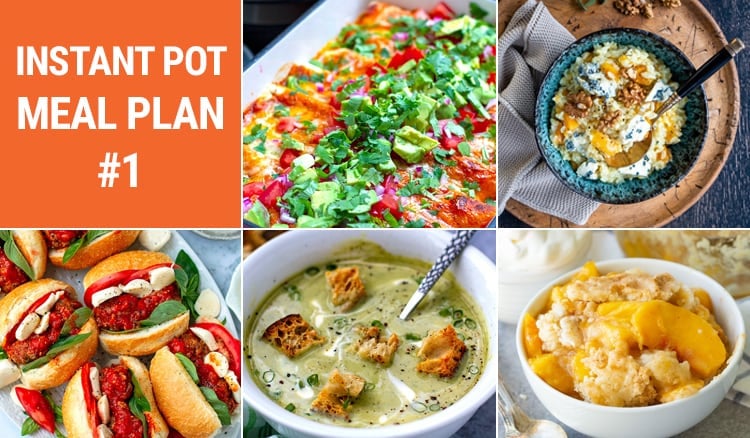 We hope this (and future) Instant Pot meal plans make it easier for you to get dinner on the table! You don't have to make every single recipe in this plan. This pressure cooker meal plan is for inspiration and you can change things up.
We will kick off with meals suitable to omnivores but in due time we will also be sharing menus suitable to those following a plant-based or low-carb diet, for example. If you have any specific dietary or lifestyle requests, leave us a comment below!
Without further ado, here is your first meal plan for the Instant Pot. Let us know what you think in the comments as we value your feedback and suggestions. You can download this meal plan with the shopping list here.
Happy Meal Planning!
PS. If you make one of our recipes, take a picture and share it on Instagram. Use the hashtag #instantpoteats! We want to see what you are making in your kitchen. And don't forget to follow us on Instagram!
WEEKLY INSTANT POT MEAL PLAN #1
We'll kick off with five delicious dinner meals you can make in your Instant Pot. We selected a variety of dishes, including a couple of plant-based or vegetarian options.
This dairy-free chicken soup is made creamy with the addition of eggs instead of using heavy cream, so it's delicious and healthy. It keeps well, so you can easily save some leftovers for lunch. The recipe comes with a vegetarian version.
Shopping list: 1 lb chicken, 1 lemon, chicken stock, onion, carrots, celery, 1 whole garlic, bay leaves, orzo, 2 eggs, and optional rosemary sprig and fresh parsley.
Prep tips/make-ahead: You can make the base stock and cook the chicken ahead of time. The soup will keep for up to 3 days in the fridge and can be frozen for up to 3 months.
Recommended sides: Pick up a loaf of crusty bread to dunk in your soup!
This satiating version of a classical salad features fusilli pasta, boiled eggs, crispy bacon, lettuce, seasoned croutons, and cherry tomatoes smothered in creamy, homemade Caesar dressing. It's tasty, nutritious (check out the breakdown of nutrients in the recipe), and is perfect for dinner during warmer months. Leftovers are great for lunch!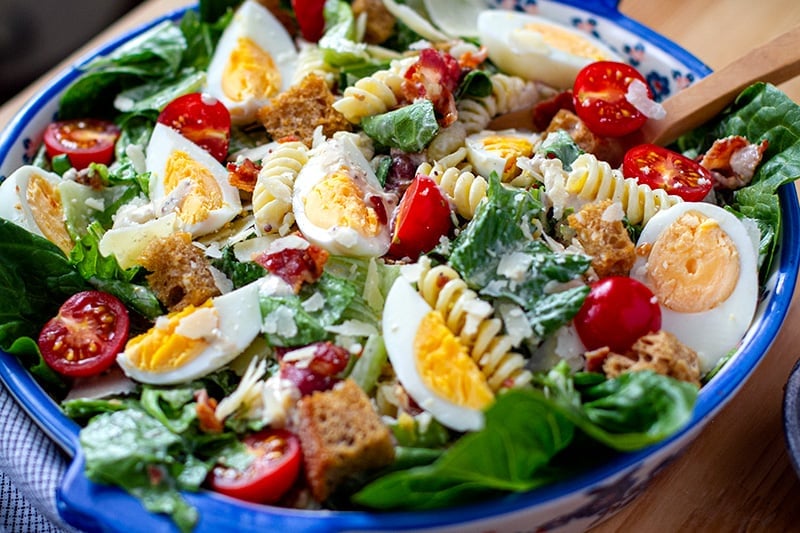 Shopping list: 4-6 eggs, dry fusilli pasta, mayonnaise, greek yoghurt, Dijon mustard, Worcestershire sauce, garlic, anchovies, 1 lemon, Parmesan cheese, a package of bacon, cherry tomatoes, croutons, and lettuce.
Prep tips/make-ahead: eggs and pasta can be cooked ahead of time and the dressing can also be made prior; you can then assemble the salad when you need. You can use store-bought croutons or make your own using stale bread (see our recipe post here).
Recommended sides: Good on its own!
This Instant Pot Mississippi Roast from The Salt Pot blog is savory, incredibly tender and the gravy is beefy with a super light tangy flavor from the pepperoncini peppers. The gravy is SO delicious, you could sip it. Serve over dreamy creamy mashed potatoes, rice, polenta or grits. Leftovers are great for lunch (gravy beef sandwich or wrap anyone?)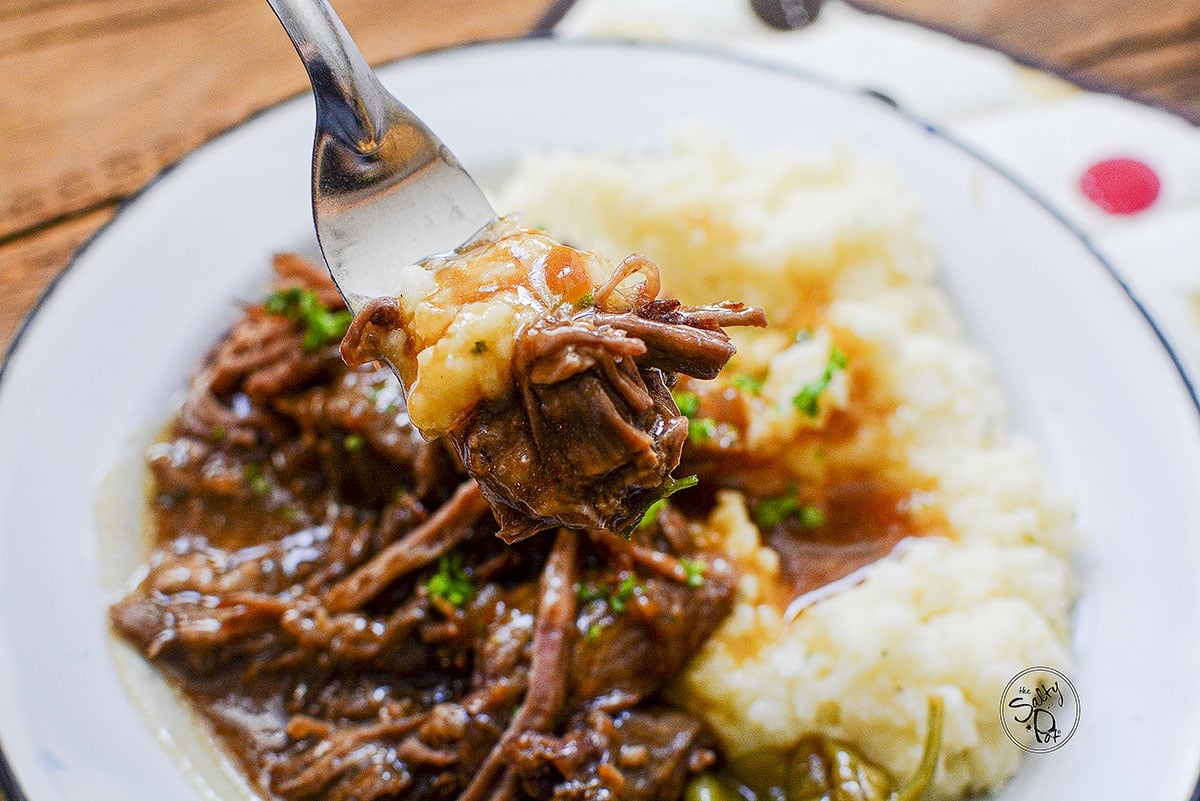 Shopping list: 3 – 4lb beef roast, au jus seasoning packet (Knorr or McCormick), ranch seasoning powder (Hidden Valley Ranch), pepperoncini peppers, beef broth, and butter.
Prep tips/make-ahead: Leftovers will stay fine in the fridge for up to 4 days in an air-tight container. The cooked roast can be frozen.
Recommended sides: Mashed potatoes or simple white rice, polenta or grits, roasted vegetables.
This creamy zucchini soup Instant Pot recipe is silky and smooth, delicious yet low in calories even with a touch of cream swirled in. It is vegetarian, gluten-free and great as a starter or a main dish.
Shopping list: 1 onion, 3 zucchinis (2 lb), garlic, 1 lemon, vegetable stock (ready-made or cube), and a container of cream.
Prep tips/make-ahead: Leftovers will stay fine in the fridge for up to 4 days in an air-tight container.
Recommended sides: Herb & garlic sourdough croutons.
You will love these hearty chipotle-flavored chicken enchiladas smothered in delicious red sauce and finished in the oven with melted cheese. Freshened up with tomatoes, cilantro, onions and avocado on top, these enchiladas will be a hit with the family or at your next dinner party.
Shopping list: 1 onion, garlic, oregano, cumin, chipotle in adobo sauce, chicken stock, 3 large chicken breasts, tomato sauce (puree), all-purpose flour, 10–12 large tortillas, 1 can of black beans, grated white cheese (e.g. Cheddar, Jack), grated yellow cheese, 2 large tomatoes, 1 large avocado, red onion, fresh cilantro, and 1 lime (optional).
Prep tips/make-ahead: Chicken and sauce can be cooked ahead of time and the enchiladas assembled and baked at a later stage. You can freeze the sauce and the shredded chicken.
Recommended sides: Simple white or brown rice or Mexican rice if you like; a lovely green salad or a light slaw salad would go well on the side. And, you can never have too much fresh tomato and cilantro salsa.
For a vegetarian bonus option, we've selected this comforting and creamy butternut squash risotto. It comes with a twist of blue cheese instead of the classic Parmesan cheese but if you're not a fan, feel free to top with shavings of any cheese you like or some feta. It's perfect for a quick weeknight meal but fancy enough for company.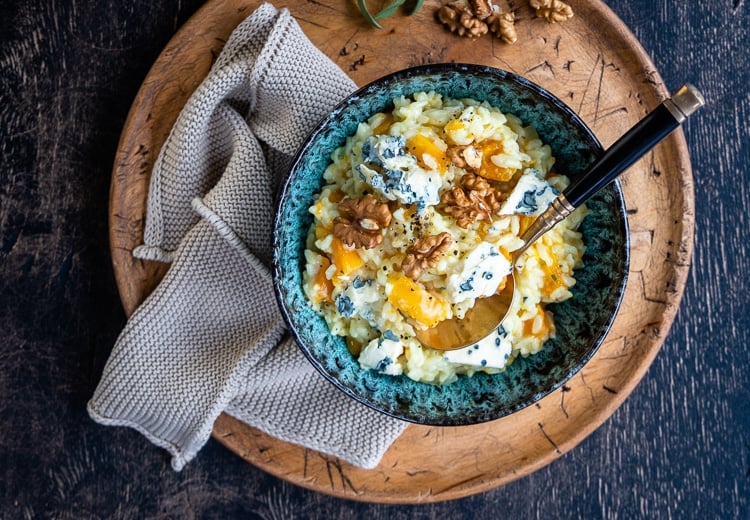 Shopping list: 1 large onion, 1 garlic clove, Arborio rice, dry white wine, 2 cups diced butternut squash (peeled), dried sage or Italian mixed dried herbs, vegetable broth, crumbled blue cheese, and a handful of walnuts (garnish).
Prep tips/make-ahead: This risotto is best eaten freshly cooked but you can do some of the dicing ahead of time. Buying pre-cut butternut squash will also save you some time.
Recommended sides: Arugula and pear salad or a simple leafy green salad would make for a fantastic side here.
Make a batch of Italian meatballs on the weekend to enjoy as lunches. You can store half in the fridge and freeze the rest for later.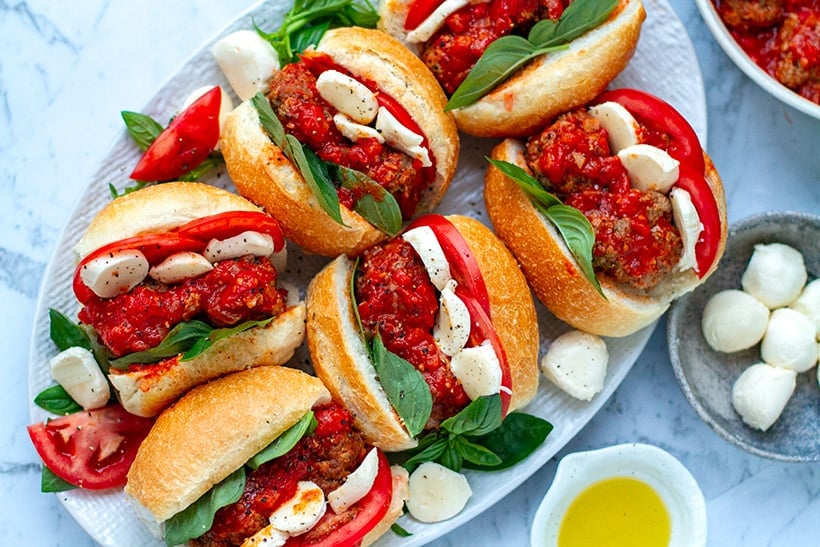 Shopping list: 1 lb / ~500 g ground beef, 0.5 lb / ~300 g ground pork or Italian sausage, mixed Italian herbs, bread crumbs, garlic, onion, 1.5 can crushed tomatoes (14 oz), tomato paste, 8–10 soft bread rolls or buns, 1–2 large tomatoes, basil leaves, and 8–9 oz / 250 g soft mozzarella sliced.
Serving suggestions: make our meatball Caprese sandwiches, use in a wrap or a salad for a low-carb meal. You can also turn wrap bread into mini meatball pizzas.
INSTANT POT LUNCH MEAL PREP: Char Siu Pork
Juicy Instant Pot pork combining Asian and Hawaiian influences. It's super tasty and can be served over white or brown rice, which you can also meal prep ahead of time in the pressure cooker. You can also use it wraps, in a bun or in a salad bowl. Stir some of the pork through 2-minute ramen noodles for a quick meal.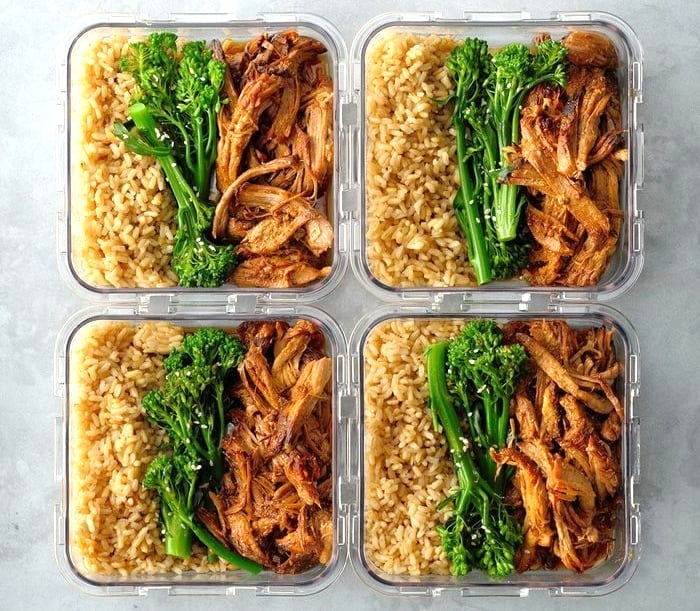 Shopping list: 3-4 lbs. boneless pork shoulder butt roast, honey, hoisin sauce, soy sauce, ketchup, garlic, ginger root, Chinese five-spice powder, chicken broth, and fresh cilantro.
Prep tips/make-ahead: You can make all of the lunch elements ahead of time and store them in Tupperware containers for up to 3-4 days. Brown rice and white rice can be made in the Instant Pot, see our step-by-step recipe here. Broccoli can also be steamed in the pressure cooker as a separate step. You can also try our pork shoulder and gravy as an alternative.
Recommended sides: Brown or white rice, quinoa, couscous, ramen noodles, steamed veggies of choice, wraps or buns.
For a family-friendly dessert using up seasonal produce, try this homemade Peach Cobbler. Using store-bought cake mix for the crust, it comes together in no time when you use the Instant Pot. Don't forget the vanilla ice cream on top!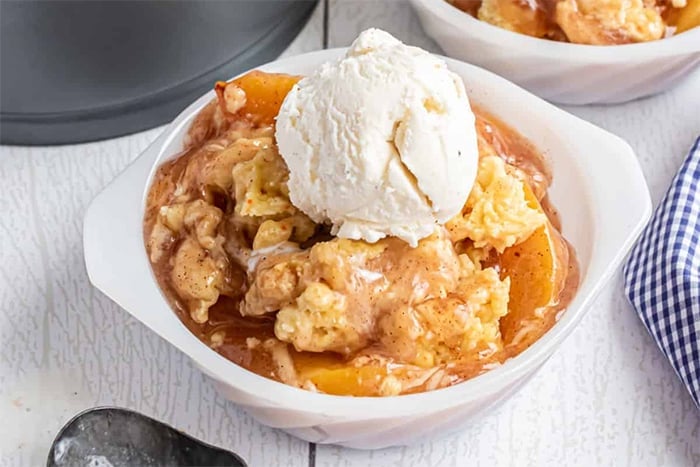 Shopping list: 8 peaches peeled, butter, cinnamon, cornstarch, brown sugar, and 1 box white or yellow cake mix.
Prep tips/make-ahead: Peach cobbler should be refrigerated for storage. Wrap the cobbler dish in plastic wrap to store as removing to a storage container can mix the topping into the fruit so it will break down faster.
Recommended sides: Vanilla ice cream, Greek yogurt, or cream on top.
Download this MEAL PLAN & COMPLETE THE SHOPPING LIST here.
---
---
SAVE This Instant Pot Meal Plan #1 TO PINTEREST