Get the end of summer party started with these Instant Pot Labor day recipes from finger-lickin' good chicken wings, juicy corn, wholesome salads and seasonal fruit desserts. Let the pressure cooker help you with the party food prep this year.
---
Just because summer is wrapping up doesn't mean that good food has to end. In fact, Labor Day weekend is a perfect opportunity to get out the Instant pot to help you prep some classic summer party dishes. Even if you plan to cookout on the grill, the pressure cooker can be a handy assistant ahead of time.
A FEW REASONS TO USE THE INSTANT POT FOR LABOR DAY
We've put together a collection of recipes that can use the pressure cooker on the day or ahead of time.
You can pre-cook meat to speed up the grilling time such as chicken wings or pork ribs. The same can be said for the veggies like corn or potatoes.
Use it to make a side dish to bring to a cookout such as potatoes, beets, green beans, mac'n'cheese and so on. Oftentimes, you will use the Instant Pot to cook some of the key foods ahead of time (e.g. eggs and potatoes or quinoa/beans for a salad).
Get a delicious cheesecake or another dessert on the table without turning on the oven! This is quite useful in those last hot days of summer.
Cooking for a crowd? Instant Pot can be quite handy for making large batches of food.
Below are some of our favorite Instant Pot Labor Day recipes to get you inspired.
---
MUSTARD MAPLE CHICKEN WINGS
A little sweet and sticky with a touch of heat from the mustard and acidity from lemon, these Instant Pot chicken wings are super delicious and easy to make. This recipe is for about 2 pounds of chicken wing pieces (wings and drumettes) but you can easily double the ingredients for a larger batch. Recipe from Instant Pot Eats
CORN ON THE COB WITH CAJUN BUTTER & LIME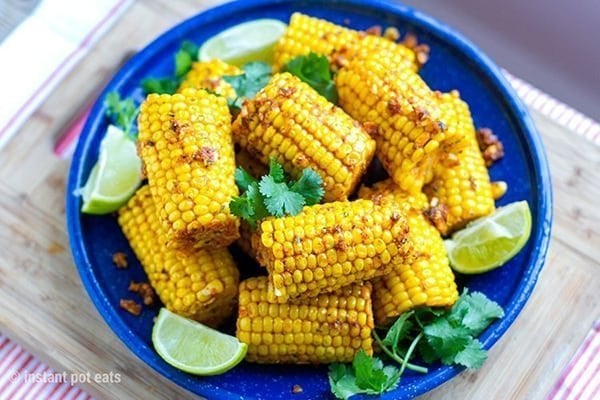 There is nothing like freshly cooked corn on the cob and smothered in butter and sea salt. It's popular with children and adults alike, in the summer and in the winter, at home and out at a beach BBQ. Recipe from Instant Pot Eats
SALT POTATOES WITH HERB BUTTER
The key to proper salt potatoes is lots and lots of salt! The skin of the potato protects the flesh so only the skin gets very salty, which works really well with creamy, starchy, fluffy, sweeter flesh of the potato. They are a staple at fairs, picnics, barbecues and can be enjoyed as a lovely side dish. Recipe from Instant Pot Eats
POTATO SALAD WITH EGGS & CREAMY DRESSING
A good potato salad is a favorite at picnics, cookouts, barbecues and family meals in the summertime. It's a dish that pleases both kids and grownups and is gluten-free and vegetarian-friendly. A classic potato salad is fairly simple but you can get pretty creative and add your own tweaks to make it a little more special. Recipe from Instant Pot Eats.
CREAMY MACARONI SALAD WITH PEAS & HAM
This summer classic is usually made with straight or elbow macaroni pasta, creamy mayonnaise dressing, and a variety of diced vegetables such as red onions, peppers, celery, peas, or whatever else you have on hand. Some versions are made with cheese or egg, and some have diced ham, chicken, tuna, or shrimp for added protein. Recipe from Instant Pot Eats
QUINOA CORN & CRISPY BACON SALAD
Sweet, salty, and crunch in one dish; plus, this salad is hearty and satiating while being light and healthy at the same time. Featuring crunchy peppers, cherry tomatoes, cilantro, scallions, feta, and delicious lemon honey mustard dressing, this is a meal you will want to cook over and over again. Recipe from Instant Pot Eats
EASY INSTANT POT CHICKEN TACOS (ONLY 5-INGREDIENTS!)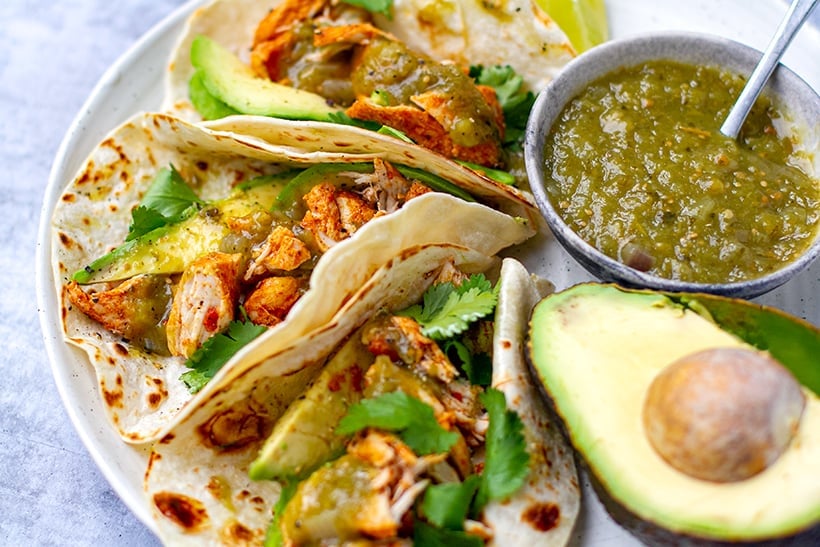 If you're looking for quick and easy Instant Pot recipes, these chicken avocado and salsa verde tacos tick all the boxes. Make them with just 5 main ingredients for a speedy, budget-friendly dinner you can serve up to your family or friends. Recipe from Instant Pot Eats
INSTANT POT SHREDDED BEEF SANDWICHES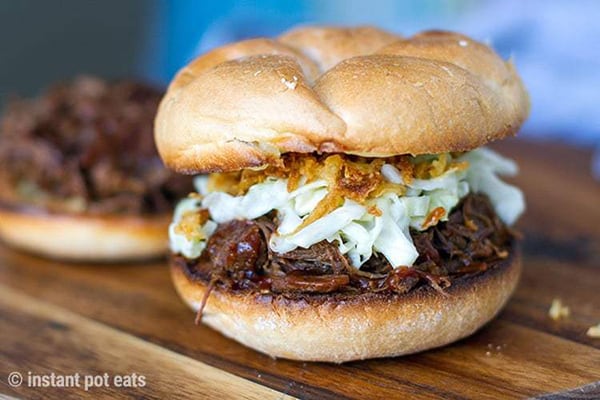 To make these delicious Instant Pot shredded beef sandwiches, you will need soft brioche buns (which we grilled with cheese and garlic butter), creamy coleslaw, and fried shallots. And of course, you will need to make a batch of tasty shredded beef. Recipe from Instant Pot Eats
ITALIAN MEATBALL CAPRESE SANDWICHES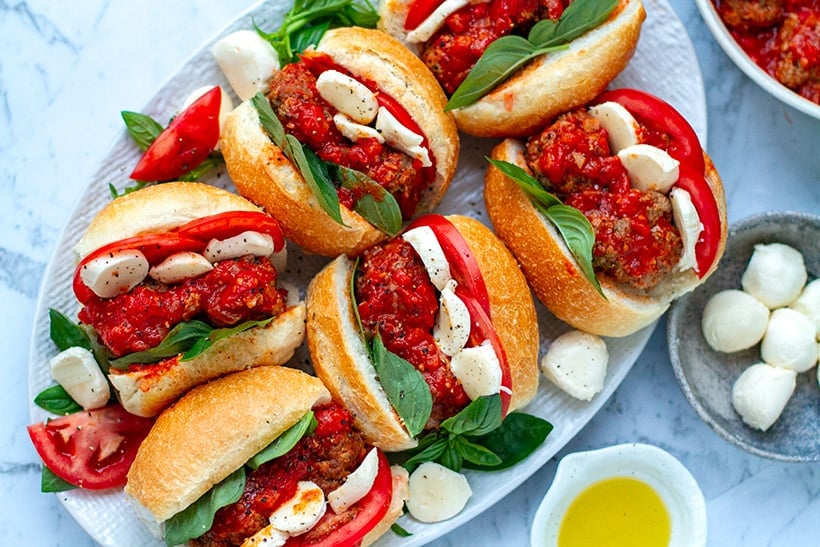 Juicy, tomato meatballs, squishy mozzarella, fresh tomato, and aromatic basil are sandwiched together for a perfect bite in this Instant Pot recipe. These Caprese meatball sandwiches are great for a party, picnic, weekend family lunch, or speedy dinner. Recipe from Instant Pot Eats.
Instant Pot Cowboy Beans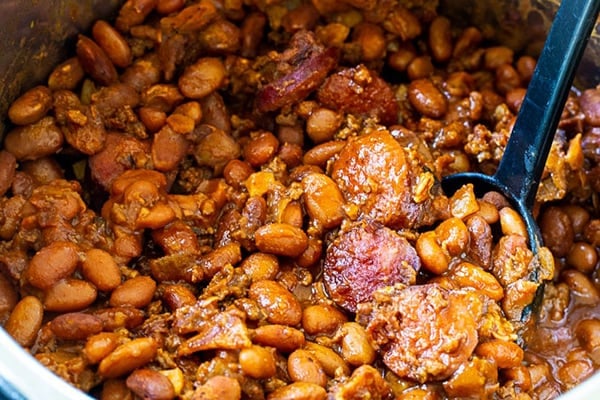 Full of bacon, ground beef, and sliced kielbasa sausage, there is so much meaty flavor in every bite. This recipe is a from-scratch Cowboy Beans recipe made from dried pinto beans. But thanks to the Instant Pot, there's no need to soak the beans for hours and hours. A blend of BBQ Sauce (use your favorite store-bought or homemade), ketchup, molasses, and brown sugar gives a wonderful sweetness to these beans. A little liquid smoke is added for some smoky flavor. Recipe from Spicy Southern Kitchen.
INSTANT POT DEVILED EGGS WITH 3 TASTY FILLING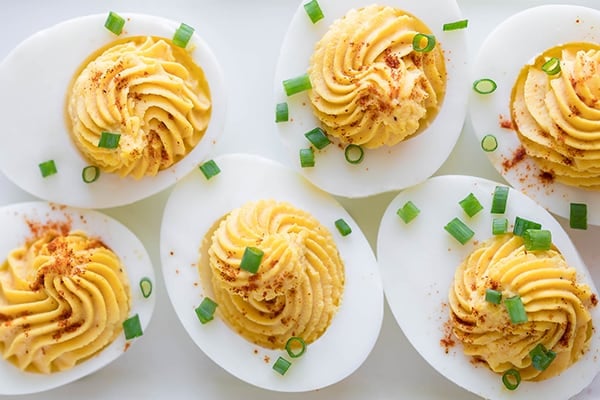 Easy Peel Instant Pot Deviled Eggs with two bonus twists on the classic filling including creamy curry deviled eggs and goat cheese deviled eggs. Recipe from Peas And Crayons.
Instant Pot Lobster Bisque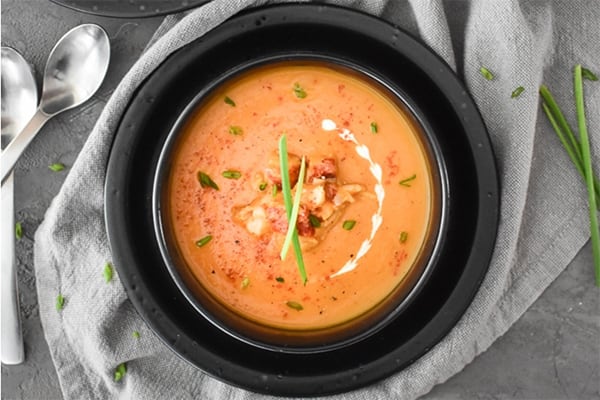 A bisque is a type of soup that is pureed, thick and creamy. It has a velvety texture and usually includes wine and cream in its ingredients. It's pure luxury in a spoon. Recipe from The Foodie And The Fix.
CREAMY PINTO BEAN DIP WITH CARAMELIZED ONIONS
This creamy pinto bean dip made with cream cheese and caramelized onions is delicious and healthy, perfect as an appetizer, finger food or snack. Serve with your favorite corn chips, crackers, vegetable sticks, or as a side dish with tacos, burritos or Mexican rice. Recipe from Instant Pot Eats.
INSTANT POT RASPBERRY LEMONADE CHEESECAKE
Sweet and tangy, this Instant Pot raspberry lemonade cheesecake is inspired by the old-fashioned summer drink and is perfect for a special occasion or to enjoy with the family on the weekend. Made with fresh raspberries and citrus, this cheesecake is a fabulous summer dessert. Recipe from Instant Pot Eats
HEALTHY PEACH CHEESECAKE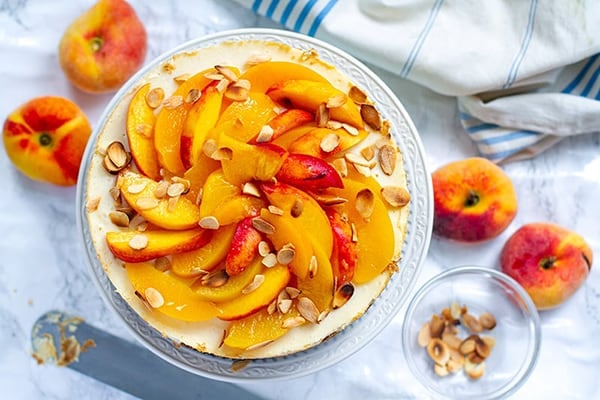 Made with light cream cheese, Greek yogurt, and sugar-free sweetener alternatives. Perfect for summer or any other time of the year, when you want a guilt-free dessert that pleases a crowd. Recipe from Instant Pot Eats
Instant Pot Berry Cobbler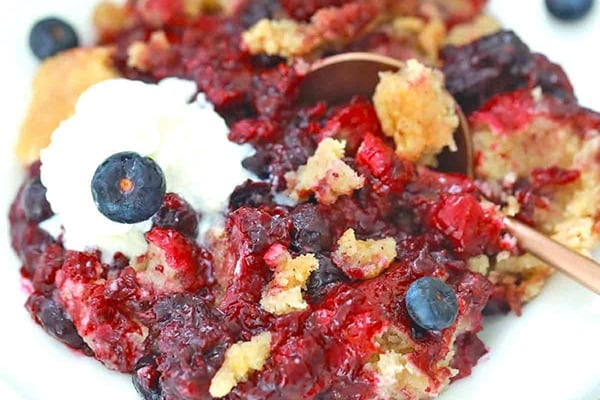 Filled with tender, orange-infused berries packed on top of a spiced crust. So easy to make, and heavenly with whip cream or ice cream! It's a very flexible recipe as well. Only have frozen strawberries? Want peaches or apples instead of berries? Go ahead! Recipe from Sweet And Savory Meals.
---
SAVE LABOR DAY INSTANT POT REcipes TO PINTEREST