Whether it's our work life, social engagements, school or children's needs that keep us busy we all still need to eat. Here are 30 Instant Pot dinners in less than 30 minutes for those who have an overwhelming schedule and need a nutritious quick meal to keep up with a hectic lifestyle.
---
What's on your list of things to do today? Is it so full that you have reminders programmed on your phone for each activity or event? A long workday may discourage us from standing on our feet over a hot stove. Picking up the kids from school and juggling dance class with dinner may feel like a performance each day. Or simply getting home late might have you tempted to have popcorn for dinner.
A nutritious meal is essential for us to keep going and maintaining these hectic lifestyles. These quick and easy 30-minute Instant Pot dinners will help you put a nutritious meal on the table with little time and effort.
1. CHICKEN, HAM & VEGETABLE PASTA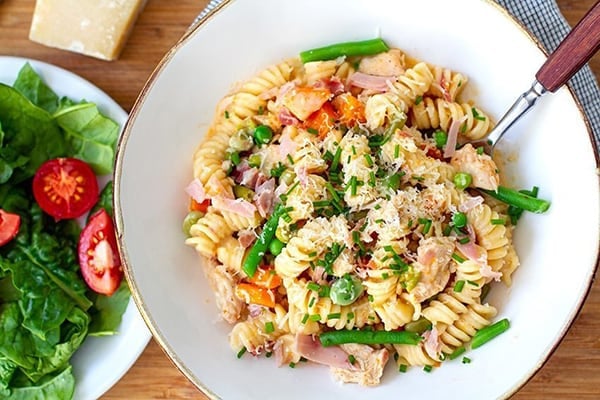 This kid-friendly Instant Pot chicken pasta with ham and vegetables is tasty and nutritious, with just a touch of cream and cheese that makes it velvety and hearty and provides a good serving of calcium and fat-soluble vitamins. You can make this family dinner meal in 30 minutes with minimal cleanup…because…Instant Pot! Recipe from Instant Pot Eats.
2. 30-Minute Instant Pot Creamy Chicken Pasta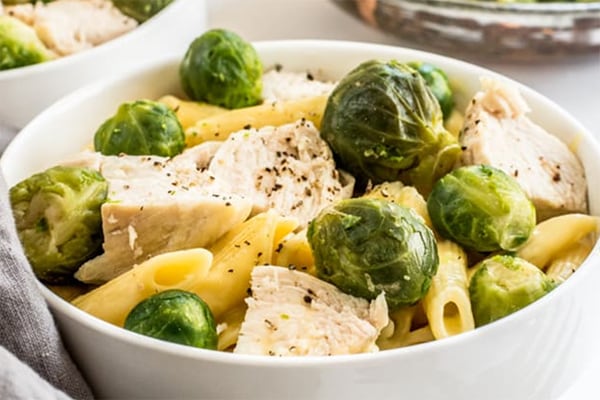 This 30-minute Instant Pot creamy chicken pasta is a practical, quick, and easy dinner. It's a great meal base that both adults and kids will love, making this a weeknight staple. Recipe from The Butter Half
3. CHOWDER WITH POTATOES, SWEET CORN & DILL PICKLES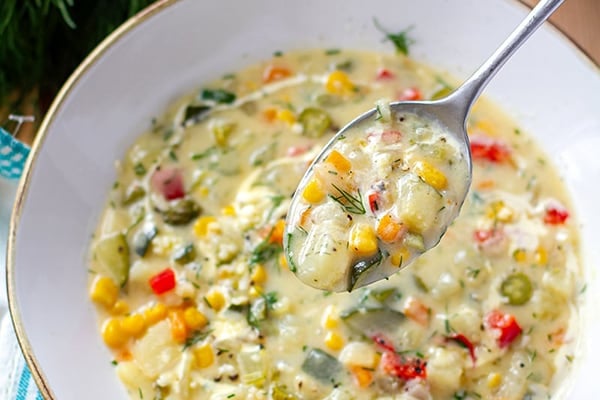 This chunky, creamy Instant Pot chowder is loaded with vegetables, including potatoes and sweet corn, and is thickened with cheese, cream and gluten-free starch slurry made with tapioca flour. We got inspired by a dill pickle soup and added a twist of finely diced gherkins and fresh dill right at the end. They add freshness and little bursts of flavor taking this classic soup to the next level. Recipe from Instant Pot Eats.
4. 30-Minute Butter Chicken
Rich, flavorful and creamy butter chicken made in your instant pot in under 30 minutes will become your new favorite weeknight dinner! Use chicken thighs because they are more tender and will not dry out and to make it creamy, the best option is using heavy cream. Recipe from Gimme Delicious.
5. INSTANT POT CHICKEN NOODLE SOUP IN 30 MINUTES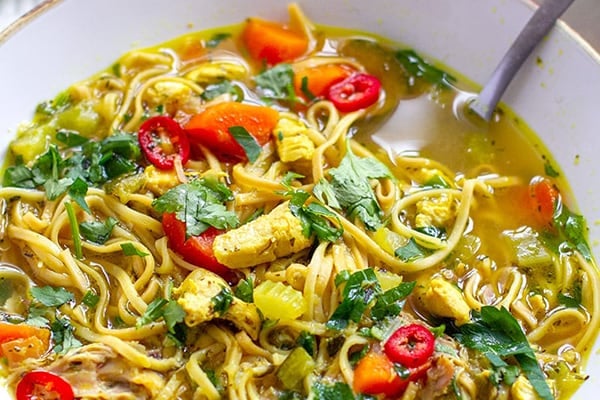 Quick and easy Instant Pot chicken noodle soup that can be on the table in 30 minutes? Yes, please! We love nutritious and healthy meals the whole family can enjoy and that don't take much effort and this chicken soup is one of those recipes. Recipe from Instant Pot Eats.
6. Instant Pot Orange Chicken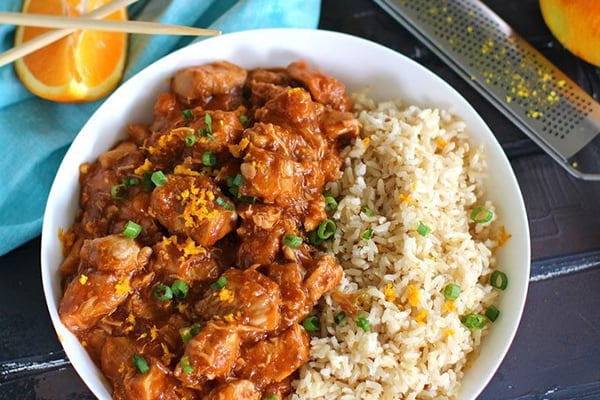 Instant Pot Orange Chicken is healthier than takeout and easy to make using your Instant Pot. Made with fresh orange juice and orange zest for great flavor. Recipe from Sweet and Savory Meals.
7. Family-friendly CHEESEBURGER PASTA
This Instant Pot hamburger helper inspired pasta is a great family meal and comes with a little cheeseburger twist. It's a perfect one-pot meal if you're looking for ground beef pasta recipes or needing a substantial meaty meal on the budget. Recipe from Instant Pot Eats.
8. LIGHT CARROT SOUP WITH LEMONGRASS & CILANTRO
Made with lemongrass and cilantro, this quick and easy Instant Pot carrot soup is light, aromatic and super nutritious. It's great for lunch or as a light dinner meal, and you can serve it as a lovely starter at a dinner party. Vegan, gluten-free, Whole30. Recipe from Instant Pot Eats.
9. TOFU & BOK CHOY WITH GINGER GARLIC SAUCE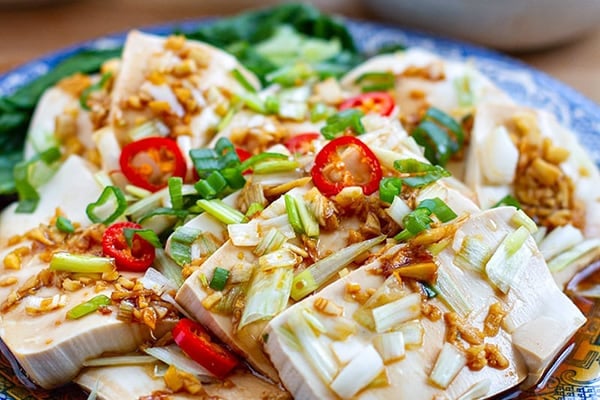 Instant Pot tofu and bok choy steamed together with savory sesame soy sauce, fresh ginger and garlic is a simple Japanese-inspired dish that is very healthy and delicious. Pressure cooker steam locks in all the nutrients and the whole recipe is made in 20 minutes. It's vegan and vegetarian, low-carb and gluten-free. Recipe from Instant Pot Eats.
10. EASY ORZO WITH LEMON, PARMESAN & SPINACH
Learn how to make Instant Pot Orzo with lemon, Parmesan cheese and spinach for a perfect, hearty side dish or main. This lemony, cheesy orzo recipe only takes 20-25 minutes from start to finish and is vegetarian-friendly. Recipe from Instant Pot Eats.
11. NOODLES WITH MAPLE, GINGER & CHILI DRESSING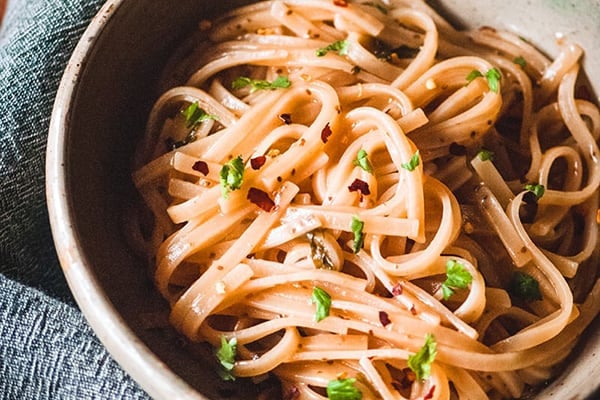 Super easy, tasty and healthy, these Instant Pot noodles with sticky maple and ginger sauce can be ready to enjoy in just about 10 minutes! Made with rice noodles and all-natural ingredients, this dish is gluten-free, vegan and positively bursting with flavor. Whip up a quick salad and you're ready to go! Recipe from Instant Pot Eats.
12. MOROCCAN-STYLE CHICKPEA STEW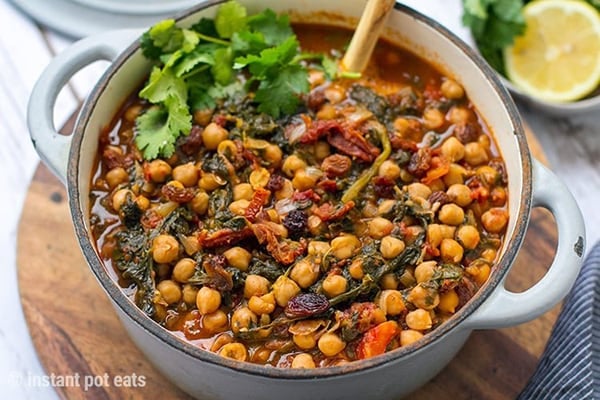 This vegan and gluten-free friendly Instant Pot chickpea stew is a delicious main meal full of Moroccan-influenced spices and flavors. Serve it over rice, couscous or with some crusty bread. Recipe from Instant Pot Eats.
13. INSTANT POT UDON SOUP (VEGAN)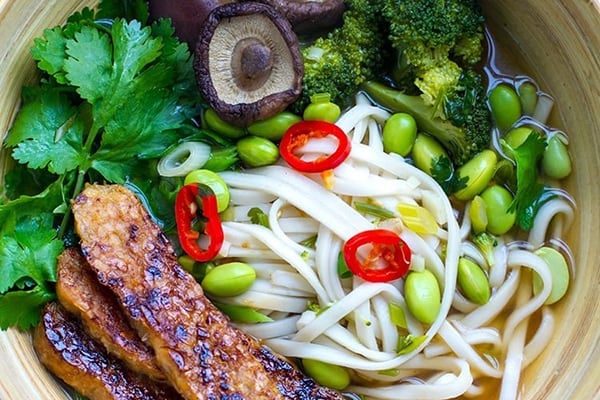 This healthy and light vegan Instant Pot udon soup is made with mushrooms and soy sauce infused broth and is served with protein-rich edamame and crispy tempeh. It's quick, easy, and perfect for a weeknight meal. Recipe from Instant Pot Eats.
14. SWEET & TANGY CHICKEN
Made with frozen chicken thighs, this dish is paleo and gluten-free friendly and can be modified to be keto suitable as well. This dish is similar to sweet and sour chicken and the meat is served in lettuce cups with finely sliced crunchy vegetables. Recipe from Instant Pot Eats.
15. CHICKEN WINGS (FROM FROZEN) WITH BUFFALO SAUCE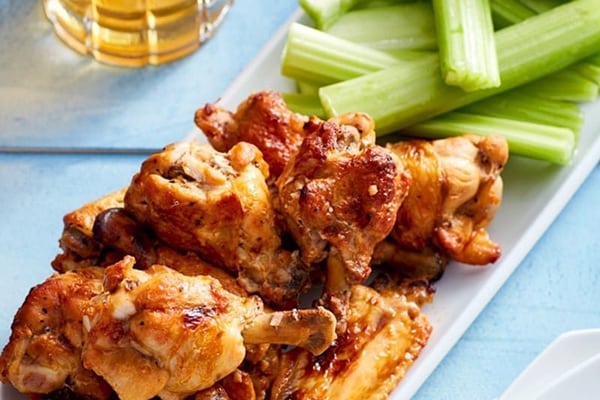 If you're looking for a super fast and easy recipe for how to make Instant Pot frozen chicken wings, this is it! The wings thaw quickly and cook in no time, and smothered in the delicious buttery hot Buffalo sauce, they are so delicious! Suitable to low-carb, gluten-free and keto diets. Recipe from Instant Pot Eats.
16. SHRIMP WITH TOMATO & GARLIC SAUCE (FROM FROZEN)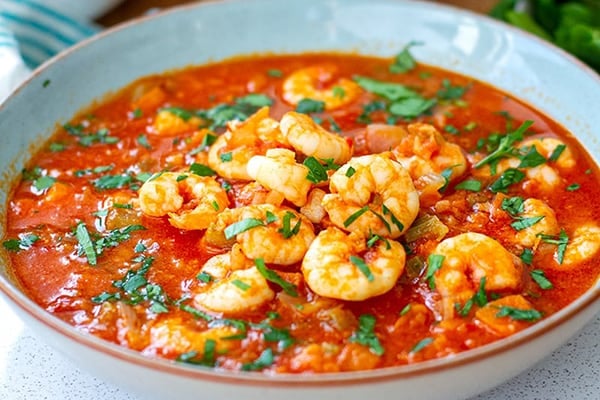 Made with frozen shrimp, tomatoes, garlic and chili, this recipe is Italian-inspired and only takes 15 minutes. Serve over pasta, rice, quinoa, cauliflower rice or zucchini noodles (for a low-carb version) or enjoyed with some crusty bread to mop up that yummy sauce. It's gluten-free, paleo, low-carb, Whole30-friendly. Recipe from Instant Pot Eats.
17. Instant Pot Honey Balsamic Chicken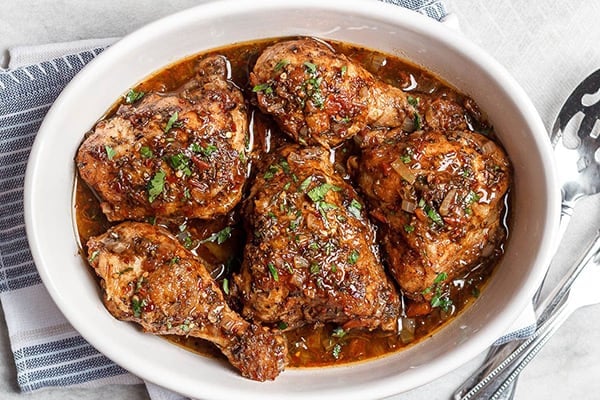 Honey Balsamic Instant Pot Chicken – Sweet, tangy, and fall-off-the-bone chicken legs prepared with the most amazing honey balsamic sauce and cooked in the Instant Pot. Great on top of rice or pasta, you can enjoy this effortless dinner in less than 30 minutes! Recipe from Eat Well 101.
18. Korean Chicken Meatballs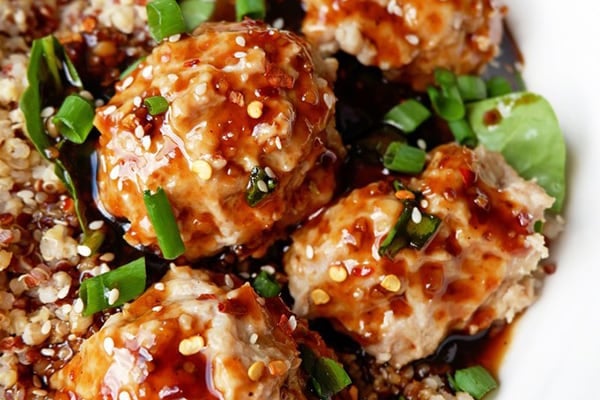 If you're looking for a quick and easy dinner recipe, you have to try these Instant Pot Korean Chicken Meatballs. They're super easy to throw together and only take 15 minutes to make! Recipe from The Bewitchin Kitchen.
19. INSTANT POT THAI CHICKEN CURRY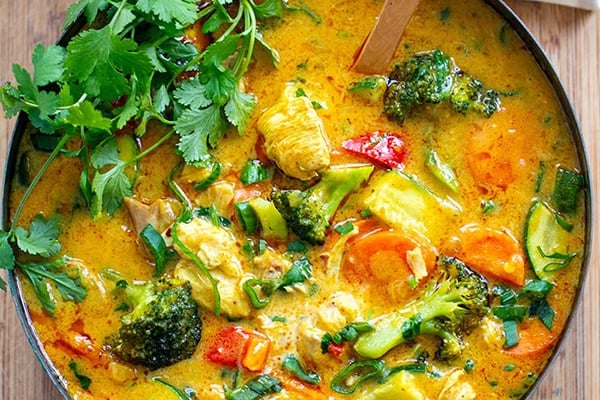 This Instant Pot Thai chicken curry is quick and delicious, loaded with healthy protein and vegetables. Made with red curry paste and wholesome coconut cream, this curry recipe is dairy-free, Whole30, paleo and keto-friendly. Recipe from Instant Pot Eats.
20. SWEET POTATO TORTILLA SOUP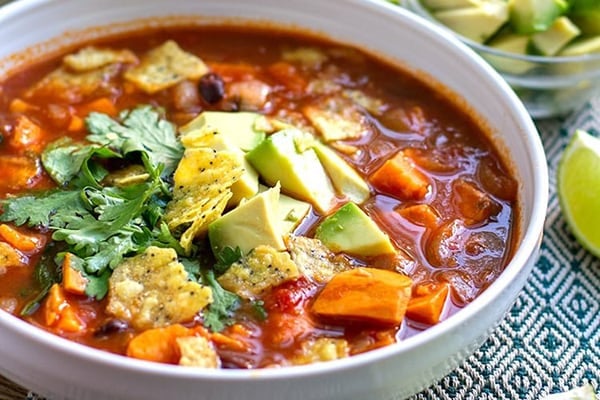 This hearty sweet potato tortilla soup is super fast and easy with a pressure cooker. Top with your favorite toppings such as avocado or sour cream, and crispy corn chips, of course. This tortilla soup recipe is gluten-free, vegetarian and vegan-friendly. Recipe from Instant Pot Eats.
21. INSTANT POT ITALIAN FISH (FROM FROZEN, WHOLE30)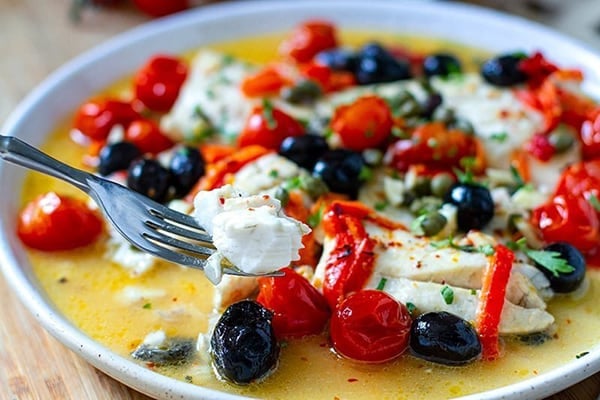 This Instant Pot fish braised in Italian broth is made with cherry tomatoes, olives, capers, and roasted peppers. It's bursting with Mediterranean flavors, and you can make it with frozen white fish or salmon. This dish is healthy and nutritious and is perfect for gluten-free, paleo, low-carb and Whole30 diets. Recipe from Instant Pot Eats.
22. spicy peanut soup with sweet potato + kale
Comforting and super nutritious, creamy, satisfying texture, extremely awesome flavor and it doesn't take five and a half days to make. Naturally vegan, gluten-free, refined sugar-free. Recipe from Pinch of Yum.
23. Instant Pot Chili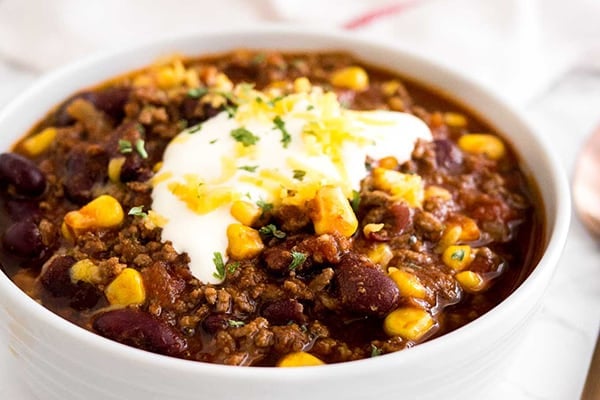 This pressure cooker chili with canned beans warms up any occasion, from Game Day parties to family meals. Cooking chili at high pressure makes it so flavorful and is the quickest way to get dinner on the table! Recipe from Plated Cravings.
24. Instant Pot Pizza Pasta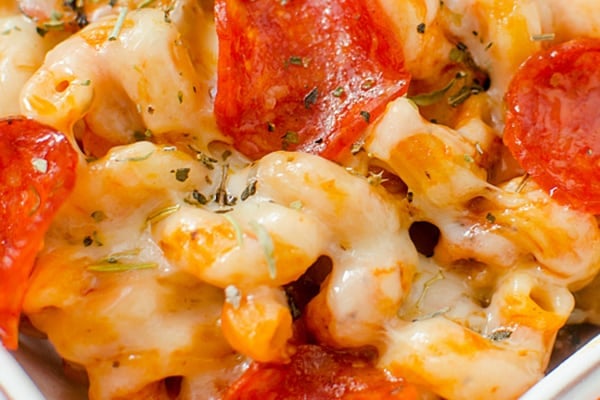 Last-minute meals are for those hectic days when everyone comes home at six o'clock and wants dinner now. There's no time to get fancy, so you just whip up something fast and easy. This last-minute meal is definitely a crowd-pleaser. Recipe from Family Fresh Meals.
25. Pressure Cooker Chicken Lazone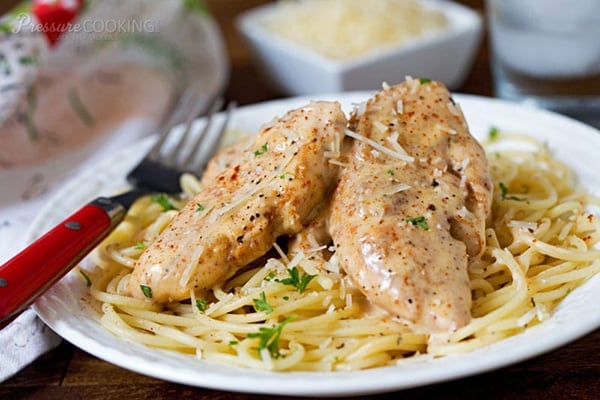 Chicken tenders coated in spices, briefly fried in butter, pressure cooked until the chicken is tender, mixed with cream to make a decadently delicious sauce and served over pasta. Recipe from Pressure Cooker Today.
QUICK & EASY Side DISHES
26. GREEN BEANS WITH BUTTER & PEPPER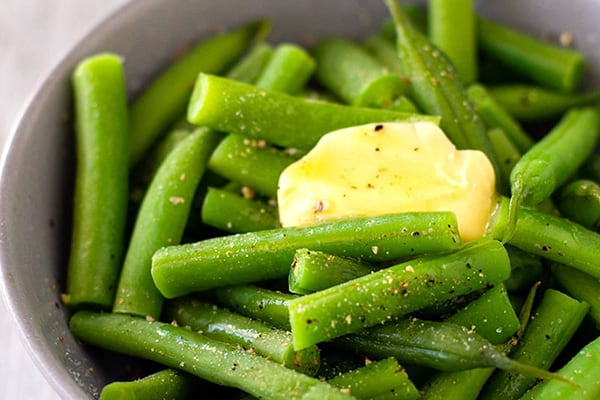 Try these simple Instant Pot green beans with melted butter, sea salt and cracked pepper for a perfect hit of nutrients and fiber. It's a tasty vegetable side dish that requires minimum effort and hardly any cooking. Recipe from Instant Pot Eats.
27. Mashed Potatoes with Goat Cheese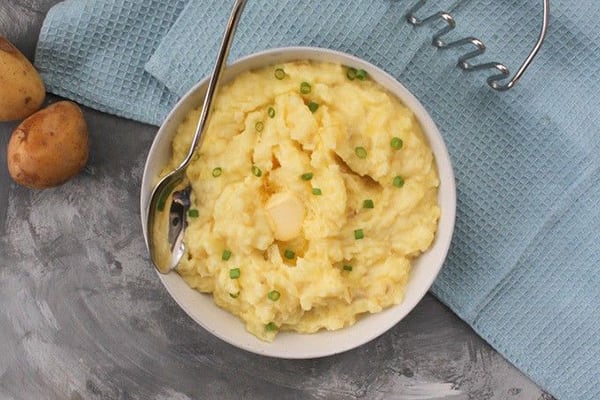 Love mashed potatoes, but wish cooking them was faster? Try these Instant Pot mashed potatoes with goat cheese! This dish is creamy, delicious, and fast! Recipe from Champagne Tastes.
28. CARROTS WITH HONEY SOY GLAZE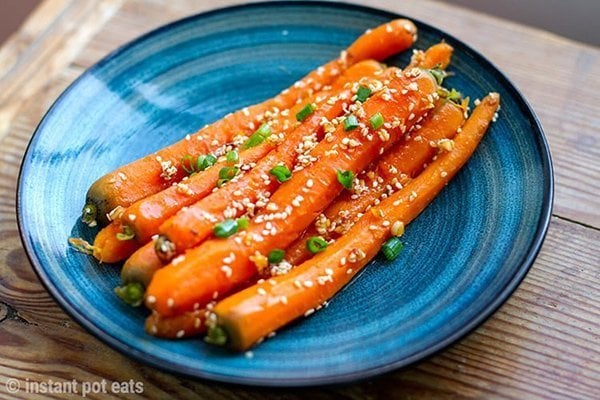 This Instant Pot carrots recipe is made in no time at all and makes for a delicious vegetable side dish to go with whatever main you serve. Carrots are coated in a lovely honey soy glaze. Replace honey for a vegan version! Recipe from Instant Pot Eats.
29. TURMERIC JASMINE RICE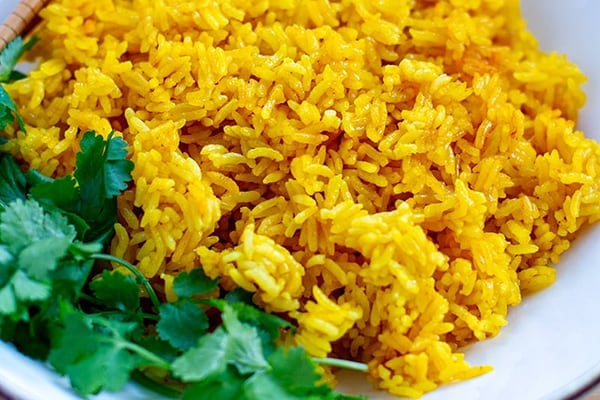 A bowl of aromatic Instant Pot turmeric jasmine rice is not only delicious but it comes with many health benefits. In only 10 minutes, you can have perfectly cooked rice as a side dish to any main. Gluten-free, vegan-friendly recipe. Recipe from Instant Pot Eats.
30. BRUSSELS SPROUTS WITH BACON & GARLIC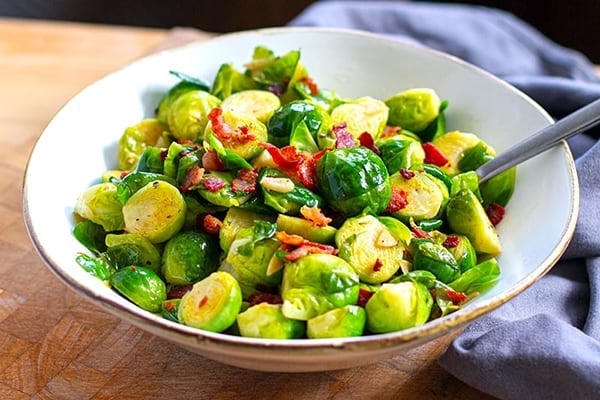 With only a handful of ingredients, this recipe for Instant Pot Brussels sprouts with crispy bacon and garlic is a must-have for any day of the week. These mini cabbages have a nutty, sweet flavor and make for a great side dish to any mains. Gluten-free, keto and low-carb, paleo and Whole30-friendly recipe. Recipe from Instant Pot Eats.
BONUS
EASY INSTANT POT CHICKEN TACOS
If you're looking for quick and easy Instant Pot recipes, these chicken avocado and salsa verde tacos tick all the boxes. Make them with just 5 main ingredients for a speedy, budget-friendly dinner you can serve up to your family or friends. Recipe from Instant Pot Eats.
---