Designed to tease the appetite and set the tone for the meal, these Instant Pot appetizer ideas are bite-sized but packed with flavor. These are great as canapes or finger food, however, there's no need to wait for a party to have your chicken wings or buffalo dip. You can sample this smorgasbord of ideas any day of the week.
---
Appetizers, starters, or hors d'oeuvre are small dishes served before the main course or as finger food at a party. Originally designed to tease one's appetite and set the tone for the meal, these samplers occupy the guests while allowing the main course to be prepared. While they serve a practical purpose of curbing the appetite, often the combination of unique flavors tantalize the pallet to desire more.
It seems like appetizers are reserved for going out to dinner at a restaurant or a party with a cocktail. While we count down the days until we can all be together again, we can still enjoy the same bite-size morsels of food. Finding ways to still be connected has pushed creativity in virtual ways. Have you had a virtual cocktail party yet?
There's excitement in seeing beautifully plated bite-size treats. Enjoy those small packaged savory bundles any day of the week with these inspiring Instant Pot appetizer ideas! And, you don't have to share.
---
INSTANT POT APPETIZERS & FINGER FOOD IDEAS
DELICIOUS CHICKPEA HUMMUS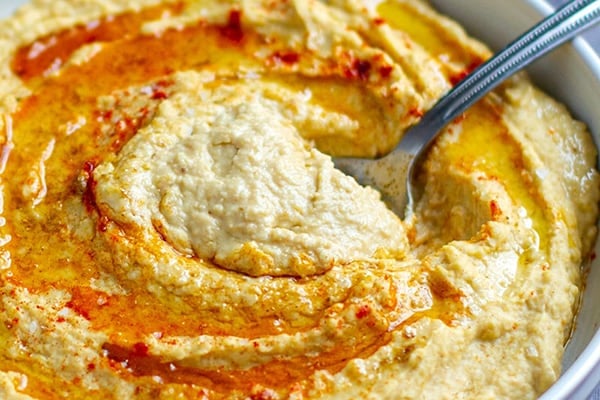 The best thing about hummus is that it can be enjoyed by plant-based eaters and omnivores alike. It's very easy to get a tub of pretty decent hummus from any supermarket, but there is something satisfying about making your own batch. You know exactly what you add to it and there is no need for preservatives or additives. It's also cheap, healthy, high in protein, fiber, gluten-free, and vegan-friendly. Use it in wraps, salads, or as a dip. Recipe from Instant Pot Eats.
Instant Pot Spinach Artichoke Dip
This Instant Pot Spinach Artichoke Dip is literally ready in just 4 minutes! Now you can have a tasty, crowd-pleasing appetizer all made in one pot by using your Pressure Cooker. Serve it to friends and family or just keep it all to yourself! Recipe from A Mom's Impression.
CREAMY PINTO BEAN DIP WITH CARAMELIZED ONIONS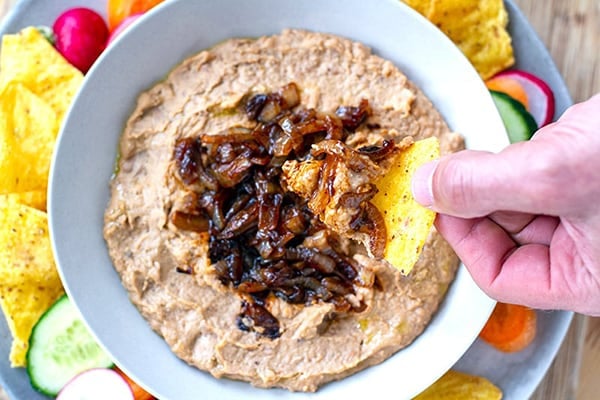 This creamy pinto bean dip made with cream cheese and caramelized onions is delicious and healthy, perfect as an appetizer, finger food or a snack. Serve with your favorite corn chips, crackers, vegetable sticks or as a side dish with tacos, burritos or Mexican rice. Recipe from Instant Pot Eats.
Instant Pot Buffalo Chicken Dip
It's quick, easy, super creamy, and delicious! With a kick of spice and loaded with cheese, it'll be a go-to party appetizer! Recipe from Domestic Superhero.
INSTANT POT EGG SALAD (KETO, GLUTEN-FREE)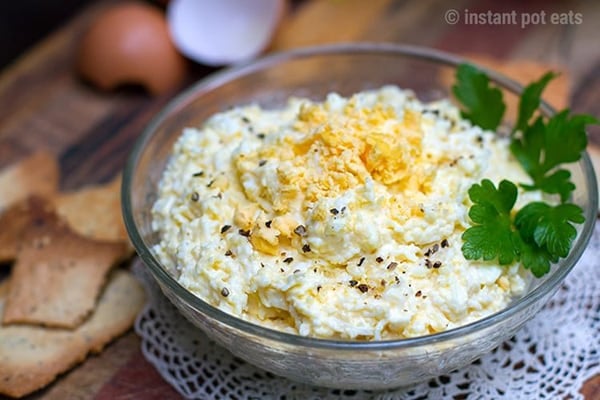 This tangy and sharp Instant Pot egg salad (or dip) is made with cheese, mayo and garlic and is inspired by a Ukrainian family recipe, often prepared for celebratory feasts and parties. Perfect for using up hard-boiled eggs, this recipe is gluten-free, keto and low-carb friendly. Recipe from Instant Pot Eats.
Cheesy Buffalo Cauliflower Dip
A must for any game day, picnic, or potluck! It's spicy, cheesy, and creamy, and you'd never guess it's healthy, vegan, gluten-free, and oil-free! Plus, it's made with just 10 ingredients and everything gets dumped in the Instant Pot. Recipe from Rainbow Plant Life.
INSTANT POT BOILED EGGS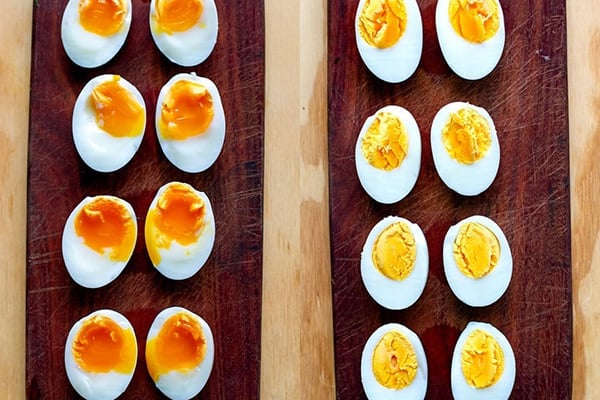 Eggs are a great source of protein, fats and nutrients; plus, they are affordable and highly versatile. The best thing about cooking 'boiled' eggs in the Instant Pot is that you can add them in, press the button and walk away. Then you can make the party staple deviled eggs. Recipe from Instant Pot Eats.
Barbecue Cauliflower BITES
Instant Pot Barbecue Cauliflower is an easy vegetarian bbq recipe. A delicious alternative to barbecue chicken, this pressure cooker cauliflower is perfect for sandwiches, tacos, and appetizers. Recipe from Seasoned Sprinkles.
SWEDISH MEATBALLS & MUSHROOMS GRAVY (AIP)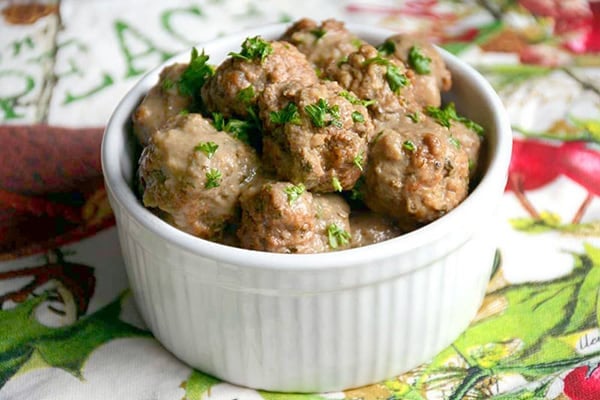 Cooked with mushrooms and broth for a tasty gravy finish, this AIP, paleo, and keto-friendly recipe is sure to become an Instant Pot favourite. This gorgeous savoury recipe is by Andrea Wyckoff of Forest & Fauna and is one of our favourites from The Paleo AIP Instant Pot Cookbook. Get the recipe from Instant Pot Eats.
Instant Pot Cocktail Wiener Recipe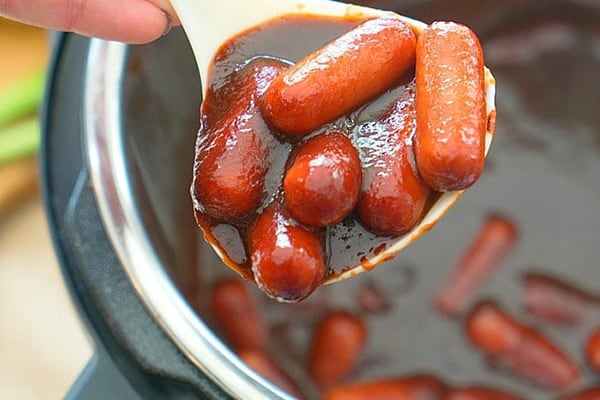 Instant Pot cocktail wiener recipe with smokies and just 2 ingredients. Great pressure cooker appetizer and very kid-friendly. You can even take it to the next level with bacon and an Air Fryer. Recipe from The Typical Mom.
CHICKEN WINGS (FROM FROZEN) WITH BUFFALO SAUCE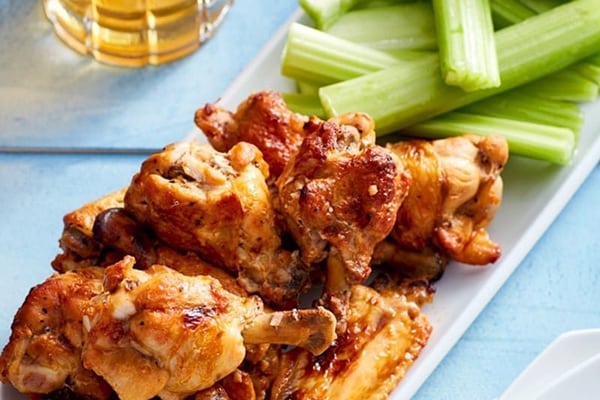 Smothered in the delicious buttery Buffalo hot sauce, these frozen chicken wings cook fast and easy in the Instant Pot. Suitable to low-carb, gluten-free and keto diets. This recipe is from the cookbook From Freezer To Instant Pot, which we reviewed here. Get the recipe from here.
Sweet Gochujang Meatballs Appetizer
Easy Meatballs appetizer recipe with Gochujang ketchup and garlic sauce. Use frozen meatballs to make it super easy and simple! The sauce uses lots of garlic, ketchup, gochujang, and maple syrup. Recipe from Kimchimari.
MUSTARD MAPLE CHICKEN WINGS

Make these sticky golden glazed mustard maple chicken wings with your Instant Pot, then finish in the oven for crispy skin. These are gluten-free and paleo-friendly and are great as finger food for game night. Recipe from Instant Pot Eats.
Instant Pot Smoky Tomato Jam
If you grow your own tomatoes, you know you can't possibly eat them all before they go bad. Here's something a little different than your usual tomato sauce, Instant Pot Smoky Tomato Jam! This tomato jam version is big on flavor, without all the sugar. Recipe from Being Nutritious.
INSTANT POT TACO MEAT
This Instant Pot taco meat should be every household's staple. It's affordable, freezer-friendly, and super versatile with different ways you can use up the leftovers. Perfect for tacos or nachos. Recipe from Instant Pot Eats.
Mushrooms with Butter Ranch Sauce
These buttery, ranch-flavored Instant Pot Mushrooms are a great side dish and also the perfect party food. They cook them perfectly every single time! Recipe from Pip And Ebby.
Orange Chicken Lettuce Wraps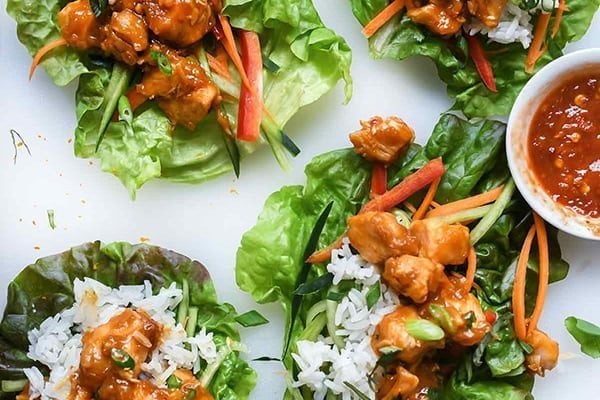 These orange chicken lettuce wraps do double duty as a self-serve appetizer or as a healthy main meal that's quick to make and fun to eat. Recipe from Foodiecrush.
VEGETARIAN POTSTICKERS
You can make Vegetarian Potstickers from start to finish EASILY in your Instant Pot. These Instant Pot Potstickers are filled with flavorful sauteed vegetables and then steamed to perfection, for a simple healthy appetizer. Recipe from A Mind Full Mom.
Instant Pot Cuban Sliders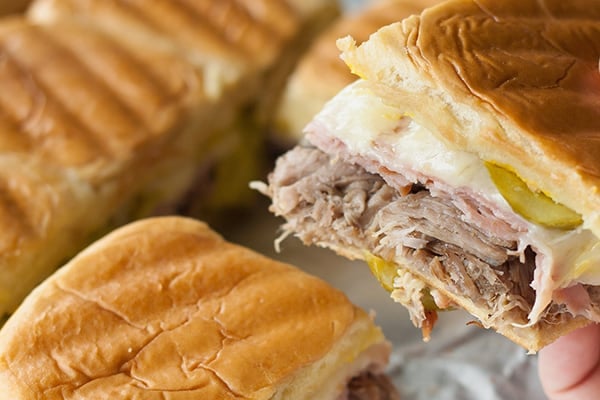 Typically a traditional Cuban sandwich has roasted pork, which would take a minimum of a few hours in the oven. This sandwich pressure cooks the pork until it pulls apart, and you get a similar sandwich in less than half the time. These Cuban sliders are perfect for a grab-and-go appetizer that is more filling than just cheese and crackers. Recipe from The Sunny Palate.
Instant Pot Mini Corn Dogs
These Instant Pot Mini Corn Dogs are homemade and taste so much better than the store-bought ones. If there are kids in the house, they will devour them. Recipe from Easy Instant Pot Dinners.
Instant Pot Popcorn
This is an easy, cheap, light, and healthy way to make popcorn. Making popcorn at home using corn kernels means that you're having an unprocessed snack that you can make from scratch with your favorite seasoning. Recipe from Nourish Plate.
FRIED PICKLES IN INSTANT POT DUO CRISP
You don't have to wait for a fair, festival or pub. Make these in your Instant Pot Air Fryer! Try to have self-control and remember to share. Recipe from The Tasty Travelers.
Easy-To-Peel Chestnuts
Chestnuts are nostalgic, yet they are so hard to prepare and peel. Lovers of tradition still roast their chestnuts over an open fire. But is that the best way? Recipe from Traditional Cooking School.
Instant Pot Candied Nuts
One of the really great things about this Instant Pot candied nuts recipe is that you can really use any nut you would like. Almonds, walnuts, or pecans are great on salads, as a gift, snack, or appetizer. Recipe from I Don't Have Time For That.
Check out these ideas as well:
---
SAVE These Instant Pot Appetizer Recipes TO PINTEREST