BBQ parties are the best time to welcome warm weather and friends. We've put together our favorite Instant Pot BBQ party and picnic recipes that will make everyone want to come over to yours.
---
Warm weather is around the corner and we are getting ready to get out of winter hibernation and hang out with friends and family. Get your calendars out and pick a weekend to enjoy the sunshine in someone's yard or a park. We have a collection of easy and amazing main courses, side dishes, and desserts that will make everyone going in for seconds. You might even want to turn this BBQ into an Instant Pot party instead.
MAIN DISHES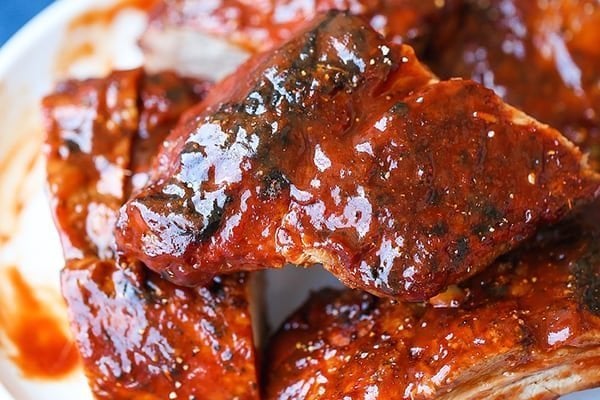 How do you get your BBQ party to the next level? By serving up RIBS! Hot dogs and hamburgers may not be enough for your crowd. So to be able to cook all your meats, here's the easiest and quickest BBQ ribs made right in your pressure cooker! Recipe from Damn Delicious. For your Keto/Paleo friends, here's a delicious version from Instant Pot Eats Instant Pot Smoky Ribs (Low-Carb, Keto, BBQ)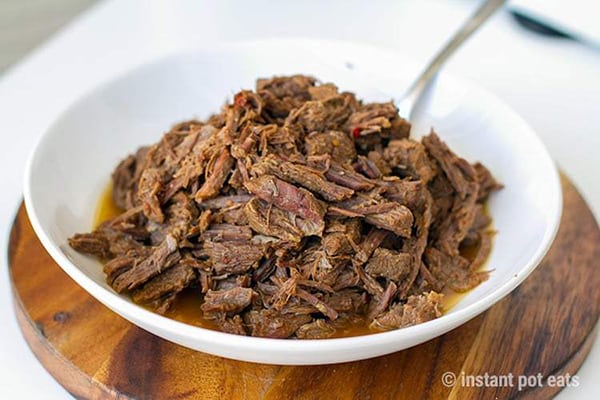 What we love about shredded beef is that it's one of those recipes that you can make once and use up multiple times in different dishes. It's budget-friendly and great for large crowds with different diets since it is paleo, gluten-free, and Whole30 (option available). Recipe from Instant Pot Eats.
Keep a few pounds of chicken wings in the freezer, a bottle of your favorite wing and BBQ sauce, and either Cajun seasoning mix or blackened seasoning on hand. Then the next time you have to bring an appetizer to a party, you can quickly whip these up with no fuss, little mess, and little $$. Recipe from Good Dinner Mom.
Delicious, moist and tender, these boneless bbq pork chops cook up easily in your Instant Pot pressure cooker. Just a few simple ingredients and you can have amazing bbq pork chops on your plate in under 30 minutes. Recipe from Recipe Teacher.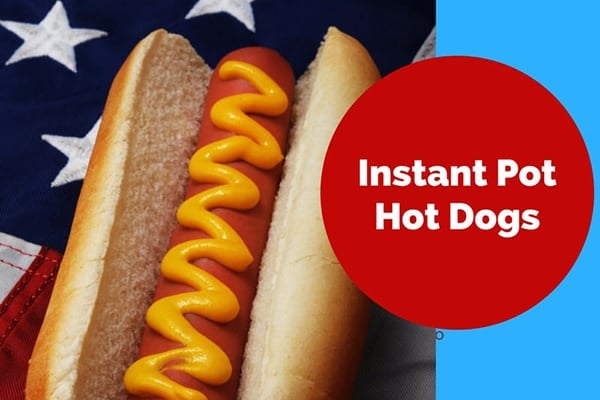 When the grill is filled up with burgers and you, of course, want to give your guest more than one meat option here is where your Instant Pot lends its help. It's easy, it's simple and it works. Recipe from Fork to Spoon.
Why make burgers in the Instant Pot? Steamed hamburgers? If it tastes good and it's convenient to make, then why not? You can make a ton of burgers for a crowd and having them all finish at the same time. Still tender and juicy, but now everyone can eat together. Recipe from Savory Tooth.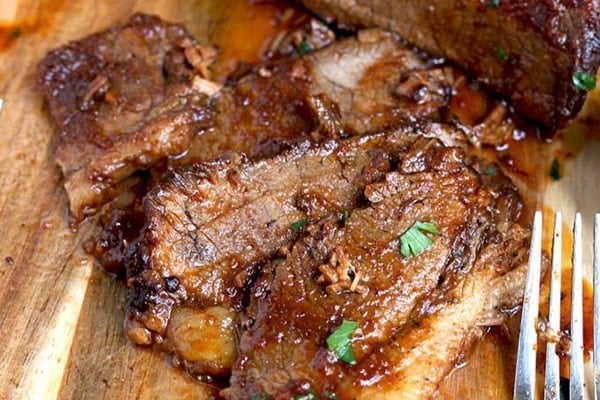 This beef brisket recipe starts with a simple dry rub, it is quickly seared in the instant pot and then cooked smothered in the most delicious and easy homemade BBQ sauce! This tender, melt in your mouth BBQ brisket is sure to become one of your favorite instant pot recipes ever! Recipe from Lemon Blossoms.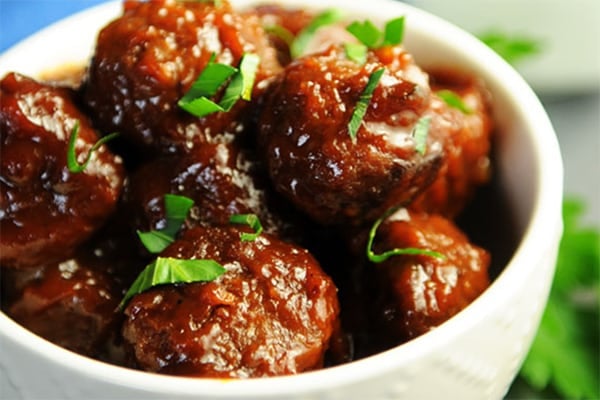 It's all about the sauce…a chili cranberry bbq sauce. So why not have a vegan option on the table for your friends to enjoy. These vegan Instant Pot BBQ meatballs are a modern spin on the classic party appetizer! Recipe from Fried Dandelions.
SIDE DISHES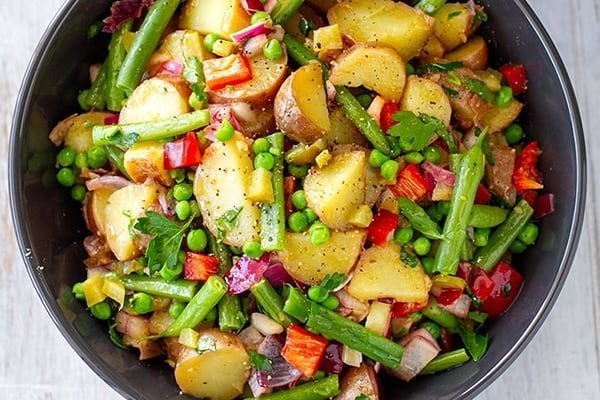 This Instant Pot potato salad is a great example of using the pressure cooker for spring and summer dishes. It's a fantastic salad to bring to a barbecue party, picnic in the park or to enjoy as a nutritious, balanced meal at home. Mixed with lovely green beans, peas, pickles, and zesty shallot vinaigrette, it's vegan, gluten-free and Whole30 friendly. Recipe from Instant Pot Eats.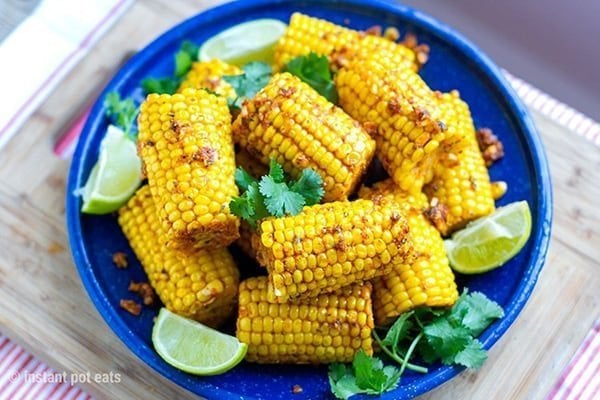 There is nothing like fresh corn on the cob, cooked just right, and smothered in butter and sea salt. You can make a large batch of corn at the same time in your Instant Pot, so it's great for when you need to cater for a larger group gathering. This Instant Pot corn on the cob recipe comes with a spectacular flavor twist. Smothered in Cajun butter and lime juice, sweet corn takes on a whole new meaning. Recipe from Instant Pot Eats.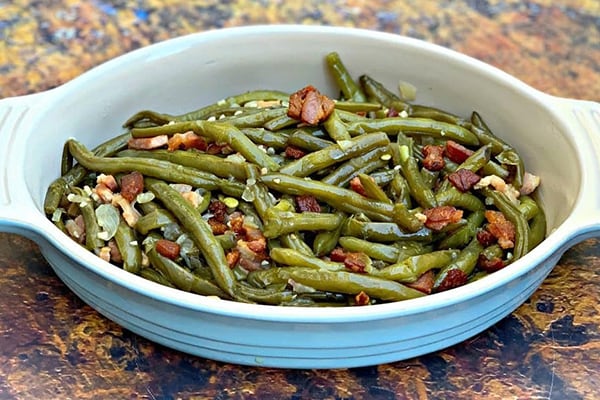 Easy Instant Pot Southern-Style Soul Food Green Beans is perfect for a large gathering of friends. This dish is keto and low-carb loaded with immense flavor using chicken broth, bacon, and seasoning. Recipe from Stay Snatched.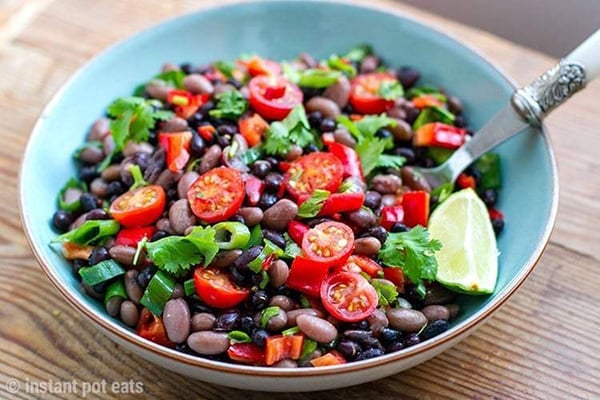 While you wouldn't turn to the Instant Pot to make a salad, you can use it for batch cooking the base ingredients required to make a satiating, healthy salad meal. Mexican bean salad is a great dish to use up Instant Pot cooked legumes and fresh veggies and is vegan and gluten-free friendly. Recipe from Instant Pot Eats.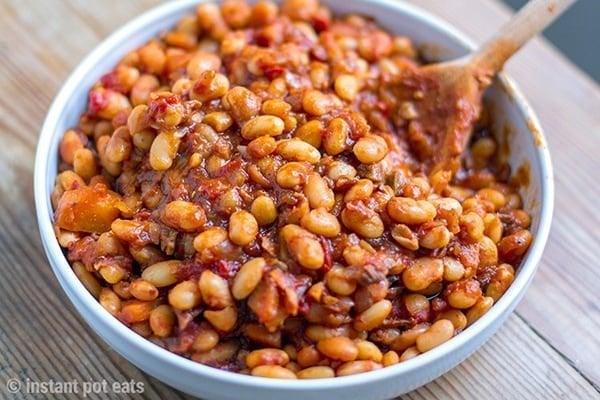 You really can't have a BBQ party without baked beans. These incredible Instant Pot baked beans will make your mouth water. Made with a secret ingredient or two, they are vegan and gluten-free and perfect for meal prepping on the weekend. Recipe from Instant Pot Eats.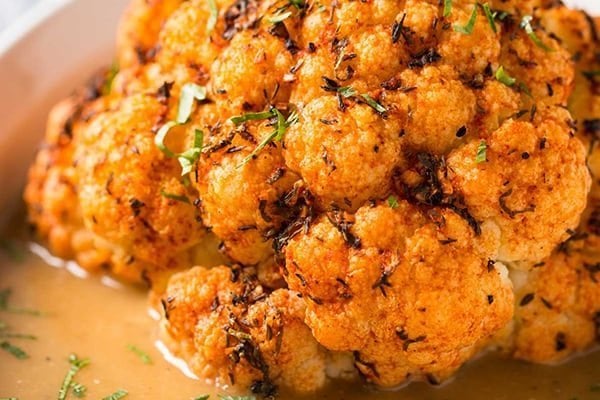 Make this awesome healthy Instant Pot cauliflower with creamy gravy for any party night or weeknight dinner. This garlic and herb whole cauliflower will be a gorgeous addition to your dinner table. Recipe from Watch What You Eat.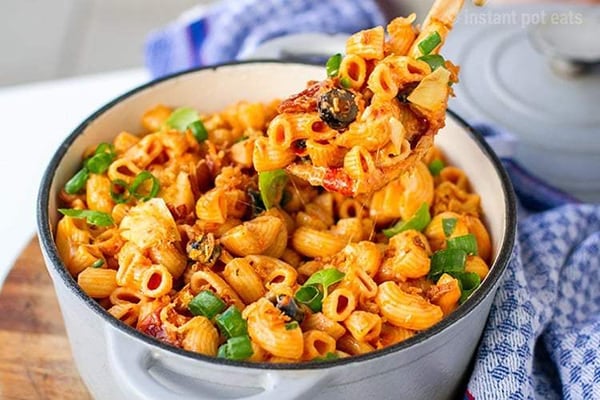 This Instant Pot mac and cheese recipe has a rustic, Italian flare to it. It has a more sophisticated, grown-up taste to it with the addition of olives, artichokes, and sun-dried tomatoes, and a hearty helping of mozzarella. This vegetarian wonder will have you drooling for days. Recipe from Instant Pot Eats.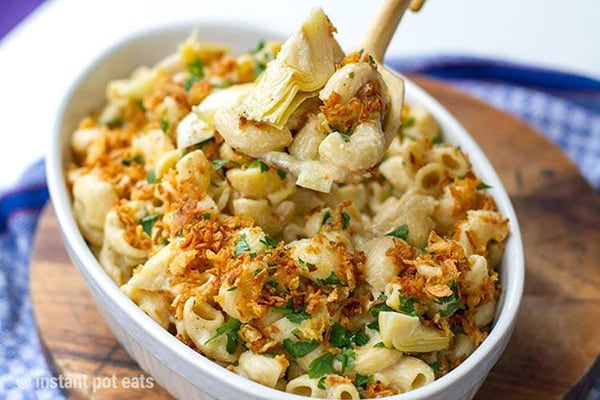 If you love a good mac and cheese but would like to avoid that heavy, bloated feeling you can get after too much dairy or if you're trying to avoid dairy products for other reasons, this recipe is exactly what you need. Instant Pot vegan mac and cheese has all those creamy, dreamy characteristics of a classic dish BUT it's made with a completely dairy-free cashew sauce with artichokes. Recipe from Instant Pot Eats.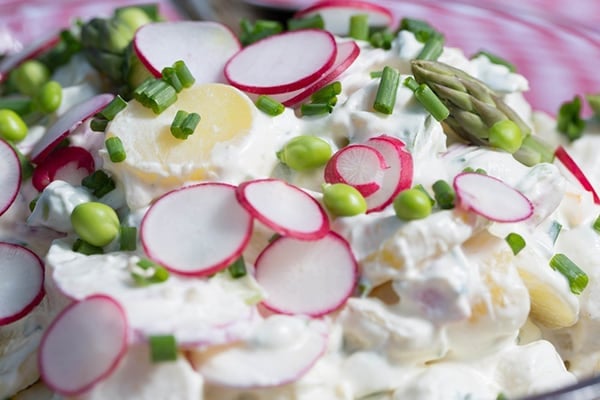 You say, "Po-tay-to," and I say, "Po-tah-to." Either way, we can probably agree on one thing: potato salad is seriously tasty. Summertime is the pinnacle for this dish as we find ourselves dining beneath the sun on plaid blankets with friends and family, or whipping up that signature recipe to contribute to the BBQ while someone else does the grilling. Recipe from Instant Pot Eats.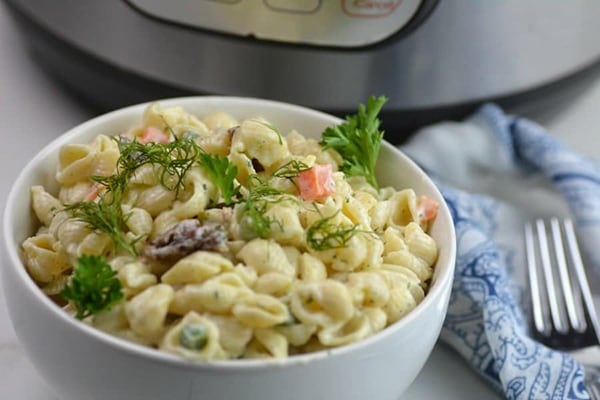 Picnic and BBQ party season is approaching so if you are looking for a chilled pasta salad to serve up, check out this creamy and delicious Instant Pot Copy Cat Bacon and Ranch Suddenly Salad! This pasta salad is loaded with tasty flavors, that are topped with bacon crumbles. Recipe from Adventures of a Nurse.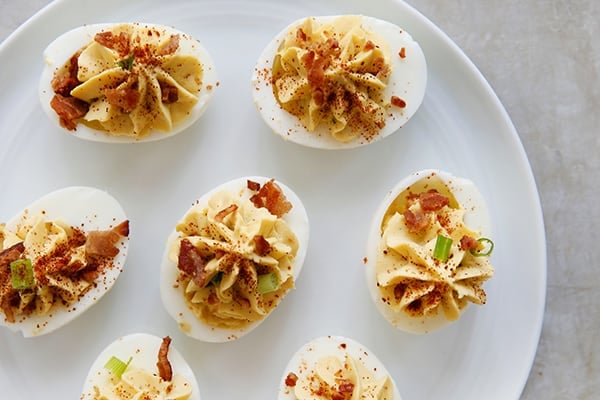 Boiling eggs have never been so easy since Instant Pot arrived. So why not have deviled eggs at your next party. It's an easy high protein grab-and-go appetizer that everyone loves. Recipe from Lexi's Clean Kitchen.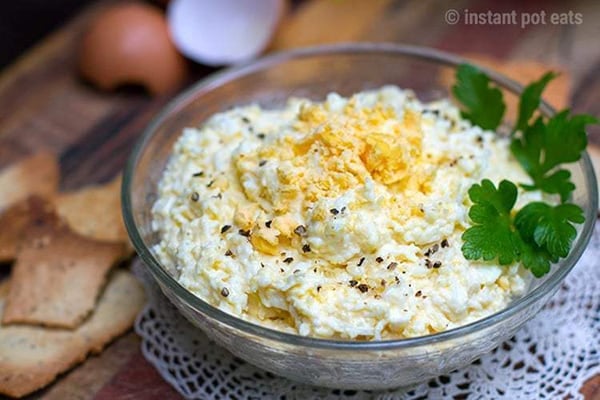 This is a great way to use up hard-boiled eggs. You can serve this lovely salad/dip on top of vegetable slices or sticks (as a dip), in lettuce cups (for a low-carb and keto version) or with your favorite crackers. It's also tasty as a sandwich or a wrap filling. You can make it for a party or to keep in the fridge for a snack or lunch. Recipe from Instant Pot Eats.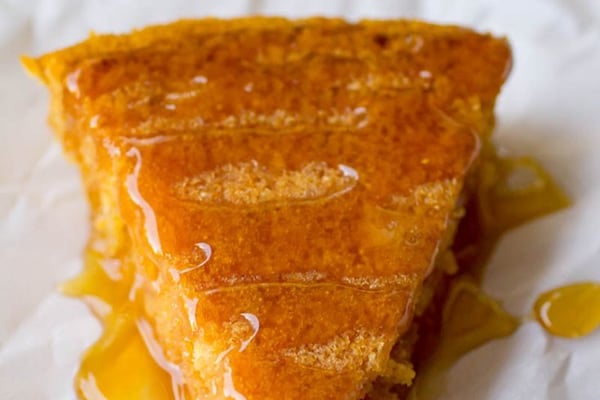 You can have a moist and tender cornbread with a slightly crispy edge, no oven required. Dollop with butter or drizzle on some honey for the perfect side to your main dish. Grab that springform pan and make soft, savory, and somewhat sweet homemade cornbread to serve with a bowl of steak chili. Recipe from Or Whatever You Do.

Mashed potatoes are no longer a chore with these Instant Pot mashed potatoes. They are a snap to fix because the pressure cooker cuts the cooking time in half. These creamy mashed potatoes took under 20 minutes. Recipe from The Spruce Eats.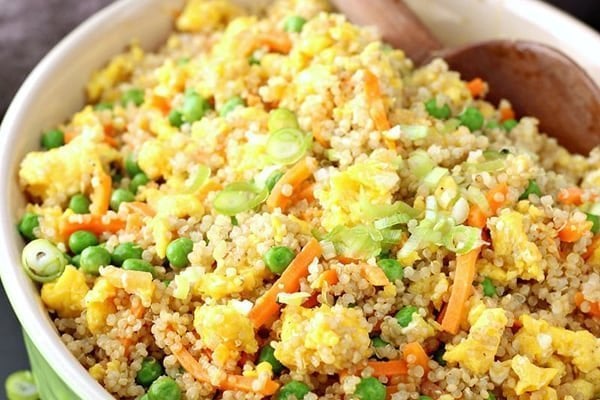 A healthier take on the classic Vegetable Fried Rice, this Instant Pot Quinoa "Fried Rice" is just as delicious. Substituting with quinoa, coconut aminos instead of soy, and cultured butter or ghee will make you feel good too. Recipe from Garden in the Kitchen.
DESSERTS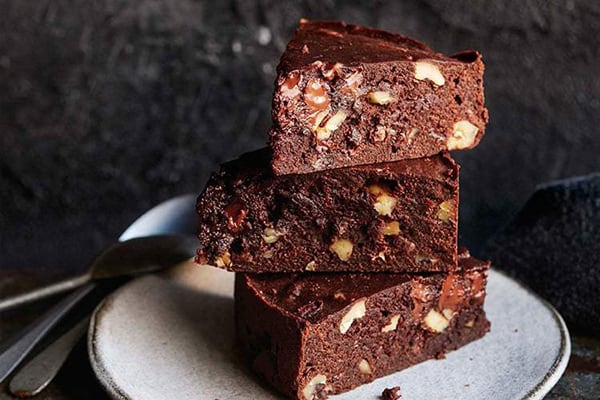 Are you ready for some chocolate?! Instant Pot Chocolate Fudge Brownie Cake with toasted walnuts will be a dessert that impresses everyone at the table and makes your chocolate lovers very happy. This guest recipe is from The Ultimate Instant Pot Cookbook. Get the recipe from Instant Pot Eats.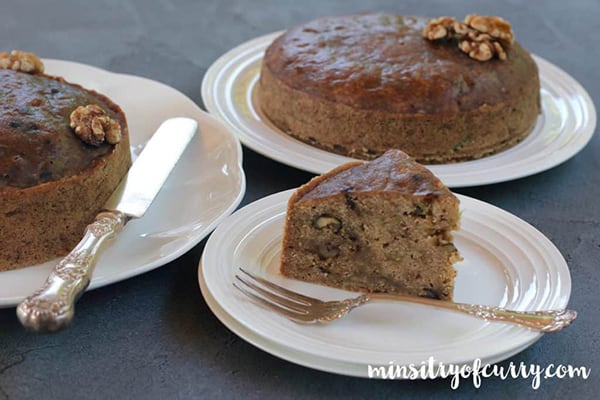 Zucchini Bread is a dense, not-too-sweet tea bread packed with summer's fresh squash! Cakes come out so moist in the Instant Pot that you can avoid heating up the house with your oven this summer. Recipe from Ministry of Curry.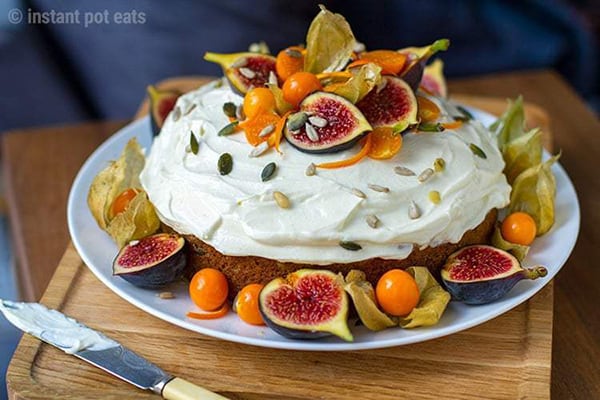 You will fall in love with this gorgeous and moist Instant Pot carrot cake the minute you taste it. It's nut-free and perfect for a party. Recipe from Instant Pot Eats.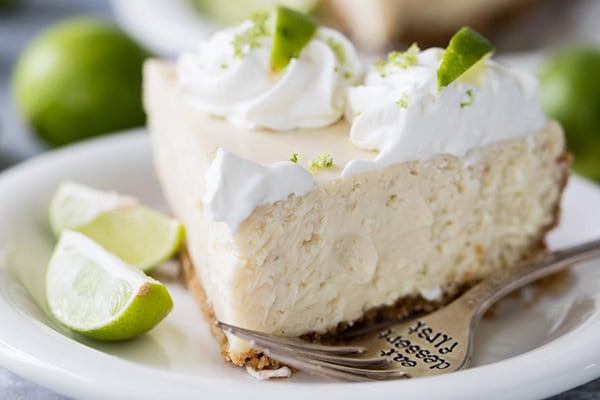 Sweet and tangy, this Instant Pot Key Lime Cheesecake is the perfect dessert for tart lime lovers. It is rich, creamy, and super easy because it's made in the pressure cooker! Recipe from Taste and Tell.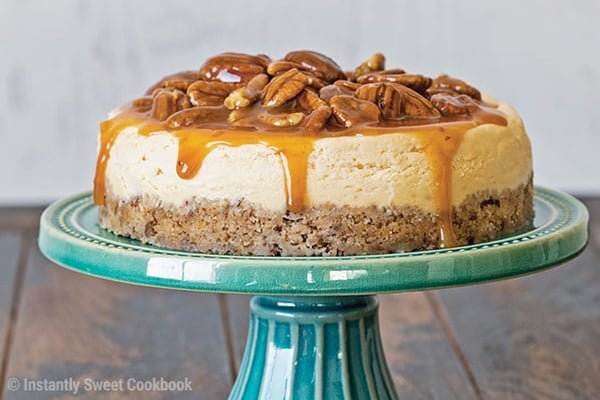 Try this amazing Instant Pot cheesecake recipe and indulge in a creamy filling sweetened with brown sugar on a shortbread pecan crust with a decadent caramel topping studded with toasted pecans. This guest recipe is from the Instantly Sweet Cookbook. Get the recipe from Instant Pot Eats.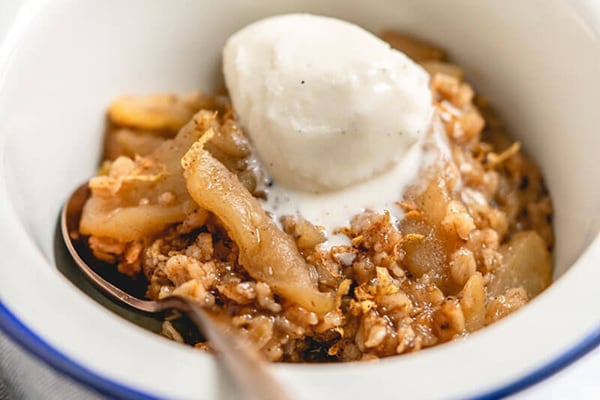 This Instant Pot Apple Crisp with organic granola is quick and delicious! It's a cozy healthy vegan dessert recipe option for you and your friends. Recipe from A Couple Cooks.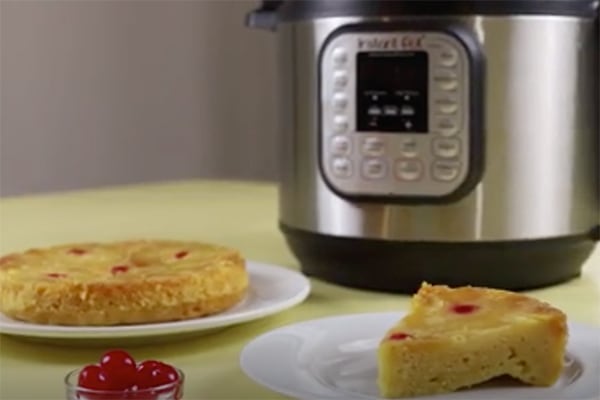 Get ready for a slice of American history with this classic upside-down pineapple cake. You can make two cakes with this recipe using stackable pans. One to share and one to keep. Recipe from Chop Secrets.
---