Looking for cheap Instant Pot recipes? This collection of budget-friendly dinner ideas for under $10 will help you prepare simple yet delicious meals for the whole family. Using inexpensive staples and more affordable protein options, you can save time and money while dishing out tasty food.
*Updated with new recipes! Please note, the original post was created in 2021 and due to inflation some of the estimated costs will be a little higher today.
---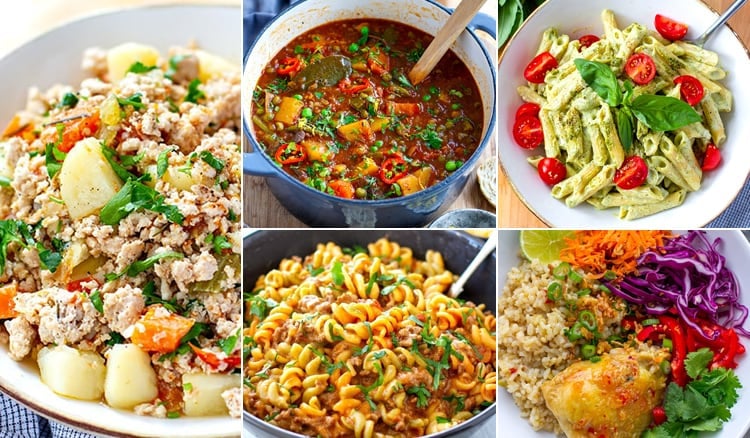 Using your Instant Pot pressure cooker can be a super valuable tool to save money on those grocery bills. It's great for making budget-friendly recipes for a few reasons:
It takes affordable staples like grains, beans, potatoes, and veggies and cooks them fast.
It's the best kitchen gadget to tackle those cheaper, tougher cuts of meat; usually, you would have to slow cook them for hours to get nice and tender but the Instant Pot speeds up that process and produces stunning results, like this Moroccan lamb and potato stew.
You can also prepare many meals in advance in large batches, which usually cuts down the cost of meals per serving. Check out these freezer-friendly meals.
Instant Pot is great for cooking foods directly from frozen which is often more cost-effective.
It allows you to make a lot of stuff 'homemade' like your own stock and broths from leftover bones, meat or sad-looking vegetables, or delicious jams, purees, and sauces.
---
CHEAP INSTANT POT RECIPES: DINNERS UNDER $10
Below are some of our favorite cheap Instant Pot recipes suitable for dinner. These meals will cost you under $10 and use your pressure cooker to prepare one-pot pasta, hearty chilis and stew, soups, and more. Our estimated costs per recipe are calculated using average US-supermarket prices and we assume you have some pantry staples like salt, oil, butter, and basic spices on hand.
This budget-friendly, creamy Instant Pot mushroom and chickpea pasta is a delicious meal for the whole family. It's vegetarian yet high in protein and comes with plenty of fiber and nutrients. Estimated Cost $7. Get the recipe here.

This rustic Instant Pot ground turkey and potato stew is hearty and full of flavor, yet at the same time healthy and light. It's gluten-free, Whole30-friendly, and uses affordable staples. It's somewhere between a stew or a thick soup and you can enjoy it with a side of crusty bread. It keeps well for a few days and is great for leftovers and freezing. Estimated Cost $7.50. Get the recipe here.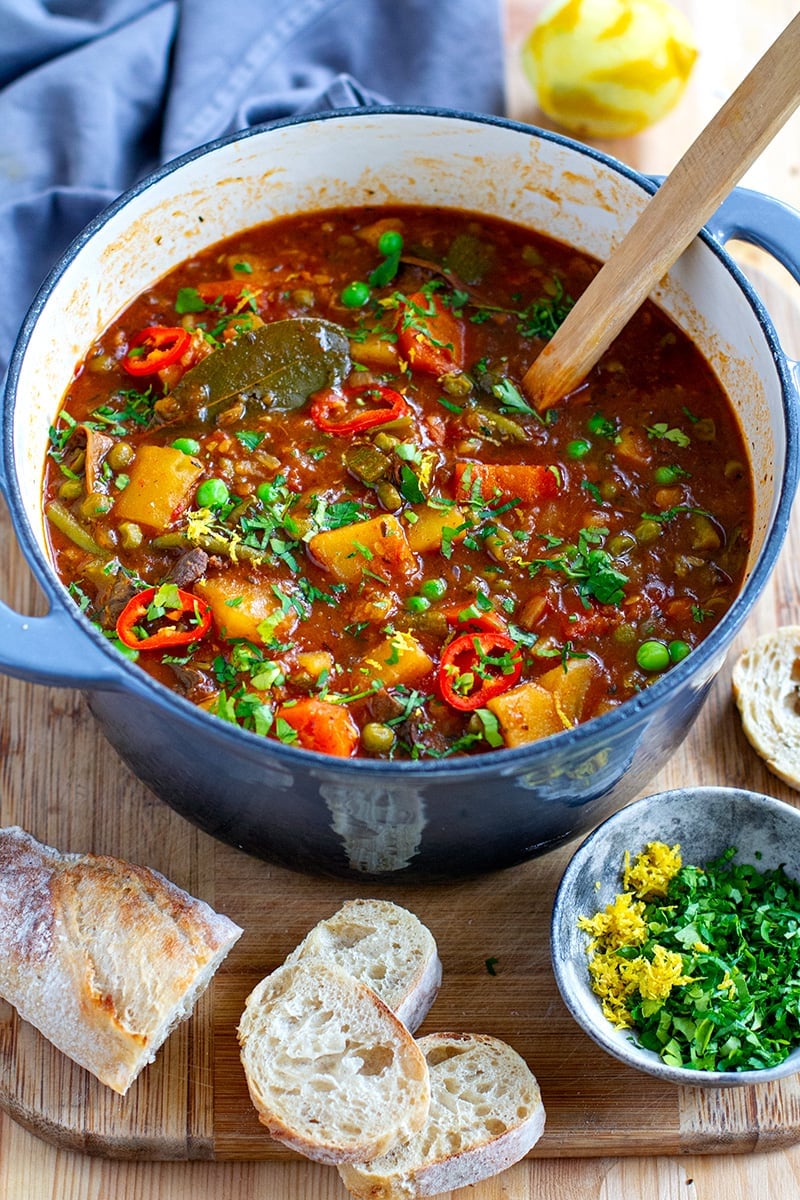 This stew is hearty, thick, comforting, and very tasty but the real reason we think it's so good is the number of veggies you'll be getting in each serving. Made with about 10 types of vegetables, it is really is a nutritional powerhouse! It's also great for batch cooking and meal prepping. Estimated Cost $9 (omit dried porcini mushrooms). Get the recipe here.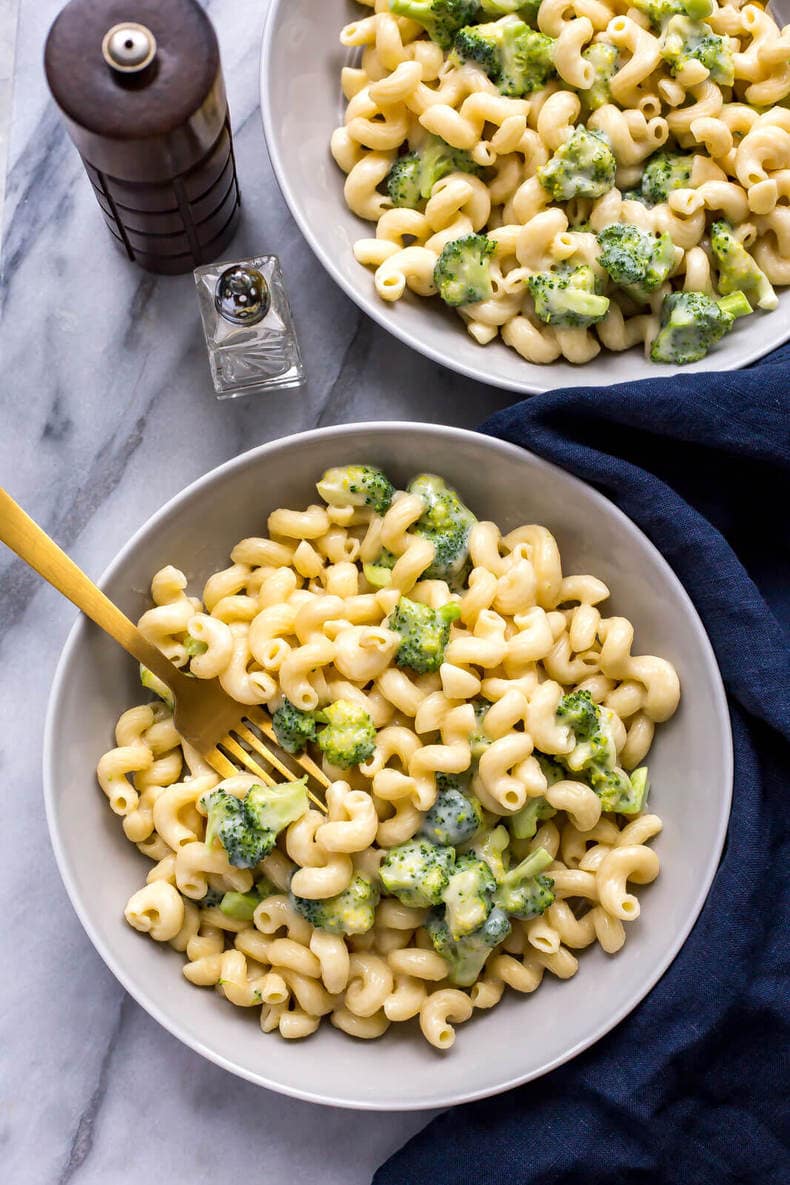 This Healthy Instant Pot Mac and Cheese with broccoli and white cheddar is a creamy, delicious comfort food favorite that comes together with less than 10 ingredients and in one pot! The broccoli adds a little bit of color and you can even add in some extra greens like spinach or chard. Estimated cost $7. Recipe from The Girl On Bloor.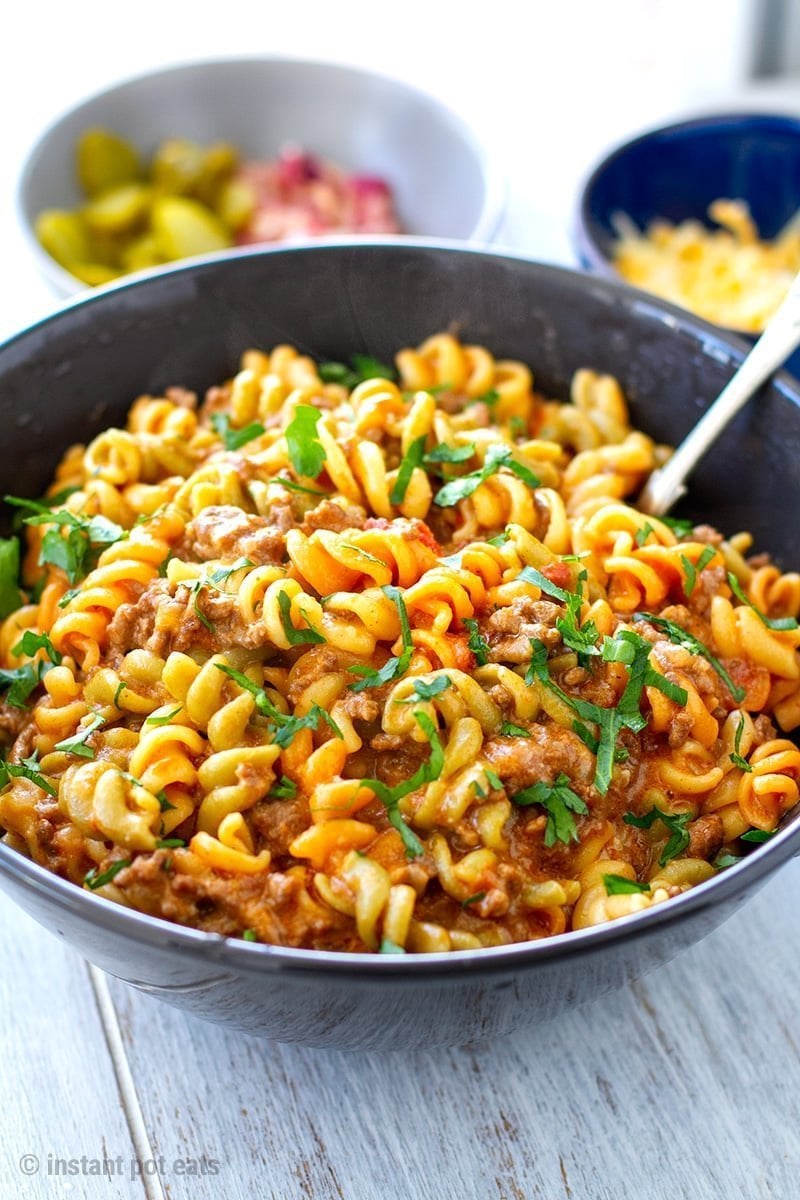 This Instant Pot hamburger helper inspired pasta is a great family meal and comes with a little cheeseburger twist. A creamy sauce that has all the characteristics of family comfort food. It's a perfect one-pot meal if you're looking for a substantial meaty meal on the budget. Estimated cost: $9. Get the recipe here.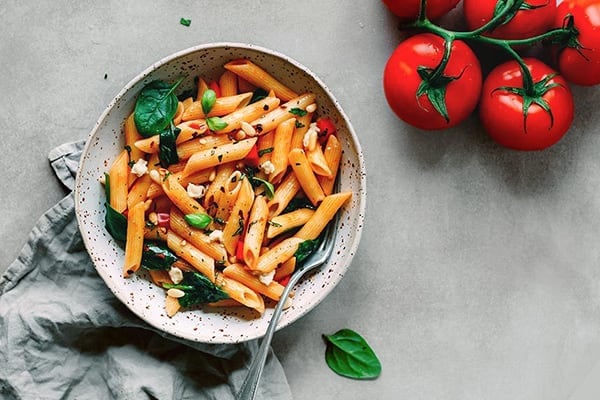 Since everyone loves pasta, why not make it nutritious? This delicious vegan Instant Pot pasta recipe requires only 10 minutes of hands-on time. It's great for a quick and lazy emergency dinner that can be made from basic pantry staples. The marinara is bursting with flavor that hides quite a few vegetables for those of you dealing with picky eaters. Estimated cost $9. Recipe from Nutriciously.
This dump and start Instant Pot Mexican Quinoa is healthy, versatile, and affordable. Quinoa is such great source of protein and naturally gluten-free, it is a must-have household staple. Estimated Code $7-8. Recipe from Recipes From A Pantry.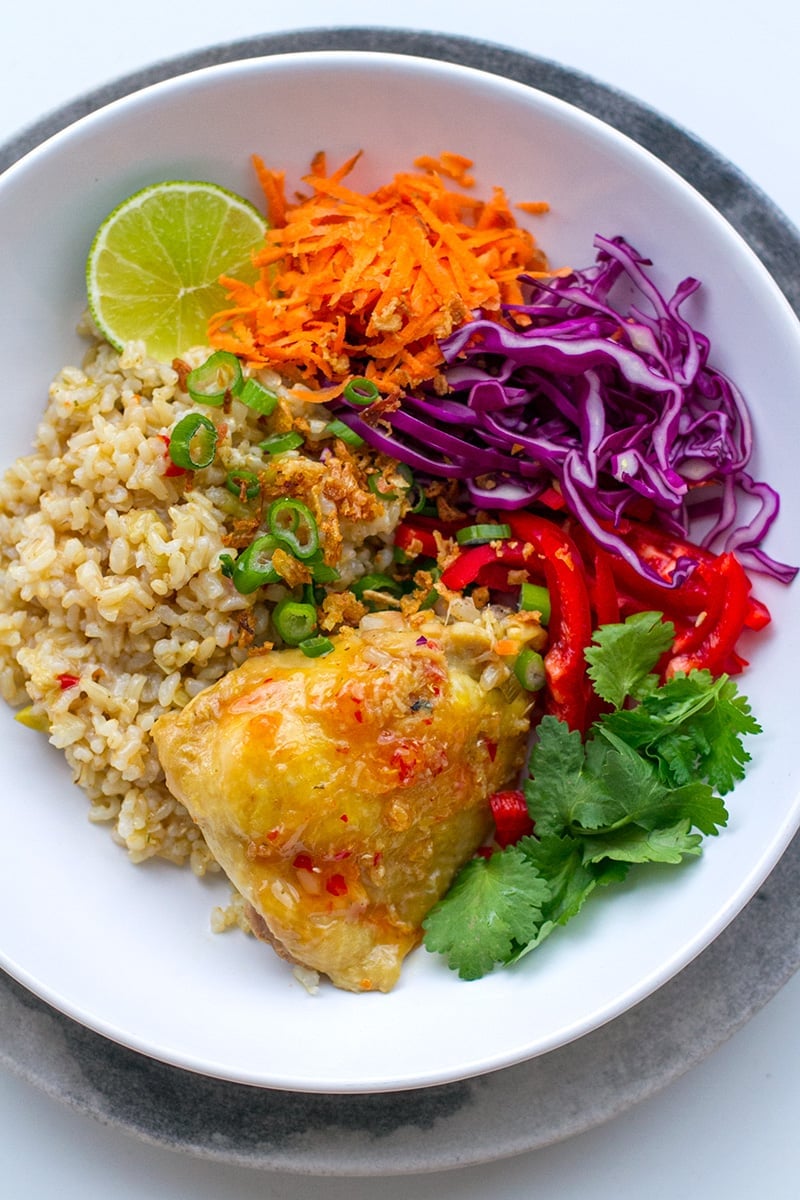 This dish is Thai-inspired using gorgeous aromatics such as ginger and garlic, and a few dollops of sweet chili sauce, which works wonderfully with chicken and a lovely side of vegetables and herbs. A one-pot meal that's fuss-free and leaves you with minimal clean up at the end. Estimated cost $8. Get the recipe here.


A little bit of Spanish chorizo is all it takes to turn a simple pot of pinto beans into a rich and flavorful meal! You can serve these beans with tortillas, shredded lettuce, and cheese, or you can serve it kind of as a dip with tortilla chips, or spoon the bean mixture over a bowl of hot rice. It's very versatile and so yummy that you might just end up eating it straight out of the pot with a spoon. Estimated cost $7-8. Recipe from Budget Bytes.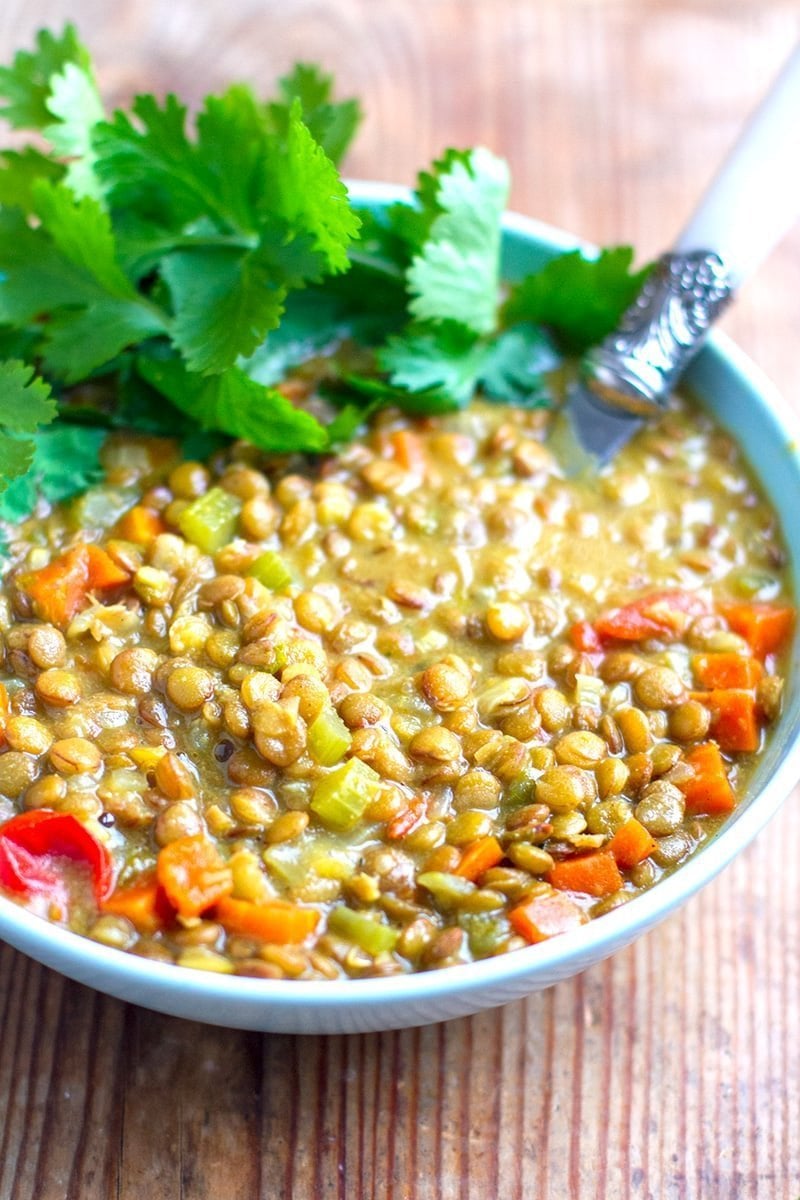 This coconut curry dish is a keeper for a plant-based protein dish. Simple, easily accessible, and affordable ingredients in this recipe, including some nutritious veggies. You can use any type of dried lentils and the recipe is for unsoaked (just rinsed) legumes. It's similar to dal, but with a creamy coconut twist. It can be served as is, or try our Indian spinach rice or turmeric rice. Estimated cost $7. Get the recipe here.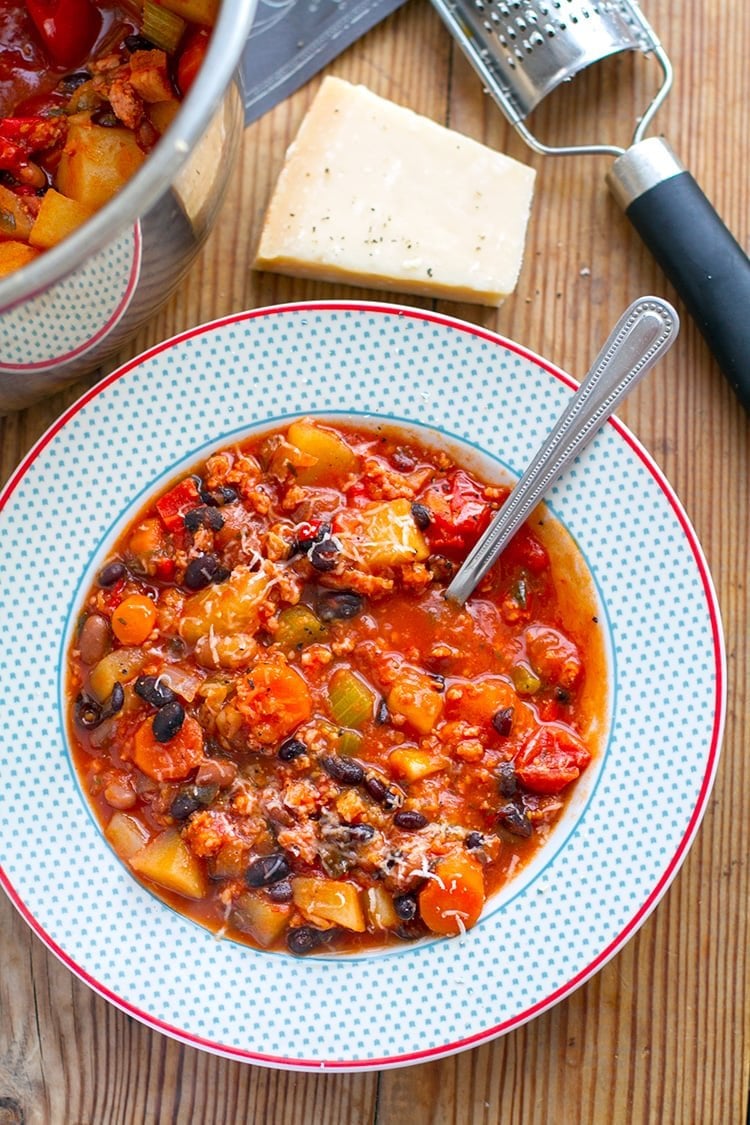 If you love Italian minestrone or a good Bolognese sauce, you will love this gorgeous, Tuscan Instant Pot pork stew. This hearty stew is made with ground pork meat, juicy tomatoes, and legumes of your choice, this dish is nutritious and affordable. You can modify this into a vegetarian dish by replacing the meat with diced mushrooms instead. Estimated cost $8.50. Get the recipe here.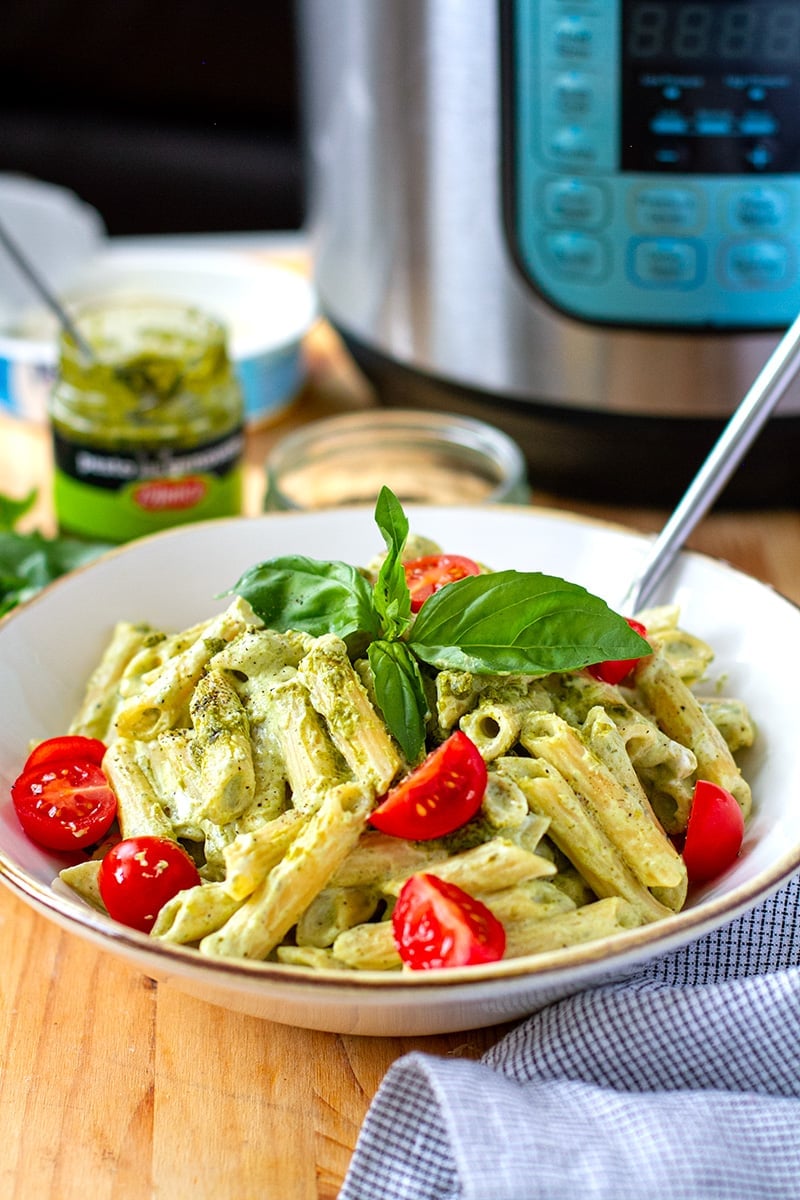 This recipe uses only a handful of ingredients and is family-friendly and vegetarian. It can be made with any type of pasta and even though it has a creamy sauce, it's still quite light and healthy. Great for a busy weeknight. Estimated Cost $7. Get the recipe here.
EVEN MORE BUDGET DINNER RECIPES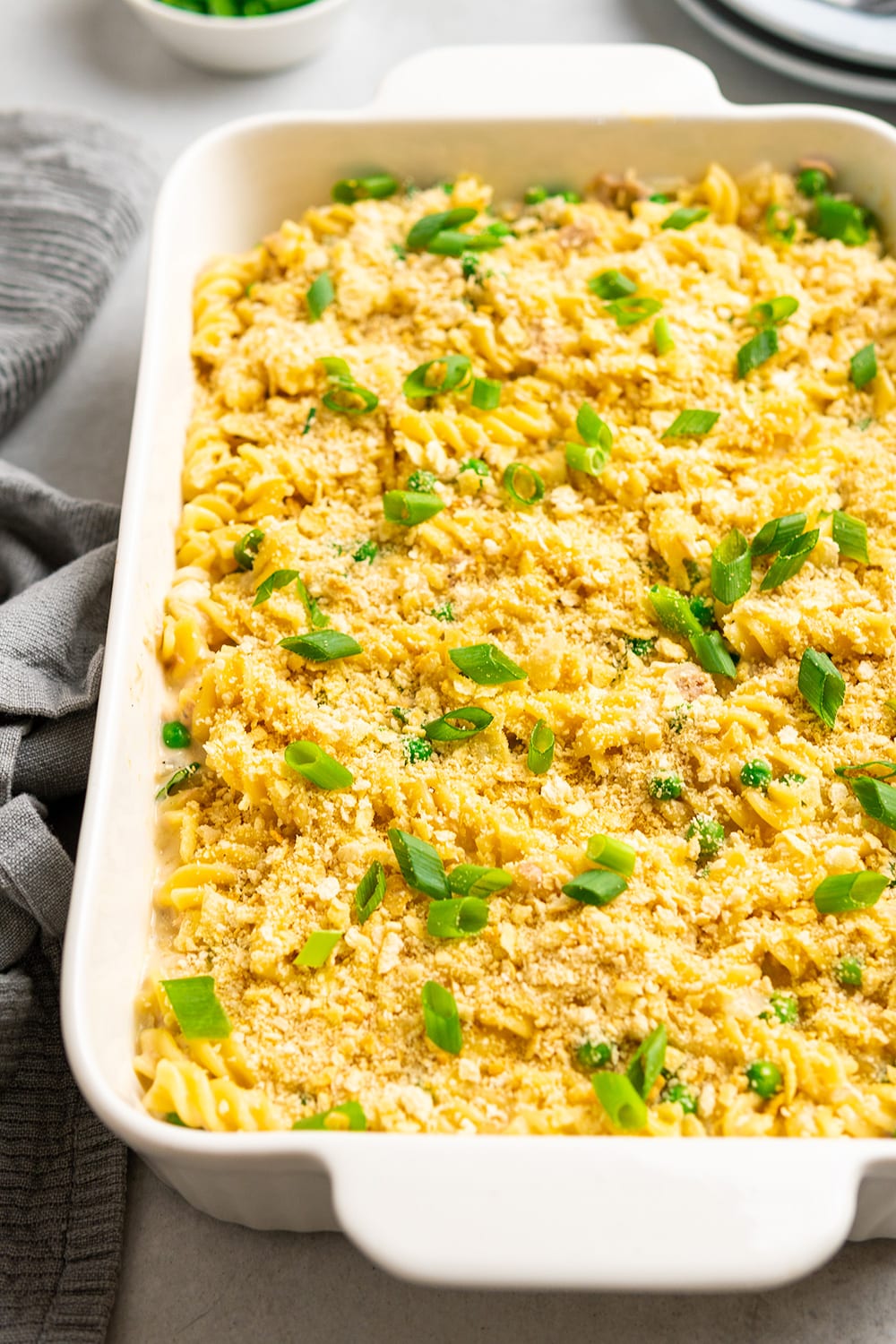 Creamy, delicious, and made from scratch using no canned soups. Featuring pasta noodles, creamy cheesy sauce, and crunchy topping, this casserole is perfect for a family dinner that is quick, easy, and budget-friendly. Estimated Cost $9.50 Get the recipe here.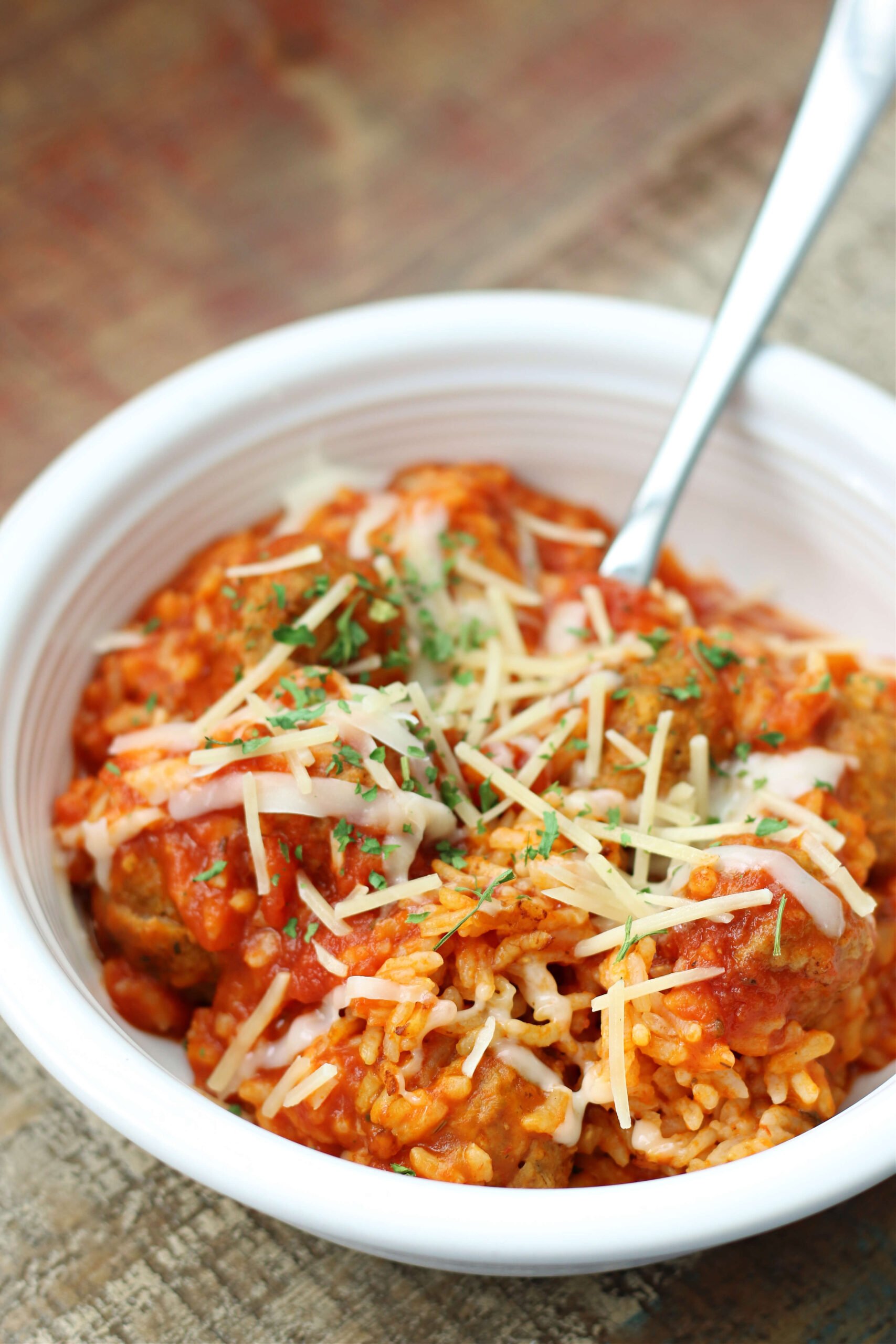 You might be wondering how meatballs and spaghetti sauce taste with rice instead of spaghetti. It's actually a fun change of pace. Just try it! Estimated Cost $8. Recipe from 365days Of Slow Cooking & Pressure Cooking.
Osso buco is an Italian dish of veal shank braised in a white wine bone marrow-infused sauce giving it an incredible richness and flavor. Estimated Cost $10. Recipe from I Am A Food Blog.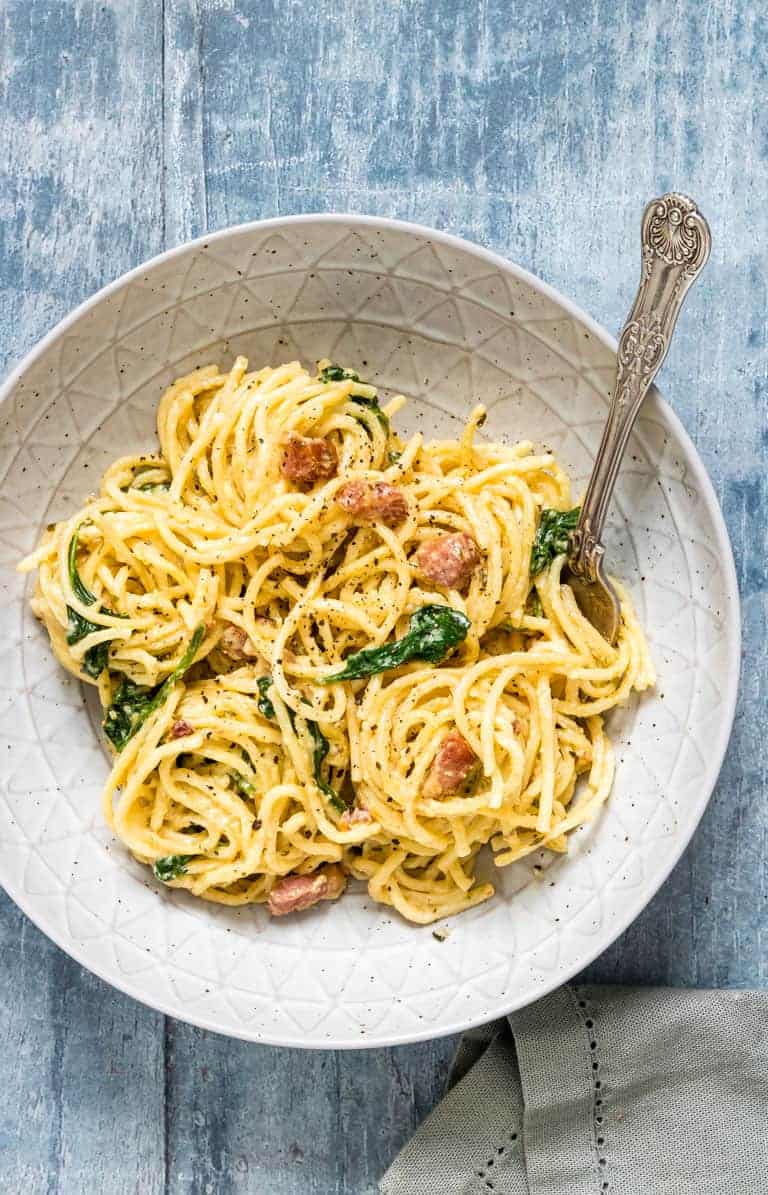 This is a one pot, dump and start recipe that is ready to serve in just minutes. Rich, creamy and full of bacon goodness, this family friendly dish makes a perfect easy weeknight meal.. Estimated Cost $9.50. Recipe from Recipes From A Pantry.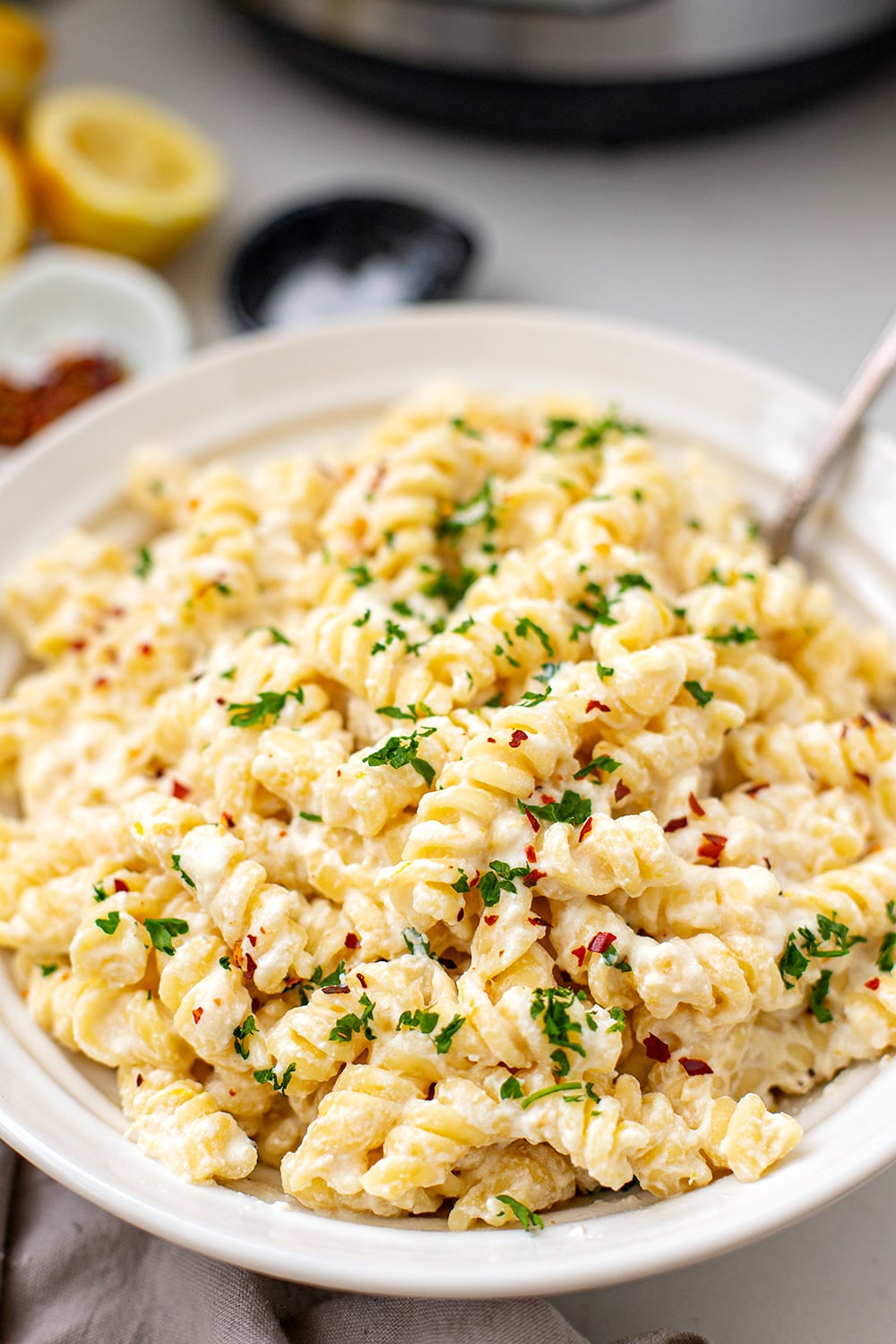 Creamy, cheesy and a little tangy midweek pasta dinner or weekend lunch. The dish is made with fusilli pasta with a buttery garlic, lemon zest and juice, plus equal parts ricotta and Parmesan cheese.. Estimated Cost $8.50. Get the recipe here.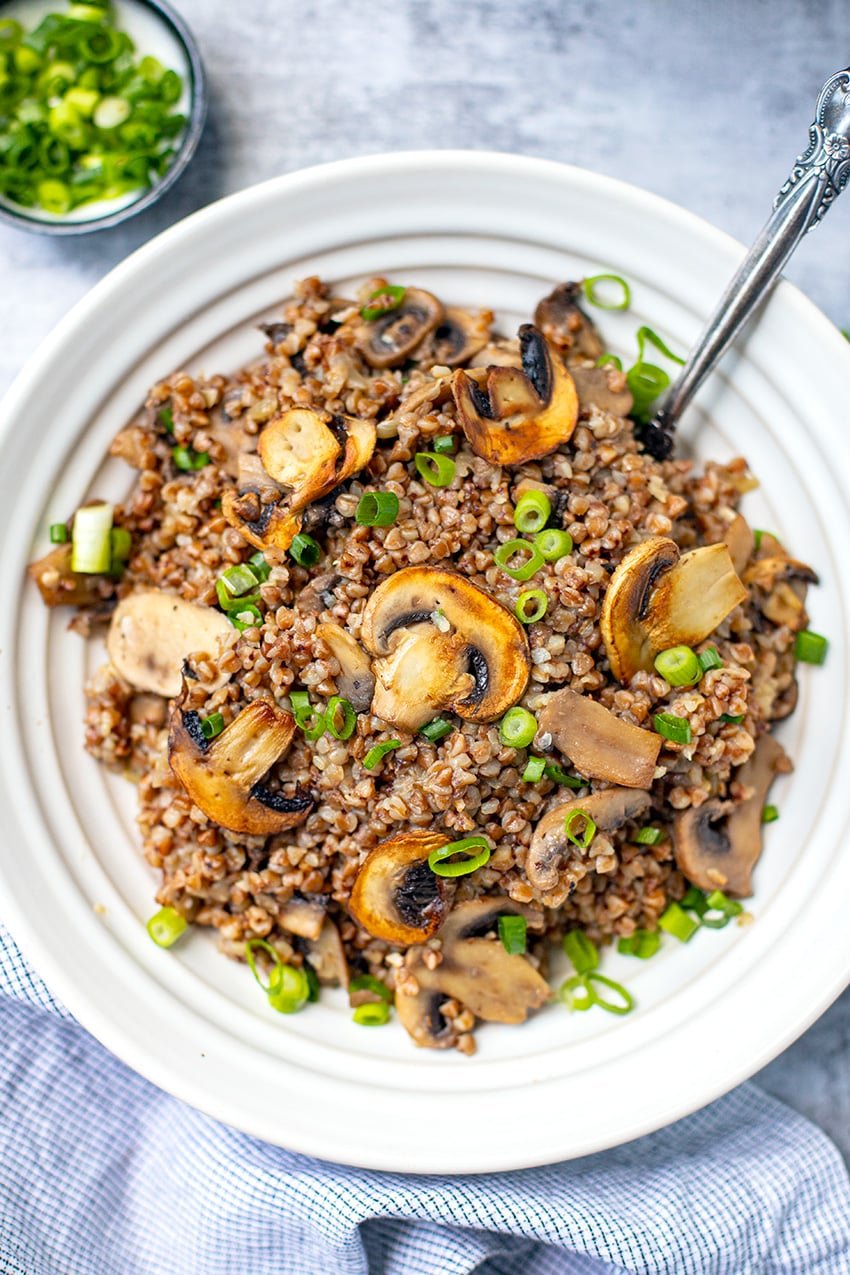 Made with mushrooms, onions and garlic for added flavor, it's fantastic as a main vegetarian or vegan dish, or it can be served as a side. Plus, it's gluten-free and budget-friendly, so make sure to add it to your buckwheat recipes to try. Estimated Cost $8. Get the recipe here.
---
---
SAVE These CHEAP Instant Pot Recipes TO PINTEREST