If you enjoy Asian food, this collection of Instant Pot Asian recipes is for you. They are delicious, easy to make, and will hit the spot whether you're craving Japanese, Indian, Chinese, Thai, or Korean dishes.
---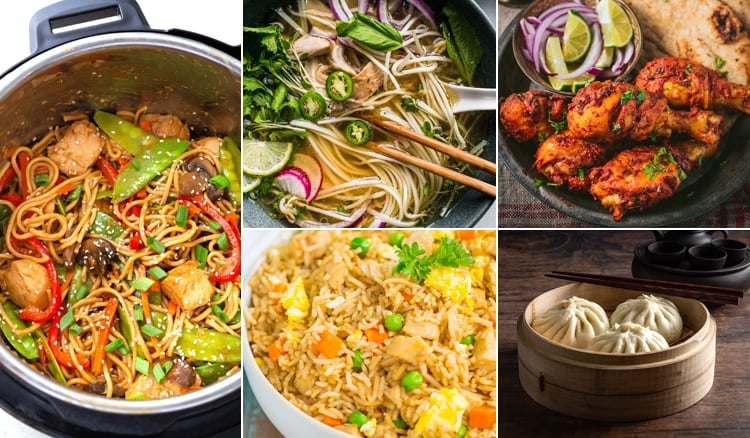 WHAT IS ASIAN FOOD?
Most people associate Asian food with Chinese, Japanese, Korean, and south-east Asian dishes. If you live in the UK, you might think of Indian when talking about Asian cooking.
But, Asia is the largest and most populous continent and is home to many more cultures. Asian cuisine includes several major regions encompassing countries like India, Nepal, Mongolia, China, Japan, Korea, Thailand, Singapore, and going as far west as Armenia and Georgia.
While each country has its own cuisine characteristics, there are some common ingredients that we associate with Asian food: rice, noodles, ginger, garlic, sesame seeds, chilies, dried onions, soy, and tofu, curry spice, cilantro, coconut milk. Stir-frying, steaming, braising and deep frying are common cooking methods.
BEST INSTANT POT ASIAN RECIPES
Some of the most common Asian dishes include curry, braised meat dishes, dumplings, rice dishes, noodle soups, and stir-fries. A lot of these Asian recipes you can make in the Instant pot!!!
In this roundup, we've compiled some of the best Instant Pot Asian recipes from some of the more popular, sought-after cuisines. We hope you give them a go!
---
INSTANT POT CHINESE RECIPES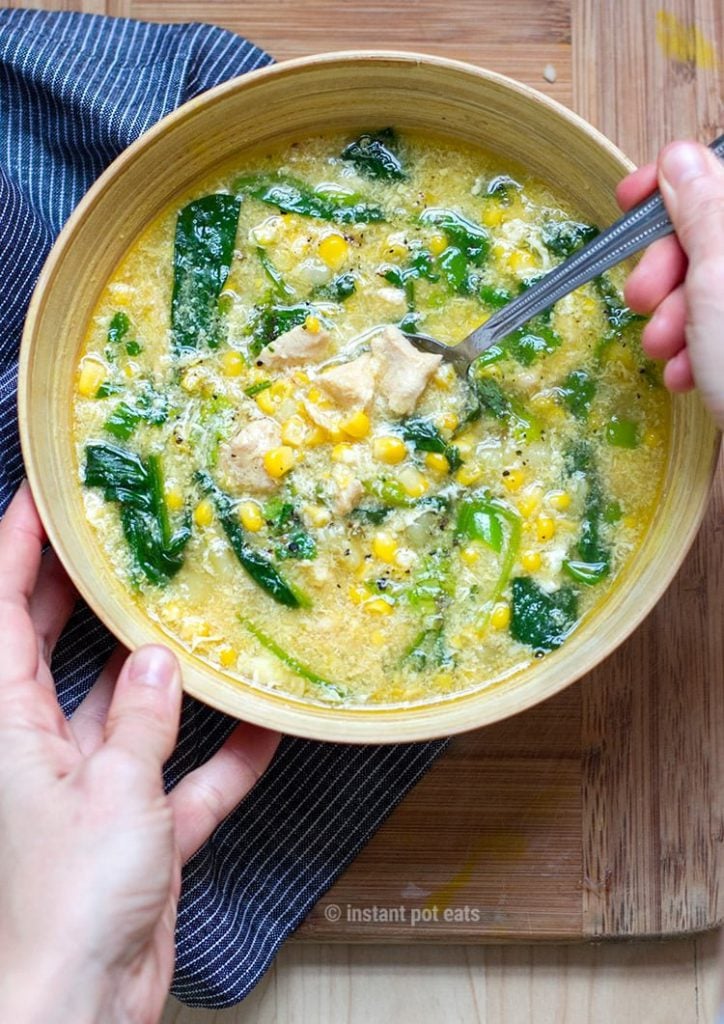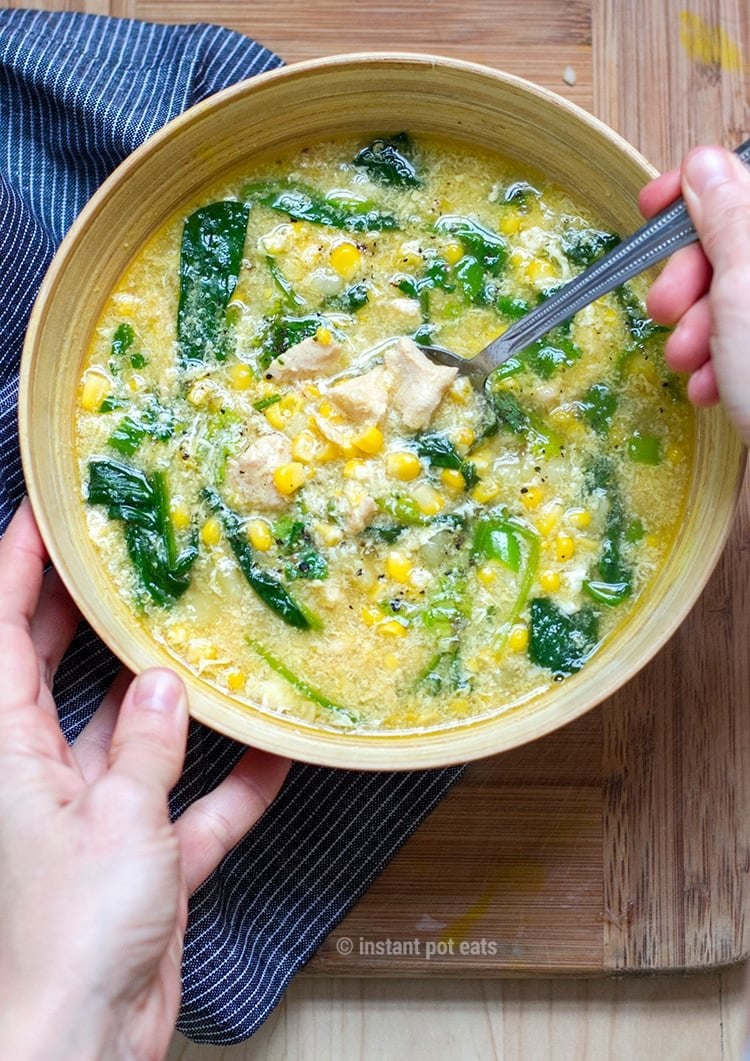 It's often served as a starter at restaurants, but this homemade recipe is a healthier version using fresh corn, good quality poultry and stock, and some nutritious spinach. Get the recipe here.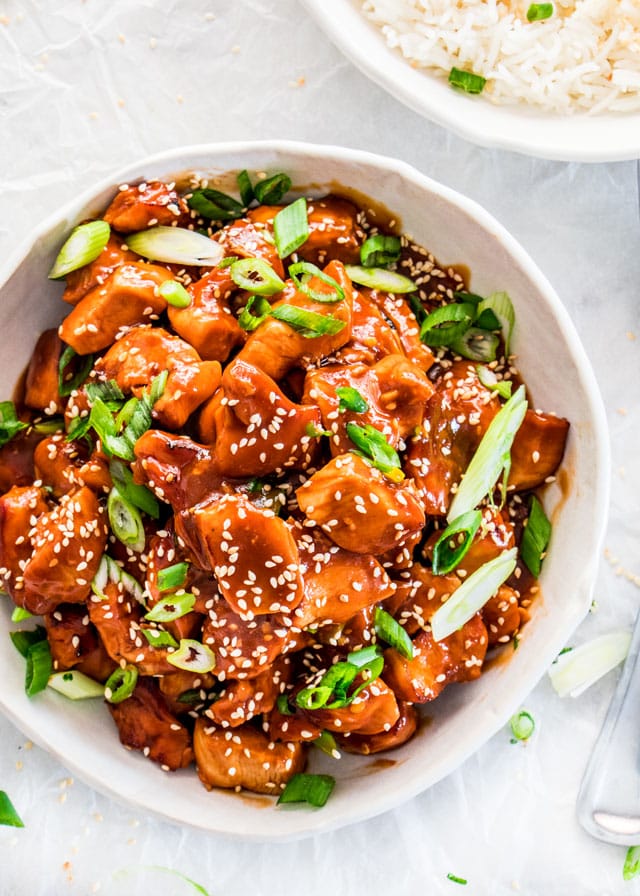 This General Tso's Chicken is a healthy, homemade dinner in under 30 minutes. This spicy Chinese takeout favorite has the perfect balance of sweet and tangy. Recipe from Jo Cooks.
Fluffy, soft, & slightly sweet bao buns wrapped with aromatic, juicy, & flavorful filling. These pork buns and beef buns are so deliciously satisfying to eat! Recipe from Pressure Cook Recipes.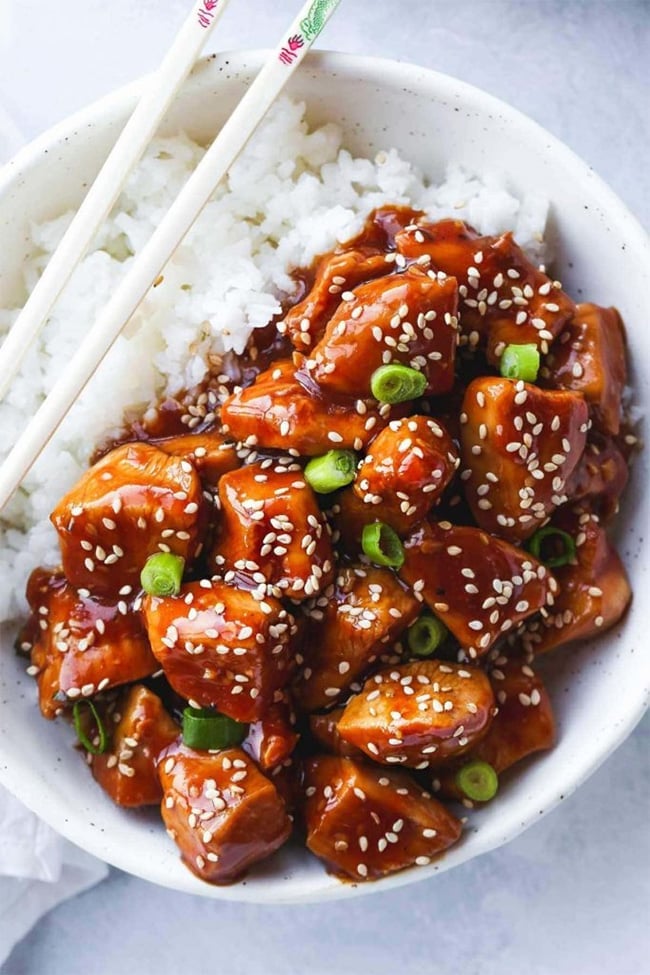 Dump and start sesame chicken cooked in a rich honey soy sauce. This Chinese classic is made so easy in the Instant Pot, perfect for a busy mid-week dinner. Recipe from Little Sunny Kitchen.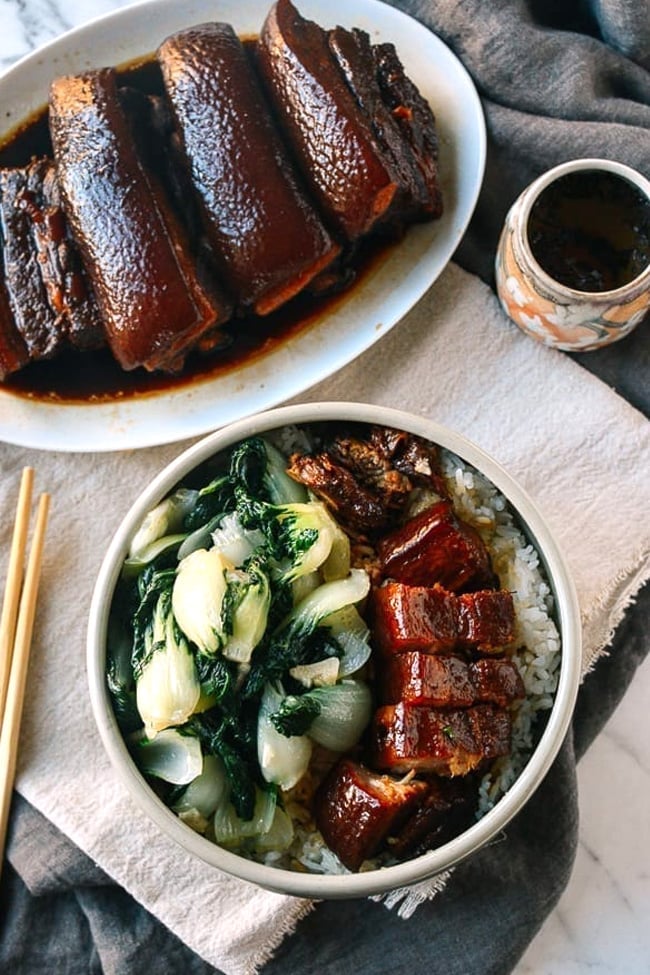 This Soy Sauce Braised Instant Pot Pork Belly results in easy, tender, and delicious pork belly, and makes for an easy meal with lots of slow-cooked flavor. Recipe from The Woks of Life.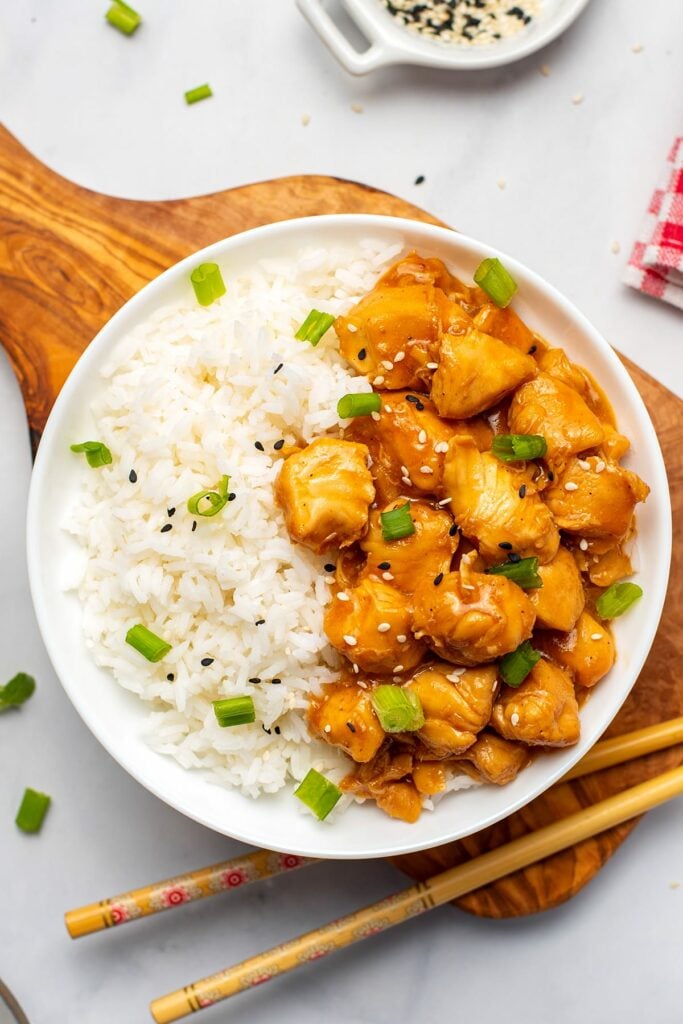 A classic American Asian fusion recipe that's beginner-friendly. Served over rice, noodles or vegetables, this sweet, salty and sour chicken dish is a must for family dinners. Get the recipe here.
Find more Chinese Instant Pot recipes here.
---
INSTANT POT JAPANESE RECIPES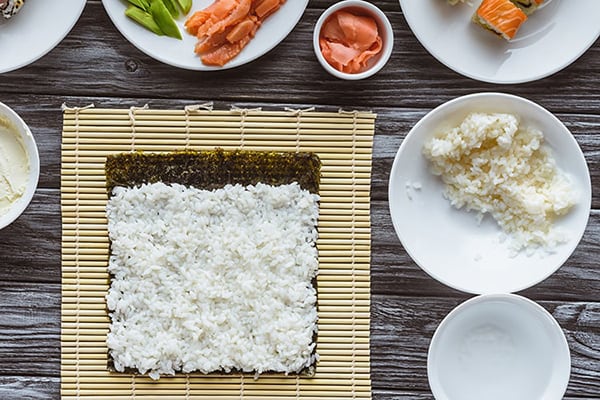 Sushi rice is a necessary component in a good sushi roll. Learn how to achieve perfectly pressure-cooked sushi rice at home. Get the recipe here.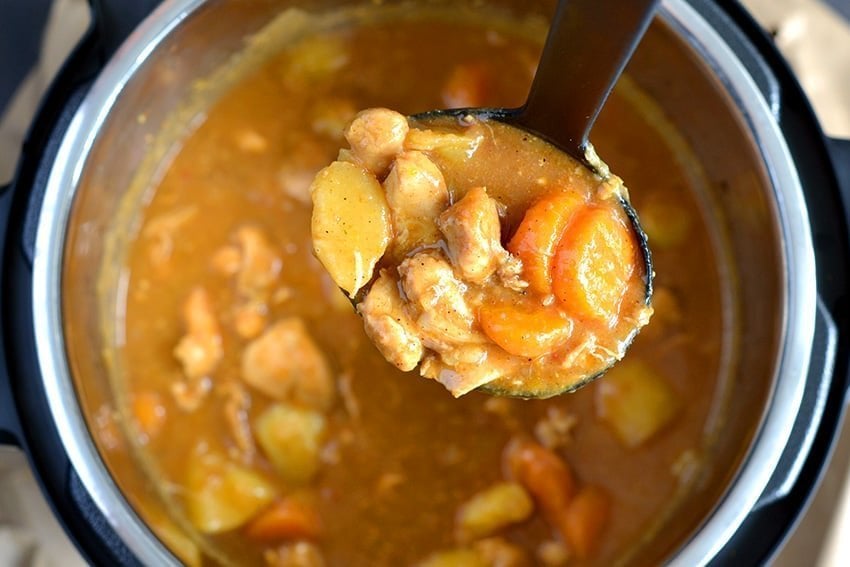 The flavor of this curry is a crossover of Japanese, Indian and Western cuisines. It can be made with a variety of meats and vegetables but the key is its thick, gravy-like curry sauce. This Japanese curry recipe is made with chicken but you can easily turn it into a vegetarian and vegan version. Get the recipe here.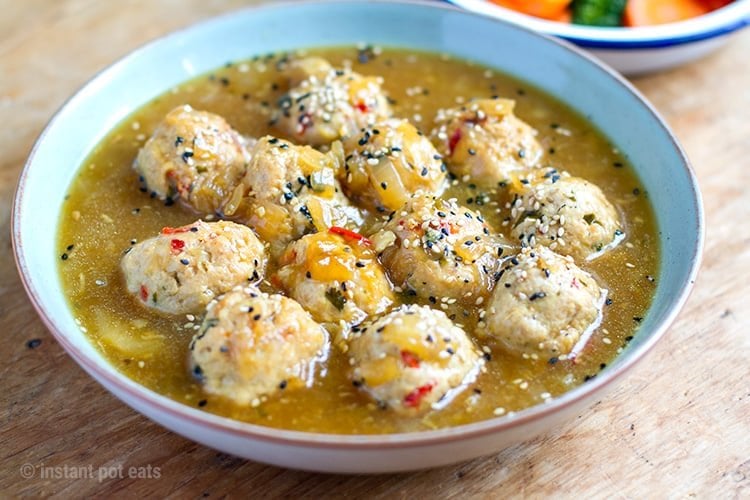 These delicious turkey meatballs are inspired by the classic Japanese teriyaki chicken dish. Instead of using chicken, opt for simple and affordable ground turkey. The meatballs are cooked in a savory broth full of umami flavors. Get the recipe here.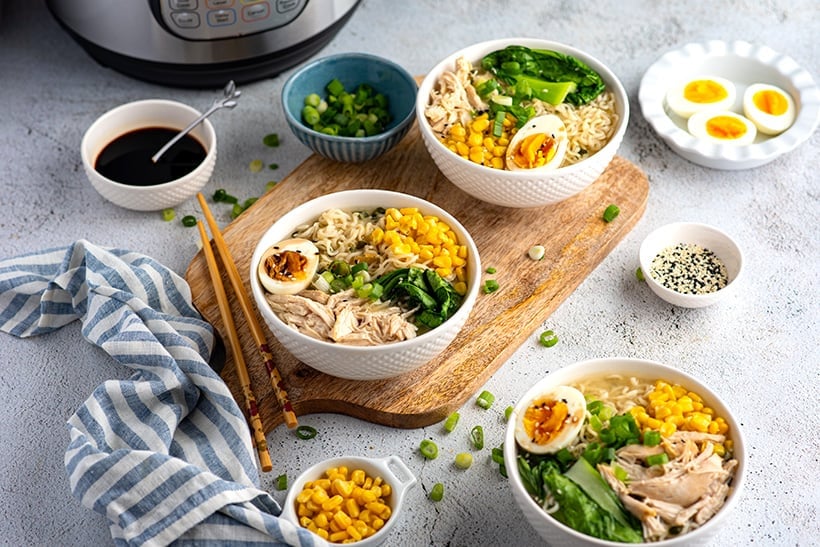 Inspired by the Japanese miso ramen, this noodle soup is topped with Asian greens, sweet corn and a boiled egg and is perfect for a quick lunch or dinner that both kids and grown-ups will love. Get the recipe here.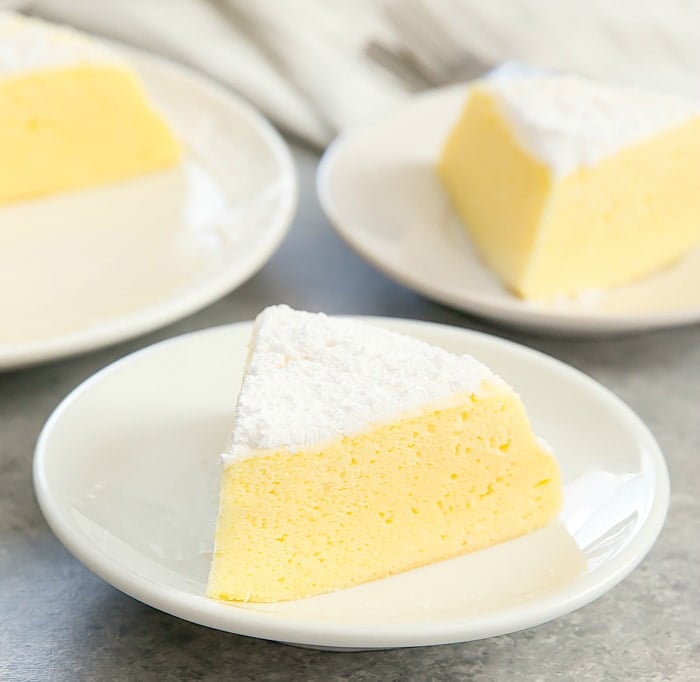 A light, fluffy, cotton-soft Japanese style cheesecake made so much less time you'll never go back to the traditional way. This method is so convenient with delicious results. Recipe from Kirbie Cravings.
Find more Japanese Instant Pot recipes here.
---
INSTANT POT INDIAN RECIPES
Black dal or Dal Makhani is one of India's most loved dishes and one that is worth mastering. It is originally from the Punjab region and the primary ingredients are whole black lentils. The dish gets its richness from the use of cream or butter, but it can also be prepared with no dairy. Get the recipe here.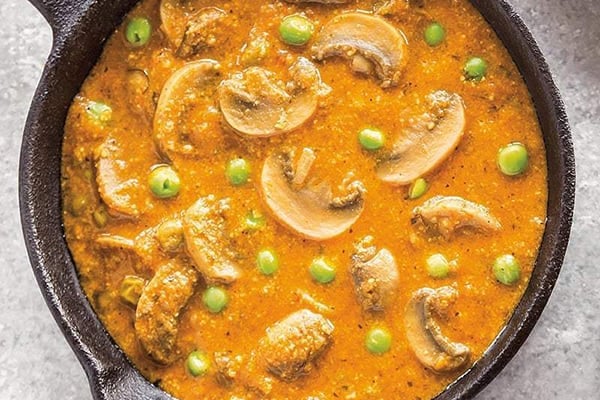 Sliced white mushrooms cooked with green peas in a tomato-cashew–based sauce. The sweetness of the green peas pairs perfectly with the mushrooms. It's delicious to eat Indian matar mushroom with plain naan bread or some Basmati rice. Get the recipe here.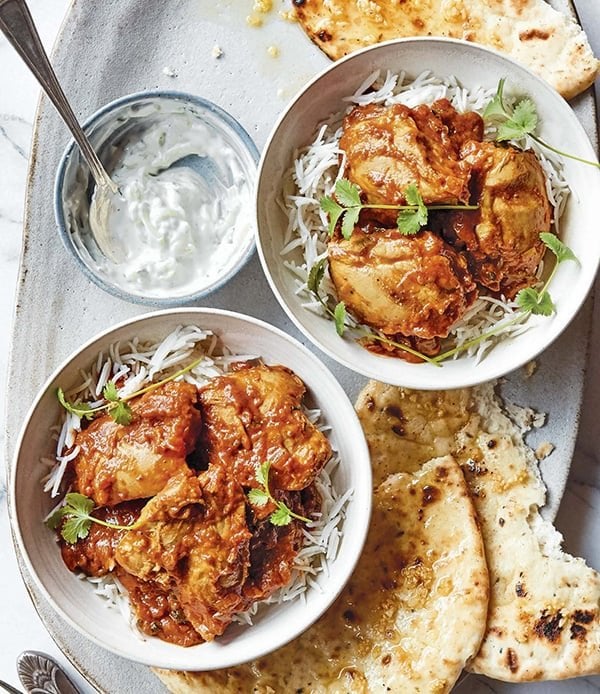 This heavenly, creamy curry highlights the robust flavours of Kashmiri chile, dried fenugreek leaves, and garam masala. Served with classic basmati rice and naan, this dish evokes excitement on any menu. Indian cuisine treats spices like a work of art. Get the recipe here.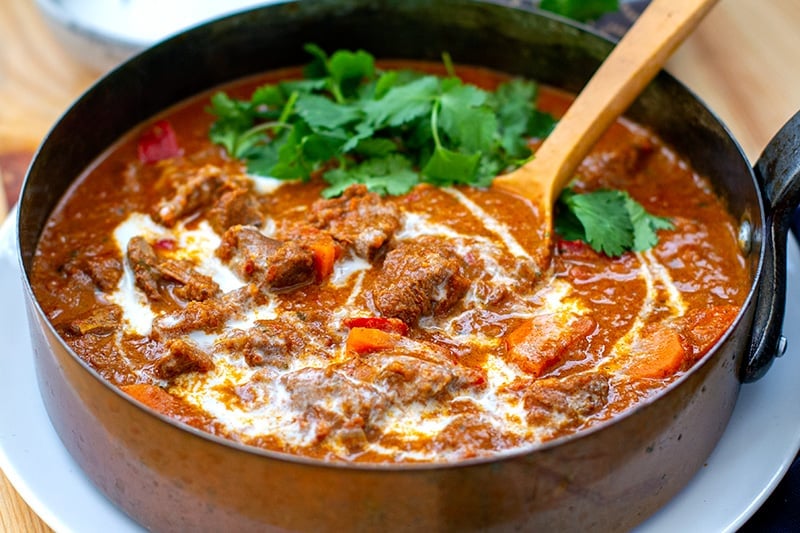 Made with warm Indian spices, tomatoes and rich coconut milk, this Instant Pot lamb curry is inspired by South Indian cuisine. It's creamy and delicious and the meat is succulent and soft. Get the recipe here.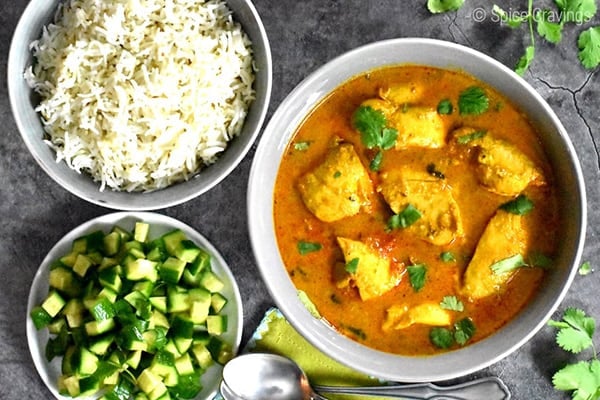 Aromatic yet mild Indian Instant Pot chicken curry cooked with cumin Basmati rice – perfect for a family dinner everyone will love. Get the recipe here.
Tandoori chicken is traditionally prepared by roasting marinated chicken leg pieces in a clay oven (Tandoor). This delectable dish has a vibrant orange/red color thanks to the generous use of the mild Kashmiri red chili powder. Recipe from Simmer to Slimmer.
---
INSTANT POT KOREAN RECIPES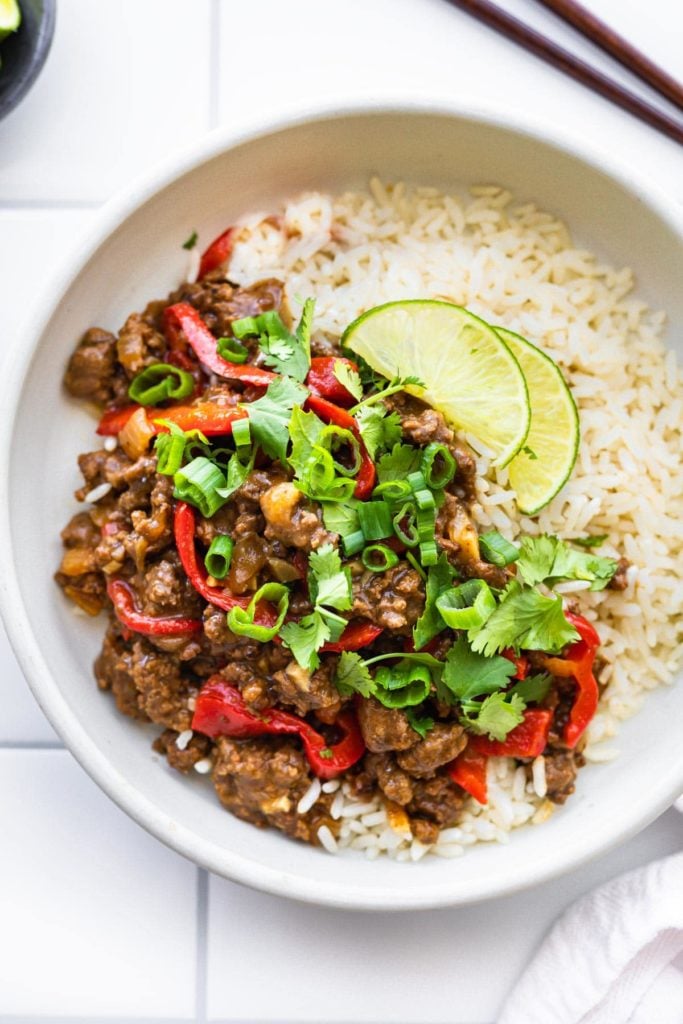 Bulgogi is a Korean dish, traditionally made using thin slices of high-quality boneless beef with a good amount of marbling (fat). Authentically, ribeye is the beef of choice. In this pressure cooker recipe, ground beef works great. Recipe from Cotter Crunch.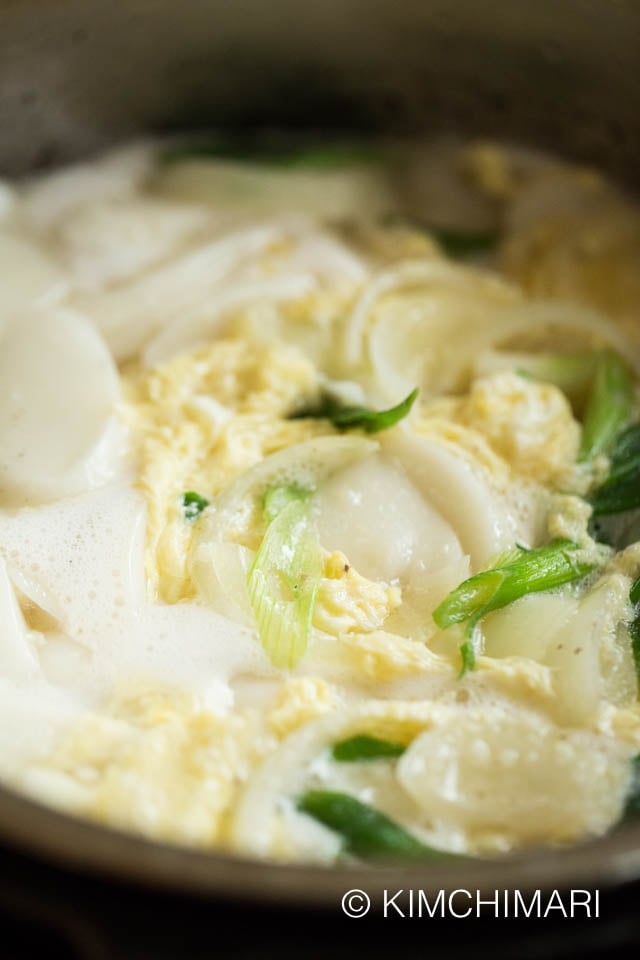 How many bowls of Tteokguk have you eaten? This rice cake soup is a SPECIAL soup that Koreans could only afford to eat on New Year's day. Recipe from Kimchimari.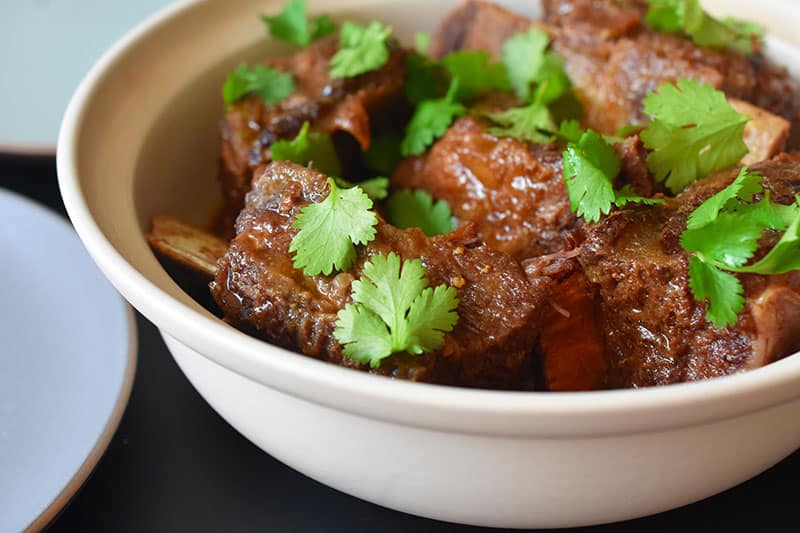 Just season the ribs, blitz the sauce, and cook everything for 45 minutes under high pressure. BOOM, you're done! This dish tastes even better the next day, so try making it ahead of time. Recipe from Nom Nnom Paleo.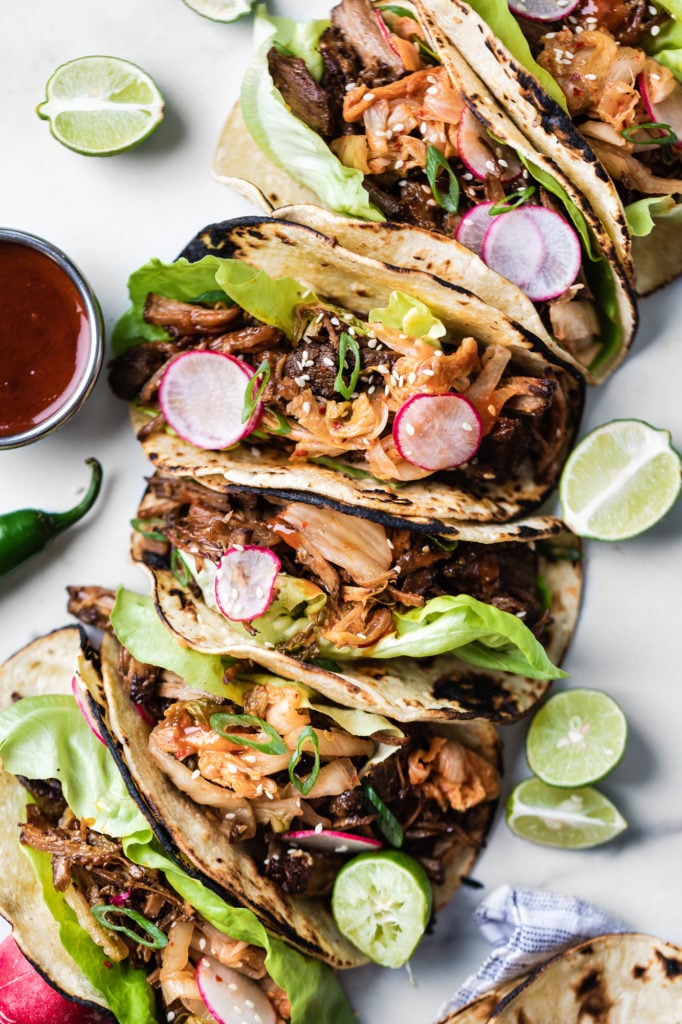 These are so delicious and flavorful and celebrate so many great Korean flavors. Pork shoulder or pork butt is the best choice for this recipe because it's a fattier cut of pork. Recipe from Hip Foodie Mom.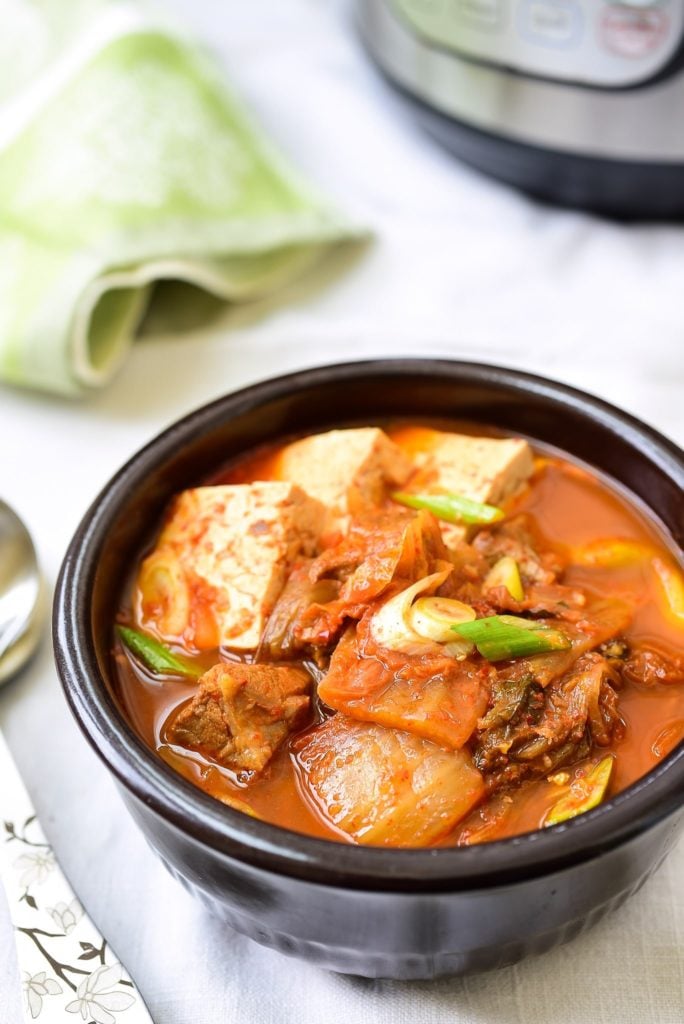 You can't have Korean cuisine without Kimchi. This Instant Pot adaptation of the classic Korean stew made with kimchi is so flavorful and rich! The texture of the kimchi turns out nice and soft in a fraction of the time. Recipe from Korean Bapsang.
Find more Korean Instant Pot recipes here.
---
THAI INSTANT POT RECIPES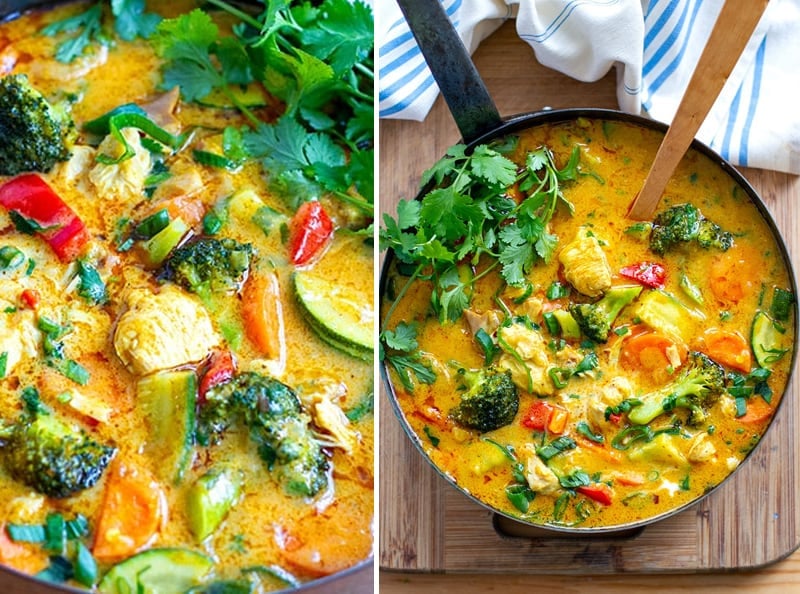 Made in under 30 minutes using ingredients you can find in most grocery stores. That's why we call it a curry in a hurry. This recipe isn't technically an authentic version BUT it's delicious and pretty close to the real thing, if we may say so. Get the recipe here.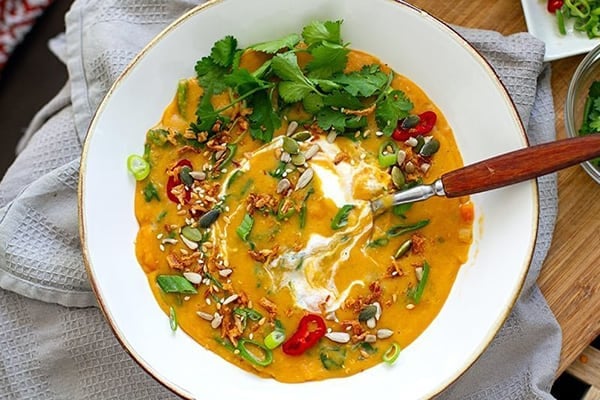 If you love the flavors and aromas of Thai cuisine – think zesty lime, fresh cilantro, fragrant curry, ginger, garlic, and coconut – you will really enjoy this creamy, hearty Instant Pot red lentil soup. Get the recipe here.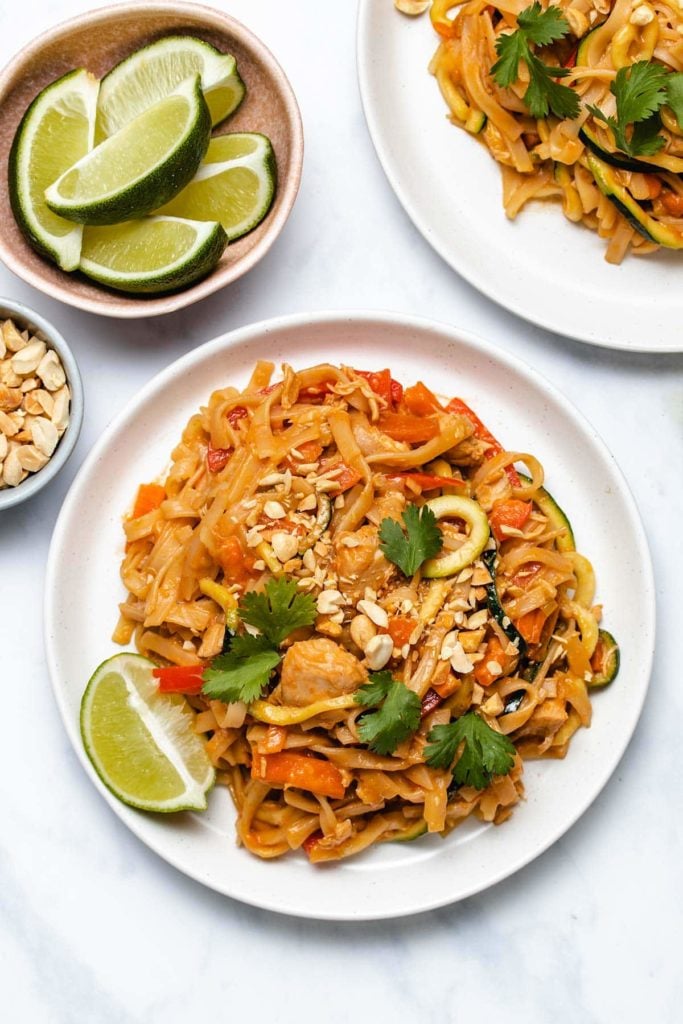 Skip the takeout and make this easy Instant Pot Chicken Pad Thai! Made with homemade sauce and plenty of vegetables, you will love how easy it is to make this healthier version of pad Thai at home. Recipe from The Recipe Well.
A great recipe to use up a variety of seasonal vegetables. Sweet corn and zucchini pair well together but the coconut curry broth would work well with any vegetable. Try diced carrots, pumpkin, broccoli, green beans, eggplant, or peppers. Get the recipe here.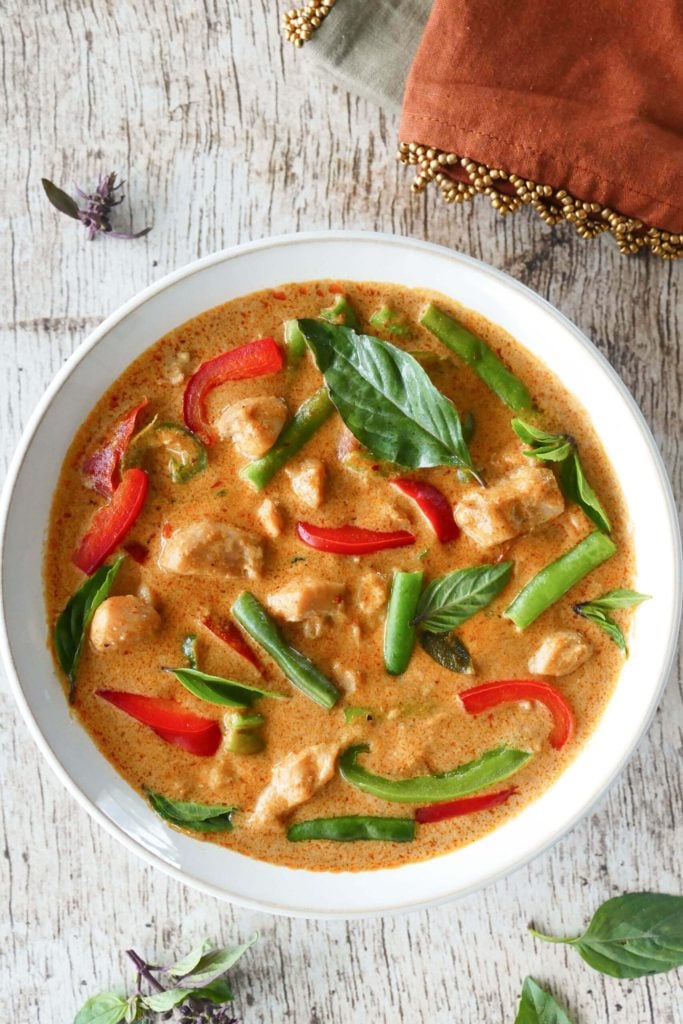 Creamy coconut milk, Panang curry paste, chicken, vegetables, and spices come together to make an amazingly tasty curry that is delicious served with jasmine rice. It's a quick and easy recipe that you can make on a weeknight but it's impressive enough to serve guests! Recipe from Paint The Kitchen Red.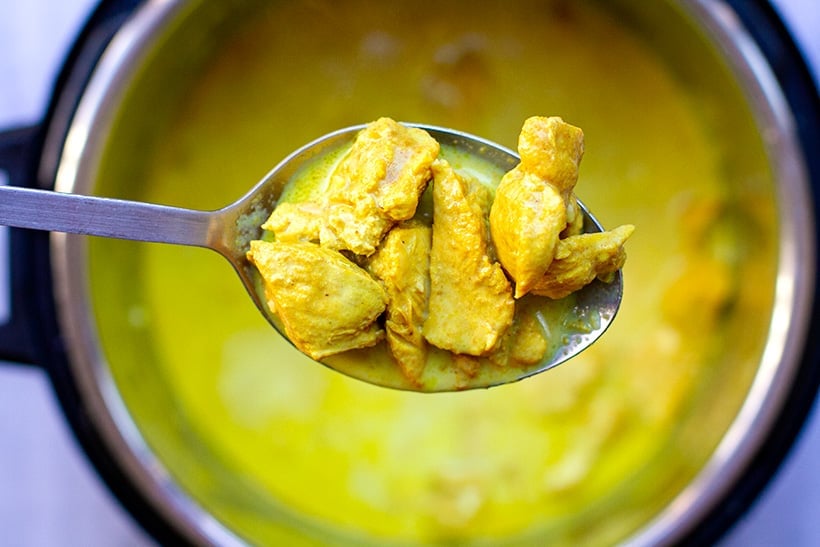 This coconut chicken curry is a must-try dish and you can make this recipe with just 5 key ingredients for a speedy, budget-friendly dinner you can serve up to your family (kids including) or friends. Get the recipe here.
---
OTHER SOUTHEAST ASIAN INSTANT POT RECIPES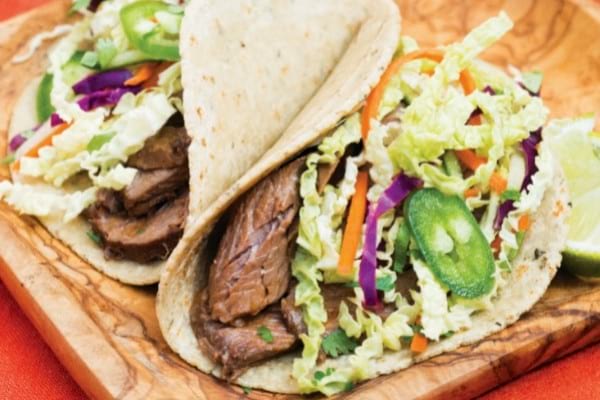 The meat is tender and slightly spicy, bursting with umami flavor. Shredded slaw, jalapeños, cilantro, and zingy lime make for the perfect crunchy toppings, bringing together that awesome Vietnamese street food vibe right to your dinner table. Get the recipe here.
Every home has its own version of how they prepare this Filipino dish, so this is one authentic family recipe prepared for generations. Using an Instant Pot cuts down the cooking time for this dish from two and a half hours to 15 minutes. Seriously though that's a miracle in itself. Recipe from Jay's Sweet N' Sour Life.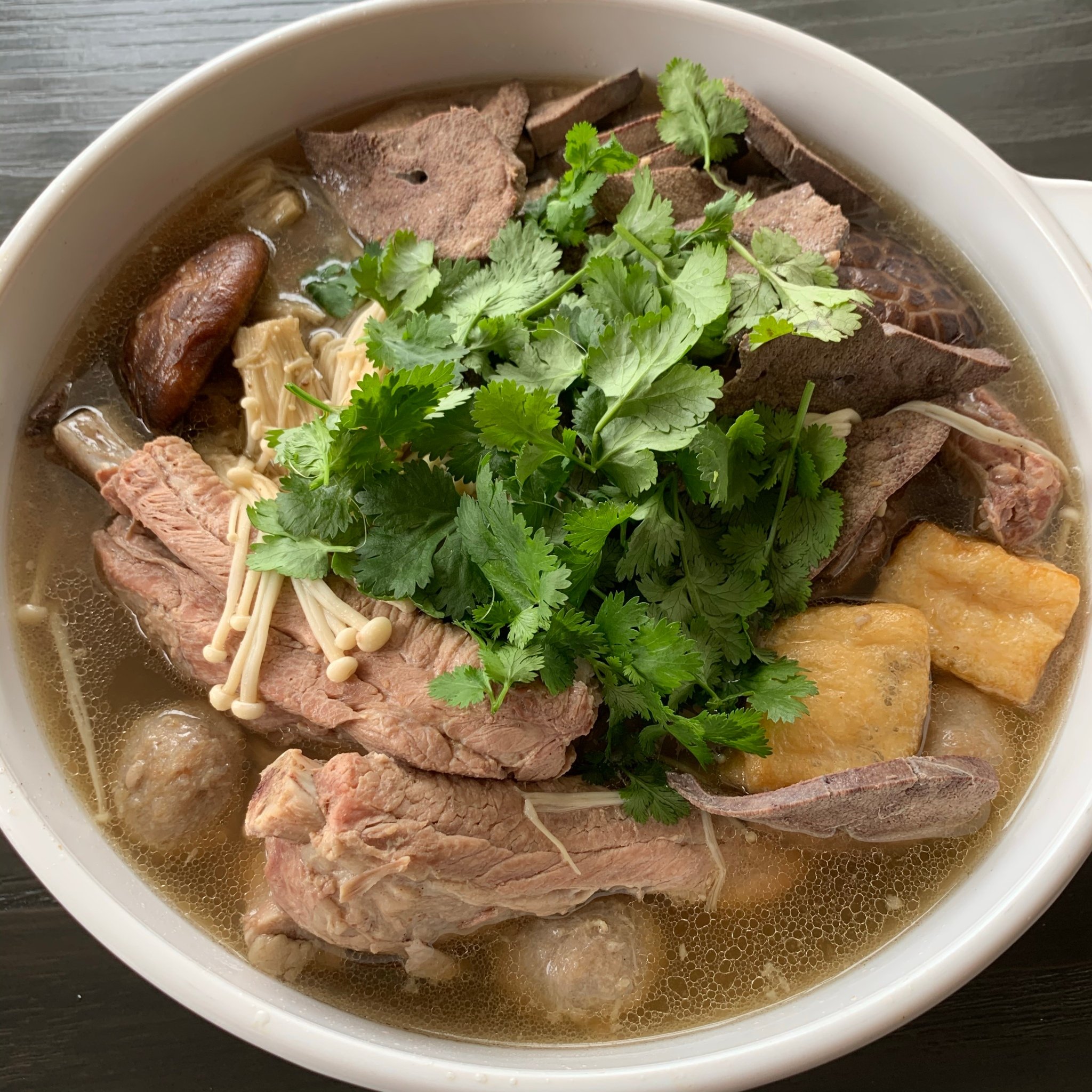 Bak kut teh is the ultimate comfort food in Singapore, with hearty broth sporting thick cuts of meat, especially comforting in rainy weather. This dish literally translates to 'pork bone tea', but you won't find any tea in this pork-laden soup. Recipe from Nom Nom Princess.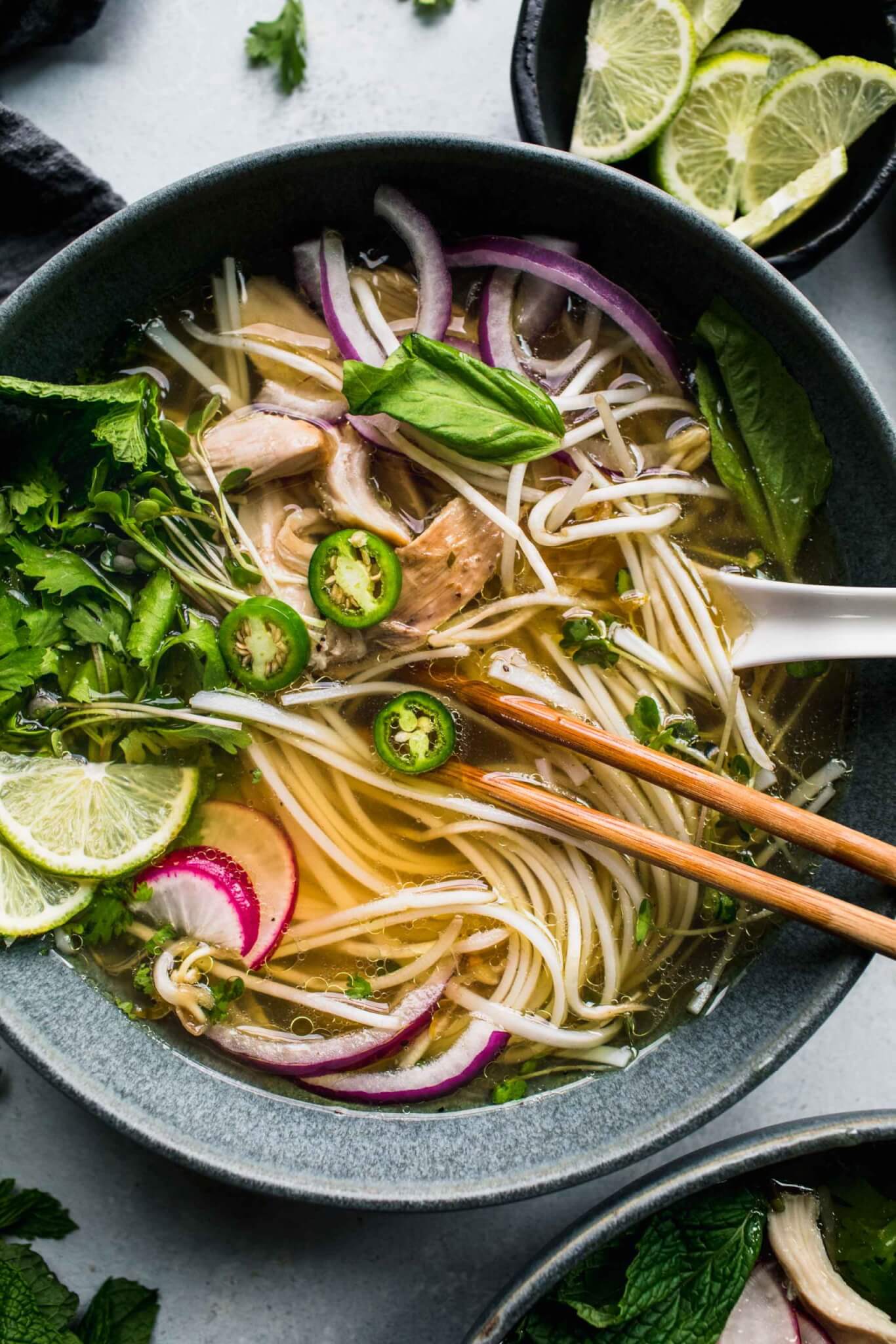 This delicious pho recipe results in a flavorful broth and tender chicken. Combined with rice noodles, toasted spices, and fresh herbs, this soup packs so much flavor. Recipe from Platings and Pairings.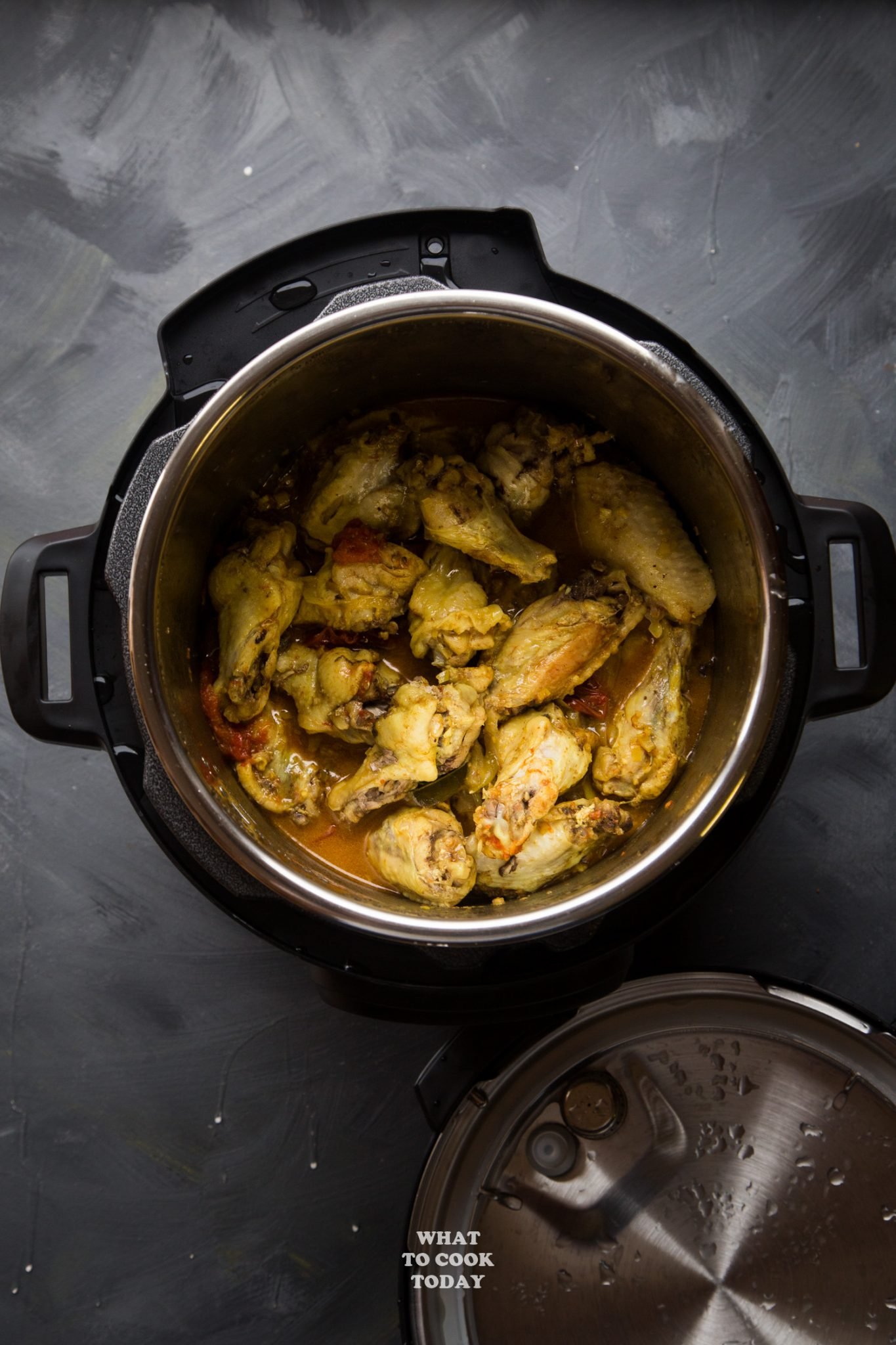 Here's a tip to making curry with coconut milk/cream. Boiling coconut milk will turn frothy and makes your curry not smooth anymore. Adding the coconut cream at the end of cooking time once it's done pressurized keeps it smooth. Recipe from What To Cook Today.
---
VEGETARIAN ASIAN INSTANT POT RECIPES
A quick and easy vegan meal packed with healthy vegetables and cooked in a flavorful sauce. Made at home in only 20 minutes, you'll have this delicious Lo Mein ready and on the table in less time than it takes to order takeout. Recipe from Piping Pot Curry.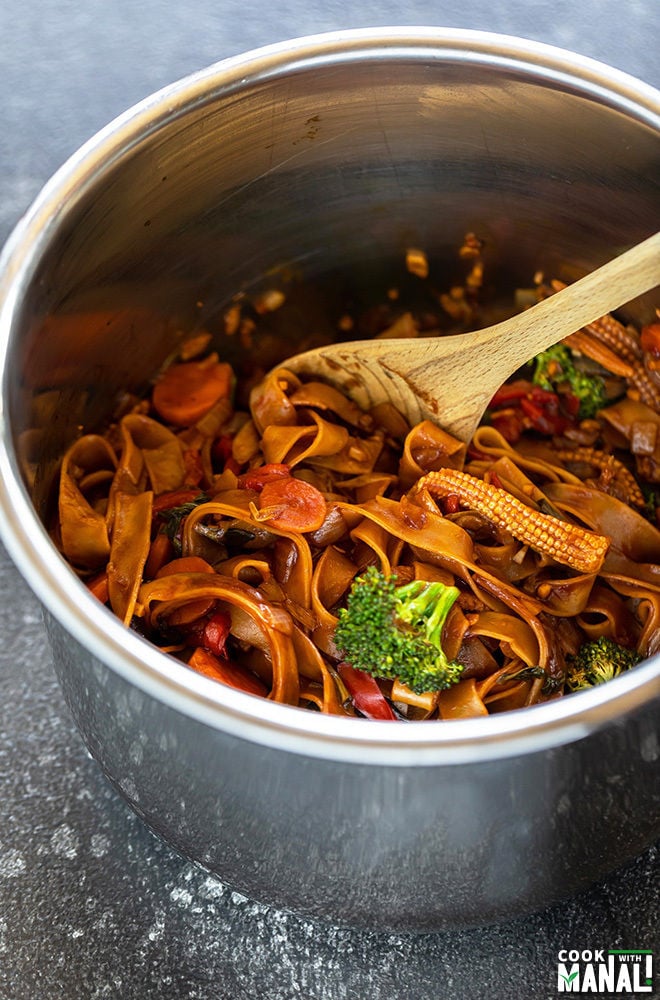 Super flavorful with a soy sauce-based sauce and made with wide rice noodles. Once the noodles and the veggies are cooked, add the broccoli and let it sit in the pot for 5 minutes with a glass lid on. Recipe from Cook With Manali.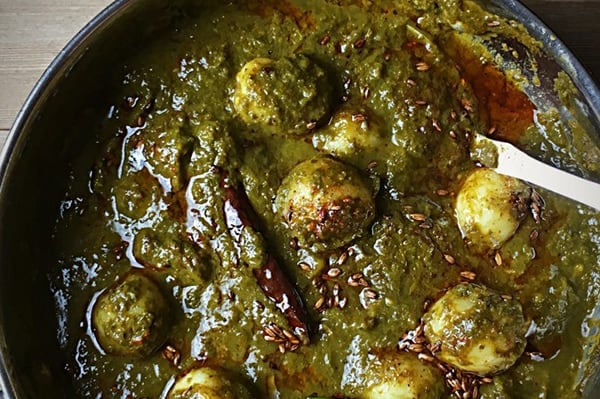 A famous dish of North Indian Cuisine. Traditionally, people use Winter Greens Mustard Leaves to make Saag. Kale leaves are used in this recipe. Recipe from Simply Vegetarian.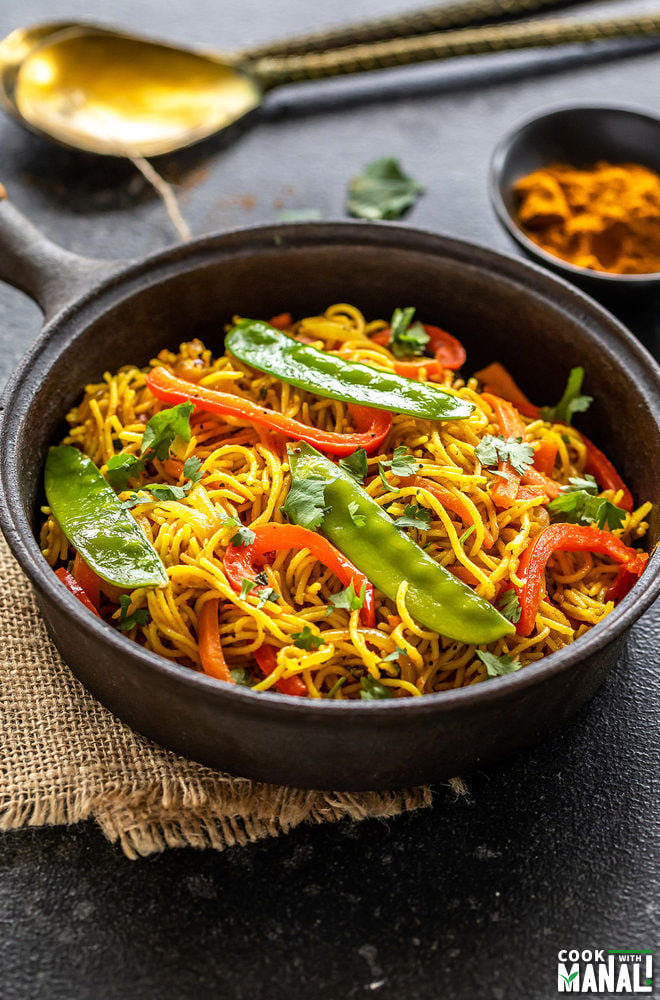 Rice vermicelli seasoned with curry powder and vegetables. The vegetarian version of Singapore Noodles made in the Instant Pot and done in less than 30 minutes. Recipe from Cook With Manali.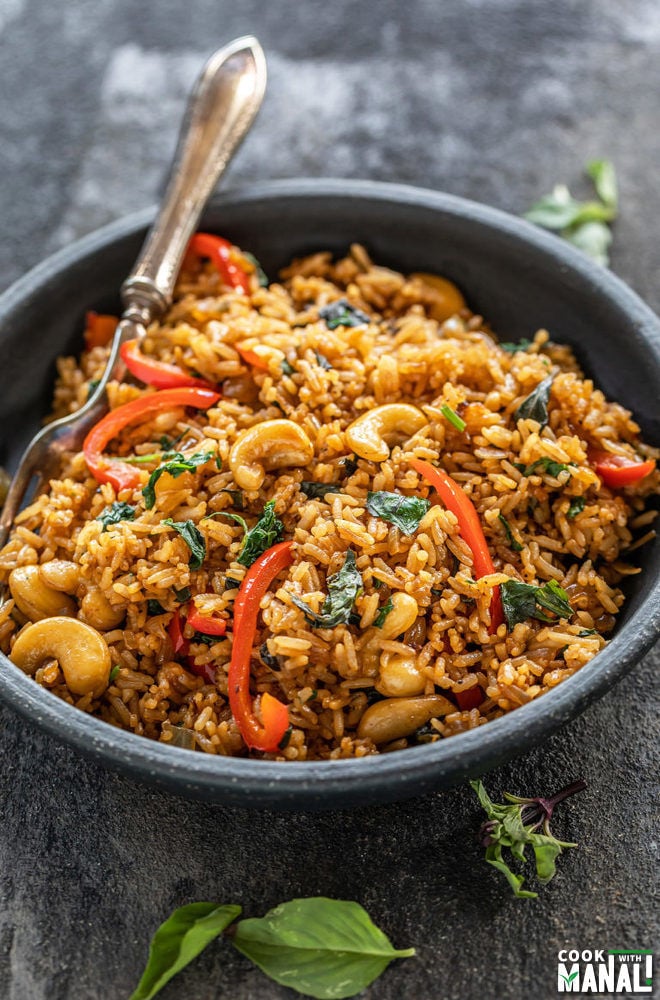 Vegan Thai Basil Fried Rice with onion, peppers and cashews and made in the Instant Pot! This fried rice pairs well with any curry or is great on its own too! Recipe from Cook With Manali.
---
MORE RICE & NOODLE ASIAN INSTANT POT RECIPES
This is a sticky noodle dish with a beautiful combination of maple, ginger and a touch of chili. What's nice about these Instant Pot noodles is that they are fast to make, cheap, super healthy and can be served on their own or with your favorite vegetables and protein. Get the recipe here.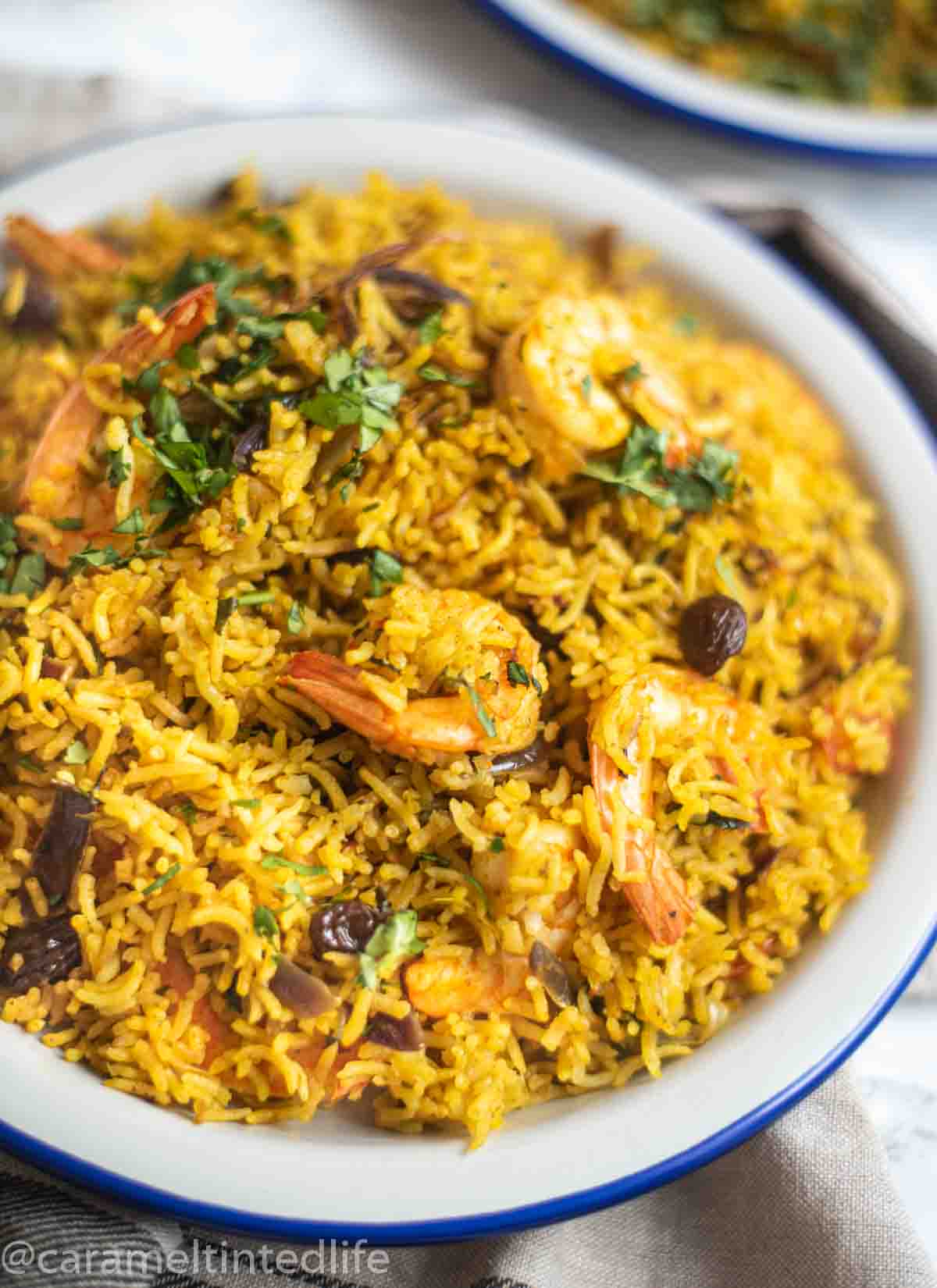 A delicious one-pot biryani made with long-grained aromatic basmati rice layered with prawns. A delicious meal that can be made in under 30 minutes! Recipe from Caramel Tinted Life.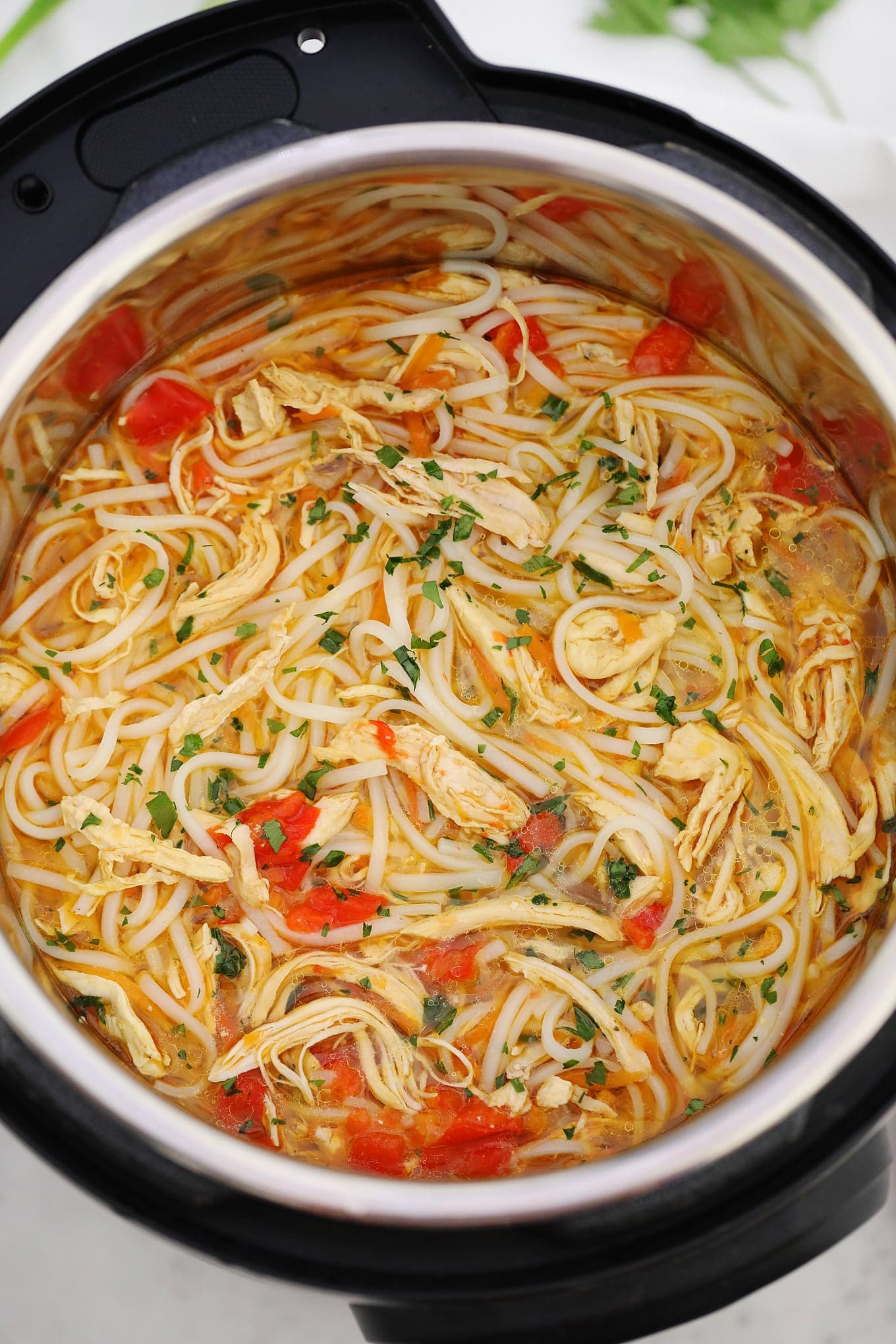 Instant Pot Asian Chicken Noodle Soup has all that you need for a filling meal – protein, fiber, and carbohydrates! The protein is in the form of the shredded chicken; the fiber from the veggies, and the carbs from the pasta. Recipe from Sweet & Savory Meals.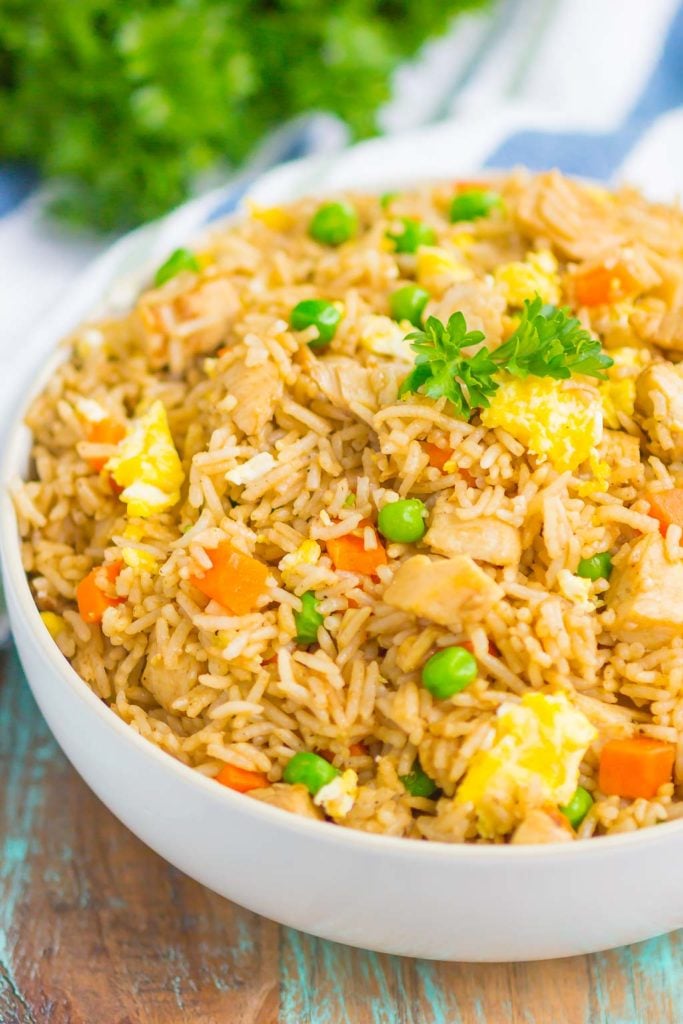 This is better than takeout chicken fried rice. You can control exactly what goes in this dish and how much flavor you want. Scrambled eggs, peas, carrots, chicken, and rice. Recipe from Pumpkin N' Spice.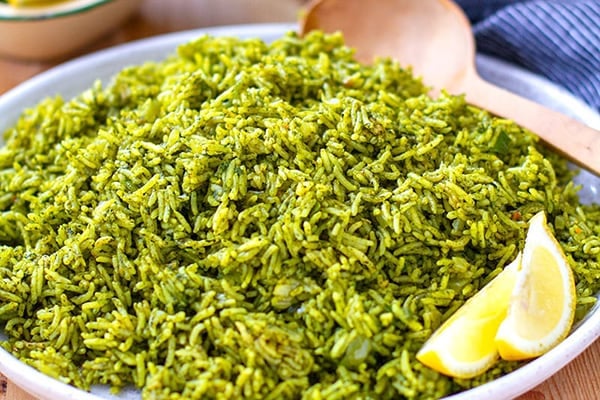 In this recipe, rice is cooked together with aromatics like onions, ginger and garlic and mild spices as well as pureed spinach, taking on gorgeous flavors and green colour. You can get creative by adding tasty and nutritious ingredients to the cooking rice, which will infuse it with flavor and color, and add interesting textures. Get the recipe here.
More Indian Instant Pot Recipes Here.
---
EVEN MORE ASIAN INSTANT POT RECIPES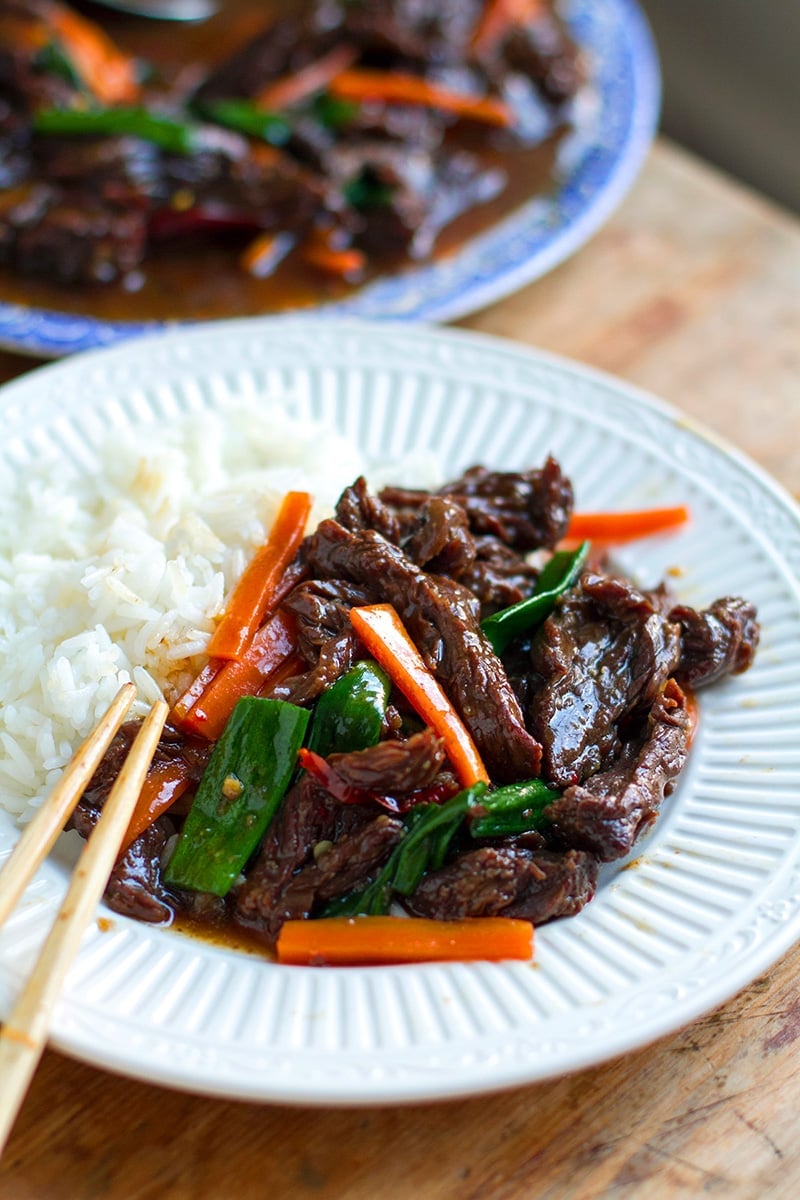 Made with flank steak and gluten-free, low-sugar ingredients, this Instant Pot Mongolian Beef is a healthy take on the Chinese classic. You can serve it with regular rice or cauliflower rice or greens for a paleo version. Get the recipe here.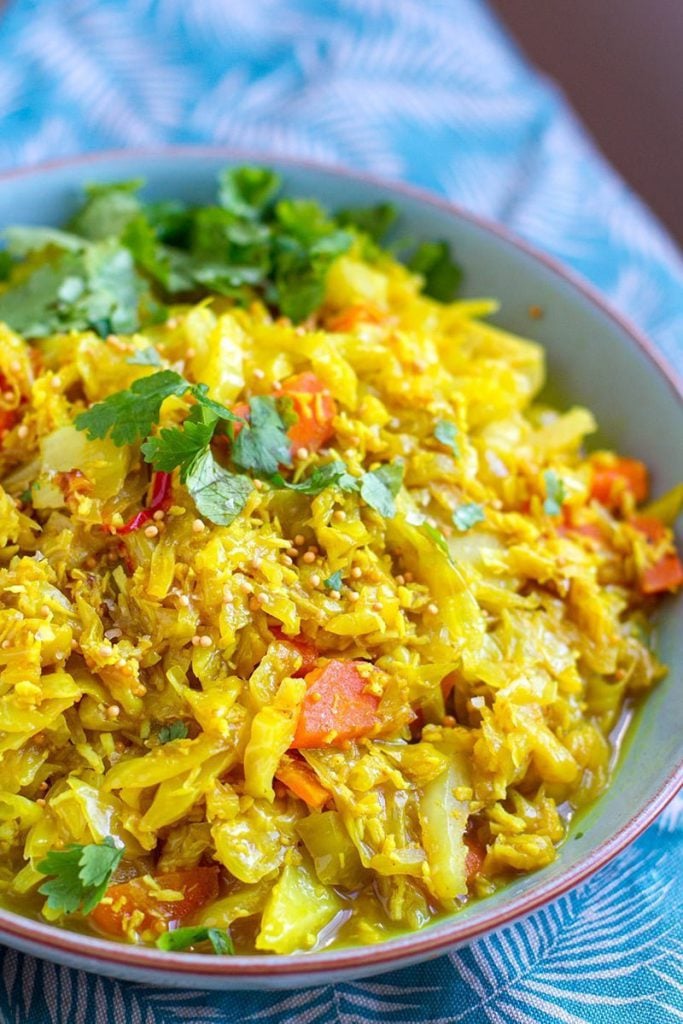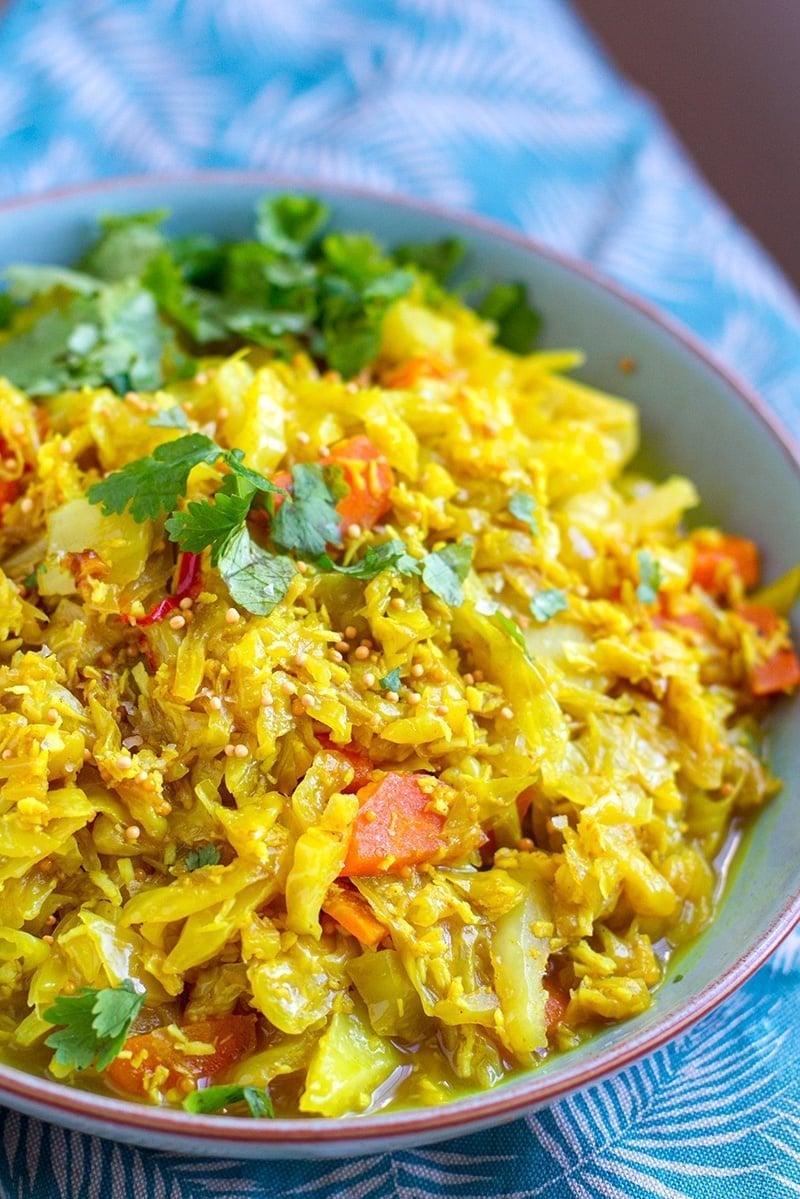 Cabbage is a nutritious and budget-friendly vegetable that is available all year round. It's great in raw salads and slaws but it's also perfect for cooking up a big batch of hearty soup or stew. This cabbage recipe is inspired by a Sri Lankan dish called mallum or mallung, which literally means "mix up". It's made with cabbage and warm spices like mustard seeds and turmeric, plus some delicious shredded coconut. Get the recipe here.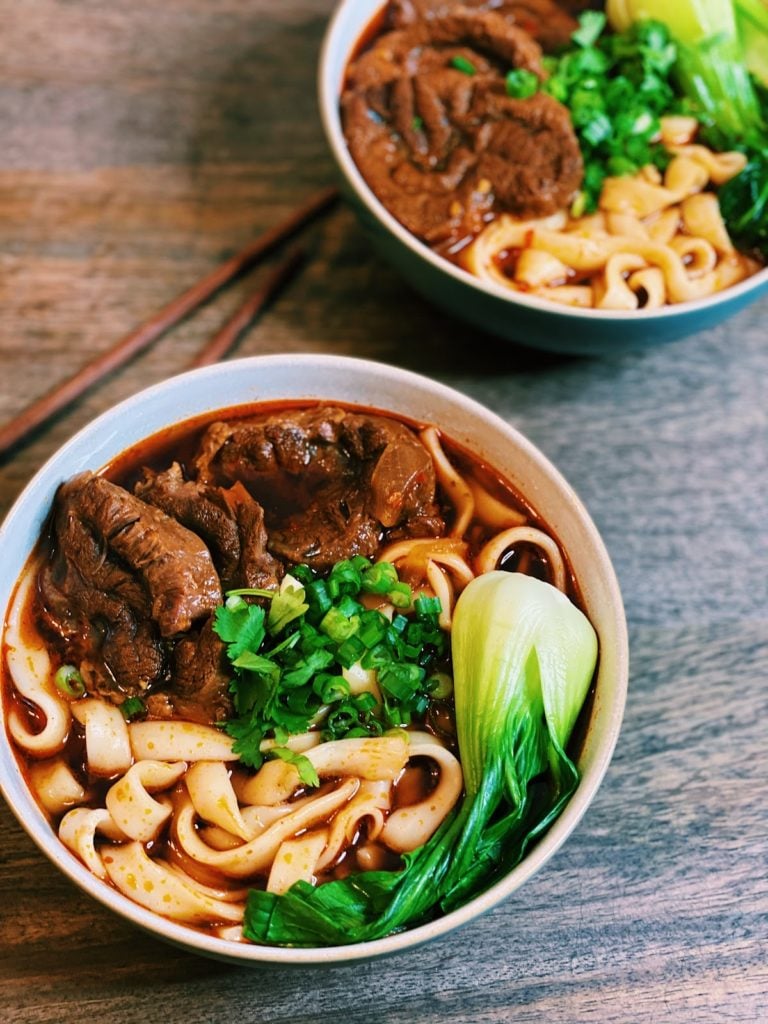 Super flavourful broth and the beef cooked to perfection. Taiwanese Beef Noodle Soup is the most famous street food dish in Taiwan. When you can't travel, you can make it at home. Recipe from Tiffy Cooks.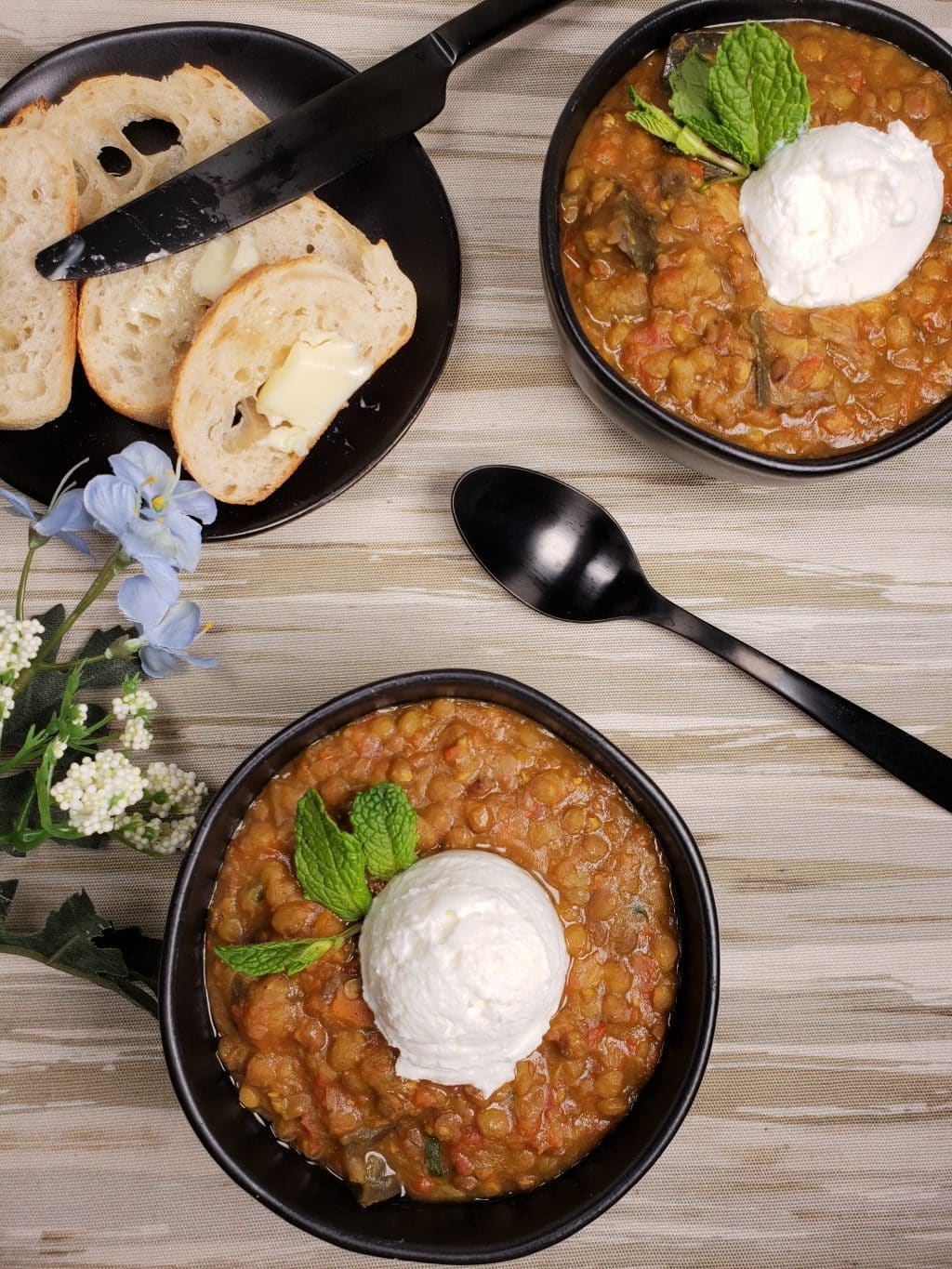 Homey, soothing and comforting is the best way to describe this Pressure Cooker Armenian Lentil Soup. Fragrant, spices, herbs and lentils, make this stew a "stick to your ribs" meal. Perfect for Vegans and Vegetarians. Recipe from This Old Gal.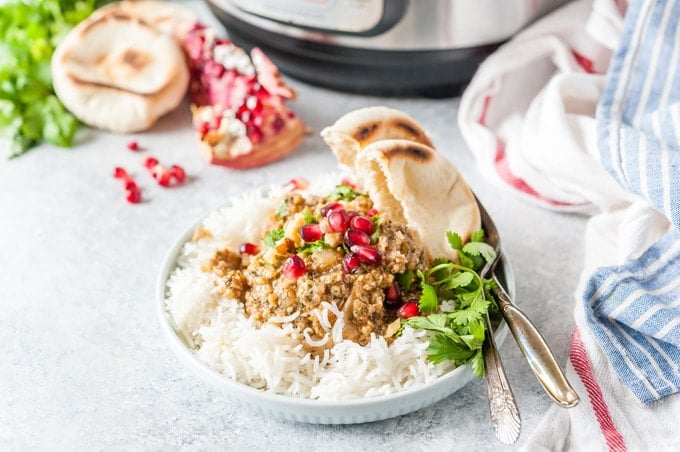 A delicious Georgian dish with only a handful of ingredients. It is served cold or hot and it's totally delicious over rice, pasta or on pita. It is also low carb and gluten-free. Recipe from Imagelicious.
---
SAVE best asian Instant Pot Recipes TO PINTEREST