If you're following a keto diet, the pressure cooker is a valuable kitchen tool. These lovingly curated Instant Pot keto recipes will show you how to achieve satiating, tasty and low-carb meals with ease and speed.
---
The keto diet has grown steadily in popularity over the years, and it's something we don't see losing its hype any time soon. A low-carb, high-fat diet can be beneficial for many people. It's notorious for yielding amazing weight loss results, but it's not only good for shedding pounds. It can be a great way to kick sugar addiction, lower cholesterol and blood pressure, heal from autoimmune disease, improve fitness, and prevent disease.
The keto diet is founded on a basis of healthy, nourishing fats like avocado, grass-fed butter and ghee, coconut products, quality cheese, and meat of course. Oh, but don't forget the veggies! Leafy greens and cruciferous veggies, in particular, are fabulous for loading up on macronutrients while eating low-carb.
Like with any diet that eliminates a lot of foods, learning to cook interesting, balanced meals without using up too much precious time is key. The Instant Pot and keto go hand-in-hand when it comes to planning ahead and staying on track. Here are some of our favourite Instant Pot keto recipes.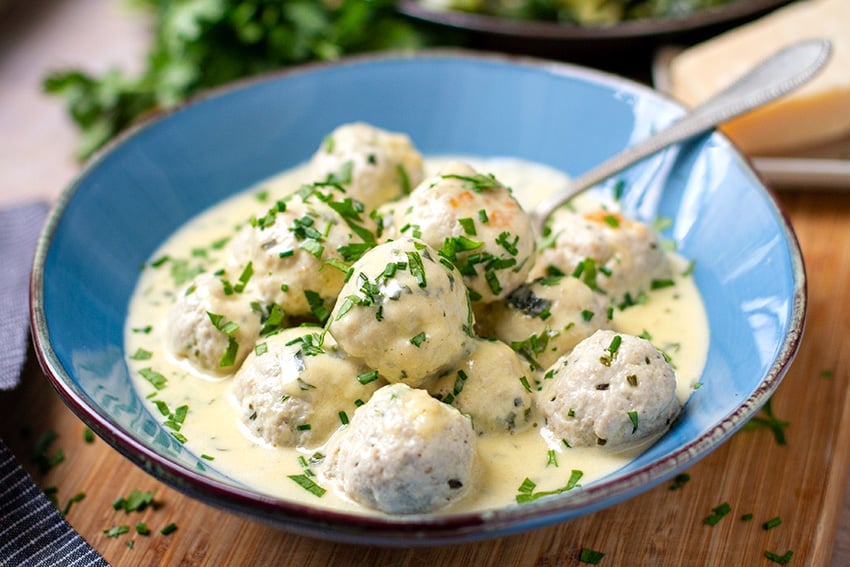 Smothered in creamy white sauce and served over sauteed leafy greens, these Instant Pot keto chicken alfredo meatballs have the potential to get on our weekly cooking rotation. Why? They are super easy to make, taste delicious and use easily accessible ingredients. Plus, this meal is gluten-free, low-carb and keto-friendly and kids love 'em.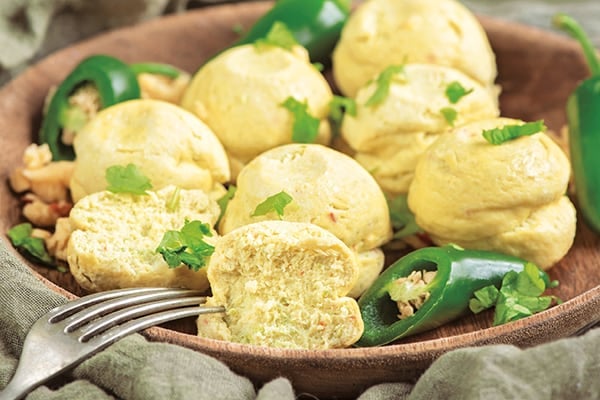 Jalapeño adds a nice kick to this easy to make and convenient egg bites. They can be popped into the microwave for a quick weekday breakfast and are gluten-free and grain-free.
These smothered pork chops are a one-pot dish that's perfect for busy nights when you're short on time but still want a homemade dinner that's quick and easy. Serve over steamed asparagus and cauliflower rice or mash for that instant comfort fix.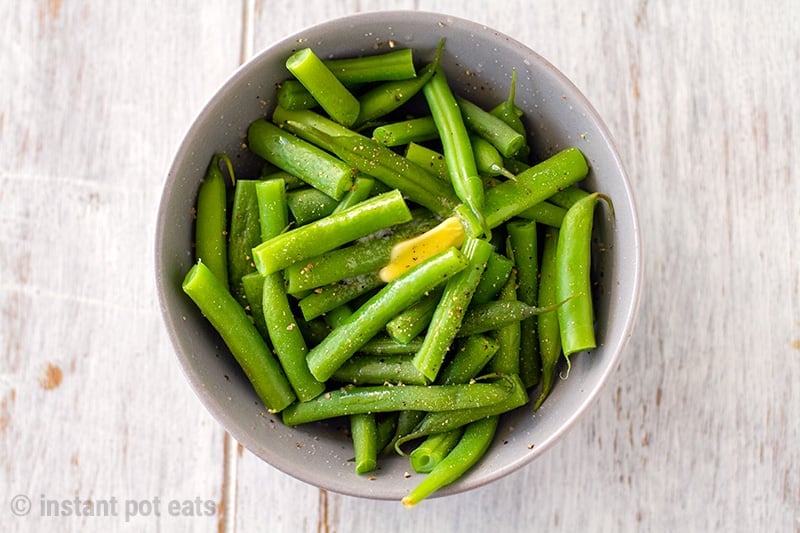 Looking for a keto-friendly vegetable side dish to go with one of these meals? Give these simple green beans a go. You can use fresh or frozen snap beans, which cook in absolutely no time in the Instant Pot.
Chicken thighs and mushrooms make the meat of this dish, served in a base of chicken stock and sour cream. It's keto-friendly and highly addictive with some seriously rich 'stick-to-your-ribs' food. You can make it dairy-free with coconut milk while still keeping it low-carb.
This dish comes together in just 15 minutes with perfectly cooked fish and tender veggies. You can swap out any low-carb choices you enjoy or ones that are in season. Omit the honey in the sauce and add your favourite low-carb sweetener instead for a true Asian flair.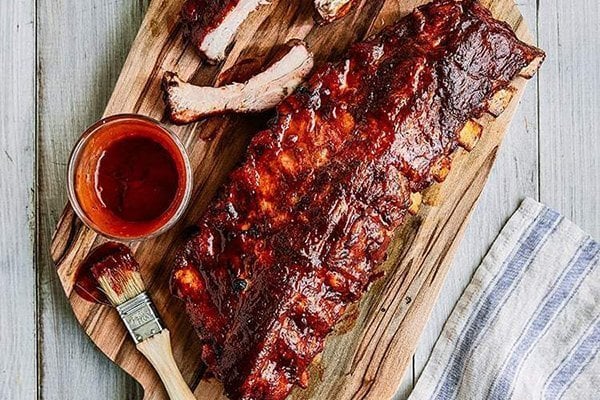 This delicious rack of smoky Instant Pot barbecue ribs is low-carb and keto-friendly. The pressure cooker method guarantees tender, fall-off-the-bone meat perfect for BBQ affairs and finishing up in the smoker, on the grill or in the oven with your favourite sauce.
Lasagna with no noodles… say what? Just eight ingredients and the press of a few buttons makes this cheesy dish packed with Parmesan, mozzarella, ricotta cheese and beef. It's as simple as that with a bit of sugar-free tomato sauce and egg to hold everything together. You won't miss the noodles when you've got all that cheese. Recipe from Ruled Me.
You really can't go wrong with this combination. Cream cheese, plenty of butter, and mushrooms make up the base, and each bite is stacked high with chicken, bacon, and spinach. You get your healthy fats, you get some protein, and you get your greens with this one. Recipe from 5 Dinners 1 Hour.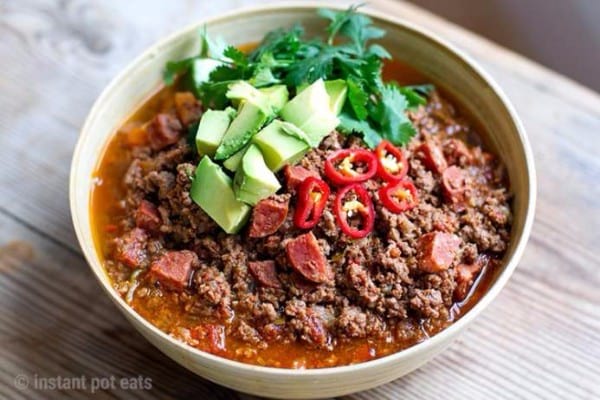 Turns out, a good chili recipe doesn't necessarily need the beans. This recipe loads up on the meat with a hearty blend of chorizo and beef, ensuring a high-fat meal that will be satiating. Cooked with carrots, celery, and red chili, each bite packs a punch of tasty heat.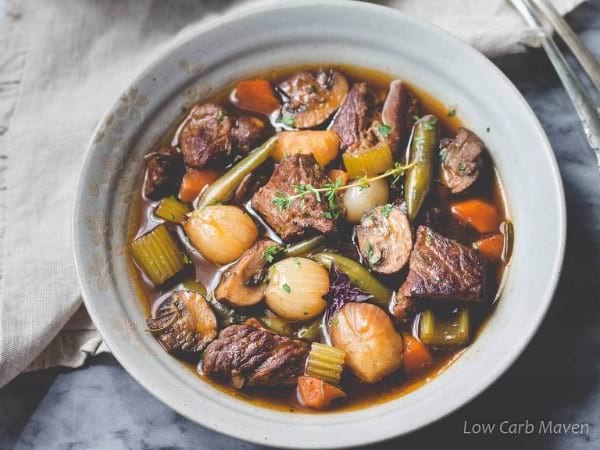 Beef stew is often loaded with potatoes, but eliminating the starch makes this classic comfort food totally keto-friendly. This recipe is the perfect one to start with for a basic template with whole mushrooms and celery root to add bulk to the dish. Recipe from Low Carb Maven.
It's super important to include plenty of fibre on a keto diet. Greens are the answer – especially cruciferous greens like cabbage. This stellar side dish is spiced with turmeric and mustard seeds, then tossed with desiccated coconut to boost your fat intake. It's perfect with your choice of protein.
Forget the tortillas. Bowls are where it's at, especially on the keto diet. This "taco" in a bowl boasts tender and spicy green chile pork, cauliflower rice, poblanos, Mexican cheese, and sour cream if you want to get fancy. Add some cilantro, avocado, and whatever else you like to keep it fresh. Recipe from Kalyn's Kitchen.
A simple side dish or a light lunch, this zoodles dish is easily made in the Instant Pot in just ten minutes. It's not just for "slow" cooking and meaty dishes! These are zesty with a hint of fresh lemon and a generous sprinkle of Parmesan. It pairs perfectly with meatballs (see above), sliced grilled chicken, or steamed fish.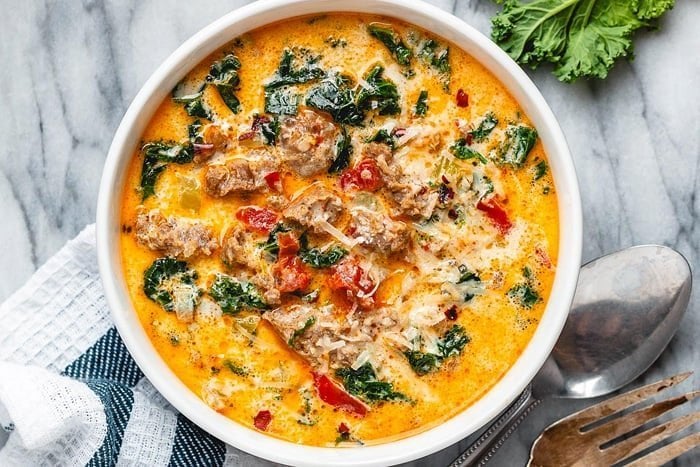 Creamy and hearty, you'll enjoy every spoonful of this Instant Pot Keto Tuscan Soup. Italian sausage, kale, sun-dried tomatoes, garlic, and onion are all simmered to perfection in a savory cream base. This sou tastes divine and it is unbelievably easy and effortless – anyone can make it! Recipe from Eat Well 101.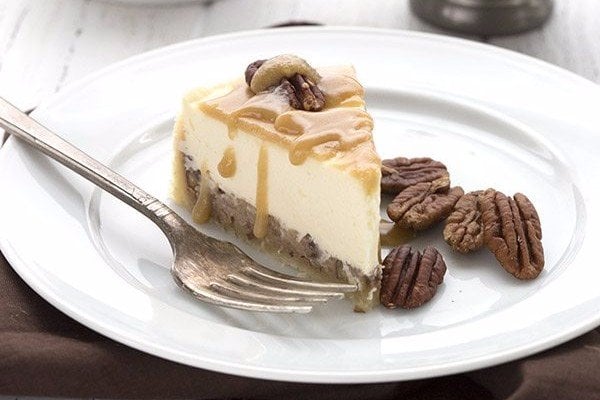 You know we had to include dessert on our list, especially when you can make cheesecake in the Instant Pot. Considering the ingredients besides the crust and sugar are pretty keto on their own, all it takes is a few simple tweaks. This recipe uses almond flour for the crust, carb-free sweeteners, and a lovely butter pecan topping. Recipe from All Day I Dream About Food.
This is an easy keto cake recipe that satisfies the chocolate craving for several diet restrictions. It is a perfect pour and bake cake recipe if you are low-carb, keto, gluten-free, or vegetarian. And a bonus? It tastes just like the real thing. And you can feel great having a slice. Recipe from Two Sleevers.
---
Feeling hungry yet? If you enjoyed these Instant Pot keto recipes, make sure to share this round-up with your low-carb or low-carb curious friends. Happy eating! SAVE INSTANT POT KETO RECIPES TO PINTEREST