Whenever you need a quick and easy or last-minute meal, a humble sausage link can take your dish from average to a masterpiece. These Instant Pot sausage recipes will show how to use to create the most deliciously savoury meals from vegetable stews to pasta.
---
There are many reasons to keep a few sausages in the fridge or freezer. First of all, they are delicious on their own – grilled, roasted or braised; but, they are also a great source of protein and flavor to add to any dish you have going on. They are also super affordable and loved by kids and grownups alike.
So, What is A sausage?
Sausage is ground meat mixed with fat, salt, and other seasonings, preservatives, and some fillers. Any type of meat can be used in sausage, but most common are pork blends (due to fat content). It's available fresh, which needs to be cooked or already cooked, dried or cured form. Almost every cuisine has some kind of sausage (see some types below) that is often used in cooking.
THE ORIGINS OF SAUSAGE
After a butcher cut and prepared all the meat, there were bits and pieces leftover. Instead of throwing these pieces away and waste food, butchers created a sausage to use up the extra scraps. Salt and other spices were added to the meat to help it last longer and taste better. Traditionally, sausage is created by smoking, drying or salting.
Types of sausages
Kielbasa (smoked pork sausage from Poland and neighboring Slavic countries)
Andouille (smoked sausage originating in France)
Bratwurst (German sausage)
Italian Sausage (with herbs and garlic)
Chorizo (Spanish or Mexican spicy sausage)
Sausage is an easy way to get all the health benefits of the less-appealing parts of the animal and avoid wasting food. Today, you can find the gamut of mass-produced low quality to gourmet high quality. If you buy sausage from a good butcher, or a local supplier, you should be able to get high-quality sausages in an animal casing with no junk fillers. You can get dairy-free and gluten-free sausages, too, so look for those if you're avoiding those ingredients.
Check out this Guide to Sausage and How to Make Your Own or this Sausage 101: Your Guide to Everything Sausage for more info. Now, onto our favorite Instant Pot sausage recipes!!!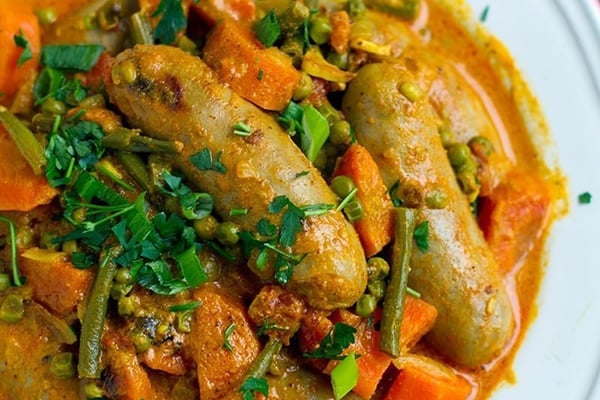 This curried sausages recipe is so, so simple! It's a dump'n'cook dish: you literally throw all ingredients in the pot, pop the Instant Pot lid on, set the time and relax. This dish is gluten-free but it does contain some dairy. If you're using dairy-free coconut milk, this dish is perfectly Whole30 and paleo compliant.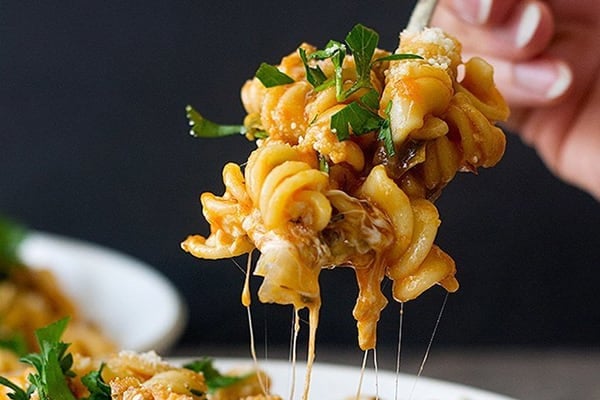 This one-pot sausage pasta is the perfect dish for busy weeknights! Just stir in some fresh mozzarella in pasta at the very end. It makes it extra delicious and creamy. The luscious melted cheese in every bite is to die for! Recipe from Unicore In The Kitchen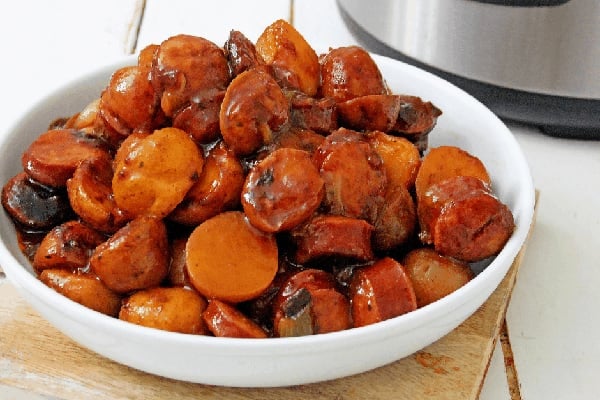 Normally you make sausage and potatoes on a sheet pan and bake it, but this recipe even easier: set it and forget it in your pressure cooker! With less than 20 minutes of hands-on cooking time, this dairy-free, gluten-free Instant Pot version of the classic sausage and potatoes recipe is yummy enough to serve for company and simple enough to enjoy on a busy weeknight. Recipe from The Moments At Home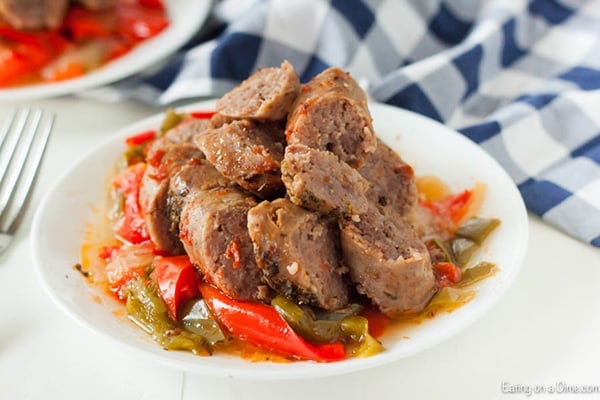 This Instant Pot Sausage and Peppers Recipe is perfect if you are following a low carb or keto diet. It's also kind to the budget. Recipe from Eating On A Dime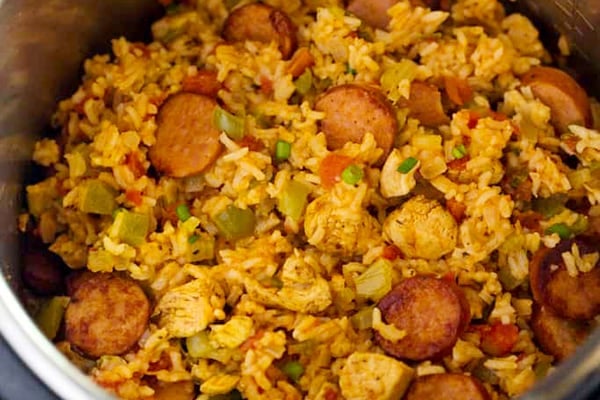 This easy jambalaya recipe is made with andouille sausage, chicken, uncooked rice, bell pepper, onion, celery and spices, all cooked together in just one pan, for a simple and flavorful meal that the entire family will enjoy. Recipe from Tastes Better From Scratch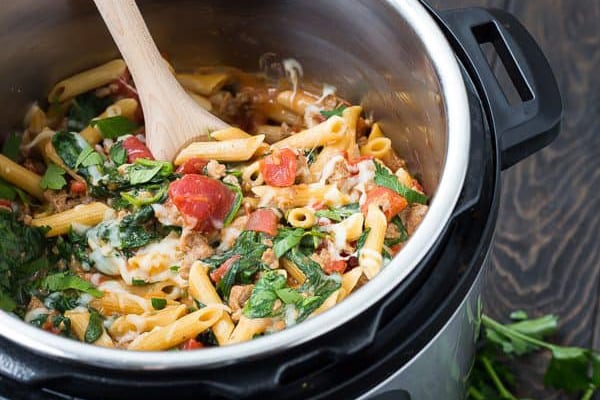 A complete pasta dinner made with Sausage, Spinach, and Tomatoes. You might have all the ingredients on hand already! It's healthy, satisfying, easy, and versatile. Recipe from Rachel Cooks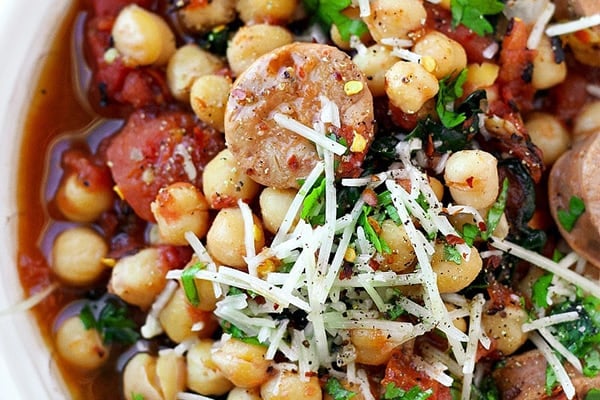 This Instant Pot Sausage Chickpea Stew is a deliciously healthy and nutritious one-pot complete meal! One-pot meals are so convenient to serve and little cleanup. Recipe from Garden In The Kitchen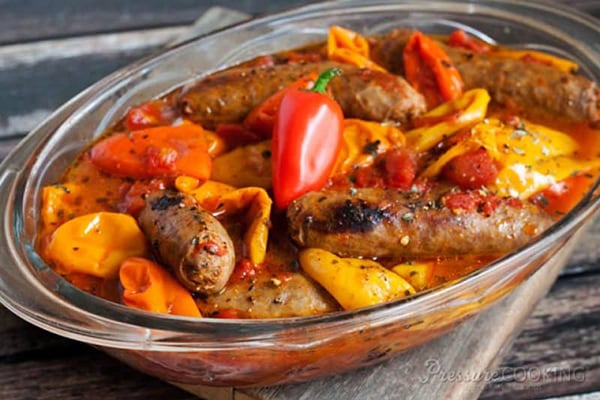 Named after a sweet Pressure Cooker Today reader, Teri, this recipe is adapted from her original recipe. Mild Italian sausages and sweet mini bell peppers pressure cooked in a flavorful tomato sauce. Recipe from Pressure Cooking Today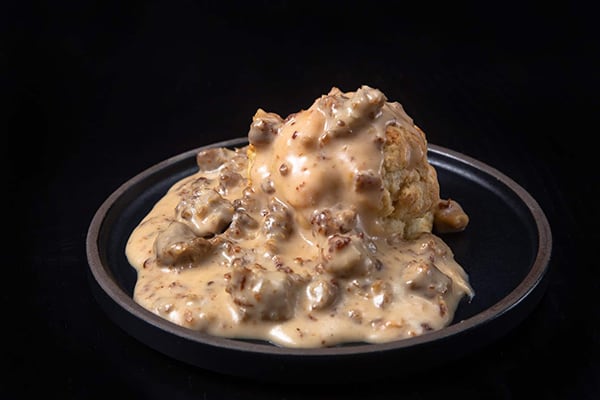 This Classic Biscuits and Gravy is a quick & easy hearty breakfast served with crisp & fluffy, buttery 2-ingredient homemade biscuits. The ultimate southern comfort food your family will love! Recipe from Pressure Cook Recipes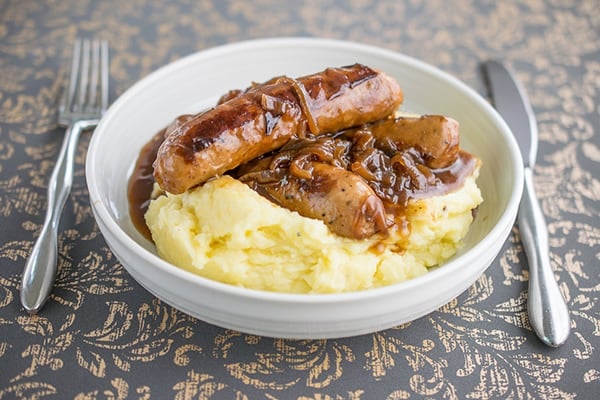 You can make mashed potatoes in 4 minutes and cook sausages to perfection in just 8 minutes?! One delicious and fast meal cooked in the Instant Pot pressure cooker. Serves two hungry people generously. Recipe from Every Nook and Cranny
More Instant Pot Sausage Recipes
---