When the grocery stores feel too chaotic or sparse, shopping in your pantry may be the wisest thing to do. Unlock your inner chef by cooking with pantry staples such as rice, pasta, quinoa, beans and lentils, canned tomatoes, and oats. Treasure the time spent with family and be creative together in the kitchen.
---
When the grocery stores feel a little too chaotic, shopping in your pantry may be the wisest thing to do. You might even find some treasures and unlock your inner chef. The best-tasting dishes are made with the fewest ingredients. And a stress-free chef gets to enjoy the journey. So where to begin? Well, we have some pantry based recipes to get you started.
Most people have basic staple ingredients such as rice, pasta, quinoa, beans and lentils, canned tomatoes, sauces, coconut milk, oats/oatmeal, etc. You can make a lot with various combinations of grains and seasonings. The less you have, the more creative you can be and more time spent with family.
Have you checked your freezer? There are probably a lot of forgotten meats and veggies. Remember those frozen peas that you used as an ice pack. You can add those peas to some yellow rice and corn. We have a collection of Frozen Foods recipes to help inspire you as well.
Pantry Staples
Dry Goods – Flours, Rice, Quinoa, Couscous, Lentils, Beans, Spices, Oats, Dried Fruit, Coconut, Nuts, Seeds, Sweeteners, Pasta, Bread, Crackers
Dried Spices – Garlic Powder, Onion Powder, Oregano, Basil, Ginger, Curry Powder, Cinnamon, Nutritional Yeast, Cumin, Chili Powder, Cayenne Pepper, Red Pepper Flakes, Baking Powder, Baking Soda, Salt & Pepper
Frozen– Frozen Vegetables (Peas, Broccoli), Frozen Protein (Chicken, Shrimp etc), Frozen Fruit (Berries, Mangos), Frozen Pizza, Frozen Bread
Refrigerated – Eggs, Cheese, Butter, Milk, Non-dairy Milk
Jarred Goods – Nut Butters, Seed Butters, Salsa, Spaghetti Sauce
Canned– Tomatoes, Beans, Coconut Milk, Tomato Paste, Pumpkin, Vegetables, Broths & Soups.
Vegetables with long Shelf Life– Potatoes, Celery, Onions, Sweet Potatoes, Pumpkin, Butternut Squash, Lemons & Garlic
Other – Coffee & Tea, Chocolate, Maple Syrup, Soy Sauce, Vinegar, BBQ Sauce, Honey, Mustard, Ketchup, Olive oil, Coconut Oil, Jams
1. INSTANT POT STEEL-CUT OATS WITH CRANBERRIES & ALMONDS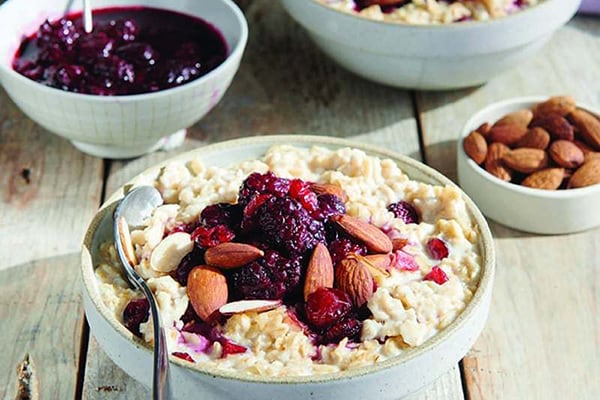 Wake up to creamy Instant Pot steel-cut oats with cranberries and almonds in the morning. It is the perfect simple portion-sized breakfast to enjoy for two. This guest recipe is from The Ultimate Instant Pot Cookbook For Two by Janet A. Zimmerman. Recipe from Instant Pot Eats.
2. Instant Pot Creamy Masala Steel-Cut Oats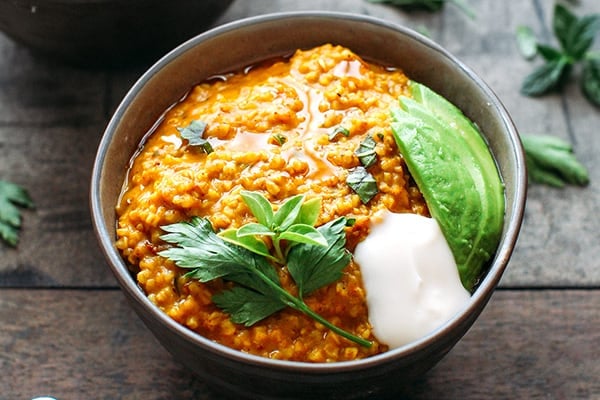 For those of you who prefer their breakfast on the savory side, this one is for you. These Masala steel-cut oats are ready in less than 10 minutes and the best thing about it is that you can put everything in the Instant Pot, set the timer and wake up to creamy and cozy oatmeal! Recipe from Full of Plants.
3. INSTANT POT RISOTTO WITH CELERY & PEAS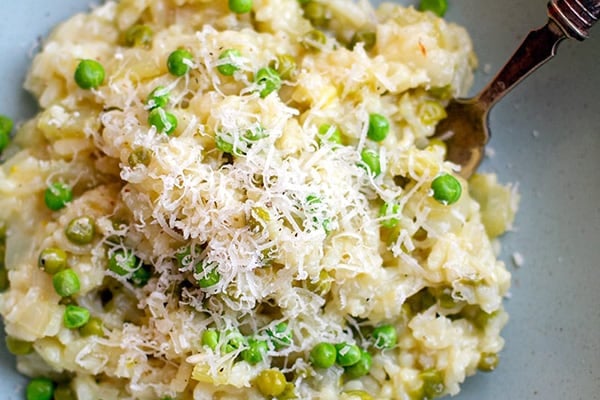 Do you have frozen peas in the back of your freezer? Forgotten and only used as an ice pack. This quick and easy Instant Pot risotto is perfect for a budget. Made with frozen peas, celery, and parmesan. Recipe from Instant Pot Eats.
4. Instant Pot Quinoa Fried Rice
Instant Pot Quinoa Fried Rice is a whole grain, high protein, veggie-loaded solution for lackluster restaurant Chinese fried rice. Open your mind and palate to this new improved quinoa version, this is going to become a regular in your home! Recipe from Tidbits.
5. INSTANT POT SHRIMP WITH TOMATO & GARLIC SAUCE (FROM FROZEN)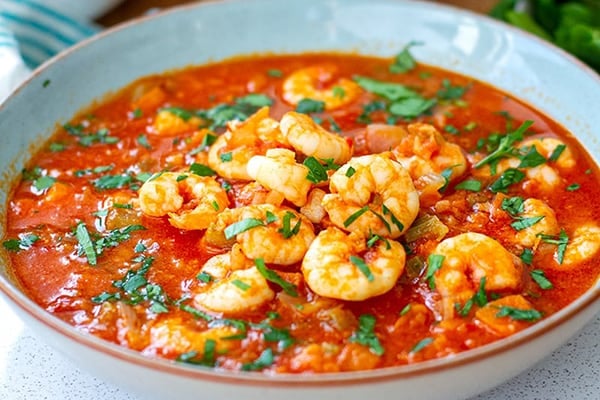 Super easy, delicious Instant Pot shrimp in tomato, garlic and chili sauce. Cooked from frozen shrimp, this dish only takes about 15 minutes and can be served over rice, pasta, noodles, or grain-free, low-carb alternatives. This dish is low in calories, high in protein and antioxidants. Recipe from Instant Pot Eats.
6. PRESSURE COOKER BOW TIE PASTA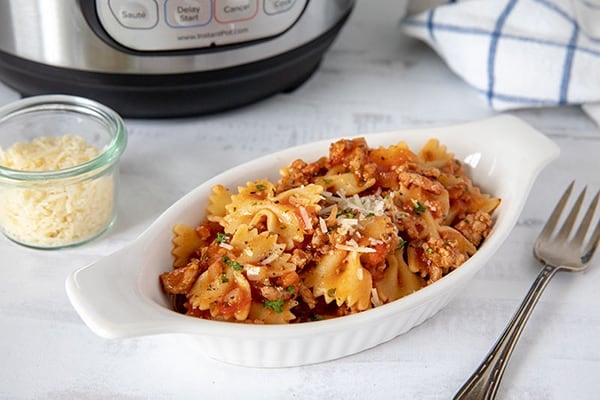 The perfect weeknight meal—quick, easy and delicious! The pasta cooks in the sauce so you only have one pot to clean up. These fun bow tie shape is great for the pressure cooker because it is less likely to clump than thin spaghetti-like pasta. Recipe from Pressure Cooking Today.
7. LOW-CALORIE INSTANT POT LENTIL SOUP (VEGAN, GLUTEN-FREE)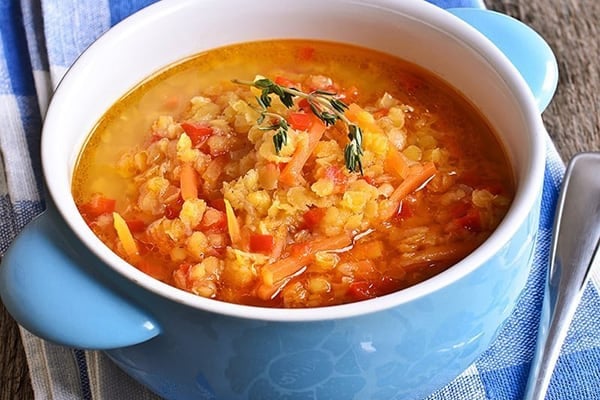 This gorgeous Instant Pot lentil soup is a delicious and healthy meal full of plant-based protein, fiber, and nutrients. We wanted to keep it super simple, vegan and gluten-free, however, you can add other ingredients and use this recipe as a template. Recipe from Instant Pot Eats.
8. Instant Pot Salsa Chicken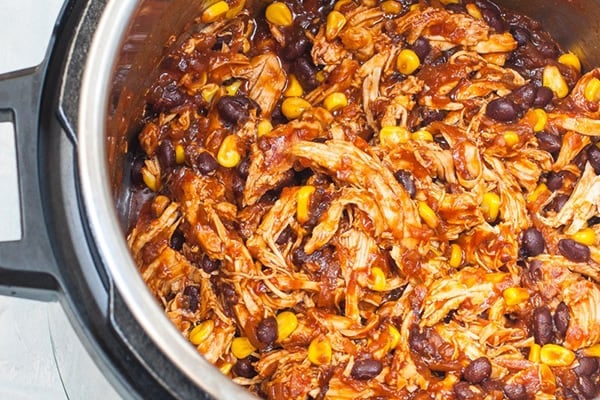 One-Pot Shredded Mexican Chicken or Taco Chicken cooked with salsa, frozen Corn and Beans. It's a super simple Dump and Go recipe. It also freezes well. In fact, you can dump all the ingredients in a freezer bag and freeze it for a quick weeknight dinner! Recipe from Yellow Thyme.
9. INSTANT POT BURRITOS WITH RICE & BEEF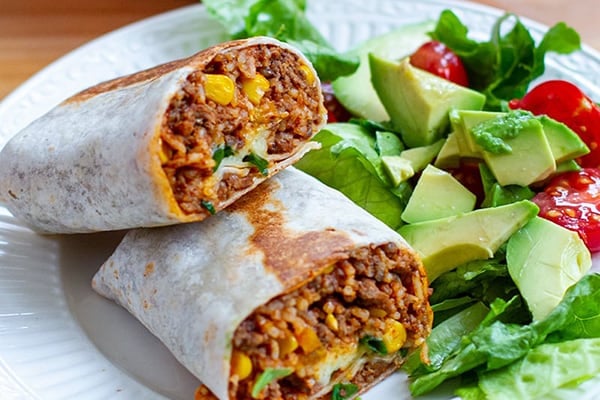 These fabulous Tex Mex Instant Pot burritos feature tasty, spiced rice, beef and corn filling, grated cheese and fresh cilantro wrapped in a soft tortilla. Grill for a crispy finish, serve right away, or make-ahead for later as they store and freeze well. Recipe from Instant Pot Eats.
10. INSTANT POT® JASMINE RICE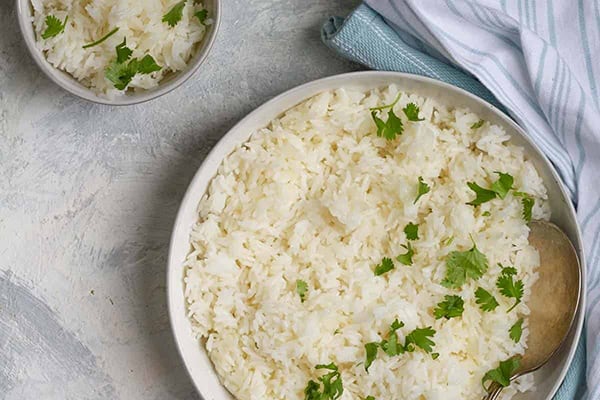 Rice is one of the best sustainable sources of food in an emergency. It's top of the list for pantry items. The Instant Pot makes it stress-free to cook and perfect every time. Recipe from Champagne Tastes.
11. INSTANT POT CHICKEN WINGS (FROM FROZEN) WITH BUFFALO SAUCE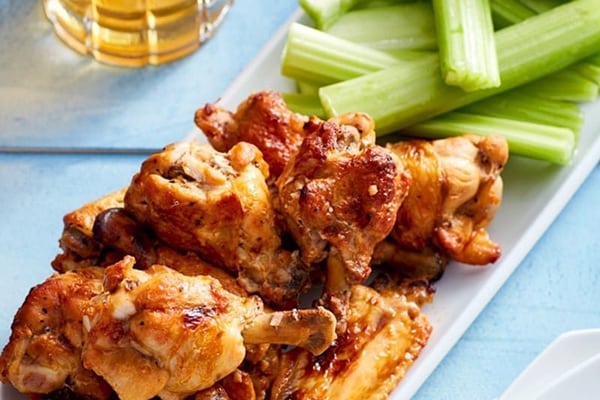 If you're looking for a super fast and easy recipe for how to make Instant Pot frozen chicken wings, this is it! The wings thaw quickly and cook in no time, and smothered in the delicious buttery hot Buffalo sauce, they are so delicious! Suitable to low-carb, gluten-free and keto diets. This is a guest recipe from the cookbook From Freezer To Instant Pot by Bruce Weinstein and Mark Scarbrough. Recipe from Instant Pot Eats.
12. Instant Pot Tuna Noodle Casserole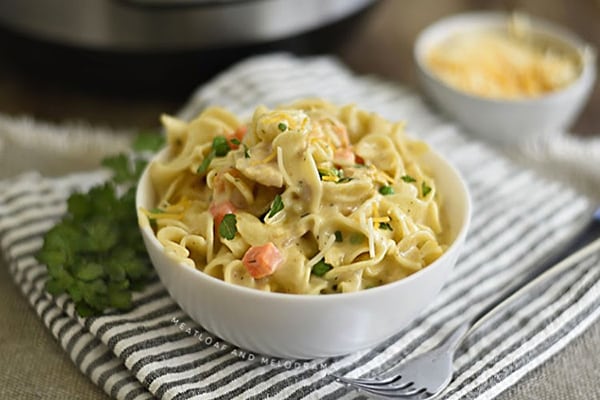 Tuna cans are definitly an easy go-to emergency food source. Just add pasta, peas and carrots in a cheesy creamy sauce for a quick and easy dinner in under 30 minutes. Recipe from Meatloaf and Melodrama.
13. INSTANT POT BLACK BEANS WITH SPICED FRIED ONIONS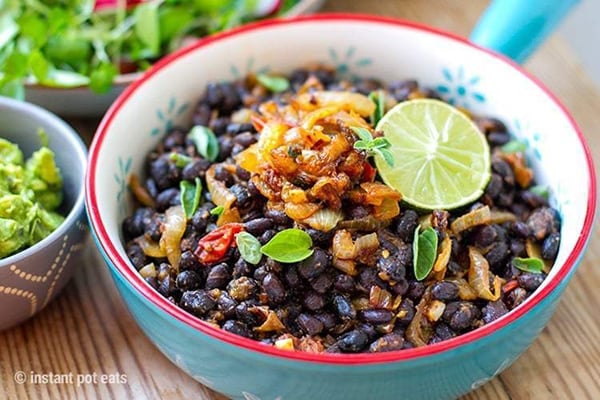 These beautifully spiced Instant Pot black beans with caramelized onions are vegan and gluten-free and would make a fantastic filling for tacos, a protein-rich main with rice, or as a side dish. Recipe from Instant Pot Eats.
14. Instant Pot Macaroni And Cheese (5 Ways)
You can't go wrong with macaroni and cheese when you have kids in the house. Make a basic bowl for them and jazz up your bowl five different ways. Recipe from 365 Days of Slow and Pressure Cooking.
15. INSTANT POT BABY POTATOES WITH DILL & BUTTER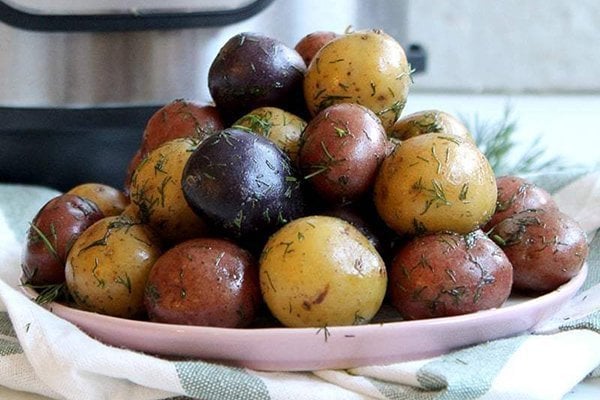 These Instant Pot baby potatoes with dill & butter will complement any main course on the table. It's a delicious crowd-pleasing side dish that works with any dietary restriction. For a dairy-free version, use olive oil instead of butter. Recipe from Instant Pot Eats.
16. INSTANT POT QUINOA VEGETABLE TABBOULEH SALAD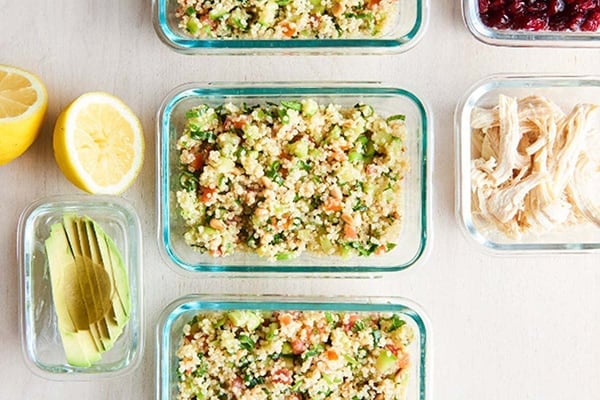 This Instant Pot quinoa salad is fluffy, full of chewy texture, and pairs well with vegetables and bright flavors of fresh lemon juice and herbs for a great grab-and-go meal prep lunch to take with you to work. This recipe is gluten-free. Recipe from Instant Pot Eats.
17. Instant Pot Pantry Chili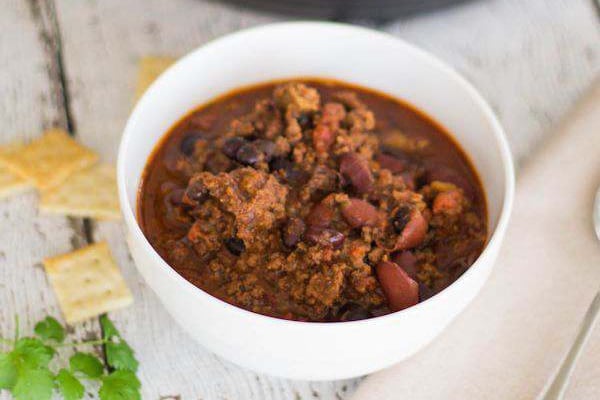 Who doesn't love a good bowl of chili when its cold outside. Fast and easy hearty Pantry Chili made in the Instant Pot and with ingredients you already have. One-pot cleans up later makes this the perfect meal. Recipe from My Life Abundant.
18. VEGAN BEAN BURGERS TWO WAYS (WITH INSTANT POT)
You don't need to be a plant-based diet enthusiast to enjoy these vegan bean burgers. Made with a variety of nutritious beans (navy and pinto) and tasty ingredients like sun-dried tomatoes, carrots, garlic, and warm spices, these hearty and satiating burger patties will please the omnivores and vegetarians alike. Recipe from Instant Pot Eats.
19. INSTANT POT BANANA BREAD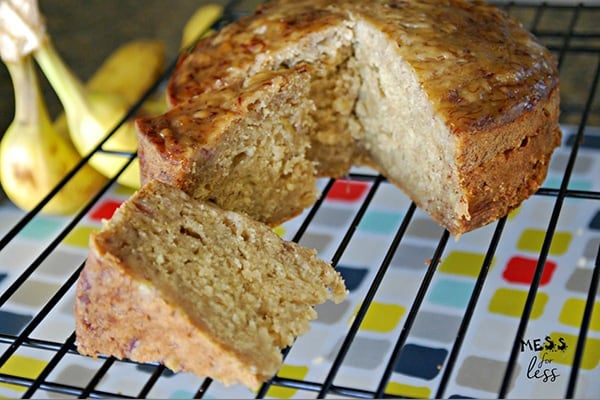 Somehow we never manage to eat all the bananas we buy before they get too ripe. No worries, just use the ripe bananas to make banana bread. The perfect excuse to make a sweet treat. Recipe from Mess for Less.
---
SAve These Pantry Staple REcipes to Pinterest