Thanks to aromatic herbs and spices, these 20+ Instant Pot recipes are bursting with flavor and are nutritious and delicious. Get inspired with dishes such as basil tomato sauce, Moroccan lamb stew, lemongrass carrot soup, and Italian herby chicken drumsticks.
---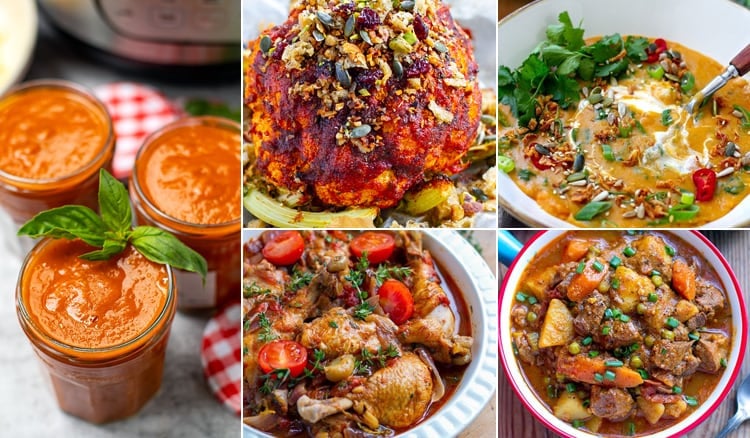 WHY USE HERBS & SPICES IN COOKING
Cooking with herbs and spices is an easy way to add amazing, delicious flavor to recipes while keeping them healthy. Whether it's aromatic curry blends or mixed Italian herbs, you can turn a boring dish into a masterpiece.
Plus, herbs and spices are sources of many nutrients and antioxidants and come with powerful health benefits. Check out the 7 most beneficial herbs and spices here. 
You don't have to have a huge spice cabinet to take advantage of these wonderful ingredients. Having a few staple herbs and spices or pre-made blends on hand is a great place to start.
---
INSTANT POT RECIPES FOR HERBS & SPICES LOVERS
So, let's get you inspired with these Instant Pot recipes using plenty of herbs and spices. Think fresh herbs but also dried, various spices and spice blends = bold flavors!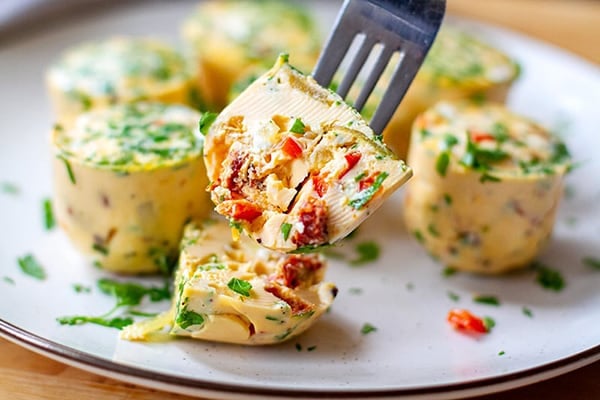 Egg bites are both delicious and convenient and making them in the Instant Pot mimics the French "sous vide' technique resulting in a velvety texture. We decided to go with the Mediterranean flavours using sauteed onions, sweet red peppers, sun-dried tomatoes and parsley and added creamy feta cheese. Get the recipe here.
Made with fresh tomatoes and fresh basil, this easy sauce requires no peeling of tomatoes. A great recipe for when you have a surplus of tomatoes or they're in season and very affordable. Get the recipe here.
Making aromatic, hearty tagines or stews is easier than you think; all you need is a few commonly found spices and ingredients like dried fruit, honey, and nuts. These flavors lend themselves beautifully to both meat and fish, and they work well with plant-based protein options like legumes. Get the recipe here.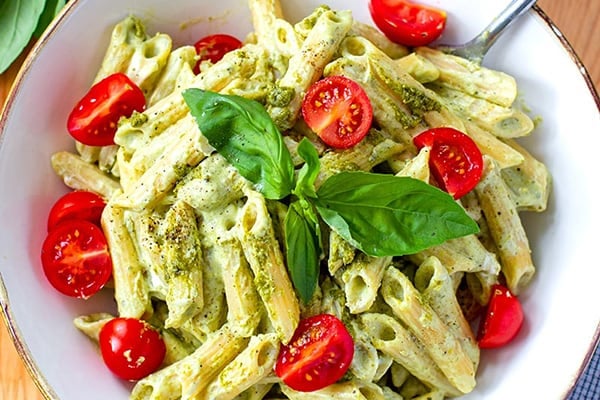 This creamy pesto pasta is super easy using only a handful of ingredients. Great for a busy weeknight while still healthy and delicious. Get the recipe here.
Made with lemongrass and cilantro, this quick and easy Instant Pot carrot soup is light, aromatic, and super nutritious. It's great for lunch or a light dinner meal, and you can serve it as a lovely starter at a dinner party. Get the recipe here.
Think zesty lime, fresh cilantro, fragrant curry, ginger, garlic, and coconut for the flavors that you are really going to enjoy in this creamy, hearty red lentil soup. Get the recipe here.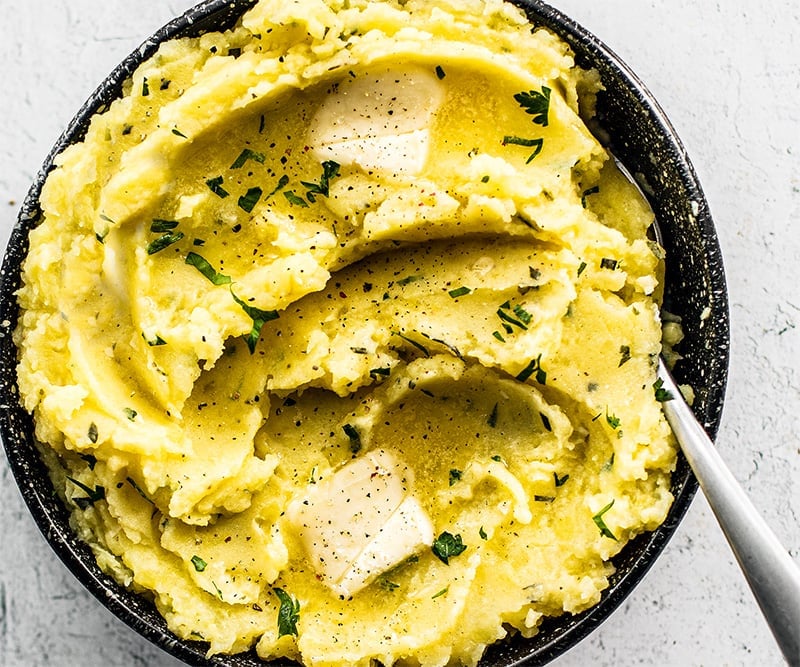 Herb and garlic Instant Pot cooked mashed potatoes are quick, easy, and impossible to mess up. Perfect for weeknight dinners or holiday entertaining. Get the recipe from Killing Thyme.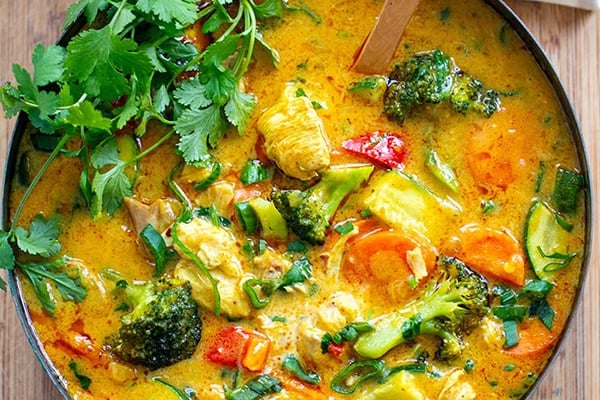 Making an authentic Thai curry can be a labor of love, especially if you make your own curry paste, but there is a much simpler and quicker way. This chicken curry is made in 30 minutes using ingredients you can find in most grocery stores. Get the recipe here.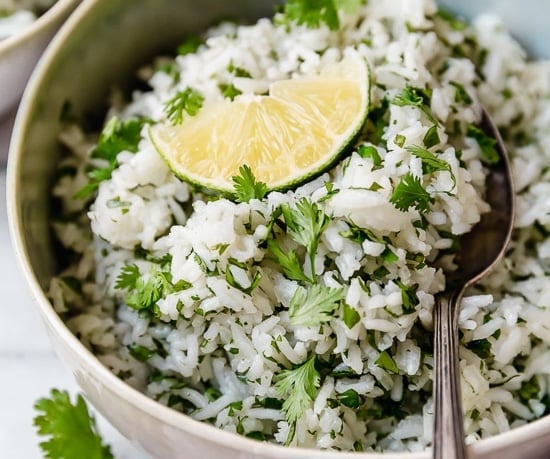 Super easy to make, this aromatic cilantro and lime rice is perfect in your favorite Chipotle burrito bowl or as a side with tacos or enchiladas. Get the recipe from Skinnytaste here.
Rich in Italian tomato sauce with herbs and garlic and meat falling off the bone, these Instant Pot chicken drumsticks are great served with pasta, rice, or veggies. Get the recipe here.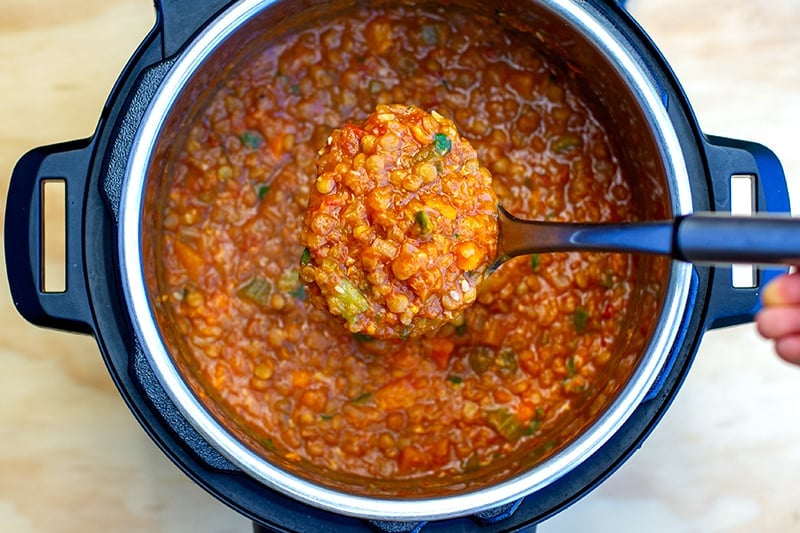 The smokiness comes from using smoked paprika. You can use regular sweet or mild paprika or add a little chipotle chile to get some of its smokey tones. The rest is a couple more seasonings, tomatoes, and veggies stock. It turns out thick, rich, and very comforting. Get the recipe here.
Easy, one-pot Instant Pot chickpeas in a spicy sauce with brown rice (also known as chana masala) are perfect for a vegetarian or vegan dinner. Pressuring cooking garbanzo beans and brown rice at the same time makes this a little-effort meal for the whole family. Get the recipe here.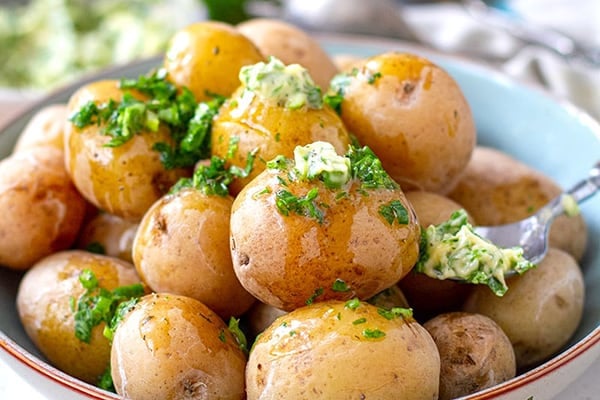 For our herb butter, we used a combination of parsley, thyme, and scallions. You can also use chives, basil, cilantro, or dill. Making flavored butter for potatoes just adds an extra level to your palette. Get the recipe here.
This incredible lentil dish will delight with its complex flavors and heavenly texture. It's a simplified version while staying as true to the original as possible. Using our method, you can enjoy this creamy Instant Pot dal in about 1 hour. Get the recipe here.
Beautifully seasoned, tender and juicy with aromas of fresh rosemary this delicious Instant Pot pot roast will get you asking for more. Perfect for a family dinner. Get the recipe from Perry's Plate here.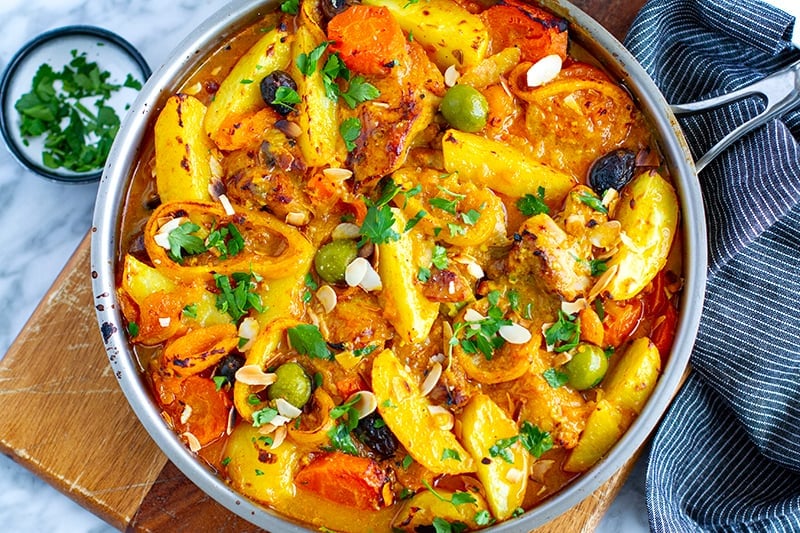 This chicken recipe is a perfect example of how to make a tagine dish at home. It has Incredible variety, beautiful spices, and unique flavor combinations of savory and sweet. Get the recipe here.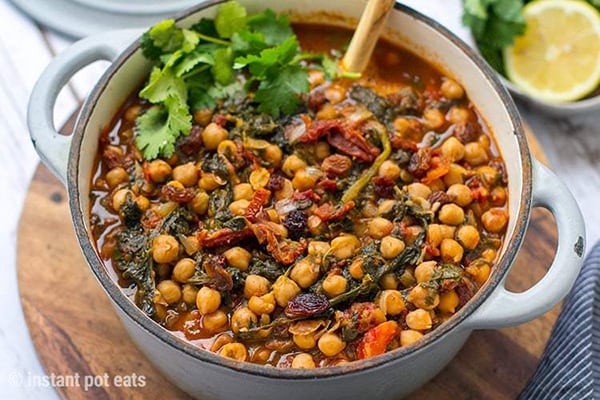 This vegan and gluten-free friendly chickpea stew is a delicious main meal full of Moroccan-influenced spices and flavors. Serve it over rice, couscous, or with some crusty bread. Get the recipe here.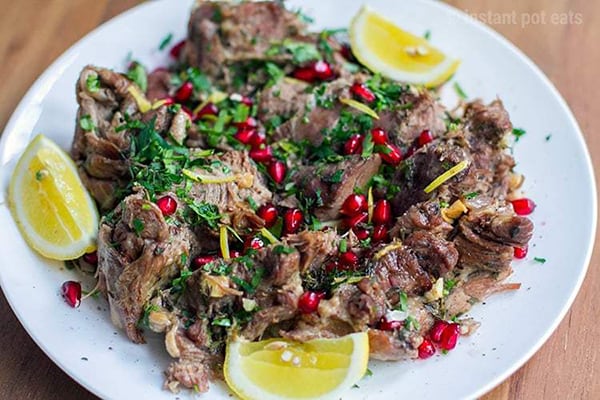 In this Instant Pot lamb roast recipe, we are taking inspiration from Greek cuisine. The meat is flavored with fresh thyme, garlic, and honey. We served it topped with fresh parsley, lemon rind, and pomegranate to cut through the richness of the meat and to make it look a little more festive. Get the recipe here.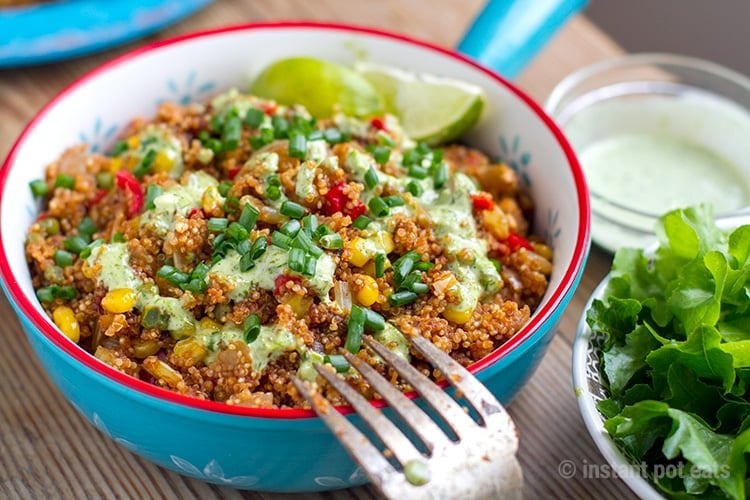 Cooked with vegetables and warm spices then topped with fresh cilantro and lime dressing. It's naturally gluten-free and vegetarian-friendly, perfect for dinner or lunch. Get the recipe here.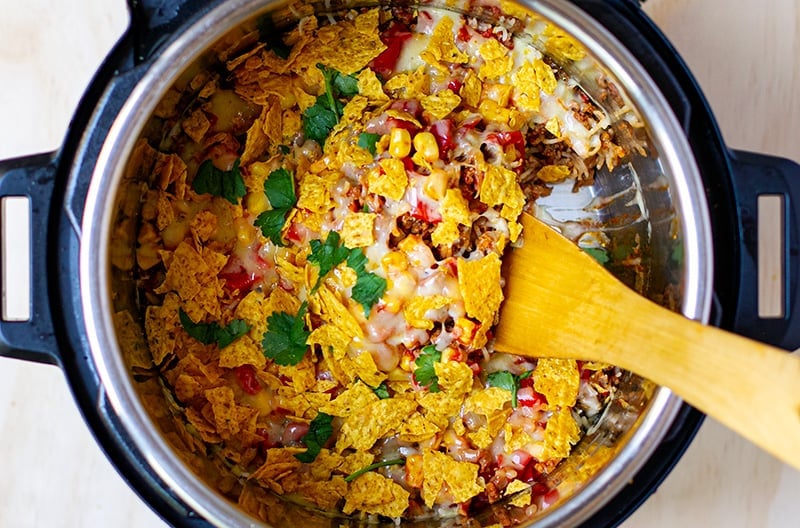 If you love Tex Mex flavors and hearty dishes like cheesy beef nachos, you will enjoy this Instant Pot Mexican rice casserole. It's really easy to make and is budget-friendly as you can use ground beef and pantry staples like rice, corn, and canned tomatoes. Finished with melted cheese and crushed corn chips on top. Get the recipe here.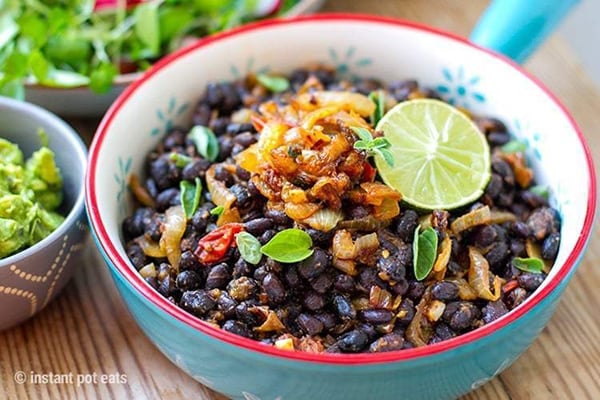 The magical combination of sticky, fried onions, cherry tomatoes, garlic, and warm spices takes plain ol' beans to the next level. These beautifully spiced black beans with caramelized onions are vegan and gluten-free and would make a fantastic filling for tacos, a protein-rich main with rice, or as a side dish. Get the recipe here.
Al pastor comes from central Mexico involving marinating meat in dried chiles, spices, achiote, and pineapple. Often pineapple is skewered on a grill with the juices dripping down on the pork while it broils. The meat is then shredded into strips and is typically served on tortillas with pineapple, onions, and cilantro. Get the recipe here.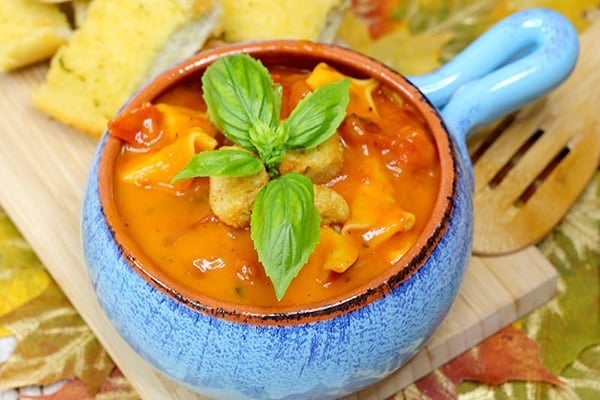 Featuring fire-roasted tomatoes and aromatic basil, this hearty and satiating tomato soup can be done with any type of ready-made tortellini – meat, ricotta, and spinach, or pumpkin – depending on your dietary needs. Get the recipe here.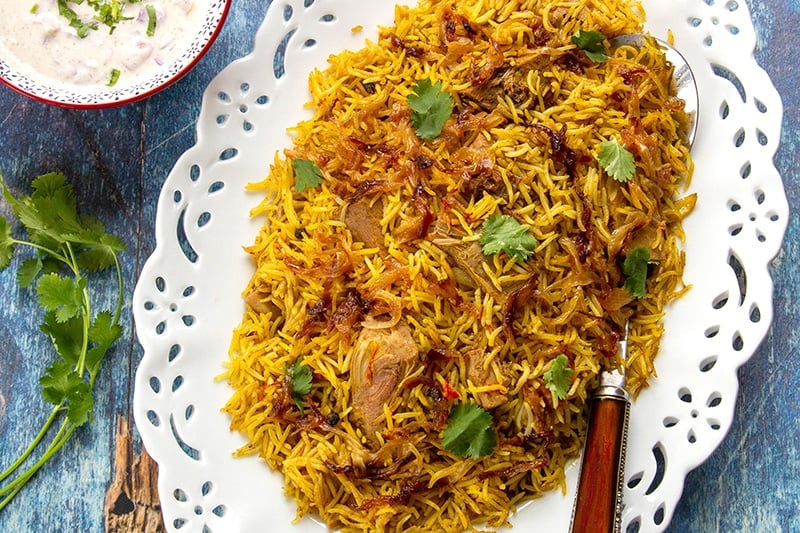 Biryani is an Indian dish that includes rice with spices like saffron, cumin, garam masala, and turmeric. It will often be cooked with aromatics such as ginger, garlic, and onions. In this recipe, jackfruit is the star as a meat substitute. Get the recipe here.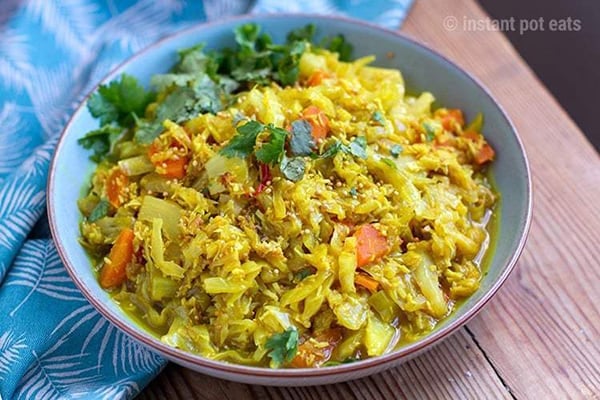 This cabbage recipe is inspired by a Sri Lankan dish called mallum or mallung, which literally means "mix up". It's made with cabbage and warm spices like mustard seeds and turmeric, plus some delicious shredded coconut. Get the recipe here.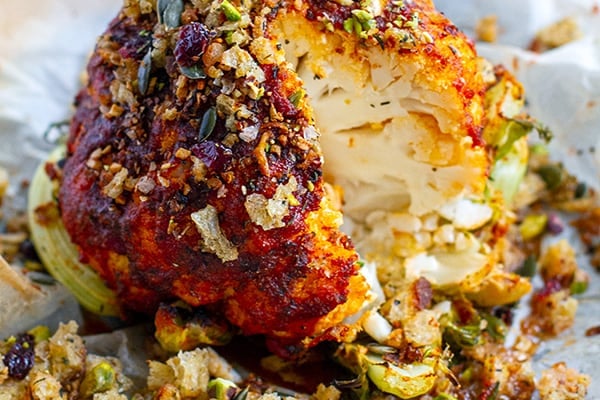 A whole head of cauliflower is perfectly pressure cooked with a delicious spice rub, then finished with a sweetened glaze and garlic, thyme bread crumbs. It's beautiful, impressive, festive, and easy to make. Get the recipe here.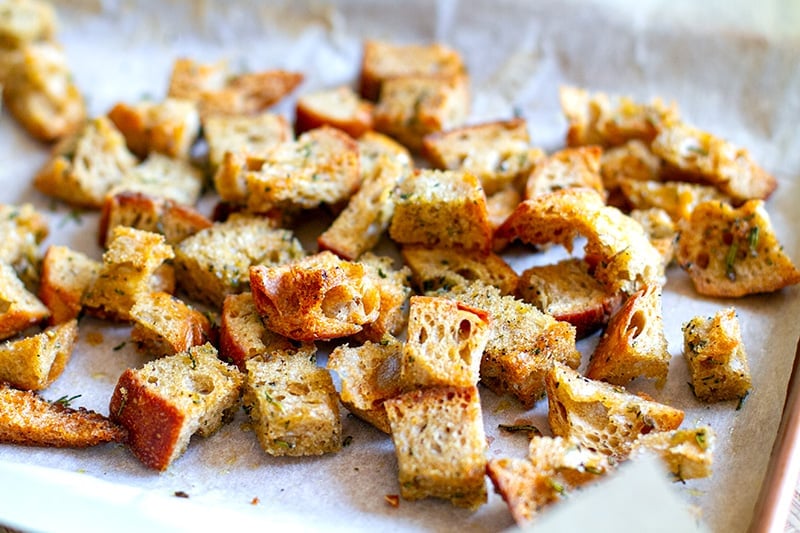 Stuck with stale sourdough bread or any other loaf and wondering how to use it up? Make yourself some homemade croutons with herbs and garlic. If you make a lot of soups and stews (and we Instant Pot users do!), these croutons make for a great addition to any slurpy, soupy meal, and more! Get the recipe here.
Chai is a tea made with aromatic Indian spices such as cardamom, cinnamon, ginger, clove, and often honey. So imagine this delicious warming beverage for breakfast porridge. Get the recipe here.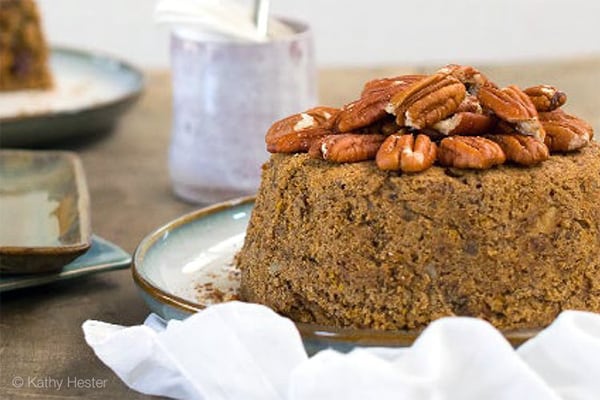 Spice cake is good any time of the year, but especially around the holidays. This Instant Pot spice cake is super moist because it's steamed and will remind you of an English pudding. Get the recipe here.
---
Save these Herbs & Spices Instant Pot Recipes to Pinterest