Garlic is an amazing ingredient that is essential to cooking while it has numerous health benefits from helping with your immune system when sick to assisting in heart and blood circulation. Whether you eat it with your veggies, pasta or meat, it's an aroma that you can't forget nor resist.
---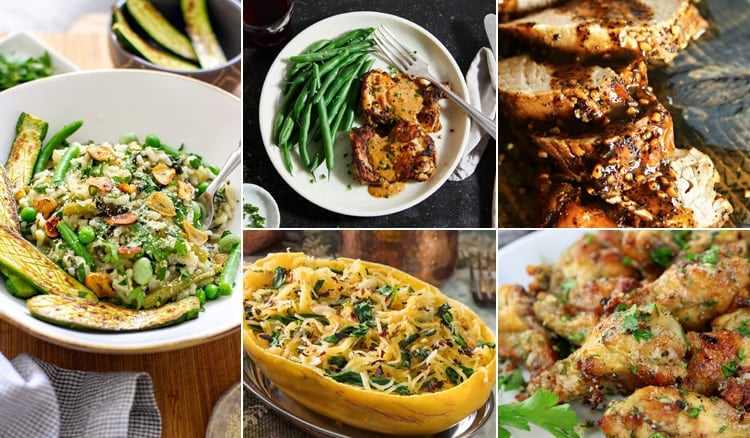 When you think of garlic, do you instantly smell that distinct aroma? Or maybe it's because you are already cooking with it in your kitchen right now. It is used to flavor so many foods, from vinaigrettes, sauces, vegetables, meats, and soups. The best is probably with pasta served with garlic butter on garlic toast.
Garlic is a plant in the Allium (onion) family. Each segment of a garlic bulb is called a clove. There are usually about t 10–20 cloves in a bulb. Garlic powder can be substituted – 1/8 teaspoon of garlic powder is equal to one medium fresh clove of garlic. Garlic plants can be grown closely together, leaving enough space for the bulbs to mature, and are easily grown in containers. It does well in loose, dry, well-drained soils in sunny locations, and in USDA climate zones 4–9.
There are different varieties or subspecies of garlic. The latitude where the garlic is grown affects the type. Hardneck garlic is generally grown in cooler climates and produces relatively large cloves, whereas softneck garlic is generally grown closer to the equator and produces small, tightly-packed cloves. Storing garlic in a dry environment will keep it from sprouting. Peeled cloves may be stored in the refrigerator. Garlic will keep longer if the tops remain attached.
Garlic contains almost every nutrient you need. Every 100 grams of garlic will serve close to 150 calories, 33 grams of carbs, 6.36 grams of protein. Allicin, found in fresh, crushed or chewed garlic, has anti-bacterial and anti-fungal properties. Which is great for boosting the immune system. Allicin tends to lose its medicinal properties when garlic is cooked whole. The high sulfur content helps flush out toxins and keeps the digestive system clean. It also helps with heart ailments by clearing up blocked arteries. It is great for healing skin scars and glowy skin.
An odd thing that can happen while cooking is your garlic turning blue. Abundant sulfur compounds in garlic can turn garlic green or blue during pickling and cooking because of acidity and heat conditions. While it doesn't look very appealing when you have it sprinkled over your salmon, it is still safe to consume.
There is such a thing as "too much of a good thing". So do not consume more than 2-3 raw garlic cloves in a day, as there may be more side effects than just warding everyone off like vampires.
1. INSTANT POT TOFU & BOK CHOY WITH GINGER GARLIC SAUCE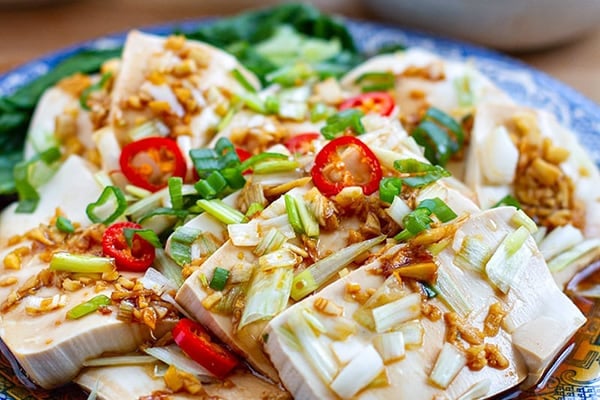 Instant Pot tofu and bok choy steamed together with savory sesame soy sauce, fresh ginger and garlic is a simple Japanese-inspired dish that is very healthy and delicious. Pressure cooker steam locks in all the nutrients and the whole recipe is made in 20 minutes. It's vegan and vegetarian, low-carb and gluten-free. Recipe from Instant Pot Eats.
2. INSTANT POT BRUSSELS SPROUTS WITH BACON & GARLIC
With only a handful of ingredients, this recipe for Instant Pot Brussels sprouts with crispy bacon and garlic is a must-have not just for for any day of the week. These mini cabbages have a nutty, sweet flavour and make for a great side dish to any mains. Gluten-free, keto and low-carb, paleo and Whole30-friendly recipe. Recipe from Instant Pot Eats.
3. INSTANT POT ROASTED GARLIC
Every home cook should know how to make roasted garlic for amazing flavorful cloves, soups, dips, and spreads. Learn how easy it is to make Instant Pot Roasted Garlic. Recipe from Sustainable Cooks.
4. INSTANT POT BROCCOLI WITH LEMON & GARLIC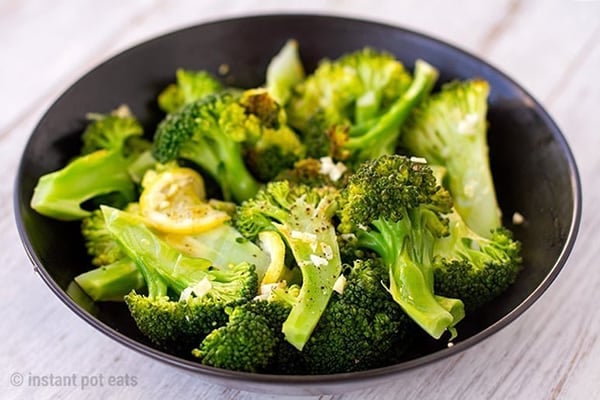 This recipe for Instant Pot broccoli is quick and easy making it a great side dish on a busy weeknight. Steamed with lemon and garlic and drizzled with a little olive oil, it's nutrient-dense and deliciously simple. It's gluten-free, vegan, keto, paleo and Whole30 friendly. Recipe from Instant Pot Eats.
5. Instant Pot Garlic and Herb Rice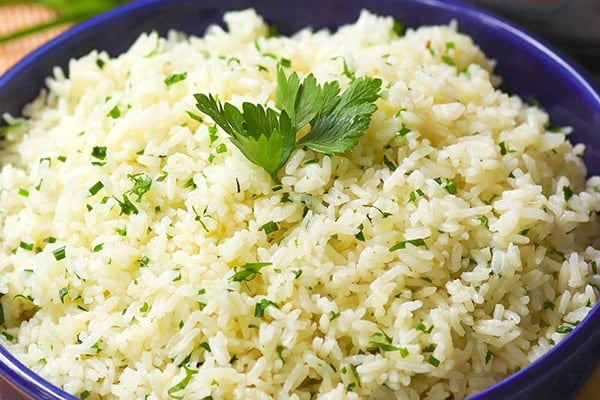 Fluffy rice seasoned perfectly then flavored with garlic and fresh herbs turn out beautifully every single time thanks to the Instant Pot! Garlic and Herb Rice is full of amazing flavor and is a terrific side dish that can be served any time of year. Recipe from A Southern Soul.
6. 10-MINUTE ZUCCHINI NOODLES WITH GARLIC, LEMON & PARMESAN (IN INSTANT POT)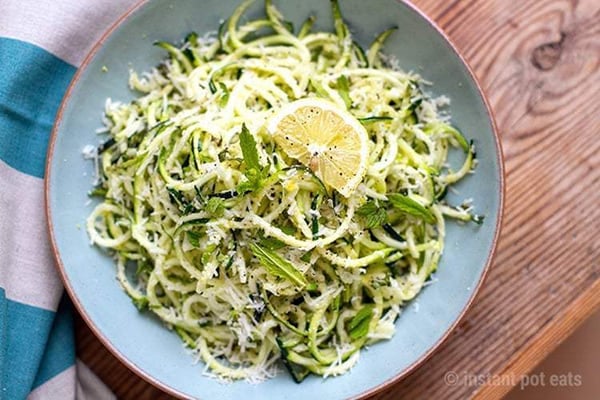 This quick and healthy spiralized zucchini noodles dish (or zoodles) is made in the Instant Pot using the Sauté function. Paired with garlic, mint, and Parmesan, it's low-carb, vegetarian and gluten-free and perfect as a side dish or a light main. Recipe from Instant Pot Eats.
7. Instant Pot GARLIC MUSHROOM QUINOA WITH CHERRY TOMATOES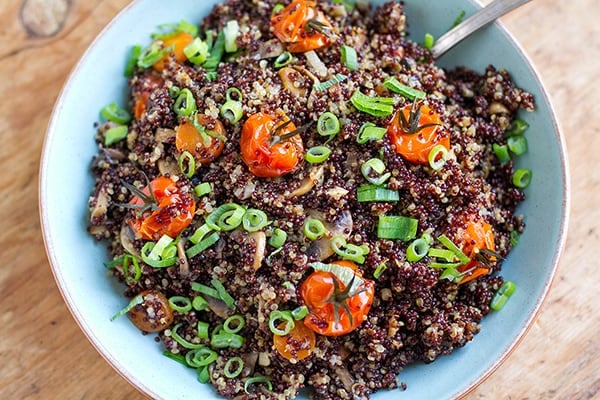 This lovely Instant Pot garlic mushroom quinoa with cherry tomatoes is made quickly and easily using a pressure cooker. It's vegan and gluten-free and works well as a main or a side dish. Recipe from Instant Pot Eats.
8. INSTANT POT STEAMED VEGETABLES WITH GARLIC BUTTER

Instant Pot steamed vegetables are easy and quick to make. We opted for carrots and Brussels sprouts and prepared simple butter sauce with garlic, capers, and parsley, which coats the veggies with zesty, bold flavors. Recipe from Instant Pot Eats.
9. INSTANT POT GARLIC PARMESAN SPAGHETTI SQUASH
This Instant Pot Garlic Parmesan Spaghetti Squash is one of the tastiest spaghetti squash recipes out there. And not only is it crazy good, but it's a great vegetarian side dish that's easy to make and makes a beautiful presentation to boot. Recipe from Two Sleevers.
10. INSTANT POT VEGAN RISOTTO WITH GREEN VEGGIES & FRIED GARLIC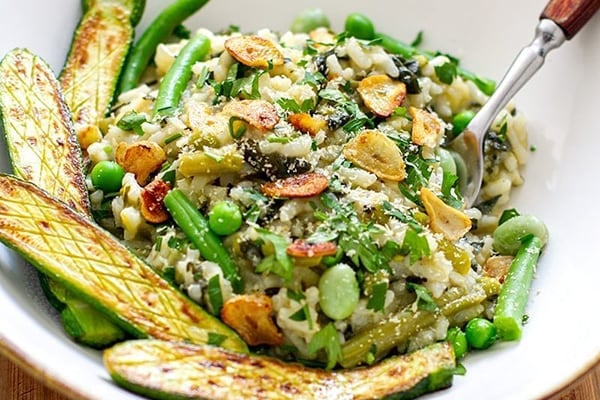 A creamy, velvety risotto that is much lighter and is made without butter or cheese? You got it! Our Instant Pot vegan risotto is loaded with green vegetables like kale, green beans and zucchini and is topped with fried garlic for amazing aroma and flavor. Recipe from Instant Pot Eats.
11. Instant Pot Garlic Mashed Potatoes (no drain)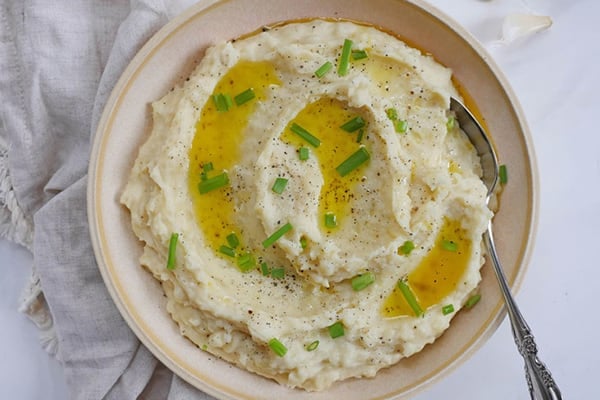 These creamy and garlicky mashed potatoes make for a rich and velvety and comforting side dish especially during the chilly time of year. This classic side dish is taken up a notch by adding some garlic, freshly cracked black pepper and chives. Melted butter doesn't hurt either. It's mostly hands-off and require very little prep work. Recipe from My heart Beets. But if you don't like your potatoes mashed, try these Garlic Herb Instant Pot Potatoes from the Recipe Rebel.
12. ASPARAGUS WITH GARLIC, LEMON & PEPPER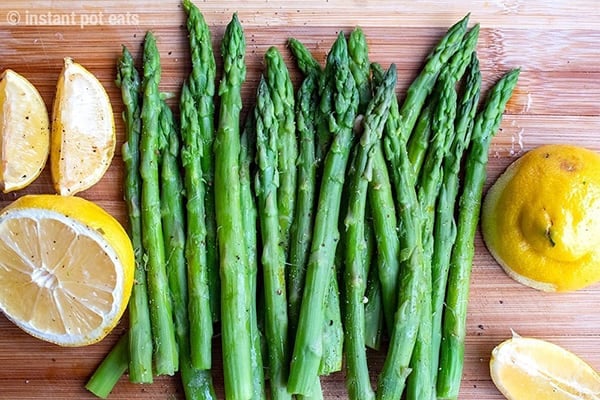 This Instant Pot asparagus dish is super quick and easy and makes for a great side accompaniment to both meat, seafood and plant-based mains. Asparagus is such a lovely vegetable: it's tasty, looks beautiful and is very nutritious. This recipe is vegan, paleo, Whole30, and keto-friendly. Recipe from Instant Pot Eats.
13. INSTANT POT GARLIC PARMESAN CHICKEN WINGS
They're tender on the inside, crispy and golden on the outside, and there's no frying involved. Plus, the cheesy garlic flavor is delicious and kid-friendly. Recipe from Taste and See.
14. Instant Pot French Garlic Chicken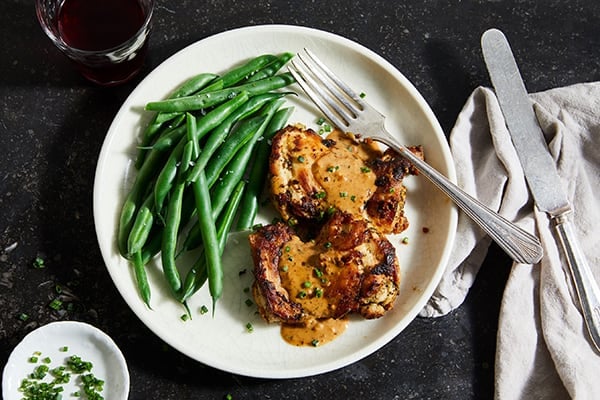 A very simple dinner recipe that combines juicy chicken thighs with Dijon mustard, garlic, and a mixture of spices to make a French-inspired dish that is as delicious as it looks. Recipe from Food 52.
15. Instant Pot Garlic Beef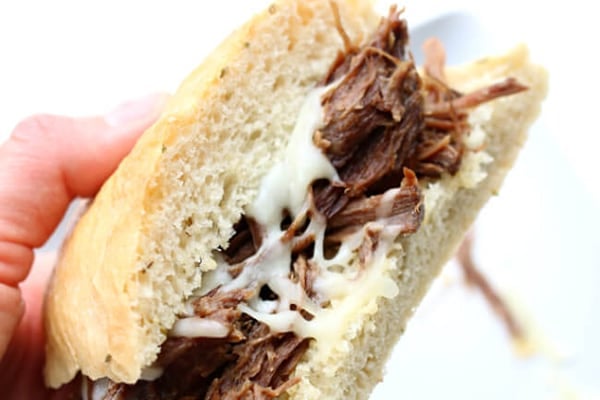 Instant Pot Garlic Beef–fork-tender roast beef that is flavored with garlic and other Filipino adobo flavors. This recipe only has 6 ingredients. It's perfect to serve on rolls or over rice for a quick and easy dinner that can feed a crowd. Recipe from 354 Days of Slow and Pressure Cooking.
16. Instant Pot Garlic Pork Tenderloin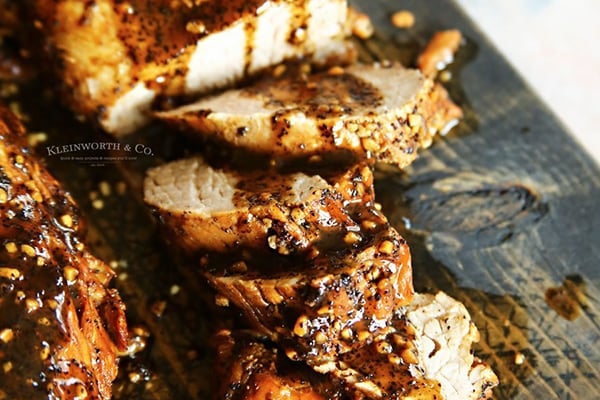 Instant Pot Garlic Pork Tenderloin is an easy dinner recipe that is ready to enjoy in under 30 minutes. Perfect for busy weeknights, simple & delicious. Recipe from Klein Worth Co.
17. 15-MINUTE ASIAN SALMON & GARLIC VEGETABLES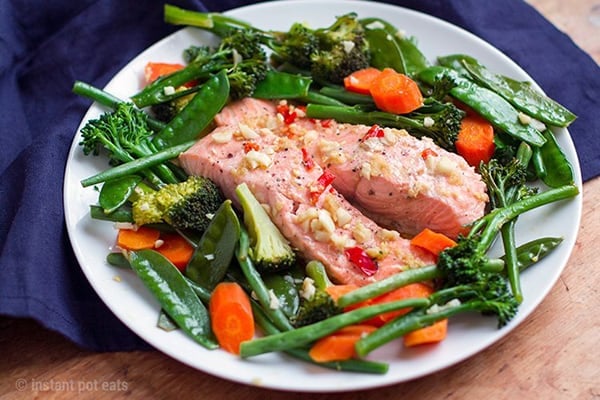 Who doesn't love a quick and easy dinner? Especially, when it's healthy and delicious as well. Speed, efficiency and nutrition!!! Recipe from Instant Pot Eats.
---