These festive, crowd-pleasing Instant Pot Easter recipes will help you keep your holiday cooking simple while impressing your guests with great flavor. Savory and sweet dishes included!
---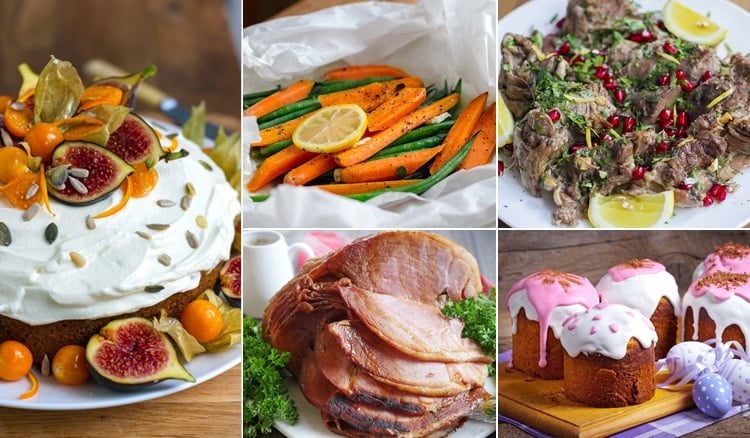 After a nice break from cooking for Thanksgiving and Christmas, it's time to entertain yet again. Easter is a wonderful celebration for many friends and families, and while it's not quite as notorious for feasting as the winter holidays, it signifies a new season. A new season means new food, and it's exciting to make these special recipes to share with the people you love.
While it's a joyous celebratory Sunday, it can be stressful to cook without a plan. Don't fret – we're here to help. We'll make menu planning easy with these simple Instant Pot Easter recipes divided into main dishes including brunch, veggie sides, and sweet treats because indulgence is half the fun of the holidays.
---
Main dishes
Planning out the star of the show? Steal the spotlight with these main dishes that you can make in your Instant Pot. When you're in charge of creating the perfect centerpiece, the pressure is on! Fortunately, these ideas are pretty easy, pretty foolproof, and pretty tasty.
If you're looking for a new ham recipe to spice things up or you're just searching for the answers to juicy, perfectly cooked bone-in ham done up in your Instant Pot for an easier time, this is it. Pineapple, orange juice, mustard, cloves, honey, and brown sugar come together for a succulent and sweet glaze the ham will soak right up. This is what Easter is all about, right? Recipe from Simply Happy Foodie.
Sometimes, the gravy is just as exciting – if not more highly anticipated – than the meat itself. If that's the case, this whole chicken recipe will do the trick. The recipe is grain-free so it's perfect for including everyone with dietary restrictions in all of the fun and festive eating without sacrificing flavor. Recipe from Nom Nom Paleo.
If you're looking to keep things refined sugar-free, this recipe is for you. Many ham recipes include white sugar or brown sugar to create the glaze, but this one uses honey and coconut sugar instead. This paleo recipe is sure to be a crowd-pleaser, and nobody will know it's "all natural." Recipe from My Heart Beets.
Did you know you can cook sous vide in the Instant Pot? This rack of lamb is so easy, and it's especially convenient to make the night before entertaining. They'll cook through slowly to tender perfection, and you can simultaneously brown them and heat them up to serve in about ten minutes before serving. Hands-off, so easy, and so rewarding. Recipe from Flo Lum.
Another lamb idea is to serve up bone-in lamb shanks for the holiday. These are fancy and take on that slow-braised flavor that shanks require. Fortunately, the IP cuts back on time to about two hours for similar results. You won't be disappointed! Recipe from The Foodie Eats.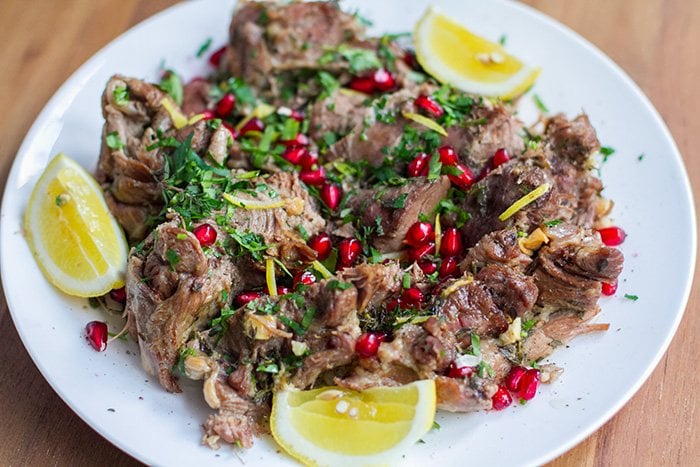 If you want that "I've been cooking all day" vibe going on at the dinner table, then consider this amazing dish of tender roasted shoulder of lamb. This is a great option if you've got mouths of feed and not a whole lot of time on your hands. It's fall-off-the-bone tender, guaranteed to pair perfectly with every side you make. Plus, it looks so festive! Recipe from Instant Pot Eats.
You can't go wrong with a whole chicken, especially with the ease in which it comes together under pressure. A nice-sized bird infused with sweet honey, rich and creamy butter, and fresh herbs finished off with a crisping of the skin in the oven will have your guests asking you for your recipe for sure! Recipe from Table For Two.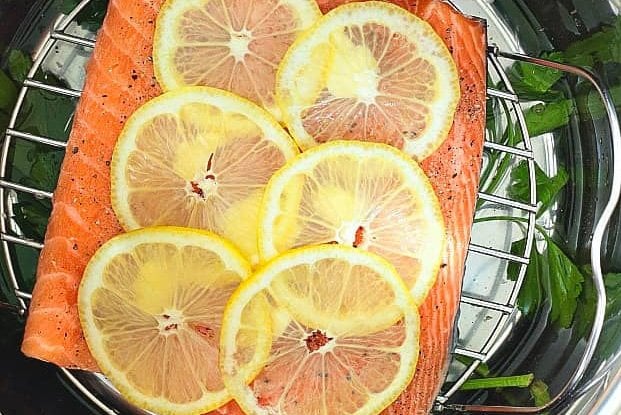 While everyone tucks into delicious chocolate eggs over Easter, for many this time is much more than desserts and lamb roast. If you follow an Easter tradition of choosing to eat fish on Good Friday, this simple salmon recipe would be great as a main protein dish on the table. It goes with different sides and you can make a big batch ahead of time and warm it up just before serving. Recipe from Wholesome Delicious.
For yet another brunch option – and admittedly lighter fare – this breakfast casserole will feed and fill your guests up. It encompasses everything you love about breakfast into one easy-to-make pressure cooker meal boasting crispy hash browns, eggs, bacon, sausage, veggies, and cream. Hello, yum! Recipe from Best Recipe Box.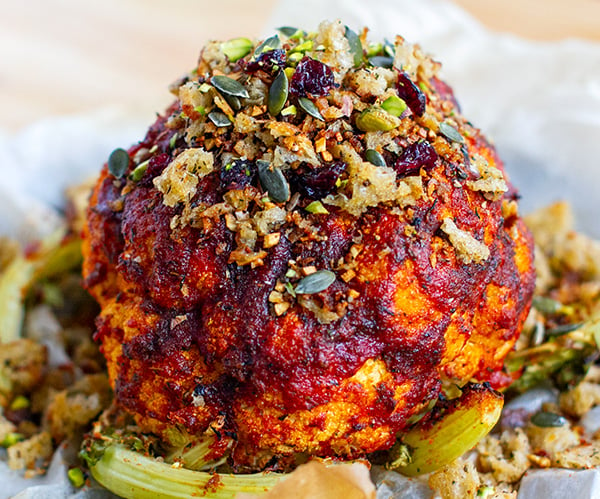 A whole head of cauliflower is perfectly pressure cooked with a delicious spice rub, then finished with a sweetened glaze and garlic, thyme bread crumbs. It's beautiful, impressive, festive and easy to make. Serve it as a plant-based, vegetarian main or as a side for Easter or any other holiday.
---
Side dishes
If you're in charge of sides, show your guests what's up! No soggy veggies or smothering your food in cheese to hide the fact that you burned it. Just to clarify, there's nothing wrong with some cheese… Anyways, here are some of our favorite and most beloved holiday side dishes adapted for the Instant Pot.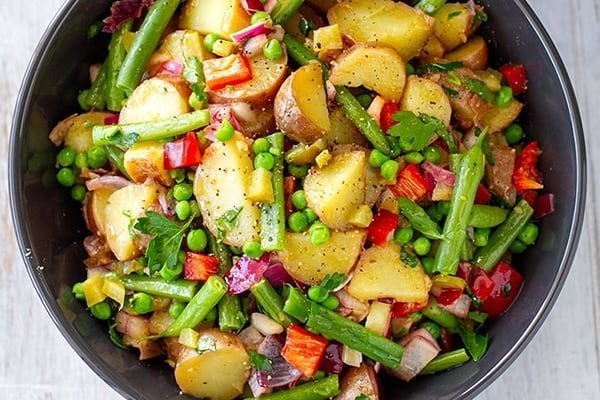 This Instant Pot potato salad is a great example of using the pressure cooker for spring and summer dishes. It's a fantastic salad to bring to a barbecue party, picnic in the park or to enjoy as a nutritious, balanced meal at home. Mixed with lovely green beans, peas, pickles, and zesty shallot vinaigrette, it's vegan, gluten-free and Whole30 friendly. Recipe from Instant Pot Eats.
Someone is bringing mashed potatoes to the Easter table. Why don't you offer your expertise? Don't worry – no experience is required. This recipe explains everything and lays on the butter, garlic, and herbs for the best possible flavor imaginable. Perfect for soaking up gravy, make a double batch because these will disappear quickly. Recipe from Well Plated.
If you're looking for a naturally sweet dish in place of regular mashed potatoes, these savory sweets should do the trick. No sugar or marshmallows here – just garlic, herbs, butter, and Parmesan for a fabulous and colorful side. Recipe from Pressure Cooking Today.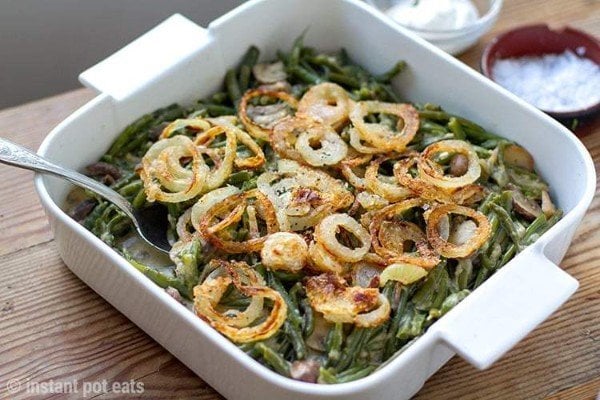 Green bean casserole is what every holiday is all about. It's seldom made any other time of the year, and while I encourage you to use this easy IP recipe whenever, it's especially handy for a special occasion. Made with real food – no canned soup or fried onions – this nutritious and delicious dish is a fun way to eat your veggies. Recipe from Instant Pot Eats.
Mash isn't for everyone. Many holiday tables boast a scalloped potato dish for good reason. This layered dish is easily constructed in a springform pan that fits inside the IP. These tender spuds are piled with ham and a cheddar/mozzarella cheese blend for a hearty and addictive side. Recipe from I Wash, You Dry.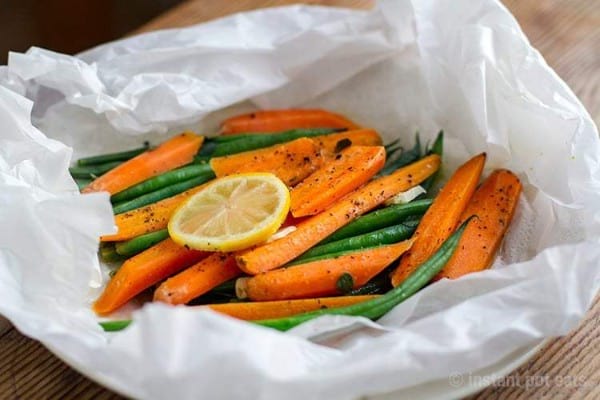 These veggies are SO easy to make. This method uses a paper bag so they're evenly cooked, buttered, and seasoned through for serving to your guests. This is a great way to cook up a healthy side of carrots and green beans for a light and nutritious choice at the table. Plus, it's SO easy and takes just about ten minutes to cook. Recipe from Instant Pot Eats.
These stuffed garlic and Parmesan artichokes are the perfect springtime veggie dish. Light, delicious, perfect for dipping, and quick – what could be better? These are also pretty centerpieces. Recipe from Family Fresh Meals.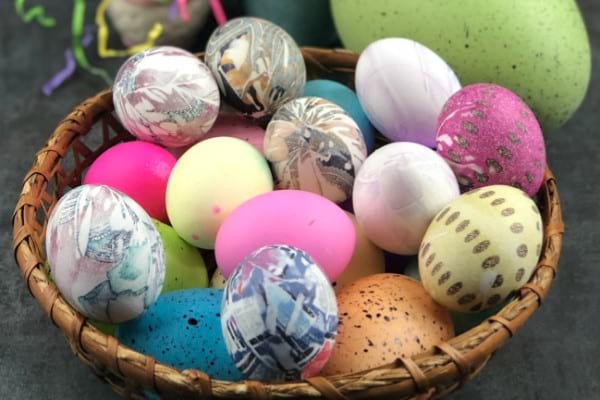 How gorgeous are these?! Hard-boiled eggs are a must at Easter because they double as decoration and food. You can make some egg salad or add them to potato salad, make deviled eggs, or eat them plain throughout the week. Either way, this Instant Pot dying method is brilliant, low-effort, and seriously stunning! Recipe from Ginger Casa.
With a steamer rack and a few minutes, this fantastic appetizer comes together. Three ingredients – bacon, cheese, and asparagus – are all you need to make magic happen. These are so simple, you can even prepare them to make fresh throughout a day of entertaining. Recipe from Recipe This.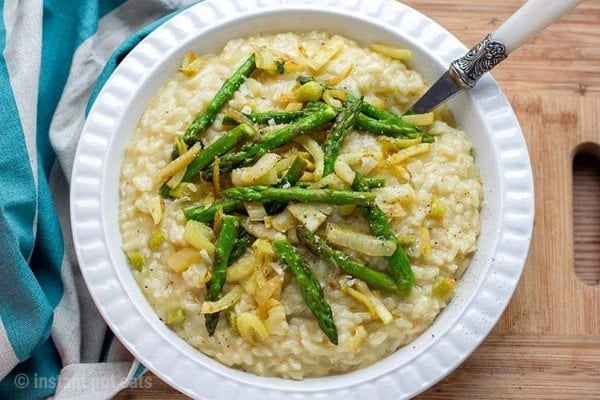 Fennel and asparagus are a lovely seasonal welcome – an indicator that the sun is out, the flowers are in bloom, and warm weather is around the corner. Show off seasonal produce in a creamy, cheesy, rich, and low-effort risotto with gorgeous results. Recipe from Instant Pot Eats.
---
Desserts
Easter (or any holiday, really) is nothing without a little something sweet. Treat yourself and your loved ones to a true celebration with one of our favorite festive treats made in the Instant Pot this year.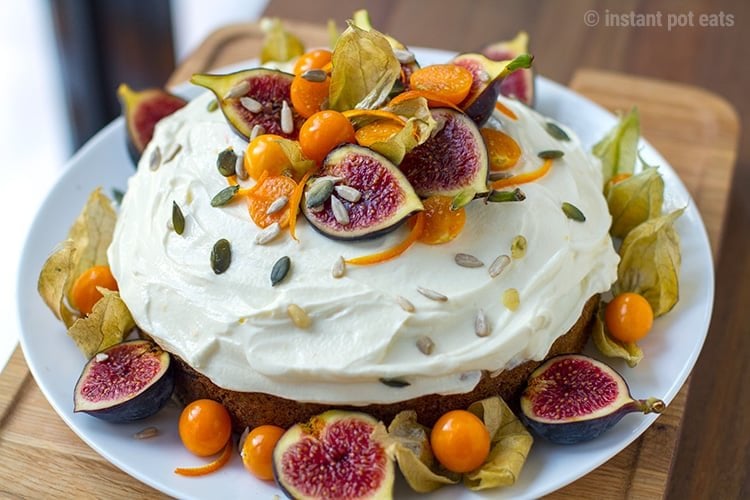 Carrot cake is a must-have for Easter. It's crumbly, sweet, and signifies the beginning of spring. This cake is going to satisfy the little ones and the adults, and the leftovers are great for the lunchbox as it's also nut-free. Recipe from Instant Pot Eats.
If you like classic New York-style cheesecake and malted milk candies, you'll love this dessert. It's a fabulous way to sneak in a little something sweet in single-serving portion sizes, and the kids will just adore the colorful presentation. These are sure to put a spring in your step. Make sure to save room! Recipe from Pressure Cooking Today.
Cinnamon rolls are a lovely addition to the brunch table, and Easter is ALL about brunch. These rolls are made from scratch in the Instant Pot, so it's almost as easy making them from the can. Recipe from Aileen Cooks.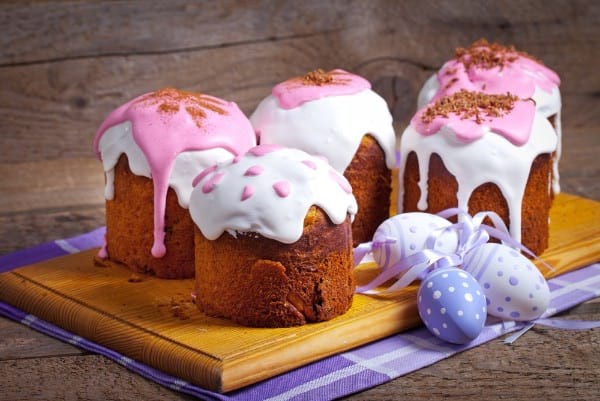 These pastel-iced flour cakes are a lovely little treat to make in your IP this season. It's an easy recipe with simple baking ingredients that even the worst baker couldn't screw up! Recipe from Recipe This.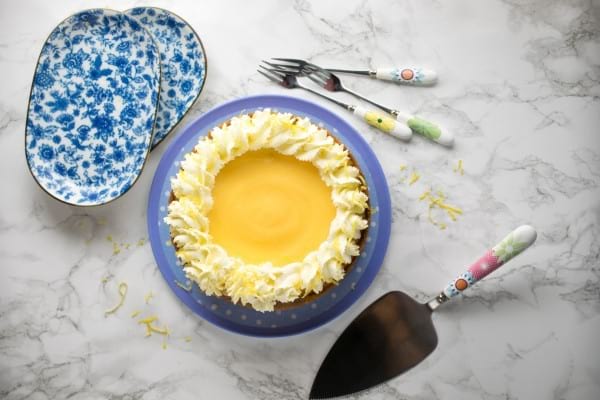 This gorgeous, zesty cheesecake is the perfect way to serve up a citrus dessert. This creamy cheesecake is worth all the extra calories! With a ginger nut biscuit crust and a creamy lemon filling, your guests will be asking for this recipe. Get the recipe from Every Nook & Cranny.
We hope that you have a beautiful Easter full of great food, great family, and great tradition. Enjoy these recipes, and make sure to share if you know anyone else trying to come up with some ideas for Easter hosting and entertaining.