Our favourite Instant Pot sweet potato recipes including vegan options, paleo-friendly dishes, gluten-free recipes, and delicious recipes for the adventurous home cook from creamy, blended soups to all kinds of chili!
---
You say potato, and I say sweet potato. That's how it goes, right? Well, some people like their plain white spuds and so do we. We love the versatility, how budget-friendly they are, how shelf-stable they are and how long they last, and not to mention how awesome they taste. There are few things that beat a good baked potato, bowl of mashed potatoes, or cheese + potato anything.
Some people avoid potatoes for one reason or another. Their healthier counterpart – sweet potatoes – are more nutritious with higher amounts of most vitamins and minerals. They're lower on the glycaemic index, meaning they're friendlier for the blood sugar which is important for many people (not just diabetics).
Some paleo diet purists only eat sweet potatoes and shun white potatoes. Personally? We like both, but we've already given regular potatoes a feature or two.
Today, we're sharing our favourite healthy, delicious, and easy-to-make Instant Pot sweet potato recipes with you guys. We hope you enjoy!
Sweet potatoes are a meal prep staple for me. Who's with me? They are perfect for adding to soups and stews. You can stuff them with your favourite things (I love pulled pork). You can have them plain with some butter. You can keep it savoury with salt and pepper, or make it sweet with some cinnamon and coconut butter. This recipe shows you the cooking time for every size spud you can imagine so you get that perfectly baked texture time after time. SWEET POTATOES FOR MEAL PREP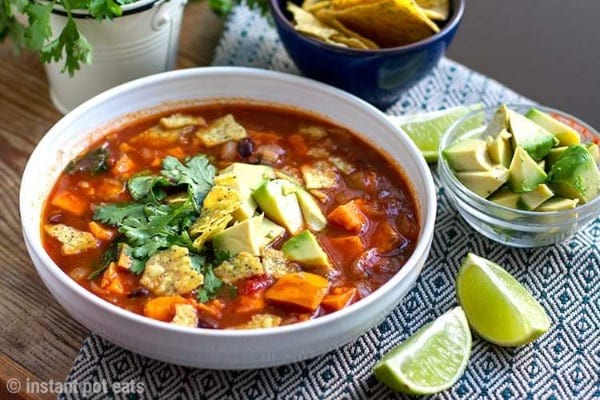 Our sweet potato soup is everything you need for a comforting meal. Who doesn't love the flavours packed into a bowl of tortilla soup? With a tomato base and sweet potato and black bean to add the "meat" to it, you get a filling and hearty lunch here all without needing any meat. Top it off with your favourite things – avocado, lime, cheese, sour cream, and don't forget the corn chips!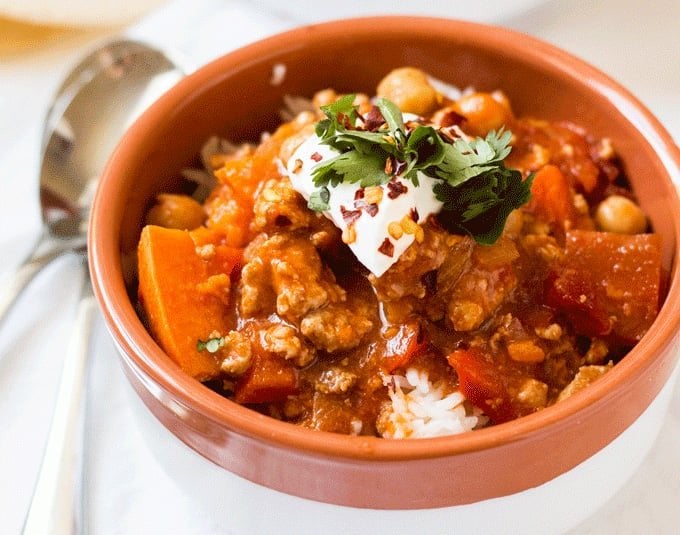 Ground turkey, chickpeas, and sweet potato come together for a filling foodie trio your belly will love. With tons of protein, micronutrients, and sustainable energy, this is the perfect office lunch to keep you going even on your longest and most gruelling afternoons. This is a great staple to add to your healthy meal prep routine with ingredients we love. Recipe from Whole Food Bellies.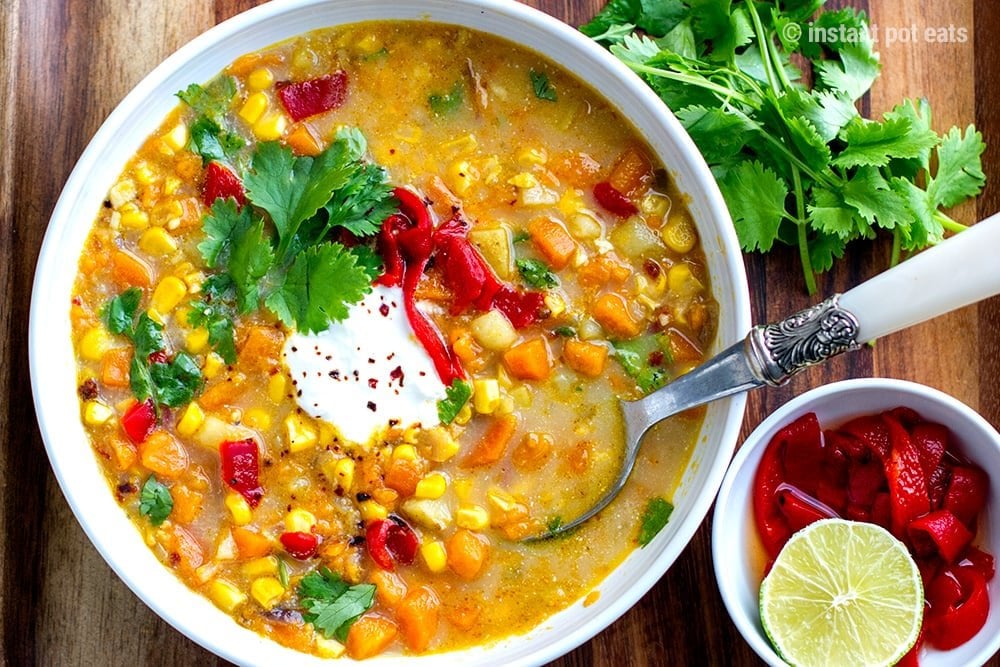 This Mexican-inspired Instant Pot sweet potato and corn soup is made with healthy ingredients, flavourful spices, lime and a little chipotle for a smoky, chilli kick. It's gluten-free, vegan-friendly, light and super quick and easy to make. For Weight Watchers: 7 SmartPoints per serving.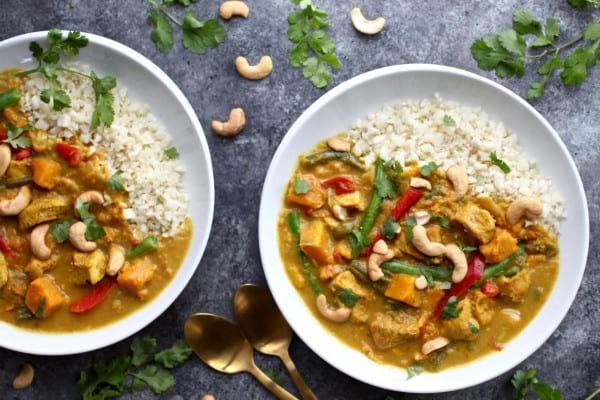 This delicious paleo curry is an ultra-healthy craving-killer of a dinner choice. It's quicker than takeaway in the Instant Pot with whole food ingredients so you know exactly what you're getting. Chicken and sweet potato make up the curry along with a few other notable veggies. Serve it alongside some cauliflower rice or white rice if it serves you, and top things off with fresh cashews. Recipe from The Real Food RDS.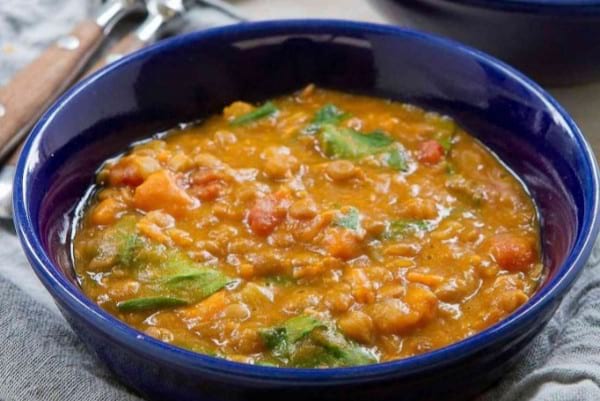 This vegan soup is packed with creamy sweet potato goodness making the base thick and delicious. It's hearty and satiating with lentils – a favourite choice of ours for plant protein, and so easy to make perfect in your Instant Pot. Vitamin-rich spinach is wilted in at the end for a nutrient boost. You've got a great freezer meal or workweek lunch with this recipe! From Cookin' Canuck.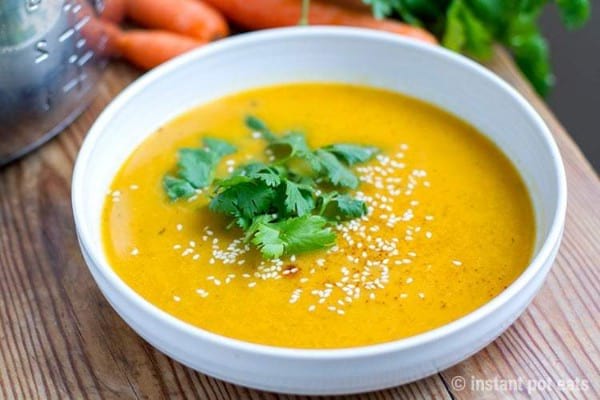 This soup doubles up on those gorgeous, vibrant orange beta-carotene foods – carrots and sweet potatoes! This means you'll get ALL the vitamin A you need for healthy vision, good immunity, and so much more. This vegan soup is made creamy with dairy-free coconut milk making it the perfect filling side or main dish. You can pair it with protein or serve it on its own. It's packed with flavour from lemongrass and cilantro.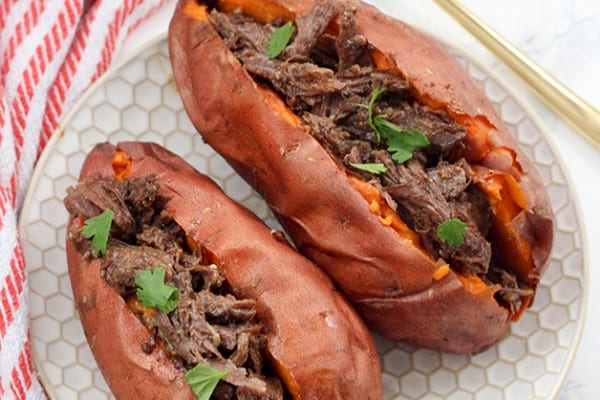 How fabulous do these stuffed sweet potatoes look? If you're trying to cut back on bread, get your carbs elsewhere. These baked sweets act as buns to hold a hefty spoonful of succulent barbecue chuck roast which will help you stretch your dollar. Both the meat and potatoes can be made in the Instant Pot. P.S. this recipe is paleo-friendly and Whole30-friendly, so no refined sugar! Recipe from Unbound Wellness.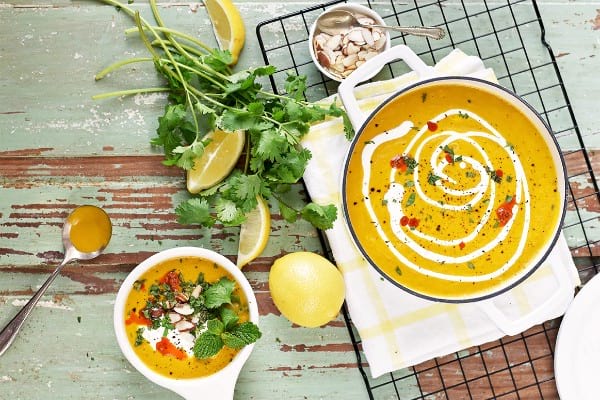 Sweet potatoes make a great contender when you're looking for something to fit the bill in a creamy blended soup recipe. This Moroccan-flavoured masterpiece is a great example of that! Along with carrots and protein-rich chickpeas, plus a garnish of dairy-free coconut cream and fresh mint (and some harissa if you're feeling zesty), this vegan-friendly dish is a cosy and nourishing main or side. From Vintage Kitty.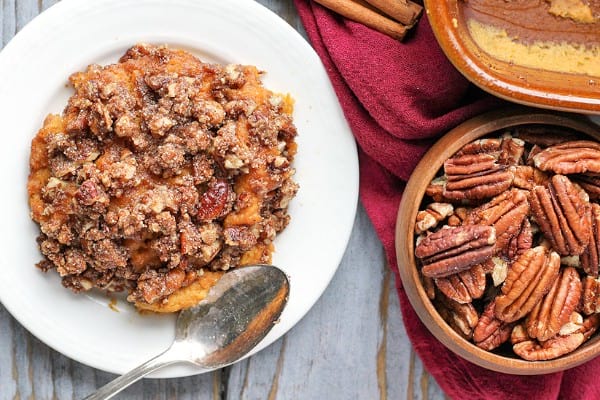 Sweet potato casserole is often synonymous with Thanksgiving dinner, but hey… why not enjoy it all year-round? Either way, you can bookmark this recipe! This version is a healthier rendition using far less refined sugar so you can feel a little lighter on your feet, even after the big feast. It's a great healthy choice for a sweet tooth fix all year-round though, and easy in the Instant Pot. From Jay's Baking Me Crazy.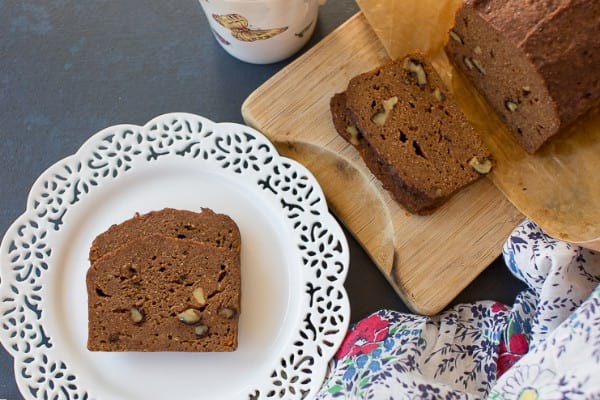 Baking bread in the Instant Pot is just some next-level stuff. If you've never thought of yourself as a very skilled baker, maybe it's time to give it a shot! This healthy, grain-free bread is allergen-friendly and made possible by our ingredient in the spotlight: sweet potato. A few basic baking ingredients and grain-free flour substitutes later, you've got a fluffy, slightly sweet loaf that works great alongside morning tea. Plus, it'll freeze beautifully. Recipe from Nurture My Gut.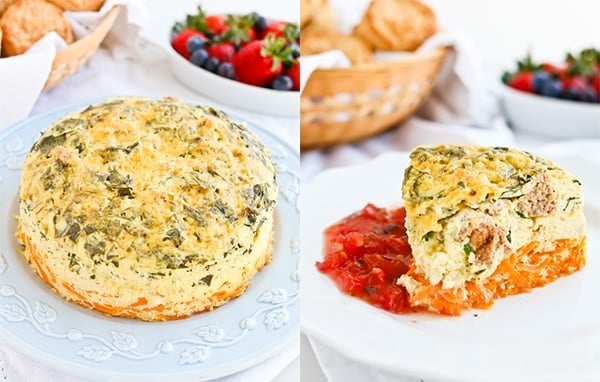 This morning hash is a great meal prep breakfast. Making egg breakfast casserole or frittatas in the Instant Pot is easy with the right accessories. These make the ideal protein-packed energy to fuel you throughout the day, loaded up with starchy sweets, juicy pork sausage, and leafy green spinach for a nutrient boost. Perfect with salsa, biscuits, or fresh fruit! Recipe from Tidbits.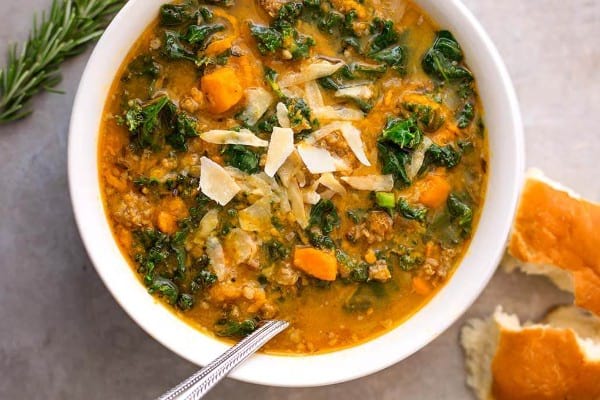 This soup really highlights fall and winter produce with vitamin-rich sweet potato and hardy green kale. The sausage adds bulk to this dish, but you could tailor it to your own dietary needs by adding white beans instead – or, if you're very hungry, alongside! Either way, this soup is a tasty main course, perfect for serving with some delicious bakery-fresh bread. From Simply Happy Foodie.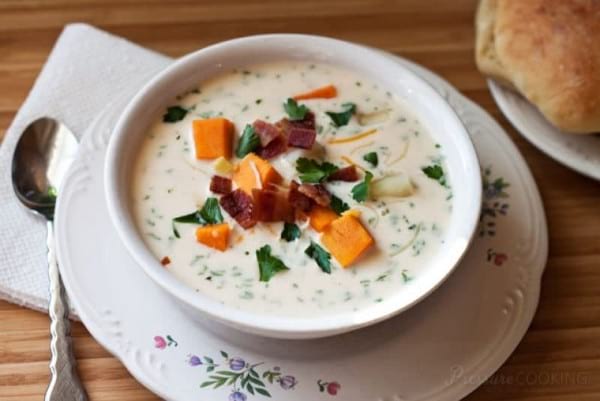 Imagine blending sweet potatoes, russet potatoes, bacon, corn, cheddar cheese, and cream cheese. Indulgent? Sure. Delicious? You bet. This soup is worth the splurge with a host of gorgeous ingredients that combine for a filling and unforgettable meal. Don't forget some dinner rolls or crusty bread for dipping. This will have the whole family sitting 'round the dinner table. From Pressure Cooking Today.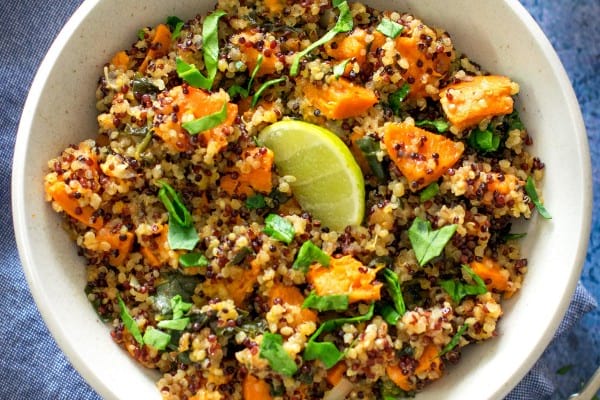 This plant-based power bowl is the perfect fuel to perk up before a workout or recover after a workout. This also makes a great packable lunch. Quinoa soaks up slightly spicy curry flavour while spinach and sweet potato lend their nutrients to the blend for a light and healthy meal. You can customise this with additional veggies or different spice blends, too. From Carve Your Craving.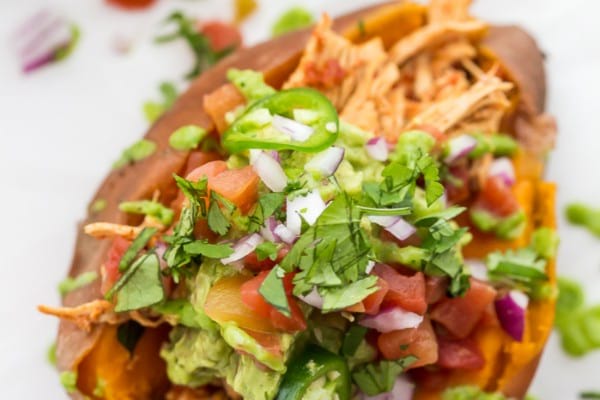 We have yet another recipe for stuffed sweets. This time, instead of BBQ, we've got some Mexican shredded chicken in the mix. These are the perfect grain-free and paleo-friendly substitute for tortillas if you want your taco/burrito fix. Top off with your favourite additions like guac, cilantro, and some pico. From 40 Aprons.
This full meal is one for the books and one you'll revisit again and again. Satisfying weeknight dinner is as simple as meat, potatoes, and some greens for good measure. This pork is cooked in honey mustard for a sweet and savoury blend that is downright mouth-watering. From My Recipes.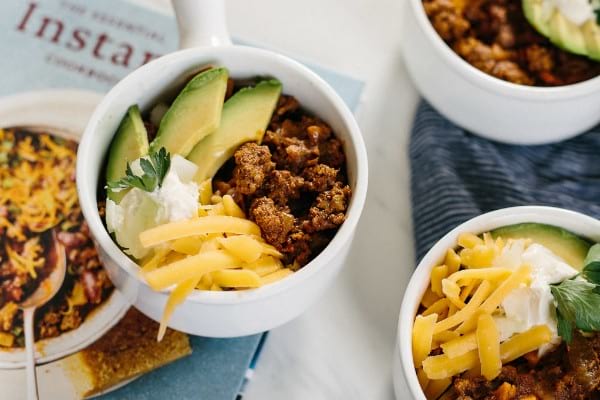 We've got a turkey chili on the list, but we had to throw in some variation with this paleo beef chili. No beans? No problem. This chili encompasses classic chili flavour and uses sweet potatoes to add both bulk and some much-needed starch. Top this off with some sour cream or coconut cream for a dairy-free version, and fresh avocado slices to cool things down. From Effortless Chic.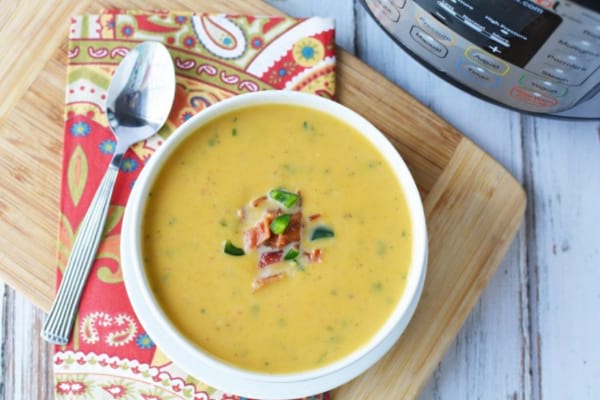 Looking to spice up your life a little bit? This creamy soup uses a zingy blend of sweet potatoes and jalapenos that isn't for the faint of heart! Of course, you can control spice levels with this recipe. Bacon brings in some smokiness and the half and half helps make this soup extra rich. This makes a great side dish. From Jeans & Bifocals.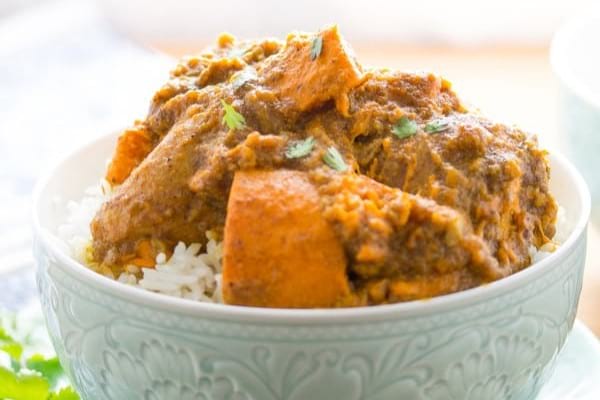 This tasty chicken korma should hit your Indian food cravings just right. Cook up some white rice to serve this saucy blend of tender chicken and soft sweet potatoes on top of. The trick? Toasting the spices before cooking – easy to do with the saute function in the IP! From Sweet Peas & Saffron.
We hope you love these scrumptious sweet potato recipes! There is truly something here for everyone – the vegan eater, the paleo dieter, or the adventurous home cook. If you feel inspired by these sweet potato Instant Pot recipes, spread the good eats and good vibes by sharing!