We believe you can't have too many cookbooks, and with the popularity of the Instant Pot pressure cooker growing every day, we decided to pick our favorite top 10 Instant Pot cookbooks to share with you today.
---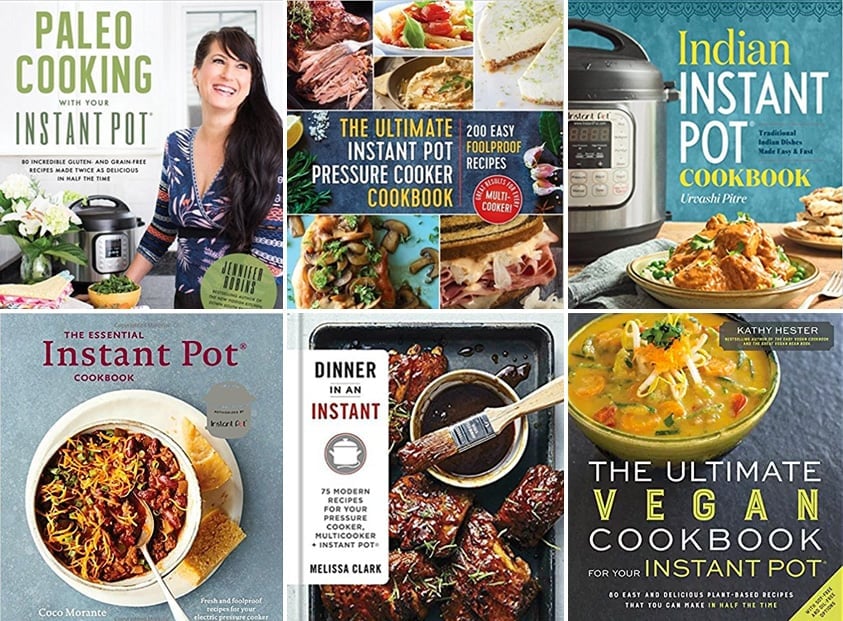 There are two types of cooks in this world: the ones who avoid following recipes at all costs and hope things work out okay, and the ones who follow recipes to a tee to further their skills, find favorites and learn the ropes.
When it comes to cooking with the Instant Pot, it's not exactly intuitive unless you've been cooking with a stove-top pressure cooker for a while. Even then, it's undoubtedly safer to follow recipes where you can expand your skillset while eating really delicious food.
The Internet's archive is expanding rapidly, but there's nothing like having a few good cookbooks to lean on when your Google searches aren't yielding results. Besides, there's just something about having a hard copy handy while building your library. We've been reviewing cookbooks and featuring recipes from them, but we wanted to share ten essential Instant Pot cookbooks for every taste, dietary preference, and skill level. Here are our top choices.
If you're just starting out or if you're looking for a book that has a little bit of everything, this is the one for you. It's just $2.99USD on Kindle, so you can download a copy of it right to your phone or iPad for easy reference in the kitchen! It contains over 100 recipes with easy-to-follow charts, Instant Pot care instructions, and basic cooking techniques.
Some of the highlight recipes include chicken tikka masala, cinnamon raisin French toast bake, and basics like succulent chicken wings. There's a reason this is one of the top sellers on Amazon! It's one of the most thorough Instant Pot cookbooks out there. By Lauren Randolph. Get this cookbook here.
Janet A. Zimmerman – the author of this cookbook – has been using a stovetop pressure cooker for years, so it's no surprise that she's mastered the art of the Instant Pot rather quickly. Janet's mentality? Cooking everything… fast. This includes scrumptious dishes like Italian chickpeas with pesto, braised green beans with bacon, basic recipes for classics like mashed potatoes, and more. She divides the book up into convenient sections while also labeling things for easy sorting if you have a restricted diet. Get the cookbook here.
We have a full review you can read here including a preview recipe – Italian-style Lamb Shanks.
Written by Coco Morante. With 75+ recipes of comfort food and weekday meals, you can't go wrong with this book if you really want your Instant Pot to save you time. This is perfect for people who want home-cooked food after a long day of work, or busy parents who need to feed the kids. The book boasts "foolproof" recipes, and by reading through the reviews, you know this collection lives up to its boldest claims. Coco's mission is to minimize the fuss in cooking, and these recipes are truly well constructed.
Some highlights include Jamaican-style rice and beans, Korean BBQ beef short ribs, plum chili chicken, and a wide range of flavors across the world with Cajun, Midwest, Iranian, Italian, Asian, and Puerto Rican cuisine throughout. Get the cookbook here.
This book by Melissa Clark can be summed up in a single sentence: elevated dinners that don't sacrifice convenience. These recipes are bound to blow you away with a stunning selection including green Persian rice with tahdig, lemon verbena crème brulee, butter braised potatoes, Vietnamese chicken and rice soup, and lamb tagine.
Thinking about these recipes might feel overwhelming, but this book is anything but intimidating. In fact, it makes cooking these delicacies approachable and exciting, sure to inspire your confidence in the kitchen like no other collection. Get the cookbook here.
Is it really the ultimate Instant Pot cookbook? We can confidently say YES. If you want the most bang for your buck with a multi-faceted IP cookbook, this is it. These pages are stacked with over 200 recipes, perhaps making it the most abundant on our list today.
The book by Ella Sanders is divided into meat dishes, soups and stews, potatoes, pasta, and grains, side dishes, and desserts making it exceptionally easy to navigate and helping you to get a full meal on the table without any fuss. Some highlights include crispy bacon mac and cheese, blackberry orange coffee cake, and sweet onion French dip sandwiches. You could say it gets decadent, but you'll find plenty of lighter fare as well. Get the cookbook here.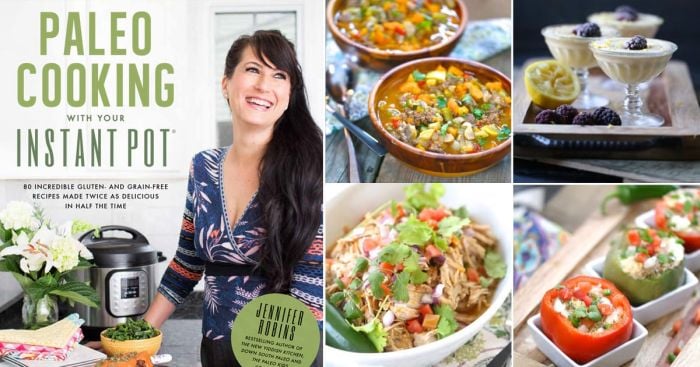 Cook like a caveman would if a caveman had modern appliances like the miraculous Instant Pot. This cookbook by Jennifer Robins is chock full of grain-free, dairy-free, soy-free, sugar-free, legume-free recipes fit for any paleo eater. You'll truly learn the ropes of making repeat-worthy meat and veggie dishes with a few fun treats thrown in. This is a great book for someone who is new to the Instant Pot and/or new to the paleo diet. It's not just your run of the mill roast, either.
Some of our favorites include a hidden spinach bundt cake, crustless quiche, green fish curry, chocolate chip banana bread muffins… the list goes on! Get the cookbook here.
We have a full review you can read here including a preview recipe – paleo BBQ short ribs.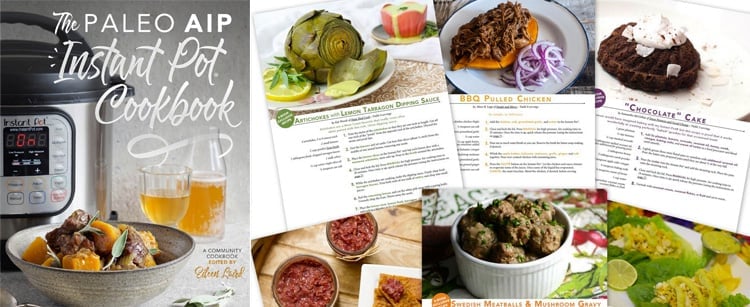 The autoimmune protocol or AIP can be a tough diet, eliminating everything the paleo diet does plus nuts, seeds, eggs, and nightshades. The Instant Pot steps up to make cooking delicious food even without those ingredients both easy and delicious. This healing protocol generally means spending a LOT of time in the kitchen, so pressure cooking really cuts that time back.
This cookbook by Eileen Laird contains over 140 recipes including nourishing broths and organ meats – essentials for AIP! Some recipes included are creamy leek and shrimp risotto, mole chicken with "bluecumber" salsa, pina colada tapioca pudding, and tongue tacos. Who said an elimination diet is boring? Think again! Check out the eBook here.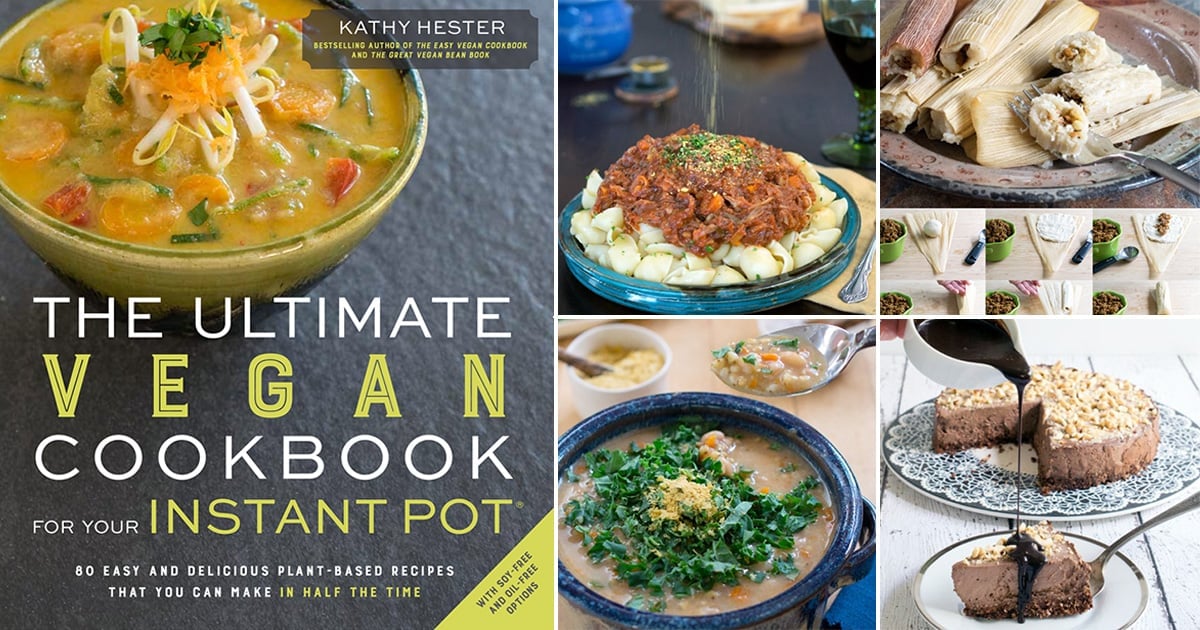 If you're eating a plant-based diet and using the Instant Pot, this is the most crucial book! Kathy Hester, the author, does a beautiful job at explaining basic cooking techniques every vegan needs to know when adapting to pressure cooking, all the while adding the most impressive and surprising bursts of flavor.
Plant protein and veggies have never been easier to eat with recipes like herbed French lentils, dessert tamales, seitan sausage, and jackfruit ragu. You'll also discover recipes for vegan basics like sauces, almond milk, soy yogurt and so much more. Get the cookbook here.
Read our full cookbook review here, and check out a featured recipe – holiday orange spice cake.
If you're having trouble giving up your takeaway, give this book a spin. Your favorite curries, dal, and butter chicken is all a few clicks of a button away in your Instant Pot. With authentic flavor and immaculate spice, this book will show you how to make restaurant favorites at home while keeping it healthy (and much less expensive).
Some exciting features include chicken biryani, chicken korma, palak paneer, aloo gobi, and so many more. Indian cuisine is great to make no matter what ingredients you have. There's a recipe for every type of meat, seafood, bean, lentil, and veggie. written by Urvashi Pitre. Get the cookbook here.
Minimalism is trendy right now for good reason. How about extending that same mentality to the kitchen? Less is more when you know how to cook it right, and this book teaches you how. There are over 250 five-ingredient recipes throughout the book to save time, money, and stress while still creating awesome dishes. If you're the type of person who likes to keep things simple, we couldn't recommend this book enough.
Some stand-out recipes include pomegranate oatmeal, sweet zucchini bread, a chia marmalade, and spinach pasta. It's great for every meal – breakfast, lunch, dinner, and even condiments. Cookbook by Shon Brooks. Get the cookbook here.
BONUS
Healthy eating is suddenly fast and simple with The Healthy Meal Prep Instant Pot Cookbook. Combining the speed and ease of Instant Pot® cooking with meal prep hacks, this Instant Pot cookbook will have you fixing great food that's good for you in no time. You'll also have plenty left for ready-to-go meals so you eat well all week long. Cookbook by Carrie Forrest. Get The Healthy Meal Prep Instant Pot Cookbook here.
Have you ever come home at the end of a long day, pulled an ice-coated lump of meat out of the freezer, and thought, "Can I eat this tonight?" With this book and your Instant Pot, the answer is a resounding "Yes." Here, you'll find 75 recipes and tons of strategies for cooking quick, flavorful one-pot meals with frozen ingredients, all with zero thaw time and no advance prep necessary. Cookbook by Bruce Weinstein and Mark Scarbrough. Get From Freezer to Instant Pot here.
Leftovers are great when you are hungry, but not when you forget about them. Cooking the amount you actually need for a meal is key. But so many recipes aren't designed that way. Pressure cookers have become known for big batches of food to feed a crowd. That's why we love this book because it perfectly portioned recipes for 3-Quart & 6-Quart Models of Instant Pots. Cookbook by Janet A. Zimmerman. Get The Ultimate Instant Pot Cookbook For Two here.
Let us know which cookbook you are most excited to get your hands on! Make sure to share this review roundup if you enjoyed it.