Today, we have our second installment in the Instant Pot cookbook review series, and we're pretty excited to share this one with you! With the Instant Pot growing in popularity, we've sourced and scoured some of the cookbooks we were most excited about and snagged some copies just to share what we love about them so much with you. In this post, we're featuring Jennifer Robins' cookbook titled Paleo Cooking With Your Instant Pot.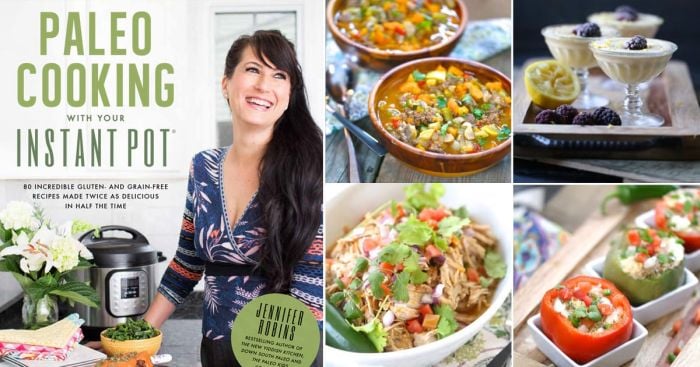 The book: Paleo Cooking With Your Instant Pot by Jennifer Robins
The focus: Cooking delicious gluten-free, grain-free, dairy-free, and sugar-free recipes in record time without sacrificing flavour. Eating like a caveman or cavewoman while using modern technology.
Featured recipe from the book: Instant Pot BBQ Beef Short Ribs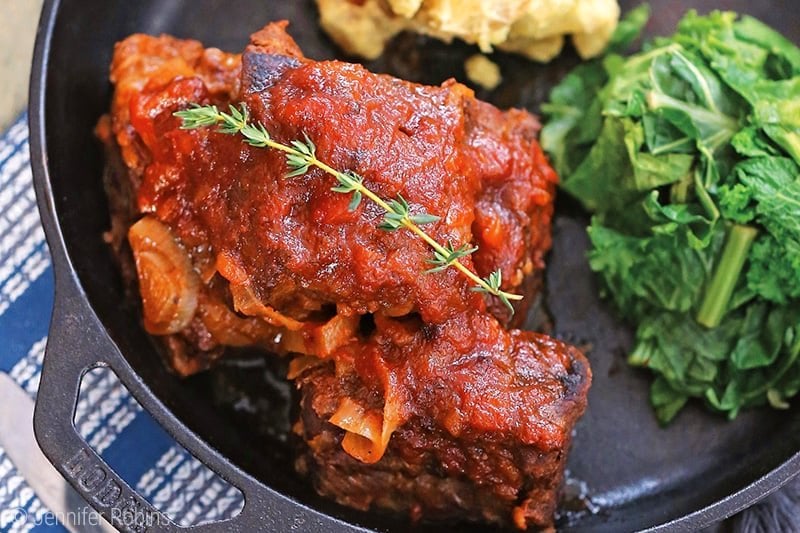 About the author
Jennifer Robins is the voice and whole-foodist behind the popular food blog Predominantly Paleo, and bestselling author of Down South Paleo, The New Yiddish Kitchen and Paleo Kids Cookbook. After being diagnosed with several autoimmune conditions and chronic infections, including Lyme disease, Jennifer became gravely ill and mostly housebound.
When traditional medical treatments failed to help, Jennifer turned to food for healing. Removing grain, dairy and refined sugars and eating "predominantly Paleo," she started reclaiming her life, one whole-food meal at a time. As a wife and mother of three, Jennifer hopes to instill healthy habits in her children now in hopes of creating wellness for a lifetime.
About the book
The paleo diet is an eating protocol that eliminates a whole lotta stuff. If you tell someone who doesn't have much experience with the paleo diet about these sacrifices, they'll likely ask, "What can you eat?" This book answers those questions for the primed pressure cooker. Many people are quick to jump to conclusions, a popular excuse being, "I don't have time to prepare that kind of food!" Well, we all know that "not having time" and the Instant Pot are a problem and a solution in one. This book compiles easy-to-make grain-free recipes using real, whole foods for all your meat and veggie needs.
Jennifer categorises her recipes by meal and meal type. This book includes sections for breakfast, proteins in a pinch, soups, stews, and sauces, quick sides, refined sugar-free treats, and hot beverages. The variety is all there, and we love the incredible range of paleo fare featured in these pages.
This cookbook does a fantastic job of combining full meals and the basics so you can learn how to cook those tough cuts of meat to perfection and master the basics like hard-boiled eggs while creating inventive and unique dishes.
What we love about this cookbook
Above all, the emphasis on cooking real, whole foods is the key here. Yes – we love all the cheesy mischief you can get up to, and the gorgeous cheesecakes you can make in the Instant Pot, but when it comes to day-to-day cooking, eating healthy is the way to go. Jennifer has been developing paleo-friendly recipes and publishing paleo cookbooks for a long time now, so you can trust her to put together some truly impressive dishes with her Instant Pot… and that's just what she does.
Some of the recipe highlights include exciting options for a grain-free breakfast (and not just eggs!). Jennifer shares a truly mouth-watering breakfast cobbler in the book that you don't want to miss. The protein section features meat entrees that will help you get out of that plain chicken breast and burger rut that tends to come with paleo. Flipping through the pages, you'll find classic recipes like pot roast and rotisserie chicken that will feed you and your family for days to come.
Some of the soup highlights include wedding soup and Southern shrimp chowder, helping you really find your flavour. Finally, you'll love the desserts section, and you won't even know it's good for you with recipes like chocolate chip banana bread muffins, brownies that will take you straight back to your childhood, and fun entertaining dishes like chocolate fondue for your most indulgent dippable cravings.
Who is this book for?
Anyone who eats paleo or is paleo-curious. Whether or not you've been doing paleo for awhile but want to take things to your IP or you're new to eating the primal way, this book is a fantastic guide to making those restrictions work under pressure. The Instant Pot presents an entirely new way of cooking, so learning how to create recipes you want to revisit over and over is important for upping your paleo cooking skills.
This book is also a great introduction to someone who uses their pressure cooker often but wants to clean up their diet a bit. Going strict paleo forever isn't necessary, but doing a quick 30-day round of elimination can help you get more accustomed to your own individual dietary needs while getting to know which foods you are more sensitive to. It's also a good reset for someone who wants to drop a few pounds and feel more energetic.
Intrigued? You should be! This is the only book you need for paleo cooking in your Instant Pot. You can get it here.
---