Today, we are sharing our third installment in our series of Instant Pot cookbook reviews. The pressure cooking popularity has brought a ton of great cookbook authors out of the wood works, and we really wanted to get our hands on a variety of recipe archives to help you decide which ones you want to add to your library. In this post, we're highlighting Janet A. Zimmerman's cookbook titled Instant Pot Obsession.
The book: Instant Pot Obsession by Janet A. Zimmerman
The focus: Cooking every meal, any day of the week… fast!
Featured recipe from the book: Italian Lamb Shanks with White Beans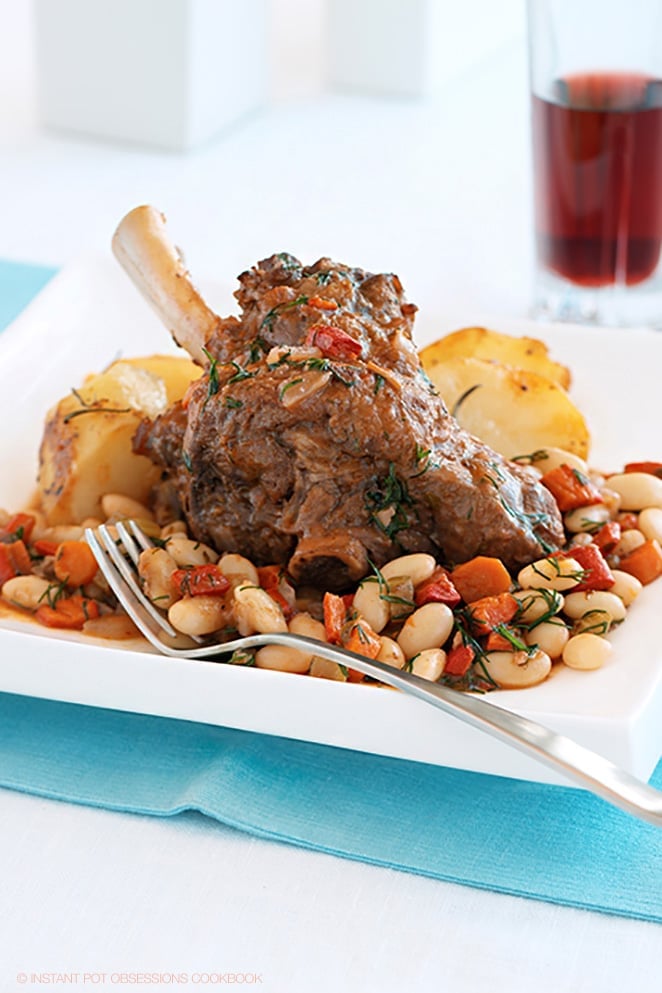 About the author
Janet A. Zimmerman is the author of The Healthy Pressure Cooker Cookbook. A longtime pressure cooking enthusiast, she was quickly won over by the ease and convenience of the Instant Pot. For more than 15 years Janet has shared her love of cooking with others as food writer and culinary class instructor.
She's written for Martha Stewart Living magazine, NPR's "Kitchen Window" and About.com. Two of her pieces have appeared in the annual anthology "Best Food Writing," and another was awarded the Bert Greene Journalism Award from the International Association of Culinary Professionals. Today she writes, teaches, and pressure cooks in Atlanta, Georgia.
About the book
Many home cooks and professional chefs can relate to Janet's obsession(s) in the kitchen. You may have noticed the Instant Pot take everyone by storm and become a household name. Once you got one yourself, you may have felt the same magic. This book is here to fuel your obsession whether you're a casual Instant Pot cook, or you find yourself asking, "What can't I cook in my Instant Pot?"
Janet values cooking from scratch, and that's evident in her recipes. This is a book that showcases healthy, homemade food that doesn't feel too restrictive. The book really plays on the philosophy that simply using your Instant Pot fosters good habits. The book covers some Instant Pot basics including the slang you might hear including "NPR" and "PIP," the difference between stove-top and electric pressure cooking, and a few fun skills to master beyond the basics. Tracy also makes sure to include sections outlining Instant Pot accessories and each individual button.
It's clear that Janet has been using a pressure cooker for a long time. Before the Instant Pot, there were stove top cookers after all. This book highlights Janet's kitchen experience and displays a true dedication to discovering the best ways to make certain foods and recipes under pressure.
What we love about this cookbook
After reading through these recipes and making some, you'll come to find that all these healthy, nourishing, and balanced meals you're creating hardly feel like "diet food." When it comes to eating healthy, the Instant Pot is a fantastic tool because you can enjoy hearty, flavourful meals without much experience cooking.
Janet makes real, whole foods approachable and mouth-watering with recipes like spinach quiches, creole carrots, sweet and sour brussels sprouts, and Italian chickpea stew. You get the run down on perfect chicken breasts every time plus an entire section devoted to meatless mains including vegetarian chili verde and lasagna.
Some of the most exciting (and most indulgent) recipes are the glorious breakfast meals such as Janet's maple sausage breakfast casserole and French toast cups. Additional categories in Instant Pot Obsession include a decadent desserts section with recipes for browned-butter apple spice cake, frozen creamsicle pie, and classic chocolate pudding. It's drool-worthy material.
Who is this book for?
This book is equally as good for an Instant Pot newbie as it is for someone who wants to get better at using theirs. It's fantastic for someone who wants to feel a little more innovative in the kitchen (don't we all?) while still eating healthy. These are hands-down some of the most unique recipes we've seen in a cookbook, and the variety makes it a must-have for the adventurous eater or the parent who needs inspiration for picky eaters.
The recipes contain handy labels for gluten-free and grain-free eaters, so there's truly something for everyone in here. While it doesn't fit one dietary standard perfectly, it's a good book for someone who likes to try new things, or someone who wants to reduce meat or gluten in their diet. Overall, it's one of the best introductions to the Instant Pot we've seen with such a range of ingredients and flavours encompassed in these tasty pages.
If you want to make these stunning recipes and more, pick up a copy of this essential Instant Pot cookbook today.
---