Today's veggie-loaded Instant Pot recipe collection features our favorite dishes filled with vitamins, antioxidants, and fiber. Focusing on fresh and frozen vegetables, these recipes are perfect for any season but especially summer and fall when the harvest brings a plethora of colorful, wholesome, fresh ingredients to play with.
---
While many people use the Instant Pot to cook beans, legumes, grains, and meat (especially slow-cooking cuts), there is nothing stopping you from making dishes loaded with vegetables. In fact, pressure cooking locks in more nutrients and works perfectly for hot summer days when you don't want to use the stove or oven.
The key to cooking vegetables with an Instant Pot pressure cooker is the timing! For example, starchy tubers like potatoes, sweet potatoes and beets, and firm greens like kale will need slightly longer cooking time at pressure, so they can easily be added to things like rice, beans, lentils, and meat dishes simultaneously.
Fresh, crunchy veggies like broccoli, peppers, young carrots, and green beans cook quickly, so they only need 0-1 minutes at HIGH pressure or 2-3 minutes at LOW. So, it's best to cook those separately or to add them at the end. Often, cooking them for a few minutes on Saute function is all you need.
Quick-release is also the best way to depressurize the Instant Pot to make sure the vegetables don't continue cooking.
Some of the salad vegetables like cucumbers, radish, fennel, peppers, and leafy greens (while they can be cooked) are often best used fresh in the summer, so you can use the Instant Pot to cook things like grains, quinoa, rice or chicken to combine with those ingredients post-cooking, like in a salad.
If you love lots of vegetables in your meals, the Instant Pot is great for many reasons. Below, we are sharing some of our favorite, nutritious recipes loaded with all sorts of veggies. We hope they inspire you to cook up some new dishes this season.
THE BEST INSTANT POT VEGETABLE STEW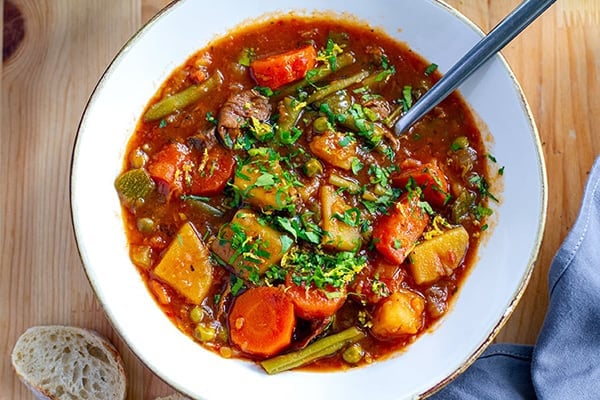 This stew is hearty, thick, comforting, and very tasty but the real reason we think it's so good is the number of veggies you'll be getting in each serving. Made with about 10 types of vegetables, it is really is a nutritional powerhouse! It's great for batch cooking and meal prepping as it keeps well and can be used over a few days. Plus, it's vegetarian, vegan, and gluten-free friendly and is easily adaptable for those following something like a Whole30 or a paleo diet. Recipe from Instant Pot Eats.
INSTANT POT VEGETABLE NOODLE SOUP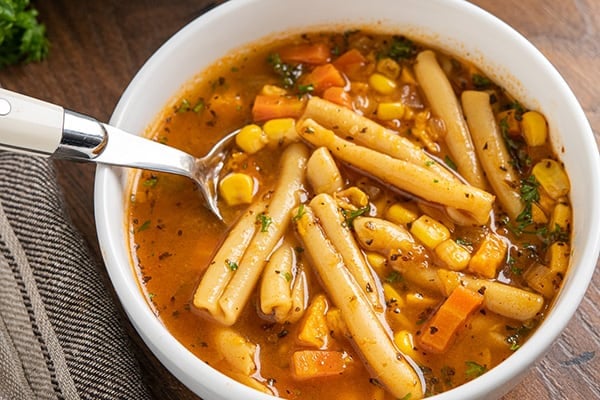 Delicious healthy vegetables in a flavorsome broth with pasta noodles, corn and carrots for a simple any time of day meal. Recipe from Slimming Eats.
INSTANT POT VEGAN RISOTTO WITH GREEN VEGGIES & FRIED GARLIC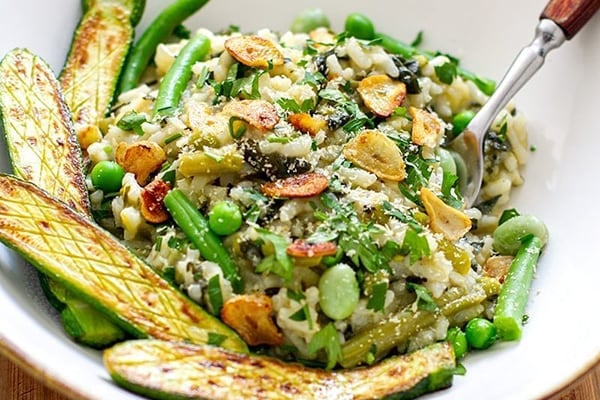 A creamy, velvety risotto that is much lighter and is made without butter or cheese. Our Instant Pot vegan risotto is loaded with green vegetables like kale, green beans, and zucchini and is topped with fried garlic for amazing aroma and flavor. Recipe from Instant Pot Eats.
Instant Pot Cauliflower Tikka Masala
30-minute Instant Pot cauliflower curry! Perfectly spiced, incredibly easy to make, and super creamy! Top it off with some fresh parsley and roasted cashews for a little crunch! You can serve this cauliflower tikka masala with rice, quinoa, or tofu for a protein-packed meal. Recipe from Full of Plants.
INSTANT POT TOMATO SAUCE (WITH 10 VEGETABLES, SUGAR-FREE, VIDEO)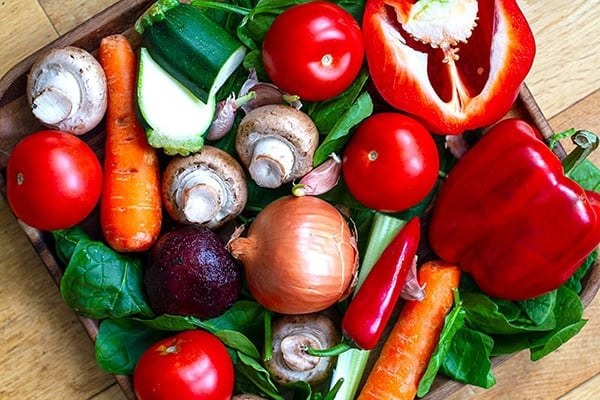 Are you struggling with picky eaters and looking for ways to feed them vegetables in disguise? This Instant Pot tomato sauce made with 10 vegetables that will give a nutrient boost to your meals without anyone even noticing how much goodness is hidden inside. This multi-purpose Italian sauce can be used in many dishes such as pasta, meatballs, enchiladas, and ragu and is great for batch cooking and make-ahead meal prep. This recipe is sugar-free, gluten-free, vegan, paleo, and Whole30 friendly. Recipe from Instant Pot Eats
1-Minute Instant Pot Quinoa With Veggies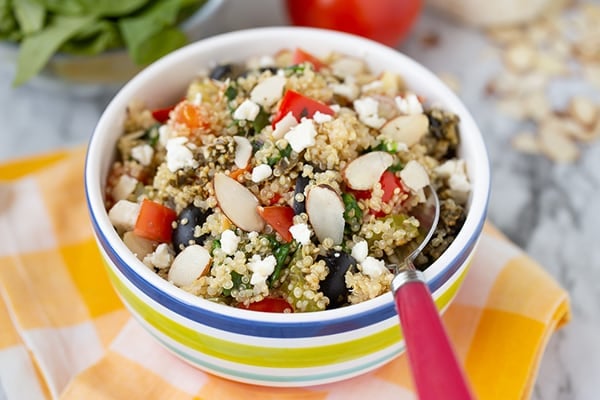 Rotate this high-protein grain into the menu when you feel like you've been serving dinner rolls and rice on repeat. Nutritious, protein-rich quinoa cooks up fluffy and flavorful in only one minute under pressure! Recipe from Super Healthy Kids.
INSTANT POT VEGETABLES EN PAPILLOTE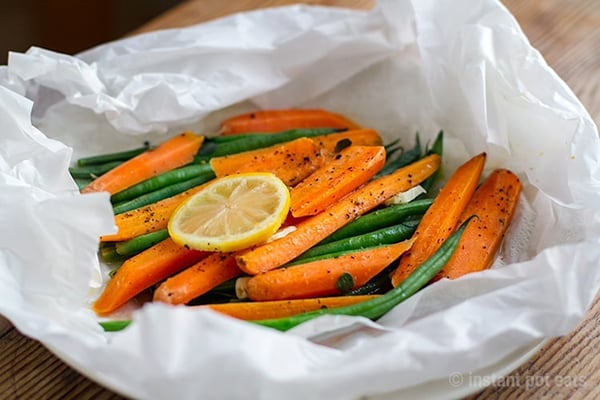 French for "in parchment", this method uses baking/parchment paper, paper bag, or even aluminum foil, to fold the ingredients into a parcel or a pouch, which is then baked or steamed. In this way, the food – usually fish or vegetables – cooks in its own juices and steam, infusing with any flavors or spices you add to the bag. A papillote is then opened at the table to allow people to smell the aroma when it opens. Recipe from Instant Pot Eats.
How To Make Vegetable Broth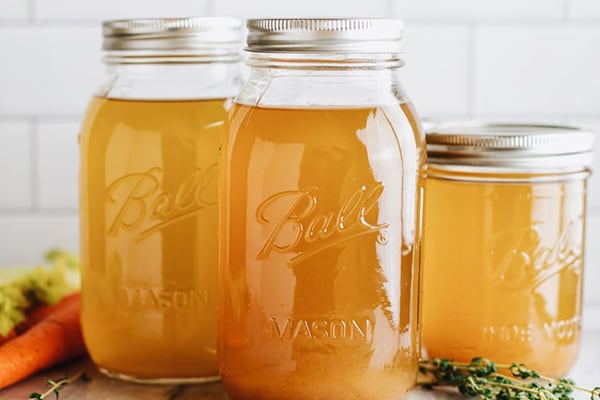 The easiest homemade vegetable broth that is filled with so much flavor and is quick to make! A great recipe to utilize extra vegetable scraps or frozen vegetables you need to use up. You'll never use store-bought vegetable broth again after trying this recipe. Recipe from A Simple Palate.
INSTANT POT SALMON & VEGETABLES (STEAMED, 15-MINUTES)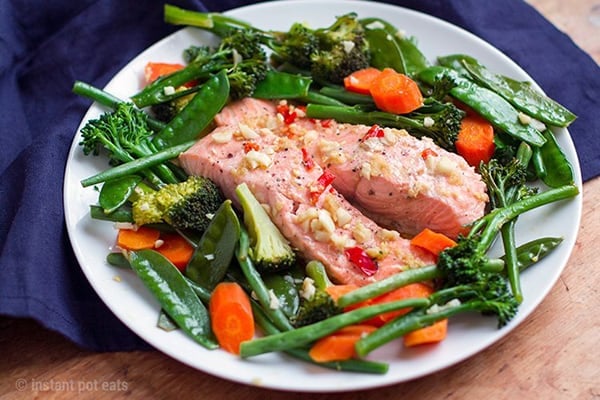 Flavored with Asian aromatics like garlic and chili and a splash of sauce, this meal only takes 15 minutes to prepare. It'is gluten-free, Whole30 and paleo-friendly, AIP friendly (just avoid the chili and use coconut aminos instead of tamari or soy sauce) and it's full of nutrients. Recipe from Instant Pot Eats.
Instant Pot Pasta Primavera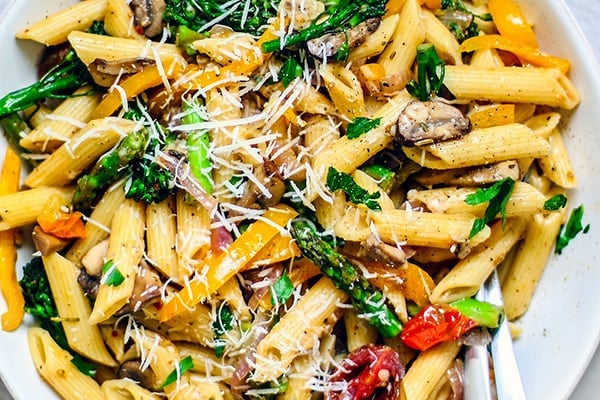 Hit the farmers market this weekend, grab your favorite seasonal veggies, and throw them into this pasta with some Italian spices. It's light, refreshing, and brings your favorite seasonal veggies to the table in less than 30 minutes. Recipe from Killing Thyme.
INSTANT POT POTATO SALAD WITH TANGY VINAIGRETTE (VEGAN, GLUTEN-FREE)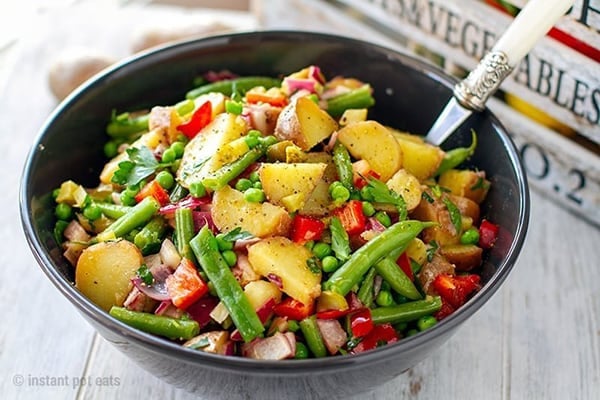 The best potatoes to use in a salad are waxy potatoes such as red potatoes, Yukon Gold, and so on as they hold their shape and firmer texture, which works well when you chop them. Simply mix with some lovely green beans, peas, pickles, and zesty shallot vinaigrette for a colorful vegan and gluten-free dish. Recipe from Instant Pot Eats.
Instant Pot Egg Fried Rice
Quick Veggie loaded Egg Fried Rice made in the pressure cooker within 30 minutes! Gluten-Free and Vegan Friendly! It's easy to put together with lots of shortcuts that can help you cut the prep time. Recipe from Yellow Thyme.
INSTANT POT VEGETARIAN QUINOA CHILI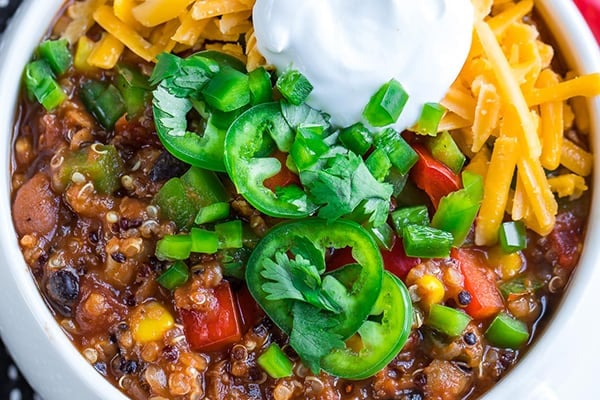 This Instant Pot Vegetarian Quinoa Chili is a comfort food classic with a healthy plant-based twist! Recipe yields 12 cups of chili. Recipe from Peas and Crayons.
INSTANT POT CHICKEN, HAM & VEGETABLE PASTA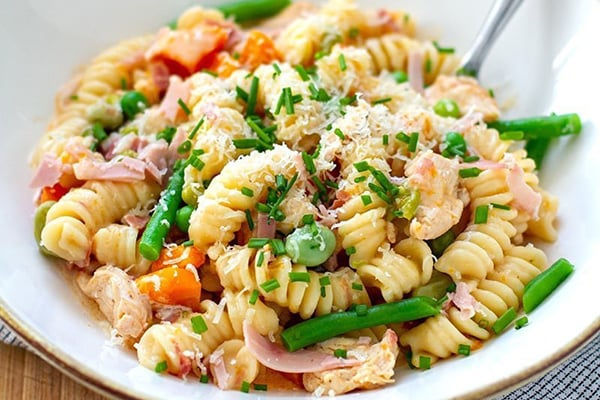 Why resort to frozen meals when you can make the same dish from scratch just as easily using a pressure cooker. This kid-friendly Instant Pot chicken pasta with ham and vegetables is tasty and nutritious, with just a touch of cream and cheese that makes it velvety and hearty. Recipe from Instant Pot Eats.
Instant Pot Dal with Lots of Kale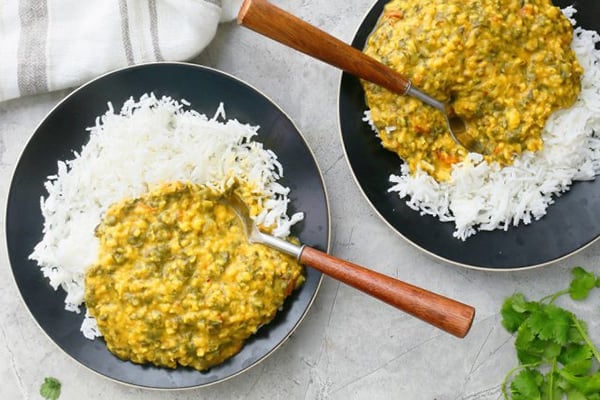 Thick and Creamy Instant Pot Dal, loaded with kale is healthy, nutritious, packed with flavor, naturally gluten-free. Perfect for busy weeknights, just serve it with rice, rotis, parathas, naan or meal prepped for the week. Recipe from Kitchen @ Hoskins.
INSTANT POT VEGETABLE SOUP (ITALIAN FARMHOUSE)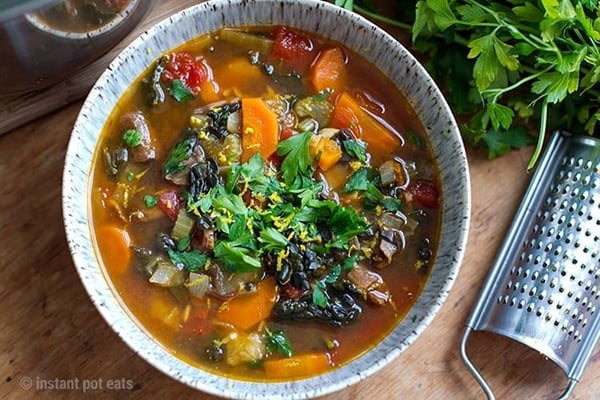 The best thing is that although this soup is detox and diet-friendly, it doesn't skimp on the flavor. With the addition of savory mushrooms, lots of garlic and herbs, this meal is bursting with tasty goodness and nutrients. It's vegan and gluten-free. Recipe from Instant Pot Eats.
INSTANT POT CHEESY BROCCOLI AND RICE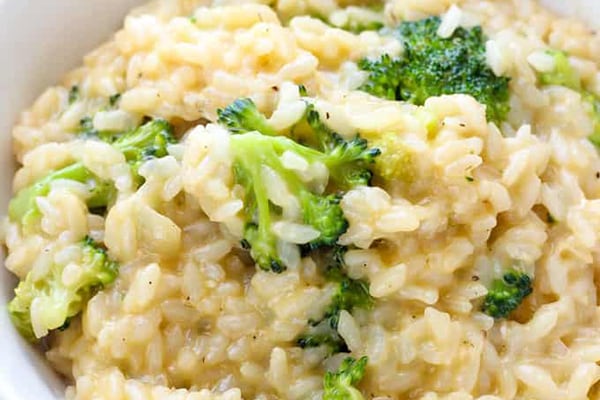 This Instant Pot Cheesy Broccoli and Rice is an easy and delicious side dish for just about any meal! It's ready in a flash and only requires a handful of simple ingredients that you probably already have on hand. Recipe from Belle of the Kitchen.
INSTANT POT THAI SOUP WITH CORN & ZUCCHINI

When Sweet corn and zucchini are in abundance, this gluten-free, vegan-friendly soup is a great way to use them up. It's light, healthy, and delicious and takes no time at all! Recipe from Instant Pot Eats.
---