Learn how to make delicious Instant Pot recipes with quinoa. This grain-like seed is versatile and gluten-free and can be used in cold salad recipes, hot side dishes, or even for breakfast as a porridge. When you need to plan ahead but no time to cook, it's ideal for a one-pot batch cooking meal prep for lunch throughout the week.
---
What Is Quinoa?
Quinoa is a pseudo-cereal grain crop. It is basically a seed, but is prepared and eaten similarly to a grain. In recent times, it has become a trendy health food of choice as a gluten-free substitute. There are three main types: white, red, and black. The lighter the color the milder the flavor.
Quinoa is high in protein, fiber, minerals, and vitamins which can help reduce blood sugar levels, lower cholesterol, increase fullness and help with weight loss. Containing essential amino acids makes it a great source for vegetarians and vegans. Two flavonoids, quercetin and kaempferol, have both been found in high amounts in quinoa. Its high concentration of antioxidants offers health benefits, such as anti-inflammatory, anti-viral, anti-cancer, and anti-depressant effects.
Instant Pot Quinoa
Instant Pot is the perfect method for cooking quinoa. The versatility of using it for cold salads or hot side dishes makes one-pot batch cooking ideal for meal prep throughout the week.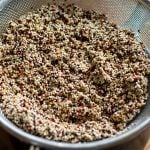 Rate This Recipe
Basic Instant Pot Quinoa Recipe
As well as sharing our best Instant Pot quinoa recipes, here is a simple method for cooking basic quinoa in the pressure cooker. You can use this as a base for many delicious and healthy meals.
Print Recipe
Pin Recipe
Ingredients
1.5

cups

uncooked quinoa

any colour

3

cups

water

1/2

tsp

salt

or stock cube

2

tsp

butter (or olive oi)

to finish
Instructions
Rinse your quinoa first and strain well.

Add rinsed quinoa and water to the Instant Pot. Add a little salt to season the quinoa or you can use vegetable or chicken stock cube for extra flavor. Stir through.

Secure and lock the lid. Set to High Pressure using Manual/Pressure setting for 1 minute. It will take about 10 minutes for the pressure to build up, during which the cooking begins.

Once the timer is done, leave the pot alone for 10 minutes to release the pressure naturally and follow with a quick release to let off the remaining steam. The quinoa will continue to cook during the natural release and will absorb any remaining liquid.

Open the lid and add a dollop of butter or a few drizzles of olive oil. Use a fork to fluff up and stir the quinoa. Serve as is or with some fresh herbs on top.
Notes
Use 1 ½ cups of water for every cup of quinoa.
Nutrition
Serving:
4
g
|
Calories:
253
kcal
|
Carbohydrates:
41
g
|
Protein:
9
g
|
Fat:
6
g
|
Saturated Fat:
2
g
|
Polyunsaturated Fat:
2
g
|
Monounsaturated Fat:
2
g
|
Trans Fat:
0.1
g
|
Cholesterol:
5
mg
|
Sodium:
319
mg
|
Potassium:
360
mg
|
Fiber:
4
g
|
Sugar:
0.003
g
|
Vitamin A:
71
IU
|
Calcium:
36
mg
|
Iron:
3
mg
---
---
QUINOA INSTANT POT RECIPES TO TRY
Below you will find a collection of healthy and delicious Instant Pot recipes using quinoa. We have hearty stews and soups, colorful and fresh salads and breakfast porridge-like creations. 
---
A healthy, filling, make-ahead Instant Pot Quinoa Breakfast bowl recipe that you can make in just about 20 minutes. Made with almond milk, this gluten-free, no-sugar-added, and vegan breakfast quinoa bowl is guaranteed to jump-start your morning. Get the recipe here.
---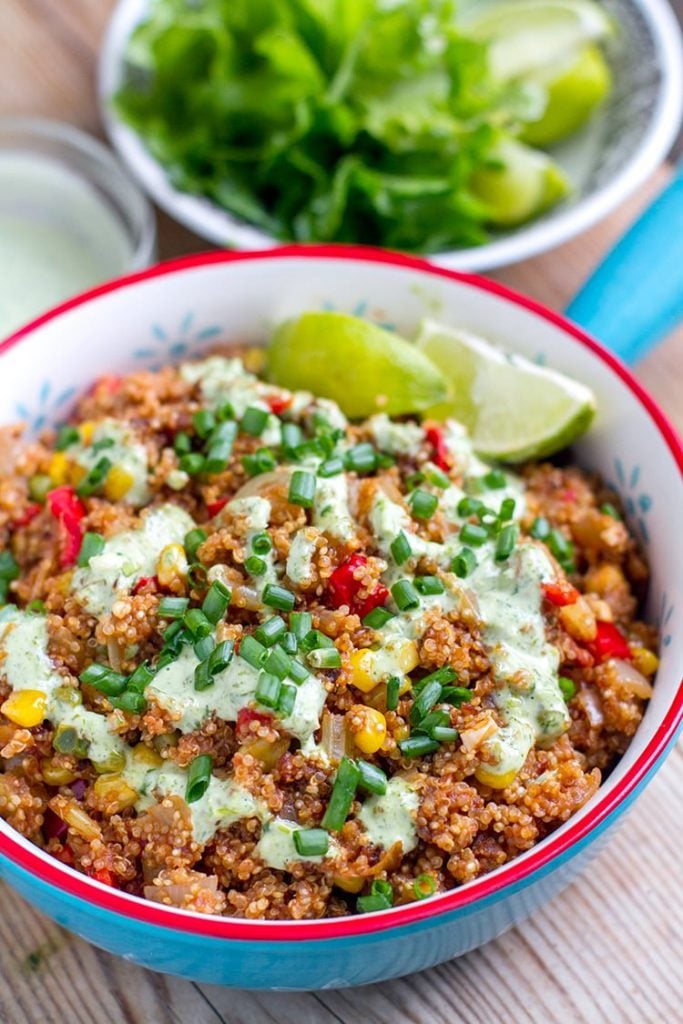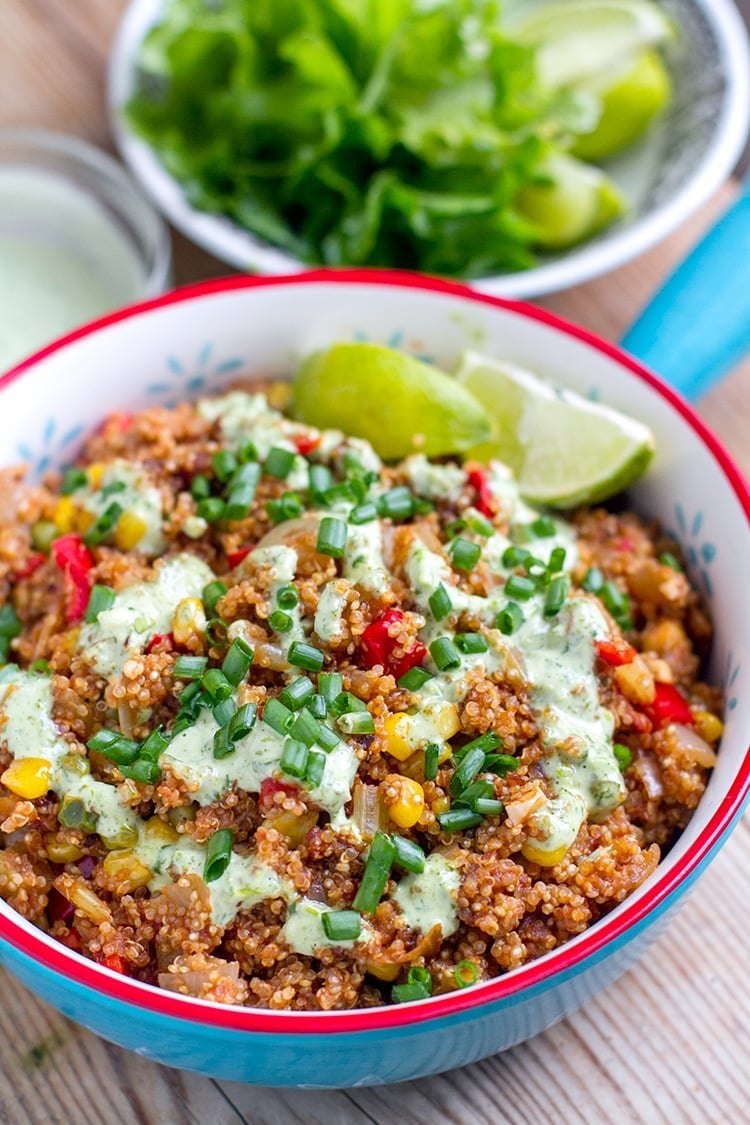 The quinoa is perfectly pressure-cooked together with colorful veggies and Mexican-inspired spices, so it absorbs all those beautiful warm and earthy flavors while still in the pot. Cilantro and lime sauce is then drizzled over the top. Get the recipe here.
---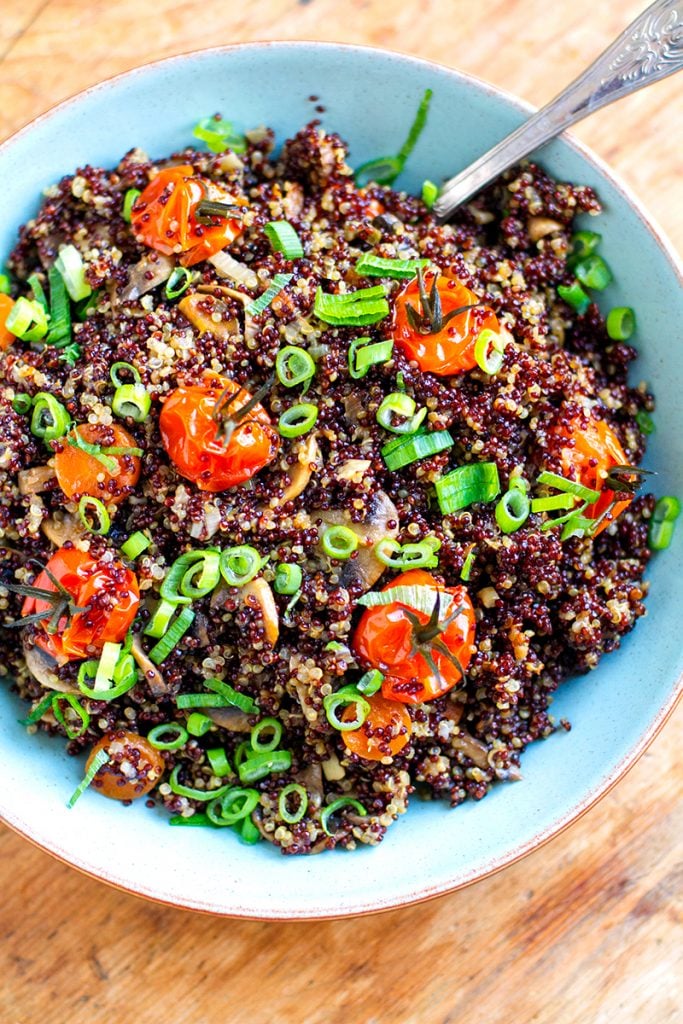 This gorgeous Instant Pot quinoa dish is perfect for a lazy, nutritious dinner. Made with garlic mushrooms and cherry tomatoes, it's vegan, gluten-free and can be served as a main or a side dish. Get the recipe here.
---
Quinoa is the building block of any basic burrito bowl, but adding cilantro lime flavor just takes it to the next level. Get the recipe here.
---
Just throw everything into the pressure cooker and a delicious breakfast is "ready in a jiffy " A perfect fall breakfast. Taste like pumpkin pie with protein-rich Quinoa. Get the recipe here.
---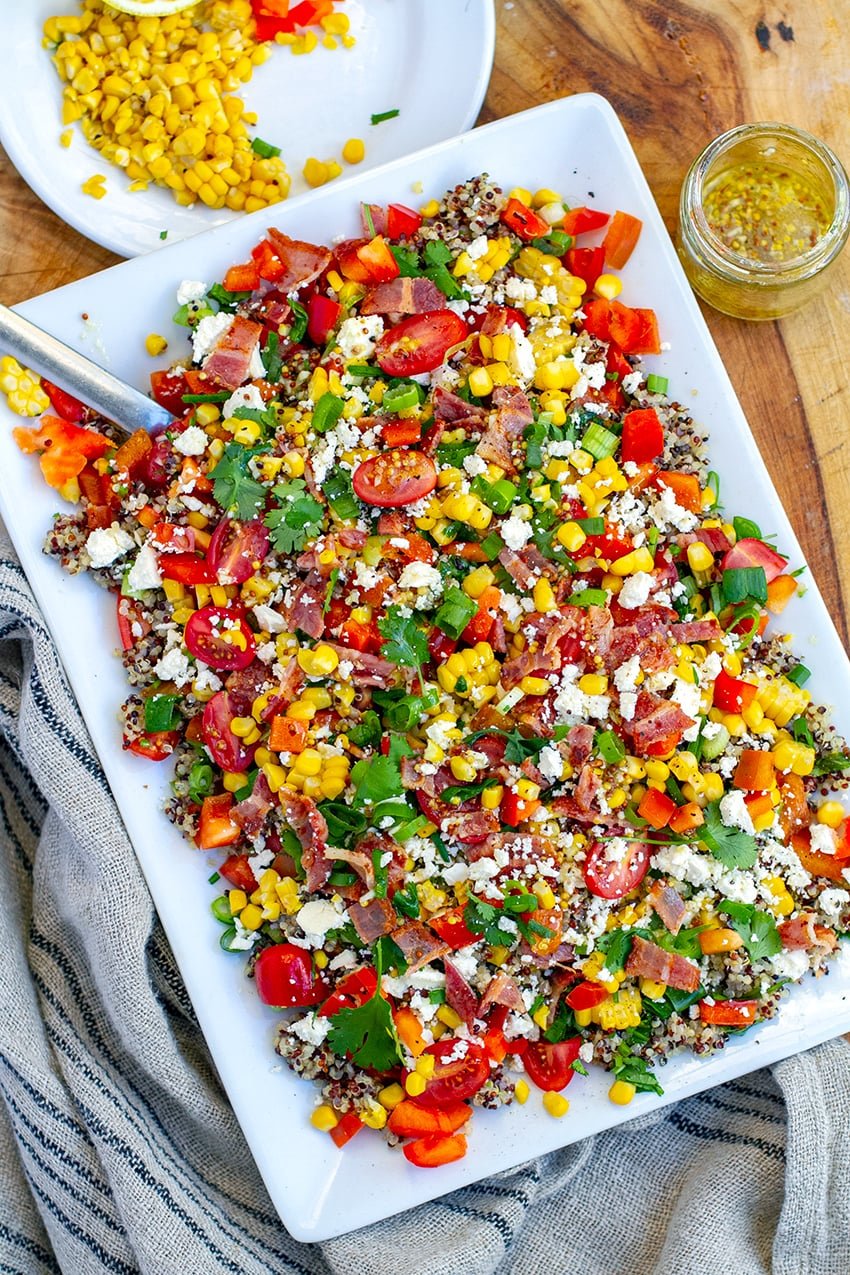 Learn how to make delicious, satiating quinoa, corn, and bacon salad with cherry tomatoes, peppers, cilantro and feta, drizzled with yummy lemon, honey, and mustard dressing. Get the recipe here.
---
This quinoa chili has the perfect combo of flavors, it is a little sweet from the sweet potatoes, and balanced with savory onions, garlic, and peppers, then the chili powder adds a nice warmth that you expect from chili. Get the recipe here.
---
A combination of raw miso paste, tomato paste, and Tamari or soy sauce, infuse this dish with real umami flavor, known as the fifth taste. It's a little salty and savory, tickling your tastebuds in all the right ways. Get the recipe here.
---
This soaked Instant Pot Quinoa Breakfast Porridge is a gluten-free, grain-free dairy-free breakfast that's easy, digestible, and has just 4 ingredients! Get the recipe here.
---
Healthy and well-balanced, this Vegetable Quinoa Soup filled with hearty vegetables, protein-rich quinoa and beans is oil-free and so easy to make using a slow cooker, Instant Pot, or stovetop method! Get the recipe here.
---
This delicious and healthy one-pot Instant Pot kale and quinoa pilaf is a fantastic vegetarian meal bursting with gorgeous flavors and textures. Cooked in a tasty broth and served with freshly chopped parsley, goat's feta cheese, and toasted almonds. Get the recipe here.
---
A healthy casserole-style recipe made in the Instant Pot in less than 20 minutes with broccoli and corn. It's perfect for an easy weeknight dinner or meal prep lunches. Add a little cheese on top to balance out the spicy sauce. Get the recipe here.
---
The perfect quick and delicious breakfast! Made in under 20 minutes in your instant pot, this simple, wholesome meal will leave you feeling full all day! Get the recipe here.
---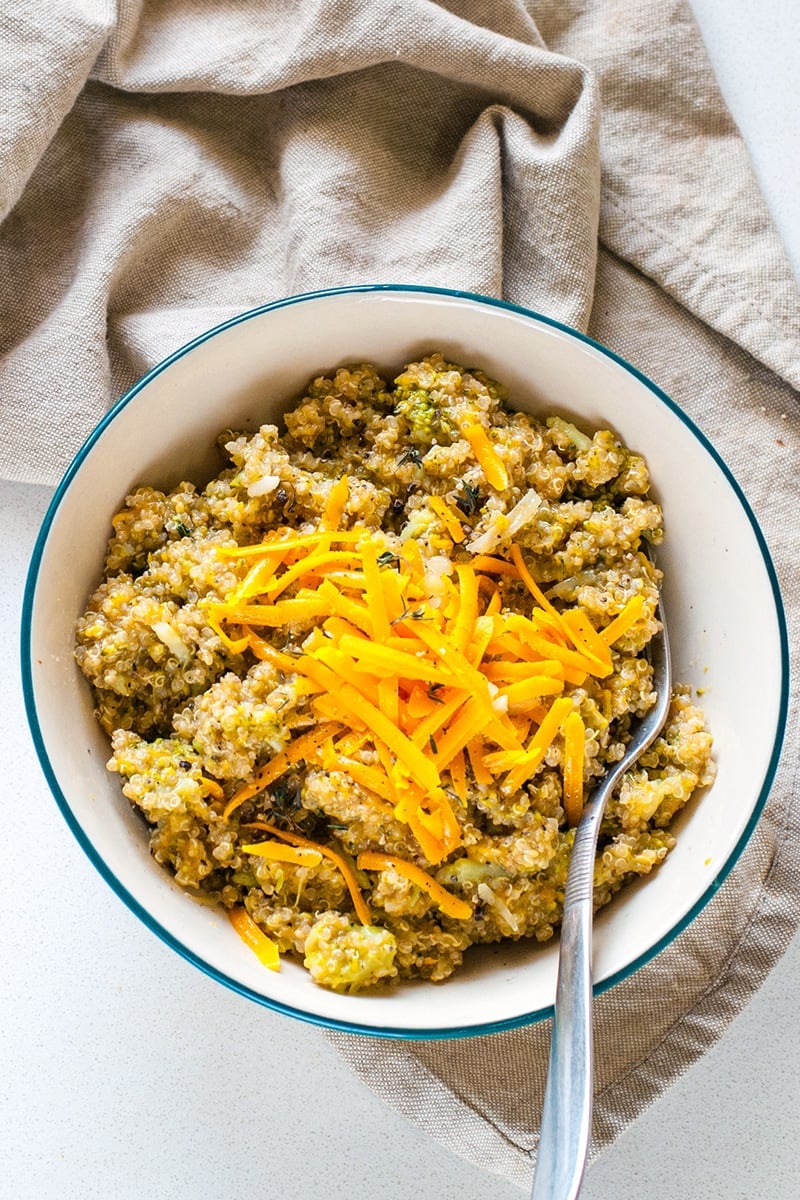 This casserole-inspired Instant Pot quinoa with broccoli and melted cheese is a one-pot, dump-it-all, vegetarian, and gluten-free dinner recipe you can make in 10-15 minutes with your pressure cooker. Get the recipe here.
---
A healthy, wholesome vegan meal made in the Instant Pot. So easy to put together, vegan, and gluten-free! Eat it for lunch/dinner or pack it for your lunch box. Also great for meal prep. Get the recipe here.
---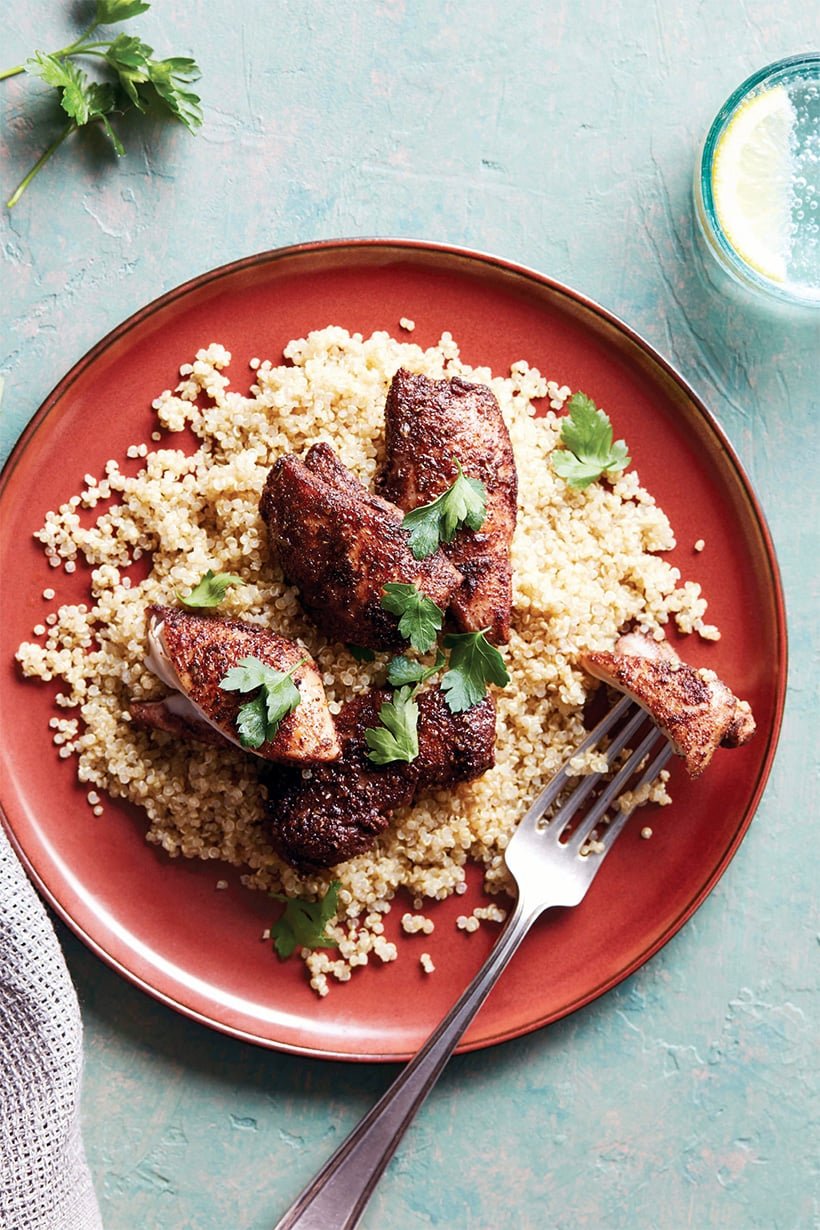 Learn how to make healthy and delicious Instant Pot jerk chicken and quinoa with this easy pot-in-pot recipe. This dish is gluten-free, dairy-free and packed with protein, fibre, and nutrients. Get the recipe here.
---
This Instant Pot Mediterranean Quinoa is simple to make and full of fresh flavors. This recipe is perfect on its own, or add your favorite choice of protein, and serve it cold as a salad or warm as a side, you cannot go wrong with this. Get the recipe here.
---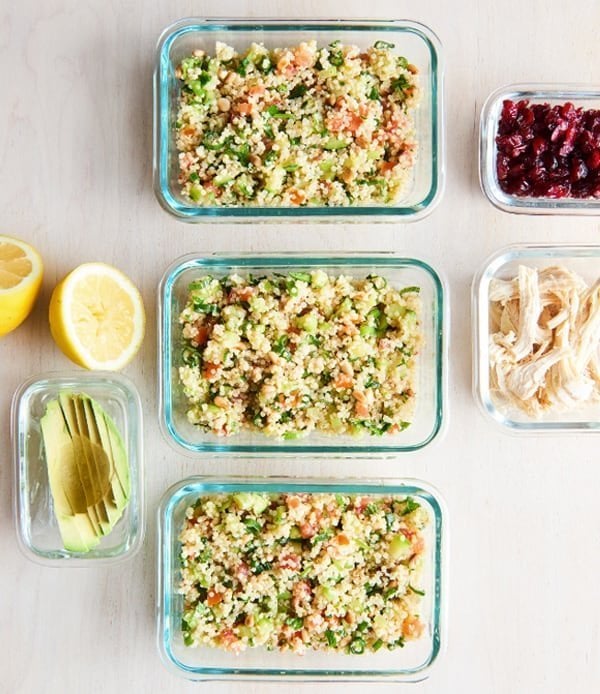 This Instant Pot quinoa salad is fluffy, full of chewy texture, and pairs well with vegetables and bright flavors of fresh lemon juice and herbs for a great grab-and-go meal prep lunch. Get the recipe here.
---
A delicious, nutritious meal with veggies & a generous amount of ghee that's so comforting. If you love one-pot meals that are filling, healthy & super easy, then, you must not miss this one. Get the recipe here.
---
A simple and tasty meal prep lunch idea that you can make ahead for the work week – the secret sauce is honey mustard so you can make this recipe using mostly pantry staples! Get the recipe here.
---
This vegan quinoa fried rice is a lovely blend of sweet and savory flavors, is packed with protein, and gluten-free. Get the recipe here.
---
Save Instant Pot Quinoa Recipes To Pinterest