Summer means lighter no-fuss meals that are more health-conscious. No one wants to heat up the kitchen on those warm days, so oftentimes a colorful salad is the preferred choice for lunch or dinner. It is also the season for lighter potluck dishes to bring to a barbecue or a picnic. In this roundup, we're showcasing delicious salads you can make with the help of the Instant Pot. Jazz things up with some curry chicken salad or quinoa corn and crispy bacon creation.
---
Sunshine means getting outside and enjoying the weather. For many people, this means lighter no-fuss meals that are more health-conscious, such as a delicious salad.
HOW TO USE INSTANT POT TO MAKE SALADS
At first, you might be wondering who needs an Instant Pot to make a salad? But, we don't mean that you would be making the whole salad in the actual pot. Instead, the pressure cooker can be used to make some of the key ingredients that make up that salad dish. This is especially useful during those hot days when no one wants to heat up the kitchen with the oven or stand in front of a stove.
Some of the foods you can cook in the Instant Pot to use in a salad include:
Protein: hard-boiled eggs, shredded chicken, pulled pork, meatballs, chickpeas or beans are all great sources of protein to add to any salad to make it more substantial and satiating. You can even use the Saute function to crisp up some bacon or sizzle some garlic prawns.
Grains: brown or white rice, quinoa, faro, millet or pasta make for a hearty, nutritious base for main salads.
Legumes: nutritious lentils, cannellini beans or peas are just some of the legumes you can cook in the Instant Pot to add to a salad.
Vegetables: think potato, pumpkin, beets, green beans or asparagus – these can all be cooked or steamed using the Instant Pot.
Another great thing about the pressure cooker is that you can make large batches of these foods to stash in the fridge or freezer for a quick and easy throw-together salad dish.
What makes a great salad?
Transforming a mediocre salad to something epic is based on fresh ingredients and toppings you actually want to eat. Don't be afraid of adding fruit to add the contrast of sweetness, or nuts for some crunch, or avocado for fat, or chickpeas for protein.
Making homemade salad dressing with fresh ingredients gives it a little something extra; make sure it's not soggy from being drenched by dressing and not too dry. Don't forget to season those greens with a touch of salt and pepper. This enhances the flavors already locked in the veggies. Greens are usually your base but you can incorporate different types, not just iceberg. Watercress and arugula can add a peppery bite. Beyond lettuce, fresh herbs like cilantro, parsley, or mint can add some surprise.
In this roundup, we explore more than just your classic Caesar salad. We like to jazz things up with some Brazilian-inspired curry chicken or if you like texture, corn and crispy bacon is an instant fiesta on your table with bright colors decorating the plate. The more interesting you make your salad the more you will enjoy and look forward to eating healthy. Here is our selection of Instant Pot salads for summer and beyond.
---
Best Instant Pot Salads
From refreshing pasta salads to crisp veggie-packed creations, these recipes showcase the versatility of your Instant Pot, making it easier than ever to enjoy healthy and delicious salads in no time.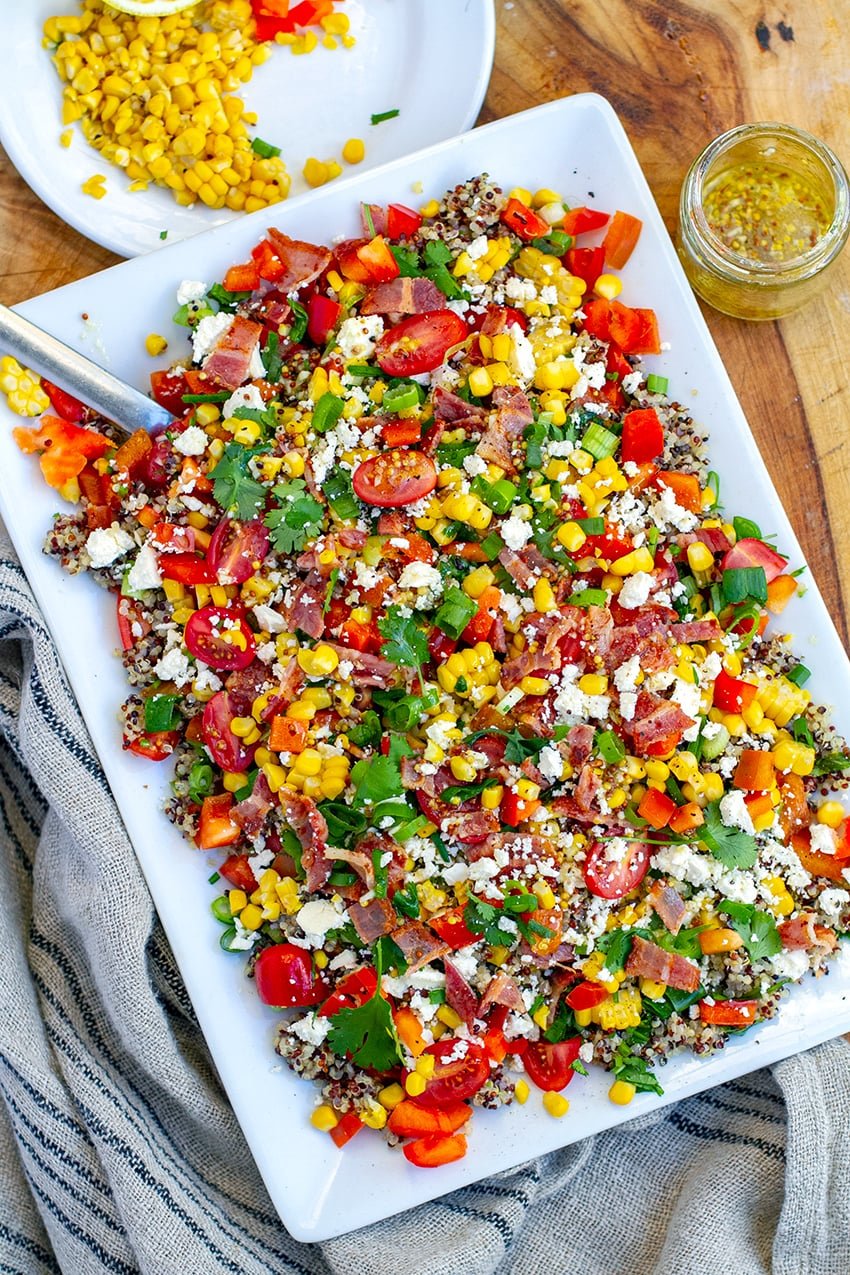 The sweetness of the corn is complimented by the saltiness of the bacon and added feta cheese, while quinoa served as the perfect protein and fiber-rich base with its neutral, nutty flavor. The salad is full of other nutritious goodies: tomatoes, peppers, herbs, onions, and a lovely dressing. Get the recipe on our blog.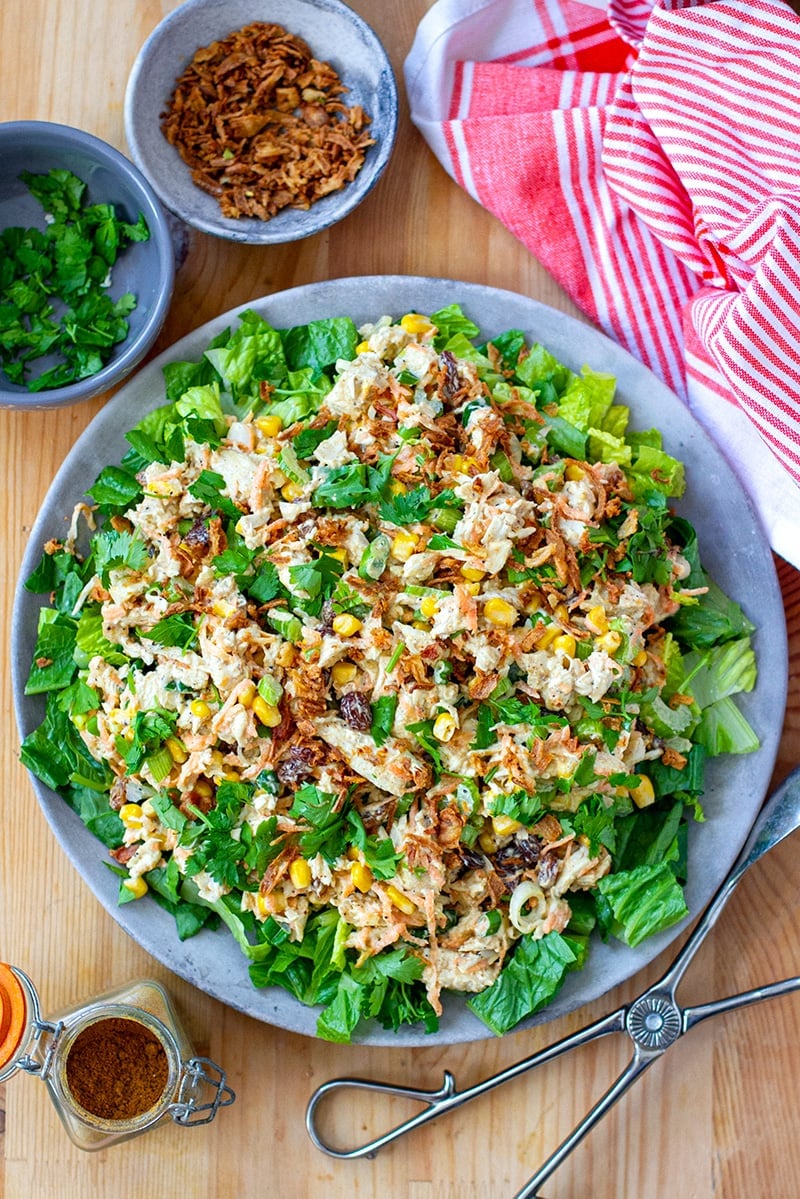 This delicious and healthy recipe is inspired by a Brazilian chicken salad, also known as Salpicão de Frango. We take popular American classic, add some Brazilian additions of grated carrot, raisins, and corn, perfectly cooked, lightly spiced chicken breasts and an Asian twist of curry mayo dressing. Get the recipe on our blog.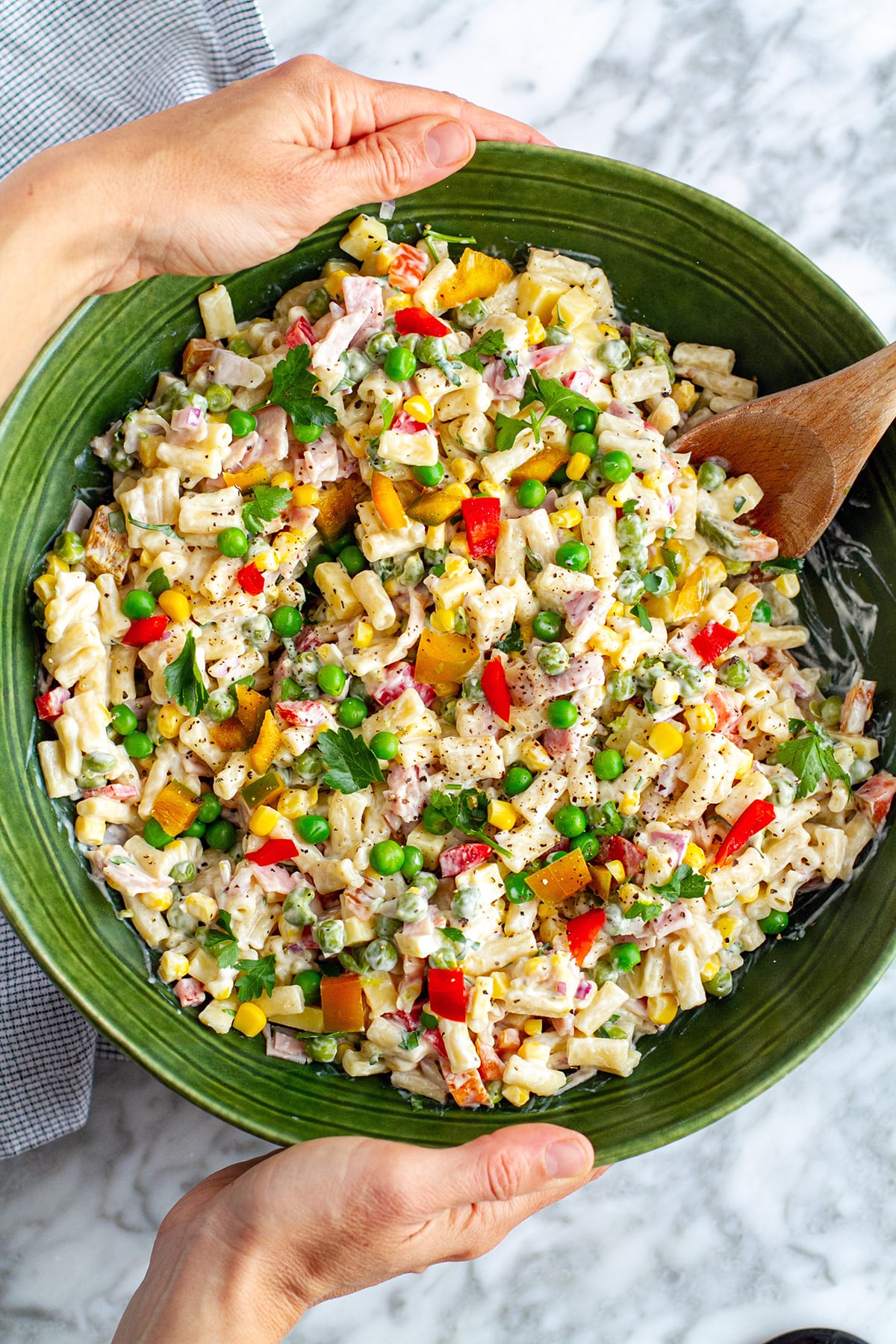 This summer classic is usually made with straight or elbow macaroni pasta, creamy mayonnaise dressing, and a variety of diced vegetables such as red onions, peppers, celery, peas, or whatever else you have on hand. Our Instant Pot version uses small pasta tubes, frozen peas, and fresh corn, which are cooked together in the pressure cooker. Get the recipe on our blog
Enjoy a light healthy meal that is easy to make and easy to grab-and-go. It may take a little bit of planning and diligence, but it will be worth it when you feel good about life choices that are only helping you live longer. Quinoa is a great choice for a yummy kick start to healthy clean eating. It's gluten-free, twice the protein content of rice or barley, and contains sufficient amounts of all nine essential amino acids. Get the recipe on our blog.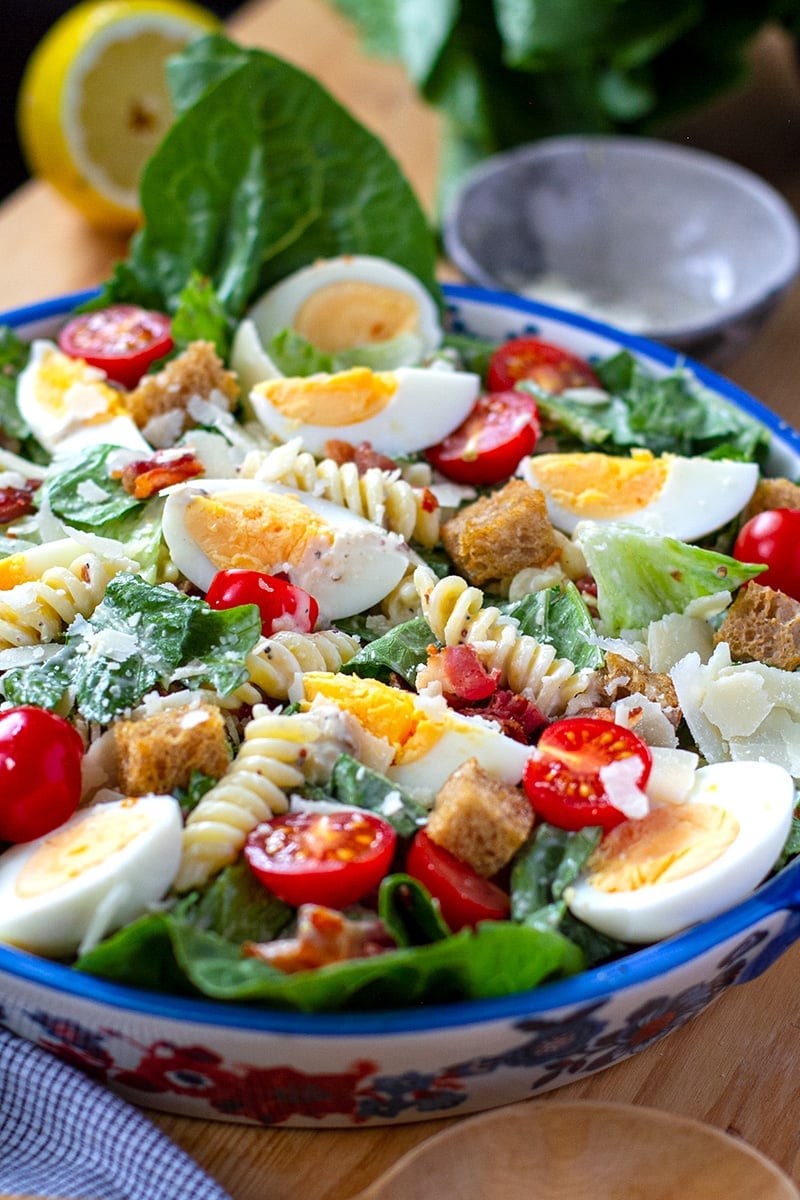 Who doesn't love a good Caesar salad? It's that perfect combination of crispy lettuce, salty bacon, crunchy croutons, Parmesan and the iconic dressing that is loved across the globe. This salad is a great template for adaption and you can make many variations such as grilled chicken or shrimp Caesar, add various veggies, or in our case make a filling pasta salad dish. Get the recipe on our blog.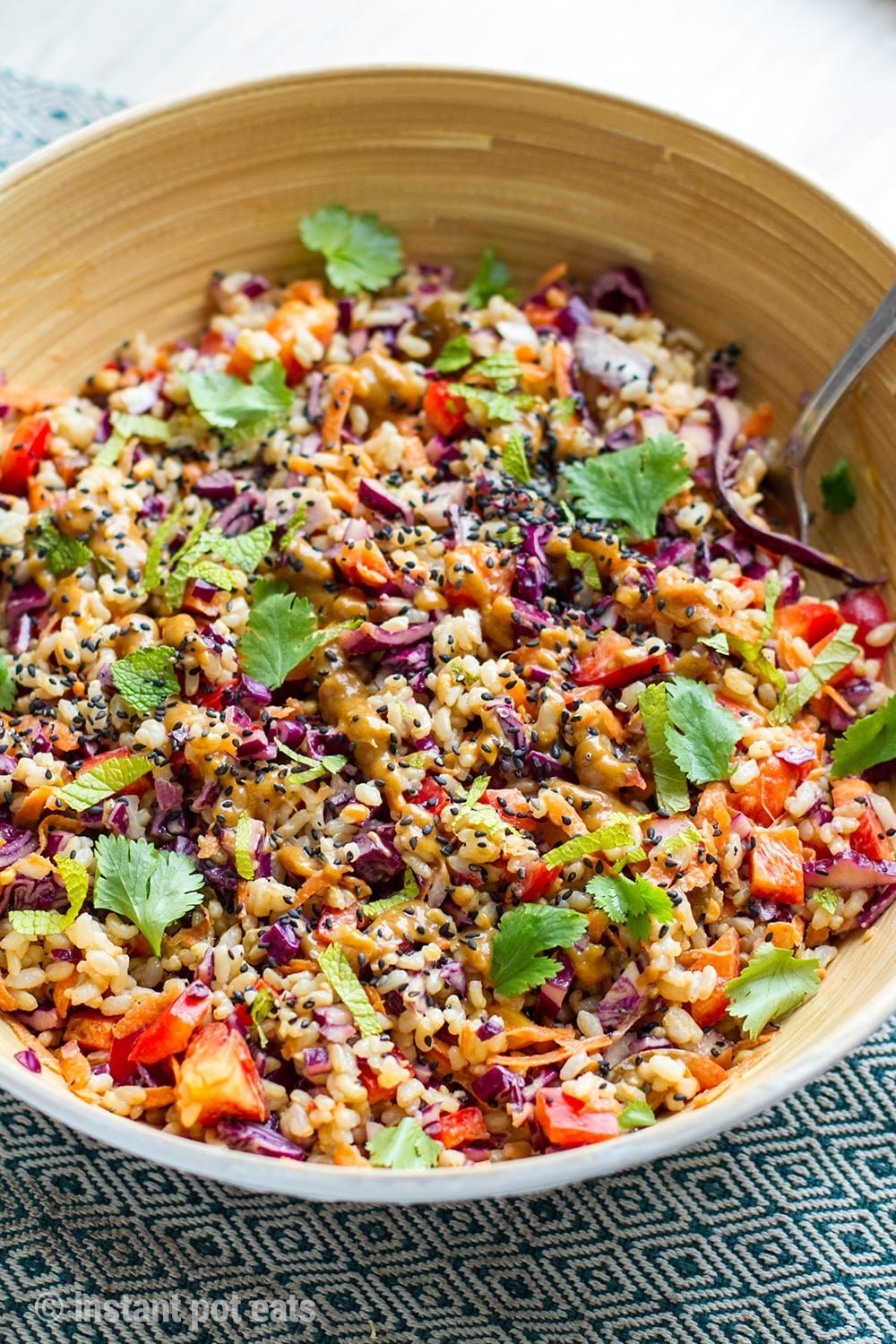 Want to add more fiber and protein-rich plant-based foods to your diet but don't have the time to soak and cook foods such as legumes and brown rice? Not to worry! Instant Pot is a real-time-saver when it comes to cooking these, and in this recipe show you how to make a healthy and delicious brown rice salad in a lot less time than using a stovetop. Get the recipe on our blog.
This is a fantastic salad to bring to a barbecue party, picnic in the park, or to enjoy as a nutritious, balanced meal at home. Instant Pot cooked potatoes and green beans take very little time, just enough to dice up the other ingredients and to whisk up that delicious tangy vinaigrette. Get the recipe on our blog.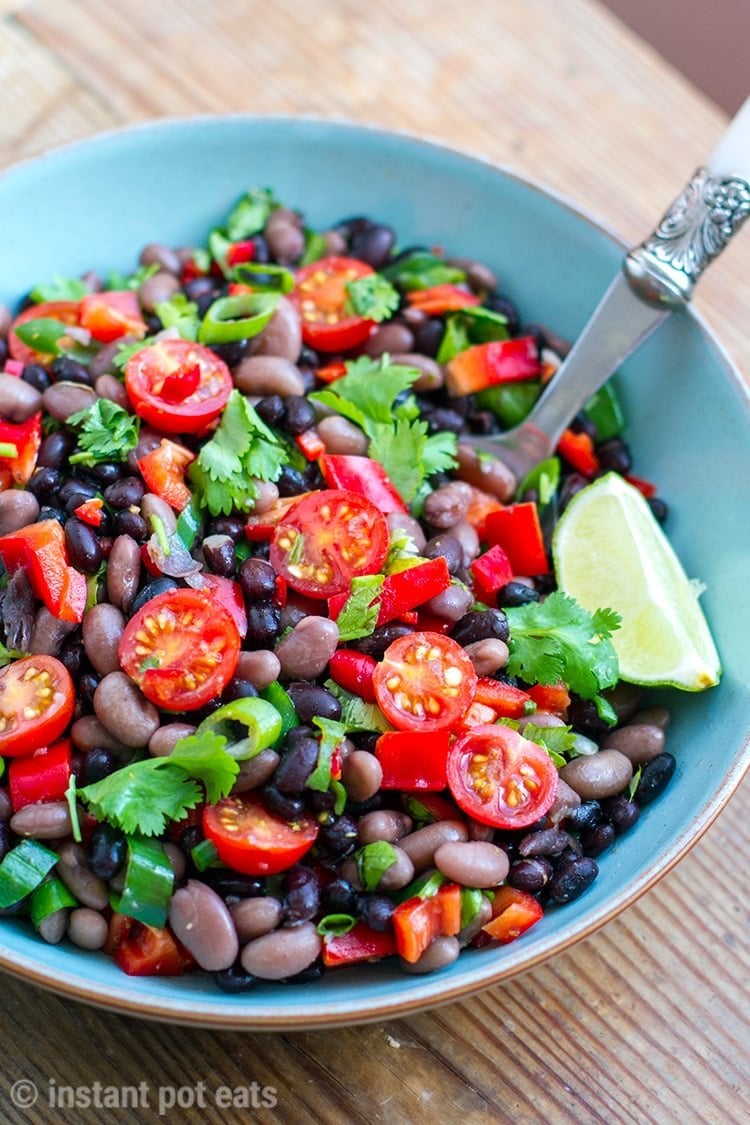 We love this zesty, nutritious Mexican bean salad made with legumes cooked in the Instant Pot to save time and heat. It works as its own summer meal or you can bring it as a side dish to a picnic or a barbecue. Get the recipe on our blog.
Flavorful brown rice, sweet potato, and cranberry salad coated in the most delicious balsamic orange dressing and be served cold or warm. It is perfect for any time of the year. Get the recipe on our blog.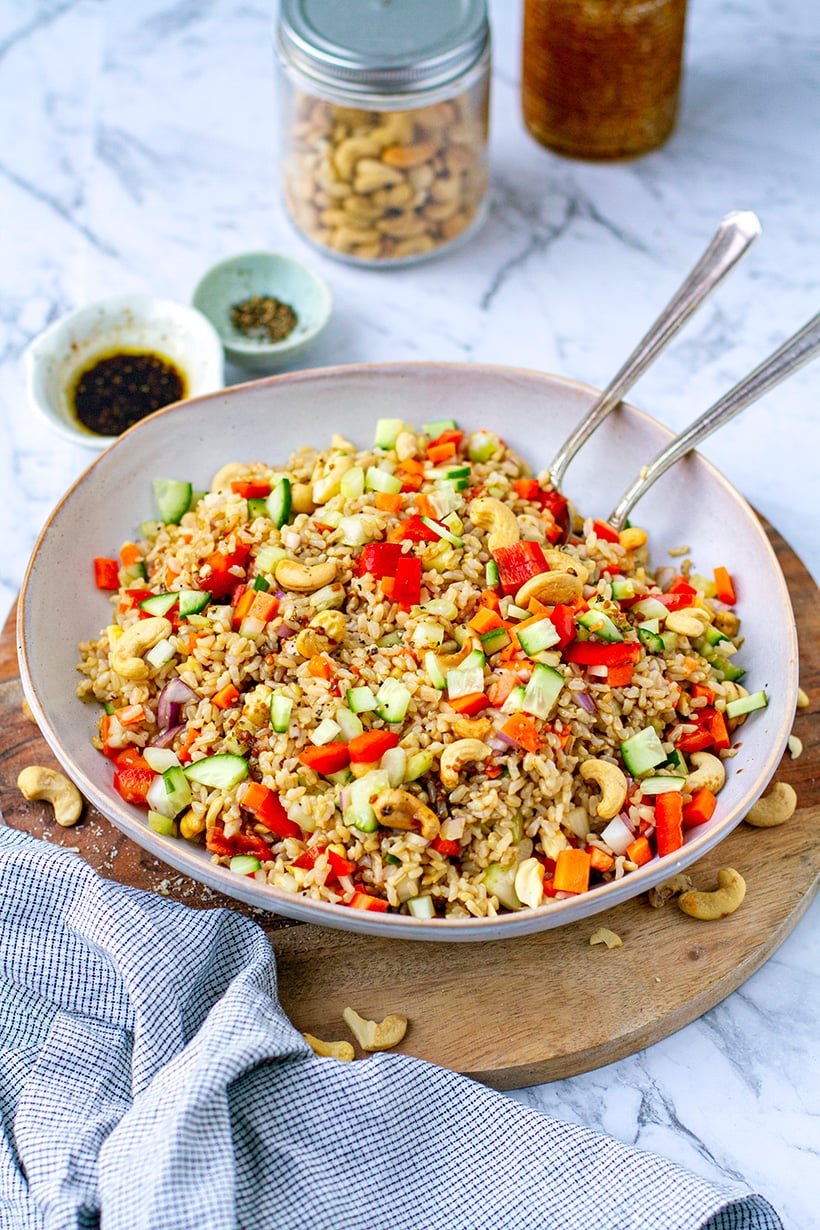 This salad is perfect for a summer picnic or barbecue. The Instant Pot makes brown rice much quicker than the stovetop method, giving you more time to play and enjoy the sunshine. Get the recipe on our blog.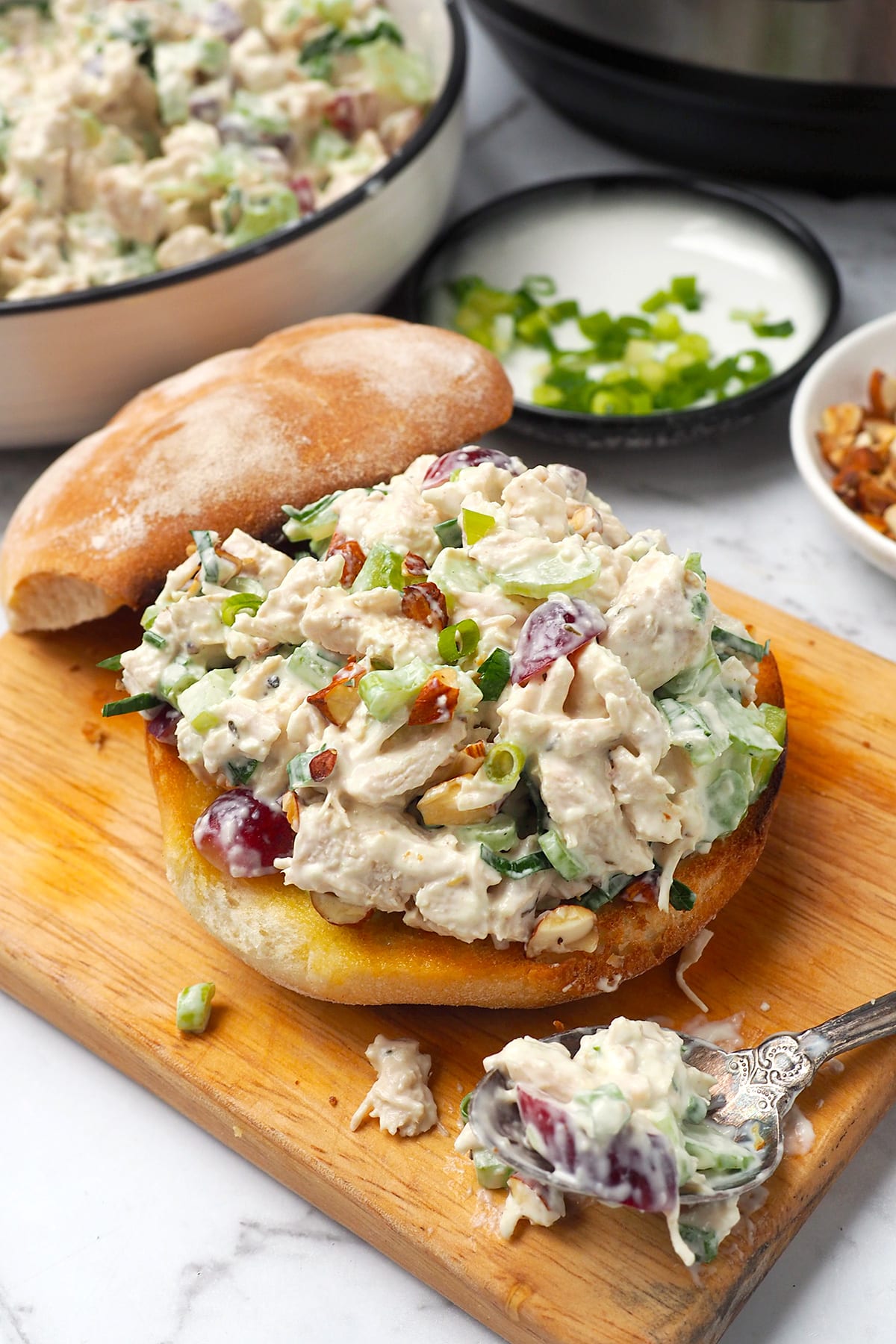 This is a simple, classic, American-style recipe made with creamy mayo, mustard, sour cream dressing, crunchy celery, sweet red grapes, green onions, and a topping of toasted nuts of your choice. Get the recipe on our blog.
Making egg and potato salad in the Instant Pot is quick and easy and saves you from having to use a hot stove in the summer. You can prepare the creamy salad dressing and other ingredients while the potatoes and eggs are pressure cooking with the whole dish taking 20 minutes. Get the recipe on our blog.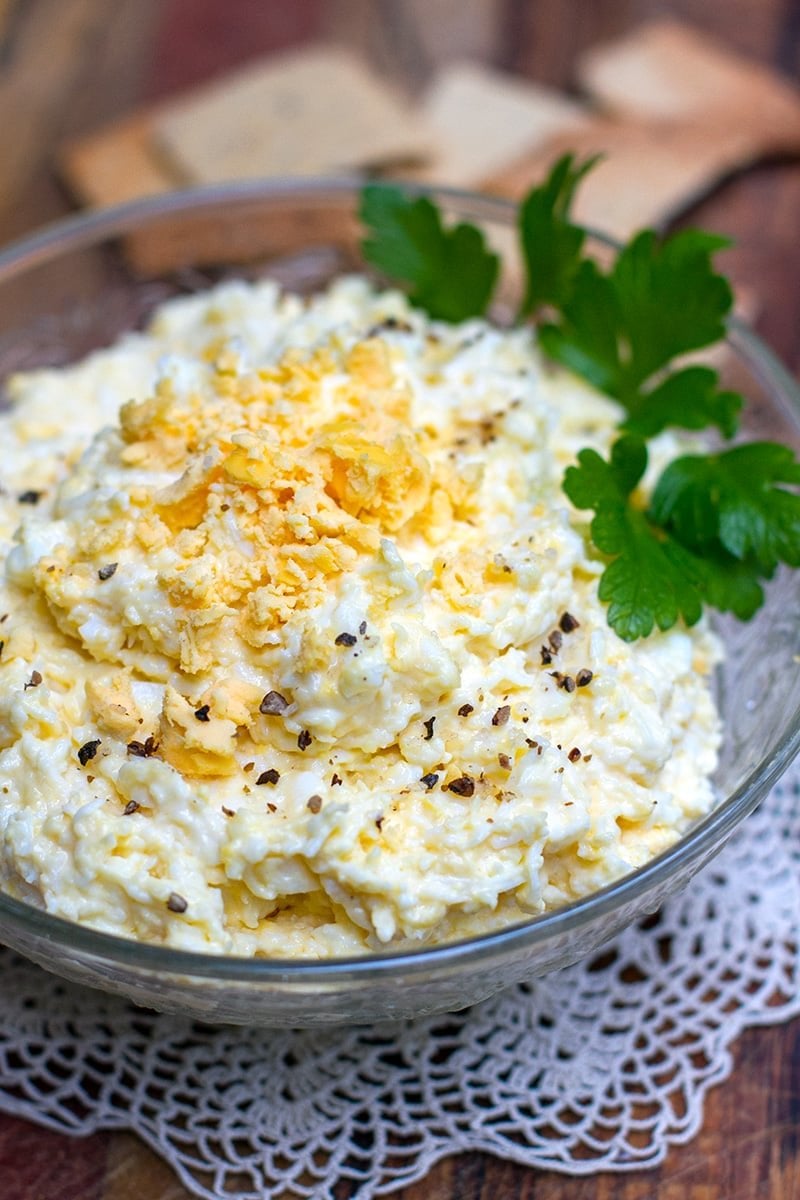 This tangy and sharp Instant Pot egg salad (or dip) is made with cheese, mayo, and garlic and is inspired by a Ukrainian family recipe, often prepared for celebratory feasts and parties. Perfect for using up hard-boiled eggs, this recipe is gluten-free, keto, and low-carb friendly. Get the recipe on our blog.
These Instant Pot Beets turn out perfectly every time. Use the beets to make a tasty salad with arugula, goat cheese and candied walnuts! Recipe from Eating Instantly.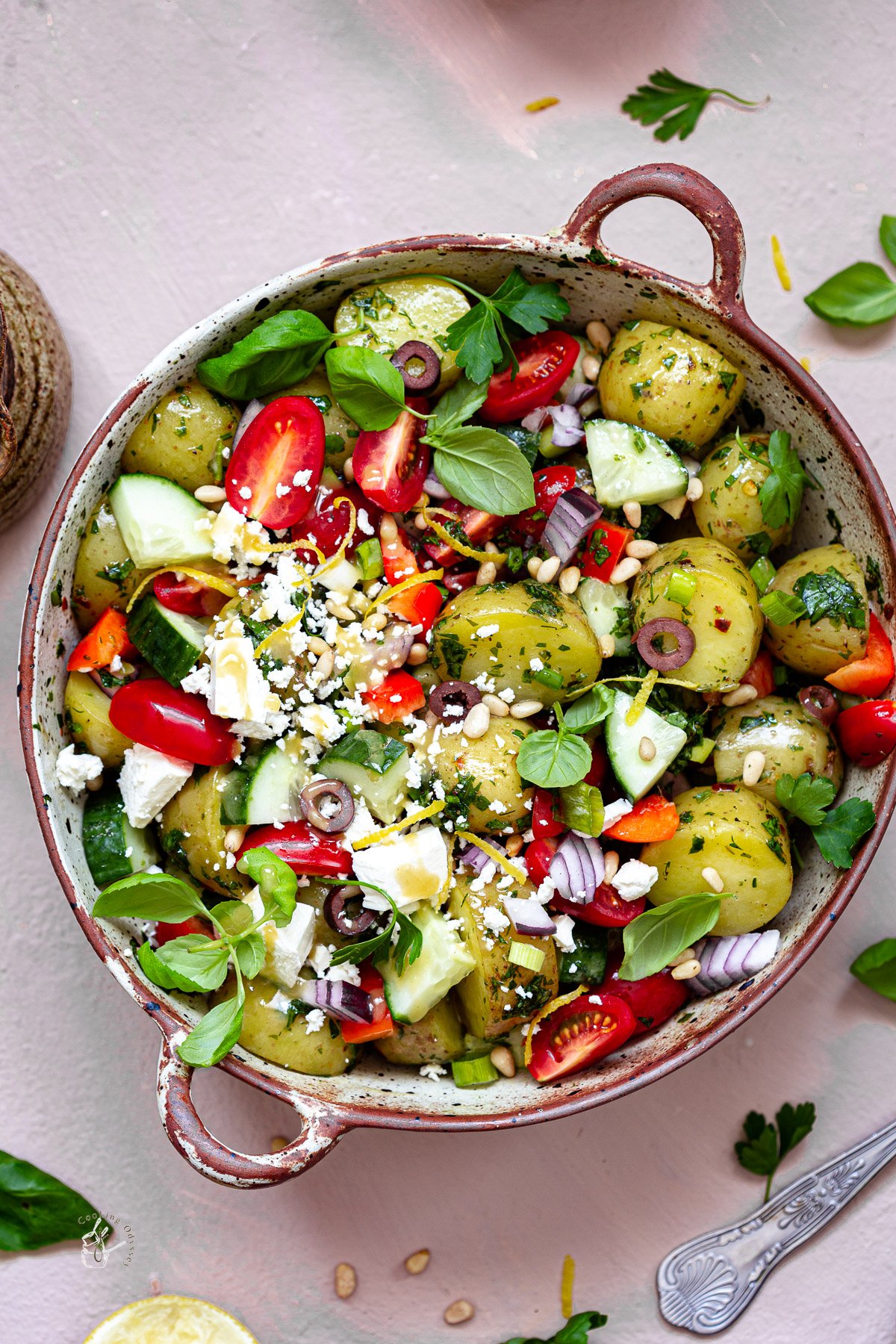 Make these vegan potato salad with wonderful Mediterranean Greek flavours. This Instant Pot Potato Salad is made with new potatoes, contains no eggs and no mayo. Recipe from J Cooking Odyssey.
This Instant Pot quinoa salad is packed full of nutrients thanks to the quinoa and black beans, great for a healthy make-ahead lunch idea. Recipe from Eating Instantly.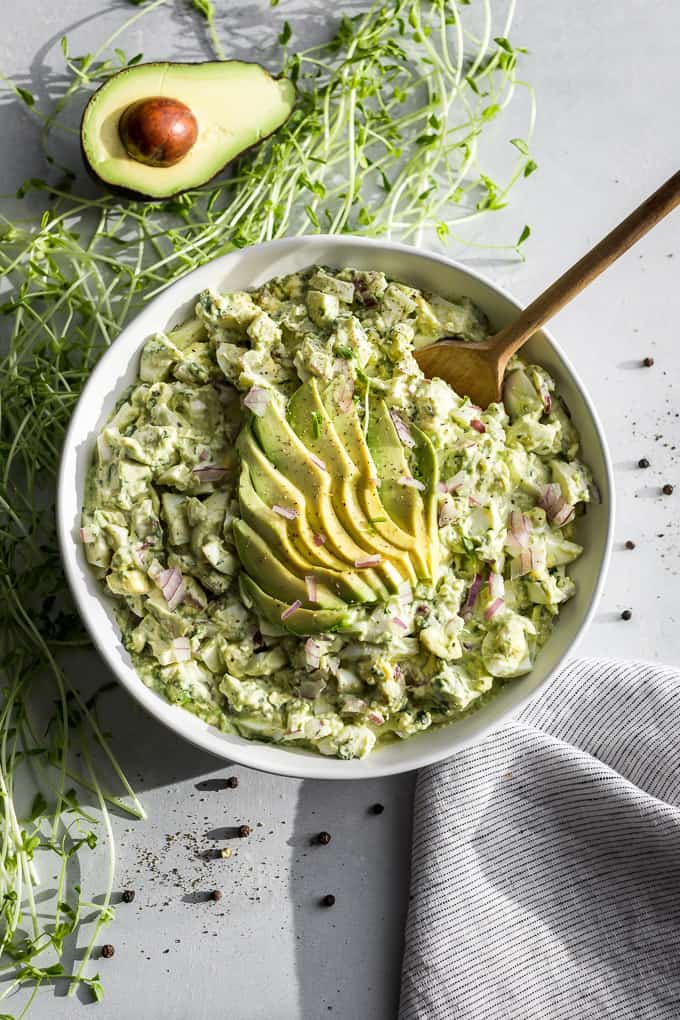 The perfect healthy lunch packed with protein and healthy fats! Try it on a slice of sweet potato with sprouts. Recipe from Get Inspired Everyday.
If you aren't a salad fan, here's a salad that can ease you into greens with plenty of protein and carbs. It's loaded with cilantro lime rice, seasoned black beans, guac, pico de gallo, cilantro lime ranch dressing, crunchy tortilla strips, cotija cheese, fresh cilantro, lime wedges, and crunchy romaine lettuce. Recipe from House Of Nash Eats.
Enjoy over arugula with a little blue cheese or wrap in a flour tortilla. It's a versatile recipe that can go a long way. Recipe from Instant Loss.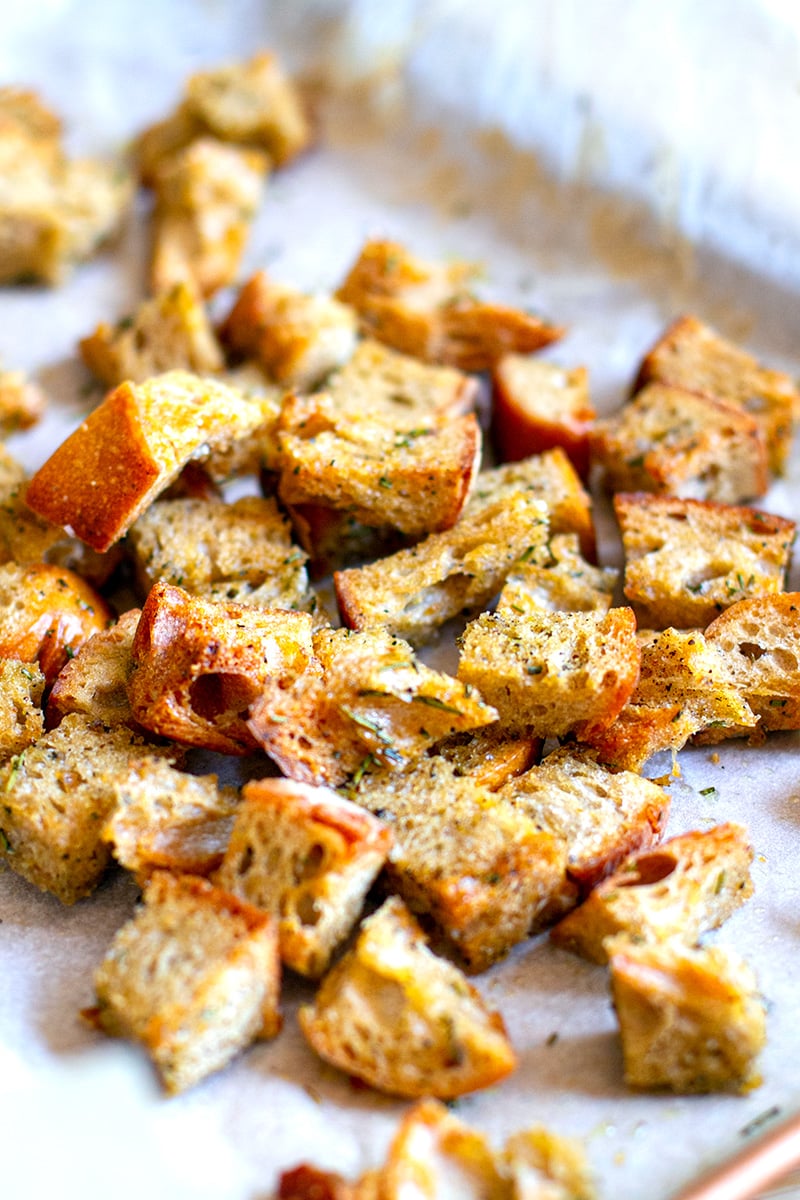 If you're a regular sourdough user, you will know that after a few days that perfect loaf can get pretty stale and solid. It's always a shame to have to throw it away. One of the best ways to use up the leftovers is to make homemade croutons. Perfect to sprinkle on top of your salad! Not a pressure cooker recipe but something useful to make in the kitchen. Get the recipe on our blog.
Also, check out this post with 10 variations of Instant Pot potato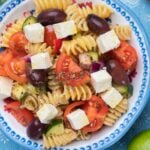 Rate This Recipe
Instant Pot Salads: Simple Pasta Salad
This Instant Pot pasta salad is a vibrant and satisfying addition to your summer spread. It's packed with fresh ingredients and tossed in a tangy dressing that will leave your taste buds dancing.
Print Recipe
Pin Recipe
Ingredients
2

cups

pasta

your choice (fussili or penne)

1

cup

cherry tomatoes

halved

1

cup

cucumber

diced

1/2

cup

red onion

finely chopped

1/2

cup

black olives

sliced

1/2

cup

feta cheese

cubed or crumbled

1/4

cup

extra-virgin olive oil

2

tbsp

red wine vinegar

1

garlic

clove, minced

1

tsp

Dijon mustard

Salt and pepper to taste

1/2

tsp

Italian herbs

dried mixed herbs or dried oregano
Instructions
Cook the pasta in the Instant Pot. Add 2 cups of pasta and enough water to cover it completely to the Instant Pot. Cook on high pressure for half the time indicated on the pasta package instructions. For example, if the package suggests cooking for 10 minutes, cook it for 5 minutes in the Instant Pot.

Quick-release and drain. Once the cooking time is complete, quick-release the pressure and carefully drain the pasta. Rinse it under cold water to stop the cooking process and cool it down.

Prepare the dressing. In a small bowl, whisk together the olive oil, red wine vinegar, minced garlic, Dijon mustard, salt, and pepper until well combined. Set aside.

Combine the ingredients. Combine the cooked pasta with all diced vegetables and black olives. Pour the dressing over the mixture and toss gently to coat all the ingredients.

Add the finishing touches. Top with the cubed or crumbled feta cheese and dried herbs. You can also use fresh herbs if available.

You can serve the salad right away or refrigerate covered with some plastic wrap. Make sure to give it a quick toss to redistribute the dressing.
Nutrition
Calories:
327
kcal
|
Carbohydrates:
28
g
|
Protein:
8
g
|
Fat:
21
g
|
Saturated Fat:
5
g
|
Polyunsaturated Fat:
2
g
|
Monounsaturated Fat:
13
g
|
Cholesterol:
17
mg
|
Sodium:
499
mg
|
Potassium:
252
mg
|
Fiber:
3
g
|
Sugar:
3
g
|
Vitamin A:
357
IU
|
Vitamin C:
11
mg
|
Calcium:
128
mg
|
Iron:
1
mg
---
---