We are continuing our Instant Pot Meal Plan series with the seventh edition! This week's Instant Pot menu features 5 dinner meals, 2 lunch dishes, and 1 dessert. We've got a variety of nutritious, balanced meals with different protein options and plenty of veggies. From vegetarian stew and lentil sloppy joes to ramen noodles and Spanish chicken and rice, we have something for everyone. Downloadable PDF with shopping list included.
---
You can find other Meal Plans here and our Vegetarian Meal Plan #3.
ABOUT INSTANT POT MEAL PLAN #7
In this meal plan, we have put together ideas for 5 nutritious dinner meals, 2 lunch-friendly dishes, and 1 delicious dessert, all made in your pressure cooker. You can do them all, pick and choose or use the recipes but swap out some of the ingredients such as meat or vegetables.
We've got a plant-based split pea soup for Meatless Mondays, Spanish chicken and rice, Asian pulled pork bowls, cheeseburger-inspired pasta, vegetarian lentil sloppy joes, Caesar pasta salad and a yummy apple cake. How does that sound, eh?
You can download this meal plan with the shopping list here.
Happy Meal Planning!
PS. If you make one of our recipes, take a picture and share it on Instagram. Use the hashtag #instantpoteats! We want to see what you are making in your kitchen. And don't forget to follow us on Instagram!
INSTANT POT MEAL PLAN #7
We'll kick off with five wholesome dinner meals you can make in your Instant Pot. We selected a variety of dishes, including a vegetarian option.
Start the week with a delicious and hearty split pea soup, which is almost like a stew that you can slurp with a spoon or mop with a piece of sourdough. This Turkish recipe is one of our readers' favorites and is full of plant-based protein and veggies. Get the recipe here.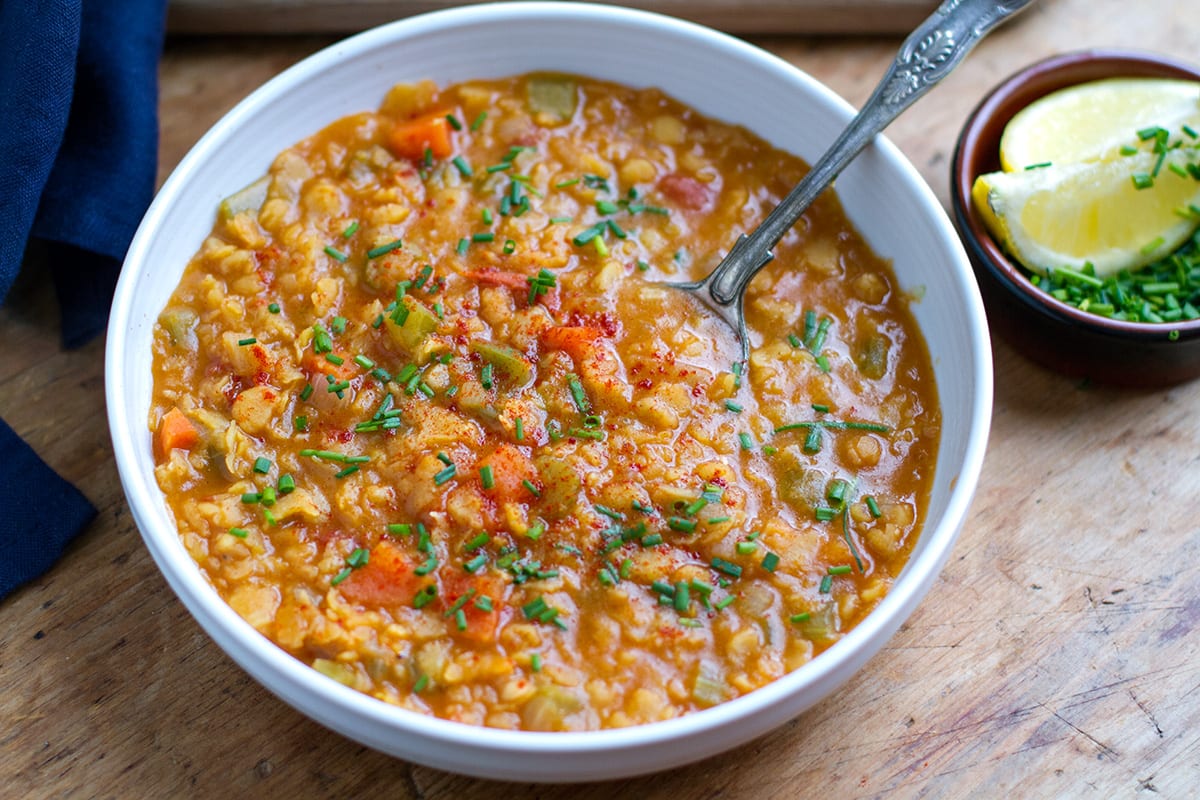 Shopping list: olive oil, 1 onion, 1 carrot, 1 celery stick, 5 cloves garlic, 1 bay leaf, 1 tsp paprika powder, 1.5 tsp cumin powder, 1/2 tsp salt, 1/4 tsp cinnamon powder, 1/4 tsp chili powder or cayenne pepper, 2 cups yellow split peas, 1/2 cup chopped tinned tomatoes, juice of 1/2 lemon, 1.75 L vegetable stock (we used 7 x 250 ml cups + 3 vegetable stock cubes). (Optional: chopped chives or scallions, extra lemon, and yogurt.)
Prep tips/make-ahead: Yellow split peas are used in this recipe but green split peas or any type of lentils will work just as well in this dish. You can pre-soak the split peas for a few hours in warm salted water, which helps to make legumes a little easier to digest
Serving suggestions: Serve with chopped chives or scallions and extra lemon on the side. A dollop of full-fat natural yogurt (or other vegan option) is gorgeous when stirred in. This soup is like a stew and can be served with croutons, a side of bread or dinner rolls or as is.
This is an easy, one-pot, chicken, rice and vegetable dish infused with delicious Spanish flavors of saffron and smoked paprika, similar to Paella but without the seafood. Great for leftovers! Get the recipe here.
Shopping list: 1.5 lbs (600g) chicken thighs (whole, boneless, skinless), 1 tsp smoked paprika, ¼– ½ tsp saffron, 2 tbsp olive oil, 1 onion, 1 red bell pepper, 1 carrot, 4 cloves garlic, and 1 cup white rice.
Prep tips/make-ahead: This version is influenced by Spanish flavors with the use of saffron and smoked paprika, similar to paella but without the seafood. The saffron gives it its beautiful golden hue, whereas in Latin countries the use of annatto is more common. So don't skip it. Soak the threads in warm water, then add both the water and the threads to the dish. Different rice requires different amounts of water and cooking times. Be sure to check recipe notes to prevent that pesky burn error.
Recommended sides: It's a perfect one-pot recipe for an easy to serve in a bowl meal. Add sliced green olives, peas or shelled edamame adds a lovely color. You can serve with warm tortillas, queso fresco cheese or sour cream, avocado, and fresh Italian parsley. Squeezing some fresh lime also enhances the flavor.
Another perfect one-pot meal with your favorite pasta and ground beef, plus a few cheeseburger-inspired add-ons like cheese, pickles and onion. A substantial meaty meal on the budget. Add a salad or veggies on the side! Get the recipe here.
Shopping list: 1/2 medium onion, 1 tbsp olive oil, 1 pound / 0.5 kg ground beef mince, 2 cloves of garlic, 1 tsp onion powder, 2 tsp paprika powder, 2 tsp hot sauce such as Frank's or Tabasco, 2 tsp Dijon mustard, 1 cup tinned tomatoes, 1/2 tsp black pepper, 1 cup milk (or dairy-free), 2 1/2 cups vegetable stock or water, 4 cups pasta like fusilli, 1 tsp cornstarch or arrowroot, 1 cup grated cheddar or mixed cheese of choice, 1 red onion, 2 tbsp red wine vinegar or apple cider vinegar, 2 tbsp olive oil, ½ tsp sugar, ¼ tsp salt, 1 tsp Dijon or yellow mustard, and 4 small pickled gherkins/pickles.
Prep tips/make-ahead: Adding the suggested toppings to the cooked pasta in your bowl is ESSENTIAL to achieve that cheeseburger twist. It might seem strange to add pickles and marinated mustard onions to the pasta, but it works! This pasta dish can be made ahead of time and kept in the fridge for 1-2 days. Toppings can also be made ahead.
Recommended sides: This is great as a main dish with a side salad or some steamed veggies.
Tender Asian-style pulled pork is a deliciously savory and slightly smoky. It's a versatile dish you can enjoy over rice, on noodle bowls, in salads, sandwiches and just about anything you can dream of. Great to make a batch for dinner and use leftovers for lunches. Get the recipe here.
Shopping list: 1 x (3.5 to 4 lbs, 1.6 kg to 1.8 kg) pork shoulder, cut into 3 to 4 pieces,2 tablespoons vegetable oil, 1/2 cup light soy sauce (or soy sauce), 1 tbsp dark soy sauce (or soy sauce),1/4 cup Shaoxing wine (or dry sherry), 1/4 cup brown sugar, 1 thumb ginger, 6 garlic cloves, 1 tbsp cumin powder, 2 tsp smoked paprika powder, 1/2 tsp five-spice powder, 2 tbsp cornstarch, and 1 onion.
Prep tips/make-ahead: Pork shoulder is best for this recipe because it's typically tough meat, but using it with this cooking method turns it into fork-tender meat. To make this dish gluten-free, use tamari or coconut aminos to replace the light soy sauce and dark soy sauce and use dry sherry instead of Shaoxing wine.
Recommended sides: Serve over rice and top off with simple red cabbage slaw and cilantro or parsley garnish. Alternatively, serve in tortilla wraps as Asian-inspired tacos.
Inspired by the Japanese miso ramen, this noodle soup is topped with Asian greens, sweet corn and a boiled egg and is perfect for a quick lunch or dinner that both kids and grown-ups will love. Get the recipe here.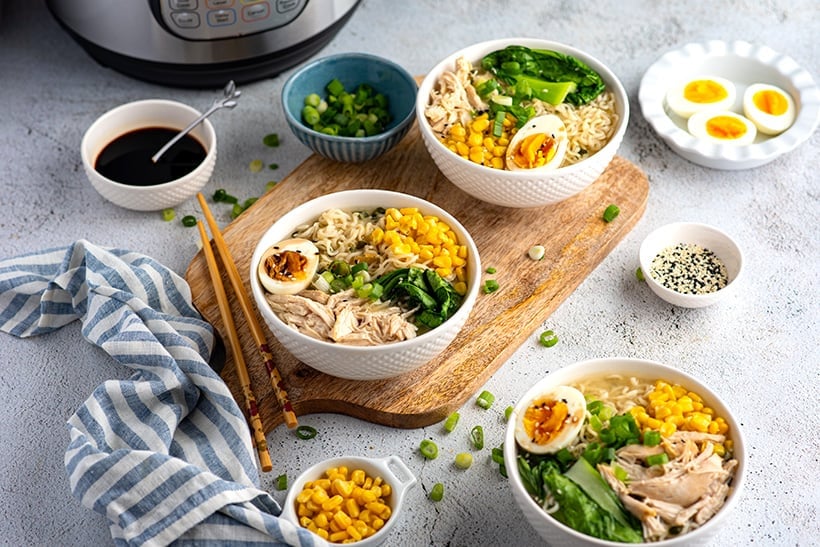 Shopping list: 5.5 cups chicken stock, 2 chicken breasts, 2 large cloves garlic, thumb-size piece of ginger, 2-4 eggs, 2 tbsp miso paste (light brown or white miso), 3-4 servings ramen noodles, 2 bok choy/pak choi, or you could also use broccoli or spinach, and 1 can of sweet corn. (Optional add ons: 1 scallion, Nori seaweed, fried shallots, pickles, sliced chili, cilantro, sesame seeds).
Prep tips/make-ahead: Chicken, eggs and broth can be made ahead of time. Then cook the noodles just before serving. When you assemble the noodle bowls, you can mix everything together or serve each element on top of the noodles.
Recommended sides: Garnish with nori seaweed, fried shallots, pickles, sliced chili, cilantro, or sesame seeds.
BBQ lentil sloppy joes are the perfect high protein vegan dish you can make ahead of time to turn into different lunch meals. Easy sloppy joes is one idea but you can also add these to wraps or serve over 2-minute rice or quinoa for ultimate convenience. Get the recipe here.
Shopping list: 1 tbsp olive oil,1 yellow onion, 1 carrot, 2 cloves garlic, 1 cup dry brown lentils, 1 x 6-ounce can tomato paste,3 tbsp apple cider vinegar, 2 tbsp blackstrap molasses (or honey), 2 tbsp applesauce, 1 1/2 tsp garlic powder, 1 1/2 tsp onion powder, 1 mustard, 1 tsp salt, 1/2 tsp black pepper, 1/2 tsp paprika, a dash of ground cayenne, and 4 whole-wheat hamburger buns. (Optional toppings: red cabbage, red onion, lettuce, avocado, mustard, or ketchup)
Prep tips/make-ahead: All of the ingredients go straight into the pressure cooker so there's really not much active time involved. If you prefer the taste of sautéed vegetables, you can do that beforehand sautéing the onions, carrots, and garlic with olive oil. The cooked lentils will keep in the fridge for a few days or can be frozen. Reheat and use a portion as needed.
Serving suggestions: Top with all of your favorite sandwich toppings: pickles, cabbage, greens, shredded carrots, sliced onion, mustard, or avocado. For a gluten-free option, you can stuff these inside sweet potatoes or use them in Buddha bowls.
This satiating Caesar pasta salad version features fusilli pasta, boiled eggs, crispy bacon, lettuce, seasoned croutons and cherry tomatoes smothered in creamy, homemade Caesar dressing. You can make pasta and boiled eggs in the Instant Pot and the dressing all ahead of time to assemble your lunch salads super quickly when needed. Get the recipe here.
Shopping list: 4-6 large eggs, 1 cup dry fusilli pasta, 1/4 cup Mayonnaise, 2 tbsp Greek Yoghurt, 1 tsp Dijon or wholegrain mustard, 2 tsp Worcestershire sauce, 1 tsp minced garlic, 2 anchovies, 1 tbsp lemon juice, 1/4 cup Parmesan cheese, 5 rashers of bacon, 5–8 cherry tomatoes, 1.5 cups croutons (learn how to make your own here), and 1 head of lettuce.
Prep tips/make-ahead: Boiled eggs and pasta can be cooked ahead of time, say a day before. Store eggs in their shells and store a little oil through the pasta to prevent it from sticking and keep in an airtight container. Both can be done 1-2 days before. The dressing can be done ahead of time as well and stored in the fridge for 2-3 days if needed. Then all you have to do is prepare the rest of the ingredients on the day and assemble the salad. For a vegetarian-friendly dressing, use vegetarian-friendly cheese and omit the anchovies. You can a little pinch of salt to compensate. Nutritional yeast flakes can be used instead of cheese. Hold the bacon, too.
Recommended sides: This is perfect as a main dish for a quick nutritious lunch! No sides are needed here.
This delicious apple cake made in the Instant Pot is loaded with fresh apples coated with cinnamon and sugar. It's a whole lotta apples cooked between cake batter! It's perfectly sweetened and you can use a mix of apples for this delicious cake. Get the recipe here.
Shopping list: 3 cups peeled and diced apples any variety, ½ tbsp ground cinnamon, 2 tbsp sugar, 1½ cups all-purpose flour + 1 tablespoon for dusting the pan, ½ tbsp baking powder, ½ tsp sea salt, ½ cup vegetable oil, ¾ cup sugar, 2 tbsp orange juice or apple cider, 1 tsp vanilla extract, and 2 large eggs.
Prep tips/make-ahead: This apple cake tastes even better the next day, which makes it a perfect make-ahead recipe. You can make this cake at night to have it ready to enjoy in the morning. Store in a cake container for 2-3 days out of the fridge or longer in the fridge. You will need a 7" cake pan or whatever fits inside the pot, some foil and a trivet to make this cake in the Instant Pot.
Recommended sides: Serve for a sweet breakfast, afternoon snack, or after-dinner dessert with a hot cup of chai tea. A dollop of ice cream or whipped cream is lovely, too.
Download this MEAL PLAN & COMPLETE THE SHOPPING LIST here.
---
---
SAVE INSTANT POT Meal Plan #7 TO PINTEREST