Food is history passed down through generations. From popcorn to shrimp n' grits to biscuits and gravy, we've collected iconic American dishes that you can create in your Instant Pot.
---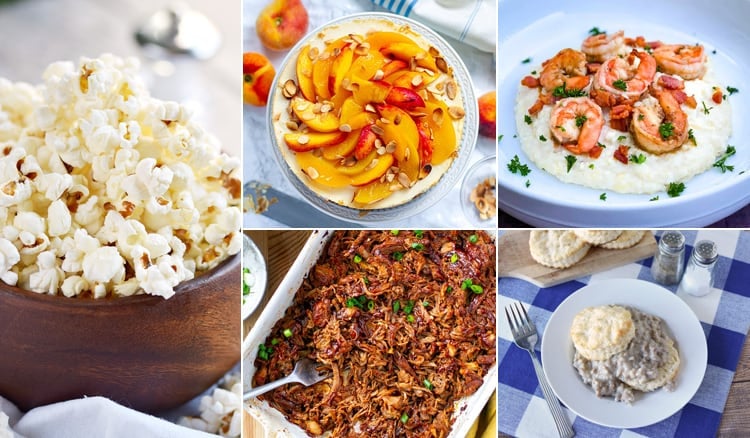 True Americana is found in the kitchen. The soul of a culture and its history is found in the dishes that have been passed down through generations and popularized in mainstream restaurants. These dishes are comfort foods that you look forward to when you've been out of the country for an extended period of time. Smelling aromas that bring you to your childhood and thinking of home is what this is all about.
Sometimes we think of dishes as a staple of tradition but we are lost in knowing the origins. When we know the origin of a dish or why it is so important then we can have an insight into its role in the lives of our ancestors. Unexpected surprises are the best. So while we have this list, try looking up your own favorite American dishes that we haven't featured and tell us in the comments.
Here are the 20 American dishes that can be made in the Instant Pot
1. MEATLOAF WITH BARBECUE BACON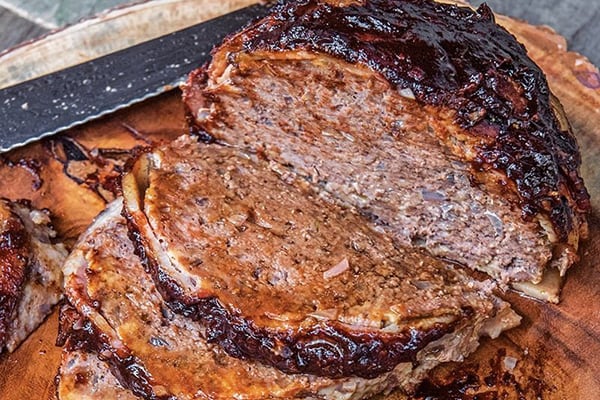 Meatloaf has always been a sort of mix of leftovers. It became one of America's iconic dishes and essential comfort food. Originally, it was made for breakfast. In the 1890s, industrial-scale meatpacking helped it become a staple. During the Depression, it enabled cooks to extend protein farther. By the 1950s, meatloaf became a respected dish in American diners serving as a nostalgic node to sustaining Americans through hard times. Recipe from Instant Pot Eats.
2. MAC & CHEESE (WITH CORN IN OUR CASE)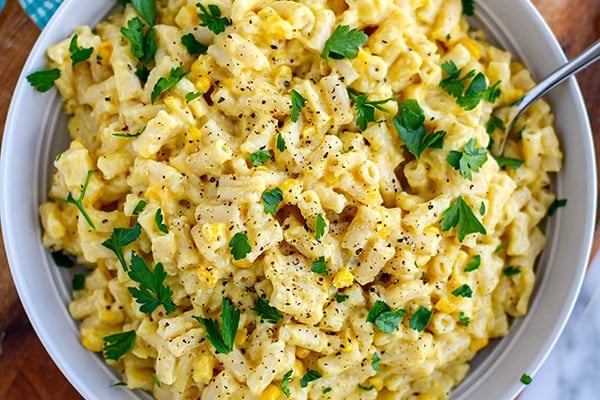 The earliest known recorded mac'n'cheese recipe was scribbled down in 1769. The American food system has been in the pursuit of the cheapest way to get protein. Cheese is vulnerable to mold, rot, maggots, and excess salt. Processing cheese instead was a good way to make food for soldiers at war. It was a good way to get nutrients even without refrigeration. It was safe but not as tasty. Driven by convenience packaging and industrialization, pasta and powdered cheese in a box became what many today have grown up eating. Recipe from Instant Pot Eats.
Classic Instant Pot Mac and Cheese from Spend With Pennies.
3. INSTANT POT CLAM CHOWDER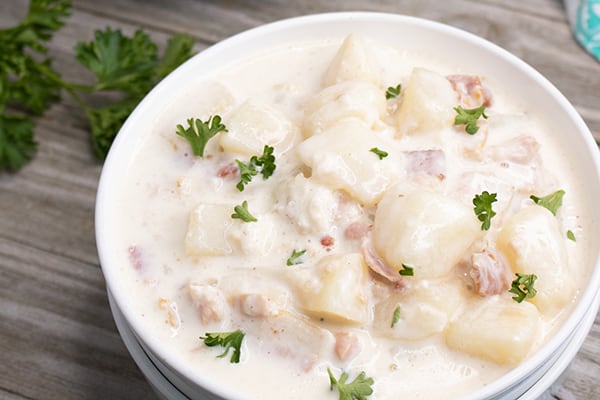 Do you prefer Manhattan or New England clam chowder? The New England style of chowder was introduced by French, Nova Scotian, or British settlers. It became a common dish by the 1700s. Recipe from 4 Son 'R' Us.
SMOKY BARBECUE RIBS (KETO, LOW-CARB)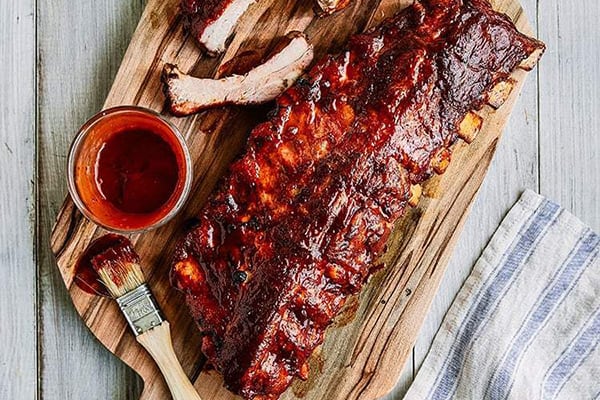 Ribs are relative newcomers to the pits. No one was putting slabs of ribs on barbecue pits back in the 19th century. Fresh meat from livestock like pigs and cows wasn't available year-round before the Civil War, because there was no way to keep it from spoiling. The rise of industrial meatpacking, mechanical refrigeration, and commercial barbecue stands ignited its popularity and changed the way Americans eat.
As the country urbanized, entrepreneurial cooks started selling slow-smoked meats. The first barbecue stands were just a temporary place but evolved into permanent restaurants. They bought meats from local packing houses instead of raising the animals themselves. They also started buying individual cuts instead of entire pigs. Recipe from Instant Pot Eats.
CREAMY GREEN BEAN CASSEROLE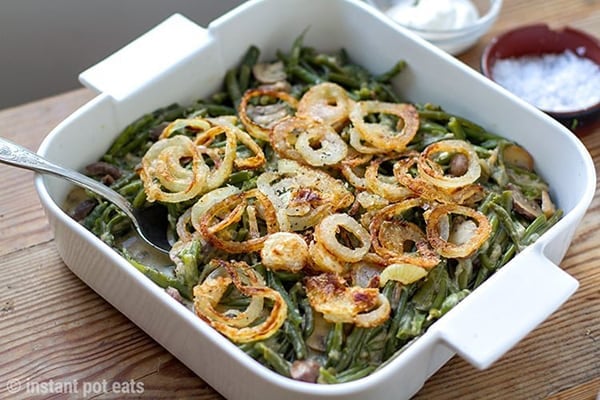 In the past, home brands like General Mills, Cuisinart, and Ball Jars regularly released pocket-sized magazines full of tips, recipes, and instructions for their products. The Campbell's Soup Company in Camden, New Jersey, had a kitchen dedicated to creating these recipe pamphlets. A home economist, Dorcas Reilly, worked at Campbell's kitchen, and she successfully created the infamous green bean casserole recipe in 1955. It was the perfect recipe for the holidays since it had minimal ingredients that are on hand. Recipe from Instant Pot Eats.
Instant Pot Biscuits and Gravy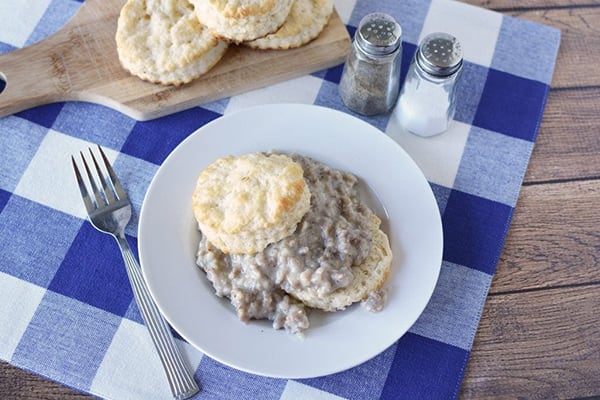 Flaky, buttery biscuits topped with a sausage-studded cream gravy makes a hardy breakfast that should get you ready to start the day. Biscuits and gravy may go back as early as the Revolutionary War. Some historians attribute its birthplace in Southern Appalachia in the late 1800s. It was the ideal cheap and calorie-dense fuel for sawmill workers lifting heavy logs all day long.
Biscuits back then were much sturdier until baking powder and soda became commercially available. It was food for the poor, working class. The pork was the available protein of the poor and sausage releases so much fat that a roux comes together easily. Recipe from Life Family Fun.
BUFFALO CHICKEN WINGS (FROM FROZEN)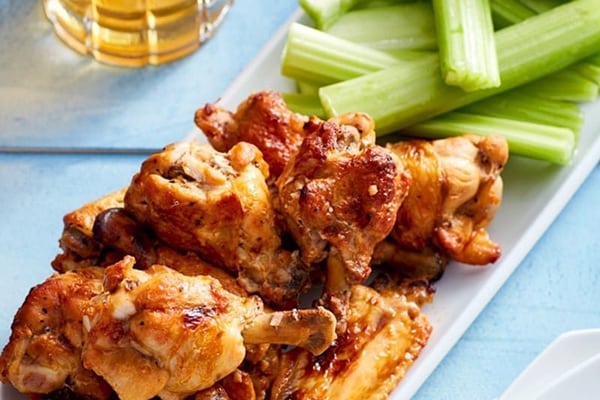 Wings can be found at every game party and barbecue or late night outings. The Buffalo wing was invented in 1964, on Sept. 5, Buffalo, N.Y. at a family-owned establishment in Buffalo called the Anchor Bar by Teressa Bellissimo. By the mid-1980s Buffalo wings had spread across the country. Recipe from Instant Pot Eats.
Instant Pot Lobster rolls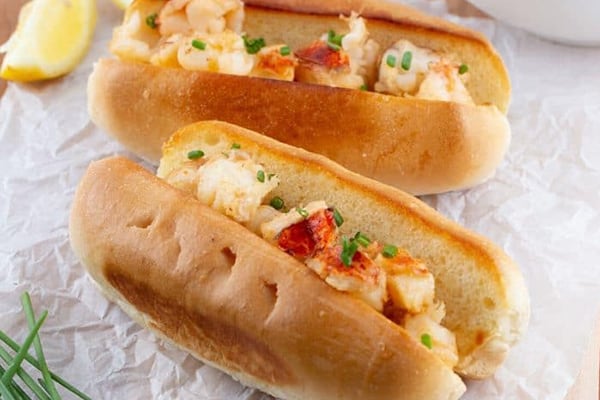 Eating lobster rolls is truly a New England experience. In 1929, a restaurant named Perry's in Milford, Connecticut served the first documented lobster roll. Later, in 1965, the lobster salad roll gained popularity in Long Island, New York, at a restaurant called The Lobster Roll. However, the lobster roll's undocumented buttery origin generally traces to Maine. Recipe from Bake Me Some Sugar.
CAESAR PASTA SALAD WITH EGGS & CRISPY BACON
A french-inspired Italian chef who immigrated to America before moving to Mexico to escape prohibition is credited with creating the Caesar salad. In 1920, congress enacted prohibition across the United States. And while Cardini kept his business open in San Diego, he launched a second restaurant across the border in Tijuana where he could serve alcohol. Caesar's daughter Rose Cardini claimed July 4th, 1924 was the exact day that her father created the Caesar Salad. Overrun by Americans and running short of supplies in the kitchen, her father threw together what was left: stalks of lettuce, olive oil, raw egg, croutons, parmesan cheese, and Worcestershire sauce. Recipe from Instant Pot Eats.
INSTANT POT CINCINNATI CHILI

This chili featured is Cincinnati style chili which is quite different from classic Texas-style. It is unique to the Cincinnati area. In 1922, a Macedonian immigrant, Tom (Athanas) Kiradjieff settled in Cincinnati with his brother, John, and opened a hot dog stand with Greek food called the Empress. He created a chili made with Middle Eastern spices. His "five-way" was a concoction of a mound of spaghetti topped with chili, then with chopped onion, then red kidney beans, then shredded yellow cheese, and served with oyster crackers and a side order of hot dogs topped with shredded cheese. Recipe from Instant Pot Eats.
Check out these chili classics:
Classic Instant Pot Chili from Oh Sweet Basil
Instant Pot White Chicken Chili from Natasha's Kitchen
Instant Pot Spaghetti and Meatballs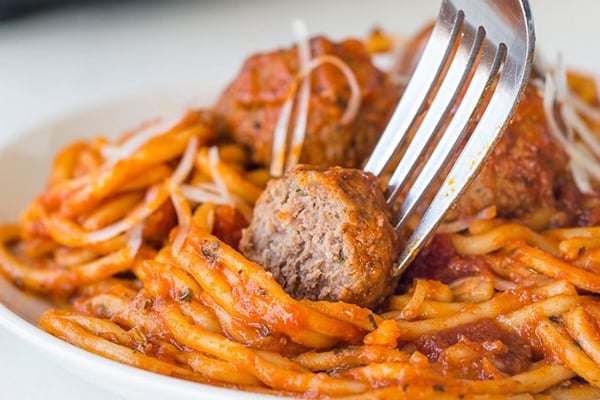 If you travel to Italy, you won't likely find a dish called spaghetti and meatballs on the menu. For Italian-American cuisine, canned tomatoes were among the only items available at local grocers. Spaghetti also became greatly popular in the U.S. because it was one of the only Italian ingredients available. Americans became accustomed to having starch accompany their proteins. Seasonings like garlic, hot pepper flakes, and oregano became more prominent as immigrants assimilated into American culture. Recipe from I Wash You Dry.
FIRECRACKER PULLED PORK
The American version of "barbecue" can be traced to a time period prior to The Civil War. Plantation owners in the south would release pigs into the woods to graze for months knowing that they could be easily hunted when food supplies were low. These semi-wild pigs were a bit tough, but all parts of the pig were kept and consumed.
The plantation owners would have BBQ festivals but gave the slaves the cheap, tough cuts to prepare. So they learned to slow cook these cuts over coals. The slaves were typically so hungry that they would "pull the pork" off of the coals when the meat was done and could easily be pulled away from the roast. Recipe from Instant Pot Eats.
EASY CHEESY SHRIMP AND GRITS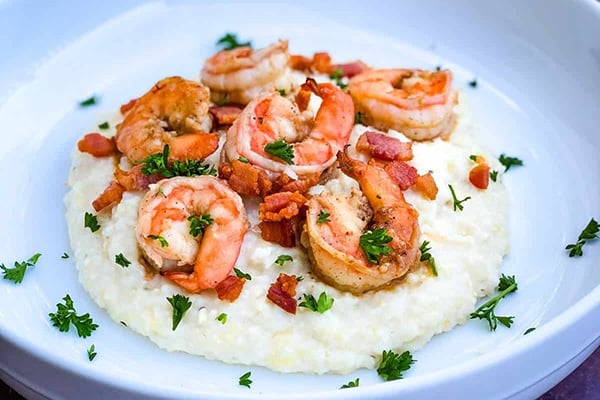 Grits' origins come from the Native American Muskogee tribe's preparation of Indian corn. Grits were also later given to slaves as food allowance. They would catch shrimp and other fish in nets and cook them in a variety of ways. Shrimp and grits was a breakfast dish found in the low country until 1982. Bill Neal became a chef at Crook's Corner, a restaurant in Chapel Hill, North Carolina changed the status of shrimp and grits. The once humble dish gained popularity as a dinner entree. Recipe from Stay Snatched.
INSTANT POT SLOPPY JOES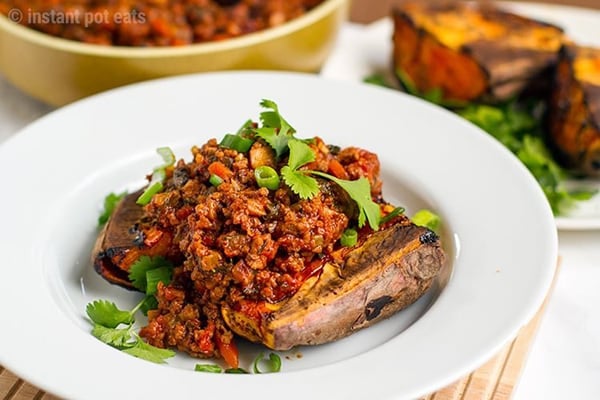 The sandwich of our childhood— a sauced, shapeless, loose meat hamburger. But who is this sloppy Joe? There are two theories. Theory one, in Havana, Cuba, starts with a gentleman named José Abeal Otero who opened a bar. Otero was nicknamed "Sloppy Joe" and named the bar "Sloppy Joe's." Thanks to Ernest Hemingway, who apparently loved Sloppy Joe's in Havana, assisted the sloppy joe migration to America via his friend, Joe Russell, who opened a bar in Key West, Florida. Hemingway convinced Russell to serve the sandwich.
The second theory is that the Sloppy Joe is a product of Sioux City, Iowa. During the '20s, when home cooks were looking for dishes that were economical yet filling. Ground beef was a perfect solution. A cook named Joe at the location in Sioux City came up with the idea of mixing in tomato sauce to the ground beef, thus creating the Sloppy Joe. Recipe from Instant Pot Eats.
Instant Pot Popcorn
Popcorn is the world's oldest snack food. In 1948, Herbert Dick and Earle Smith discovered small heads of corn and individually popped kernels deep in a dry cave. The kernels have since been carbon-dated to be approximately 5,600 years old. The first commercial mobile popcorn machine was invented in Chicago by Charles Cretors in 1885.
The popularity grew at approximately the same time that movies became popular. The mobile popcorn vendors outside of theatres gave birth to popcorn being sold inside movie theatres. During the Great Depression, popcorn was one of the few affordable snacks, while other supplies were rationed. Recipe from Cooking With Curls.
CLASSIC Apple Pie
Apple pie was brought to the colonies by European settlers. It was easy and affordable. But, it didn't become popular until the 20th century, when advertising, news, and two world wars transformed the dish into a nationalist symbol. By WWII it was a symbol of the warmth of home, and soldiers were proudly proclaiming that they were fighting for "mom and apple pie." Recipe from Tidbits.
SUMMER PEACH CHEESECAKE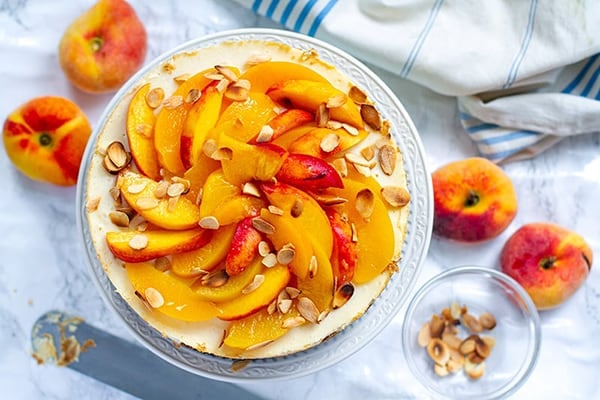 The first "cheesecake" may have been created on the Greek island of Samos. In 1872, a New York dairy farmer accidentally discovered the creation of cream cheese while attempting to replicate the French cheese Neufchatel. Three years later, cream cheese was packaged in foil and distributed to local stores under the Philadelphia Cream Cheese brand. The Americanized version of the cheesecake that we know today adds cream cheese to the cake, and it has since become a staple ingredient in the United States.
The Classic New York-style cheesecake is famously smooth-tasting gets its signature flavor from extra egg yolks in the cream cheesecake mix. It is served with just the cake – no fruit, chocolate, or caramel is served on the top or on the side. Recipe from Instant Pot Eats.
Try this classic Instant Pot New York Cheesecake from Simply Happy Foodie
Pumpkin Pie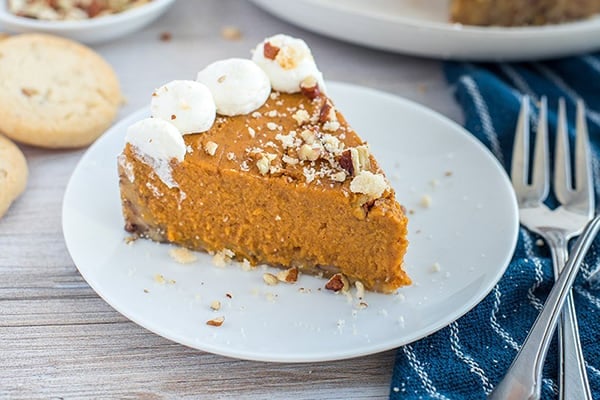 An American Thanksgiving table must have pumpkin pie by today's traditions. Those traditions date back to the early 18th-century. Amelia Simmons' pioneering 1796 "American Cookery" contained pumpkin pie recipes similar to today's custard version. In 1842 another abolitionist, Lydia Maria Child, wrote her famous poem about a New England Thanksgiving that began, "Over the river, and through the wood" and ended with a shout, "Hurra for the pumpkin pie!" Recipe from Pressure Cooking Today.
Key Lime Pie
Key Lime Pie is synonymous with the Florida Keys, and especially in the city of Key West. Traditional key lime pie filling contains key lime juice, sweetened condensed milk, and egg yolks. The one thing that a true Floridian agrees on is that you should never add green food coloring. The filling of the authentic key lime pie is a light yellow. Recipe from Living Sweet Moments.
INSTANT POT BLACKBERRY COBBLER

Summer brings an abundance of fresh blackberries perfect for sugary desserts. Cobblers may be called by various names such as tart, pie, torte, pandowdy, grunt, slump, buckles, crisp, croustade, bird's nest pudding, or crow's nest pudding. They are a deep-dish fruit dessert with a thick crust (usually a biscuit crust) and a fruit filling.
Originating in the British American colonies. When they first arrived, they brought their favorite recipes with them. They improvised when they didn't find their favorite ingredients, using whatever was available. Recipe from Monday Is Meatloaf.
---