From juicy tenderloin with gravy and stuffing to a bowl of hearty meatballs, we cover some of our favorite Instant Pot pork recipes in today's roundup. Perfect for lunches, dinners and meal prep.
---
Let's talk about pork! When it comes to the main animal proteins, I feel like pork gets left out the most often. It is a truly underrated ingredient when we consider its versatility, affordability, and incredible taste. There are many budget-friendly cuts to work with, it takes on any flavor profile and sauce brilliantly, and the end result is almost always hearty and satisfying.
Whether you're a fan of pulled pork, pork chops, or finger-lickin' good ribs, we have the right recipe for you to try in your Instant Pot soon. We'll be covering so many different types of cuisines that you're bound to find your flavor and feel inspired. Here are our favorite Instant Pot pork recipes for you to try!
1. Barbacoa Inspired Instant Pot Pulled Pork
Feeling like Mexican food? Look no further than this shreddable pulled pork, Barbacoa-style. If you like Chipotle, you'll love this pork dish. It's perfect for constructing your own healthy burrito bowls with rice and beans, wraps, or tacos. Top it off with fresh lime and cilantro for the best results! Get the recipe on our blog here.
2.Pork Chops With Creamy Mushroom Sauce (Keto, GF)
Who doesn't love a good pork chop? This is an underrated protein choice in my opinion. Getting the cooking time just right can be tricky when avoiding dry chops, but this recipe leaves you with little guesswork for brilliant results every time. These juicy chops are smothered in a mushroom gravy that'll have you drooling before you even take a bite! Get the recipe on the blog here.
3. Instant Pot Smoky Ribs (Low-Carb, Keto)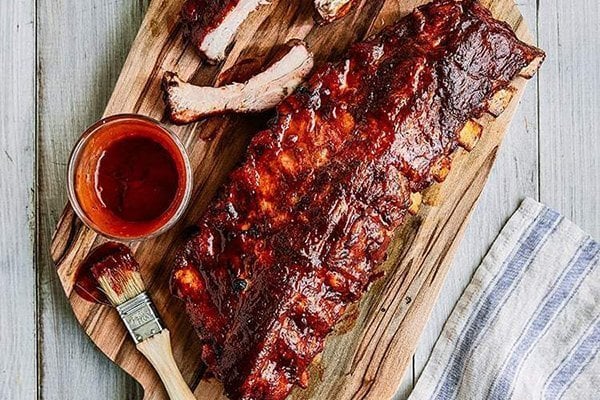 This delicious rack of smoky Instant Pot barbecue ribs is low-carb and keto-friendly. You can do it the old-fashioned way, but once you start cooking the meat in your IP, you won't go back. It's recommended that you give them a quick broil in the oven or on the grill before serving to seal in that flavor, but you won't have to wait hours and hours for a tender, juicy, fully cooked inside now. Score! Get the recipe on our blog here.
4. Italian Instant Pot Pork & Bean Stew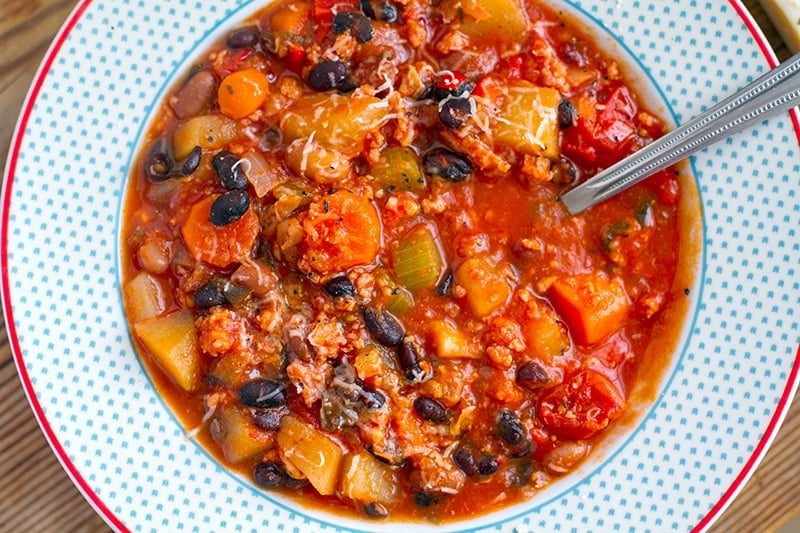 We've made our way through Mexico, Greece, India, Germany, and all throughout Asia. Now, we're in Italy for this beautifully hearty stew from the Tuscan region. Made with your choice of beans, vegetables and a little bit of ground pork, this dish has deep flavours and is a nourishing staple you'll be revisiting often. Get the recipe on our blog here.
5. Pork Tenderloin & Potatoes With Creamy Mushroom Sauce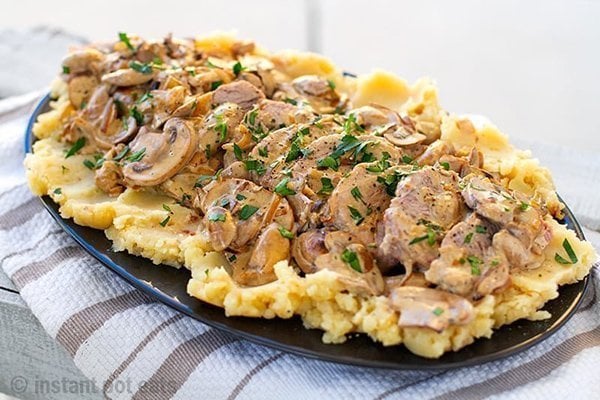 Have you ever cooked with pork tenderloin before? It's a long, log-like piece of meat that is quite lean but very tender. Made together in the Instant Pot, pork tenderloin and potatoes need about the same time because this cut of pork doesn't need much cooking. Plus, having the pork in the same pot will release all of its tasty juices straight into the potatoes resulting in heartier flavor. Find the recipe here.
6. Instant Pot Kalua Pig
We're kicking things off with the quintessential Instant Pot pork recipe. This kalua pig is everything you ever wanted – it's smoky, sweet, pull-apart goodness will be a family favorite and you'll find yourself revisiting this recipe. With bacon and cabbage in the mix, it balances out the heavy with the light for a simple complete meal that feels anything but simple. Recipe from Nom Nom Paleo.
7. Salsa Pork Chops
If you're not acquainted with one of my favorite cooking techniques – if you can even call it that – let this recipe familiarise you. You will take the raw meat of your choice (poultry works best) and your favorite storebought salsa (you can make your own if you're fancy like that) and pour it into your Instant Pot. You press a button, and about 30 minutes later, you eat. It's good – trust me! Recipe from Jelly Toast.
8. Instant Pot Tender Greek Pork
If you're in the mood for some good Greek eats, this pork is a perfect choice. Piled high into a pita and topped with fresh crunchy veggies and tzatziki, you'll be thinking you carved the gyro meat straight from the source. Lots of oregano and lemon juice are the key ingredients in this dish for nailing that classic, authentic flavor. Recipe from Mel's Kitchen Cafe.
9. Instant Pot Pork Chops & Apples
There is something brilliant about pairing fruit with poultry. This simple 6-ingredient recipe is sweet and savory with buttery brown sugar apples caramelized to perfection while the pork chops cook through. They'll be juicy and succulent covered in the reduced glaze. It's not "health food," but it is good food! Recipe from Wondermom Wannabe.
10. Curried Sausages & Peas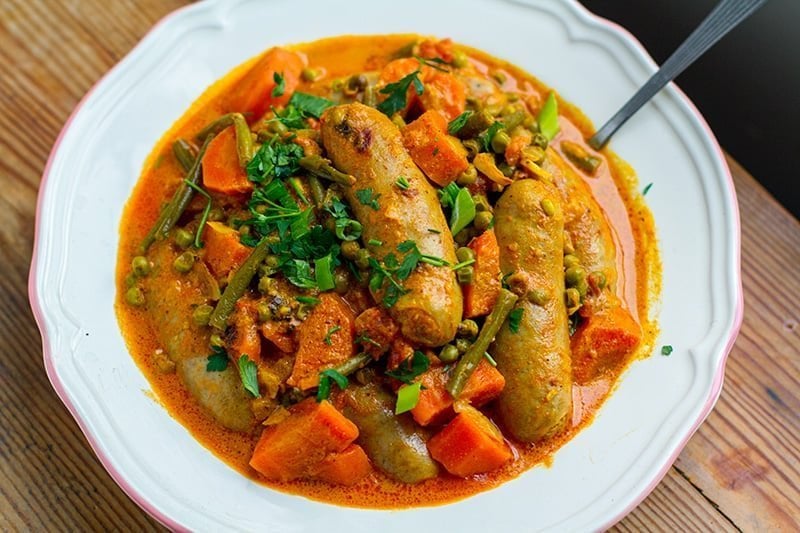 These curried sausages and peas create a unique blend of German and Indian cuisine using distinct curry spices with a food combination that is hearty, filling, and beyond simple. This is a one-pot meal that you can sort of just toss the ingredients into your pot for and press a button so it's a simple fixing on a busy weeknight with plenty of veg, protein, and healthy fats to go around. Get the recipe here.
11. Asian Instant Pot Pulled Pork
Pulled pork can be made in so many ways and it takes on different flavor profiles with ease, as you can see in this delicious roundup! This recipe infuses the pork with Asian flavor making it suitable for pairing with fresh crunchy slaw in tacos or tossing into a bowl with an over-easy egg on top. No matter which way, it's melt-in-your-mouth good, healthy, and ready in just two hours when it normally takes all day! Recipe from Just One Cookbook.
12. Pork Loin With Stuffing & Gravy
You can't deny how awesome the Instant Pot is for making a full meal all at once. It's what makes it worthy of declaring it a miracle. This dish proves the point with a holiday-friendly meal any day of the week. Humble pork loin cooked with boxed stuffing mix is a delicious meal. The gravy comes together in the pot while cooking so everything is injected with flavor. How can you not love it? Recipe from The Creative Bite.
13. Spicy Instant Pot Pork Stew With Spinach
This keto-friendly, low-carb stew is a beautifully satiating and satisfying weeknight meal made with freezer ingredients. Simple spices, Rotel, and pork come together for the bulk of this stew. You can finish it off by wilting in some fresh or frozen spinach and mixing in a swig of heavy whipping cream for greens and a texture boost. This is the kind of healthy comfort food we love! Recipe from Two Sleevers.
14. Instant Pot BBQ Pulled Pork
We have to include one final recipe for pulled pork because amongst the favorites of the masses is a good BBQ pulled pork. It's great for summertime entertaining. It's perfect with creamy coleslaw on the side. It's fantastic piled high atop your favorite buns. Finally, it's low-effort using a BBQ sauce from the store and cooking in your IP. This is the only recipe you'll need! Recipe from Gimme Some Oven.
15. Char Siu (Chinese BBQ pork)
BBQ pork can take on a few forms. Char Siu is the traditional Chinese version from the dynamic duo who knows how to make real Chinese food in the Instant Pot! Juicy and tender, you want to give this meat some time to marinate and soak up the flavor. Serve with leafy, fibrous, and tasty bok choy after quick steam for the best results. Recipe from Pressure Cook Recipes.
Pork deserves a little more recognition, especially with its versatility in the Instant Pot! We hope you enjoy these recipes whether you're a fan of pulled pork or pork chops. Let us know your favorite Instant pot pork recipes in the comments below and remember to share with your friends who could use some pressure cooking inspiration.