If you are growing bell peppers in your garden or taking advantage of the harvest season, we have some colorful dishes collected for your dining pleasure. Whether you like them stuffed, sliced, diced, roasted, cooked or raw, these bell pepper recipes are all made easy by using the Instant Pot.
---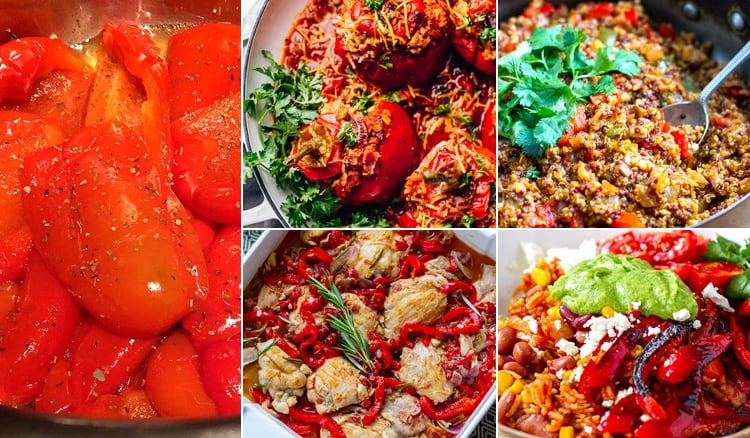 Bell peppers are a great garden crop that goes the distance in their versatility in culinary dishes. Green, unripe peppers have a slightly bitter flavor and are not as sweet as fully ripe red ones. Bell peppers do not contain capsaicin, which gives hot peppers their distinct heat and spiciness; this makes bell peppers a nice addition of flavor to any dish and they can be consumed raw and cooked.
Using the Instant Pot to make recipes with bell peppers can be quite handy. You can make stuffed peppers and use the pressure cooker instead of a pot or a slow cooker (and much faster), you can make a bell pepper soup or stew; it's really tasty added to Mexican rice or to an Italian chicken dish.
Health benefits of bell peppers
The longer you allow your bell peppers to mature, the higher their vitamin C content. They are low in calories and rich in antioxidants, making them perfect for a healthy diet. Carbs in peppers are the natural sugars that are responsible for the sweet taste of ripe bell peppers. They can improve eye health and reduced the risk of anaemia.
---
Instant Pot Italian Bell Peppers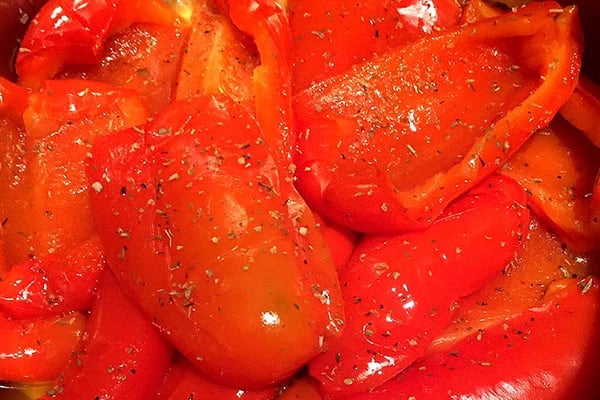 These Instant Pot Italian bell peppers are amazing! These red bell peppers are so juicy, flavorful, and perfectly seasoned! So easy to make in the Instant Pot and truly mouthwatering! Recipe from Melanie Cooks.
MISO QUINOA WITH MUSHROOMS & PEPPERS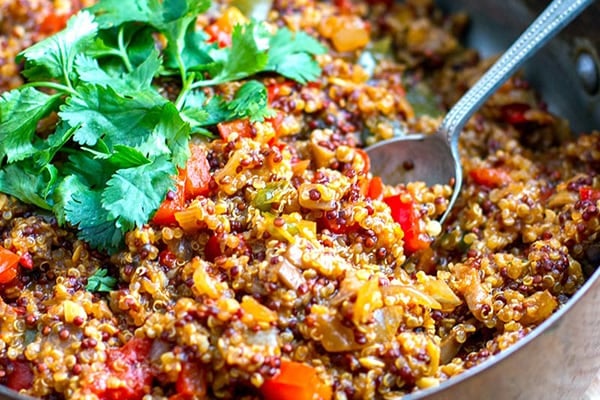 This vegan and vegetarian-friendly quinoa dish is great for a weeknight dinner and weekend meal prep. A combination of raw miso paste, tomato paste, and Tamari or soy sauce, infuse this dish with real umami flavor, known as the fifth taste. It's a little salty and savory, tickling your tastebuds in all the right ways. Recipe from Instant Pot Eats.
Instant Pot Stuffed Pepper Soup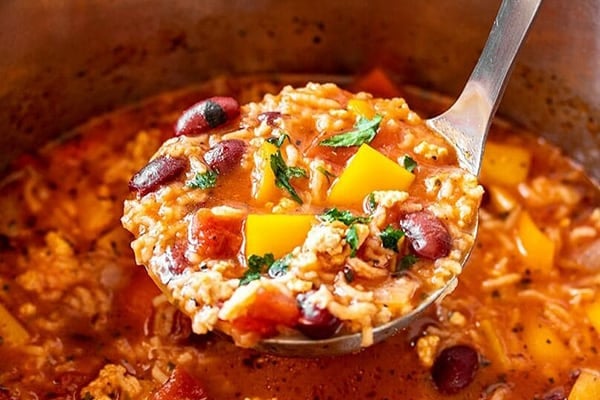 Instant Pot Stuffed Pepper Soup tastes just like stuffed peppers, but it's way easier to make! Made with bell peppers, ground chicken, rice, and beans, this soup is a satisfying one-pot family meal. Recipe from The Recipe Well.
INSTANT POT CHICKEN SCARPARIELLO
A modern Italian-American dish of juicy chicken thighs braised in vinegary, sweet, and sour pan sauce made with pickled red peppers, and often Italian sausage and rosemary or oregano. There are many variations of this dish, but in all cases, it is utterly delicious and easy to make. Recipe from Instant Pot Eats.
MARINATED INSTANT POT CHICKEN FAJITAS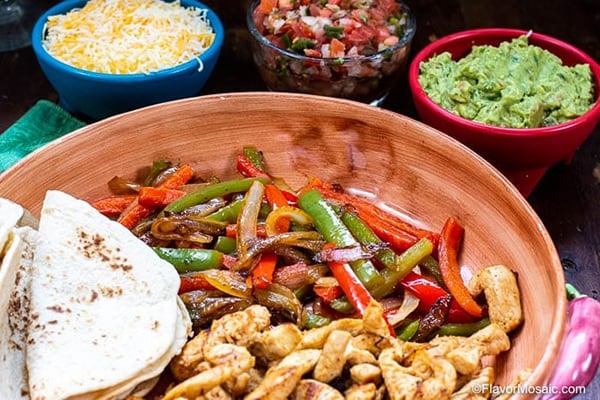 These Marinated Instant Pot Chicken Fajitas are spicy, smoky, sizzling hot strips of chicken breast served with sliced red and green bell peppers, and sautéed onions in flour tortillas. Recipe from Flavor Mosaic.
VEGETARIAN BURRITO BOWL WITH AVOCADO CREMA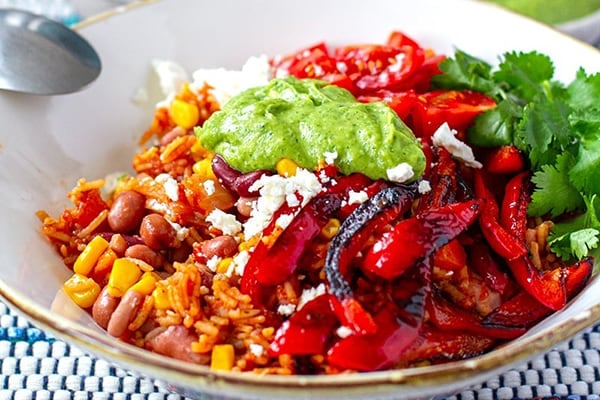 If you feel like a Chipotle-inspired burrito bowl without leaving the house, have a look in your pantry as you most likely have the key ingredients to make a spectacular dish. For this Instant Pot burrito bowl recipe, you will need rice, canned beans, canned chopped tomatoes, sweet corn, onions, carrots, and then sweet bell peppers, cilantro, and avocado for toppings. Recipe from Instant Pot Eats.
Stuffed Bell Peppers IN THE Instant Pot
Every bite of these stuffed bell peppers is packed with such aromatic rich flavors. Featuring colorful veggies, delicious bacon, filling rice, and an amazing sauce. Made entirely in the Instant Pot, this recipe is easy, delectable, and healthy. Recipe from Munchkin Time.
INSTANT POT CHICKPEAS WITH SALSA VERDE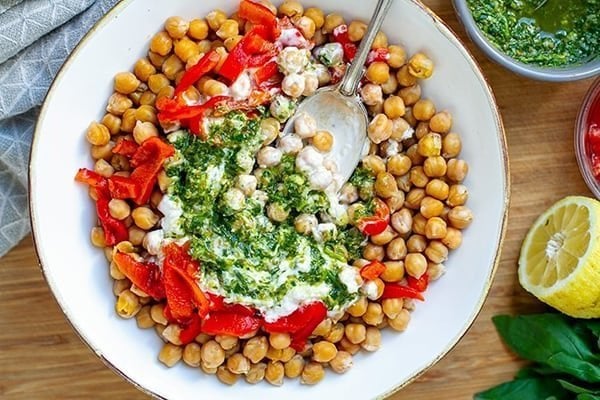 We use the Instant Pot to cook dried chickpeas, which are full of fiber, nutrients, and plant-based protein, and they dress it up with gorgeous, creamy tahini yogurt (dairy-free works well here!), roasted pickled peppers, and sensational salsa verde. These toppings bring chickpeas to life and are super easy to make at home. Recipe from Instant Pot Eats.
EASY INSTANT POT PEPPER STEAK
This Easy Instant Pot Pepper Steak is a delicious 30-minute dinner idea that is packed with bell peppers, onions, sirloin steak, and a tasty soy-pepper sauce! Recipe from The Girl On Bloor.
Instant Pot Rasta Pasta
Creamy Instant Pot Rasta pasta tossed with Caribbean-style jerk chicken, shrimp, and crunchy bell peppers. This meal is full of flavor, it's quick to make, the sauce turns out so rich, and it's spicy! Recipe from Little Sunny Kitchen.
Instant Pot Stuffed Pepper Casserole
It's a deconstructed stuffed pepper in your pressure cooker but way easier! All the wonderful flavors you love in one pot and no precooking or boiling required. Recipe from The Typical Mom.
ROASTED RED BELL PEPPER AND LENTIL SOUP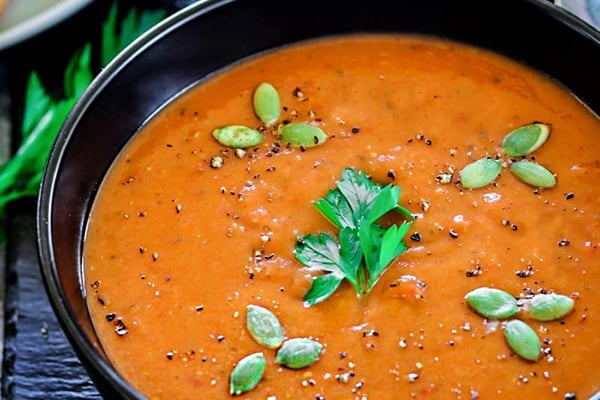 What could be better than a bowl of wholesome soup that is bursting with warm flavors? Made with simple ingredients, this Instant Pot roasted red bell pepper, and lentil soup can be pulled off in no time and will be your new family favorite. Recipe from Ruchis Kitchen.
Instant Pot Sausage and Peppers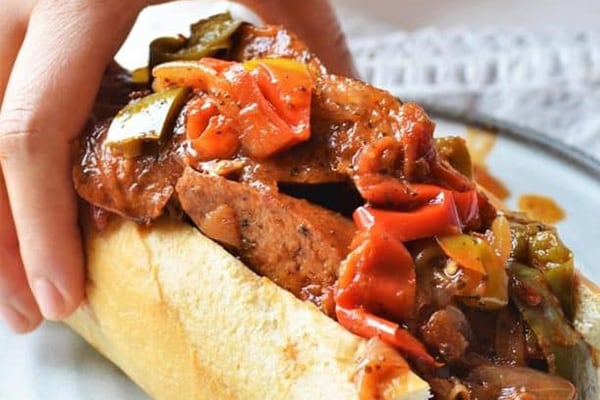 Ultimate comfort food that you can make quickly in your Instant Pot for a quick brunch, lunch, or even dinner. Loaded with smoked Sausages, colorful peppers, a dash of seasoning, onion, garlic & tomatoes. Recipe from Foodies Terminal.
INSTANT POT HOT RED PEPPER JELLY
This instant pot hot red pepper jelly is made with red bell pepper, red jalapenos, sugar, apple cider vinegar, pectin, and a pinch of salt. With 6 ingredients you can make this hot pepper jelly at home. The best part is it doesn't have tons of preservative, homemade so you know what ingredients are in there. Recipe from Zesty South Indian Kitchen.
Check out these recipes for BEST INSTANT POT STUFFED PEPPERS
---
GROWING PEPPERS
Peppers are a warm-season crop. Start seeds indoors 8-10 weeks before the last spring frost date and plant seeds about ¼-inch deep. They require full sun, so avoid planting in shaded areas while keeping them 18 to 24 inches apart. They require a fairly long growing season of 60 to 90 days so start soon!
Avoid planting peppers in places where you've recently grown other members of the nightshade family like tomatoes, potatoes, or eggplants because this can expose peppers to disease. Peppers generally resist most garden pests. Soil should be in well-drained soil. Water one to two inches per square foot per week. If you are experiencing a hot, dry summer, water every day may be needed.
To prevent bending, support plants with cages or stakes. Harvest as soon as they reach desired size or color. Cut peppers with a sharp knife or scissors. Then you can store refrigerated in plastic bags for up to 10 days.
---
SAVE These Instant Pot Bell Pepper Recipes TO PINTEREST