Healthy and nutritious, these Instant Pot stuffed peppers recipes and ideas are perfect for any season. Try a new flavor combination with rice, quinoa or beans, with or without meat, with cheese, sour cream – it's your choice how wild you want to go with stuffed peppers.
---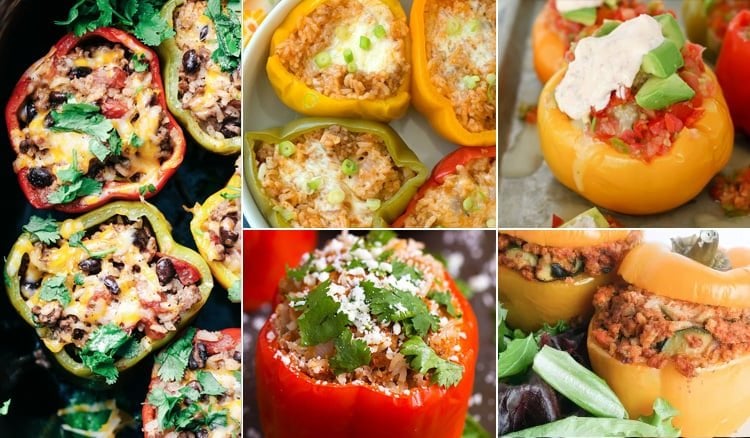 Who doesn't love a good stuffed pepper recipe? They're simple to make with affordable ingredients, and they come together with just a little bit of prep work. They're also easy to make with mix and match ingredients for easy, 'cleaning out the fridge' nights. You don't have to make an involved dish for a satisfying dinner when it comes to stuffed peppers, incorporating everything into one neatly packaged vessel for consumption.
We like making big batches and freezing some for later, as they heat up really nicely in the oven. We also love the idea of making them in the Instant Pot, all of the flavors perfectly melding together, evenly cooked all the way throughout. There are quite a few different options and techniques, so we're sharing our favorite Instant Pot stuffed peppers.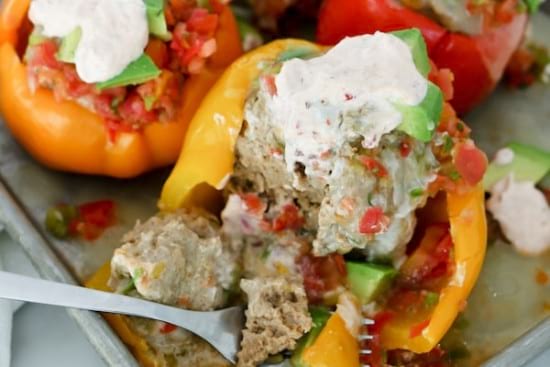 Let's kick things off with a little spice! These turkey stuffed peppers are infused with green chilies and jalapeno pepper, plus a layer of pepper jack cheese. You'll want to top them off with your favorite Mexican garnishes – pico, avocado, and perhaps some tortilla chips. The best part is undoubtedly the chipotle lime sauce made with sour cream to cool things down a bit. Recipe from Pressure Cooking Today.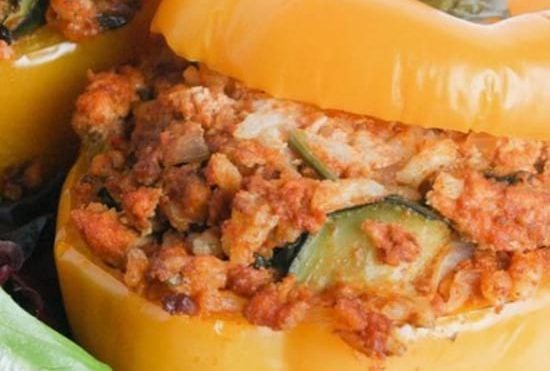 This pepper is stuffed with a delicious blend of hearty and juicy chorizo, ground chicken, and hidden veggies like kale and zucchini. The recipe also skips out on rice for cauliflower rice, keeping it 100% paleo and grain-free. The recipe also includes instructions for freezing and reheating, so don't hesitate to make a few batches! Recipe from Once A Month Meals.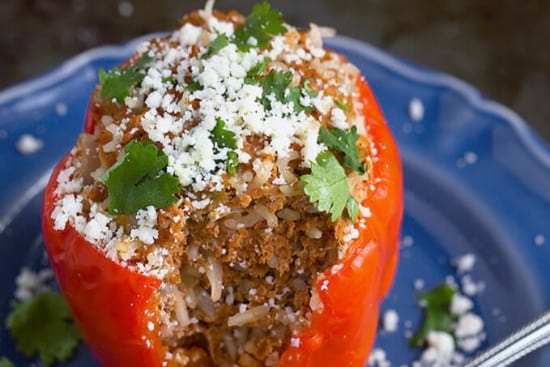 With just 10 minutes of prep time, these delicious and flavourful peppers are the perfect weeknight meal to fix for the whole family. A classic blend of turkey or beef, white rice, and taco seasoning will ensure plenty of taste and texture in each bite. Top off with queso fresco and fresh cilantro for the best bite! Recipe from Simply Happy Foodie.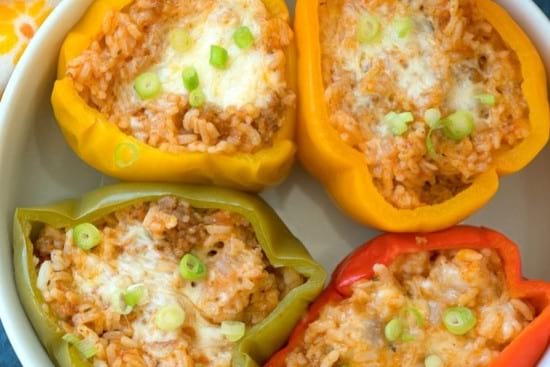 With just six ingredients to make the magic happen, these stuffed peppers are truly easy to make! Cheesy ground beef, rice, and pre-made tomato sauce are the tremendous trio in this recipe, this is a full meal tucked into a single pepper. Recipe from The Typical Mom.
If you love stuffed green peppers, there's no doubt you'll love this casserole. With a more Italian feel, this casserole boasts mozzarella cheese, tomato sauce, and spinach. It incorporates everything you love into a dish that takes just FOUR minutes of pressure cooking since white rice comes together in the IP so quickly. Recipe from Pressure Cooking Today.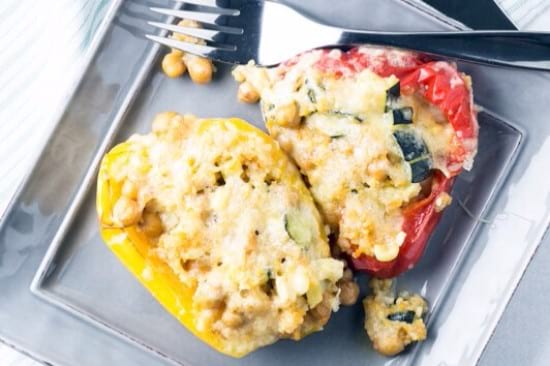 No meat? No problem! These peppers pack in a tasty, plant-based blend of chickpeas, zucchini, corn, and cheese of course! Gouda really makes this dish stand out in all of its creamy, melted glory. Whether you're a vegetarian or simply choosing to do more meatless dinners, this is a winner. Recipe from Chattavore.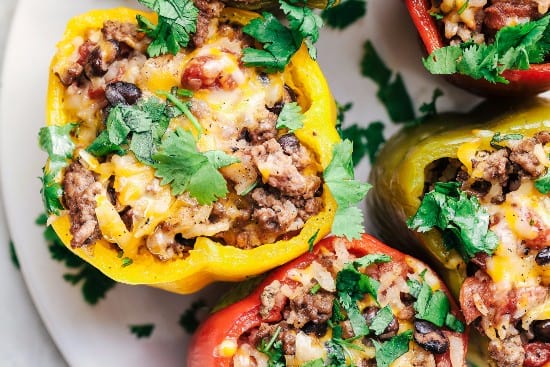 If you have all day, why not use the slow cooker function? The Instant Pot is good for both cooking fast and cooking slow. These peppers feature a simple and satisfying blend of ingredients you can set and forget. Come home to the house smelling delicious, and a healthy meal waiting for you. Recipe from The Recipe Critic.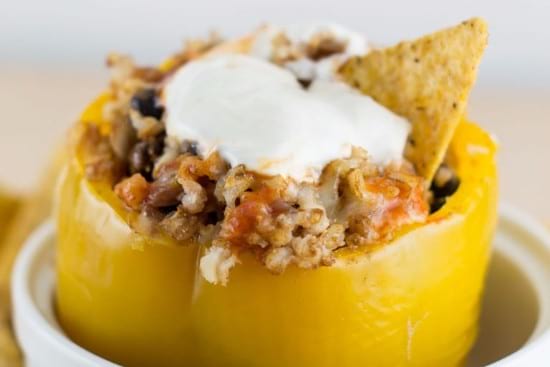 Brown rice and beans? You can't beat the dynamic duo when it comes to cheap, fast, healthy, and easy vegetarian cuisine. Add some veggies to the mix by tossing that blend into some bell peppers, throwing 'em in the Instant Pot, and using the slow cook mode. Recipe from Build Your Bite.
Weeknight dinners were never easier than with Instant Pot stuffed peppers! Have you made them yet? Let us know how you like yours!
---
SAVE STUFFED PEPPERS INSTANT POT RECIPES TO PINTEREST