We love to make things easier for you and that's why we've put together our favorite Instant Pot mini recipes, which are perfectly suited to your smaller-batch, 3-quart pressure cooker.
---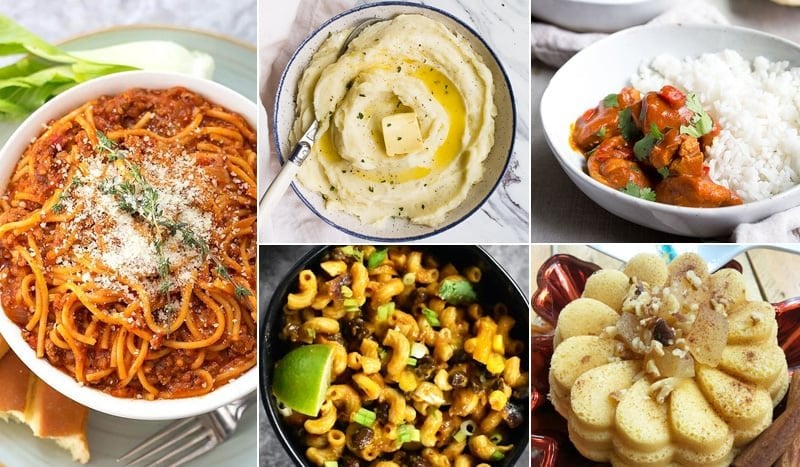 INSTANT POT MINI RECIPES
Many people have the 6-quart Instant Pot for batch cooking and for matching up recipes. Most bloggers and cookbook authors are using this version as the standard size. It can be tough to figure out the proper proportions for the Instant Pot Mini, which is the 3-quart version.
Today, we're sharing with you some 3-quart Instant Pot recipes designed specifically for 1-2 people in the Mini. With these recipes, you won't have to do the guesswork on your own at all. Plus, you won't be burdened with leftovers because some people simply don't like them!
Eliminate food waste and make dinner easy with some of these featured Instant Pot Mini recipes. If you find any more Instant Pot mini specific recipes, share with us!
---
1. Instant Pot Mini Spaghetti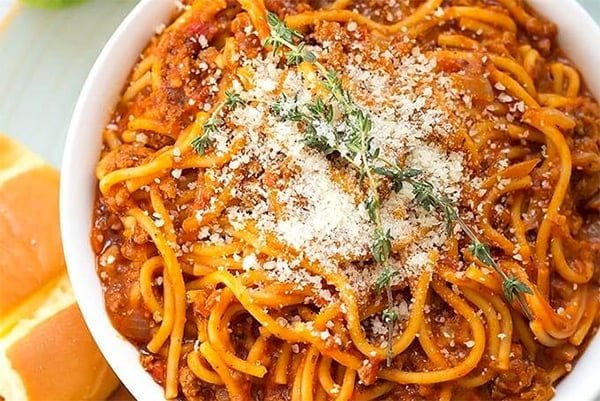 A little pasta goes a long way! If you're just looking for a 1-2 person serving or simply leftovers for lunch tomorrow, this recipe is perfect. With meat sauce and optional veggies, it's great on its own or paired with a green salad. This is sure to be a weeknight staple, cooking up in only 9-13 minutes. Recipe from Simply Happy Foodie.
2. Instant Pot Mashed Potatoes For Two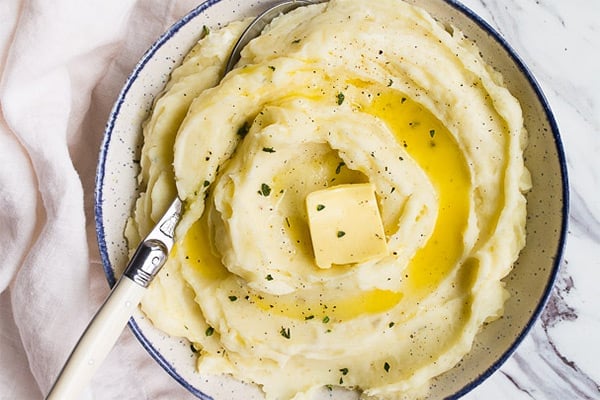 Making up a main dish in the oven? Whether it's steak or meatloaf, these mashed potatoes are an undeniably delicious and comforting side dish. We all know they taste the best fresh from the pot anyway, so don't worry about using up leftovers with this recipe for the 3-quart pot. Recipe from Dessert for Two.
3. Instant Pot Cheesy Garlic Orzo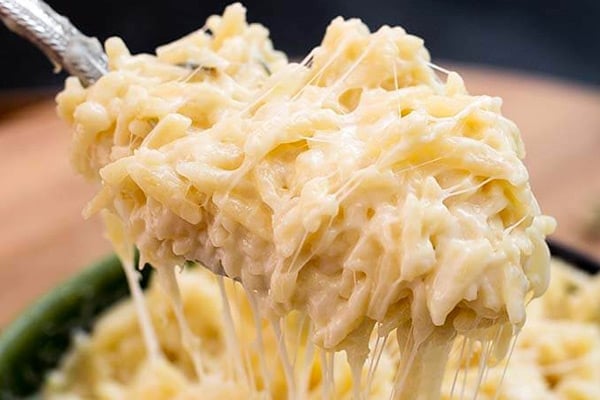 This delicious cheesy side made with the Instant Pot Mini actually makes 4-6 servings which the Mini can totally accommodate, but you can easily halve this recipe to make a 2-3 serving side dish with ridiculously cheesy goodness in every bite. Orzo is the perfect pasta for soaking it all up! Recipe from Simply Happy Foodie.
4. Instant Pot Mini Cake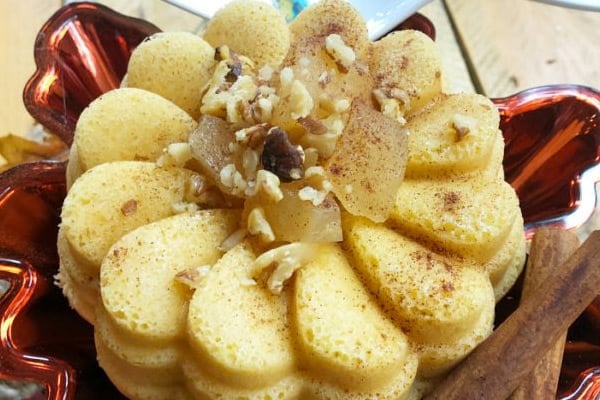 Most cakes for the Instant Pot aren't made in the Mini and we all know baking by intuition or guessing can be dangerously disappointing. This recipe will curb your sweet tooth with a small cake – perfect for dessert lovers and people who don't necessarily want the temptation of a full-size cake hanging out around the house! Recipe from Home Pressure Cooking.
5. Butter Chicken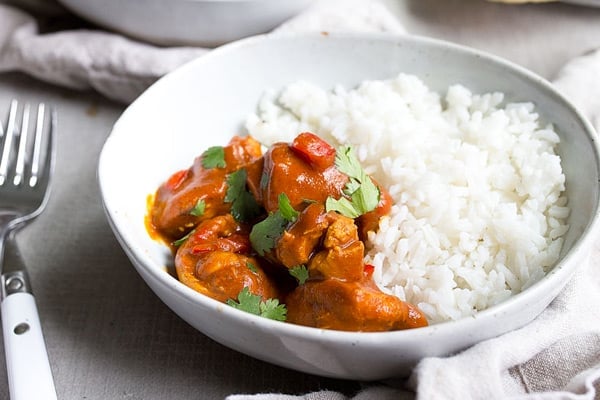 Tempted by takeaway? Try this perfect serving of Indian butter chicken for your IP Mini. With the perfect blend of spices for a dreamy, creamy sauce, you can serve this with rice or cauliflower rice for a complete meal. Recipe from Simply Happy Foodie.
6. Instant Pot Mini Pot Roast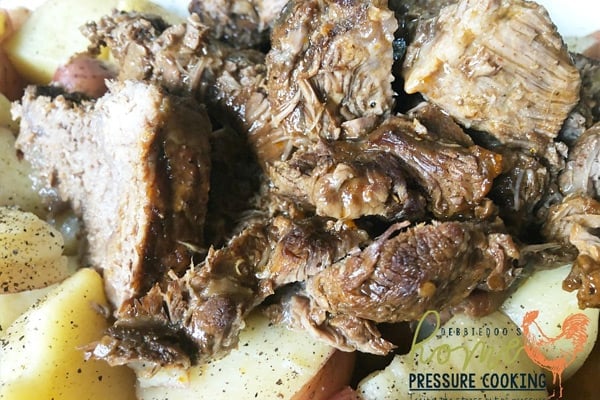 A pot roast is often a big meal made for a big pot. If you just want a special dinner for two, this is your go-to recipe. Simply choose a smaller cut of meat to make it work, and the rest will fall into place. This should help you figure out similar meat and veggie recipes, too. Recipe from Home Pressure Cooking.
7. Mini Mac & Cheese

Mac and cheese is the ultimate comfort food and this perfect portion is just the right size for a lazy and satisfying dinner. It's nearly as easy as the boxed stuff – just made with real food ingredients! Recipe from Simply Happy Foodie.
8. Instant Pot Chicken & Dumplings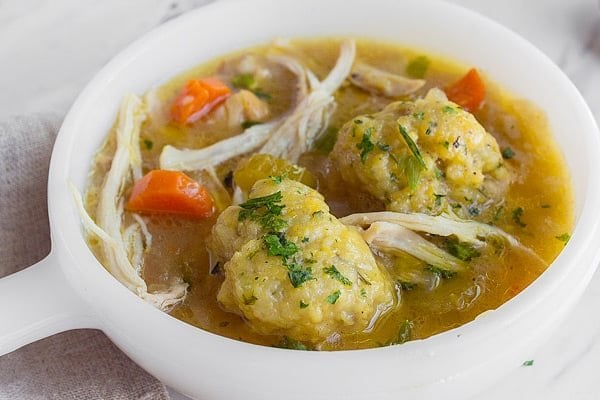 Chicken and dumplings are one of the most soothing meals with rich and hearty dumplings and tender chicken in a thick and creamy broth. Speckled with veggies, you'll only regret not having more when you want to go back for seconds! Recipe from Dessert for Two.
9. Instant Pot Sweet Potato Chili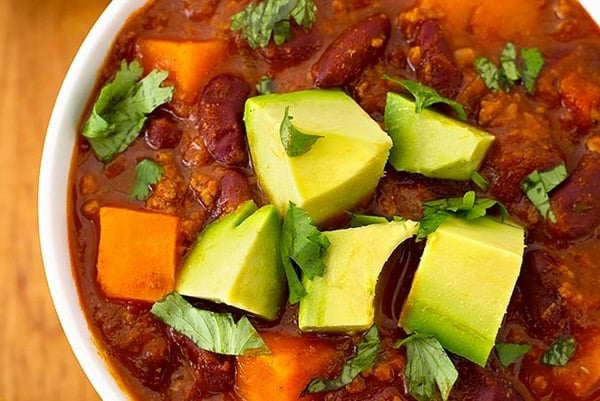 Velvety sweet potatoes, ground beef, spicy green chiles, hearty kidney beans and plenty of spice come together brilliantly and effortlessly in this Mini Duo recipe, perfect for garnishing with your favorite chili toppings. Recipe from Simply Happy Foodie.
10. Moroccan Chickpea Soup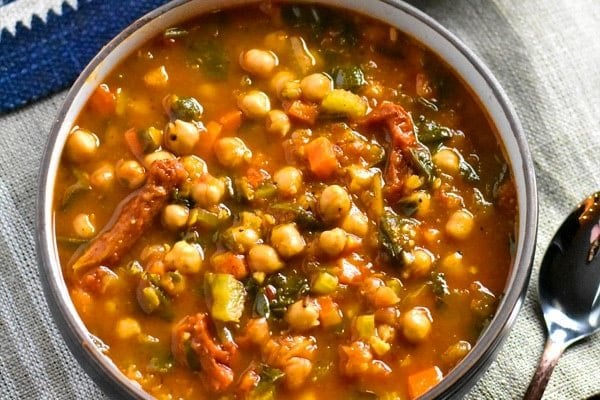 This spicy and rich taste of Morocco is a mix between a soup and a stew with a gorgeous blend of ingredients that make it feel a bit like curry and a bit like a unique spin on tomato soup. Perfect for vegetarians and plant-based eaters with a big punch of protein. Recipe from Spice Cravings.
11. Instant Pot Mini Meatloaf
This meatloaf for two is as tasty as it is tiny, great for serving two people. Topped with bacon and paired with lovely, perfectly cooked potatoes, you've got a full meal in a jiffy – and a darn good one at that. Recipe from Home Pressure Cooking.
12. Instant Pot Vegetarian Taco Pasta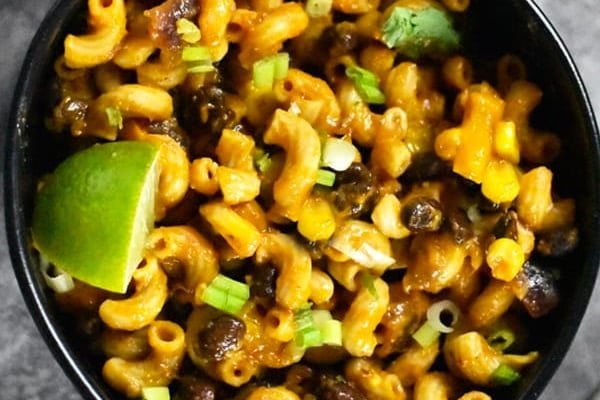 This pasta is paired with all your favorite taco ingredients for a Mexican spin on pasta salad, fantastic served both hot and cold so you can save a little for the next day. No meat here, but feel free to add it (or faux meat) for extra protein. Recipe from Spice Cravings.
13. Mini Eggplant & Olive Spread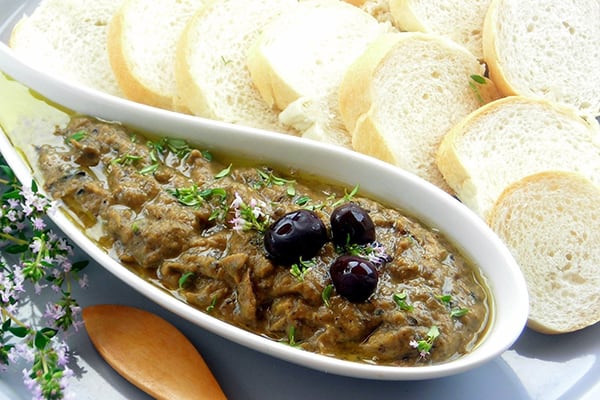 An Arab dish traditionally made with eggplant that can be used as a sauce, spread or dip. The traditional version requires eggplants that have been grilled or scorched. This recipe gets close to that flavor with the pressure cooker! What you lose in "scorch" you gain in the amazing eggplant flavor that the pressure cooker naturally preserves and enhances. Recipe from Hip Pressure Cooking.
14. Instant Pot Mini Cornish Game Hen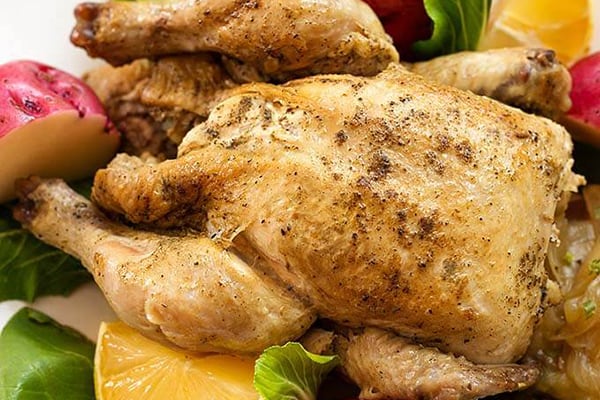 Who doesn't love to eat rotisserie chickens from the store? Here is a smaller version "Fauxtisserie" chicken substitute. Instant Pot Mini – Cornish Game Hen. You may even say it is adorable when you see it on your plate. Recipe from Simply Happy Foodie.
15. Instant Pot Mini Quinoa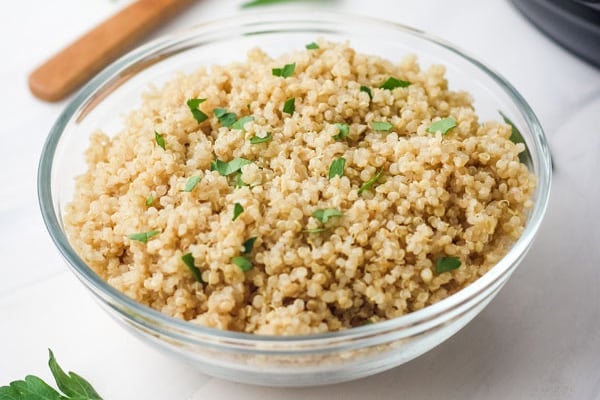 Light, fluffy, and a delicious way to add protein to any meal. Make a small batch for two or double the recipe for meal prepping. Recipe from Toaster Oven Love.
16. Instant Pot Beef Stew For Two (Dinner For Two)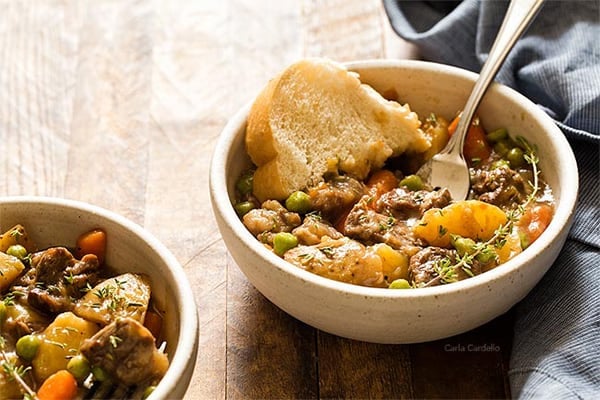 Make comfort food for dinner faster by learning how to make Instant Pot Beef Stew For Two! The meat melts in your mouth along with carrots, peas, and potatoes. Recipe from Chocolate Moosey.
16. Instant Pot Beef Stroganoff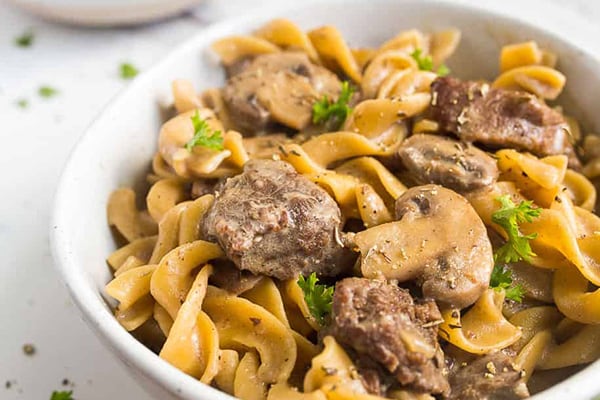 Just 10 ingredients to make a pot of creamy noodles with chunks of tender beef and mushrooms. Comfort food, all made in one pot in just minutes! (No condensed soups here!) Recipe from Dessert For Two.
16. Steel Cut Oats in the Instant Pot Mini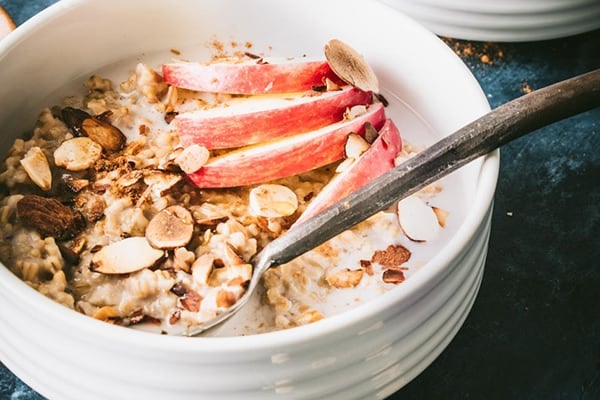 Topped with apples, almonds, and lightly sweetened with maple syrup, these steel cut oats make a warm and healthy meal that's easy to prepare in an Instant Pot, giving you breakfast in less than 30 minutes! Recipe from Urban Foodie Kitchen.
16. Instant Pot Pumpkin Cheesecake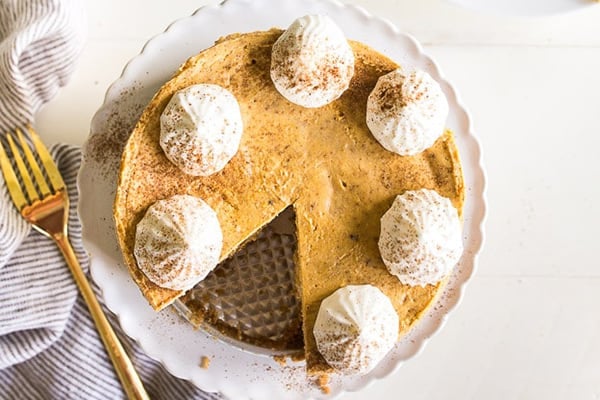 A rich and creamy pumpkin spice cheesecake with real pumpkin, baked in a 6″ springform pan. Perfect for the fall season when you have a craving but don't want to overindulge. Recipe from Dessert For Two.
16. Instant Pot Beef and Broccoli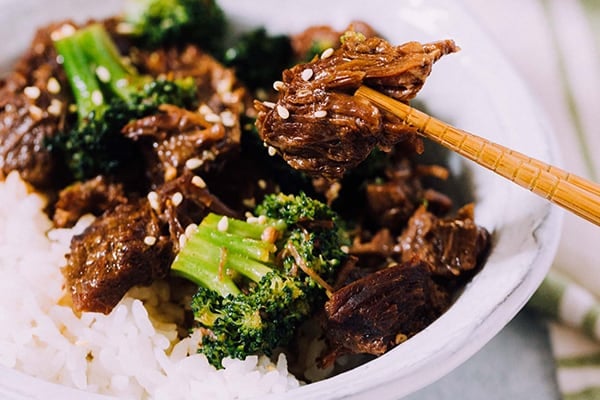 A healthier tastier version of classic take-out food in less the time it takes to go out. Get your chopstick ready! Recipe from Table For Two Blog.
Do you own a 3-quart Instant Pot mini? Do you have a favorite recipe? Share with us below!
---