Get inspired by these delicious Instant Pot tinned tomato recipes including meaty braises and tomato soups to hearty curries, stews and pasta dishes, these recipes are great for using up the most popular pantry staple. From canned whole tomatoes to paste and passata, we also give you a quick rundown on the types of preserved tomatoes.
---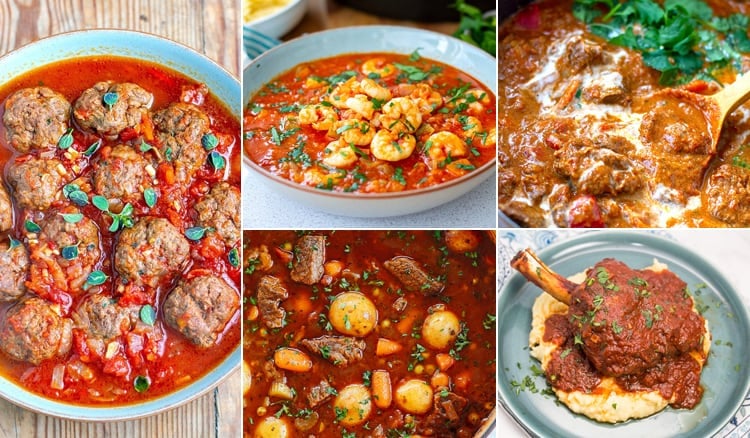 Preserving food became essential during wartime for soldiers. In 1795, the French government offered a 12,000-franc prize through the Society for the Encouragement of Industry for a breakthrough in the preservation of food. Nicolas Appert, a young chef, eventually came up with food packed in champagne bottles, sealed airtight with a mixture of cheese and lime. By 1804, his factory experimented with meat packed in tin cans. Unfortunately, his factories were unprofitable. But his innovations played a crucial role in the 19th century, feeding armies and later on explorers.
Benefits of using tinned tomatoes
Sometimes you just need shortcuts to survive in today's modern-day life. Canned or tinned tomatoes are not just for soldiers anymore. They are a great shortcut for a busy household. Having some cans stocked in the pantry makes quick dinners possible year-round.
Tinned tomatoes nearly always taste better then unripe grocery store ones since they are picked at the perfect moment and immediately processed. They maintain the balanced acidity and sweet taste; plus, they are extremely affordable and versatile.
Surprisingly, many people who don't like raw cold tomatoes, don't mind a tomato when it is used in a sauce or a soup. There's also more nutritional value in cooked tomatoes, as they contain more antioxidants than fresh tomatoes.
How to choose BEST tinned tomatoes
Not all tinned or canned tomatoes are created equal. It pays to read the label to see exactly what's inside. What? It's not just tomatoes! Some canned tomatoes just contain tomatoes, but many have hidden ingredients, like high fructose corn syrup, salt, or calcium chloride to keep them firm. But this also makes it more difficult for them to break down when cooking. Cut out one major step in processing by choosing whole tomatoes.
Try to get organic, as tomatoes are often sprayed with pesticides. Some of you may be leary about BPA. It's hard to avoid since cans are lined with plastic inside and the lids to glass jars can also contain plastic coating on the interior.
Local farm to table is generally best when it's available. But what makes Italian tomatoes different from local? San Marzano Tomatoes are grown in Italy. They are grown in an area of Italy that has rich volcanic soil which adds to the quality and makes for a tastier fruit. Italy is known for incredible wines made from unique soil, therefore the same principle applies with tomatoes.
Types of preserved tomatoes
Whole Peeled Tomatoes are the most versatile in cooking. They usually just get a quick burst of steam to remove the skins. They may be packed in tomato juice or purée.
Diced Tomatoes are fresh tomatoes that have been chopped up into small pieces. Diced tomatoes are usually packed with tomato juice, citric acid, and calcium chloride. The calcium chloride helps diced tomatoes retain their shape, making them good for dishes when you still want distinct chunks of tomatoes after cooking.
Stewed Tomatoes are cut up and cooked with seasonings before they're packed into cans. The added seasonings in the can will affect the flavor of the dish you are making
Crushed Tomatoes in Pureé is a mix of fresh crushed tomatoes and tomato purée or paste. It has a thick consistency with small chunks of tomatoes perfect for pasta sauces and smoother soups.
Tomato Pureé is also known as ground tomatoes. It's smoother than crushed tomatoes but still has a thick consistency.
Tomato Sauce comes in usually eight ounces cans. Tomato sauce is very different from ready-to-use pasta sauces.
Tomato Paste comes in tiny six ounces cans or tube form. They have a very concentrated flavor and a much darker color. It's usually a foundation ingredient in dishes like soups, stews, and braises since it's a great thickener.
---
WATCH OUT TOP 10 VIDEO RECIPES HERE
---
Instant Pot Recipes With Tinned Tomatoes
INSTANT POT TOMATO BASIL TORTELLINI SOUP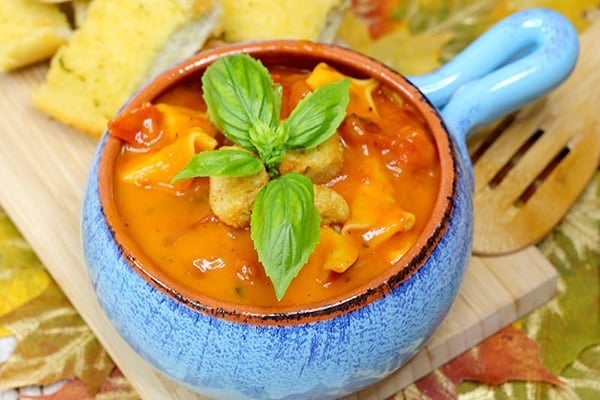 Bring a little Italy to your dinner table with a tasty Instant Pot tomato tortellini soup ready in 30-35 minutes. Featuring fire-roasted tomatoes and aromatic basil, this hearty and satiating tomato soup can be done with any type of ready-made tortellini – meat, ricotta and spinach, or pumpkin – depending on your dietary needs. It's the perfect fall and winter dinner recipe for the whole family! Recipe from Instant Pot Eats.
HEARTY Italian Minestrone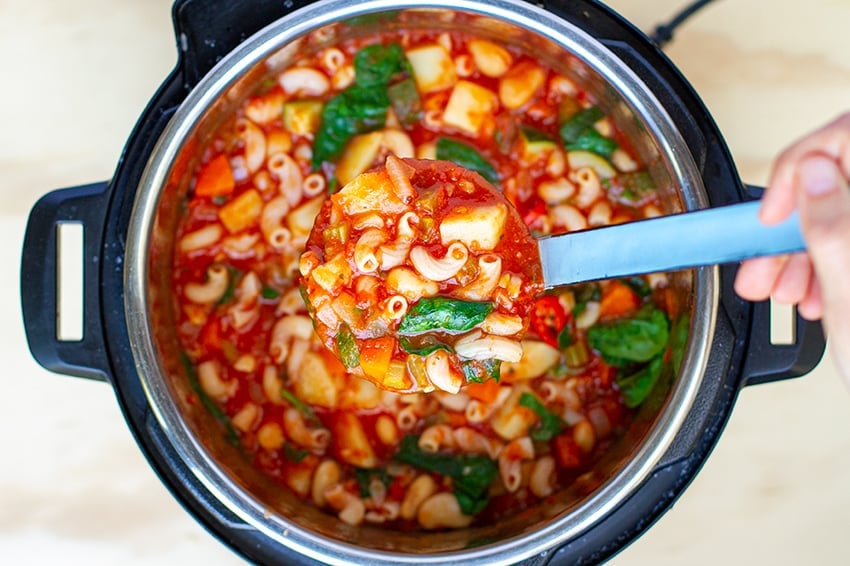 Learn how to make the most delicious Instant Pot Minestrone soup with vegetables, tomatoes, potatoes, pasta and beans. It's super hearty, thick, flavorful, kids-approved and nutritious. Recipe from Instant Pot Eats.
INSTANT POT EASY TOMATO SOUP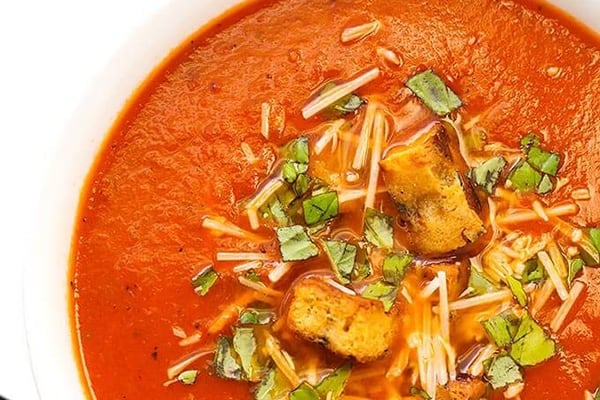 Instant Pot Easy Tomato Soup and a grilled cheese sandwich. That is a meal you can serve at any time! This easy pressure cooker tomato soup uses canned tomatoes, and if you don't tell them, they won't guess! Recipe from Simply Happy Foodie.
Italian PORK STEW WITH BEANS & TOMATOES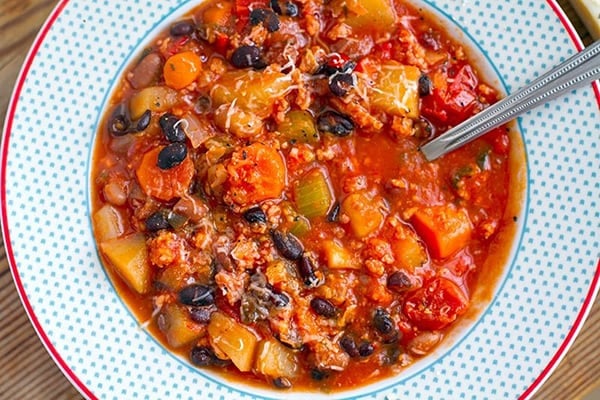 This hearty, Italian Instant Pot pork stew with beans and tomatoes is made with ground pork meat, juicy tomatoes, and legumes of your choice, this dish is nutritious and affordable. If you love Italian minestrone or a good Bolognese sauce, you will love this gorgeous, Tuscan Instant Pot pork stew. It can be made with any ground meat of your choice – pork, turkey, chicken or beef – and is incredibly easy and quick to prepare. Recipe from Instant Pot Eats.
BEEF AND TOMATO STEW
This classic hearty beef and tomato stew is true comfort food for a chilly weekend at home and can easily be made in your instant pot. Packed full of fresh veggies like carrots, peas, celery, onion, baby potatoes and cubed beef. It's more tomato-based than typical beef stew recipes. Add some fresh herbs like thyme and rosemary to give it an earthy flavor that really brings it all together. Recipe from Eat Yourself Skinny.
LAMB CURRY WITH TOMATO & COCONUT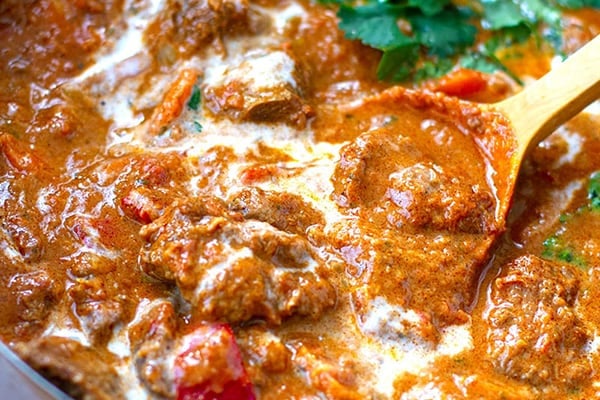 Rich and creamy, this Instant Pot lamb curry will be a hit with the whole family. Indian spices, tomatoes and coconut pair beautifully with nourishing lamb meat, and the whole stew can be on the table in 60 minutes, much quicker than cooking it on a stovetop. Recipe from Instant Pot Eats.
Instant Pot Lasagna Soup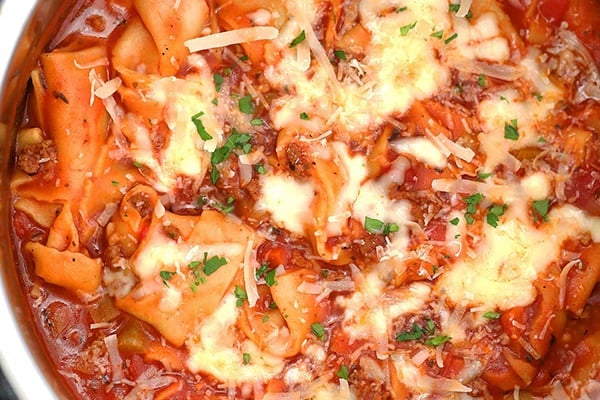 Instant Pot Lasagna Soup is an easy meal made in the Instant Pot with ground beef, Italian spices, and a tasty tomato sauce. This soup packs all the amazing flavors of a hearty Italian lasagna and is especially delicious when topped with cheese. Recipe from Sweet And Savory Meals.
INSTANT POT SPAGHETTI SAUCE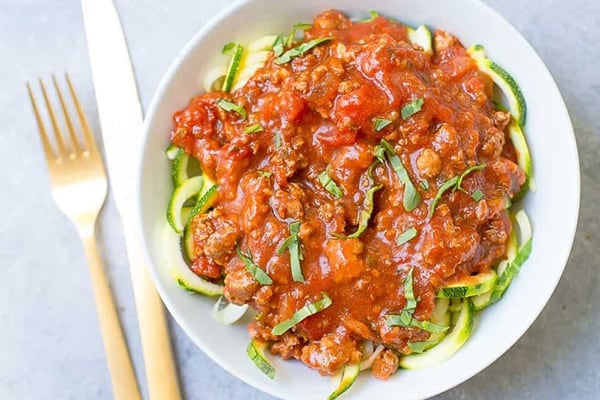 Toss all your ingredients into the Instant Pot for a super simple weeknight Spaghetti Sauce! This version is so delicious and full of flavor mixed with both ground beef and sausage. Paleo and Whole30 approved! Recipe fromWholesomelicious.
Cowboy Casserole
Instant Pot Cowboy Casserole is an easy, hearty, beefy tomato pasta dish with melty cheese that will keep your little and big cowboys happy and full. The wagon wheel pasta is a nice throwback to childhood. Of course, you can also use elbow macaroni noodles too. Recipe from 365 Days of SLow and Pressure Cooking.
Southern Tomatoes and Rice
Simple, southern, and made in a flash! Instant Pot Southern Tomatoes and Rice is all the flavors of the south made super easy in one pot. No-fuss, no-frills, all simple flavor! Serve it with Fried Pork Chops or Oven Baked BBQ Chicken. Recipe from Soulfully Made.
LEBANESE BRAISED GREEN BEANS
These Instant Pot Lebanese Braised Green Beans have all the flavor you'd get with the traditional slow braise, but without all the time it takes for a truly yummy dish. If you've never tried them before, Lebanese Braised Green Beans are green beans that slow cook in a rich tomato sauce and warm spices. Recipe from Savor The Best.
TOMATO BARLEY RISOTTO WITH MARINATED FETA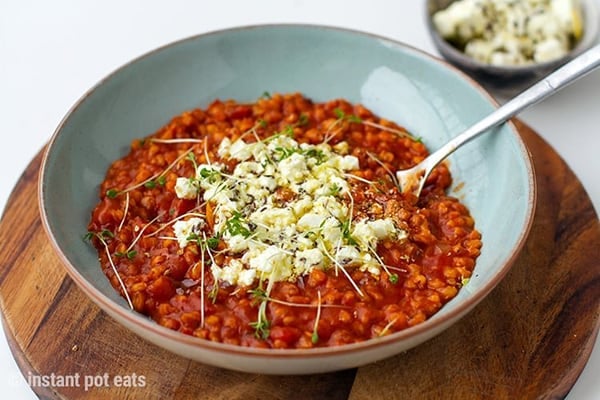 This rich and hearty Instant Pot barley risotto comes with delicious Mediterranean flavors of tomatoes and thyme and is topped with fresh marinated feta. Its unison of bold flavors and unique textures will make you fall in love with pearl barley. Recipe from Instant Pot Eats.
MEATBALLS IN ITALIAN TOMATO SAUCE

Italian tomato Instant Pot meatballs should be a staple in every kitchen. The pressure cooker makes this classic quick and easy and you can make it from scratch with all-natural ingredients and no added sugar. This recipe is Whole30, paleo, and gluten-free. Recipe from Instant Pot Eats.
Instant Pot Braised Lamb Shanks with Tomato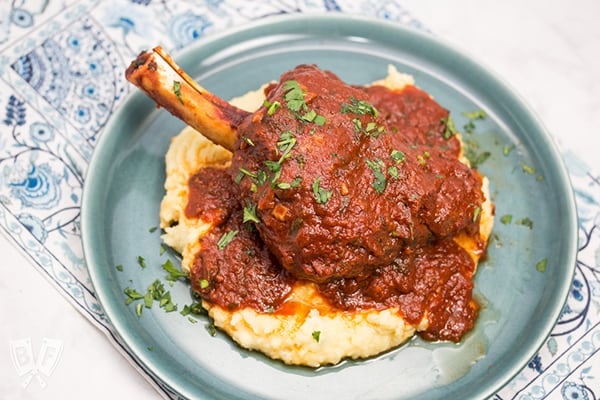 Beautifully tender, fall-off-the-bone lamb shanks are possible in a fraction of the time thanks to an electric pressure cooker! Serve it over mashed potatoes or polenta for a perfect comfort food dinner. Recipe from Big Flavors Tiny Kitchen.
INSTANT POT TOMATO RED WINE BRAISED POT ROAST
This Instant pot braised pot roast is a delicious Italian twist on traditional pot roast. Tomatoes and red wine along with a few other ingredients give this pot roast it's amazing Italian flavor. Serve over zucchini noodles or spaghetti squash. If you're not watching your carbs, mashed potatoes are also a great choice. Recipe from Lisa's Dinnertime Dish.
SHRIMP WITH TOMATO & GARLIC SAUCE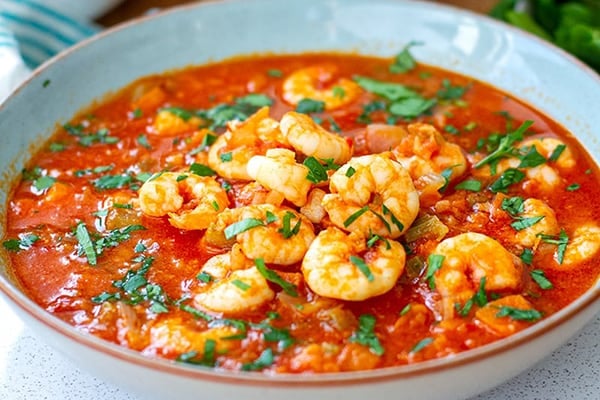 Made with frozen shrimp, tomatoes, garlic, and chili, this recipe is Italian-inspired and only takes 15 minutes. It's gluten-free, paleo, low-carb, Whole30-friendly. Weight Watchers: 4 SmartPoints per serving. Served over pasta, rice, quinoa, cauliflower rice, or zucchini noodles (for a low-carb version) or enjoyed with some crusty bread to mop up that yummy sauce. Recipe from Instant Pot Eats.
---
SAVE THESE INSTANT POT RECIPES TO PINTEREST