French food is more than just cheese, baguettes, and wine. This classic cuisine is highly regarded around the world and is a vital part of French identity, relying on simple yet often rich ingredients and fine technique. While you might have been intimidated to cook beef Bourguignon, onion soup or duck confit before, we'll show you how to make these and other Instant Pot French recipes at home in a fraction of the time and with non-faux pas.
---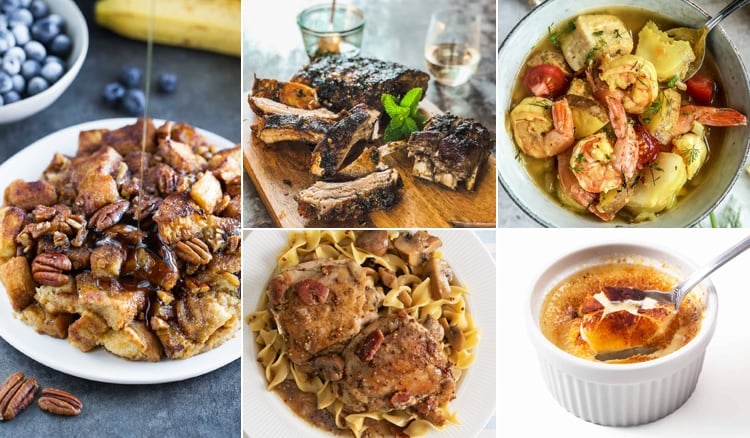 The French are known for the passion and love of food and cooking. Two-hour lunches and four-course meals are often a standard affair and a tradition that often begins from childhood. Some French homes can be more rustic rather than refined but always uncomplicated in their approach to cooking.
A LITTLE ABOUT FRENCH CUISINE
When chefs lost patrons due to the French Revolution, they opened eating establishments for the public. A restaurant was born from the tradition of royal cooking. The chefs continued to carry on their high standards of prestigious culinary practices from cooking to the plating. This led to a reputation of refinement in French cuisine.
French cooking fundamentals that chefs aspire to master are based on the legendary French chef Georges Auguste Escoffier in the twentieth century and his predecessor, Marie-Antoine Carême, who outlined the concepts of haute-cuisine. Haute cuisine puts less emphasis on the quantity of food and instead focuses on moderate portions with high-quality ingredients.
The French concept of terroir is the belief that the way in which food is made is guided by the soil, the air, and the landscape of the region in which it is made. This is similar to the farm-to-table movement that has become so popular around the world. However, terroir is more about community and identity. The quality, freshness, artisanal craft, and authenticity are the essence of terroir. This is why French food varies so much by region, climate and availability of ingredients.
Many French regional dishes are also influenced by their neighbours. Near the Belgian and German borders, their menu includes sauerkraut, sausage, cabbage, potatoes, and pork. The climate is cold there so the drink of choice is beer. Seafood is popular in the Normandy region, where fish, lobster, mussels, and oysters are all harvested off the Atlantic coast. Provence, located in the Southeast, rely on fresh vegetables with garlic, olive oil, and local herbs. The areas close in proximity to the Mediterranean inspire a lighter, fresher flavor.
French are known for their saying "it's all about the sauce". You can make any dish and the sauce can either fix it or it can ruin it. The basis for every sauce used in modern cuisine taught at French culinary schools are the Five Mother Sauces.
5 French Mother Sauces
Hollandaise Sauce: Egg Yolks + Clarified Melted Butter + Acid (like lemon juice or white wine) Temperature and technique play big roles in making this smooth, creamy, and rich.
Béchamel Sauce: Roux + Dairy. A white sauce that begins with flour, butter, and milk. The seasoning is up to the individual chef.
Velouté Sauce: Roux + White Stock. Unlike béchamel, a clear stock is added to the roux. It has a pale blonde color because the bones aren't roasted before creating the stock.
Tomato Sauce: Roux + Tomatoes. Begins with salted pork belly, onion, bay leaves, thyme, puréed or fresh tomatoes, roux, garlic, salt, sugar, and pepper.
Espagnole (Spanish) Sauce: Roux + Brown Stock. The rich, distinct flavor comes from roasted veal bone broth, rather than beef, setting it apart from it's milder mother sauces. Tomatoes are added to the basic brown sauce to give it a more well-rounded flavor. It has very strong flavors and is usually diluted with another sauce or broth.
---
BASIC French Cooking Techniques
Mise en place: Means "everything in its place." It's the organizational preparation and set-up of a kitchen prior to cooking: Spices close at hand, ingredients cut and portioned, and necessary tools for the entire process ahead within easy reach.
Knife cuts: Some basic French recipes require specific knife work such as julienne or chiffonade.
Sautéing: French word for jump, sautéing is a cooking method where ingredients like vegetables are quickly pan-fried over medium to high heat on the stovetop in a thin coating of fat like olive oil or butter.
Braising: Food is cooked on low heat in a covered pot to unlock flavor. After a quick sear to brown the outsides, the meat continues to cook in a seasoned liquid over low heat for a number of hours, depending on the cut.
Poaching: Poaching is a moist-heat cooking method that involves submerging food in liquid, typically without using fat. All poaching methods are great for gently cooking delicate foods like fish, eggs, meat, vegetables, and fruit. Three poaching methods are shallow poaching, submersion poaching, and par-poaching. Sous-vide is another method where meat is sealed in a plastic bag and cooked for a specific period of time in temperature-controlled water.
Confit: A technique traditionally used to preserve meats by cooking them in their own fat at a low temperature.
Broiling: A technique that exposes food to direct radiant high heat from a direct flame to quickly cook food surfaces.
En papillote: French for "in paper," refers to a cooking technique that uses built-up steam inside a folded piece of parchment paper (or aluminium foil), which gently cooks lighter proteins like fish, thinly cut chicken breast, or vegetables.
Flambéing: A cooking technique that introduces the flammable properties of alcohol to a dish, mostly desserts. A sauce or pan liquid is brought to very high heat and used to ignite the alcohol, which burns off in a matter of moments, leaving only the essence of its dominant flavor.
Top French Dishes:
Coq au vin is chicken braised with wine, mushrooms, salty pork or bacon, mushrooms, onions, garlic, and sometimes brandy. The braising is ideal for tougher birds. The wine used is typically Burgundy.
Cassoulet is a comfort dish of white beans stewed slowly with meat. The dish typically uses pork or duck but can include sausages, goose, or mutton. This peasant dish originates from southern France including Toulouse, Carcassonne, and Castelnaudary. The name comes from the pot (cassole) that it's traditionally baked in.
Boeuf bourguignon is a stew made from beef braised in red wine, beef broth, and seasoned vegetables including pearl onions and mushrooms. Originally a peasant dish, this recipe is now a staple in French restaurants. Traditionally, the cheap cuts of meat would be tenderized in wine for two days to intensify the flavors.
Confit de canard is a duck recipe. The duck meat marinated in salt, garlic, and thyme for around 36 hours and then slow-cooked in its own fat at low temperatures. It is typically served with confit roasted potatoes and garlic on the side.
Soupe à l'oignon is a traditional soup made of onions and beef stock, usually served with croutons and melted cheese on top. The soup's unique flavor comes from the caramelization of the onions, which often have brandy or sherry added during the slow-cooking process.
Ratatouille is from Provence, the dish sees vegetables shallow-fried and then layered in a casserole dish before being baked in an oven. This traditional peasant dish can be a side dish, appetizer, or a main course, and tastes great with red wine and fresh, crusty bread.
---
French-Inspired Instant Pot REcipes
Alright, now that we have covered the basics of French cuisine, let's translate it Instant Pot friendly recipes. We have a few classics on the menu as well as some adapted and inspired creations.
1. INSTANT POT RATATOUILLE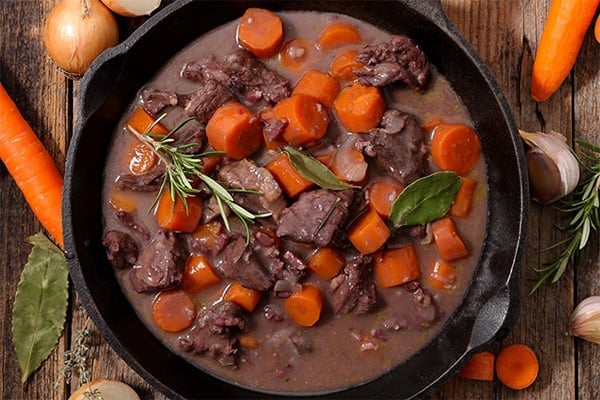 Originating in the south of France, ratatouille is a dish of stewed vegetables that was made particularly famous in the movie Ratatouille. This recipe is gluten-free, vegetarian and vegan, paleo and Whole30 friendly (use regular balsamic vinegar rather than the aged, sweet balsamic vinegar). Recipe from Instant Pot Eats.
2. SCALLOPED POTATOES & LEEKS (AU GRATIN)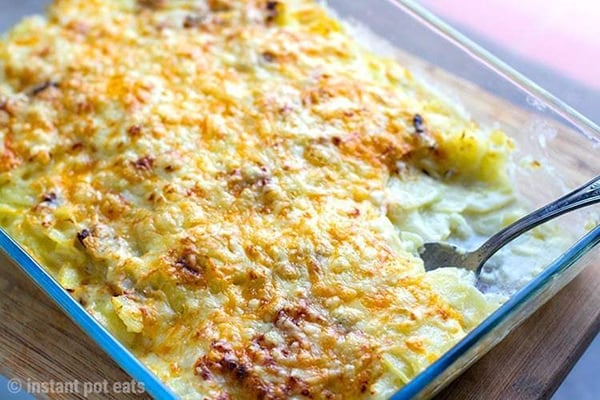 The gratin' method is a dish baked with a browned (usually cheesy) crust on top. Dauphinoise potatoes or potatoes au gratin is another name you might have seen on French restaurant menus. Adding leeks gives a little Nordic touch. It's beautifully creamy and delicious, it's great as a side dish or a vegetarian main. Recipe from Instant Pot Eats.
3. Rustic CHICKEN & POTATOES STEW
We love a good one-pot meal and with the Instant Pot, you can make this tasty and rustic meal of stewed chicken and potatoes with minimal cleanup. Plus, cooking the potatoes and chicken at the same time allows for the flavors of the poultry, leeks, and vegetables to infuse the spuds, while the starch in them thickens the broth and makes it rich and hearty. Recipe from Instant Pot Eats.
4. INSTANT POT BEEF BOURGUIGNON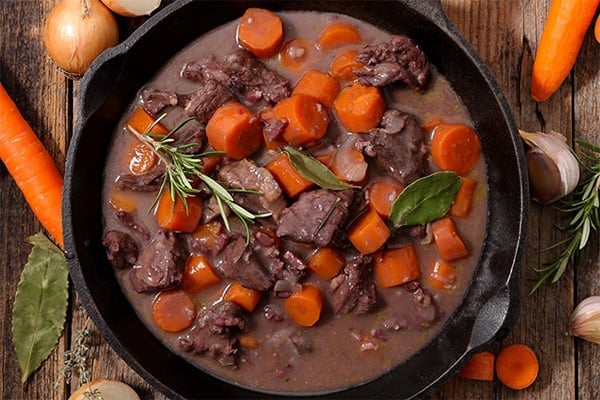 This hearty dish, also known as Bœuf Bourguignon, is a classic French dish from the Burgundy region, where it's cooked with the local red Burgundy wine. Enjoy with some buttery mashed potatoes, chunky bread, and butter, pasta, or even some parsley dumplings which can also be cooked in the Instant Pot. For people who are more health-conscious, you can serve this popular beef stew with some steamed vegetables or cauliflower rice. Recipe from Instant Pot Eats.
5. VEGETABLES EN PAPILLOTE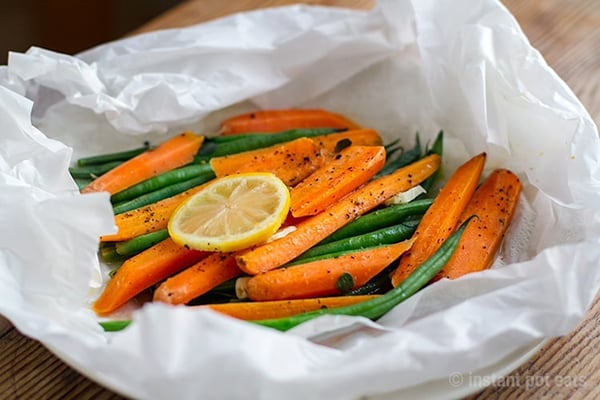 French for "in parchment", this method uses baking/parchment paper, paper bag, or even aluminum foil, to fold the ingredients into a parcel or a pouch, which is then baked or steamed. In this way, the food – usually fish or vegetables – cooks in its own juices and steam, infusing with any flavors or spices you add to the bag. A papillote is then opened at the table to allow people to smell the aroma when it opens. Recipe from Instant Pot Eats.
6. Instant Pot French Onion Soup
Sweet caramelized onions simmered in rich hearty beef broth topped with toasted golden crusty bread and melted Gruyère cheese. Comforting pressure cooker soup – simple ingredients yet fancy entrée that'll impress your guests! Recipe from Amy & Jacky Pressure Cook Recipes.
7. INSTANT POT FRENCH DIP SANDWICH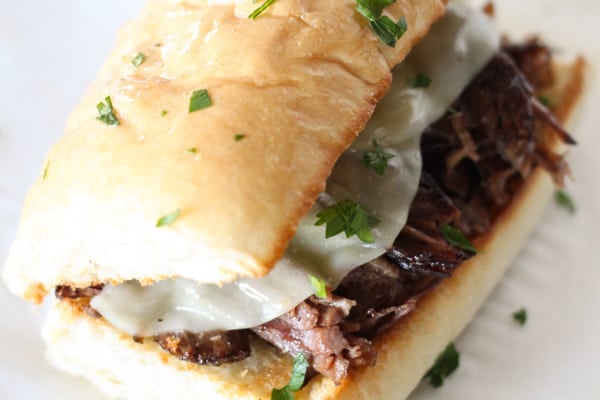 Tender fall-apart chuck roast with a flavor-packed juice for dipping, in a fraction of the usual cooking time. This French Dip Sandwich recipe is topped with melty cheese and served on a buttery garlic roll. Recipe from Number 2 Pencil.
8. Instant Pot Cassoulet (Duck Confit and White Bean Stew)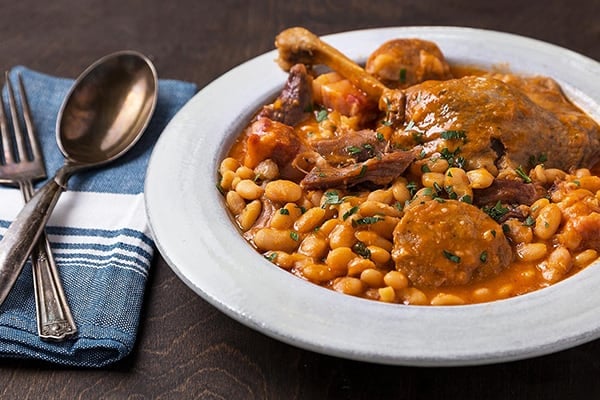 Traditional French cassoulet takes three days to make. But we don't always have three days. Speed up the process of making this rich stew full of white beans layered with duck confit, garlic sausage, and a touch of salt pork with your Instant Pot. By quick-soaking the beans directly in the Instant Pot, they need to be cooked for only 20 minutes before the whole dish is ready to eat. Recipe from Tasting Table.
9. French Cider and Mustard–Braised Chicken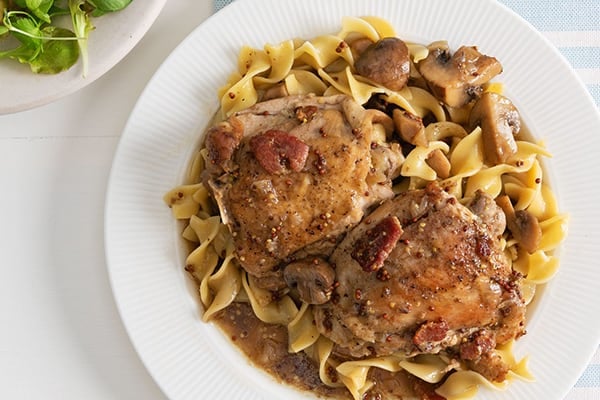 Hard apple cider is a common cooking ingredient in Normandy, France, a region that produces some of the world's best cider. In this rich French dish, bone-in chicken thighs are sautéed with bacon and braised with cider and mushrooms. It's delicious served over cooked egg noodles. Recipe from Instant Pot Official.
10. Coq Au Vin: The Classic Chicken Wine Stew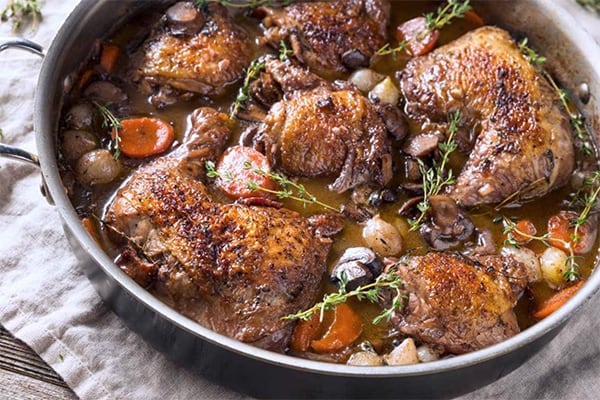 In France, the traditional way a typical Coq au Vin is cooked is by marinating red wine, chicken, onion, carrots, and celery the night before. Then the following day, slow cook on the stove for 2.5 hours. Instant Pot gives you some shortcuts that don't sacrifice any of the flavors. Recipe from Snippets of Paris.
11. EASY INSTANT POT DUCK CONFIT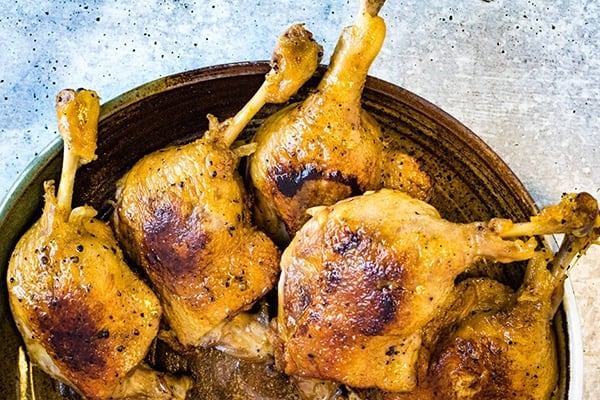 A typical duck confit recipe takes hours to prepare and requires a tub of rendered duck fat. This Instant Pot duck confit recipe is much easier and faster. Plus, the duck legs cook in their own fat, so there's no need to purchase duck fat separately. Recipe from All Ways Delicious.
12. Instant Pot French-Style Ribs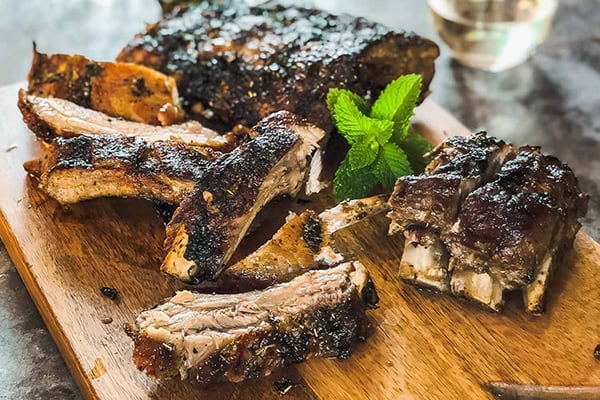 These ribs are different than the American ribs we're used to. Instead of traditional barbecue sauce, these are slathered with an herb-loaded vinaigrette. The sweetness is still here and it's been a proven crowd-pleaser. Recipe from Lemons and Anchovies.
13. INSTANT POT FRENCH ONION RICE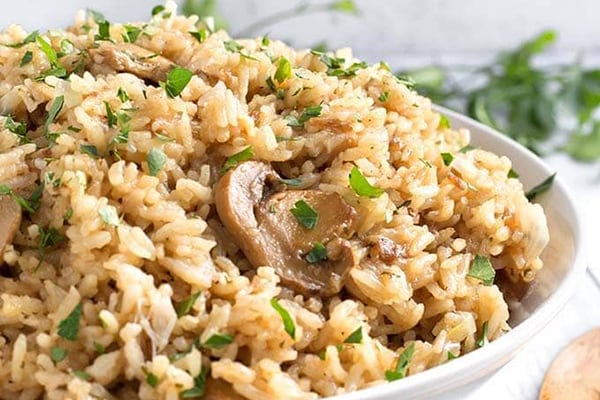 This is another Instant Pot "Dump and Start" recipe. French onion is a favorite savory flavor. It goes well in rice because the rice will absorb the mix of fresh onion and the onion soup, giving it a wonderful oniony flavor. You can even sneak in some chicken if you want to make a complete meal out of it. Recipe from Simply Happy Foodie.
14. Pressure Cooker Seafood Bouillabaisse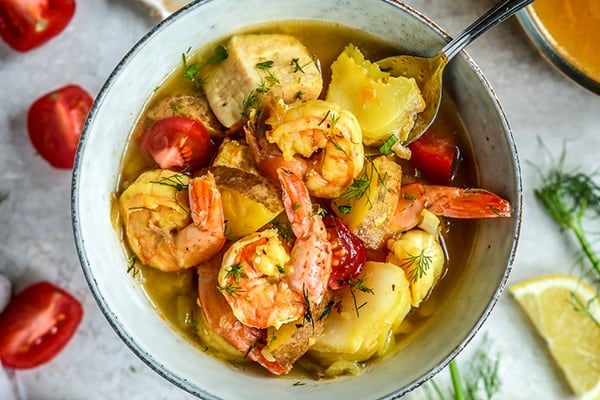 This quick version of a French classic is filled with flavor and makes an easy healthy meal; perfect for a weeknight or to impress a crowd. The saffron is key for the rich flavor of this bouillabaisse. Serve with a squeeze of lemon, some parsley, and fresh tomatoes. Recipe from Mealthy.
15. Chicken and Smoked Sausage Cassoulet
While you could buy a rotisserie chicken and canned beans, this recipe utilizes the more economical, home-cooked version of these ingredients that you can prepare in your versatile Instant Pot. From Time Inc's "Instant Pot All-Time Best Recipes". Get the recipe from Instant Pot Official.
16. INSTANT POT CHICKEN FRICASSEE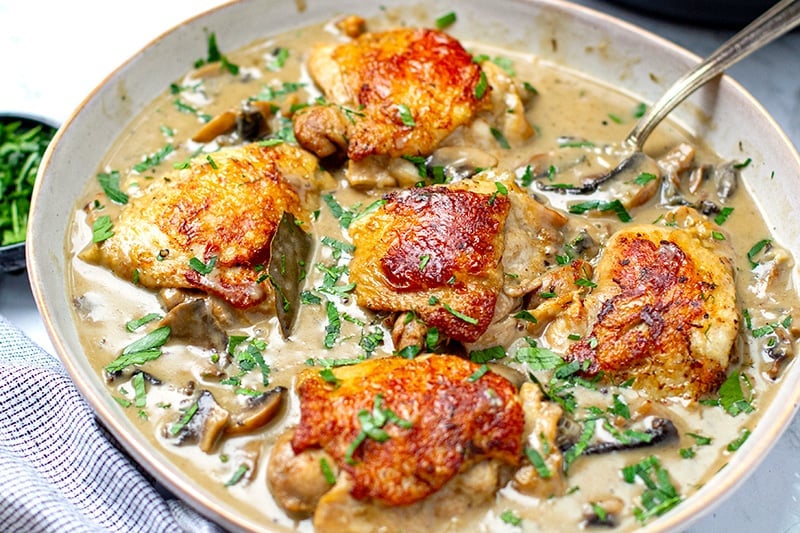 A traditional French stew made with browned chicken pieces braised in a delicious, creamy white mushroom sauce. The sauce is heavenly and the dish is rustic comfort food at its best. Recipe from Instant Pot Eats.
17. Instant Pot Creme Brulee
Make this Melt-in-your-Mouth Instant Pot Creme Brulee with only 5 simple ingredients! Heavenly smooth, divinely rich cream with a crackable caramel. A satisfyingly sweet aroma that lightly lingers on your taste buds. Recipe from Amy & Jacky Pressure Cook Recipes.
18. INSTANT POT FRENCH TOAST CASSEROLE
This easy peasy Instant Pot French toast casserole can be made with brioche, challah, or French bread and is drizzled in a delicious cinnamon-kissed custard. To makes things even more irresistible, it's topped with a sweet praline crumble and drizzled with vanilla icing for a cinnamon roll french toast vibe. Recipe from Peas and Crayons.
19. INSTANT POT CHERRY CLAFOUTIS RECIPE
An easy, elegant French Dessert at home, in your Instant pot or pressure cooker! This simple but very yummy Instant Pot Cherry Clafoutis uses frozen, defrosted cherries so that you can enjoy it any time of year. Recipe from Two Sleevers.
---
SAVE French INSTANT POT RECIPES TO PINTEREST