From easy chocolate cake to walnut fudge brownies and silky pudding, we guarantee you'll find a chocolate Instant Pot recipe to satisfy your craving. We've covered a few dietary needs and even included savory options for all you cocoa lovers.
---
Did you know that chocolate is the most popular sweet treat in the world? People around the world (but mostly in Europe and the United States) consume more than 3 million tons of cocoa beans a year, according to the World Cocoa Foundation.
Chocolate is a marvellous ingredient, whether it comes as a milky bar, chocolate chips or buttons or in its original form of cacao or cocoa powder. And, not only does chocolate taste good AND makes you feel so, but it is also packed with antioxidants and minerals such as magnesium.
Given its popularity and availability in your pantry, we decided to pull together the most deliciously and seriously indulgent chocolate puddings, cakes and desserts you can make in your Instant Pot. While not all treats lend themselves to pressure cooking, some are destined to be friends with this kitchen appliance. Let us know your favorite chocolate dessert to make in the pressure cooker in the comments below!
Instant Pot Chocolate Brownie Cake

Are you ready for some chocolate?! This Chocolate fudge inspired Instant Pot brownie cake with toasted walnuts will be a dessert that impresses everyone at the table and makes your chocolate lovers very happy. Recipe on our blog here.
CHOCOLATE CARAMEL PRETZEL CAKE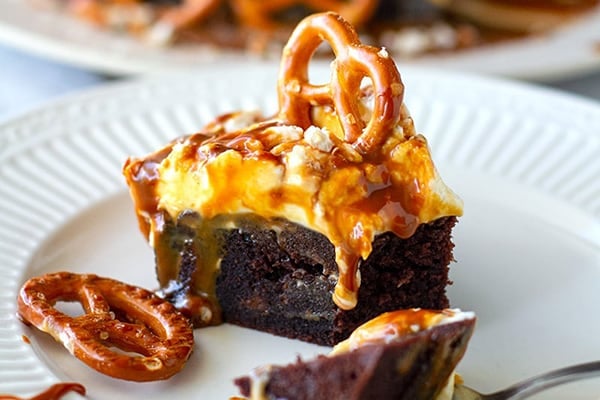 Make something a little extra special with this recipe for an incredible Instant Pot chocolate cake with salted caramel and pretzels. It's an absolute crowd-pleaser and perfect for any occasion. Recipe from Instant Pot Eats.
GO-TO INSTANT POT CHOCOLATE CAKE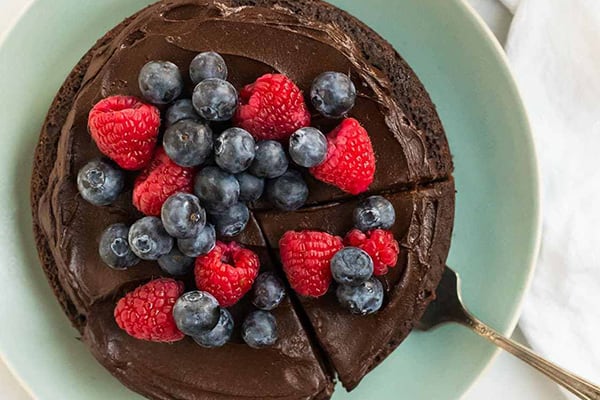 This marvellously moist, chocolate-fudge-frosting-topped, and one-bowl wonder of an Instant Pot Cake will become your go-to recipe. Not only is this cake ridiculously tender and fudgy, but it's vegan, whole wheat, and naturally sweetened, including the frosting. Recipe from Well Plated.
Instant Pot Chocolate Pudding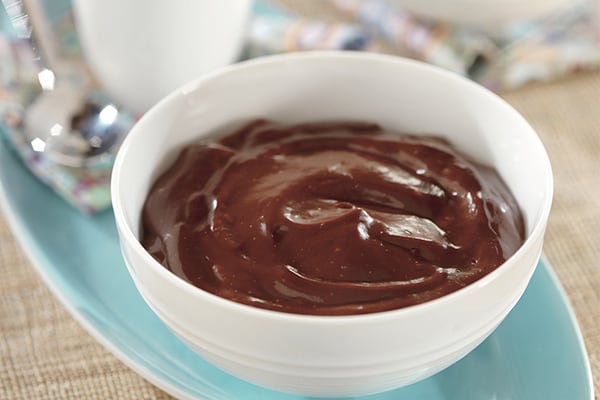 Silky, smooth and rich, this chocolate pudding is the ultimate decadent dessert. All you need is a spoon and some serious appreciation for all things chocolate. Recipe from Instant Pot Official.
Chocolate Lava Cakes
Chocolate Lava Cakes (also known as chocolate fondants) hide a core of gooey chocolate inside their sponge shell. An incredibly indulgent yet easy dessert that can be made in your Instant Pot or the oven. Recipe from Super Golden Bakes.
Creme Egg Chocolate Lava Cakes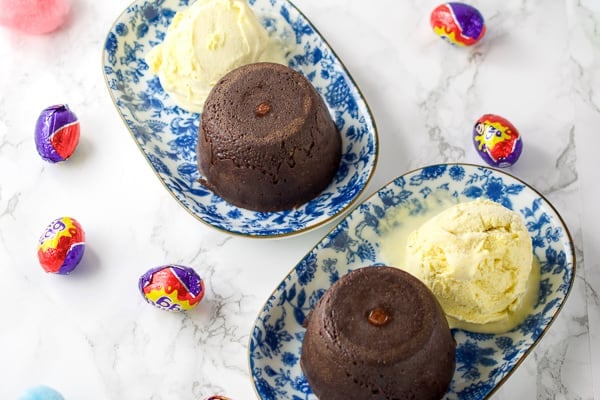 If you are a fan of Creme Eggs, here is another take on lava cakes made in the Instant Pot and this recipe is perfect for Easter! Poking a frozen mini Creme Egg into the middle of your lava cake batter before cooking guarantees you that molten magma center beneath the perfectly set mantle layer of luscious chocolate cake. Recipe from Every Nook & Cranny.
INSTANT POT CHOCOLATE-ORANGE LAVA CAKES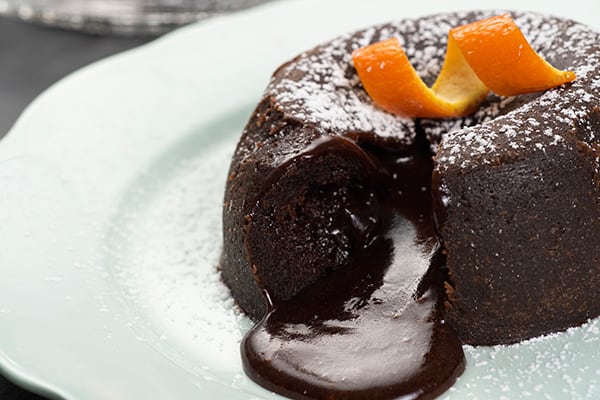 Molten volcano of chocolate cake right here with a hint of orange zest and extract. A perfectly light texture, yet rich in flavor and gooey in the middle. This lava cakes recipe is from Laurel Randolph's latest Instant Pot Desserts Cookbook. Get the recipe from Instant Pot Eats.
Instant Pot Chocolate Bundt Cake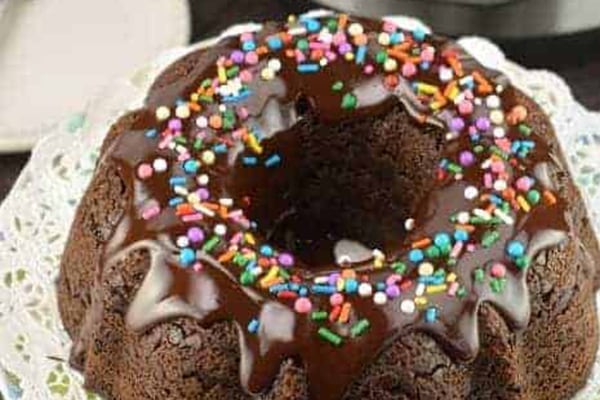 This chocolate bundt cake tastes like a fudgy, molten cake when topped with homemade chocolate ganache. The recipe is made in a small (half size) bundt cake pan and is easy and delicious. Recipe from Shugary Sweets.
Death By Chocolate Cheesecake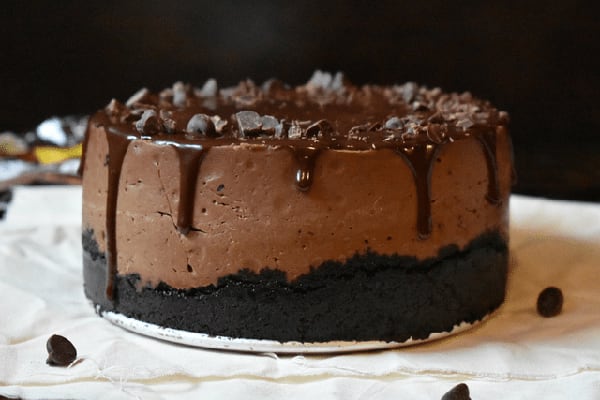 The decadent taste of chocolate melting in your mouth is what everyone needs any time of year. If you are looking for a delicious, super-duper chocolaty dessert that is creamy and decadent, this it is it my friends! Get it from My Heavenly Recipes.
Instant Pot Chocolate Fudge
Learning to make fudge in your Instant Pot is a fun way to use this awesome kitchen appliance for another favorite recipe. Fudge is a perfect dessert recipe as it allows bite-sized indulgence that can be prepared in advance. This chocolate fudge is smooth and fabulously delicious. Recipe from Sweet Caramel Sunday.
Box Mix Chocolate Cake In Instant Pot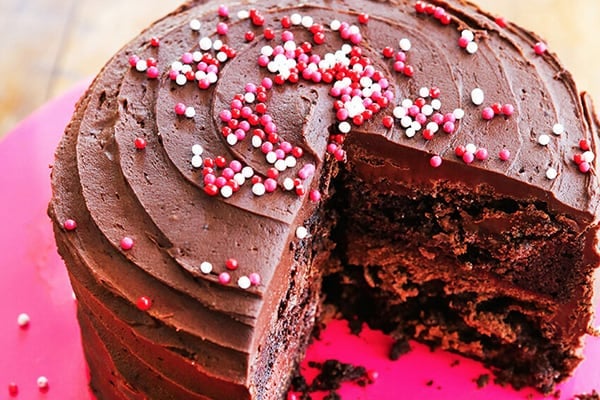 Made with a box cake mix of your choice, this Instant Pot chocolate cake is super moist and flavorful and much less porous than its oven-baked counterpart. Nobody has to know this delicious cake was not made completely from scratch. Recipe from Pep & Ebby.
INSTANT POT CHOCOLATE ZUCCHINI CAKE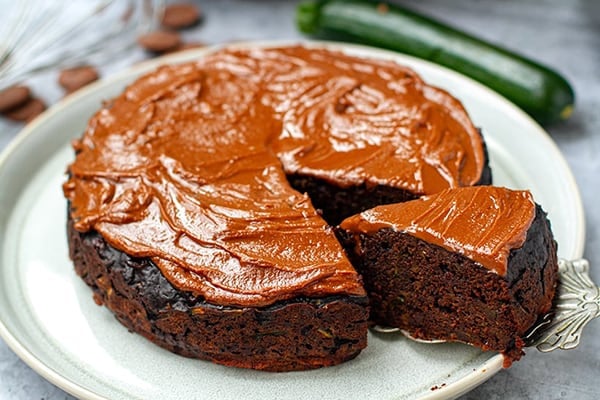 Moist and fudgy Instant Pot chocolate zucchini cake with luscious chocolate ganache glaze on top. This is a great cake using up summer zucchini (courgette). You can also top it with vanilla or chocolate cream frosting. This recipe uses sugar-free brown sugar sweetener to make this cake a little healthier but you can use regular brown or white sugar. Recipe from Instant Pot Eats.
White Chocolate Raspberry Cheesecake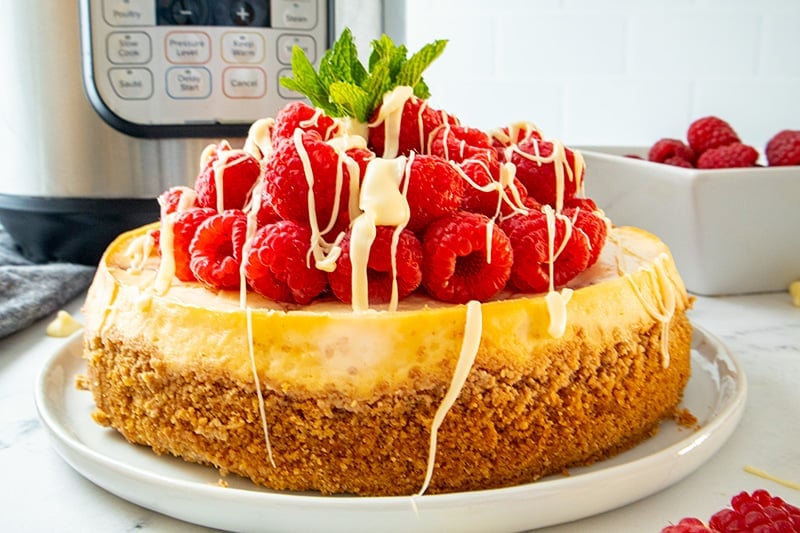 While white chocolate sounds rich and decadent, this raspberry cheesecake is actually quite light and fluffy and not too heavy. This smooth, creamy dessert is packed full of raspberries and is perfect for showing off summer berries — strawberries or blueberries work just as well! Get the recipe here.
---
For Special Diets
Fudgy Flourless Chocolate Cake (Gluten-Free)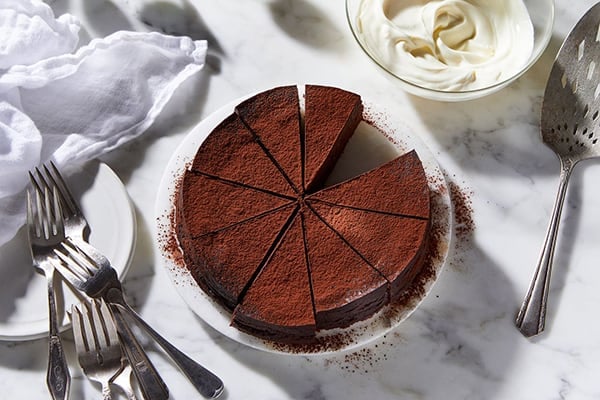 This gorgeous, uber-fudgy, flourless chocolate cake is destined to become your new fave. The cake is about as easy-peasy as they come, what with its fab one bowl–ness and short ingredient list, and has the silkiest of textures, due to the uniquely moist cooking environment that is the Instant Pot. Recipe from Food52.
Keto/Low-Carb Chocolate Cheesecake
Rich and creamy, this low carb and keto-friendly chocolate cheesecake is made in the Instant pot, giving you a deliciously wonderful dessert in no time at all and with far less impact on your blood sugar levels. Recipe from Easy Keto Dishes.
Paleo Chocolate Cake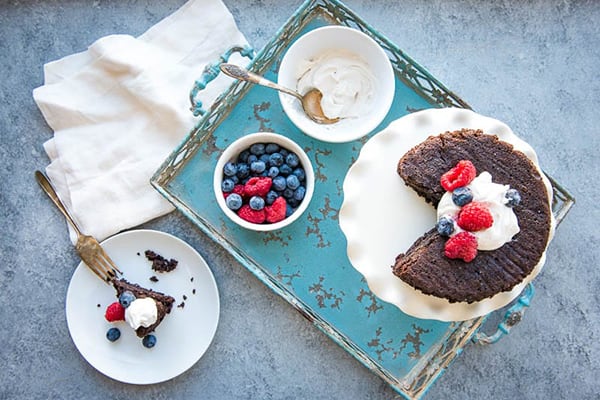 This Instant Pot cake is an amazing chocolate dessert that you can whip up without turning on your oven (or if you don't have an oven). It's also Paleo, gluten-free, and dairy-free. Recipe from Thriving On Paleo.
Ultimate Vegan Chocolate cake
This vegan-friendly chocolate cake comes with a seriously rich ganache on top and is easily made with your pressure cooker. The water at the bottom of the inner cooking pot creates a steaming effect that cooks the cake perfectly. Recipe from Rainbow Plant Life.
Best Eggless Chocolate Cake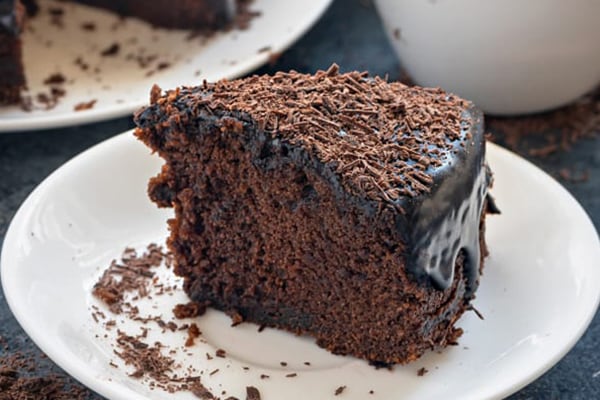 This eggless chocolate cake is decadent, super moist and very soft! This cake recipe is made with basic available ingredients and you can enjoy it as is or frost it with chocolate ganache or chocolate buttercream. You will fall in love with it. Recipe from Cubes & Juliennes.
---
Savory Chocolate Recipes In Instant Pot
Instant Pot Chicken Mole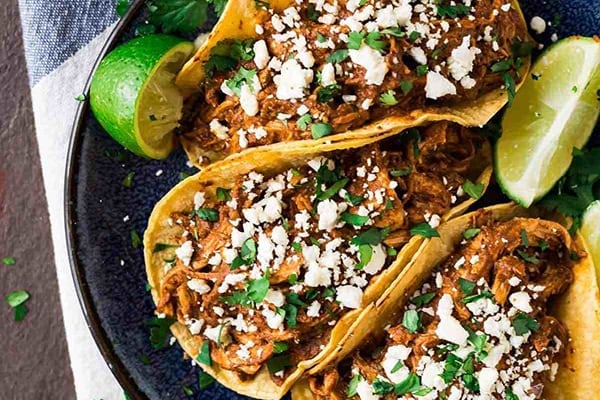 Rich, complex, and lightly smoky, mole sauce is traditional in Mexican cooking and can transform even the most basic ingredient (shredded chicken!) into something extraordinary. And yes, chocolate lovers will it! Recipe from Well Plated.
Instant Pot Chocolate Chili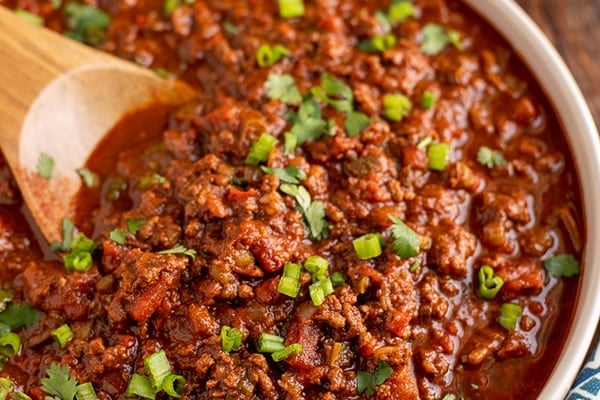 Gotta love a good ole chili recipe, right? This Chocolate Chilli will not fail to disappoint. It is rich from cocoa powder and packed with flavour, it's quick and simple to make in the Instant Pot. Recipe from Slimming Eats.
Pot Roast With Chipotle Cocoa Gravy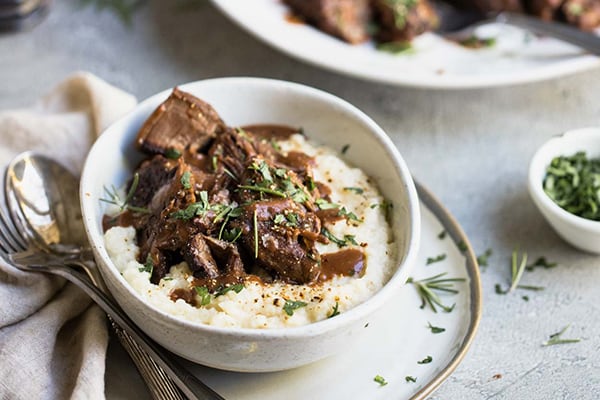 This Instant Pot pot roast and gravy will fulfil all your warm comfort food needs. You may be thinking to yourself, "what the heck, chocolate and Chipotle chili?!?" but we promise you that it's a classic flavor combo going back to the Aztecs, and has been used to make everything from BBQ sauce and chilli-infused chocolate to hot chocolate. Recipe from How We Live.
---