Say cheese! We've compiled some of our best cheesy, cozy, comforting recipes filled with everyone's favorite gooey, melty ingredient: CHEESE. From bitey Cheddar and smooth Mozarella to sharp Parmesan and strong Blue, you will love these cheesy Instant Pot recipes.
---
Feeling a little cheesy? You've come to the right place! Whether it's tasty, mozzarella, ricotta or cheddar, if you're into cooking with cheese, then this collection of Instant Pot recipes is for you.
Cheese is an incredibly versatile food that is full of nutrients – essential and vitamins and calcium for strong and healthy bones – plus it's a great source of protein and fat. Cheese is suitable for low-carb and gluten-free diets, and many types are vegetarian-friendly.
And, with its umami flavor and impressive melting abilities, cheese turns even the most boring dish into a comforting, delicious creation.
When it comes to cooking with Instant Pot, you can use cheese to make gooey pasta and risotto, hearty soups, bakes, casseroles and more.
Here are some of our favorite Instant Pot recipes with cheese. Let us know in the comments what your go-to cheesy dish is!
---
Instant Pot Italian Mac'n'cheese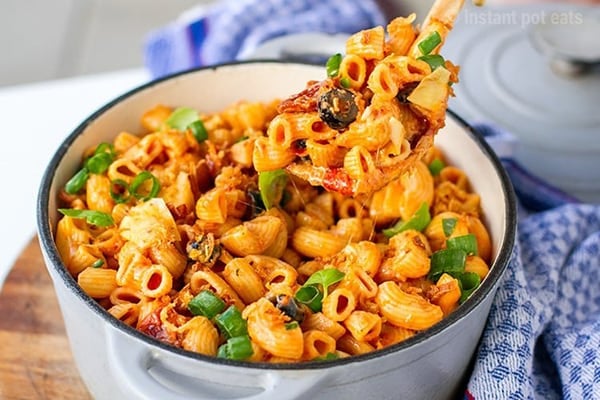 This was a no-brainer. Of course, we had to start with a mac and cheese recipe. This version has a rustic, Italian flare to it. With the addition of olives, artichokes and sun-dried tomatoes, and a hearty helping of mozzarella, this vegetarian wonder will have you drooling for days. Recipe from Instant Pot Eats.
Classic Mac & Cheese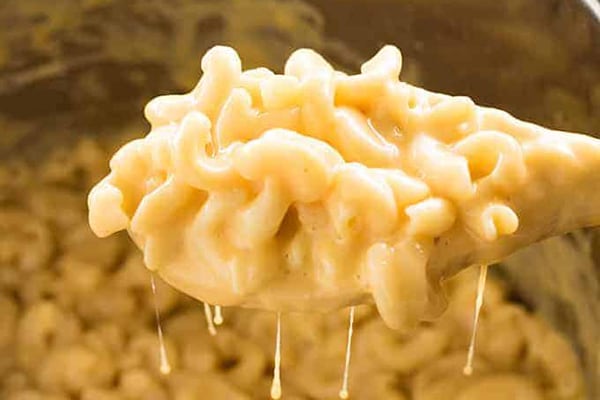 This macaroni and cheese is every family's favorite comfort food pasta recipe made easy in the Instant Pot! You can have creamy, mouthwatering, homemade mac and cheese for dinner in about 10 minutes. Recipe from The Salty Marshmallow.
Cheesy Jalapeno Egg Bites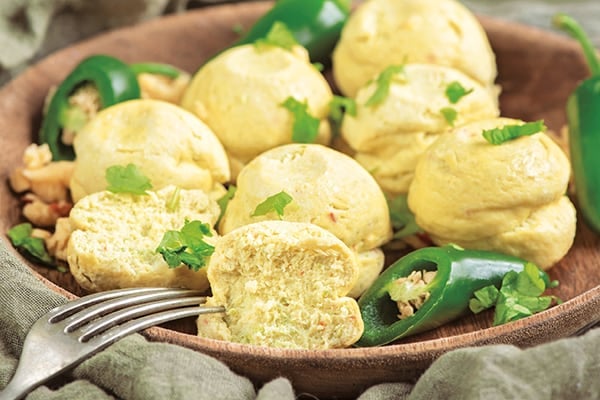 Instant Pot egg bites are easy to make and are super convenient for breakfast, lunch, or as a snack. This recipe for cheesy jalapeño egg bites is low-carb, gluten-free, and grain-free and can be made ahead of time and popped into the microwave for a quick weekday breaky. Recipe from Instant Pot Eats.
Broccoli & Cheddar Soup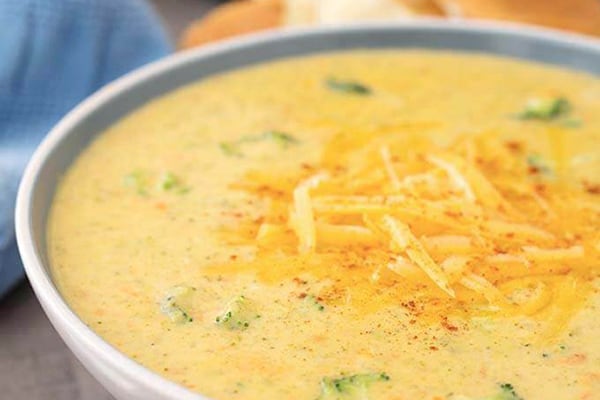 When made right, this soup is thick, flavorful, and rich, with the perfect balance of sharp cheddar cheese and broccoli. Pressure Cooker broccoli cheddar soup recipe is all of those things. We love it. I hope you do, too! Recipe from Simply Happy Foodie.
Cacio e Pepe Inspired Cheesy Spaghetti
Learn how to make an adaptation Instant Pot Cacio e Pepe, one of Rome's most popular pasta dishes famously featured in Anthony Bourdain's show 'No Reservations' and cooked for Bradly Cooper in a movie Burnt. For such a delicious, comforting spaghetti dish, it is ridiculously easy to make. Recipe from Instant Pot Eats.
Cheesy Crack Chicken in Instant Pot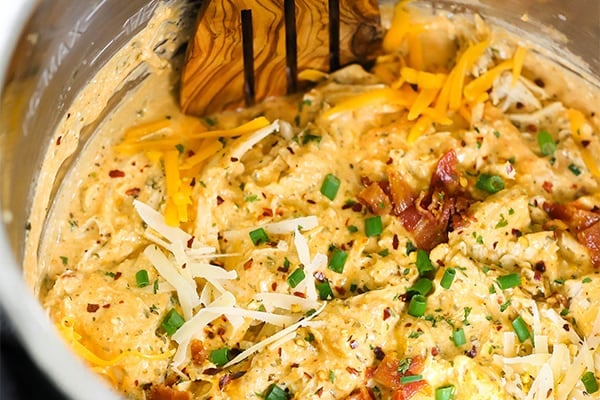 Creamy shredded chicken with cheese and ranch will become your new obsession. Serve on sandwich buns with bacon and green onions for a quick weeknight dinner recipe. Recipe from Swanky Recipes.
Cheesy Scalloped Potatoes & Leeks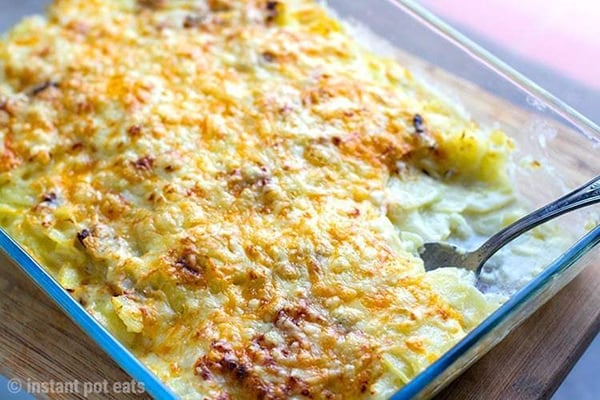 This dish of Instant Pot scalloped potatoes and leeks is perfect for a family gathering such as Thanksgiving, Christmas, or a Sunday roast dinner. Beautifully creamy, cheesy and delicious, it's a great side dish or a vegetarian main. Recipe from Instant Pot Eats.
Butternut Squash Risotto With Blue Cheese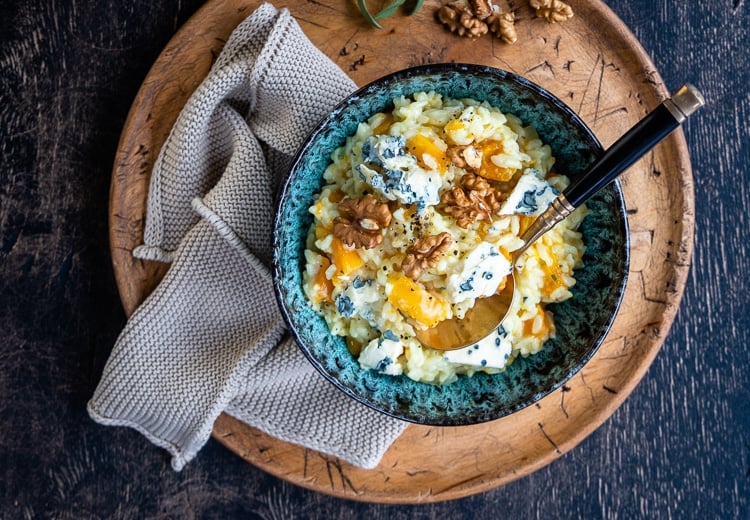 This comforting and creamy Instant Pot butternut squash risotto comes with a twist of blue cheese instead of the classic Parmesan cheese. It's perfect for a quick weeknight meal but fancy enough for company. Recipe from Instant Pot Eats.
Instant Pot Loaded Potato Soup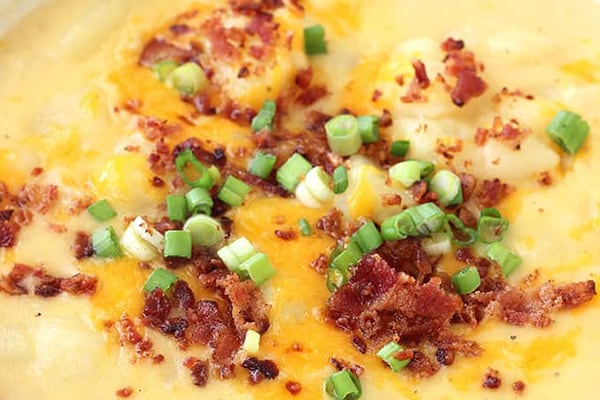 This loaded potato, cheese, and bacon soup is creamy, delicious, and tastes as if you slaved over it all day. It's easy to prepare and is ready in a flash thanks to the Instant Pot. There's also a slow cooker version if you'd rather prepare it that way. Recipe from Belle of The Kitchen.
Creamy Pesto Pasta With Philly Cheese

Feeling lazy but want a comforting, delicious dinner in under 30 minutes? This creamy pesto pasta is super easy and can be made using your Instant Pot or on the stovetop. This recipe uses only a handful of ingredients and is family-friendly and vegetarian. Recipe from Instant Pot Eats.
Cheesy Ground Beef & Rice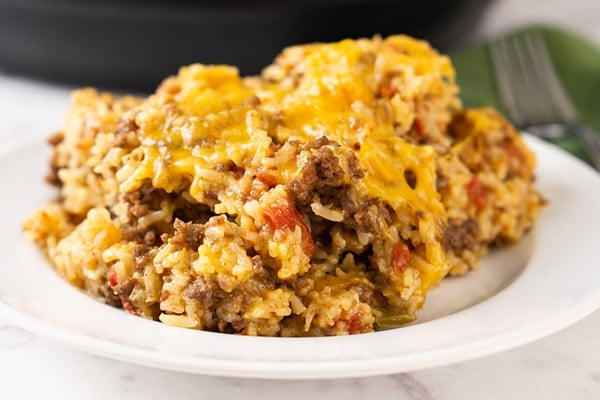 This Instant Pot cheesy beef and rice is incredibly easy to make and requires only basic ingredients you probably already have on hand. It's a family-friendly meal that's ready in no time. Recipe from One Happy Housewive.
Lemon Parmesan & Spinach Orzo
Learn how to make Instant Pot Orzo with lemon, Parmesan cheese and spinach for a perfect, hearty side dish or main. This lemony, cheesy orzo recipe only takes 20-25 minutes from start to finish. Recipe from Instant Pot Eats.
Instant Pot Homemade Ricotta Cheese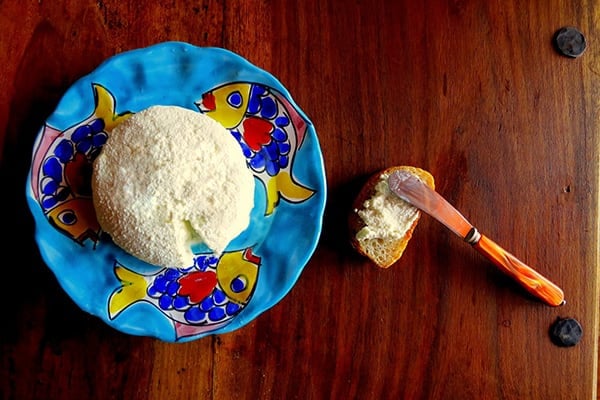 Ricotta does not need a pressure cooker- it can be made with any 'ol pot with lots of supervision and stirring – but the automated programs of Instant Pot makes the process soooo much easier! Recipe from Hip Pressure Cooking.
Cheesy Taco Shells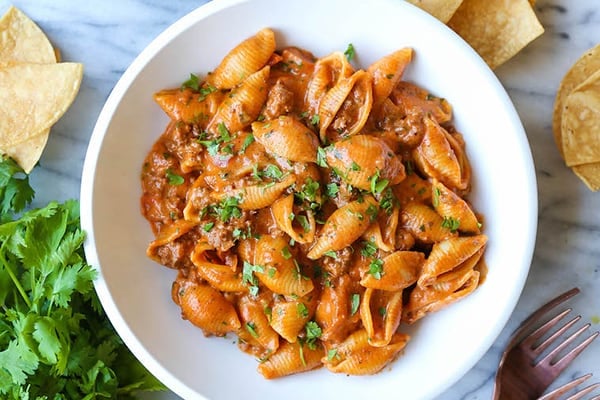 This one-pot dinner is creamy, cheesy, and full of taco flavors using ground beef. Quick, simple + so bomb for the whole family! Recipe from Damn Delicious.
Instant Pot Homemade Mozarella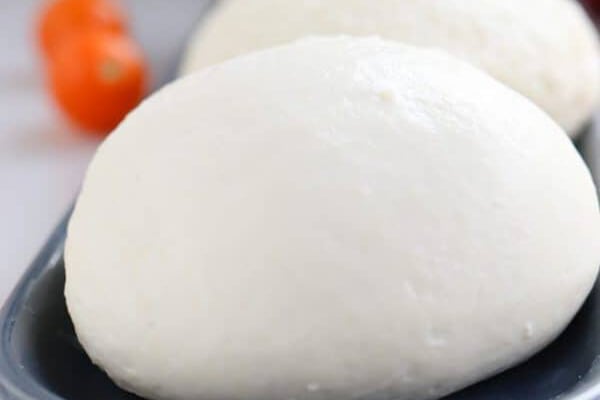 Instant Pot homemade mozzarella cheese made fresh, warm, and flavorful in your very own home in about 30 minutes. Not only is it delicious, but it's an absolute blast to make as well! Recipe from Tidbits.
Ricotta Lemon & Spinach Pasta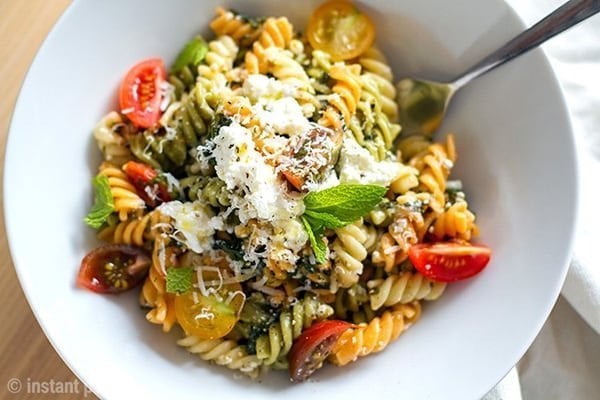 This fresh and light pasta is a perfect example of how to enjoy Italian cuisine in a healthy way. Made with nutritious ingredients such as protein and calcium-rich ricotta, spinach, and lemon, it's a dish is that is both tasty and easy to prepare. Recipe from Instant Pot Eats.
The Best Cheesy Instant Pot Lasagna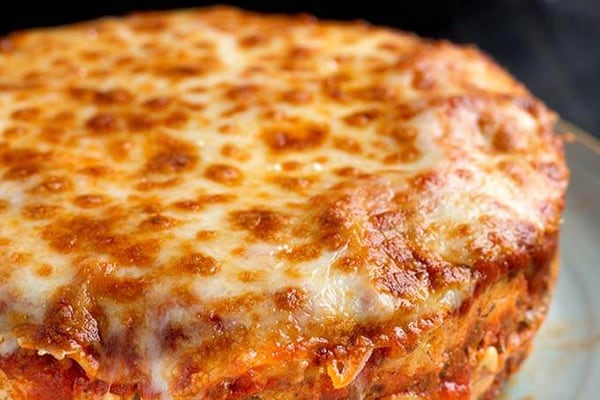 Instant Pot Lasagna is the easiest recipe! It tastes delicious, and you can customize it to your taste, adding any of your favorite ingredients. You don't have to boil the noodles first, so that's a win in our book. Recipe from Simply Happy Foodie.
Savory Blue Cheese Appetizer Cheesecake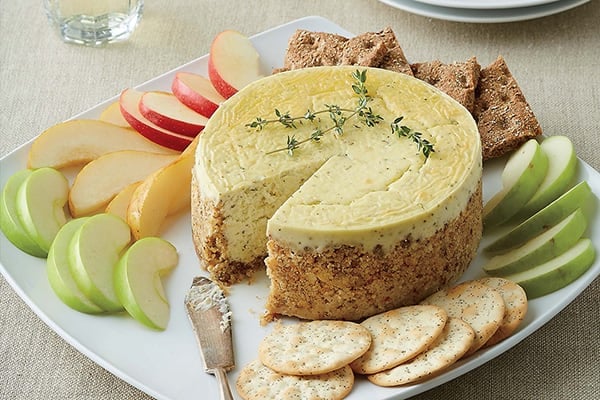 With a crust of crushed buttery crackers and chopped pecans, this savory cheesecake takes the standard cheeseball to a new level. Paired with crisp, sweet slices of apple and pear, it's perfect for a fall party. Recipe from Instant Pot Official.
Instant Pot Lemon Cheesecake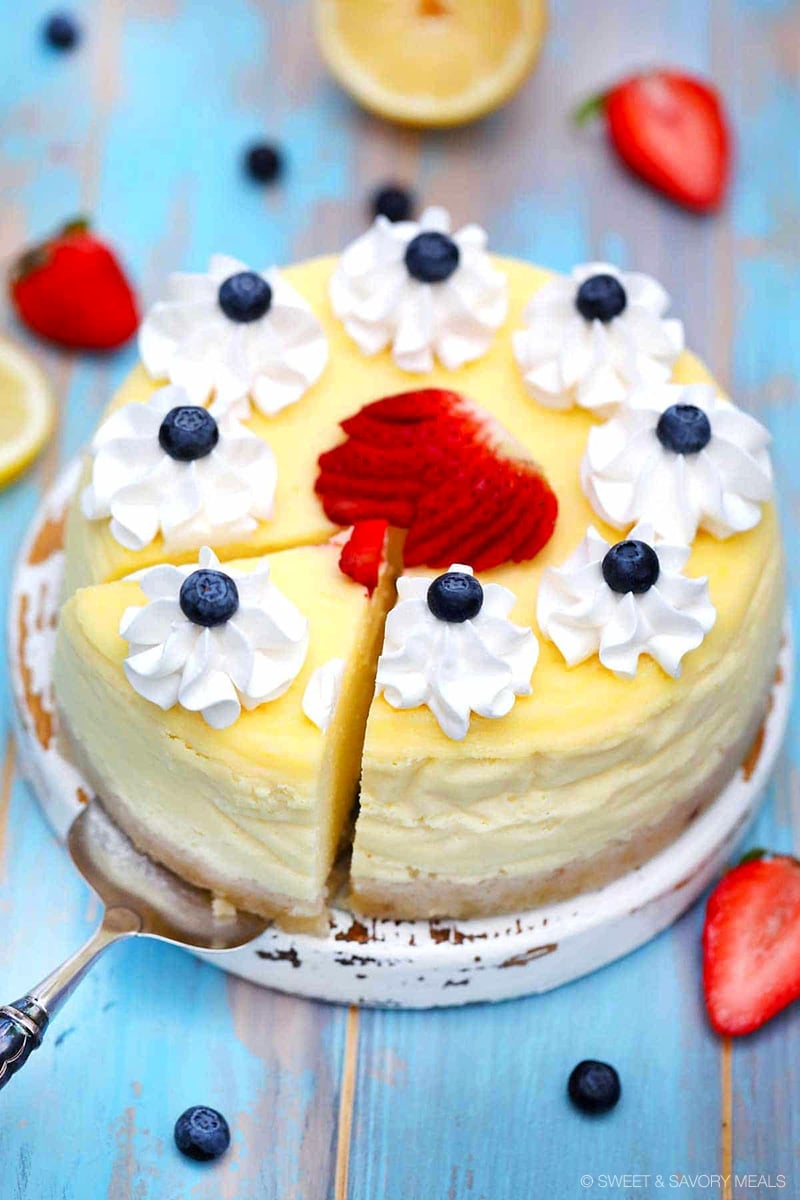 Zesty and summery, this Instant Pot lemon cheesecake is not only delicious but is also keto-friendly. Made with low-carb crust and creamy filling with a hint of lemon and vanilla, this is a dessert you can enjoy with the whole family and they won't even know that it's sugar-free. Recipe on Instant Pot Eats.
Caramel Pecan Cheesecake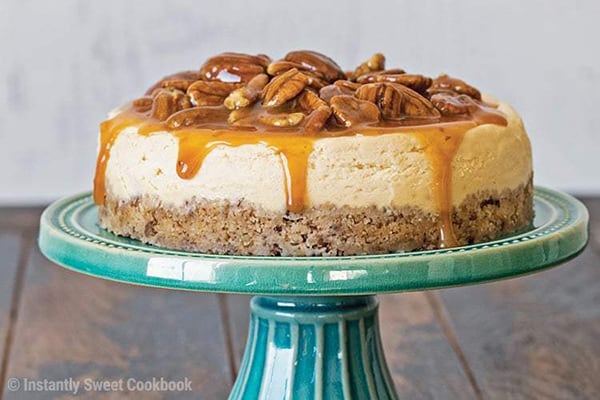 Try this amazing Instant Pot cheesecake recipe and indulge in a creamy filling sweetened with brown sugar on a shortbread pecan crust with a decadent caramel topping studded with toasted pecans. Recipe on Instant Pot Eats.
---