With over 350 pressure cooker recipes on our website and hundreds of thousands of dishes floating around on the Internet and social media, it can be hard to choose which ones to try. That's why at the end of every year, we do a wrap-up post featuring the most popular Instant Pot recipes of the year. These are dishes our readers cooked, loved, commented on, and shared the most, and feature both savory and sweet creations. We'd love to know which of these you've tried and if you have your own Instant Pot Eats favorite? Let us know in the comments.
---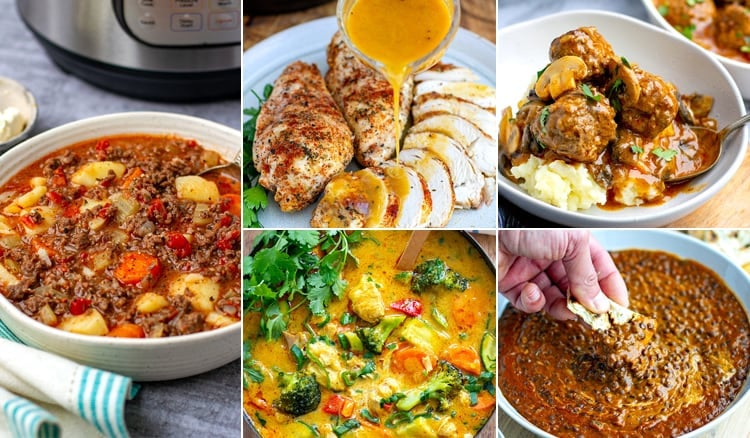 Every December, we like to do a little analysis of the most popular Instant Pot recipes of the year. We look at which recipes our readers and followers have visited the most, and which have gotten the most social shares and positive feedback. It's always fun to share these recipes with you, as we know that not everyone gets to try everything we publish. We like to think of this as our annual highlight reel.
This year, we've included our own recipes but also a few winning creations from other bloggers that we've shared with you and got very positive feedback. We hope you enjoy this year's best Instant Pot recipes!
You might want to check out our top recipes from 2019 here and from 2020 here.
---
MOST POPULAR INSTANT POT EATS RECIPES OF 2021
These are our most popular Instant Pot recipes of 2021 – dishes our readers cooked, loved, commented on, and shared the most.
This stew is hearty, thick, comforting and very tasty but the real reason we think it's so good is the number of veggies you'll be getting in each serving. Made with about 10 types of vegetables, it is really is a nutritional powerhouse!
"So yummy! Made it tonight. Left out the mushrooms because my son doesn't like them and it was still delicious! Thank you for my new favorite stew!" –★★★★★ Jenny
"Made this last night, directions were perfect and the stew was great! I added a sweet Red Pepper and a Jalapeno pepper. Thanks." – ★★★★★ Elisa
"I have made this several times now and it is AMAZING." – ★★★★★ Tressa
Healthy and delicious Instant Pot coconut chicken curry made with only 5 key ingredients. This pressure cooker chicken recipe is great for a quick and easy dinner, while travelling with the Instant Pot, if you're on a budget. It's mild so is kid-friendly and great for the whole family.
When it comes to making Instant Pot desserts, you can't go past a good, creamy cheesecake. It is by far the most popular pressure cooker cake to make because it always turns out great and often better than in the oven. This is a simple cheesecake with vanilla cream cheese filling and strawberry jam whipped cream topping and is beginner-friendly for those of you new to pressure cooking or the kitchen in general.
This recipe was particularly popular with our Instagram and Pinterest followers.
Instant Pot pork chops cooked in a mouthwatering creamy mushroom sauce that will make you wonder why you ever made pork chops the old-fashioned way all these years!
"So so good!! Pork chops melted in your mouth, family LOVED it! The only thing I will do different next time is lower thumb or remove it altogether, a tsp was just too much and overpowering, but still great, will definitely make again." – ★★★★★ Pam
"These turned out D-Licious! Served them with steamed green beans. Yum, yum!" – ★★★★★ Jo
The flavor is amazing! Chops so tender." – ★★★★★ Linda Kranz
"I made this for dinner this evening. I just bought my first instant pot 4 days ago and this was the first meal I've made in it. It was amazing! The timing was perfect for tender pork chops. The only thing I did differently was to substitute half of the cream for beef stock and thicken with cornstarch instead of tapioca flour since it's not something I keep on hand." – ★★★★★ Dawn
Almost every household has a few packets of 2-minute ramen noodles in the pantry. They are perfect for a quick and easy snack or a meal that even kids can cook. Today, we want to share a way to turn those humble ramen noodles into a nutritious and delicious dish inspired by a Japanese miso ramen soup.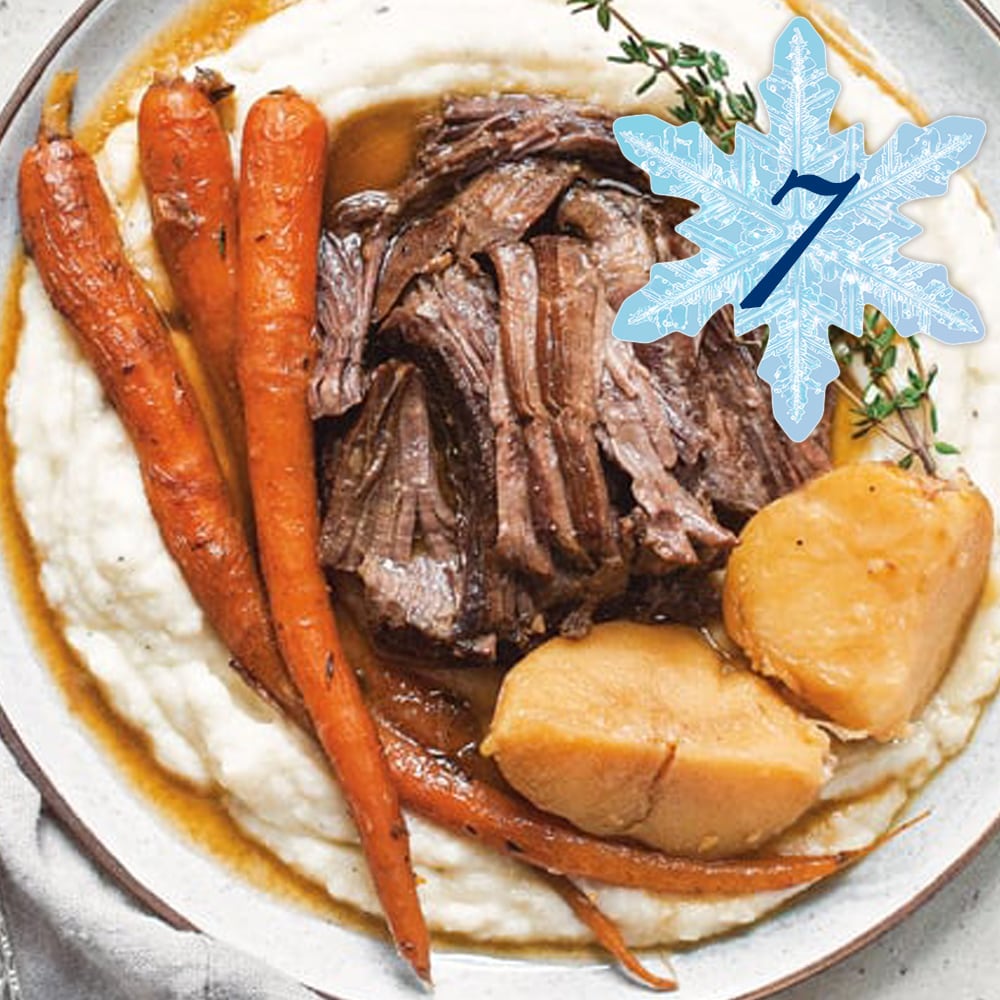 Perfect for family dinners or entertaining friends, this Instant Pot balsamic pot roast with Dijon mustard sauce is heaven on a plate. Served with creamy potatoes and carrots for a delicious eveningl. The cooking pot roast broth makes an excellent sauce to complete the meal.
If you love Tex Mex flavors and hearty dishes like cheesy beef nachos, you will enjoy this Instant Pot Mexican rice casserole. It's really easy to make and is budget-friendly as you can use ground beef and pantry staples like rice, corn and canned tomatoes. Finished with melted cheese and crushed corn chips on top, as well as your favorite condiments, this is a tasty Instant Pot dinner recipe for the whole family.
"We used canned Adobe peppers instead of the roasted red peppers, added a whole jalapeño instead of half, and increased the amount of Mexican spices. AMAZING!!! Absolutely delicious!!!" – ★★★★★ Amy
This creamy and buttery Instant Pot black dal recipe inspired by the famous signature Dal Makhani from London's Indian restaurant chain Dishoom. Made in a fraction of the time compared to the original (which is cooked for 24 hours in the restaurant), this incredible lentil dish will delight with its complex flavors and heavenly texture. It's gluten-free and vegetarian-friendly.
"We had Black Dal in Dishoom Edinburgh last Saturday night. I thought it was one of the most delicious dishes I have ever tasted. I desperately wanted to try it out myself but the thought of a pan bubbling for 5 hours in high summer turned me off. I couldn't believe my luck when I found this recipe. It is bang on 100% Absolutely delicious. Measurements and timings are perfect. I reduced cream and butter slightly but it did not detract from the finished dish. Thank you." –★★★★★ Martina OReilly
"I made it exactly as you suggested and loved it, ( I had only friends word that Dishoom 's was fabulous,) ..It is a good and it freezes well. I had it in Dishoom Covent Garden on Wednesday and I could not tell the difference. I now will try it with coconut oil, coconut cream and yogurt. Thanks for your recipe.
I live in Scotland and have wanted to go to Dishoom's in Edinburgh for ages unfortunately the day I booked the lift was out of order and my daughter in law told me three flights of steep stairs was too much for my knackered knees." – ★★★★★ Joan Macpherson
"I made this and it was wonderful. I had this at an Indian wedding many years ago and never found out what it was. Now I know it was dal malhini. I made it with olive oil spread and plantlea double cream and although maybe not quite as nice as the butter version or was still fantastic. Thank you for sharing your recipe. I shall be making it regularly." – ★★★★★ Katherine Stansfield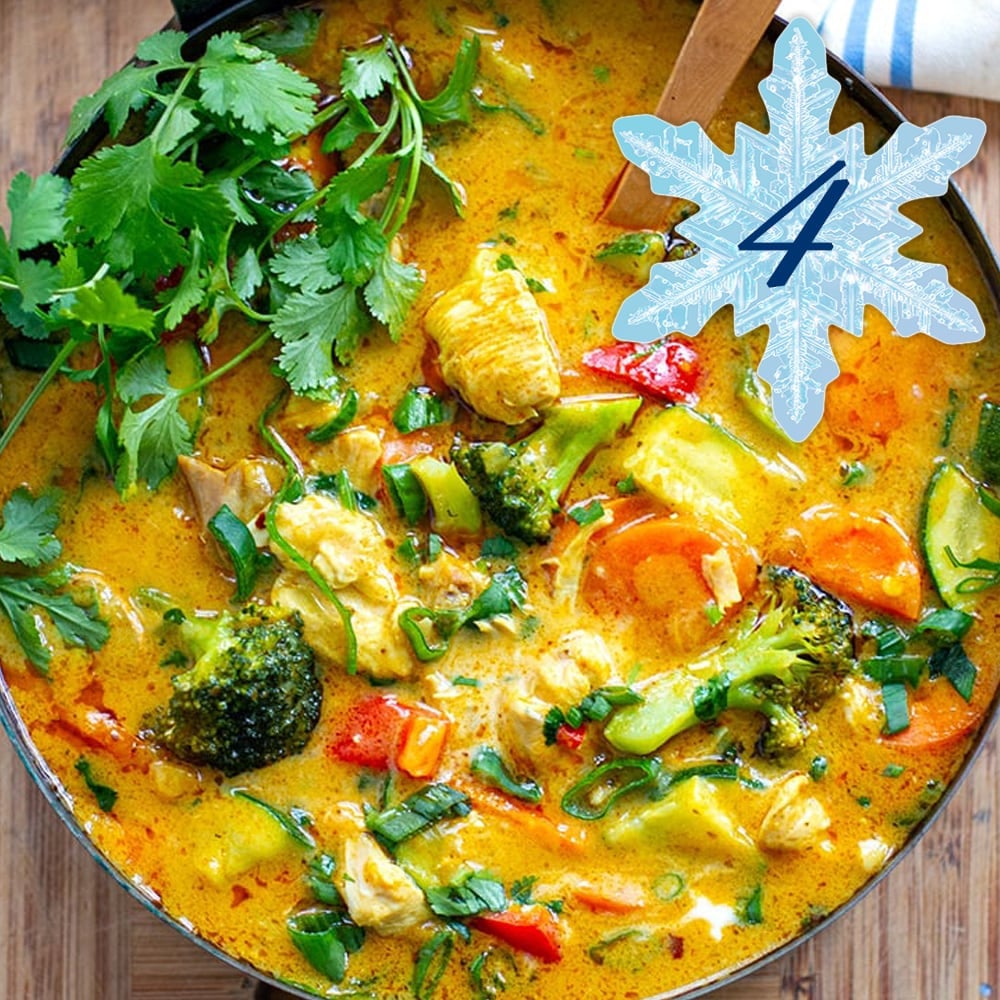 Making an authentic Thai curry can be a labour of love, especially if you make your own curry paste, but there is a much simpler and quicker way. This Instant Pot Thai curry is made in under 30 minutes using ingredients you can find in most grocery stores. That's why we call it a curry in a hurry.
"Doubled the recipe, Used yellow curry and added turmeric powder to this recipe. I will use a bit more hot peppers next time. My family loves it!" – ★★★★★ Mel
"Delicious! I typically cannot eat curry. This was stupendous. I made pretty close to recipe except for the arrowroot ( I used corn starch to thicken).I would double the chicken next time and make it spicier." – ★★★★★ Atiya Hopkins
"Delicious! Made this in our RV. Quick and easy recipe. I left out chicken stock and coconut cream. Also added 1/2 cup peanut butter from another recipe I use. Husband was quite pleased." – ★★★★★ Sarah

In this recipe, we've taken the idea of traditional Salisbury steak but instead of making flat patties, we opted for small-shaped meatballs. These are briefly seared in the Instant Pot using the Saute function, then pressure cooked together with onions and mushrooms gravy broth, which features classic ingredients like Worcestershire sauce, mustard and tomato paste. A comforting, family-favorite dinner served over mashed potatoes, rice or pasta (or veggies).
"I've made this several times and it turns out better and better each time! I'm getting my shopping list together because I'm making it this weekend for family, and I can't wait for their feedback! I do omit the mushrooms from the dish because I'm not a fan, but it is still so yummy and hearty. So glad I stumbled across this recipe!!" – ★★★★★ Sheryl
"Recipe worked out great. I had to make a few adjustments, used only 500g ground mince and had to use french onion soup mix as it was all I could find. It was no explosion of flavours as we tend to like but it certainly was a pleasant meal very hearty. Will add to our recipe book." ★★★★ Vanessa
"Made this for dinner tonight. I used the paleo suggestions. I also skipped the browning of the meatballs because I was short on time. They turned out great! Tender and flavorful. This will go into our regular rotation! Thank you!" – ★★★★★ Debbie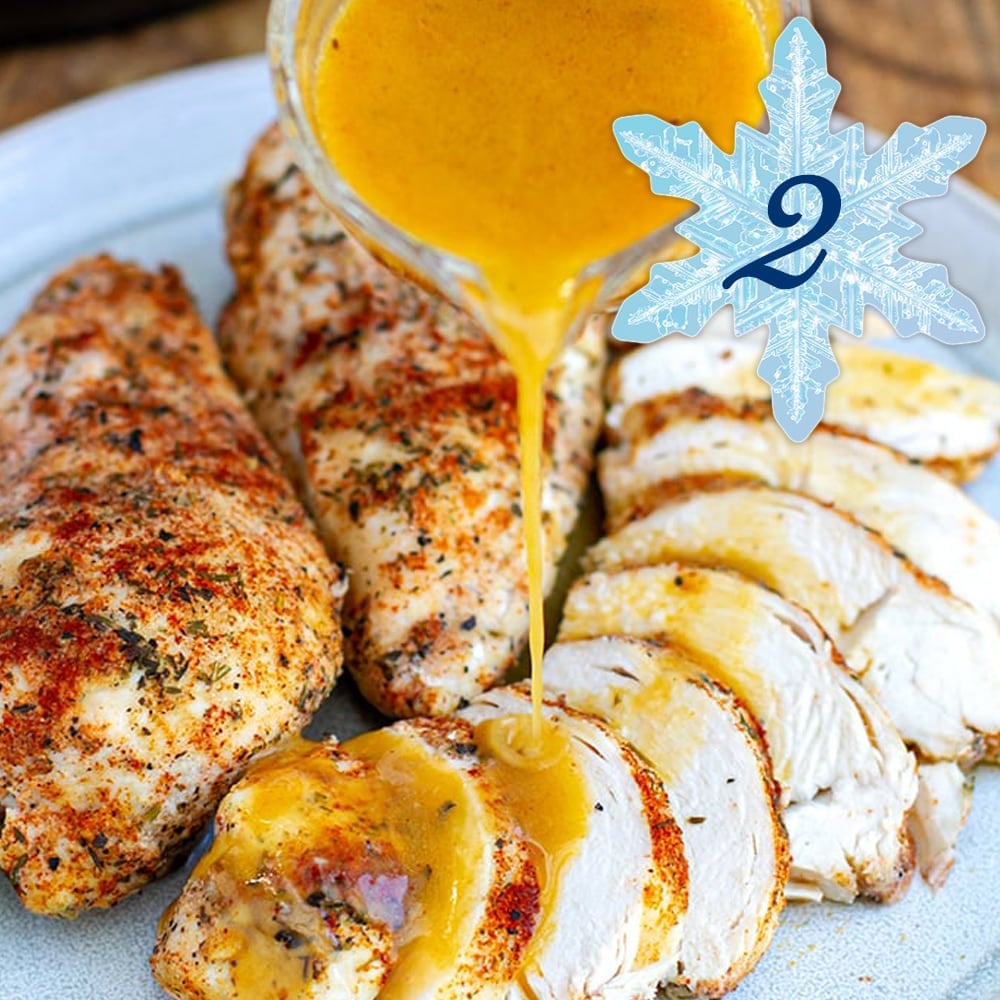 Cooking chicken breasts in the Instant Pot is super easy. As well as making the chicken, this recipe includes Instant Pot gravy made using the cooking broth which you make once the meat is done to serve over creamy mashed potatoes.
"I've made this many times for the fam! Everyone loves it. I add more broth to make more gravy. One tip about the cornstarch is that it's better to dissolve it in some cold water, NOT the hot broth or you'll end up with clumps of starch that are hard to mash down." – ★★★★★ Montse
"Excellent! Tender chicken & the gravy was a great compliment. Quick fix and absolutely delicious…will definitely make it again." – ★★★★★ Suzanne Osgood
"This recipe is absolutely phenomenal. The flavors of the chicken and that gravy work so well together. Thank you for creating such an easy and tasty dish. Now I'm searching your site for tomorrow night's dinner!" – ★★★★★ Rebecca
"Gravy was great, everybody loved it." – ★★★★★ Joe
With only a handful of fresh ingredients such as budget-friendly ground beef, potatoes, onions, carrots, and celery, plus a few pantry items you most likely already have, this ground beef stew is very affordable and can stretch across multiple meals if you make an extra-large batch. It freezes well too, so it's great to batch-cook ahead of time.
"I was surprised at how good it was and how easy. This recipe is a keeper. The only problem I encountered was that the amount of water to add to the pot (1 cup) prior to cooking and for the slurry (1 Tablespoon of flour and 3 Tablespoons of water) is not listed in the ingredients and is vital. Thankfully it was in the detailed instructions. I did prep everything as was recommended but you can't prep what's not included in the ingredients. I did not use the slurry, thought it was fine just as it was." ★★★★★ – Christine
---
RUNNER-UP REcipes
It was a little hard to choose just 12 recipes because there were many other standouts this year. We thought we'd include a few more dishes that also got great reviews and lots of shares, especially some of our older classics.
Quick and easy Instant Pot orzo with Parmesan, lemon and baby spinach. You can serve this dish as a main or a side dish.
"I made this tonight & it was really good! I cut back on the cheese though. It also was a bit too al dente for us, so I cooked it a little bit longer & it was perfect. Will definitely be putting this one into the rotation." – ★★★★★ Donna E
"I love this! So easy and so delicious. I only had a couple of blocks of frozen spinach so used those and cooked for 9 mins. Thanks for the recipe!" – ★★★★★ Simone Edwards
Featuring Italian sausage, your favorite tomato sauce, leafy greens, and cream, this pasta dish comes together in about 20-25 minutes from start to finish. Enjoy as a quick midweek dinner, when you travel with your Instant Pot and add it to a budget-friendly menu.
You and your family will fall in love with this recipe for Instant Pot chicken souvlaki rice served with Greek salad and yummy tzatziki yogurt sauce. Marinated chicken and rice are cooked as a one-pot dish, freeing up your hands to make the salad and the sauce. This amazing Greek dish is full of flavor and color and is nutritious and gluten-free friendly.
"Doubled the meat and the marinade. The rice stayed the same and used basmati. The smell and flavor was so great. I'm going to try my fresh herbs next time. I did cut up some fresh herbs and sprinkled it in after it had cooled a little. Also added a little more lemon zest. It was so good! I write recipes for a living and this was a really good one. Love the nutritional info included. Great job!!" – ★★★★★ Kellee
"Wow, this was excellent and full of flavor. This will be on the rotation list. Thank you so much for sharing!" – Lisa O.
"This was really tasty and we'll definitely make it again. I added dill and fresh mint to the tzatziki and it was fantastic." – ★★★★★ Melanie Jarvis
You don't have to travel to Morocco to experience its amazing, flavorful cuisine. This lovely Instant Pot lamb stew uses Moroccan-inspired ingredients and spices and is cooked up with soft potatoes, carrots and peas for an incredible one-pot dish. Serve it with rice, couscous or quinoa, or low-carb cauliflower rice.
"What a great dish. It came out perfectly. This is a keeper." – ★★★★★ Carol Smythe
"I make this once every two weeks and my family loves it. I try to use lamb but when it's too expensive I substitute beef and it is just as good. Did I mention how easy it is? Thank you for this little gem." – ★★★★★ Helene Tozier
"Delicious recipe! Really loved how the apricots melted into the stew, and the spice blend is so good! Will make again if I buy stewing lamb in the future." – ★★★★★ Victoria
Moist and fudgy Instant Pot chocolate zucchini cake with luscious chocolate ganache glaze on top is a great way to use up summer zucchini (courgette).
"I made this and had the cake the same day. It was good but not what I expected. However, the next day after putting it in the refrigerator, the cake was amazing. I dont know if I ate it too soon after cooking it or not but it was awesome the next day and the day after! I will make this again!" – ★★★★ Vickie J Fiedler
---
Most Popular roundups & Articles of the year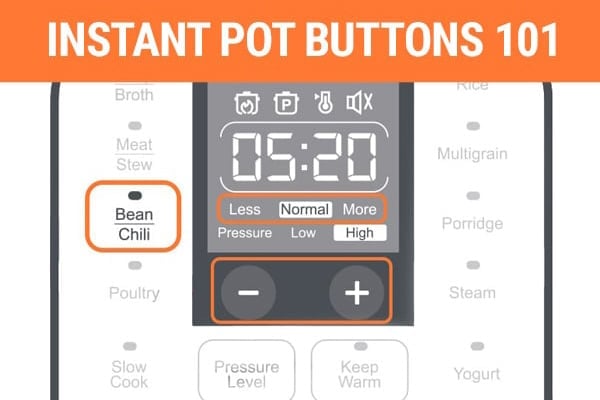 If you're new to the Instant Pot pressure cooker and find yourself confused by all the buttons on the front control panel, this article is for you. It's also for more experienced Instant Pot cooks who perhaps never use the smart programs because they don't know how or why. In this detailed post, we will look at the most common Instant Pot settings and buttons across models, explain how they work and the best ways to use them (as well as when it's better to use the manual settings).
These 10 Instant Pot recipes for beginners will get you started with your pressure cooker with ease and enjoyment. From perfect fluffy rice to pasta and soup, we've included our favourite staples that you can easily keep on rotation in your kitchen. Make sure to check out our Instant Pot For Beginners hub for 101 guides, tips and step-by-step recipes.
A Mediterranean diet is rooted in the coastal cuisines of countries such as Greece, Spain, Italy, France, and northern Africa. It puts a higher focus on plant foods than many other diets. Generous portions of fresh produce, whole grains, and legumesto make up all or most of a meal, as well as some healthful fats and fish.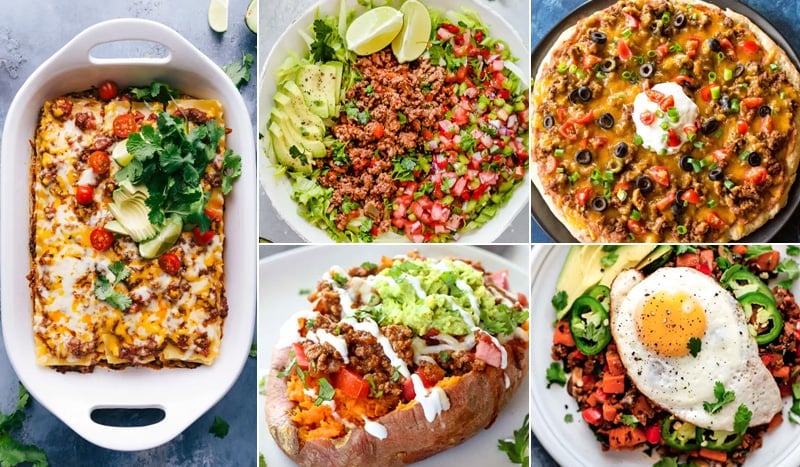 When it comes to versatile, make-ahead dishes, ground taco meat has to be up there in the top 5. We collected a few ideas for how to use up leftover taco meat, whether it's made with ground beef, turkey, chicken or pork. We've got gameday favorites, comforting family dinners and healthy lunches.

Learn how to use the Instant Pot trivet with this handy guide-post. From making cakes to steaming vegetables to pot-in-pot cooking, we show you 7 different ways for how to utilize this accessory for cooking delicious food with a pressure cooker.
---
Most Popular from Other Bloggers
Since we have a pretty big and engaged following on Instagram, it's always interesting to see which dishes were the most popular with that audience. We often share recipes from other bloggers and creators and thought we'd give credit to the most liked dishes.
A creamy broth of green enchiladas sauce, salsa verde, cheeses, and tender shredded chicken, you can't go wrong with this recipe. Perfect for those busy nights!
Round Steak & Gravy is a recipe that uses an affordable cut of beef that typically needs hours to cook so that it is tender. This recipe for Instant Pot,makes it in half the time. Serve on top of creamy mashed potatoes and with buttery corn.
It's called Instant Pot Three Packet Roast for one reason. You use 3 packets of seasonings to make it, but it should be called Magic Roast because it's THAT CRAZY GOOD. It's tender, savory and it makes its own gravy!
This Instant Pot pork tenderloin has a cranberry butter sauce that gives it incredible flavor! Simply cook the pork tenderloin in the Instant Pot with some chicken broth, balsamic and a special mixture of butter, cranberries, garlic, and red onion. An easy dinner recipe that you can make in less than 30mn, using fresh or even frozen pork tenderloin.
I'm taking an American classic, mixing it up with some pasta, and it's all going down in the Instant Pot – in less than 30 minutes. It's a hearty & comforting, savory & cheesy meal.
Sweet, tangy, and fall-off-the-bone chicken legs prepared with the most amazing honey balsamic sauce and cooked in the Instant Pot. Great on top of rice or pasta, you can enjoy this effortless dinner in less than 30 minutes!
Easy Instant Pot shrimp and broccoli stir fry that is healthier and better than take-out! This is probably the quickest meal that you can make in the Instant Pot as it cooks for just ZERO minutes, which means that it just needs to come to pressure.
Boneless pork chops, first seared, then cooked in Instant Pot until tender and juicy, with a delicious honey garlic sauce. There is nothing about these pork chops that you won't like. They are tender, juicy, flavorful and delicious.
---
WATCH OUR TOP 10 VIDEO RECIPES HERE
---
Save TOP PRESSURE COOKER RECIPES to Pinterest