The reason for giving should be from the heart. What better way to show how much we care than to make something homemade? It's the thought that matters. Right? That's why we've collected these homemade gift ideas that you can create in your Instant Pot. From chapstick and hot sauce to meal kits and moonshine, we've got you covered for gifts this holiday season that everyone will enjoy and want to share.
---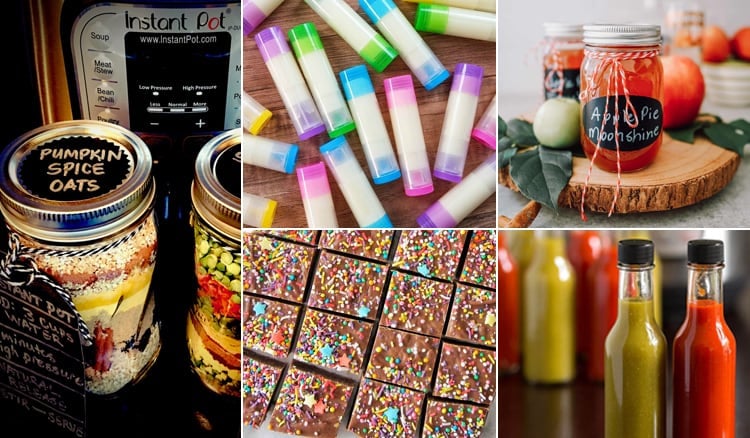 What do you buy for the person who has everything? The classic dilemma for gifting this time of year. As a child, we have always been reminded that the reason for giving should be from the heart and the thought is what counts. What better way to show how much we care than to make something homemade. And guess what? The Instant Pot is the perfect helper!
WHAT KIND OF HOMEMADE GIFT CAN YOU MAKE?
An edible gift is always a crowd-pleaser. Plus, who doesn't love food, right? A little sweet treat or some jam to spread on some toast? The wonderful thing about using your Instant Pot is that you can create edible and non-edible gifts. Using the Saute function is handy for more things than just browning your meats. Using it as a double broiler is great for temperature-sensitive recipes.
Another benefit of homemade gifts is sustainability. Many are being more aware of their footprint and want to live a more sustainable lifestyle. Homemade product contributes to this philosophy. Why buy something when you have the basic ingredients in the pantry and you can also customize. Package it in a mason jar and ribbon, then the jar can be reused. More people appreciate the effort and the thought rather than the price tag.
If you are buying someone an Instant Pot as a gift, that is so kind of you! Start them off with the right skills that will help them overcome their fears. We have a few beginner blog posts that you can share with them. Also, why not set them up with a cookbook or meal kit in a jar that they can dump n' go and add water. You can also direct them to our free ebook and newsletter for weekly recipes to get inspired.
---
Instant Pot Homemade Gift Ideas
CRUSTY INSTANT POT MUESLI BREAD – NO KNEAD BREAD (VEGAN)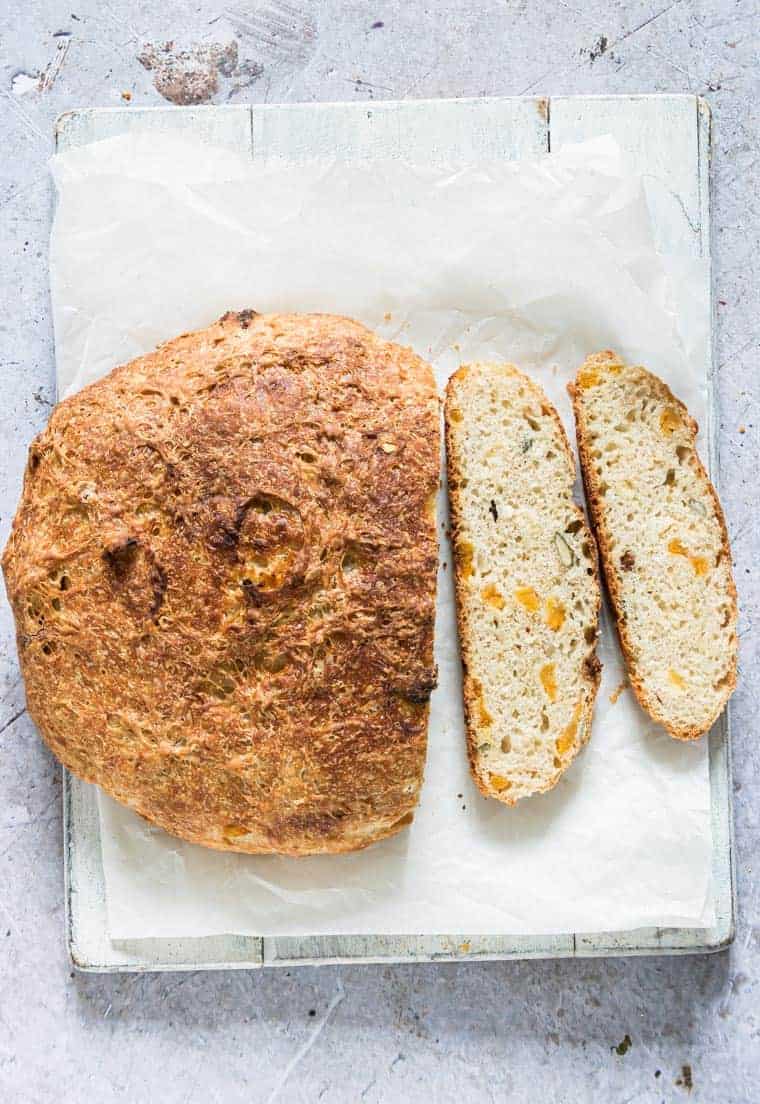 Baked goods are always a welcome gift, and this Crunchy Instant Pot Muesli Bread recipe combines muesli, coconut and apricots into one perfect crusty bread loaf. Best of all, you use the Instant Pot to get your bread dough to rise, with no kneading required at all! Recipe from Recipes From A Pantry.
INSTANT POT Meal Kits (Just add water)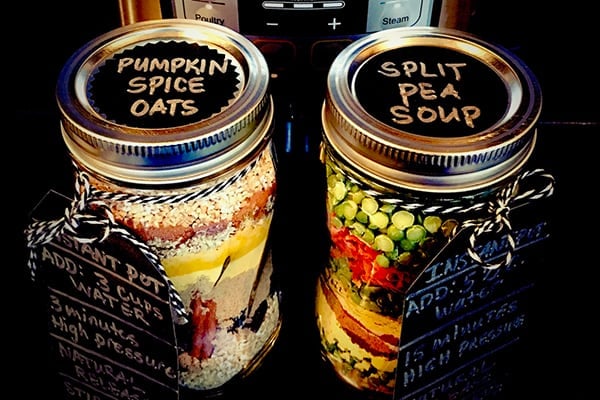 Thinking of giving someone an INSTANT POT as a gift? Why not make them a couple of MEAL KITS to go along with their new Instant Pot? It's a really great way to help them get started right away, because all they need to do is pour in the contents of the jar, then JUST ADD WATER. Push the button, adjust the time; then walk away until mealtime. It will also help beginners overcome their fears. Recipe from Little Blue Plates.
You can also make Khichdi in a Jar from Vegan Richa.
Instant Pot Candied Nuts
One of the really great things about this Instant Pot candied nuts recipe is that you can really use any nut you would like. You can use almonds, walnuts, or pecans. They are great on salads, as a gift, and so much more! Recipe from I Don't Have Time For That.
Instant Pot Peanut Brittle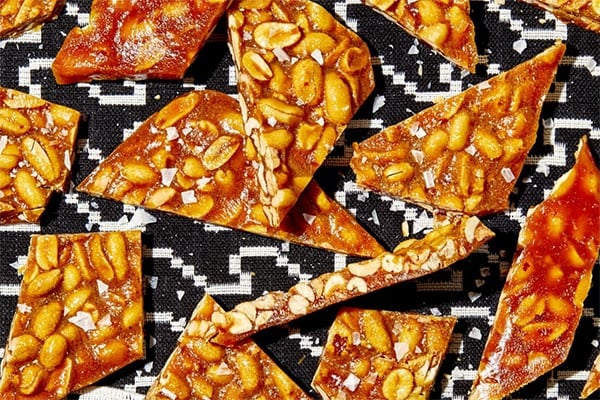 A classic candy shop treat. While it makes a scrumptious treat any time of year, Instant Pot Peanut Brittle is especially awesome to make during the holiday season. Being that the recipe produces a generous yield of candy, it's an excellent goody for gifting. Recipe from My Recipes.
INSTANT POT POPCORN + 4 VARIATION
Crave-worthy Instant Pot assorted popcorn of delicious flavors. Popular variations include herb popcorn, nutmeg cinnamon, caramel chocolate chip, and this super fun and festive Grinch Popcorn that kids of all ages will adore! Recipe from Recipe From A Pantry.
Instant Pot Fudge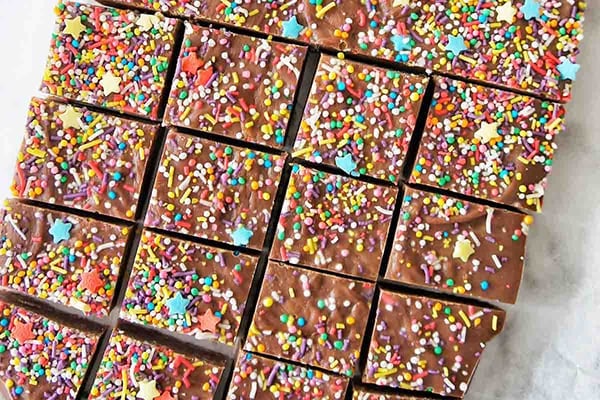 Instant Pot makes life easier and this chocolate fudge is smooth, chocolaty, and insanely delicious!! Who doesn't love chocolate as a gift? And with sprinkles! Recipe from Sweet Caramel Sunday.
SUPER EASY APPLE BUTTER
Apple butter is delicious on bread, in peanut butter and jelly sandwiches, on pancakes. It's kind of like applesauce, except the apples are cooked down more, making it thicker and allowing the sugars in the apples to caramelize. This caramelization gives the apple butter a delightfully intense flavor and it's also what gives it the rich dark brown color. Recipe from Thrifty Frugal Mom.
Instant Pot Jam (Blueberry, Strawberry, Peach)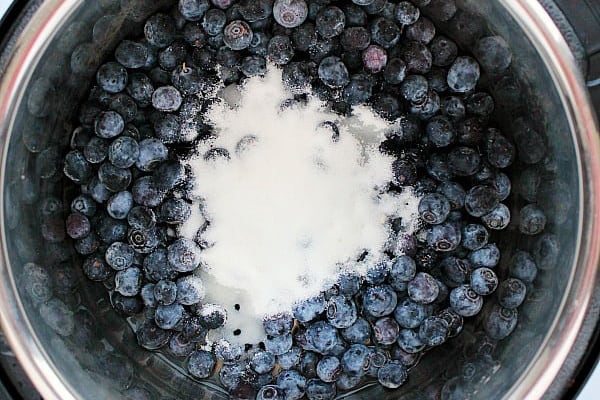 This Instant Pot Jam can be made with fresh or frozen fruit, like strawberries, blueberries, peaches, apricots, and others. No pectin needed! Enjoy this delicious jam on a toasted bagel or Buttermilk Biscuits! It can be also used in desserts, like Angel Food cake, as filling for crepes or swirled in cheesecake. Recipe from Crunchy Creamy Sweet.
Instant Pot Lemon Curd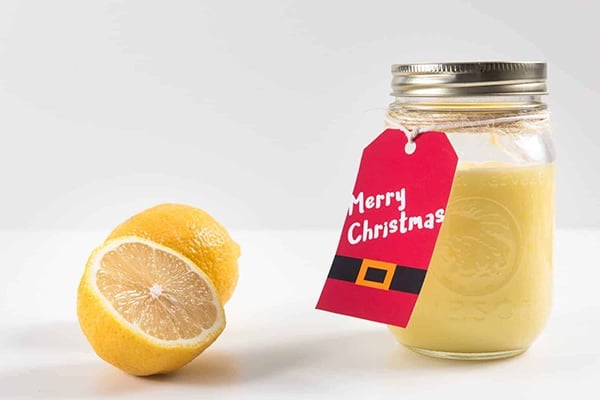 Learn how to make Buttery Smooth Instant Pot Lemon Curd (Pressure Cooker Lemon Curd). Super easy NO jar method! The velvety candied lemon custard cream is refreshing, aromatic, complex sweet lemony flavors. Seriously irresistible! Recipe from Pressure Cook Recipes.
HOT RED PEPPER JELLY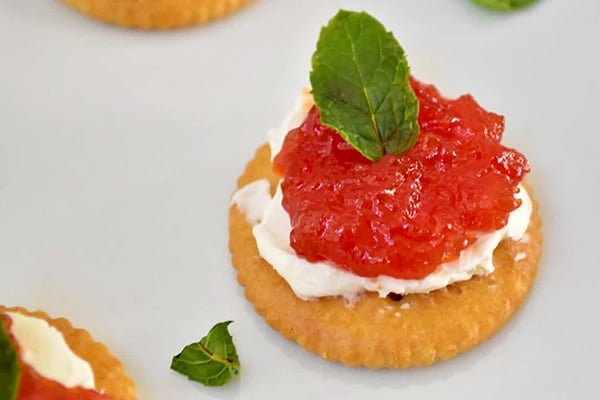 Delicious Instant pot Hot pepper jelly made with red bell pepper and red jalapenos. Originated in Texas, it has become a southern tradition to use during holidays as an appetizer or as glaze or sauce or even put it in cheesecake. Recipe from Zesty South Indian Kitchen.
AWESOME HOT SAUCE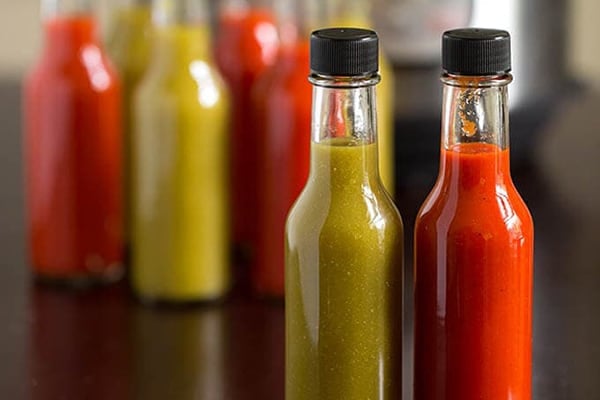 Instant Pot Hot Sauce is fast and so fun to make! Grab your favorite chili peppers and a few other simple ingredients. This recipe is a little sweet, a touch smoky, and HOT! Remember safety when working with peppers by wearing gloves, eye protection, washing your knife handle and cutting board. Recipe from Simply Happy Foodie.
INSTANT POT VANILLA EXTRACT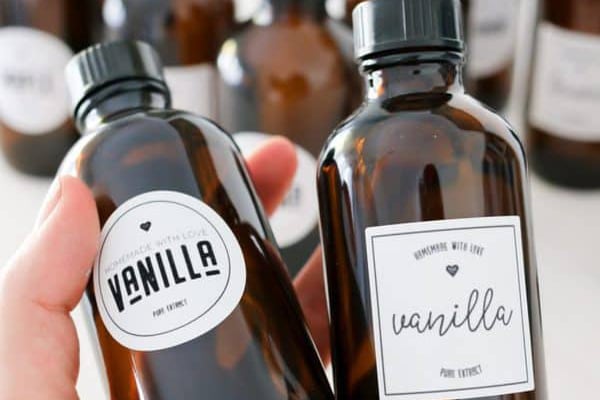 Dark, beautiful, aromatic, heavenly vanilla extract that can be made in less than an hour in the pressure cooker vs the traditional method of vanilla beans soaking in vodka for 2-6 months in the back of your pantry. Use a small funnel to pour the extract from mason jars into the small bottles for gifting and add one of the vanilla beans from the main jar into each small bottle so it will continue to infuse and become stronger over time. Recipe from Tidbits.
You can also make Pressure Cooker Infused Honey Syrup or Pressure Cooker Crio Bru in a Jar.
Apple Pie Moonshine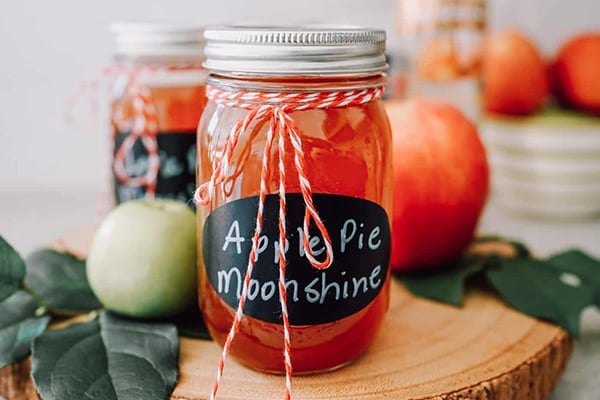 Whether it's a gift for the bride and groom, a Father's Day treat, or a unique Christmas gift for co-workers, this Apple Pie Moonshine recipe is a must! If your loved ones love a good homemade moonshine or cocktail now and then guarantee they will fall for this recipe. Wrap your mason jars with a cute bow add a label and you'll be party and present ready. Recipe from A Lilly Love Affair.
Instant Pot Dulce de Leche & Butter Cookies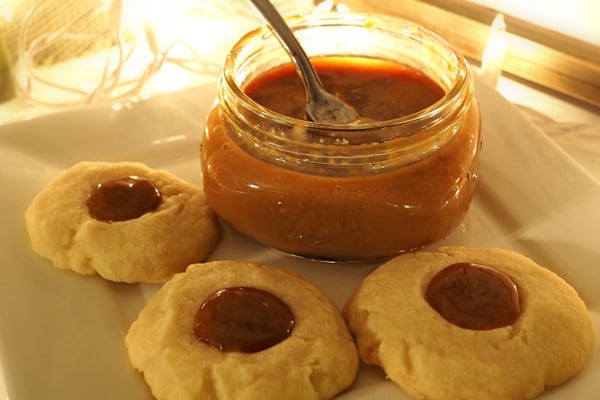 Homemade dulce de leche in your Instant Pot from basic ingredients in your pantry. You can gift a jar of it or put it on these butter cookies, perfect for holiday cookie trays and treat boxes. Recipe from This Pilgrim Life.
Instant Pot Salted Caramel Hot Cocoa Bombs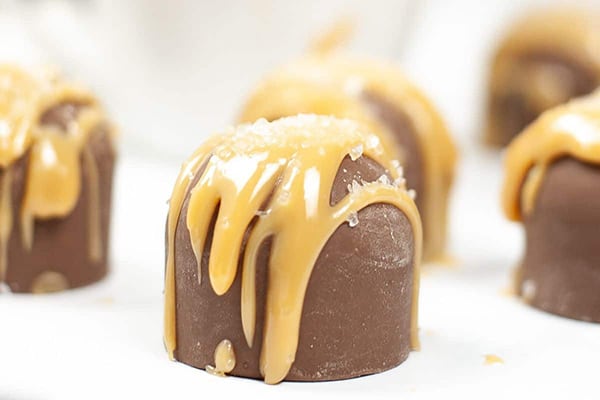 The perfect mixture of sweet and salty. This hot cocoa bomb is so easy to make, but always wows a crowd and make for a great budget-friendly homemade gift. Place one or two bombs in a favorite mug and pour hot milk over it to melt the chocolate releasing the hot cocoa and marshmallows. Stir with a spoon and enjoy! Recipe from Wonder Mom Wannabe.
INSTANT POT FREEZER MEAL GIFT IDEAS WITH FREE PRINTABLES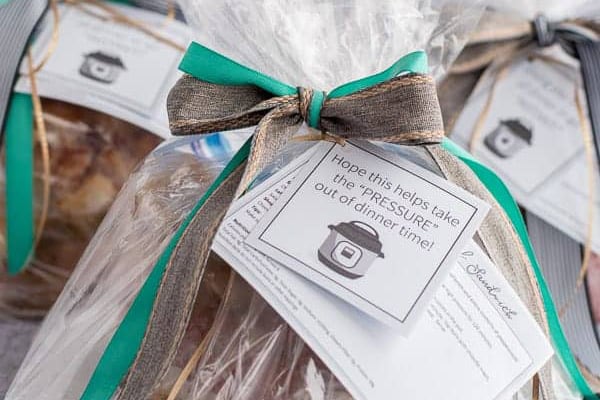 Give the gift of cozy, homemade Instant Pot dinners. Five favorite Instant Pot Freezer Meals with packaging ideas and printable instruction labels perfect for gift giving! Get printables from Tidbits.
The Ultimate Vegan Christmas Pudding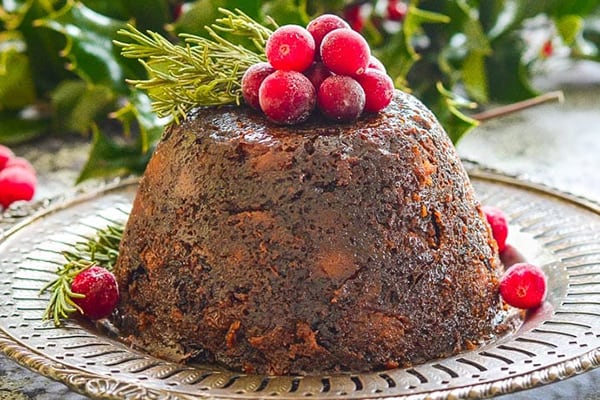 It's dark, rich, fruity, moist & boozy & so much lighter than the dense, heavy puddings you might have tried in the past! This Vegan Christmas Pudding is excellent eaten right away. There is no need to make it weeks or months in advance. However, it will get even better with age and you can make it up to 6 months in advance, as long as you make it with alcohol in it. The alcohol is what preserves it. It also freezes well and will keep, if wrapped properly, for up to one year. Recipe from A Virtual Vegan.
---
Non-edible Gifts
Herbal Salve In The Instant Pot
The Instant Pot is the perfect tool for making a handmade salve. The process is even mostly hands-free. The recipe requires 2 simple steps. First, you make a herb-infused oil. Second, you make a herbal salve. Something natural is always loved in this department. That's really it! Recipe from Traditional Cooking School.
You can also make these Instant Pot Hard Lotion Bars.
Instant Pot Christmas Potpourri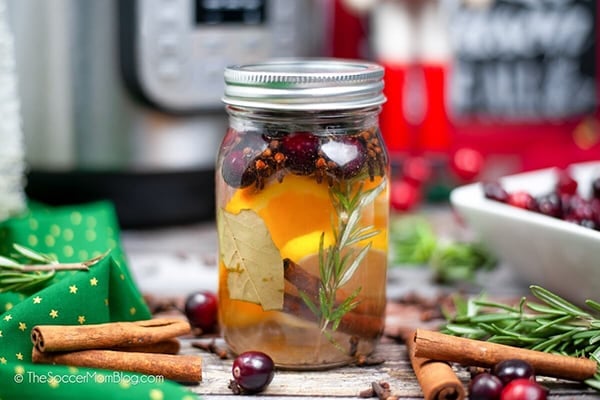 This fragrant Potpourri recipe is an easy way to fill your house with the sweet smells of the holidays! Simply add the contents of the jar to your Instant Pot and simmer with the lid off. As the liquid heats, the fragrance will be slowly released throughout the room. The longer you simmer, the more the holiday scents will travel from the kitchen to other rooms of the house! This makes a great DIY mason jar gift too! Recipe from The Soccer Mom Blog.
Moisturizing Instant Pot Chapstick
Chapstick is something everyone can use so this is a great little gift to customize the scent, flavor, and label to make it personal. Add this little token to a basket or you can even use it as a party favor. Recipe from Awefilled Homemaker.
---
SAVE INSTANT POT GIFT RECIPES TO PINTEREST