We are celebrating spring with these gorgeously green Instant Pot recipes. There are lots of emerald veggies and herbs in this roundup; we love using zucchini as noodles or adding asparagus to risotto. We hope you get inspired by these simple, healthy, and quick spring recipes that taste light yet filling.
---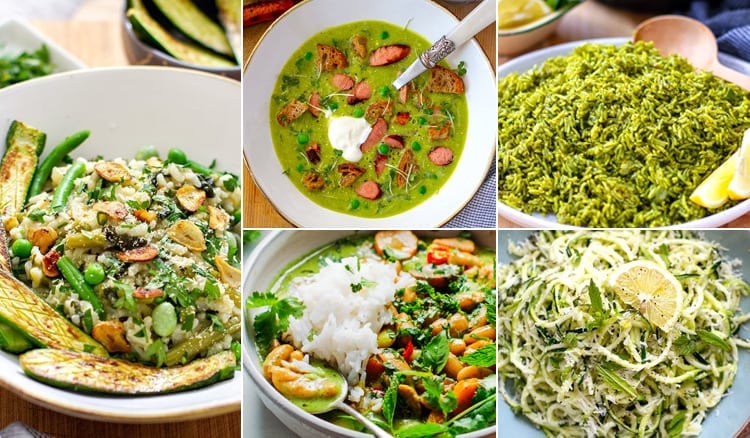 The sun is out, flowers are starting to bloom and the grass needs to be cut because spring is here! Are you itching to get into the garden? There is something about seeing something grow from seed and cultivating the land to yield produce.
Spring of spring produce, we're celebrating the season with these gorgeously green Instant Pot recipes. There are lots of green veggies and herbs in this roundup, from zucchini as noodles to crunchy asparagus in the risotto.
Leafy greens, cruciferous vegetables, and herbs are such an important part of a well-rounded diet and offer numerous health benefits. They're packed with vitamins, minerals, and fiber. Plus, greens instantly liven up your dishes and encourage healthy choices. These spring pressure cooker recipes are simple, quick, and taste light yet filling.
---
---
Instant Pot Lemon Asparagus Pasta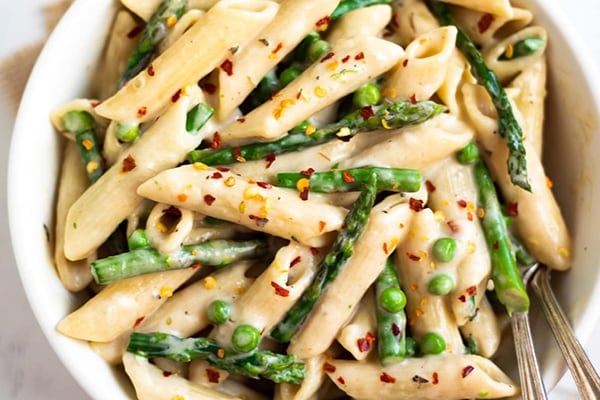 Get all the flavors of spring in a bowl with this Lemon Asparagus Pasta. Make it in the Instant Pot in just 30 minutes, and the result will be a creamy bowl of pasta, filled with fresh greens! It contains peas, asparagus, and a splash of lemon juice, creating a symphony of tangy and savory flavors. Try this delicious, vegetarian, one-pot meal tonight! Recipe from Piping Pot Curry.
ASPARAGUS & FENNEL RISOTTO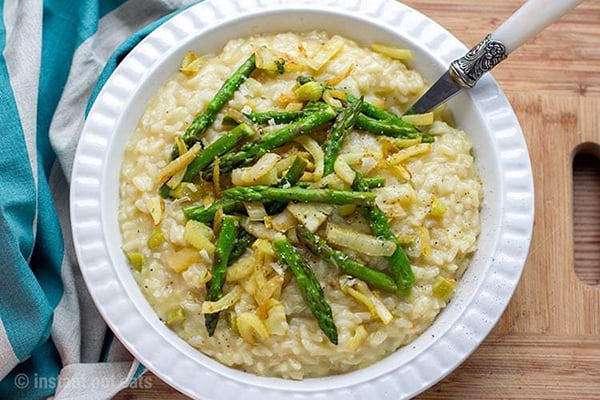 Instant Pot is the EASIEST way to make an incredible, creamy, restaurant-style risotto. This fennel and asparagus risotto is a fabulous vegetarian and gluten-free recipe. Once you've mastered the method, your imagination is the limit! Recipe from Instant Pot Eats.
GREEN GODDESS CHICKEN SANDWICH
Devouring this Instant Pot Green Goddess Chicken Sandwich will make you feel like a Greek Goddess! Creamy, refreshing, herbaceous chicken piled high on a bagel with lots of fresh, crisp veggies. Recipe from Tidbits.
GREEN PEA SOUP WITH FRANKFURTERS (HOT DOGS)

This soup is inspired by the classic ham and pea soup but we used grilled Frankfurter hot dog sausages instead of ham. It's a family-friendly soup. It's one of those quick and easy meals that you can make on any weeknight in just half an hour. Top it with croutons and fresh herbs, plus an extra dollop of cream. Recipe from Instant Pot Eats.
INSTANT POT SPINACH AND ARTICHOKE DIP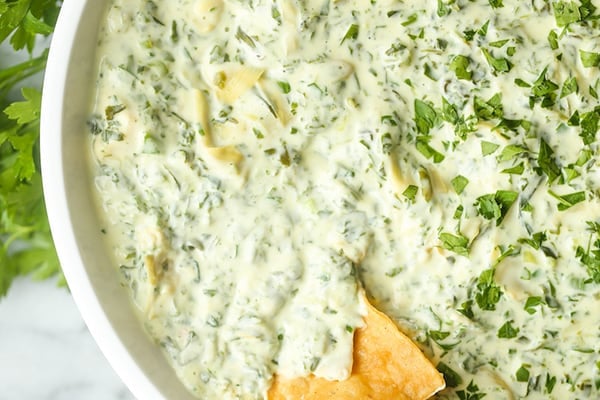 Need a crowd-pleasing appetizer, the one that feeds an army but doesn't require too much work? That's where this spinach and artichoke dip comes in. Only 3 min in the IP using frozen spinach. Recipe from Damn Delicious.
ORZO WITH LEMON, PARMESAN & SPINACH
Made with lemon, Parmesan cheese, and spinach for a perfect, hearty side dish or main. This lemony, cheesy orzo recipe only takes 20-25 minutes from start to finish and is vegetarian-friendly. Recipe from Instant Pot Eats.
Instant Pot Pasta Primavera
This fuss-free recipe works as it is packed with veggies and comes together with minimal effort. A combination of spring vegetables, lemon, garlic and fresh basil. This light primavera pasta sauce uses the freshness of the lemon and garlic with pasta water for smooth, glossy deliciousness. Recipe from Instant Pot Eats.
VEGAN RISOTTO WITH GREEN VEGGIES & FRIED GARLIC
A creamy, velvety risotto that is much lighter and is made without butter or cheese. Loaded with green vegetables like kale, green beans, and zucchini then topped with fried garlic for amazing aroma and flavor. Recipe from Instant Pot Eats.
SPRING SOUP WITH CHICKEN RICOTTA MEATBALLS
This Instant Pot Spring Soup with Chicken Ricotta Meatballs is a refreshing bowl of lemony sunshine! Loads of veggies and everything can be cooked up together in the same pot. Recipe from Tidbits.
Instant Pot Green Beans with Lemon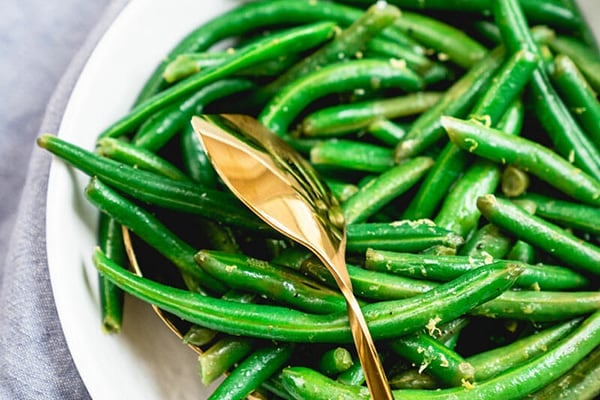 The perfect side dish is healthy, easy to make, and comes together quickly. These zesty lemon Instant Pot green beans checks all those boxes. Recipe from A Couple Cooks.
INSTANT POT SPINACH RICE (INDIAN PALAK PULAO)
This Instant Pot Spinach Rice (also known in Indian cuisine as Palak Pulao) is a nutritious and healthy dish that can be served as a side dish with your favorite curry or a main dish with some vegetables or salad on the side. This rice recipe is super simple and is gluten-free, vegetarian, and can be made vegan-friendly. Recipe from Instant Pot Eats.
Instant Pot White Bean Green Curry
This Instant Pot green curry is insanely creamy, infused with fresh aromatic herbs, and served with tender white navy beans. It's healthy, filling, delicious, rich in protein, and so easy to prepare! It's Thai-inspired and starts with the mushrooms and carrots that are sautéed for a few minutes in the Instant Pot then add red bell pepper, zucchini, or even pumpkin. Deglaze the pot with a drizzle of soy sauce for extra flavor. Recipe from Full of Plants.
10-MINUTE ZUCCHINI NOODLES WITH GARLIC, LEMON & PARMESAN
This quick and healthy spiralized zucchini noodles dish (or zoodles) is made in the Instant Pot using the Sauté function. Paired with garlic, mint, and Parmesan, it's low-carb, vegetarian, and gluten-free, and perfect as a side dish or a light main. Recipe from Instant Pot Eats.
INSTANT POT CHICKEN & CORN SOUP WITH SPINACH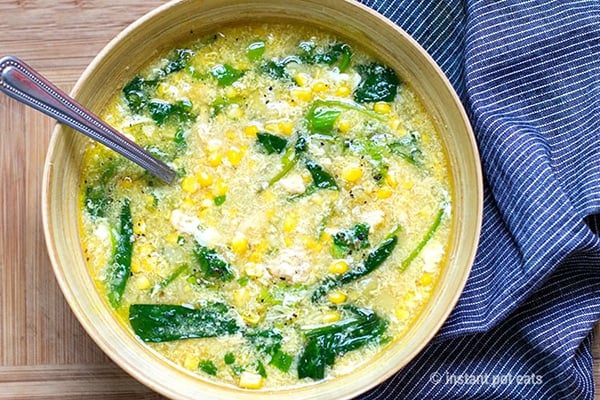 This Instant Pot chicken and corn soup is super nourishing and delicious. It's a healthier, homemade pressure cooker version of the popular Chinese soup. Corn adds a lovely sweetness to this otherwise savory creation. This recipe is gluten-free and dairy-free. Recipe from Instant Pot Eats.
Green Rice Porridge (Instant Pot, Vegan)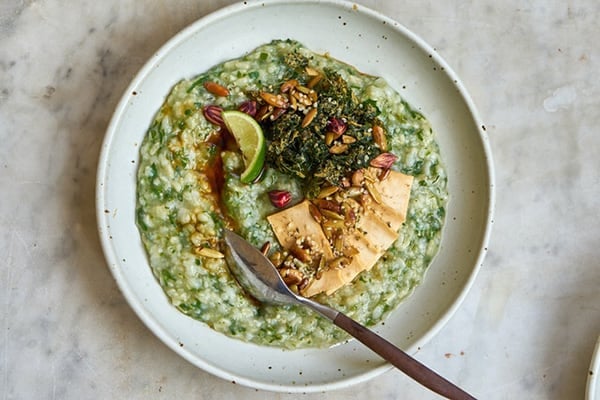 It's a one-pot, effortless, green, nutrient-packed twist to congee, also known as rice porridge. This version incorporates a lot of chopped spinach. Topped off with some lime, crushed kale chips and toasted nori, toasted pepitas, hemp seeds, and jungle peanuts. Slice tofu thinly, drizzled with shoyu, and sriracha sauce. Recipe from 101 Cookbooks.
SALT POTATOES WITH HERB BUTTER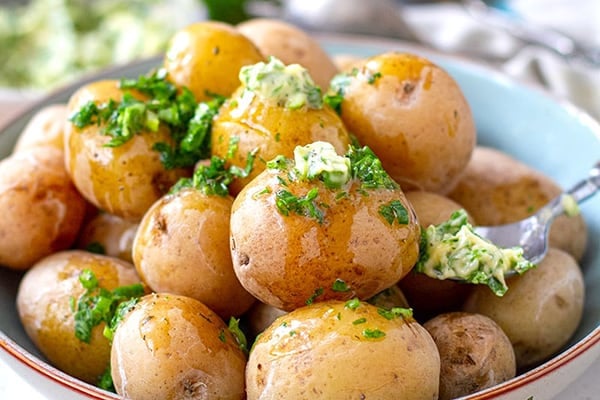 Instant Pot salt potatoes for a perfect summer dish you can bring to a barbecue, picnic or family lunch. You can serve them hot or cold and we opted for a delicious herb butter that you can smother and melt into the potatoes. Recipe from Instant Pot Eats.
INSTANT POT SALMON & VEGETABLES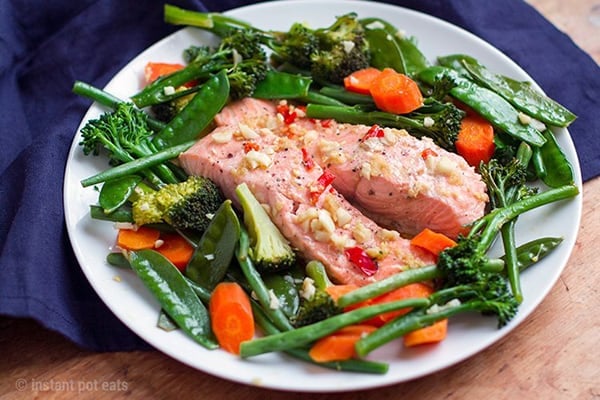 Make healthy, nutritious, and super easy Instant Pot steamed salmon and vegetables. Flavored with aromatics like garlic and chili and a splash of sauce, this meal only takes 15 minutes to prepare. Recipe from Instant Pot Eats.
---
SAVE SPRING Instant Pot Recipes TO PINTEREST