Today, we are sharing our latest instalment in our series of Instant Pot cookbook reviews. We love sharing recipes with you, but we're also eager to share great written resources as the Instant Pot grows in popularity, and more cookbooks or guides are on the market. In this post, we're featuring author Urvashi Pitre's cookbook, Instant Pot Miracle Healthy Cookbook.
---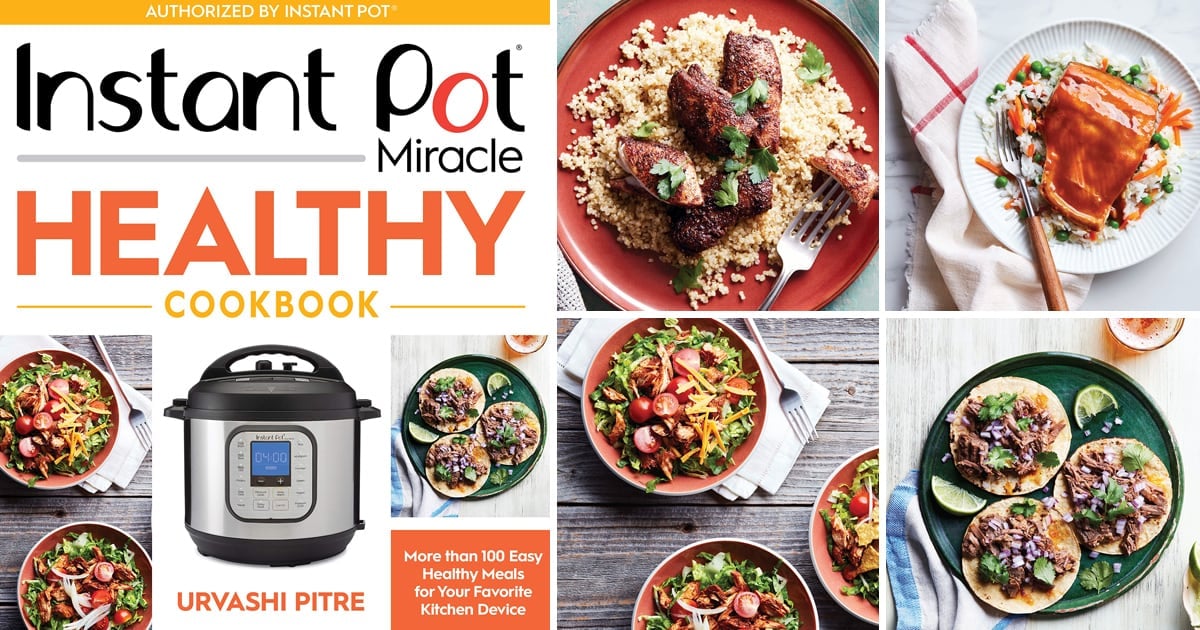 The book: Instant Pot Miracle Healthy Cookbook
The focus: More than 100 Easy Healthy Meals for Your Favorite Kitchen Device
Featured guest recipe: Instant Pot Jerk Chicken & Quinoa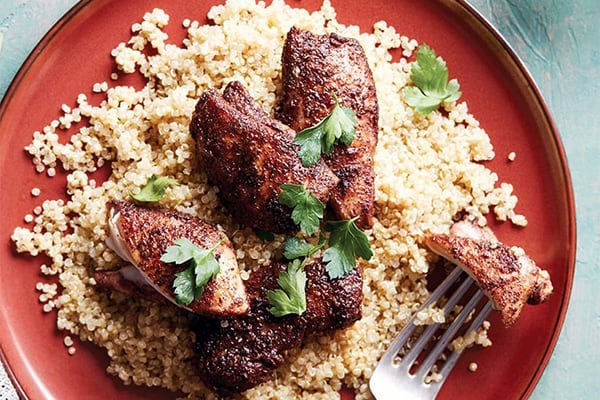 About the cookbook
The follow-up to her best-selling cookbooks Instant Pot Fast & Easy, Indian Instant Pot Cookbook, and Instant Pot Miracle Vegetarian Cookbook, Instant Pot Miracle Healthy Cookbook contains 100 new flavor-packed recipes (many gluten-free and diary-free) made entirely in the Instant Pot.
Unlike many other Instant Pot books, readers won't find pre-processed and highly refined ingredients like canned soups, boxed mixes, or excessive amounts of sugar. Instead, the emphasis is on whole, unprocessed foods, vegetables high in fiber, healthy fats, and lean proteins, with recipes to suit a variety of diets.
Urvashi knows "healthy" means different things to different people, so she selected recipes that meet the following criteria:
Every recipe is under 500 calories, without sacrificing the taste
Whole, unprocessed ingredients—no packaged mixes or canned soups to be found
Minimal to no processed and refined carbs such as flour and sugar, meaning pasta recipes are the exception, not the norm
A balance of carbs and fat, so readers trying to eat less of either have a range of options
Dietary substitutions for vegan, dairy-free, and lower-carb diets throughout the book
Highlights include:
Hearty poultry dishes, such as Chicken and Potato Curry, Chicken Pot Pie Soup, Peanut Butter Chicken, and Wonton-Style Meatball Soup
Beef mains, including Braised Beef Short Ribs, One-Pot Bibimbap, Spicy Beef Barbacoa, Vietnamese Beef Stew, and Rendang-Style Beef and Potatoes
Pork-based recipes like Sauerkraut, Potatoes, and Sausage, Paprika Pork Chops with Cabbage, Chipotle-Orange Pork, and Pork Belly and Bok Choy Noodle Soup
Seafood dishes, such as Easiest-Ever Shrimp Curry, Chimichurri Fish and Couscous, Paprika- Spiced Fish and Vegetable Soup, and Honey- Mustard Salmon with Rice and Vegetables
Vegetarian starters, soups, and mains, including Curried Pumpkin Soup, Harissa Butternut and Chickpea Stew, Yellow Split Peas with Spinach, Spiced Sweet Potatoes, and Farro Risotto with Goat Cheese
What we love about IT
This cookbook has clear instructions with recipes that are thoroughly tested. The easy to make healthy dishes are far from bland and boring. It's a chance to try something different from around the world. We love that Pitre refers to her active Facebook group to help evaluate the authenticity and taste of these recipes.
The book has a short section at the beginning to explain Instant Pot terms and addresses frequently asked questions. At the end of the book, there's a helpful chart of dietary considerations. This means the chart list each recipe in the book and has a corresponding column that tells you quickly if it is egg-free, nut-free, dairy-free gluten-free, grain-free, soy-free, vegetarian, vegan, low-carb, and if it is 30 minutes or less. A nice organized detail that helps minimize any stress of decision-making in the kitchen.
Who is this Instant Pot cookbook for?
This book is for those who are wanting to be more healthy. Who doesn't want to be healthy? However, admittingly this isn't easy. Everyone has different opinions on how to be healthy or what diet is best to achieve a healthy lifestyle. Whether it is vegetarian, carnivore, or keto diets that are preferred, a book that touches on different ways to be healthy can appeal to almost anyone. Especially, since Instant Pot makes it so much more convenient and effortless. A variety of recipes also makes the journey towards eating better less ordinary and boring, but rather deliciously exciting.
About the author
Urvashi Pitre created the blog, Two Sleevers, to share recipes that are low-carb and keto for the Instant Pot. She is also the author of the Indian Instant Pot Cookbook, Instant Pot Miracle Vegetarian Cookbook, The Keto Instant Pot Cookbook, Air Fryer Revolution, Easy Keto in 30 Minutes, Every Day Easy Air Fryer, Instant Pot Fast & Easy, and Keto Fat Bombs, Sweets, and Treats. Her unique recipes, inspiring story, and expert tips have been featured in The New York Times, Forbes, Bon Appétit, Food52, Health, and more. Pitre was also spotlighted in The New Yorker for her viral butter chicken recipe.
Get Instant Pot Miracle Healthy Cookbook here
Published by Houghton Mifflin Harcourt Publishing Company
Photography copyright © 2021 by Ghazalle Badiozamani
---
---
SAVE THIS COOKBOOK REVIEW TO PINTEREST