Need to give your body a healthy reset? These Instant Pot cleansing detox recipes are full of flavor and nutrients that will keep you satisfied, recharged and feeling proud of your healthy choices.
---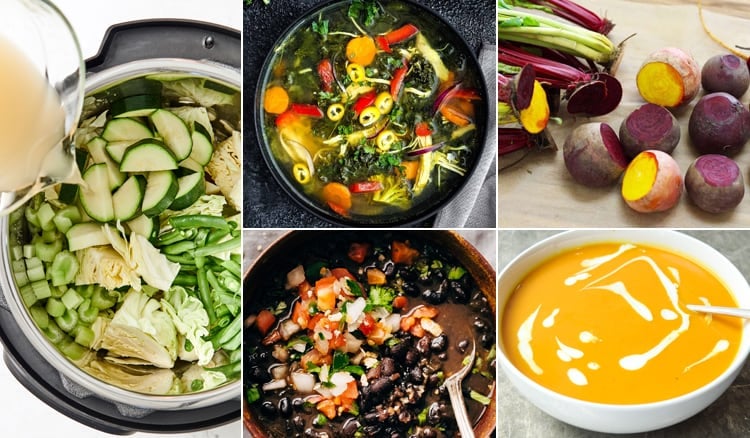 Have you eaten so many buffet-style meals that the sight of food makes your stomach turn? Stuffing yourself to the point you have to undo the top button of your pants so you can breathe. We have all been there! You know that it is time to reset and start fresh. It is time to detox and cleanse.
Your body accumulates toxins and it has a built-in detoxification system working to remove these harmful substances. Your liver, lungs, kidneys, and other organs work nonstop to "detoxify" you. When you have a diet rich in protein, vegetables, and fruits you can provide your body with the nutrients it needs to function optimally.
Does the word detox make you anxious? Don't worry we have a collection of Instant Pot dishes that are full of detoxifying foods and ingredients that will help your body rejuvenate and get healthy.
Vegan and gluten-free, this detox-friendly Instant Pot vegetable soup is hearty and nutritious, filled with veggies, greens and mushrooms. It's a great example of a traditional Italian farmhouse soup.
Instant Pot Vegetable Lentil Quinoa detox soup is a superfood one-pot meal that you should make again and again if you follow a healthy lifestyle and clean eating. A simple lentil and quinoa preparation with the addition of vegetables like carrots, spinach, and spices like ginger, turmeric makes up this hearty soup. You may add cabbage, cauliflower or any greens to this body cleansing soup. Recipe from Carve Your Craving.
A delicious, savory soup full of cleansing ingredients. Loads of veggies and spices combine for a flavorful, fragrant, and super nutritious recipe! The flavour-packed spice blend of garlic, ginger, turmeric, garam masala, curry, and cayenne provide plenty of digestive and detoxifying power to get your system back on track. This Whole30 and paleo-friendly recipe is from Tasty Thin.
This Detox Tomato Soup Instant Pot Recipe is a dump and cook recipe loaded with the goodness of vegetables and turmeric. Recipe from Simply Vegetarian 777

An easy detoxing black bean soup that requires hardly any work at all! It actually tastes better as it sits! Recipe from Little Spice Jar.
An easy detoxing black bean soup that requires hardly any work at all! This is my favorite soup to make and have around for weekday lunches and guess what? It actually tastes better as it sits! Recipe from A Spicy Perspective.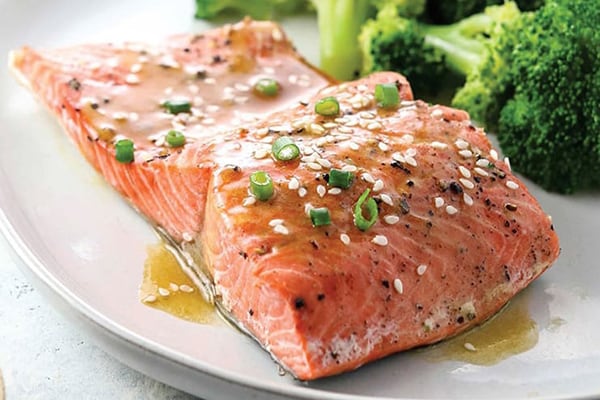 This quick and easy soy-ginger Instant Pot salmon and broccoli is a lovely, nutritious dinner meal. This is a guest recipe from The Fresh & Healthy Instant Pot Cookbook by Megan Gilmore.
We're making a glorious Moroccan Lentil Soup full of chopped veggies, starchy potatoes, two types of lentils and all the spices! It's a simple, healthy meal that's great for digestion and the liver. This hearty soup is packed with flavor, but also protein and fiber. Recipe from Simply Quinoa.
Perfect for fall and winter, this Instant Pot butternut squash soup only takes 20-25 minutes from start to finish. It's gluten-free, paleo, vegetarian and vegan-friendly. This soup is also great for make-ahead batch cooking and freezing.
There's a misconception that "detox" equals "deprivation". Detox is about eating foods that will nourish the body. Starting the season with a healthy mind and body is key, and this Detox Instant Pot packed with vegetables and fiber will give you a warm and tasty head start. Recipe from The Fresh 20.
This is the best chicken noodle soup minus the noodles. It is only 1 Weight Watchers Freestyle point and has so many great flavors. Make this recipe and freeze it in small containers to easily grab and go for lunch on busy days. Recipe from Life On Deer Run.
This Instant Pot Detox Vegetable Soup is a super healthy way to get your veggies in – it's vegetarian, high in fiber and the perfect comfort food! Recipe from The Girl Bloor.
Have you had kitchari? It calms your digestive tract & detoxes your system but with the added benefit of feeling like decadent comfort food. This recipe makes about 7 quarts. Recipe from Delightful Delicious Delovely Blog.
This Easy Instant Pot Detox Soup is delicious, comforting, flavorful and healthy! Easy to make with wholesome ingredients, this soup will help you to reset your body every time you need it. Recipe from Mommy's Home Cooking.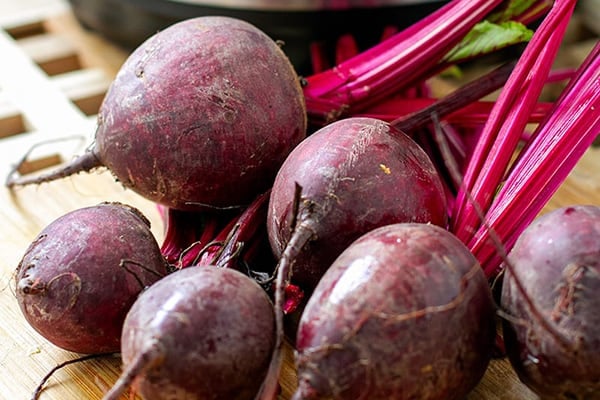 Beets are delicious powerhouses packed with nutrients, including lots of fiber and folate. They provide lots of healing antioxidants and anti-inflammatory phytonutrients that help boost detox systems. Beets are rich in nitrates, which is converted to nitric oxide in your body and is very powerful at reducing blood pressure and improving blood flow. Learn how to make them in the Instant Pot.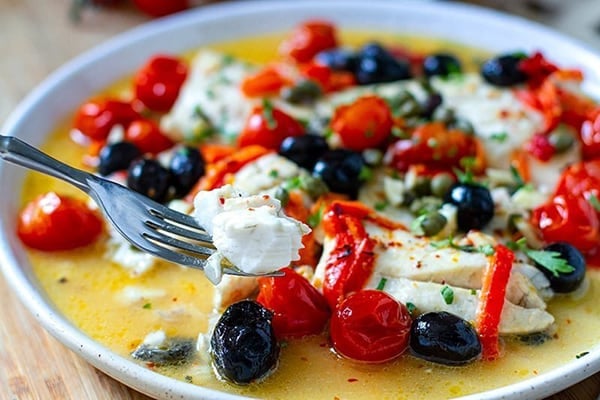 Instant Pot fish braised in Italian broth of cherry tomatoes, olives, capers and roasted peppers. It's bursting with Mediterranean flavors, and you can make it with frozen white fish or salmon. Bonus: this dish is healthy and nutritious and is perfect for gluten-free, paleo, low-carb and Whole30 diets.
Barley helps prevent the formation of kidney stones, water retention in pregnant women and treats urinary tract infections. It also clears toxins from the stomach and helps to reduce cholesterol. Regular consumption of it detoxifies the body naturally, keeping the intestinal tract clear and promotes a healthy digestive system. Recipe from Indian Healthy Recipes.

Give your body a boost with this Apple Cinnamon Detox Water, that Dr. Oz recommends. Just three ingredients needed to create water to boost your metabolism, flush toxins, boost immunity and more. Recipe from Sparkles To Sprinkles.
---