Zucchini is a wonderful addition to any meal with plenty of health benefits. It's versatile in cooking in both savory mains to sweet treats. Today, we are featuring some of the best Instant Pot zucchini recipes that are nutritious and tasty.
---
Zucchini (or courgette) is a great versatile ingredient in cooking because it takes on the flavors of what they're cooked with. It offers a pleasant, moist crunchy texture to vegetable fry-ups and baked muffins and cakes. You can use zucchini in pretty much any cuisine and type of dish.
Zucchini is technically a fruit because it comes from a flower. It grows from a golden blossom that blooms under the leaves, which you can eat. The most popular way to prepare the blossom is fried or stuffed.
There are different varieties of zucchini besides the common green kind. There's a yellow variety that is easy to confuse with yellow squash. The easiest way to tell the difference is to look at the shape. Yellow squash usually has a tapered neck, either crooked or straight, whereas zucchini of any color looks like a cylinder from end to end. Some say golden zucchini has a sweeter flavor than the green kind.
Zucchini Nutrition
Zucchini can be shaped into noodle-like spirals and used as a low-carbohydrate substitute for pasta or noodles for super low cal meal — 1 cup of raw zucchini is just 18 calories. It is a rich source of Vitamins B-2, B-6 and C, potassium, fibre and even a little bit of protein. Here's how all those combinations are good for you!
Improves digestion: Zucchini is high in water. It also contains significant amounts of fibre, electrolytes, and other nutrients that are necessary for a healthy digestive system, including reducing the incidence of constipation, help prevent ulcers, IBS, and colon cancer.
Slows down ageing: Zucchini is rich in antioxidants and anti-inflammatory phytonutrients, which help rid the body of age causing free radicals and excess inflammation.
Lowers blood sugar levels: By eating zucchini noddles you can reduce your carbohydrate intake, increase fibre intake to feel full for longer, which can reduce your blood sugar levels and increase insulin sensitivity.
Improves eye health: Zeaxanthin and lutein are especially useful in maintaining and improving eye health by fighting free radicals. This reduces the risk of developing age-related eye conditions like glaucoma, cataracts, and macular degeneration. You can also use zucchini to treat puffy eyes by placing slices of raw zucchini over the eyes.
Weight loss: Z

ucchini is low in calories and high in water and fibre, t

his means that you will feel full for longer and end up eating less. In the long term, you will lose some of your excess weight.
Protects against oxidation and inflammation: Zucchini is rich in antioxidants and anti-inflammatory compounds, including vitamins A and C, glutathione peroxidase, and superoxide dismutase. This boosts your immunity and protects against diseases associated with inflammation.
Learn more about Zucchini and Summer Squash here.
Learn more about Why Zucchini is Good for You here.
Buying & Storing Zucchini
Zucchini's peak season is June through late August, but you may see zucchini in markets in some regions year-round. Avoid dull, bruised, and overgrown zucchini (they are woody and tough).
Keep zucchini refrigerated until ready to use; wrap in paper instead of plastic unless it's open because of moisture. Don't cut it until you're ready to use it. Zucchini should be used within 4-5 days of purchase. Because of its high water content (95 per cent), zucchini is highly perishable.
Can you freeze zucchini?
YES! Blanch before freezing because it deactivates the enzymes that cause the zucchini to become mushy and discoloured. Don't add salt. The salt absorbed into the vegetable would soften the cell walls and make the zucchini mushy. The texture after freezing won't be compared to fresh, but blanching means the pieces will stay reasonably firm even after thawing.
If you freeze the zucchini right after blanching, it will freeze up into a solid zucchini ice cube which is less user-friendly when you want to cook. Instead, freeze each cube of zucchini individually in a single layer on a baking sheet lined with a silicone baking mat. Then store as a loose bundle in a freezer bag or container.
To freeze shredded zucchini, squeeze as much liquid out as you can. A freezer-safe ziplock bags can hold 1-2 cups. Flatten bags, label them, and place them in the freezer.
Frozen zucchini is best used in dishes alongside other vegetables, like soups, casseroles, and pasta sauces. Frozen zucchini is less suited for things like stir-fries, steamed vegetable side dishes, or salads. See more on How to Freeze Zucchini here.
---
10-Minute Zucchini Noodles With Garlic, Lemon & Parmesan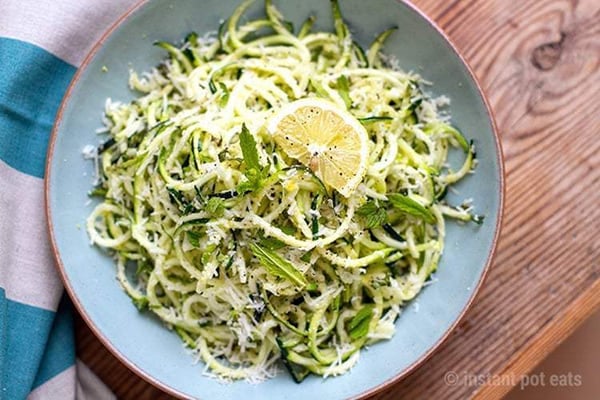 This gorgeous Instant Pot zucchini recipe is perfect for hot summer evenings or when you simply don't have the energy or will to turn up the stove. It's light, healthy and only takes 10 minutes of your time. Plus, it gives that Sauté key function a new purpose! Your vegetable spiralizer will be your best friend. Recipe from Instant Pot Eats.
Instant Pot Ratatouille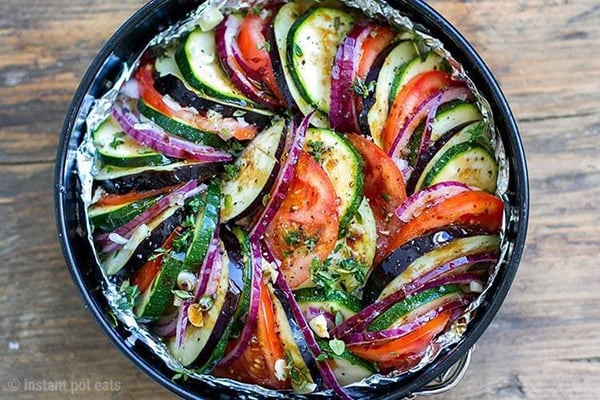 Originating in the south of France, ratatouille is a dish of stewed vegetables which was made particularly famous in the movie Ratatouille. This pressure cooker version is ratatouille express. Although it's not slow cooked and has fewer ingredients for simplicity, it still retains the classic ratatouille flavor and style. Recipe on our blog here.
Thai Zucchini & Corn Soup
This Thai-inspired soup with corn and zucchini is perfect all year round but we love making it in summer when fresh seasonal vegetables are at their best. Sweet corn and zucchini are always in abundance and if you've got a surplus in the kitchen, this gluten-free, vegan-friendly soup is a great way to use them up. It's light, healthy and delicious and takes no time at all! Recipe on our blog here.
CREAMY INSTANT POT ZUCCHINI SOUP
You will love this creamy zucchini soup Instant Pot recipe. It's silky and smooth, delicious yet low in calories even with a touch of cream swirled in. This Instant Pot zucchini soup recipe is vegetarian, gluten-free, and great as a starter or a main dish.
Recipe on Instant Pot Eats.
Instant Pot Zucchini and Cauliflower Baby Food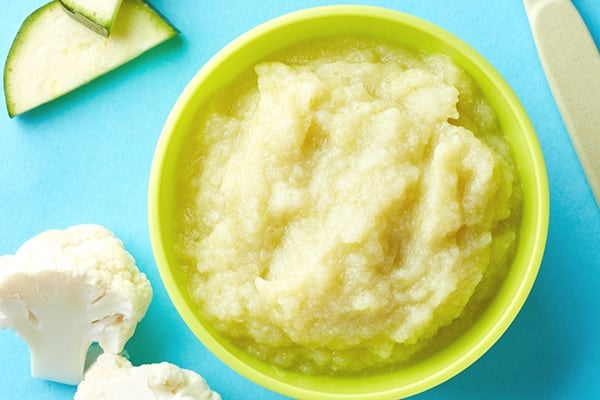 Treat your babies taste buds and your wallet with this tasty Instant Pot zucchini + cauliflower + potato baby puree. Storing extra portions was also super simple. After the baby food is done cooking and fully pureed, just portion it out into small little baby food containers and popped it in the freezer. Recipe from Easy Instant Recipes.
Instant Pot Cajun Spiced Zucchini
One reason why so many people hate vegetables is that they've just gotten overcooked and under-seasoned veggies. Cajun spices with a little hot sauce for a spicy, but the buttery flavor will change any viewpoint to loving zucchini. Recipe from Mom Noms.
I Can't Believe it's not pesto! (Zucchini Pesto)
This zucchini puree is thick and velvety like a pasta sauce but packed with vitamins. With a heavier hand of basil and a touch of fresh garlic at the end, it has a very, very close facsimile to a creamy pesto sauce. Recipe from Hip Pressure Cooking
Zucchini Lasagna (Crisp Lid/Ninja Foodi options)
This amazingly delicious Instant Pot Zucchini Lasagna is so easy and healthy. There are no noodles in this Zucchini Lasagna – just veggies, lean protein, and cheeses! Perfect for anyone who is gluten-free, grain-free, or following a keto or low carb plan. You can crispy topping with the Mealthy CrispLid (It's a lid that converts your Instant Pot into an Airfryer) or you can still broil up your cheese in the oven after the quick Instant Pot cook time! Recipe from Confessions of A Fit Foodie.
Pressure-Cooker Summer Squash
Do you love squash, but tired of fixing plain old squash and cheese? Jazz it up a bit with this recipe that will surely make you fall in love with zucchini all over again. Recipe from Taste of Home
Pressure Cooker Zucchini Basil Soup
A simple soup for all seasons – fresh zucchinis, basil and just a few more ingredients are all that you need to make this delightfully easy soup loved by all! Do you have a soft spot for soups? Recipe from My Food Story
Instant Pot Zucchini Noodle Pho
This Instant Pot Zucchini Noodle Pho is a super easy soup recipe. Fresh spiralized zucchini in place of the traditional rice noodles makes it low carb and gluten-free. You can even make the broth vegetarian with a blend of mushrooms. Recipe from Eating Instantly.
Instant Pot Kung Pao Beef
It's easy Chinese take out at home. Cooking the beef strips for stir fry in the instant pot by themselves is key to the success of this dish in just a matter of 20 minutes. Kung pao beef can be served with steamed white rice or Chinese chow mein fried noodles. Recipe from Mooshu Jenne
Chicken Zucchini Meatballs with Mashed Potatoes
Sometimes you just need something light, healthy, full of vegetables. This is it! It's quick, only 6 minutes! Fix a big salad on the side while this is cooking and boom! You got a veg-filled, healthy dinner for the family. Recipe from The Bearded Hiker
Chicken Sausage and Zucchini Stuffed Potatoes
No need to fire up the oven to bake these potatoes – cooking them in the Instant Pot saves times and cuts down on the power bill. Plus, with this "all-in-one" recipe, you can use your multicooker in place of a skillet as well by cooking the chicken sausage and zucchini mixture using the saute function. Recipe from Diabetes Food Hub.
Zucchini Bread – Instant Pot
Do you have an urge to bake but don't want to heat up the kitchen with the oven? Try your Instant Pot and make this pillowy soft, perfectly spiced, super moist, nutty zucchini bread for favorite breakfast, snack or dessert. Recipe from Ministry of Curry
Chocolate Zucchini Brownies
These zucchini brownies are a terrific after-school snack for the kids. How many times have you wished that you could make a dessert or snack that's simple and healthy? You can successfully get nutritious vegetables into the tummies of your children through these chocolatey gooey treats. Recipe from Life Family & Fun.
INSTANT POT CHOCOLATE ZUCCHINI CAKE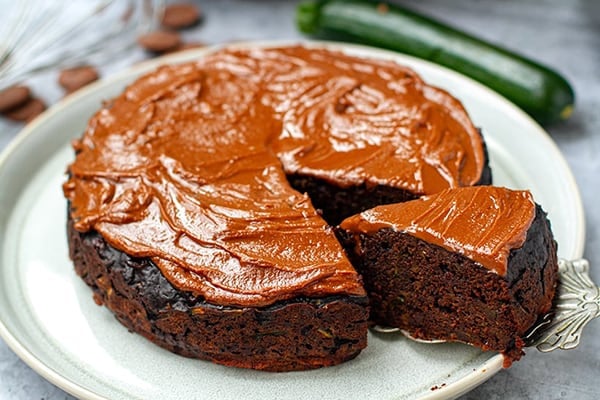 Moist and fudgy Instant Pot chocolate zucchini cake with luscious chocolate ganache glaze on top. This is a great cake using up summer zucchini (courgette). You can also top it with vanilla or chocolate cream frosting. This recipe uses sugar-free brown sugar sweetener to make this cake a little healthier but you can use regular brown or white sugar. Recipe from Instant Pot Eats.
---
SAVE THESE ZUCCHINI RECIPES TO PINTEREST