We're sharing the delicious, healthy Instant Pot Indian recipes with authentic flavours and texture from curries to saag including gluten-free, paleo and vegan options. Homemade is often better than takeout!
---
What's your takeaway style? Chinese food, the Thai taste or a craving for Indian food? When you remember you'll get a fresh order of garlic naan on the side, we think you might have an affinity toward the latter. While these Instant Pot Indian recipes won't let you choose your sides, it will be worth making them; the extra work is no sweat when many of these recipes use simple, aromatic ingredients to bring home that authentic flavour, plus the pressure cooker to cut back on time.
Most of these recipes are probably quicker than picking up the phone and ordering in! Plus, Indian cuisine is naturally quite nourishing and is easier to make even healthier at home.
Our favourite ingredients for Indian cooking: garam masala, curry powder, turmeric powder, ghee, lentils or split peas, chickpeas, coconut milk.
---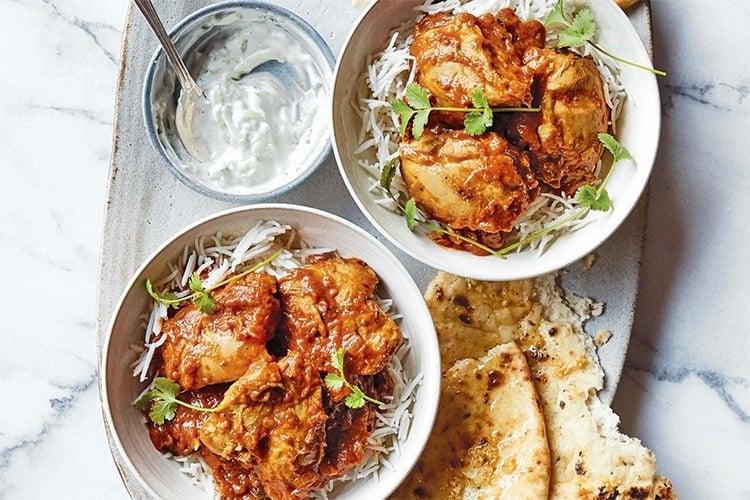 You can't go past the classics. This gluten-free Instant Pot butter chicken is perfect for a warm flavorful meal when you want something different without having to leave your cosy home. This is a guest recipe from The Essential Indian Instant Pot Cookbook by Archana Mundhe.
Dal makhani is an Indian lentil dish – much like any dish with 'dal' in the name – and they come together notoriously quick in the Instant Pot. We're kicking things off with this recipe infused with a healthy dose of cumin, warm spices and tomato plus a garnish of cilantro. This stuff is restaurant quality for sure!
What's your Indian recipe knowledge without some chicken tikka masala? You need this one in your life! It's flavourful and JUST spicy enough, plus it's inherently dairy-free with that classic creaminess from coconut milk. You can make this one in the slow cooker or the Instant Pot.
Chana masala is another Indian food staple. This dish is vegan and gluten-free with a hearty base of perfectly cooked and textured chickpeas, rich with plant protein… oh, and big flavour! This recipe has a rich and tasty tomato base plus all of your classic spices – just make sure to use the freshest ingredients possible!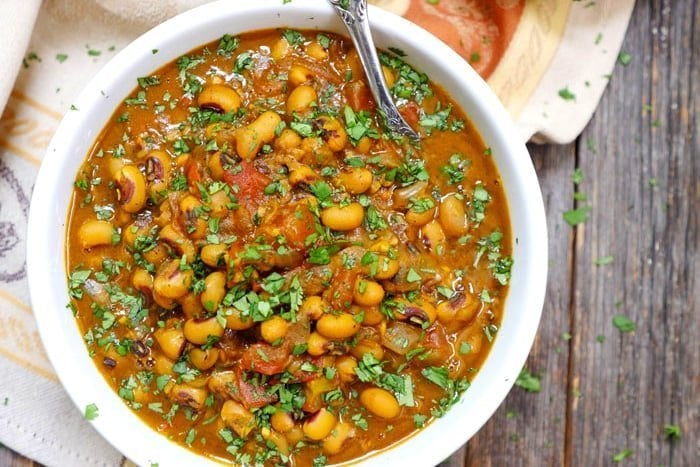 Punjabi black-eyed pea curry or Punjabi Lobia Masala is warm and comforting with rich, buttery beans to enjoy in every bite! Oh, and did you know black eyed peas are a fabulous source of calcium? They also take less time to cook than the average legume, but that's not an issue with this Instant Pot recipe, of course.
Who doesn't love a recipe made for every day? This one has it in the name. If you want nutrient-dense food with Indian taste fast, get this spinach dal on the table tonight. Heck – we won't even tell if you pick up some naan at the store on your way home. This is cooking with economy and grace at its finest.
Lamb curry from The Real Food RDs
No wait, no stir… wait, what? These are the trademarks of making curry – especially trying to get that tough lamb stew meat tender! With this recipe, the Instant Pot does the hard work, and you're left with a dinner you're going to look forward to eating leftovers of. Prep ahead or toss some in the freezer.
There's nothing like getting tender, juicy, shredded chicken and perfectly cooked through potatoes at once, and the Instant Pot really comes in handy for that. If you add some curry sauce to the mix, you end up with this fragrant and comforting meal… in minutes. It's healthy and paleo-friendly to boot.
It's not often that you see a cold and savory Indian dish that still encompasses those warming flavors. This is like an unpacked samosa in potato salad form, in case you want to switch things up for picnic season. This dish is perfect for batch cooking or entertaining, loaded with fresh herbs, potatoes, chickpeas and peas making it meat-free and gluten-free.
Paneer is basically Indian-style cottage cheese. It sounds intimidating to make at home, but the Instant Pot makes it quite a bit easier. Besides, it's a rewarding endeavor when you get to dig into the stuff with those satisfying grill marks on the side after a yogurt marinade. Are you drooling yet?
Perhaps you're wondering what exactly Goan pork vindaloo entails, so we'll fill you in first; vindaloo is tangy and sour compared to other Indian curries and the pork? Well, it melts in your mouth. Use potatoes as a filler, or add in your own choice of veggie favourites for a super hearty and healthy dish.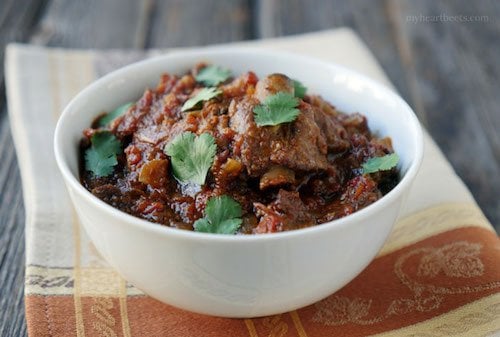 Goat is underused in most cuisines besides Indian cuisine, so it's fabulous to have a healthy and scrumptious goat curry recipe handy. This stuff tastes slow cooked, but curry in a hurry holds true with the Instant Pot! It's all about the spices in this tender stew of goat and potatoes. Serve over basmati or cauliflower rice for a grain-free option.
You didn't think we'd leave you without a solid recipe for butter chicken, did you? This is the only one you need! It's even nightshade-free to boot, so even the most sensitive folks can enjoy the spicy and warming tastes of it. This is the General Tso's of Indian food… mildly addictive, super delicious and a classic you'll never tire of.
No washing up required. This easy appetiser is perfect for those of you who want something that encompasses traditional Indian flavour from tikka masala without the whole masala bit. These bites are easily served on skewers, and you can pair them over rice or some veggie sides.
Saag is a creamed spinach dish that is oh so dreamy. Greens and ghee are all you need – no cream required in this lightened up, good-for-you recipe. You can use any greens you like in this, or a variety, but traditional opts for spinach and mustard greens – the more you know!
While this soup isn't traditional Indian food, it brings together autumnal produce, creamy texture, ease of cooking and an authentic curry flavour that pairs beautifully with winter's bounty of healthy squash! This recipe is vegan and paleo, so everyone is bound to enjoy it.
Hopefully, you've found a recipe for your favourite Indian dish here to make in the Instant Pot! Let us know which dish you're most excited to make, and share this roundup with your pressure cooking pals! You can share this roundup on Pinterest from here.