This Goat-style Instant Pot shrimp curry is simple to prepare but has complex flavors and a little chilli spice to keep every bite interesting and exciting. Serve with rice, cauliflower rice or some naan bread. This recipe is from Madhur Jaffrey's Instantly Indian Cookbook: Modern and Classic Recipes for the Instant Pot ®.
---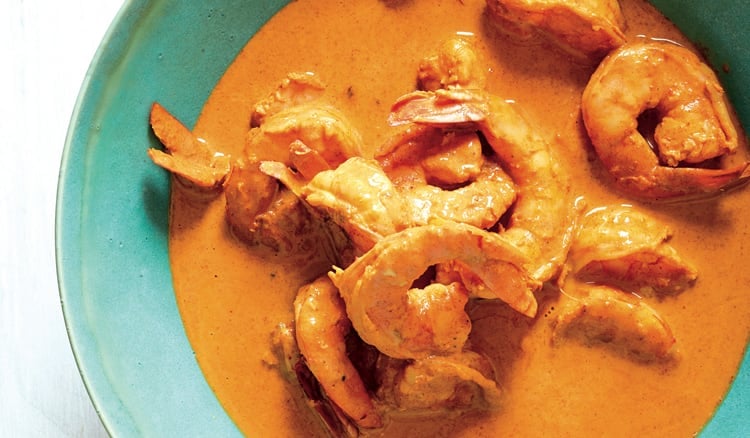 This is the hot "prawn curry," as it is called on the beaches of Goa. It is very simple to prepare and is delicious eaten with rice or with some bread or veggies. Normally, several teaspoons of very red but milder chili powder would be used here but this is a milder version.
Goa is a state on the southwestern coast of India within the region known as the Konkan. It is India's smallest state by area and the fourth smallest by population. Goa is visited by large numbers of tourists each year for its white sand beaches. Rice with fish curry is the staple diet in Goa.
Goan cuisine is famous for its rich variety of fish dishes cooked in many ways and is heavily influenced by Portuguese cuisine. Goan food may be divided into Goan Catholic and Goan Hindu cuisine with each showing very distinct tastes, characteristics, and cooking styles.
The coastal location of Goa lends shrimp as a perfect choice to add to this curry. Shrimp has several health benefits as it's one of the best food sources of iodine, which many people are deficient in. Iodine is required for proper thyroid function and brain health. It is low in calories, providing only 84 calories in a 3-ounce (85-gram) serving, and does not contain any carbs and high in protein. Plus, you'll be getting many vitamins and minerals along the way. Overall, shrimp is a very nutritional choice to add to this meal.
Make sure to also check out Instant Pot Yellow Rice With Peas & Corn to pair nicely with this Instant Pot shrimp curry.
Print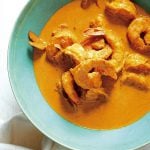 Instant Pot Shrimp Curry Goan-Style
Author:

Total Time:

30 minutes

Yield:

4

1

x
Category:

Main Entree

Method:

Instant Pot Pressure Cooker

Cuisine:

Indian
---
Description
This is the hot "prawn curry," as it is called here, found on the beaches of Goa. It is very simple to prepare and is delicious eaten with rice. Normally, several teaspoons of a very red but milder chili powder would be used here. I have suggested less and used paprika to add to the color.
---
Scale
Ingredients
1⁄2–1 teaspoon chili powder 1 tablespoon bright red paprika
1⁄2 teaspoon ground turmeric 4 cloves garlic, peeled and
crushed to a pulp
2 teaspoons peeled fresh ginger grated to a pulp 2 tablespoons ground coriander
1 teaspoon ground cumin
3⁄4 teaspoon salt, or to taste 2 teaspoons tamarind paste, or to taste (use lemon juice to taste as a substitute)
1 pound medium shrimp, peeled and deveined
1 cup coconut milk from a well-stirred can
---
Instructions
1. Put the chili powder, paprika, turmeric, garlic, ginger, coriander, and cumin in a bowl. Slowly add 1. cups water, mixing as you go. Pour this mixture into the inner pot of your Instant Pot. Close and seal the lid. Cook at LOW PRESSURE for 5 minutes and let the pressure drop by itself for 10 minutes. Release the remaining pressure manually. Open the lid, venting the remaining steam away from you.
2. Add the salt and tamarind or lemon juice to the sauce, balancing the flavors to your taste. The sauce will seem a bit rough at this stage. Select the SAUTÉ setting set to Normal. Add the shrimp and the coconut milk. Stir gently and cook until all the shrimp have turned opaque. Taste the sauce again for balance of flavors.
---
Keywords: Indian Shrimp Goan Curry Coconut Milk Chili Tamarind Paste Garlic Coriander Cumin Turmeric Paprika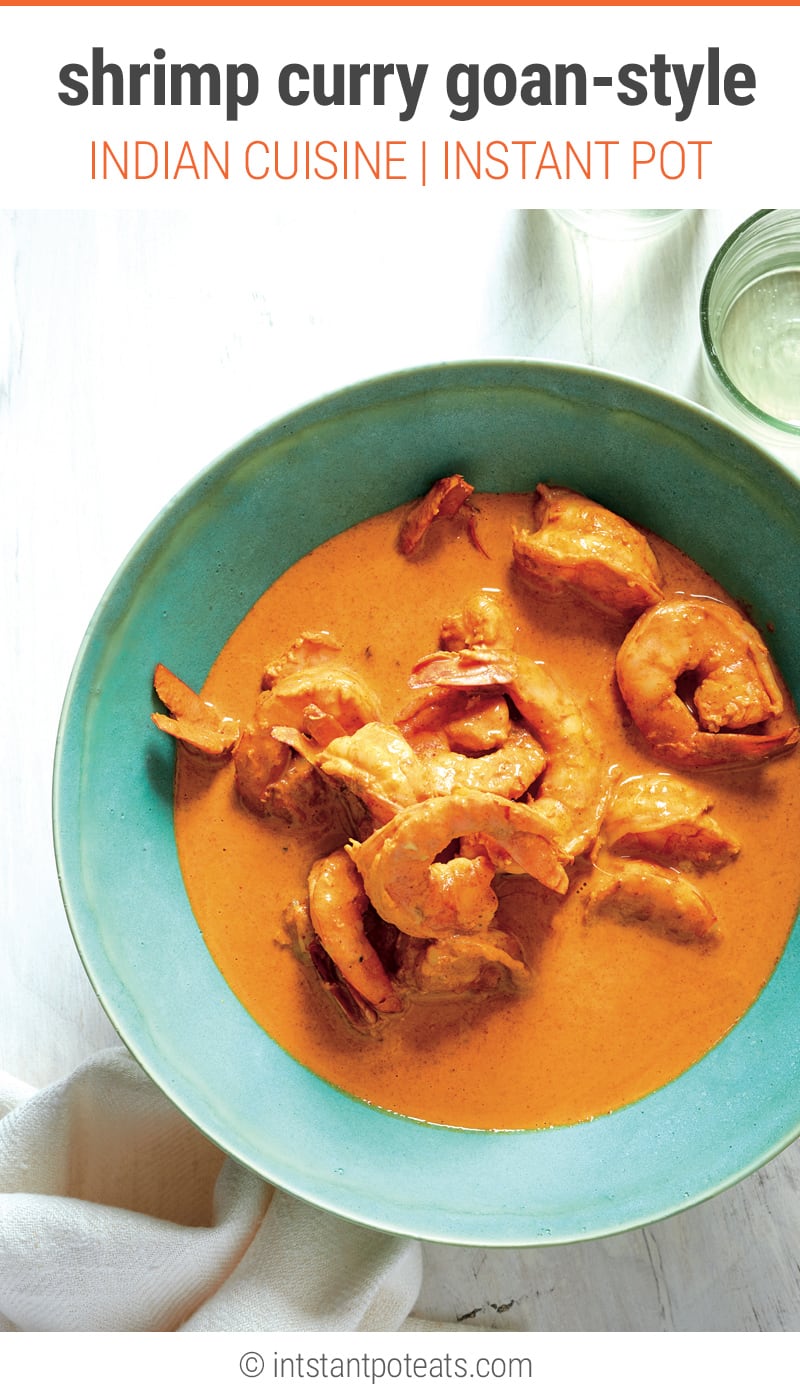 Excerpted from MADHUR JAFFREY'S INSTANTLY INDIAN COOKBOOK by Madhur Jaffrey. Copyright © 2019 by Madhur Jaffrey. Excerpted by permission of Alfred A. Knopf, a division of Penguin Random House LLC. All rights reserved. No part of this excerpt may be reproduced or reprinted without permission in writing from the publisher.